The 21 Best Cities in Japan You Absolutely Have To Visit
Japan is an incredible land; full of historical sites, great food, and rich culture and heritage. Japan has a lot more to offer than just its ancient culture. Modern-day Japan is towered by skyscrapers in massive cities that are in themselves a sight to behold.
Japan has something for everyone. If you are someone who appreciates heritage, you can explore the many temples that line the streets of its cities. If you are someone who loves learning about different peoples, you can try out all sorts of Japanese local foods from many restaurants on the streets of Japan.
If you love history, you can visit the many ancient palaces and castles that Japan is home to. But if you prefer a more modern lifestyle, you will certainly enjoy the view of the skyscrapers in Japan's major cities.
Japan is also home to some of the greatest technological giants in the world and is a world leader in terms of innovation.
Additionally, Japan has a whole lot of natural beauty which you will certainly appreciate if you are a nature lover. What's more, the people of Japan are some of the politest people you are likely to meet.
Because this country has so much to offer, it's sometimes difficult to know which cities to visit when planning a trip to Japan.
So here's a list of some of the best cities to visit in Japan.
I- The Best Destinations in Japan
1. Kyoto
This is the one city you need to visit if you only have time for one Japanese destination. This city is everything you think of when you visualize Japan in your head. It embodies all the traditional elements of Japan that you often read about in books or see in movies.
These traditional elements include the concept of the 'geisha' – Japanese women in traditional kimonos (Japanese attire) that are usually performers in art, theater dance, bamboo forests, wooden tea-houses, Zen gardens, golden and silver shrines and temples, fascinating feasts and tea ceremonies, etc.
If you intend to see actual geisha, you must visit Gion, Kyoto's geisha district. Each separate place in Kyoto has something fascinating to offer. For example, if you want to see monkeys, temples and bamboo forests, you need to head to Arashiyama, one of the most traditional spots in the country. Another beautiful place to explore temples is Higashiyama.
As you head away from downtown Kyoto towards the mountains, you will find old houses made of wood, monks in their flowing robes and the constant sounds of gongs and chanting from nearby shrines and temples.
There are a few things you should absolutely not miss out on when in Kyoto. For instance, getting your fortune checked by a vending machine at The Golden Temple (Kinkaku-Ji), or experiencing authentic Zen Buddhist cuisine when at the Tenryu-ji temple. You can learn how to cook authentic Japanese food with Emi, or escape from the loud streets of Gion to the enchanting Yasaka-jinja during the night. When you feel like taking a walk, you can go through the red gates of the Fushimi Inari shrine.
Because Kyoto has so much to offer, it is currently one of the most popular tourist destinations in the country. So you need to make sure that you plan your trip so as not to face large crowds at temples and other hotspots.
2. Tokyo
Tokyo is everything that Kyoto is not. Just as Kyoto is extra traditional, Tokyo is extremely modern. Tokyo is, in fact, as modern a city as can be, and is the heart of modern-day Japan.
It is full of looming skyscrapers, crowded roads and crossings, loud arcades, and tons of incredible restaurants. In fact, Tokyo is one of the most visited cities in the world.
The technologically advanced city also has a lot of activities to offer which other modern cities might not be available. These include themed cafes (robot-themed, goat-themed, cat-themed, etc), go-karting, arcades, and sensory-overload shows. In fact, there are a whole lot of things to do in Tokyo that you certainly don't want to miss out on.
When in Tokyo, you shouldn't skip dressing up as a Super Mario character and go-karting on actual roads. You can wander across the popular Shibuya Crossing and look at the Tokyo skyline from the Tokyo Metropolitan Government Building in Shinjuku. You can the incredible Disney Sea theme park, one of the top Disney theme parks in the world. You can also choose to enjoy the crazy fashion styles in Harajuku and experience sensory overload at the strange Robot Restaurant show.
3. Osaka
Osaka is commonly referred to as the 'food capital' of the country. The city is, in fact, a food lover's paradise. There are three main Japanese foods that Osaka is known for: fried octopus balls or takoyaki , Japanese-style pancakes or okonomiyaki and deep-fried fish, meat, fish, or vegetables on sticks called kushikatsu.
While all the food in Osaka is great, there are certain neighborhoods such as Shinsaibashi and Dotonbori that re most commonly visited when you want good food. Another place called Kuromon Ichiba Market may also be worth checking out.
Other than food, there are a lot of other attractions that the city has to offer. These include the Osaka Aquarium, The Osaka Museum of History and even the nearby Osaka Castle.
Osaka is certainly one of the best places to visit in Japan and is easily affordable even if you are on a budget. Just make sure to visit Osaka in the right time for you. Certain places in Osaka should not be missed out on such as Sumiyoshi Taisha, one of the oldest shrines in Japan.
Osaka is also a great place from which you can take day trips to other interesting places such as Humeji, Kobe, and Japan's 'Castle in the Sky'.
Osaka also has an exciting nightlife, with all sorts of fascinating local breweries and cocktail bars.
4. Nara
This ancient city was the first permanent capital of Japan and is full of all sorts of heritage sites. Many of these heritage sites are UNESCO world heritage sites. In fact, Nara was once considered the birthplace of all Japanese culture and heritage!
Many people decide to take a road trip from Kyoto to Nara just to see the temples and the wild deer in the popular Nara Park.
One of the main sights to visit in Nara Park is the 'Hall of the Great Buddha' or the Daibutsu-den. This is the largest building in the entire world and is certainly a sight to behold. Inside the building is a bronze and gold statue of Buddha roughly 15 meters tall, sating all the way back to the mid-8th century BCE. This statue is located inside the beautiful Todai-ji temple.
There are other temples and shrines in the city as well, all of which symbolize traditional Japanese art. Some of these are located near hills which contribute to the natural beauty of Nara and are certainly worth at least one visit.
5. Okinawa
Although Okinawa isn't nearly as popular as Tokyo or Kyoto, this sub-tropical paradise is worth visiting for a number of reasons.
Okinawa is known for its magical cherry blossoms and for housing one of the greatest aquariums in the world. The city also has some of the best diving sites in the world.
When in Okinawa, there are a number of things you can do. You can, for example, visit the Iriomote Island which is a secluded spot where you can enjoy peace and quiet as well as indulge in outdoor activities such as trekking. You might even catch sight of endangered species such as the iriomote cat.
Just as Nara, Okinawa is also home to a number of UNESCO world heritage sights.
6. Sapporo
Sapporo is the capital of an island called Hokkaido. This city is generally a relaxed destination and is sometimes simply treated as a stopover before people head out to mountains or hot springs. The city itself is also a pretty fascinating place to be for at least a few days.
The city has a whole bunch of things that can keep you entertained such as incredible restaurants, a ton of malls and an exciting nightlife.
Although the city receives a whole lot of tourist traffic in summer, the highlight of the city is perhaps the Snow Festival in winter where tourists gather from everywhere just to see the interesting ice sculptures.
7. Kanazawa
Although this is one of the best cities to visit in Japan, many tourists don't know as much about it as the other more popular cities. Regardless, this beautiful city has a whole lot to offer. The city lies on the Sea of Japan and you need to visit it if you plan a trip to Japan. Kanazawa has ancient neighborhoods that are very well preserved and aren't completely flocking with tourists so you get an understanding of authentic Japan amidst some peace and quiet.
The city also has wonderful shrines and temples, incredible art museums, old samurai and geisha districts, magnificent gardens and even an ancient castle. This castle is perhaps the highlight of the city and is surrounded by beautiful gardens, enhancing its beauty.
When in Kanazawa, the things you should not miss out on are, exploring Kenroku-en garden, one of the best gardens in all Japan, witnessing a traditional Japanese tea ceremony at the stunning Gyokusen-en Gardens and discovering the teahouses made of wood in the geisha districts of Nishi Chaya, Higashi Chaya and even the more quiet Kazuemachi.
8. Tottori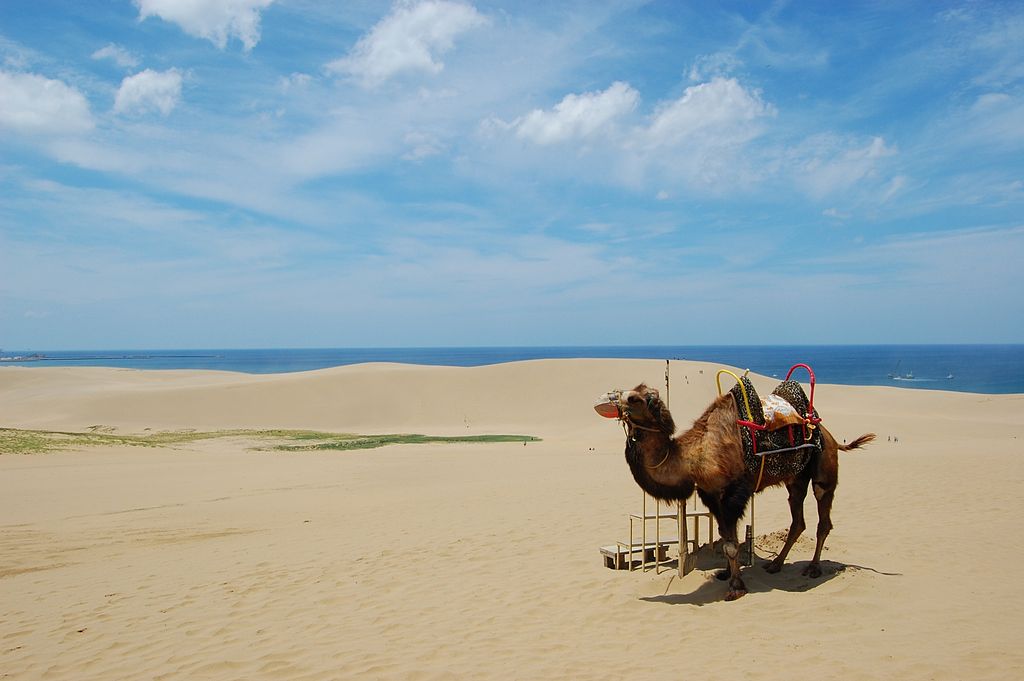 This city is situated in the western part of Japan alongside the coast of the Japanese sea. This city is particularly known for its sand dunes, the largest in all of Japan. These sand dunes cover an area of 30 square kilometers, towards the north of the city center.
Historically, Tottori has remained a regional power for quite some time. Even today, the ruins of an ancient former castle can be found in the north-east side of the city. These ruins are certainly worth exploring if you ever do visit the city.
The city also houses a number of museums and temples located in the central part of the city.
9. Hakone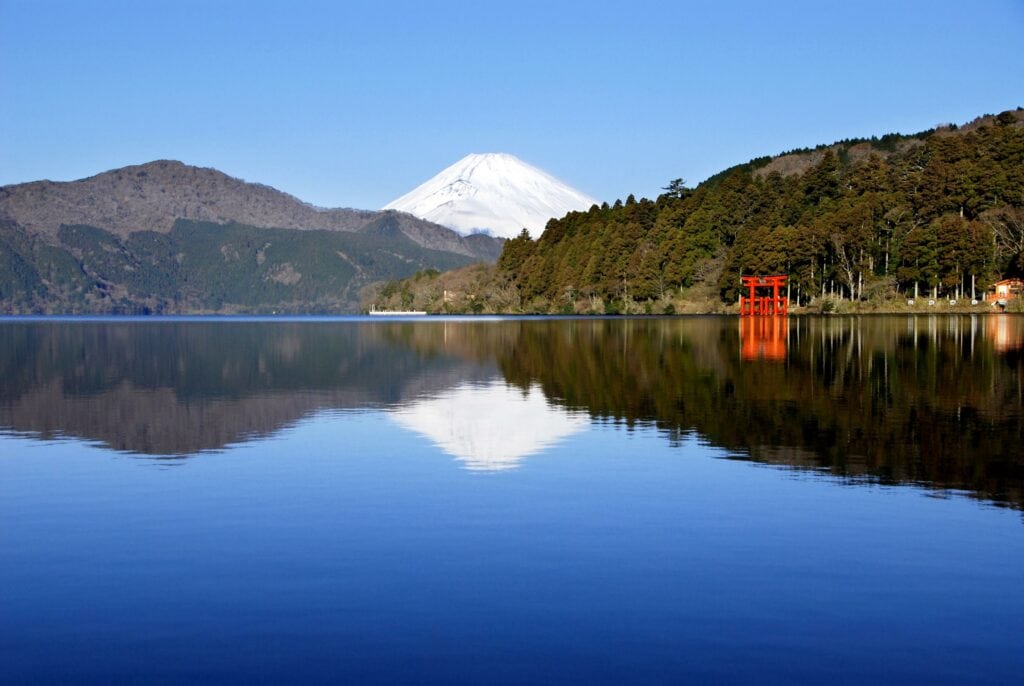 This city is popular among tourists because it allows for a magnificent view of Mount Fuji!
When viewed from Tokyo and other "nearby" cities, Mount Fuji is often hidden by clouds. Hakone can easily be reached from Tokyo and offers a closer and stunning view of the mountain.
This isn't the only good thing about Hakone. There are plenty of other reasons to visit this city. For example, in this city, you will be able to use means of transportation you never encountered before I your life such as a pirate boat and a cable car between Japanese mountains!
A few things you shouldn't miss out in Hakone are seeing Mount Fuji from a cable car or from the lake; soaking up in an 'onsen,' staying the night inside a traditional inn and enjoying authentic cuisine; eating a 'black' egg cooked in hot sulphur springs which are a Japanese specialty and visiting the Hakone Open Air Museum.
10. Hiroshima
Hiroshima lies in the western part of Honshu. The main reason to visit this city is simply to pay your respects to the victims of the WW2 atomic bomb attacks which flattened the entire city on 6th August 6th, 1945.
Visitors to the city usually visit the Peace Memorial Museum in order to pay their respects to the victims. You can even visit the ruins of the bomb which might be a chilling experience.
Since these attacks, the city has been reconstructed for the most part and there are a lot of other activities you can indulge in. For example, you can visit the nearby islands which are absolutely stunning such the famous 'Shrine Island' or Miyajima.
It's quite interesting to visit a city that has been entirely reconstructed in just a matter of decades. You can even try the delicious local food such as the okonomiyaki. This is a thick pancake made of noodles, vegetables, and batter.
11. Kobe
This beautiful city is situated on a hillside, right next to the sea. The city lies in between Mount Rokko and the sea.
This city is a historic port but is also pretty cosmopolitan. As you wander around the city, it is common to see all sorts of religious buildings including churches, shrines and temples. The city is also home to a number of incredible restaurants and cafes.
Kobe is famous and globally know as the city in which exists the most succulent and delicious beef meat!
Kobe has an exciting nightlife and is a great place to explore overall. Some people even use the city as a gateway to other major historic sites which you can reach via train.
12. Takayama
This is perhaps the most gorgeous of all towns in the Japanese Alps. It is situated at the edge of the Alps and is one of the most beautiful but also one of the least visited places in Japan.
The place is full of traditional Japanese wooden houses, shrines that are lively and colorful, bright red bridges over rivers and trees that are neatly shaped.
When in Takayama, make sure to take a walk in the old part of town before the place starts to get crowded. You should also buy some delicious fruit from the local markets in the early part of the morning.
Another thing to do in Takayama is to buy rice balls grilled in soy or mitarashi-dango from a local street vendor.
Another thing worth seeing is the massive floats at the Festival Floats Exhibition Hall. You could visit the Hida Folk Village if you are interesting in seeing traditional thatched houses.
13. Kanagawa
Kanagawa located at the south-western part of Tokyo, and Yokohama is it's capital. Kanagawa is one of the most populated and busiest prefectures in all of Japan.
Most people tend to visit Kanagawa as a getaway from Tokyo. Not only is this city very accessible, it also has a whole lot of attractions to offer. These include modern city life, ancient heritage sites, quaint resorts and lovely beaches.
The Hakkeijima Sea Paradise, and the Yokohama China Towmnn, the largest China Town in all of Japan are certainly worth paying a visit to.
14. Nikko
Nikko is a temple town and is a UNESCO world heritage site. The city is located in the mountains, just a few hours north of Tokyo. If you ever want to escape the big city, this can act as the perfect retreat.
Nikko has the most stunning temples and shrines! The hillside is full of them and they have vermilion gates and stone lanterns covered in moss. All of this makes for a visual treat. The main attraction of this town is the Toshogu Shrine. This shrine has dozens of golden and red buildings that are decorated lavishly. You are likely to face a lot of crowds here and it may not be too peaceful.
Nikko is one of the most beautiful places in Japan. It is worth visiting for its waterfalls, lakes, hiking trails, and hot springs. The area is popular for its autumn colors.
When you're in Nikko, make sure to explore Taiyuinbyo, photograph the red Shinkyo bridge, eat sushi at Komekichi Kozushi and hike up a mountain to the Takino shrine.
15. Koya-San
Koya-san, also known as Mount Koya is one of the most fascinating places in all of Japan if you want to experience the authentic side of Japan.
This is a quiet, sacred temple town and is situated in the mountains of Kansai that are covered in forest. If you ever wondered what the life of an actual monk might be like, this is the place to get a good idea of it. You will live in a shokubo (temple lodging) and will experience life as these monks do.
17. Fukuoka
Fukuoka is one of the ten most populated cities of Japan. Because of its location near Seoul, Fukuoka has for centuries played an important role as a harbor city.
The Fukuoka of today is a fusion of two cities – the former town of Fukuoka and the port city of Hakata were joined to make one city called Fukuoka.
There are a bunch of things this city has to offer. Tsubame-no-Mori Plaza has a garden-themed around each of the four seasons, and from here you can get a magnificent view of the whole city.
You can even visit the Tetsudo Shrine, which is famously visited by travelers who wish to have a safe journey.
Other places you can visit are the Sumiyoshi Shrine and the authentic Japanese-style Rakusui Garden.
18. Nagasaki
Nagasaki is a picturesque place. It is located peacefully among hills that are overlooking a harbor. The peaceful ambiance of the place sort of distracts one from the tragic history of the city that was destroyed by atomic bombs in the Second World War.
You can come to the city to share your respects with those who passed away back then but this isn't all the city has to offer.
Nagasaki is a rich, cosmopolitan city with an interesting mix of the East and West exemplified by the temples, churches, temples, and even the food.
19. Beppu
This is a welcoming and charming place. You can stop by here to relax in the hot springs or simply soak up the peaceful ambiance of the place. The city has over three thousand hot springs and loves welcoming tourists!
A certain magical mist floats through the city giving it an air of enchantment and mystery. This city is perfect if you just want a place to get away and relax.
20. Himeji
This city is home to the feudal-era fortress of Himeji-jo. This is one of the finest castles in all of Japan and pretty impressive to behold. This castle is perhaps the main reason to visit this otherwise quiet town.
Most people tend to take day trips to the city just to see the castle.
21. Nagoya
Nagoya has a population of over two million, making it the fourth most populated city of Japan.
Nagoya is associated with samurai and ninja culture. It also specializes in certain desserts, noodles, and sushi and this alone can make a trip to this city worthwhile.
II- Basic Geography of Japan
In total, the entire Japanese country consists of 6,852 islands. An island here is defined by any piece of land that is greater than 100 metres in circumference. Of these 6852 islands, only 430 are currently inhabited.
The five main islands, stretching from the north to the south are Hokkaido, Honshu, Shikoku, Kyushu, and Okinawa. The largest of these islands is Honshu, which is also referred to as the Japanese mainland.
1. Honshu
Honshū is the largest island of Japan. The majority of Japan's population resides in this island. This island is also home to the greatest number of visitors as compared to anywhere else in Japan. Because it is so large, the island is often subdivided into smaller regions including Kanto, Tohoku, and Chubu, which spread all the way from the northeast to the southwest.
2. Hokkaido
Hokkaido is the second largest, and the least developed of Japan's four main islands. Although the weather conditions are harsh in winter, summer isn't quite as hot or as humid as other parts of the country.
Hokkaido is known for its surreal natural beauty that attracts visitors from all over the world, especially hikers, snowboarders, and skiers.
3. Kyushu
Kyushu, which literally translates to 'nine provinces', is Japan's third largest island. It is situated towards the southwest of the major island, Honshu.
Kyushu has remained a major center of Japanese civilization. It has a whole lot to offer visitors, including natural beauty, sprawling cities, and historic treasures.
4. Shikoku
Shikoku is the smallest of all of Japan's major islands. This island is surrounded by a 1200km, 88-temple Buddhist pilgrimage route, meant to honor the 9th-century monk Kukai.
Shikoku's major cities include Matsuyama, which houses eight of the pilgrimage temples, the Matsuyama Castle, dating back to feudal times, and the one of Japan's earliest known hot-spring spas known as Dogo Onsen.
5. Okinawa
Okinawa is a Japanese prefecture. It comprises of more than 150 islands in total. These lie in the East China Sea, somewhere between Taiwan and Japan's mainland.
Okinawa attracts a whole bunch of visitors each year. It is especially known for its beaches, tropical climate, coral reefs, and its World War II heritage sites.
III- Conclusion
It is evident that Japanese cities have a whole lot to offer to everyone. If you are interesting in visiting sprawling major cities, you can opt for Tokyo. If you are a history enthusiast, you would not want to miss out on visiting Hiroshima. If however, you are more interested in seeing the traditional elements of Japan, such as the geisha, or the temples, or even local food, Kyoto may be a better option.
If you want to experience Japanese culture and heritage in its most authentic form, you can always opt for a visit to one of the smaller villages rather than the cities. It all depends on what you are looking for, but Japan has something for everyone.
Each city of Japan has something very different to offer. What's common to all of them however is splendid natural beauty, culture and heritage, and unique culinary experiences!
Also don't forget to learn basic Japanese for travelers before you go. It can help you a lot!