The BEST Things to Do in Hiroshima
One of Japan's most historical cities, Hiroshima is the infamous site of one of WWII's biggest atrocities. Many tourists visit the city every single day to explore the history and aftermath of Hiroshima's atomic bomb attack.
And although the city has many attractions related to the devastation of the atomic bomb, it's absolutely not the only reason to take a trip to Hiroshima. With lots of other exciting attractions, fun bars and regional foods, there are lots of excellent and exciting things to do in Hiroshima.
Whether you're traveling solo, with kids or with a partner, there's plenty of fun to be had in one of Japan's friendliest cities. From excellent regional food to the Children's Museum to island cruising, there's way more to Hiroshima than many tourists expect.
One of Japan's smaller cities, with a wider population of around 2 million (source), it's a cozy destination, with a small-town laid-back feel. If you like relaxed cities, you'll love it here.
In this article, we've assembled a big list of all the best things to do in Hiroshima. Read on to pack your Hiroshima itinerary with lots of varied fun!
The Best Things to Do in Hiroshima Overall
Hiroshima has a huge number of exciting things to do. Here's a list of the best of them:
1. Explore the Impact of WWII's Atomic Bombs
For many tourists, this is the main reason for taking a trip to Hiroshima. If you want to immerse yourself in war history and the war's impact upon Hiroshima and its people, there are many interesting – but very sombre – attractions in the centre of the city.
The most famous is the Atomic Bomb Dome. Left standing after the atomic bomb was dropped, the dome has become an iconic image of adversity and survival. The dome represents both the power of war's destruction and the potential of peace even after the most horrifying of atrocities.
With rubble, twisted metal and a barren shell, the building has been left untouched, and stands exactly as it did on that fateful day.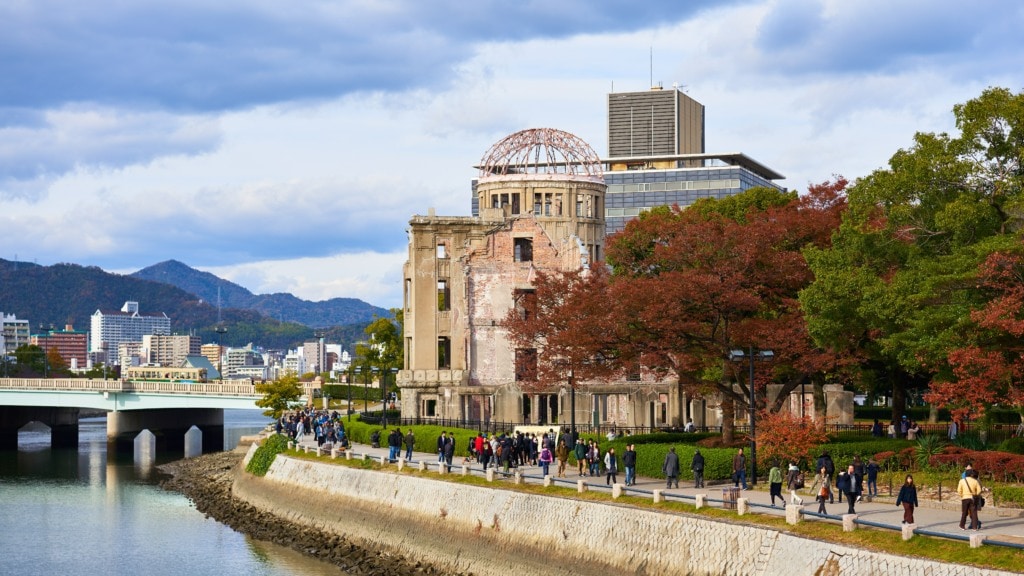 The park in which the dome sits is known as the Hiroshima Peace Memorial, or the Peace Park, and it's an interesting place to take a walk, with informative displays, paper cranes and more.
The park and dome are in the center of the city, right on the banks of the river, so they're the centerpiece of the city. There's no fee for visiting either.
To really explore the atrocities of atomic warfare and the devastation that WWII's atomic bombs left behind in Japan, you should visit the Peace Memorial Museum. The displays in this museum explore the people affected by these bombings, and the ramifications which are felt in Japan even today.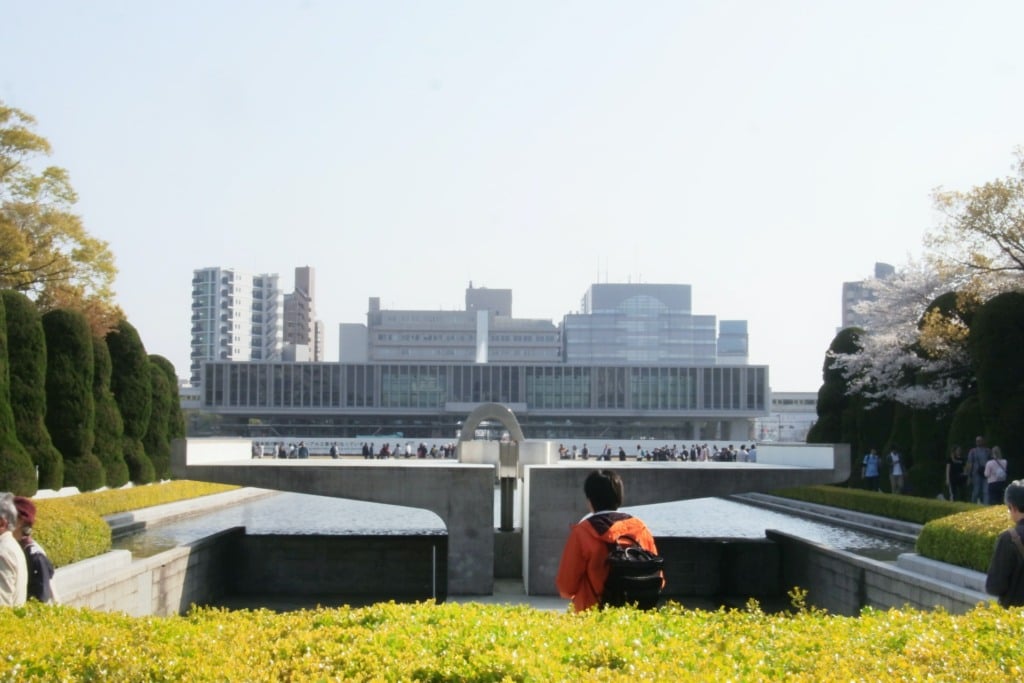 It's a harrowing museum, with distressing and disturbing exhibits. Though upsetting and alarming, it's a must-visit attraction, and a stark reminder of the far-reaching effects of war. Entry is less than $2.
The nearby memorial hall is free to enter and memorializes the lives that were lost in the atrocity.
2. Take a Boat Trip to Miyajima Island, Enjoy the Ropeway and Visit Itsukushima Shrine
A journey to Miyajima Island from Hiroshima is one of Japan's most popular day trips. The boat trip itself is beautiful, as you watch Hiroshima fade behind you to be replaced by the far-humbler shores of Miyajima Island.
If you want to travel in the simplest possible way, you can get a direct boat from the Hiroshima Peace Park. A two-way journey costs a little less than $40. Taking public transport is a much more affordable option, but a little more complicated.
On Miyajima Island, there are lots of exciting attractions. One of the best is the famous Torii gate at Itsukushima Shrine, which is one of the most iconic and romantic sights in the whole of Japan. Semi-submerged under the water that surrounds it, the UNESCO site is an unmissable part of visiting Hiroshima.
Another of Miyajima's top attractions is the ropeway. A round-trip for adults costs around $17, but it's half the price for kids. With two types of funicular over almost 2km, it's a great adventure.
The ropeway takes riders all the way to Mount Misen, which offers one of Japan's most iconic and exciting views.
3. Eat Some of Hiroshima's Delectable Delicacies, Including Okonomiyaki, Oysters, and So Much More!
Hiroshima is famous for a number of tasty meals and morsels. The three must-haves in this area are oysters, sake and okonomiyaki, a pancake-style meal with endless options for toppings. Later in this article, we've given you a guide for each of these foods, but they're all specialties which are best enjoyed in Hiroshima.
You can also check our guide on the best traditional Japanese food to try out.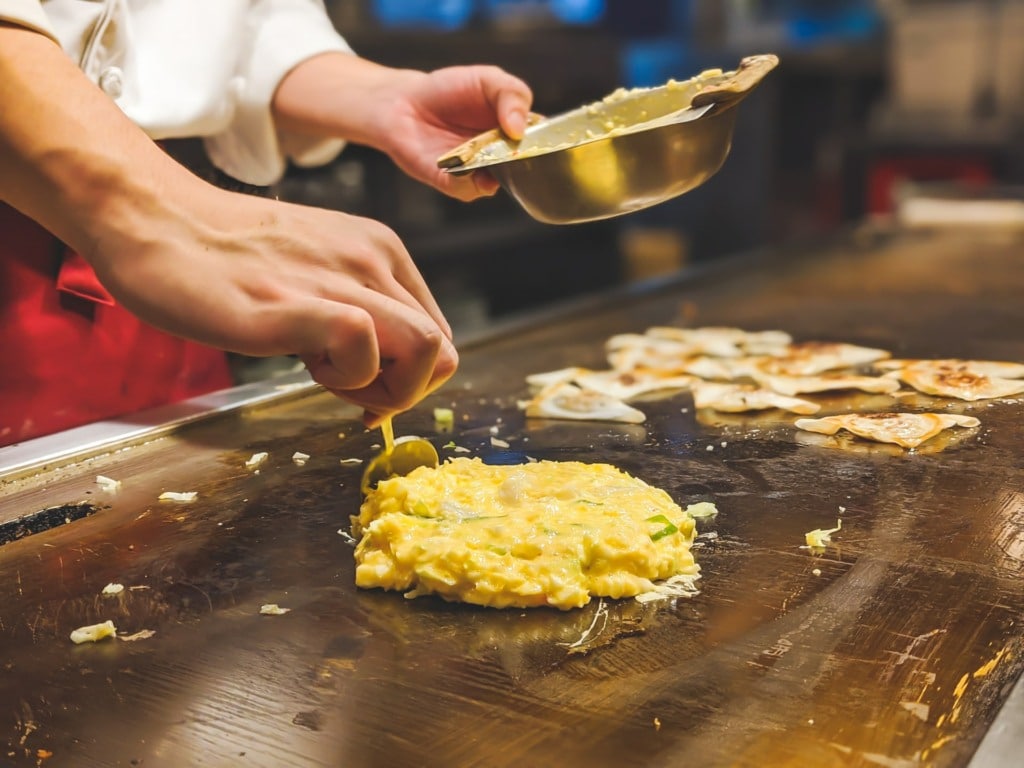 4. Learn All About the Local Delicacy of Okonomiyaki
Okonomiyaki is the most iconic food in the whole of Hiroshima.
So if you're a huge foodie who's interested in more than just the taste of food, the Wood Egg Okonomiyaki Museum is fantastic, and one of the best food-related experiences in the whole of Japan. Here, you can learn about the history of the dish and its ties to WWII. You can also enjoy a tour of the on-site factory, which manufactures Otafuku sauce, one of the key ingredients in Okonomiyaki.
You can even enjoy a cooking class!
Entry to the museum is free, but you have to pay a fee for the cooking class. The museum is pretty far from the center, so you'll need to use public transport. The nearest train station is Inokuchi.
5. Enjoy the Views from Mount Haigamine
Around 30km from the center of Hiroshima, Mount Haigamine sits proudly at 737 meters. It's a fantastic place for hiking, but you can also reach the peak's observation point by car or taxi.
The views from here are incredible, with vistas of the Seto Inland Sea and the areas surrounding this section of it. The best views are at night, when the deep-blue of the post-dusk sea contrasts with the twinkling city lights.
While some tourists drive to Mount Haigamine, most visit by taking a train to Kure. From Kure train station, you must then take a bus which carries you closer to the foot of the mountain. You could even spend the night in Kure, a shipbuilding city oozing with historic charm.
6. Visit One of Japan's Most Interesting Castles
Even the history of this castle is tied to the atomic bomb and its effects. The castle was completely destroyed when the bomb was dropped, but has been fully restored back to its former glory.
Once the geographical and economical center of the city, the structure is built on a plain, rather than some of the hilltop castles which exist in Japan.
With five stories, a moat, a shrine and more, there's plenty to explore. The top floor offers fantastic panoramas of Hiroshima, while the museum inside is an excellent exploration of both Hiroshima castle and Japanese castles in general.
Only a short walk from the central location of the Peace Park, and around $3.50 to enter the castle, it's an accessible and affordable attraction. Entry to the grounds is free. If you want to reach the castle by public transport, the nearest train station is Johoku. There are also many tram stops nearby.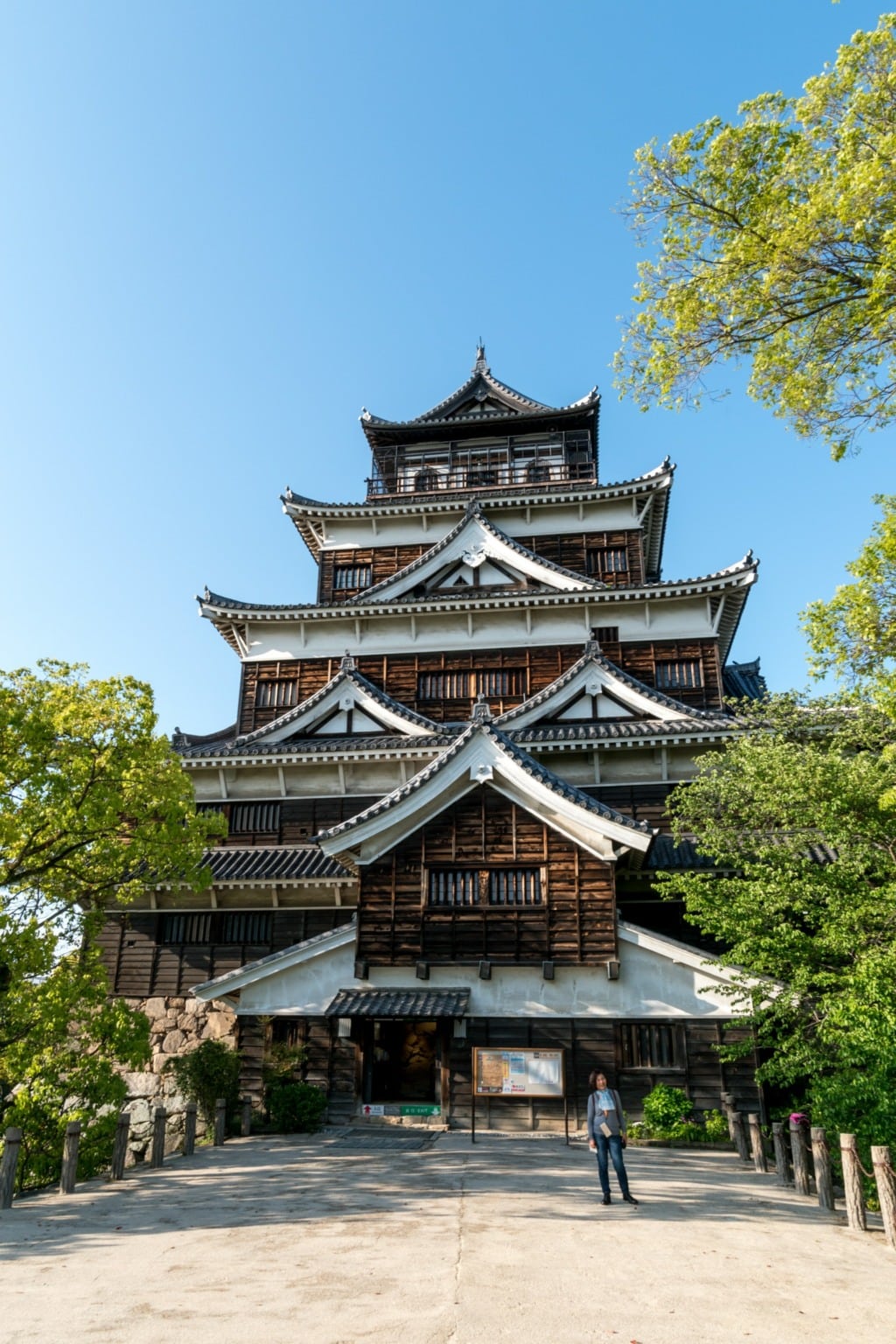 Along with Osaka castle and Matsumoto castle, Hiroshima castle is one of the most interesting in the whole of Japan.
7. Learn About Car Manufacture at the Mazda Museum
This isn't for everyone, but if you're at all interested in cars, this is one of the best attractions in Japan. The Mazda Museum is set in the company's corporate headquarters, and hosts actual working assembly lines where you can watch cars and car parts being produced.
The factory offers guided tours from an official Mazda representative. On your tour, you'll see retro models of cars, trucks and unusual oddities, along with new technology, rotary engines, the impressive assembly line and the excellent gift shop.
The gift shop includes Mazda memorabilia along with products from Hiroshima's soccer team and baseball team. Both teams are sponsored by Mazda, which has called Hiroshima its hometown since the 1920s.
Tours and museum entry are free. About 5km east of the city center, it's best to access the museum by taking a train to Mukainada train station.
8. Experience the Wonder of Hiroshima Children's Museum
With three fantastic floors of excitement and adventure, this is a great place if you have kids. Fun attractions and installations include model towns, speed tests, climbing, magic mirrors, magnets, toys, video games and a fantastic planetarium.
The museum isn't just built for Japanese kids, so you don't have to worry about language barriers.
The planetarium shows cost $5 per adult, but are free for kids. Entry to the museum is free for everyone! The museum is in the center of the city, very close to the Atomic Bomb Dome, so you don't have to travel very far with your kids to access it.
9. Take a Trip on the Shimanami Kaido Expressway
Perhaps the best road trip in Japan, the Shimanami Kaido Expressway is a 60km route which runs from Onomichi to Shikoku, Japan's fourth-largest island. The Shimanami Kaido Expressway passes through six small islands and traverses the Seto Inland Sea before it reaches Shikoku.
Though many tourists decide to take this trip on a bicycle over a couple of days as part of a bigger itinerary, it's possible to travel the entirety of the expressway on a day trip from Hiroshima. To do that, you'll need to rent a car in Hiroshima, then drive to Onomichi before traveling on the expressway.
If you're overnighting in Hiroshima on the same night, you'll need to return to Hiroshima on the same day, via the same route.
If you take the trip as we've outlined it, the whole route, starting and ending in Hiroshima, is around 300km. Though a long trip and a long day, it's absolutely worth it if you don't have time to explore the route in any other way.
The route is beautiful, with fantastic views of the Inland Seto Sea and the various verdant islands which call the water their home. The route was opened in 1999, so it's not only a natural beauty, it's also a display of modern Japanese architecture, with stunning bridges and sleek roads.
10. Visit the Hilly Port City of Onomichi
A quaint city 90km east of Hiroshima, Onomichi makes for an excellent day trip.
Onomichi has lots of lovely places to stroll, including the 2.5km-long Temple Walk, which is made up of 25 temples. Aside from the Temple Walk, the city also has many other temples and shrines, which are all quiet and cozy, making for an experience which contrasts with some of Hiroshima's bigger religious sites.
The city's port is another great place for a walk. Charming, romantic and nostalgic, it's a great place for a stroll – or for renting bicycles!
You can reach Onomichi by train, or by renting a car. Though taking a bus is possible, it's a long journey, leaving you little time to explore the city on a day trip.
11. Feed the Bunny Hordes on Rabbit Island
Though around 2 hours east of Hiroshima, this is one of Japan's most unusual attractions.
After humans abandoned this island after WWII, bunnies capitalized on the solitude, and made the island their own.
With over 1000 wild rabbits, it's an extravaganza of bunny-feeding mayhem.
When you get tired of the bunnies, the island has a museum about poison gas – the island was previously home to a chemical weapons factory which produced mustard gas and tear gas. The island also has some nice short walks along with lots of interesting ruins. You can even rent bicycles!
If you really want to enjoy the island and its furry little residents, you can stay in the island's hotel.
To get to Rabbit Island, you must first take a train or bus to JR Tadanoumi station. You then take a ferry from the ferry point, which is a short walk from this station. Alternatively, if you rent a car in Hiroshima, you can drive to the ferry point.
A one-way trip from the ferry point to the island costs around $3, but there's no entry fee to access the island.
12. Watch Hiroshima Carp Play Baseball
One of the most popular sports in Japan, locals have been in love with baseball since the 1870s. Hiroshima Carp are one of the best teams in the country, and play their games in the memorably-named Mazda Zoom-Zoom Stadium.
The Japanese baseball experience is a little different to the atmosphere in the States. Japanese fans are more fervent and fanatic than their American counterparts, especially in Hiroshima. The atmosphere is very fun, and many fans stand up for the duration of each game.
With songs, dances, cheers, rhymes and plenty of noise, it's a multi-sensory experience about way more than just the game itself. Even if you're not interested in sport, it's a unique and unusual experience, and a great insight into the lighter side of Japanese life.
With 30,000 fans, it's rowdy and raucous, but it's brilliant.
You can buy tickets at the stadium on the day of the game, though you should buy early, as some games can sell out fast. Prices start at around $14, though some are much more expensive.
The stadium is only around 3km from the city center, so it's very accessible. The main Hiroshima train station is the easiest point for quick access by public transport.
13. Enjoy the Grounds of Mitaki-dera Temple
This spectacular woodland temple is charming, atmospheric and quaint, and it's set in a beautiful location. Named after the three waterfalls which are on the temple's grounds, and featuring a beautiful little authentic Japanese tea-house, this place is a humble and wholesome slice of Japanese temple life.
Aside from the temple itself, the complex has lots of small stone statues and memorials along with endless natural wonder. In fall, this place is particularly striking, with vivid hues of orange, yellow and red complementing the colors of the temple itself.
The ambience is beautiful, and the grounds offer a fascinating combination of natural beauty and religious devotion. There are even a couple of small hiking routes! If you hike to the highest points of these routes, you can enjoy great views of Hiroshima.
Entry is free and the closest train station is Mitaki.
14. Enjoy the Sights and Sounds of Shukkeien Garden
With a name that translates to 'shrunken garden', this hidden little getaway is like something from a fairy-tale. Though it's right beside Hiroshima Station, the garden is a secluded area of solitude hidden within the confines of the city.
You can stroll around the lake, feed the coy carp, watch the turtles swim and have a quiet couple of hours in the chilled-out peace of the park.
If you like gentle, relaxing places, this is a perfect pick. And because it's free entry, it's perfect for all budgets!
The garden dates back to 1620, and has been bringing foliage and flora into the lives of Hiroshima's tourists and citizens ever since. Whatever time you visit the city, this garden is a great way to experience all of Hiroshima's seasons, from sunny summer to the resplendent red and orange hues of fall.
---
There you have it – all of Hiroshima's top attractions!
But they're not all suitable for all types of traveler.
Below, we've broken down our recommendations into different categories, so you can find the best things for you, depending on what type of traveler you are.
Traveling with kids? Looking for romantic experiences? Interested in culture? We've got you covered!
Best Romantic Things for Couples in Hiroshima
1. Enjoy the Sights and Sounds of Shukkeien Garden
Quiet and secluded, this can be a great place to steal a couple of romantic hours with your partner. A tiny getaway in the heart of the city, visiting here can be a great way to avoid the crowds and enjoy some time alone.
With lots of small walks, a beautiful pond and some of Hiroshima's best nature, it's a great place for a romantic picnic. It's particularly romantic in the late afternoon.
2. Visit the Hilly Port City of Onomichi
Onimichi can make for an excellent romantic day trip.
The best place in Onomichi for enjoying romantic moments is undoubtedly its port. Charming, and romantic, it's a great place for a walk. Active couples might like the idea of renting bicycles instead.
Sometimes, big cities can lack the charm that you need for a romantic getaway. But Onomichi is small enough to be cute and quiet, making it a great place to spend time with your loved one.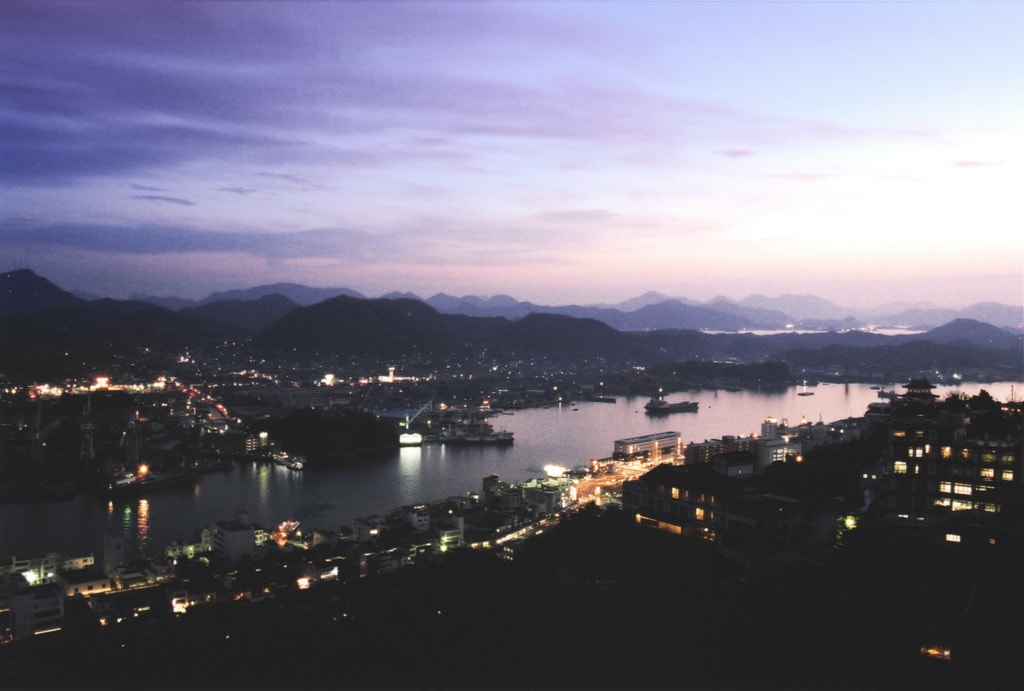 3. Stay Overnight on Miyajima Island
A short day trip to Miyajima isn't a particularly romantic experience.
But if you want to indulge in the romance of the island, you should spend the night in a traditional ryokan. A ryokan is an inn which offers matted rooms, thermal baths and other traditional touches.
For traditional interiors, warm Japanese welcomes and a genuinely intimate insight into Japanese customs and culture, staying in a ryokan is essential.
Staying in a ryokan on Miyajima is a great idea because it allows you to experience the laid-back life of the island without its masses of day-trippers. When the day-trippers leave, the island is much more peaceful and pleasant. If it's a particularly quiet night, you might even see some of the island's deer!
For true romance in Hiroshima, an overnight stay in Miyajima is incredible.
4. Enjoy the Grounds of Mitaki-dera Temple
For a romantic stroll in a temple, this is one of the best in Japan. Quiet and quaint, it's a peaceful place full of natural charm and interesting architecture.
Along with Shukkeien Garden, this is one of the best places in Hiroshima for a short romantic wander.
If you want to enjoy this place with even more privacy and solitude, you should visit early in the morning or in the late afternoon, when the temple is at its quietest. With no crowds, Mitaki-dera is even more charming and enchanting.
Best Things to Do with Kids in Hiroshima
1. Feed the Bunny Hordes on Rabbit Island
Kids love bunnies. And kids love feeding bunnies. If there's one must-do Hiroshima activity for kids, it's this.
On Rabbit Island, bunnies canter to the island's visitors, in keen anticipation of feeding and petting sessions. Kids absolutely love the novelty of the rapid approach of endless bunnies. And because lots of adults love the island too, it's a great activity which both you and your kids can enjoy together!
If your kids really want to spend lots of time here, consider overnighting on the island – there's a great hotel here.
2. Visit the Hilly Port City of Onomichi
As it's small and quaint, Onomichi is a great place to explore by bicycle. Cycling in Onomichi is exciting and safe, so it's a great activity for kids. Cycling over the famous bridges is really fun – and it's great exercise, so you can help your kids to burn off their energy.
With lots of local cats, fisherman and friendly places, kids love the laid-back warmth of Onomichi's welcoming atmosphere.
Because Onomichi is more authentic and untouched than many of Japan's much bigger destinations, it's great for introducing your kids to something a little different to the cityscapes they might have experienced in other parts of the country.
3. Take a Boat Trip to Miyajima Island and Enjoy the Ropeway
Kids love boat trips. And the boat trip to Miyajima Island is excellent. Short and fun, it's a great little adventure which kids of all ages love. They'll love watching Miyajima come into view.
When you arrive at Miyajima Island, there's plenty of fun for kids there too! Our top kid-friendly pick on Miyajima Island is the ropeway. For kids, it's a heart-stopping adventure full of peril and excitement.
4. Experience the Wonder of Hiroshima's Children's Museum
If you're traveling in Hiroshima with kids, this is unmissable. Your little ones will love it!
Children's Museums are pretty rare. But this is one of the best around. If you're looking for somewhere for your kids to burn off energy, they'll love it here.
For younger kids, you could instead consider taking them to the BorneLund Kid-o-Kid. Based inside a shopping center, and with a BorneLund toy store at its front, the Kid-o-Kid is a fantastic play area for young children. For kids from 6 months to around 8 years, the play area has castles, building blocks, plastic hamster-wheel bubbles, a mini trampoline and numerous toys.
Different prices are available for different age ranges and different lengths of stay, but they start at around $6 for 30 minutes.
The Kid-o-Kid is very central, close to the Atomic Bomb Dome, making it easy to access. If you have young kids who like to run around, this is the best attraction in Hiroshima.
For simple child-friendly fun, both of these are great picks.
Best Food-Related Things to Do in Hiroshima
1. Taste Okonomiyaki, the Hiroshima Delicacy
A Japanese savory pancake, Okonomiyaki is one of Japan's greatest foods. And Hiroshima is the best place to try it. Many locals claim that you haven't really tasted Okonomiyaki until you've gobbled down a hearty portion of the legendary stuff in Hiroshima.
Cabbage and batter are fried up on a griddle, then other ingredients are added before the mixture is chopped up. Anything at all can be added – from seafood, to meat to vegetables.
Though it's compared to a pancake, Okonomiyaki in reality looks a little more like pizza. Savoury, served on a hot griddle and endlessly adaptable, it's a great indulgence for those who like luxury fast food. In terms of taste, it's incomparable, but it's slightly sweet, slightly salty, very crunchy and undeniably delicious.
One of Japan's best foods, it's an absolute must-try when you're visiting Hiroshima. Some of the best is found in the Okonomimura, a food hall with over 20 Okonomiyaki stalls under one roof! Every local has their own favorite spot, but every single stall in the Okonomimura is fantastic.
The Okonomimura is a short walk from the Peace Park. If you prefer to travel by public transport, the closest streetcar stop is Hatchobori.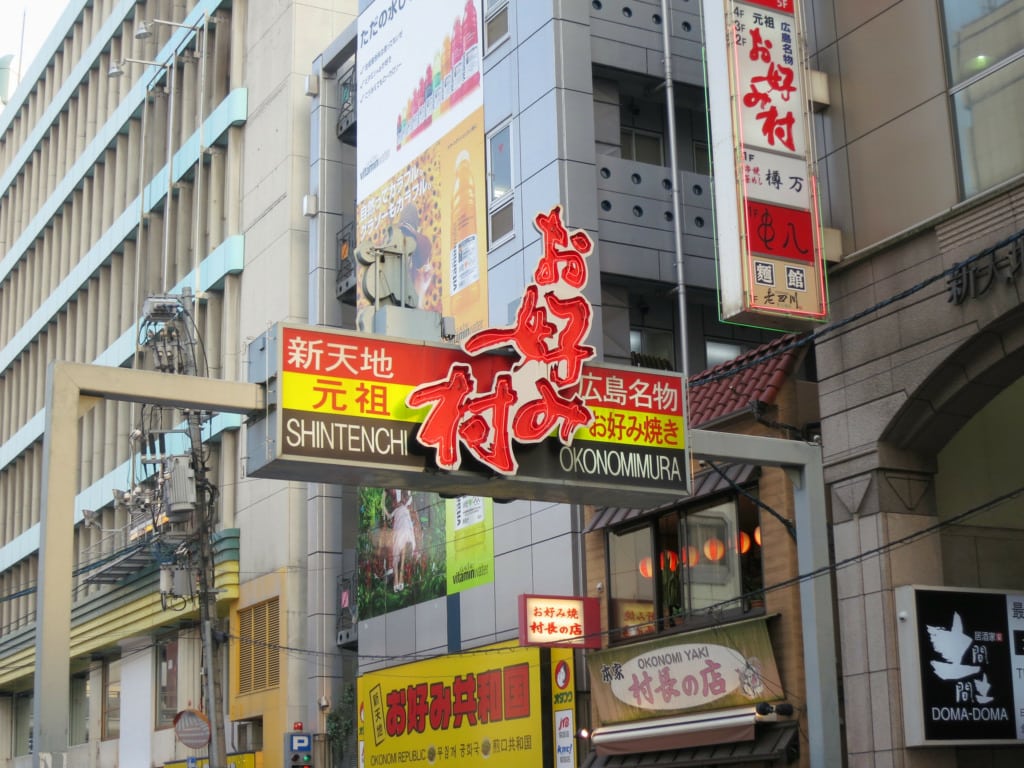 2. Learn All About the Local Delicacy of Okonomiyaki
If eating okonomiyaki isn't enough to satisfy your foodie fantasies, you can visit the Wood Egg Okonomiyaki Museum. Though this is only an experience recommended for the most fervent of foodies, it's fantastic for those who fit the bill.
If you book in advance, you can enter a cooking class and make some Okonomiyaki of your very own. The classes are super fun, especially considering the unique style of the Okonomiyaki-making process. Food experiences don't get any more exciting and regional than this.
3. Eat Some Oysters in Miyajima
If you love oysters, you'll love Hiroshima. The city is famous for its succulent servings of the delicacy, and produces around two thirds of all of Japan's oysters.
Typically eaten raw with soy sauce, oysters in Japan are found in bars, restaurants and food stalls throughout Hiroshima. But the best place to eat them is the island of Miyajima. Surrounded by water, it's prime location for big, juicy, tasty oysters. Lots of Japanese locals visit the island just to snack on some of the meaty morsels. If you like food, you should too!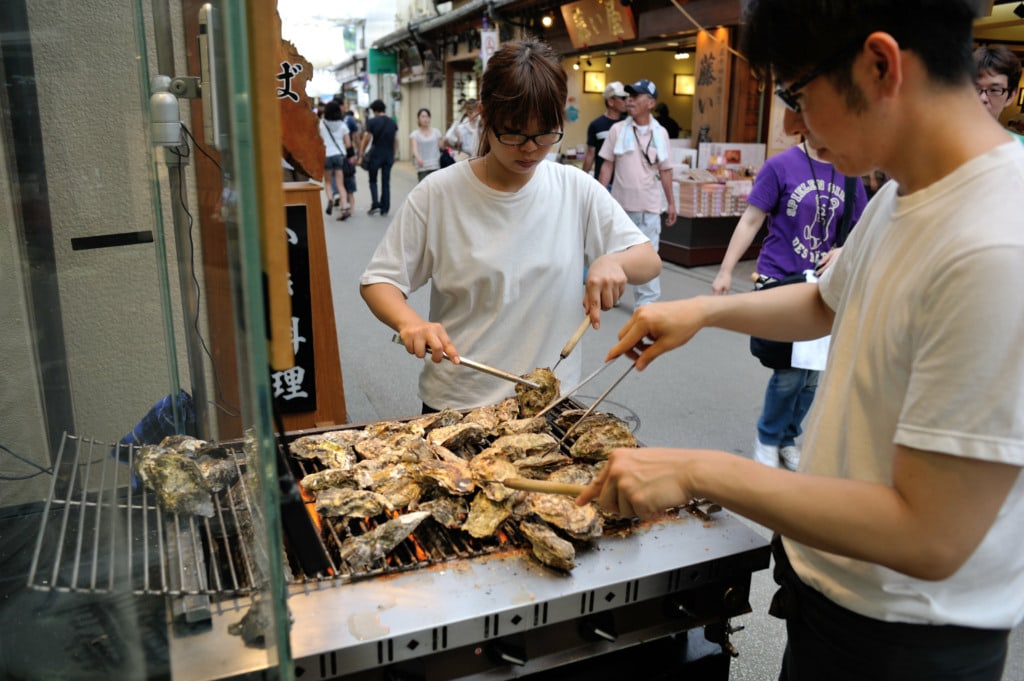 Cultural Things to Do in Hiroshima
1. Explore the Impact of WWII's Atomic Bombs
This is what Hiroshima is known for. No tourists come here without visiting at least some of the WWII places of interest. But for those who are particularly interested in culture, this is the only reason to spend time in Hiroshima.
The three must-visit WWII-related attractions are the Peace Dome, the Atomic Bomb Dome, the Peace Park and the Peace Memorial Museum.
If you really want to enjoy these attractions without the interruptions of large groups of tourists, try to visit them all before midday. This is especially key in the case of the Peace Memorial Museum. Without lots of other tourists, you can take your time reading all of the information and exhibits.
2. Visit One of Japan's Most Interesting Castles
If you're particularly interested in Japanese castles, you should visit the museum inside Hiroshima castle. While the building itself is very interesting, this museum is where you can really learn all about Japanese castles and history. It's a great insight into not just Hiroshima castle, but Japanese castles generally.
With several stories, great views, a moat and a shrine and more, there's plenty to explore outside of the museum.
If you're interested in Japanese pre-WWII history, this is Hiroshima's best attraction.
3. Learn About Car Manufacture at the Mazda Museum
Though this won't appeal to lots of people, if you're interested in cars (or vehicles in general!), you'll absolutely love this place.
The museum is great, but the chance to see an actual vehicle production line is a very unique experience.
4. Watch Hiroshima Carp Play Baseball
Japanese people have a somewhat unfair reputation for being sensible, quiet and withdrawn. If you want an insight into why this stereotype is far from true, go to a Hiroshima Carp Baseball game.
These games are fun and frenetic, thanks to the crowd's constant bouts of singing, dancing and chanting. These crowds offer a completely different insight into Japanese life. To experience Japanese culture at its most exciting, this is great fun. Whether or not you like baseball is almost irrelevant!
5. Take a Trip on the Shimanami Kaido Expressway
For those who like vistas and views, this is the best attraction in the whole of Hiroshima. Though far from Hiroshima's center, it's perhaps the best road trip in Japan, with incredible views of the Seto Inland Sea and several of its islands.
If culture to you is enjoying the sights and sounds of nature, do this. If you really like the great outdoors, considering traveling the expressway by bicycle. The roads are built with bicycles in mind, so cycling along them is a very pleasant experience.
Best Things to Do when It Rains in Hiroshima
All of the indoor attractions we've already listed above are excellent options for when it rains in Hiroshima. These are:
Experience the wonder of Hiroshima's Children's Museum
Burn off some energy in the BorneLund Kid-o-Kid
Explore the impact of WWII's atomic bombs in the Peace Memorial Museum
Learn about car manufacture at the Mazda Museum
All four of these attractions are completely indoors, making them excellent choices for rainy weather. But if you're looking for even more suggestions, here are two other great things you can do when it rains in Hiroshima:
1. Eat Eat Eat!
Japanese food is some of the best in the world. And Hiroshima is one of the greatest cities for exploring Japan's mouth-watering foodscape.
Because cafes, restaurants and other eateries are all indoors, they're a great place to spend time while you wait for the rainy weather to dissipate. Hiroshima has many excellent restaurants, food courts and malls which offer fantastic food.
2. Indulge in Endless Art
Hiroshima has a number of exciting and innovative art galleries and art spaces. If you're at all interested in art, it's a great city to visit, with interesting exhibitions about both Japanese art and international art.
The three best venues for art in Hiroshima are Hiroshima Prefectural Art Museum, Hiroshima Museum of Art, and Hiroshima City Museum of Contemporary Art. Here's a quick guide to what each one offers:
Hiroshima Prefectural Art Museum: with over 3500 permanent pieces, this museum specializes in art related to Hiroshima, Japanese arts and crafts and work created in the 1920s and 1930s. For an insight into traditional Japanese art, this is excellent. Entry for adults is less than $5 and the museum is centrally-located.
Hiroshima Museum of Art: with French art, Japanese art, key Romantic pieces and more, this museum offers a great collection of varied art from various movements and eras. Entry for adults is around $10 and the location is fantastic, sandwiched right between the Peace Park and the castle.
Hiroshima City Museum of Contemporary Art: if you like modern art, this is the best pick of Hiroshima's art museums. Collections span from post-WWII pieces to contemporary works from emerging artists. Entry is around $3. Though far from the centre, it's easy to access by taking a tram to Hijiyamashita. When you tire of the views inside, the hilltop views from outside of the museum are great too.
Quick Tips for Avoiding Crowds in Hiroshima
If you're keen to avoid crowds, Hiroshima is a great place to spend some time. While many Japanese cities and tourist sites are very crowded, that typically isn't the case with Hiroshima. A fairly peaceful city, it rarely experiences the endless hustle and bustle of cities such as Tokyo and Osaka. That said, there are still some things you can do to avoid busier periods:
If you plan on visiting Miyajima, stay on the island overnight. Miyajima is like two different places – it's busy and bustling during the day, when all the tourists descend upon the island. But late at night and early in the morning, when all the crowds have gone, it's a completely different island. Serene, peaceful and quiet, it's a beautiful place when bereft of crowds of tourists. If you want to experience Miyajima properly, you need to stay overnight.
The Peace Memorial Museum is best experienced when the museum is quiet, without too many other visitors. When it's relatively empty, you can properly appreciate the museum's content without being distracted by too many people around you. You should absolutely visit the museum in the morning, before most other tourists arrive.
Avoid the busy periods! From September to December, Hiroshima has few tourists. If you want to enjoy the city and its sights without too many crowds, this is the best time to visit.
Quick Tips for Transportation in Hiroshima
Hiroshima is a very walkable city, and you can easily reach many of the city's main attractions by foot. Some tourists visit Hiroshima without ever using any public transport. But if you want or need to use public transport, you have lots of options:
JR – The Japan Railway Company: JR is the rail company which works across the entirety of Japan, and most tourists use JR trains for long-distance journeys from one destination to another. Shorter JR journeys are available for short-distance journeys within – and around – Hiroshima. If you have a valid JR pass, you can use your pass for any JR journey in, around, to and from Hiroshima.
Hiroden Streetcars: absolutely iconic and almost eternal, these streetcars have been running for decades. Two of the still-functioning streetcars survived WWII's nuclear blast! With 8 routes within the city, they're a great way to get around. But they're an even better way to feel like you're traveling on a piece of ancient history. For these journeys, you pay on the streetcar, as you leave.
Astramline Trains: these electric transit trains run from the centre of Hiroshima to the suburbs, but some stops are useful for visiting tourist attractions. You must buy tickets at the ticket machines before entering the trains. JR passes are not valid on these trains.
Buses: there are lots of bus routes throughout Hiroshima. When you board the bus, enter at the middle, and take a ticket dispensed from the box at the entrance. Pay the corresponding fare as you leave the bus.
Taxis: Hiroshima has taxi stands, but you can pretty much always flag a taxi down anywhere. If a taxi has an illuminated signboard, it's vacant, and ready to take your custom. Make sure the meter is running. Though expensive, taxis in Japan are very trustworthy and reliable – they will rarely rip you off.
Ferries: there are many ferries which connect Hiroshima mainland to its nearby islands. Buy your tickets at the ticket counter. If you want to reach Miyajima inexpensively, use one of these ferries instead of hiring an expensive boat in the Peace Park.
A note on the JR Pass: this is a special ticket which entitles you to either 7, 14 or 21 days of unlimited travel on JR trains. Though expensive, it's a worthwhile investment if you're planning to use the train a lot during your trip in Japan. If you're only staying in one city, it's not for you, but it's a great option for those planning to travel around the country extensively.
If you want to take day trips while you're in Hiroshima, you should hire a rental car from rentalcars.com. Without one, it can be difficult to take simple day trips to places such as Onomichi, Rabbit Island and the Shimanami Kaido Expressway.
Driving in Japan is very easy and stress-free. The roads are great and the drivers are very safe and cautious. If you've never before driven in a foreign country, this is a great place to do it for the first time.
Quick Tips for Travel Guides
Japan is a very popular country for tourists from across the world. Because of that, there are a huge number of Japan travel guides, available both online and in bookstores. A travel guide is always very useful, but you should ensure you buy a good one. I recommend this one: Lonely Planet Japan. Updated in August 2019, it's very up-to-date and it's from one of the best travel experts on the planet.
At 928 pages, it's a bumper guide to all aspects of traveling in Japan. And its Hiroshima section is excellent, so it makes for an unparalleled companion for both your Hiroshima trip and your Japan one!
Quick Tips for Choosing a Hotel
When choosing a hotel in Hiroshima, it's best to choose somewhere near the Peace Park. This is the heart of Hiroshima, and staying here will ensure that you're close to many of Hiroshima's top attractions.
This is especially important if you're only staying in Hiroshima for a little while. If you only have a couple of days in the city, you don't want to spend lots of time traveling in order to reach the best attractions.
Though Japan has a reputation for being expensive, some accommodations offer excellent rooms at a low cost. You can find surprisingly affordable private rooms in hostels in Japan, perfect for saving money without having to sacrifice comfort and privacy.
Check out this hotels list in Hiroshima and play with the map tool to find the best accommodation that will suit you.
Final Thoughts on What to Do in Hiroshima
Hiroshima is one of Japan's most fascinating cities. Undoubtedly Japan's most significant city in relation to modern history, it's a place which has managed to escape the shackles of immeasurable devastation to become one of the country's trendiest, friendliest, most exciting cities.
With fantastic food, great bars and a laid-back atmosphere, many tourists are surprised by how cozy, homely and fun Hiroshima really is. Beyond its sad history, Hiroshima offers so much more than war memorabilia for tourists and travelers.
That said, WWII history is indeed the biggest attraction here. If you can only do one thing in Hiroshima, you should spend time learning about Hiroshima's war-torn past.
Visit the Peace Park and the Atomic Park Dome. But more importantly, visit the Peace Memorial Museum. It's haunting and harrowing, but you can't visit Hiroshima without stopping at this museum. It's an unforgettable insight into the culture and history of both Hiroshima and Japan on a wider scale.
Charming and friendly, Hiroshima is one of the best destinations in Japan. With a great atmosphere and lots of varied attractions, there's something for everyone. Enjoy!
Being a Digital Nomad: Tips, Tricks and Places
Do you want to be a digital nomad?
If you do, maybe you don't know where you might want to live. Or how to live there. Or whether you need a visa. Or how to make friends in the scary sprawl of a brand-new city. Or how to stay productive while you travel. Or how to find an apartment. Or whether this lifestyle really is for you. Or… I'm sure you get the idea.
But with some insight and experience, it's not as difficult as you think. So in this book, I've gathered my 6 years of digital-nomadding experience… and I've used it to answer all your questions, soothe all your fears, and get you on your way. After reading this, you'll realise being a digital nomad is much easier (and much more possible!) than you think.