Travel Apps: The 36 BEST Travel Apps For Exciting Trips
Traveling is no easy feat. There are so many things you need to think about! How to find reliable and comfortable places to stay? How to commute daily from one place to another? Where to eat? How to protect our privacy and our private data? And so much more.
These concerns are all the more overwhelming when you are traveling alone or with your family, and for a longer time period.
Luckily, there are a number of resources and applications available online that you can read or easily download on both iOS and Android that can make your traveling so much more convenient and hassle-free!
In this guide you will find a comprehensive list of applications you should start using for planning your next trip.
These applications can be useful during your travel, every step of the day. From deciding which places to visit, to the logistics of how to go about these visits, there are applications available to help you each step of the way!
You will also find helpful resources you can read and use to help you find ideas, plan your trips, and even save money;
I will start by naming the obvious ones (Instagram, Pinterest, etc), and then we will dive together in more original and less known travel apps.
Click on their links to visit their websites and read more details and information about each one of them.
Let's start!
I- Travel Apps for Finding Inspiration
Can't decide which places to travel to? These tools can help!
1. Instagram
No doubts that Instagram is one of the most popular apps nowadays. We spend many hours of each day, aimlessly scrolling through our Instagram newsfeed to stay updated with what everyone we know is up to in their lives.
When it comes to traveling, Instagram can also be pretty helpful, especially during the preliminary stages of deciding where to travel to.
This is because lately, there had been an upsurge of travel bloggers and influencers who have made accounts on Instagram and managed to garner thousands of followers.
These travel bloggers and influencers maintain Instagram pages where they keep their followers constantly updated with every little detail of their travels.
Not only does this introduce people to new countries and cultures, it also incentivizes them to start planning their own visits to these places because they are so in awe of the beauty of the places that they see on their Instagram accounts.
2. Pinterest
Pinterest is another useful application people tend to resort to when it comes to planning out their next trip.
Pinterest is filled with mesmerizing pictures of beautiful places from across the globe. Thousands of people open Pinterest every day, look at these pictures and start planning where they want to travel to next.
The beauty of Pinterest is that it can help you find inspiration for every little detail of your travels. For example, once you decide which country you want to visit, for example, Malaysia, you can then decide where in Malaysia you want to visit.
Let's say you decide to visit the island of Langkawi in Malaysia. Pinterest can then help you decide which hotels and guesthouses you can stay at, which clothes to pack, etc.
3. Travel Blogs
Some of the travel bloggers you can find on the web are extensive in their details of travel. They tend to document each moment of their travels, since they set foot in a new country.
They talk about the problems they face on a day-to-day basis and their solutions, along with highlighting the landmarks of the new country that people must visit, the foods they need to try out if they do visit, and affordable hotels they can stay at to make their travels budget-friendly.
In fact, budget-friendly travel blogging is an upcoming genre of travel blogging that has understandably attracted a whole lot of attention from people across the world.
Some travel bloggers I personally follow and recommend are Solo Sophie, Expert Vagabond, Nomadic Matt, and I am Aileen.
II- Travel Apps for Organizing the Trip
Once you decide where to travel, the following apps can help you organize your trip.
4. TripIt
TripIt is one of the most useful apps you can have if you plan on traveling any time soon. TripIt organizes your travel documents and creates your travel itinerary for you, from start to finish, so that you don't have to worry about a single thing.
This application can go through your emails and yank out the most crucial pieces of information and store these for you for the future. This application can be very useful for you if you are someone who is generally careless and disorganized about your documents and planning.
All you have to do is send your reservations to TripIt. Then sit back and let TripIt manage the rest!
TripIt will allow you to view your hotel confirmations, your flight information, car rental information, bus and ferry tickets, etc all without ever having to exit the app. All your information will be in one place, so as to avoid any confusions and misinterpretations to allow for smooth traveling.
Furthermore, TripIt also simplifies the process of sharing your travel information with a family member, a friend, or anyone who is picking you up from the airport, or anyone who simply needs to stay updated with your travel plans, such as a family member or a significant other.
You can download the application free on both Google play and iTunes. In fact, starting from 2019, even Mac desktop users can download the application free of cost!
Always wanted to take a road trip but not sure how to go about it? RoadTrippers can help!
Not only does this useful online tool help you plan out your exact driving route (by giving you access to the entire map of the United States and some parts of Mexico), it also allows you to book hotels, explore and discover attractions such as museums, restaurants, amusement parks, and campsites along the way.
This application is particularly useful for those who have an adventurous streak and wish to discover fascinating new places such as a quaint little café in the middle of nowhere.
RoadTrippers can be downloaded free of cost on both Google Play and iTunes, make sure to subscribe here before downloading the app, then put in this discount code:
FPRT235XTX
You will get a 20% discount immediately!
Thank me later 😉
6. PackPoint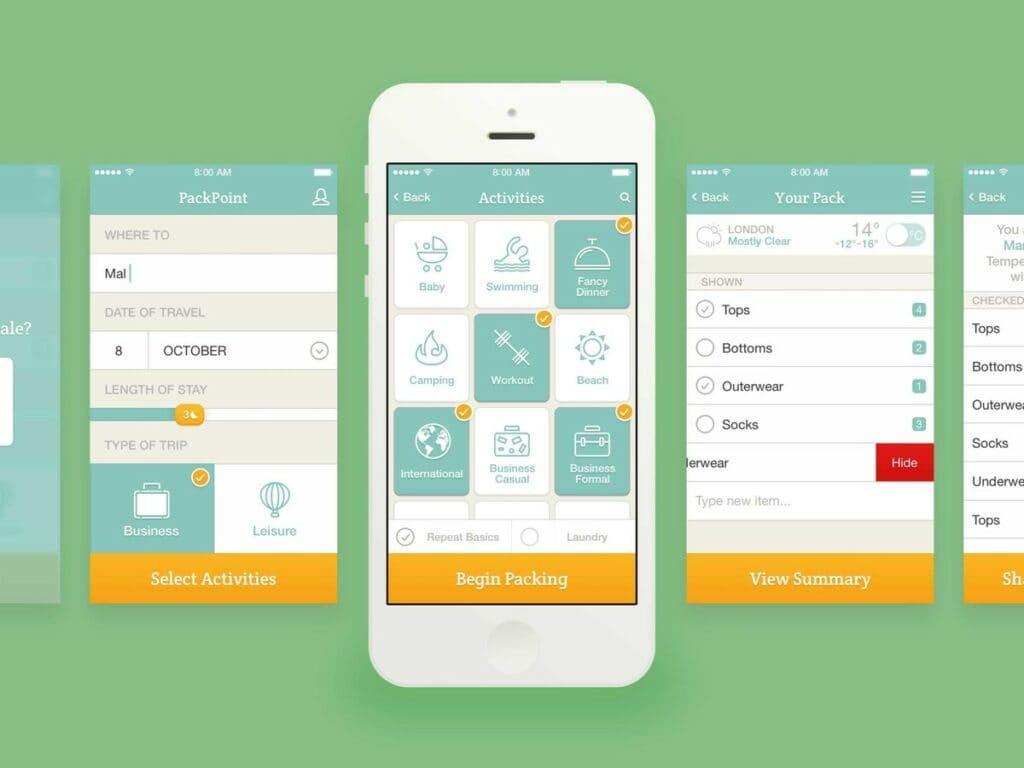 For those of you concerned about the stress of packing, PackPoint can be a very useful online tool. This application takes into account the duration of your trip, the weather conditions of where you are traveling etc, and the various activities you have planned in your time at your destination and tells you all that you need to pack for your trip, based on this information.
This means that you only end up packing the things that are absolutely essential for your trip and avoid any extraneous baggage.
PackPoint is pretty thorough in its planning and takes into account each little detail of your trip before telling you what you should or should not pack.
For example, the application even takes into account whether or not you will have access to laundry facilities where you are traveling and on the basis of that tells you how many different articles of clothing you must have with you.
All you have to do is download the application, well in advance of your trip, and let PackPoint worry about the rest!
The application can be downloaded free of cost on both Google Play and iTunes.
7. Happy Cow
This online tool is useful for those who are particular about their eating habits. Happy Cow allows you to discover and locate over 100,000 cafes, restaurants, grocery stores, bakeries, and even farmers' markets that cater particularly to those who eat only vegetarian or vegan food in more than 195 countries all around the world.
Not only this, this useful application also allows you to filter restaurants based on aspects such as type of cuisine and whether or not the cuisine is gluten-free.
Additionally, the application allows you to read restaurant reviews and even gives you certain recipes!
The app can be downloaded on both Google Play and iTunes for only $3.99.
III- Travel Apps for Booking Flights
Now that you have done all preliminary research with regards to your trip, it's time to set out for your adventures!
8. Skyscanner
This is perhaps one of the most useful online tools you can download well in advance of your trip. Skyscanner does exactly what the name suggests – scans flights to give you the best prices you can possibly manage!
You can use Skyscanner to book your entire trip from start to finish, particularly if you are on a budget, because Skyscanner gives you some of the best deals when it comes to flight and hotel prices.
Not only can you book your flights and hotels using this app, Skyscanner can also help you rent a car in the destination you travel to, again at very affordable prices.
The application can be downloaded free of cost on both Google Play and iTunes.
Kiwi.com website has multiple uses. It can be used to book flights, to manage your flights and hotels bookings, and even to manage the tours and activities you plan as part of your trip.
Furthermore, this excellent travel app gives useful information about the destinations and airports you will be commuting through.
For example, if you have layover in your itinerary, Kiwi.com can tell you the best things to do during your layover at the airport where you stop. It can tell you about the shops, the lounges and even the ATM machines at that airport so that even your layover is fun and comfortable.
Register on Kiwi.com here first, then download the mobile app. I find that it's easier that way.
10. SeatGuru
SeatGuru is both a website and a mobile application available on both Google Play and iTunes. SeatGuru is for those who are very particular about their in-flight comfort and cannot compromise on the seat that they are assigned in the aircraft.
Using SeatGuru, you can view seat maps on various aircrafts and pick the seats that you think are perfect for you.
Not only this, you can even receive flight status alerts in real time using this application and also make sure that the flights you book are those that have the lowest fares.
SeatGuru can provide you access to more than 1100 seat maps in more than 140 separate airlines. So visit the website or download the application to book the best seats starting today!
11. Google Flights
Google Flights is a useful application for those who quickly want to check flight availability and fares. It is a quick and efficient online tool to check airfare for one-way, multi-city and round trip tours. The application also gives you an overview of fares and prices at the destination you are traveling to.
Google Flights is available as both a website as well as an application on Google Play.
IV- Travel Apps for Digital Security
Here are some things you can do to make sure you are digitally secure before you board your flight.
VPN are an essential tool, especially for travelers, to protect us from leaking sensitive data such as banking information, passwords, and private information. VPN are also useful to navigate on blocked website (such as gmail, facebook, youtube, whatsapp, netflix, etc.) in certain countries.
I personally recommend to use one of these 2 of the best VPN for travel in 2020: ProtonVPN for their strong security and strong legal policies and No-Logs feature, as well as NordVPN for their high number of endpoints.
Check out the full VPN for travelers guide here on Travelness to know more about this tool and to understand why the use of VPN is critical for travelers.
V- Travel Apps to Use During the Flight
Now that you are off on your journey, here are some applications that might come in handy.
13. TimeShifter
When traveling long distances to far away destinations, jet lag is a common problem. In fact, some people are discouraged from traveling owing to the difficulty adjusting in a completely different time zone.
TimeShifter is an application that can help you overcome jet lag. The app is based on research on circadian rhythms and provides customized recommendations to each person based on variables such as gender, age and their usual sleeping patterns.
The app tells you when you should take a nap and when you should avoid it completely, how you can avoid caffeine and when to consume it, etc.
14. Calm
Some people are discouraged from traveling because they get anxious while traveling. This application provides access to meditations on how to calm anxiety, how to improve breathing, how to practice mindfulness etc, so that you remain stress-free and in a calm state of mind throughout your journey!
The application can be downloaded free of cost on both Google Play and iTunes.
15. SkyGuru
If you are Afraid of traveling because of the turbulence and disturbances you may encounter along your journey, fear no more! SkyGuru is here to take away your fears!
This useful online tool is designed by pilots to give you the latest updates on turbulent weather conditions so that you know just what to expect while flying. Unexpected turbulence can be very scary and it is this uncertainty that SkyGuru wishes to help you avoid.
The app is available for download free of cost on both Google Play and iTunes. If you decide to download the Pro version for $39.99, you can even receive real time in-flight updates.
VI- Travel Apps for Booking Hotels
Your hotel reservations need to be made well in advance of your, to make sure you book the best places at the best prices.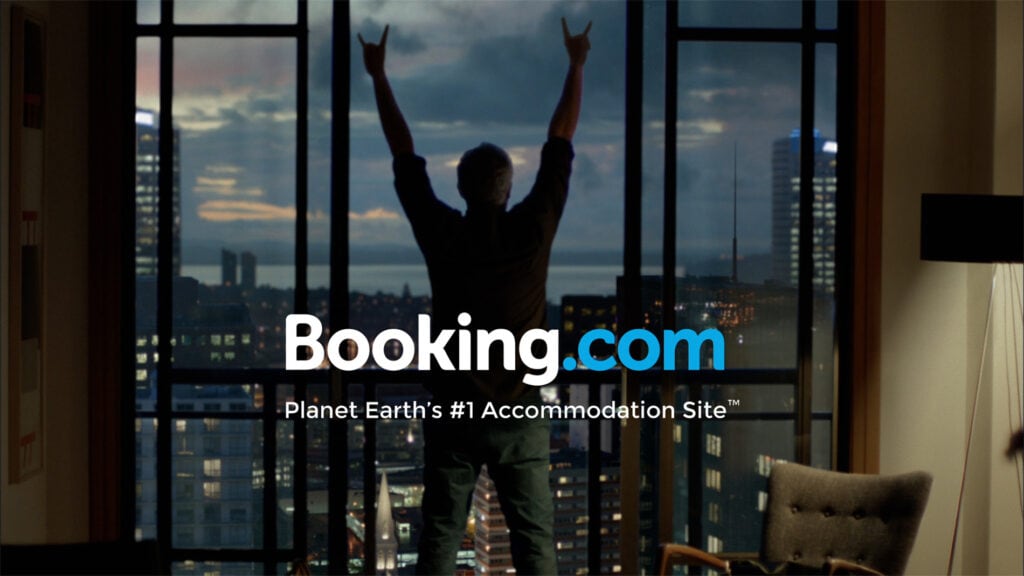 This is perhaps one of the most popular websites you can use to book your hotels well before you depart for your trip.
Booking.com allows you to view affordable housing options, ranging from hotels, to hostels and even apartments in the destination you wish to travel to.
As an example, here is a list I compiled of the best Hotels you can find in Paris with an Eiffel Tower view. As you can see, all the hotels are available to book on booking.com with an easy step-by-step process.
The website also often has special deals going on and if you take advantage of those deals, you are likely to save a whole lot of living expenditure!
In my personal experience, I always get 10 to 20% discounts even if I didn't use the website for a while.
That's 1 to 2 free nights in a 10 nights stay!
So it's worth trying and using. The more you use it the more reductions you'll get!
17. Hotels.com
Similar to Booking.com, Hotels.com also allows you to book hotels abroad in affordable prices. Hotels.com allows you to put in the dates of your travel and the destination you are traveling to, and you can easily find good quality, affordable housing in the destination of your choice, for your given dates.
In addition to hotels, the website also gives you the option to choose from city homes, apartments, and even resorts.
18. AirBnB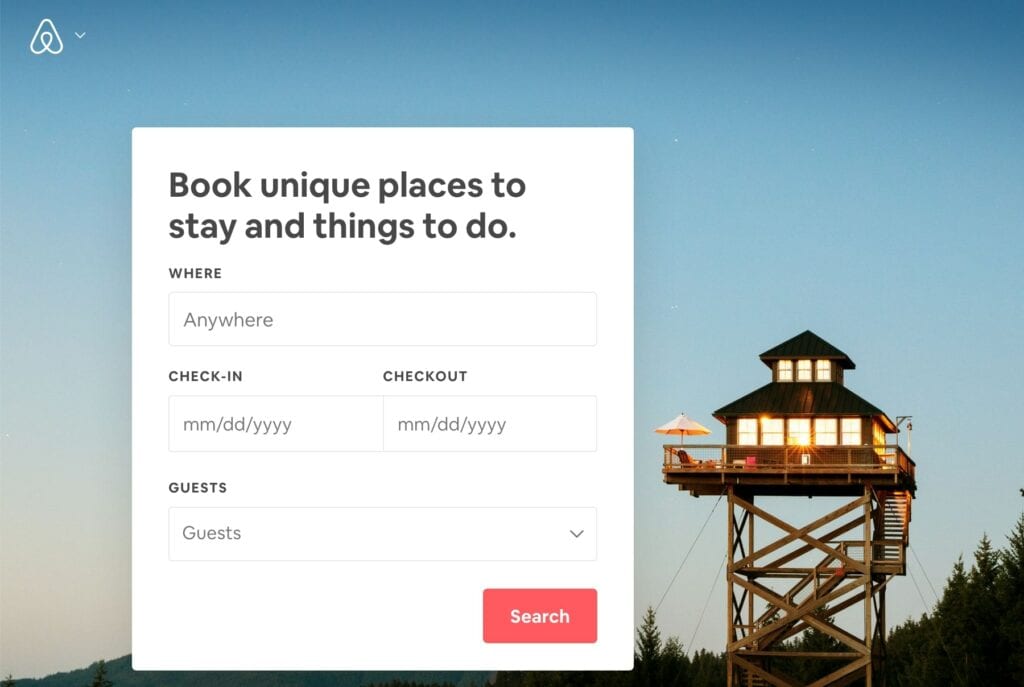 This particular website allows you to book lodgings in someone else's home in the destination that you wish to travel to.
Not only does this prove to be more economical, it allows you to take advantage of more authentic experiences. For example, if you book a trip to Egypt and can stay in the home of a local Egyptian, you are more likely to get the real feel of the place than if you were staying in a hotel or apartment.
In addition to the website, this online tool is also available on the app store for both android and Apple.
This particular tool specializes in hostels. You can go to the main page of the website (click here to see it), plug in your dates of travel, and discover innumerable hostels in over 178 countries all around the world.
HostelWorld offers free cancellation for up to seven days in advance of a trip booking as incentive for people to book early. It also provides customer reviews so you can be a 100% sure of whichever hostel you ultimately choose.
VII- Travel Apps to Find Activities
Now that you have all the basic logistics figured out, you need to start planning your activities!
Klook is a travel company that specializes in helping you book all sorts of activities and tours wherever you decide to travel.
You can book all sorts of city tours, cruise trips, and festivals in the place or places you wish to travel to easily and without much hassle.
Using Klook you can easily benefit from a whole range of discounts and take advantage of the best deals when booking your tours.
21. Viator
Using this website, you can make book all sorts of tours that you wish to take. Basically, the purpose of this website is to make it easy for you to embark on your adventures.
Viator specializes in all sorts of tours sightseeing tours, helicopter tours, city tours, day trip etc. If for example you are traveling alone or with a group of people who do not know much about the destination you are traveling to, Viator can help.
You can book all sorts of tours at the best prices using this useful online tool.
VIII- Travel Apps for Finding Your Way
It's easy to lose your way in a completely alien town. Here are a few tools that can help.
22. Maps.me
This application's main feature is that it offers access to offline maps. This means, if you are stuck in a new country, lost in its streets, you can always resort to this application to help you find your friends or help you get back to your hotel.
Maps.me is an offline travel app which means it does not require internet connection to work, unlike many other mapping applications out there, and this is probably its best feature.
The direction and the maps of this application are quite easy to understand and navigate through which makes it superior to other mapping applications.
23. CityMapper
Sometimes, certain applications operate better in certain cities. CityMapper is one such app. If you are visiting London, Rome, Berlin or San Francisco, CityMapper is a good mapping application you can resort to.
When searching for the perfect mapping application, it is sometimes good to switch between a few different ones, depending on where in the world you are.
24. Swarm
Swarm is a mobile application that allows you to share information about the destinations you visit with your friends and family. Additionally, it allows you to keep a personal record of all the places you visited as a record for the future.
The best feature of the app perhaps is that it allows you to keep track of each of the places you visit in your travels. For example, you are in a new city and you visited a restaurant. Suppose you really liked that restaurant but you're afraid that you couldn't remember its name later on. Swarm can help! It stores all of your history in a personal record so that you always have each little detail of your travel with you, wherever you go.
The application is easily available for both iOS and android.
25. Google Maps
This is perhaps one of the most commonly used mapping applications out there. Google maps gives all sorts of options for transportation along with the different time periods needed to reach your destination via various modes of transport. These include driving, biking, walking and even public transport.
Google Maps allows you to download maps when offline so if you are in a foreign country with little or no familiarity of your surroundings, Google Maps can really help.
Google Maps also has the option of creating stars for frequently visited locations. This can help you remember some of your favorite destinations.
IX- Travel Apps for Communicating with Locals and with Friends & Family
When in a foreign land, you must be able to speak at least some of the local language. Here's what you can do!
26. Google Translate
This is an application that will allow you to translate between 103 languages. All you have to do is type in your own language and this will automatically translate into the language of your choice, inducing communication between you and the locals.
Alternatively, you can use your microphone and speak in your own language and your translated voice will appear in written form in your mobile phone.
This application therefore proves very useful when you're in a foreign land with no one around who understands you. Imagine trying to buy food and not being able to explain to the shopkeeper what you want. With Google Translate, such problems can easily be avoided.
27. Vocre
Similar to Google Translate, Vocre is a language translation app. It allows you to speak into the microphone in your own language and translates that into the language of your choice.
There are 38 different languages you can choose from. Now don't be scared of traveling because you speak a different language. Vocre is here to the rescue!
28. Whatsapp
Whatsapp is one of the most popular call and messaging applications in use today. In fact, Whatsapp is one of the main methods we use to communicate with friends and family. In some countries, Whatsapp is also the main means of professional communication.
When you travel to a completely different country, it is important to stay in touch with your loved ones back home. Whatsapp is free of charge and easy to use. Most people have this application installed so you can reach out to almost anyone you want to.
Do keep in mind that Whatsapp is banned in certain regions of the world such as the Middle East. If you have plans to travel to that part of the world, perhaps you should consider an alternative messaging app.
29. Signal
Signal is a free messaging app that thousands of people (including Edward Snowden) use for instant communication anywhere in the world.
Signal works in most places around the world and also gives you voice and video calling options.
It is a well encrypted messaging service that protects your privacy in your communications. Free private (and simple) messaging is what Signal has to offer.
I personally use it, and you should too.
X- Travel Apps for Productivity
LastPass is an award-winning password managing app. By using this application, you can make sure your passwords are safe and secure and can be accessed from any computer or mobile device you are using while overseas.
This app can be particularly useful if you are traveling for an extended period of time because you will need to make sure that you have access to all your passwords and that all your passwords are safe.
You can use it completely for free here, but they also have a premium plan that includes more security features such as an encrypted disk-space where you can save your important documents (passports, ID, etc), the possibility to share data with travel partners, or an urgency access in case something happens.
With DropBox you can easily save your documents on the cloud in a secured way. You can then access, modify, share, download all your documents from anywhere in the world and from any device (desktop, android, ios, you name it).
I primarily use Dropbox to keep all of my work and my work files well organized, and to also keep a backup of the photos I took during my travel.
32. Trello
Trello is a list-making application. It can easily simplify the planning-out part of your trip.
Indeed, you can make different lists at one time and sub-categorize tasks. Imagine that you are leaving for a month-long trip and you need to plan everything you need to do before you leave. Trello can help organize it all in your head and on your device.
You know what's better than travel?
That's not losing all your photos you took during your travel … (it might or might not happened to me before..)
Backblaze is the travel app you absolutely need if you don't want to lose any file again as it lets you back up all of your data automagically.
If you take a lot of photographs while traveling or if you have important writing or office work that needs saving, Backblaze can be a life saver!
You can try it for free here.
XI- Travel Apps for Photography
What's a trip without pictures to prove it? Here are some photography apps that can make your trip so much more fun!
34. Lightroom
LightRoom is an app you can use to catalog all of your pictures as you continue to take them along the journey.
The mobile app also, and mainly, allows you to edit pictures easily and conveniently without the use of a computer. You can take pictures, edit them on Lightroom, and upload them right away!
I always use Lightroom myself, it has become my go-to photography app.
35. Google Photos
Using this online tool, you can organize and store your pictures. The best feature of this app is that it is very easy to search for pictures. For example, if you want to look for pictures from your trip to Thailand, all you have to do is type Thailand, and voila! There they are.
XII- Wrapping Up
Be sure to download at least a few of these tools well in advance of your next trip. I recommend to not miss on using ProtonVPN and Booking.com as I always use them myself for my trips.