Top 7 Best Amusement Parks in Alaska
Alaska is full of stunning views, outdoor adventure, and wildlife experiences, but sometimes a family vacation calls for a day at a theme park. While it may not be the first state that you think of when it comes to amusement parks, Alaska does have a few adventures to offer!
Whether you want to ride water slides, swing through the trees, or experience a little bit of quirkiness, you'll find a spot to enjoy in The Last Frontier.
So without further ado, here are the best amusement parks in Alaska. Enjoy!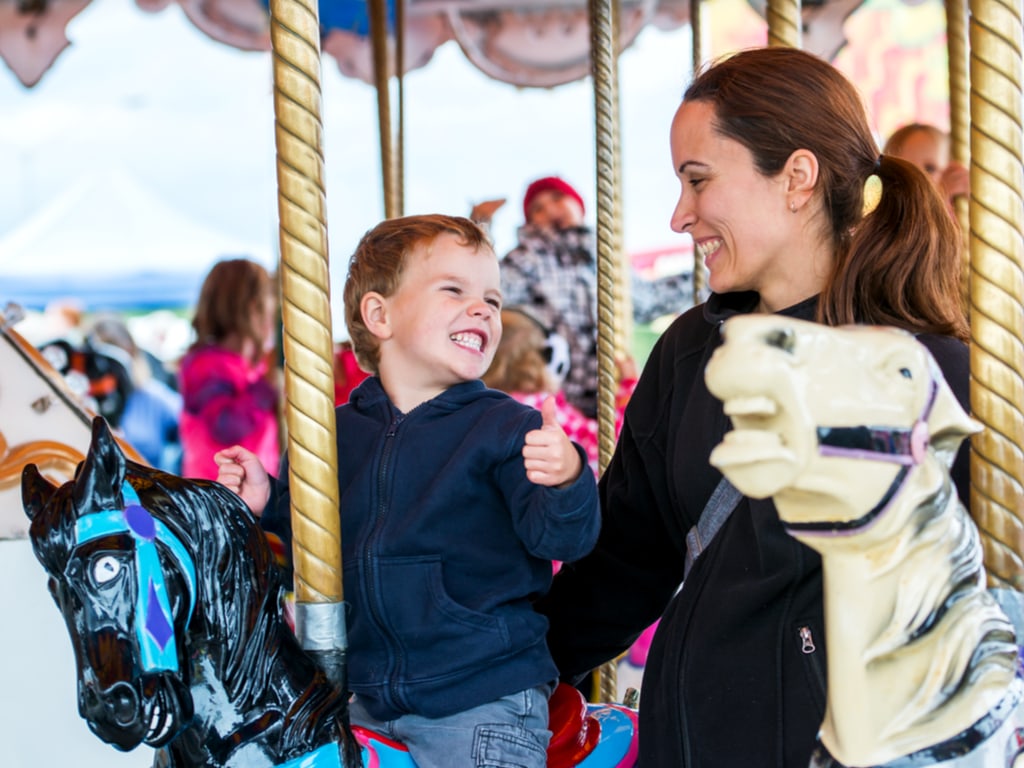 1. H2Oasis Indoor Waterpark
The H2Oasis Indoor Waterpark in Anchorage is a 56,000-square-foot tropical island plopped down in the Last Frontier. It is an excellent spot for families to enjoy, and they even host birthday parties for the kiddos.
H2Oasis has a water-powered roller coaster, a children's lagoon, water cannons, and a deep splash pool. You can also enjoy the 43-foot-high open flume body slide or the 575-foot lazy river.
The Waterpark offers other activities like Toddler Time and water aerobics at regular intervals. Check the calendar of events if those activities appeal to you.
Address: 1520 O'Malley Rd, Anchorage, AK 99507
Cost: $19.99 – $24.99, Under 2 is free
Hours: Fri 3pm-7pm, Sat 10am-7pm, Sun 12pm-7pm
Season: All year
2. Pioneer Park-Fairbanks
Opened in 1967, Pioneer Park celebrates the state's purchase from Russia and features a historic village containing some of Fairbanks's original buildings. It was initially called Alaska 67 and then AlaskaLand before the name was officially changed to Pioneer Park in 2001.
In the summer season, you can enjoy the carousel, sternwheeler, and Mining Valley. You can also take a chug around the park on the train before playing disc golf or kayaking on the Chena River. Shoppers will love browsing the shops. In the evenings, the park has a salmon bake and dinner show.
While the park is still open in the winter months, many attractions are closed for the season. The big draws during the colder season are the tree lighting ceremony the week after Thanksgiving and the Bear Gallery, which displays fine art.
Address: 2300 Airport Way, Fairbanks, AK 99701
Cost: No admission
Hours: 7 days, 12pm-8pm
Season: All year, more attractions open in summer
3. Roadrunner Amusement Park – Anchorage
You'll find the locally-owned Roadrunner Amusement Park in southern Anchorage, and it is a great place to enjoy a few hours on a summer day.
Park-goers will find cornhole games, bumper boats, mini-golf, and go-karts to enjoy — although kids need to be 42-inches tall to ride the go-karts. There is also a 9-hole mini-golf course to enjoy. The Roadrunner Amusement Park hosts birthday parties as well.
You can pay for activities individually as well as purchase package deals such as the Go-Kart Ticket Book which allows for 12 rides.
Address: 7740 Homer Dr, Anchorage, AK 99518
Cost: $5 – $80
Hours: Sun-Thurs 3pm-10pm, Fri 3pm-12am, Sat 12pm-12am
Season: Closed in the winter
4. Mukluk Land
In Tok — the "Gateway to Alaska" — is a unique theme park called Mukluk Land. (Mukluks are a type of footwear worn by Native Alaskans made from seal or reindeer skin.) This junkyard-turned theme park has been referred to as the "Most Alaskan Place in Alaska."
The park is a jumble of salvaged materials, including snow machines and fire engines. Created and run by George and Beth Jacobs, guests can tour the doll mausoleum, admire the outhouse collection, see Santa on a rocket ship, and of course, take a photo with the "world's largest mukluk!"
There are other activities available such as gold panning and mini-golf.
Address: AK-2, Tok, AK 99780
Cost: $2 – $5, Under 3 free
Hours: 7 days, 2pm-7pm
Season: Summer only
5. Rainforest Ropes & Zipline
The adventure starts with a 25-minute drive from downtown Ketchikan to Knudson Cove, located in the Tongass National Forest. Upon arrival, you'll find eight ziplines and eight aerial traverses.
Professional guides give safety instructions before hoisting you up into the air. Once you are among the trees, expect to see bald eagles as the lines go through a bird sanctuary. You'll be gliding through the cedar trees and over the ocean some 50′ below you.
This tour can be booked as a shore excursion if you are traveling to Ketchikan via a cruise ship.
Address: 37 Potter Rd, Ketchikan, AK 99901
Cost: $125+
Hours: 7 days, 7am – 7pm (reservations required)
Season: All year, inclement weather may halt some activities
6. Aurora Ice Museum
The Aurora Ice Museum, located in Chena Hot Springs Resort, is the world's largest ice environment that is open year-round. Conceived by Steve Brice, a champion carver, the museum features rooms made entirely out of ice.
Attractions include a giant ice chess set and full-sized jousting knights. Ice chandeliers light your way, glimmering on the walls like the Northern Lights. You can even order a drink that comes in an ice glass!
Aurora Ice Museum is more than 1,000 tons of ice and is kept at 25° F at all times. You can wear one of their parkas if you are feeling too chilly during your tour.
Address: 17600 Chena Hot Springs Rd, Fairbanks, AK 99712
Cost: $10-$15, Under
Hours: 7 days, 11am – 7pm (reservations required)
Season: All year
7. Kawanti Adventures
Kawanti Adventures offers a treetop adventure in Juneau that includes five zip lines — the longest is 600 feet! Your guides will give you plenty of opportunities to take photos among the treetops, and they will take the time to answer questions about flora and fauna.
After zipping through the trees, you can try your hand at axe throwing, and you'll leave the excursion via a suspension bridge stretched across a rushing stream. Kids must be at least eight to enjoy this adventure.
Kawanti Adventures has been certified as an Adventure Green Alaska program, meaning it meets specific environmental sustainability criteria.
Address: 76 Egan Dr UNIT 100, Juneau, AK 99801
Cost: $182+
Hours: Tours restart in 2022
Season: Summer
Alaskan Amusement Awaits
Tacking on one of these amusement parks in Alaska to your Alaskan travel itinerary can add a lot of fun and excitement to your trip. The quirkiness of the Mukluk Land or the adrenaline rush of the zipline adventures is something you are sure not to forget.
So, don't forget to add a theme park adventure to your fishing, hiking, and bear-watching adventures in the Last Frontier!