10 Best Alaska Cruises for Couples
Alaska is known for having a multitude of cruise options, but when it comes to planning a romantic cruise, Alaska may not be the first place that comes to mind. However, the Last Frontier has so much to offer; it should definitely be considered when looking at a cruise to take as a couple!
You can find ships offering fine dining experiences, cultural programs, and stunning glacier views.
Here are the 10 best Alaska cruises for couples:
1. Oceania
An Alaskan cruise with Oceania means luxurious cabins, intimate ships (just 342 staterooms!), and boutique shore excursions. Cruisers love the way Oceania staff remember personal preferences making everyone feel right at home.
The Regatta is the fleet's flagship, and she is outfitted in teak decks, custom stonework, and bejeweled chandeliers. There are four restaurants onboard, a casino, and the Aquamar Spa.
The 10-day Alaskan cruise departs from Seattle and hits all of the popular Alaskan ports, including Ketchikan, Juneau, and Sitka. Couples enjoy excursions like the Tongass Rainforest Nature Hike, Alaska 4×4 Nature Safari, and the Chilkoot Trail Hike and Float Adventure.
2. Seabourn
Seabourn offers a bespoke experience that feels a little like sailing in a posh country club with one of the youngest fleets in the cruise industry. Leather chairs, marble accents, and gleaming brass surround you as you sail through the Alaskan waters. You can spend your onboard time practicing yoga, learning from a life coach, or getting deep tissue massages in the ship's spa.
The staterooms are all ocean fronted and appointed in luxury. The bathrooms contain double vanities, and the living areas include walk-in closets. The bath products feature an exclusive scent created for Seabourn.
If you can tear yourself away from the ship's amenities for some shore excursions, you won't be disappointed. Spend time learning from experts as part of the "Seabourn Conversations" program, including programming from marine biologists, naturalists, historians, and more.
3. Cunard
Cunard cruise line offers white star service to the 2,000 guests who choose to sail the Inside Passage on Queen Elizabeth. Expect luxury around every corner with Art Deco touches and stunning ballrooms. Afternoon tea is served every day, and the Gala Nights are black-tie affairs.
The spacious staterooms are decked out in plush bedding and are stocked with sparkling wine or champagne upon check-in. Some of the more luxurious accommodations include extras like the delivery of fresh fruit each day or exclusive dining in the Princess Grill restaurant.
With 12 nights to spend in The Last Frontier, Queen Elizabeth will bring you face-to-face with glaciers, Alaskan wildlife, and plenty of adventure.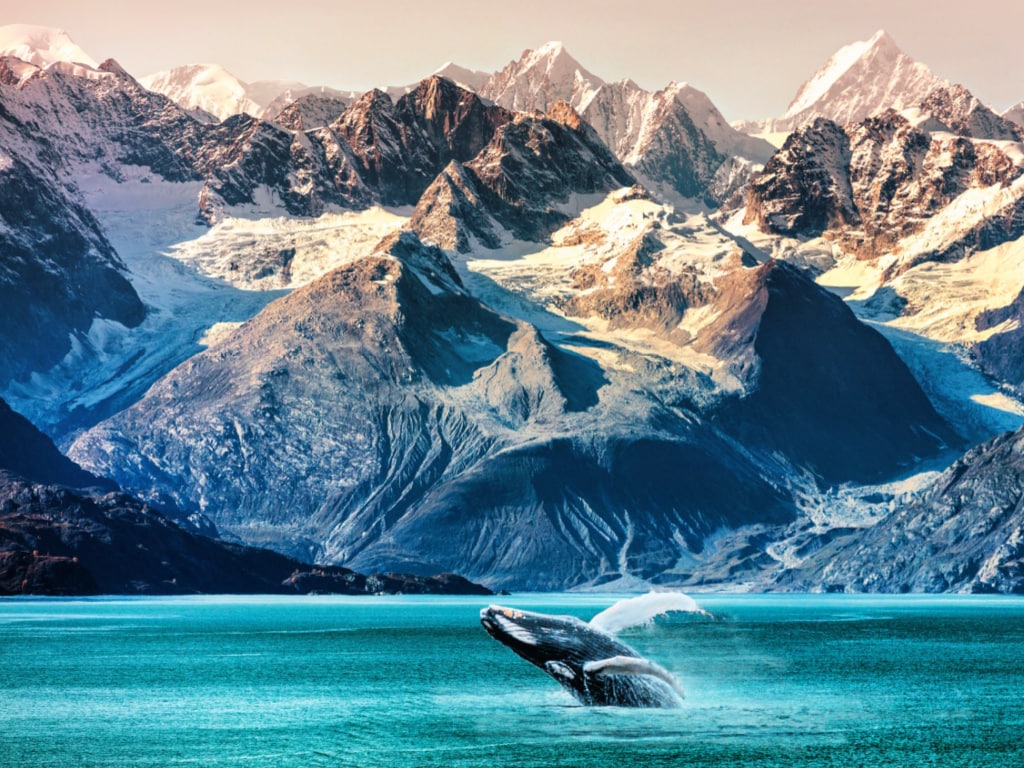 Search the waters for breaching humpback whales from the comfort of your private verandah or explore the ports like Ketchikan and spend time strolling through rainforests, totem poles, and quaint Alaskan main streets.
4. Silversea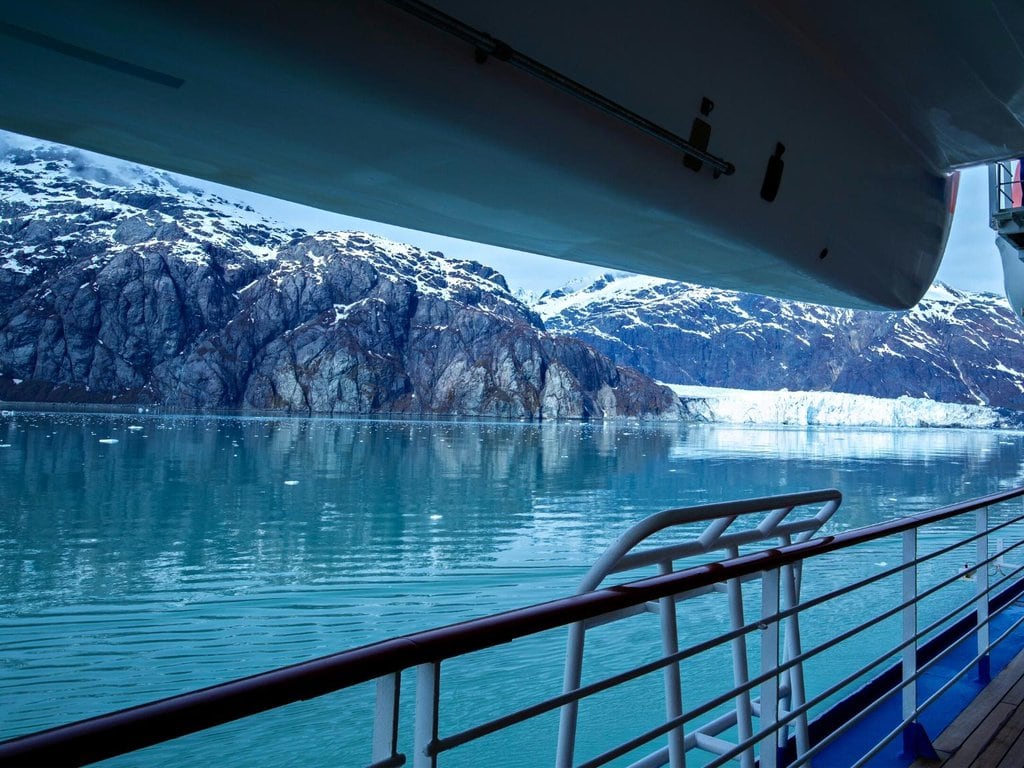 Silversea is an upscale cruise line that offers authentic, pleasurable experiences. Cruisers love the design of the staterooms, the artistic touches, and the enhanced amenities. With less than 400 guests on board, you can expect above-standard customer service! Butler service is available for your cruising pleasure.
Foodies rejoice on a Silversea cruise because the menu options are anything but humdrum. Expect options like lobster bisque, Japanese Wagyu, and regional-inspired treats.
Enjoy yoga classes and spa treatments as you cruise through the inside passage. However, the fun really begins when you embark on Alaska's ports like Ketchikan, Juneau, and Seward. You can marvel at the beauty of the Hubbard Glacier from your teak veranda and spend hours playing ashore on excursions like the Sea Otter & Wildlife Quest in Sitka.
5. Regent Seven Seas
Regent's Seven Seas Mariner is an all-suite ship with 97% of the staterooms, including a private verandah. With only 700 guests and a nearly 1 to 1 staff-to-guest ratio, you can expect top-notch service while sailing the Alaskan seas. If you are on a working vacation, you will be glad to know that unlimited WiFi is included with all accommodation categories.
Couples love the specialty restaurants serving various cuisines, from prime steaks to Haute French. 24-hour room service is also an option if you prefer a more intimate dining experience. Drinks are also included on a Regent cruise.
The seven-night cruise hits all the Alaskan highlights Hubbard Glacier. Enjoy an alpine lake adventure in Skagway, whale watching in Skagway, and brave the ziplines in Ketchikan.
6. Princess
Princess Cruises offers affordable balcony rooms, which are necessary when sailing through Alaskan waters. Plus, they have several adult-only entertainment options. However, they may be more suited for couples who are a little more chill and not looking for lots of nightlife.
Cruisers enjoy the luxurious onboard touches that come standard on the Princess line. Couples particularly like the ability to have breakfast delivered to the stateroom allowing you to lounge in the mornings before starting the day. Ruby Princess is famous for being christened by Trista and Ryan Sutter of the Bachelorette!
A larger ship able to house 3,080 guests, the dining options are sure to delight with so many great dishes to enjoy. Couples also love the movie night under the stars! Spending time in the various Alaskan ports is made all the better with the excursion options like exploring the Mendenhall Glacier, eating breakfast at the Red Onion Saloon in Skagway, and canoeing in a rainforest in Ketchikan.
7. Celebrity
While the ships are pretty large (2,852 passengers), they still have an intimate feel with plenty of luxury to go around. There are expansive dining and entertainment options, plus opportunities for romance.
Your 7-night Alaska cruise departs from Vancouver aboard the Celebrity Eclipse. Sailing down the Inside Passage, you'll be surrounded by breathtaking vistas, whales, and glaciers. You can watch from the ship's decks while eagles soar overhead before embarking at one of the spectacular ports.
Hop on a dogsled in Juneau, the capital city, have a crab and salmon feast in Ketchikan, and view wildlife in Icy Strait Point. Celebrity's highly-trained team will ensure your every cruise desire is fulfilled.
8. Norwegian
With menus that change daily, Norwegian is a top choice for those that want unique dining experiences. Couples also love the Vegas-style shows keeping you entertained night after night. NCL has duty-free shops with everything from souvenirs to fine jewelry for those who like to shop.
The accommodations on the Norwegian Encore give you comfort in contemporary style, with many staterooms having private balconies. Add on a romance package, and you can expect sparkling wine and chocolate-covered strawberries waiting for you when you arrive. You'll also get special perks like a romantic dinner, roses, and a professional portrait to commemorate your cruise.
Once you get to Alaska, expect the fun to continue off the ship as well, with a plethora of excursions to fill your days. You can go whale watching in Juneau and watch the Lumberjack Show in Ketchikan to round out your trip.
9. Holland America
Holland America is known for 5-star service, which is why couples that appreciate luxury choose these Alaska cruises. The ship's decor is opulent, and while there are over 2,000 passengers onboard, it rarely feels crowded.
The Koningsdam is full of light and elegance with traditional touches. The dining options are innovative, delighting those foodie couples, and there is plenty of entertainment to enjoy, including a blues club.
Once you reach the Alaskan ports, you'll find Holland America's excursions to be well-rounded with something for everyone. Go salmon fishing in Juneau, watch a native dance performance in Ketchikan, and bike the Klondike Highway in Skagway!
10. Carnival Cruise
For those couples who want to stay active all day and night, Carnival is an excellent choice with all of its nightlife options. You can start with a cocktail hour before heading to dinner, then hit up a comedy show before heading to the piano bar to finish off the evening! If you need to relax for a day or two, the spa or the Serenity Adult-Only Retreat has you covered.
Finding a cruise within your budget should not be a problem with four room types to choose from. You can expect high-quality linens, plenty of storage space for your Alaskan cold-weather gear, and a dedicated room steward no matter which you choose.
Hitting the major ports, the Carnival Splendor lets you explore Alaska's beauty, history, and wildlife. Learn about Tlingit culture in Icy Strait Point or go bear viewing on the Chichagof Island. Expect port days full of adventure.
Lovebirds Love Alaska
While Alaska may not be the first destination that comes to mind when romance is in the air, the Last Frontier should not be overlooked as a couples' destination.
The breathtaking views, sense of adventure, and wildlife encounters are fantastic things to share with your significant other.
If you can afford to splurge, the intimate Seabourn cruise should not be missed, but you really can't go wrong with any Alaskan sailing.
For more cruise adventures check out my guides about the best Alaska cruises for families with kids, the best Alaska cruises for seniors, and how fast a cruise ship can go.