What are the best beaches in Krabi? This question is frequently asked when the topic of traveling to Thailand comes up. In this article we present the most amazing beaches in this beautiful region of Thailand.
---
Krabi is the perfect travel destination in southern Thailand. This area is relatively new to the tourist scene and is slowly becoming developed towards tourists. The location is a perfect low-key getaway destination for those looking for a tropical paradise.
Krabi is known for its stunning landscapes, amazing food, and beautiful beaches. There are palm-tree lined beaches, waterfalls, caves, and tall rock formations, making Krabi the ideal location for adventurers. Beyond the coast, there are hundreds of islands that are rarely visited and ready for exploration.
Krabi is unique because it is the perfect hub for island hopping. There are over 200 nearby islands, many of which are rarely visited by tourists or even locals! If you choose to vacation in Krabi make sure you spend your time exploring beaches beyond the closest one to your resort and you will be surprised by the many hidden gems you can find!
The article below will be exploring some of the most beautiful beaches in Krabi, along with practical information like how to get to them or what to do once you're there.
Let's start! 🏖️
1. Ao Nang Beach
Ao Nang is located on the mainland of Krabi and is the most popular beach and the center of travel life in Krabi. The beach is a 1km long straight of white powdery sand with clear shallow water. This beach is the most lively in all of Krabi due to its stretch of restaurants, shops, bars, and hotel options.
There is a constant flux of people from divers to climbers and even just those looking for a relaxing beach day. There are not many sunbathers on the beach as many leave for close islands or Railay, but the beach is somehow still bustling. Ao Nang has many longtail boats for hire and is the most popular departure destination for island hopping.
Ao Nang beach is known to be one of the best places to watch the sunset.
During the late afternoon, the beach floods with observers and once the sun passes below the horizon the town comes alive with lights, music, and entertainment.
Overall, it is no surprise why Ao Nang is the travel hub of Krabi and where many travelers choose to stay.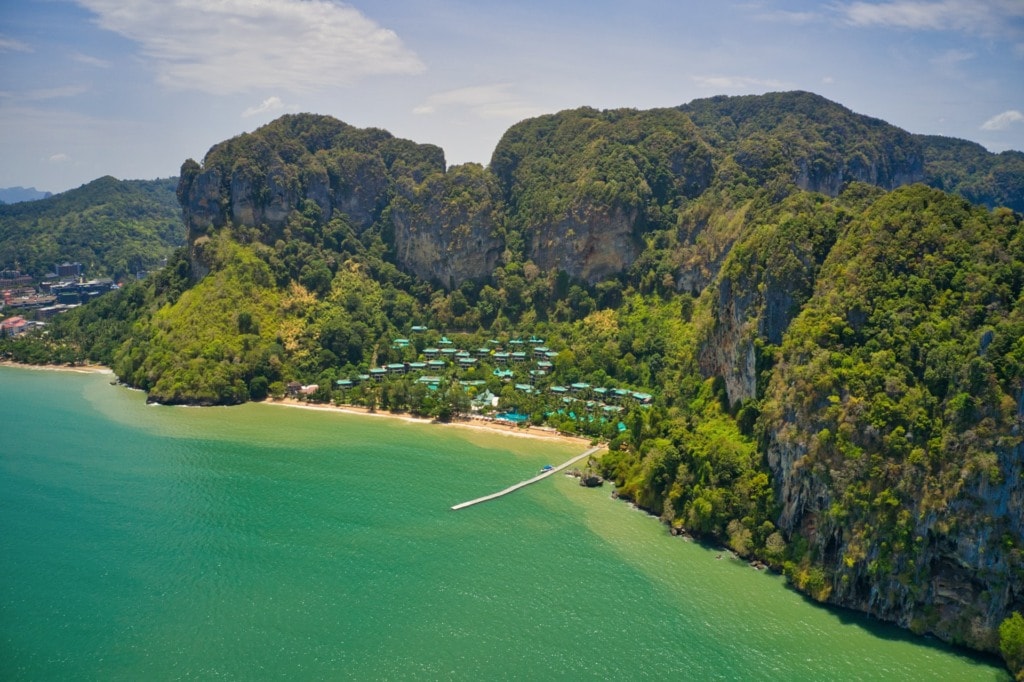 How to Get to Ao Nang Beach
Ao Nang is one of the most popular tourist areas in Krabi if your hotel is not located where it is easily accessible by motorbike or taxi from Krabi town. The beach is walking distance from Ao Nang town.
What to Do Around Ao Nang Beach
Explore nearby beaches and islands. You can easily hire a longtail boat for 100 baht to get you to secluded beaches and islands you can explore.
Take a walk down the Ao Nang town. Explore the unique shops and markets and try some street food and local Thai dishes. You can even find amazing entertainment by walking into any of the bars.
Book a tour boat. If you are overwhelmed by the many options of amazing beaches and nearby islands, Ao Nang offers several places to book tours showing you the most beautiful and special places.
2. Railay Beach
Railay is one of the most popular beaches in the Krabi province. It is located on the mainland but is only accessible by boat, due to the large limestone cliffs that block the beach on both sides. This beach is a large stretch of white powdery sand meeting with clear turquoise water, and it is surrounded by jungle foliage and large cliffs beyond the developed parts.
Not only the beach itself is absolutely mesmerizing, but it is also well developed with many restaurants, bars, and shops, which undoubtedly makes it one of the best beaches in Krabi. You can even find massage tables set up on the beach.
The east side of Railay tends to be busier, with incoming boats docking constantly. The west side has a more widespread and open beach where many tourists prefer to find privacy and their own slice of the beach.
This is an adventurers paradise, with rocks to climb, jungle and caves to explore, and a beach to swim and snorkel in. Railay is known to be a famous rock climbing spot and attracts thousands of people to marvel at the world-class climbing routes. It is also home to many jungle treks and caves to explore for those looking for a less adrenaline-filled adventure. The swimming in Railay is pretty good, and on good days you can enjoy amazing snorkeling.
How to Get to Railay Beach
As this beach is only accessible by boat, the easiest way to arrive at Railay beach is by hiring a long tail boat from Ao Nang Beach. They cost about 100 baht and take about 20 minutes. It is easy to get a return boat from Railay as well.
What to Do Around Railay Beach
Try your hand at rock climbing. There are various level routes and there are plenty of beginner routes around Railay that require no equipment and are very safe. You will find plenty of climbers around that will offer help!
Take a jungle trek. There are various paths behind the developed area of Railay leading to raw untouched areas of the jungle and even hidden monuments and caves to explore!
Swim and sunbathe! The most popular activity for vacationers on Railay beach is relaxing in the beautiful nature and tropical climate.
3. Phra Nang Beach
This beach is located just 10 minutes away from Railay Beach and is one of the more busy beaches with a lot of tourists. The beach is only reachable by a trail from Railay Beach, or by boat. Phra Nang is a picturesque location, with a beautiful white sandy beach and clear turquoise water.
It is known for its unique rock formations that are strongly identified with SouthEast Asia. This beach has many stunning examples of the steep, rising mountains from land and rising out of the water.
This beach is unique for its many natural attractions to explore. Phra Nang has crystal clear water perfect for swimming and snorkeling, and many caves to explore such as Princess's cave. There are several caves around this area and you will not need any guides or pay any entrance fees.
There are also two nearby islands (Koh Rang Nok and Nai) that are reachable during low tide by just walking through the water! Beyond these natural attractions, there are no buildings or activities, so there is not much to do except relax and enjoy your day.
How to Get to Phra Nang Beach
The easiest way to reach Phra Nang is by hiring a boat from Ao Nang Beach to Railay Beach, which will cost an average of 100 baht. Once arriving at Railay, follow the marked trail to Phra Nang Beach. You can also hire a boat to take you directly there for a bit more.
What to Do Around Phra Nang Beach
Explore the nearby caves such as the well known Princess's Cave, or discover your own less visited cave.
Enjoy the beautiful picturesque beach with snorkeling, swimming, and sunbathing.
Try your hand at some rock climbing. This area of Thailand is known for its wonderful rock formations perfect for climbing!
4. Tonsai Beach
Tonsai is another beach neighboring Railay, with a completely different vibe. It is a very secluded destination so many people often miss it during their trip. Tonsai is much more laidback and exhibits a very hippy mindset. The beach is lined with chill bars usually playing reggae.
There is not too much to do around this beach and that is how Tonsai travelers like it! Most travelers come to Tonsai for a chance to relax and unwind, and most people spend their days relaxing on the beach all day.
Tonsai also attracts both professional rock-climbers and beginners to their well-known and world-class climbing routes. The unique and rugged limestone rock formations around the area not only makes for beautiful scenery but also the perfect adrenaline rush for adventurers.
Tonsai is not the best place for snorkeling due to its intense currents and sharp reef, however, it is the perfect place for activities like sea-kayaking and diving. There are many beachfront shops offering information, tours, and rental equipment. Tonsai is the perfect place for those looking to relax on the beach, get a nice suntan, and experience the amazing natural beauty Thailand has to offer.
How to Get to Tonsai Beach
To get to Tonsai, you need to hire a boat from Ao Nang Beach. You can either book the trip directly to Tonsai which is the most convenient option, especially if you are looking to stay in Tonsai. Or, if you are looking for a day exploration trip, you can book the boat to Railay Beach, then walk during low tide to Tonsai Beach.
What to Do Around Tonsai Beach
Try out rock climbing! There are plenty of climbing routes suitable to all levels of rock climbers and you are certain to find plenty of other travelers willing to help guide you! You can also try to book a guide!
Rent a sea kayak for a day. There are plenty of nearby islands and private beaches to explore in the areas near Tonsai, and sea kayaking gives you the freedom to do so.
Relax on the beach! The most popular activity in Tonsai is sitting back, relaxing, and working on the perfect vacation suntan.
5. Klong Muang Beach
Klong Muang is a long stretch of beach located in the luxury area of Krabi. Along the shore exists many different expensive 5 star resorts, bars, and restaurants. This beach was once only known to locals, but now it is becoming more popular with those looking for an escape from the rapidly growing tourism in Thailand.
The serene white sand beach is over 1km long and lined with palm trees providing an abundance of shade. The coastline is rather rocky in this area and some parts of the beach might not be ideal for swimming.
However, Klong Muang is the perfect place to hire a boat and visit the close island of Koh Hong. Koh Hong is just a 25-minute boat ride from the shore and has amazing scenery of unique limestone formations with lush jungle surroundings and even some hidden lagoons. If you are looking for a place to snorkel, this island has a colorful reef with clear water perfect for swimming.
How to Get to Klong Muang Beach
The easiest way to get to Klong Muang is by motorbike or taxi. The drive is only 30 minutes from Ao Nang Beach. The drive is on one main road and it is marked with signs the whole way.
What to Do Around Klong Muang Beach
Hire a private boat to a near island like Koh Hong. Koh Hong is a popular day trip from Klong Muang, however, there are several islands nearby to explore.
Visit Tiger Cave Temple, otherwise called Wat Tham Sua. This is a widely popular tourist attraction, but also a very sacred site. This temple sits upon 1300 steps and overlooks the whole of Krabi.
Explore the local town. Klong Muang is home to a local Thai village with small shops and restaurants. This is an ideal trip to get a feel for the authentic local life, and maybe make some friends with the locals.
6. Tub Kaek Beach
Tub Kaek is a private and secluded beach located in the Krabi province about a 30-minute drive away from Ao Nang and just a few km north of Klong Muang. It is not only one of the quietest beaches, but also one of the more stunning. The beach is a long stretch of white sand lined with palm trees and bordered by stunningly clear water.
If you are looking to get away from the tourists this is the beach for you. The beach is always quiet and remains one of the hidden gems in Krabi. There are a few shops and accommodation options lining the beach, but it remains a public space with very little people. Tub Kaek even offers a sunset view that rivals Ao Nang, but with significantly less viewers.
The beaches are not ideal for swimming due to the rocky floor, but during the high tide, the water rises just high enough. Tub Kaek is also unique for its many nature trails going through the Hat Nopparat- Mu Koh Phi Phi National Park. This beach is the perfect location for those looking for adventure, serenity, and beautiful scenery.
How to Get to Tub Kaek Beach
It is easy to reach Tub Kaek by either motorbike or taxi, or even by speedboat. The drive to Tub Kaek is only 30 minutes from Ao Nang and around 45 from Krabi town. You can either rent your own motorbike or hire a taxi. If you choose to take a speedboat, expect there to be a larger price tag and limited options on places to book it. However, it is a worthy experience.
What to Do Around Tub Kaek Beach
Visit Koh Hong Island. This island is located in the Thanbok Kharanee National Park made of impressive limestone foundations and is lined with a soft white sand beach. It is only accessible by boat and is the perfect private spot. More on this island beaches later in the article.
Explore the Tubkaek National Park and take the Ngon Nak Nature Trail. For those looking for a less explored nature excursion, this is the place to go. The trail offers a beautiful nature experience along with a stunning viewpoint overlooking the whole of Krabi.
Enjoy the feeling of being on a private beach. There are rarely many tourists here meaning you will often enjoy a whole area to yourself. You can sunbathe, swim, and relax in peace here.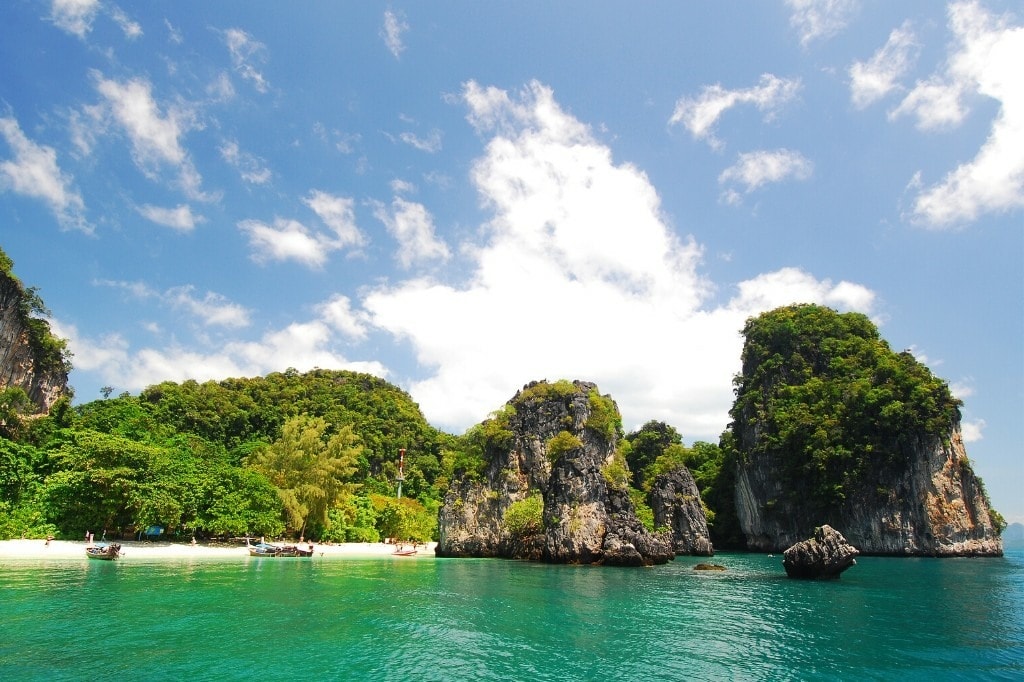 7. Koh Poda
Koh Poda is located in the Mu Koh Phi Phi National Park. This island is serene and undeveloped and often quite deserted in the mornings before day trip boats begin to arrive. The island is like most around Krabi, with a beautiful white sandy beach and tall reaching limestone cliffs and palms providing shade.
What makes it unique, is that there are no shops on this island. No restaurants, souvenir shops, hotels, or even rental shops, so make sure you come prepared with your own equipment if you want to snorkel. Koh Poda is a favorite island for most due to its unspoiled beauty, especially for sea kayakers and snorkelers.
The island is beautiful but lacks activities. Due to the island being a part of the national park, there is a fee you must pay to arrive. To get the best value, it is recommended to take the 4 island tour of the islands in the Poda Island group: Koh Poda, Koh Kai, Koh Tap, and Koh Mor.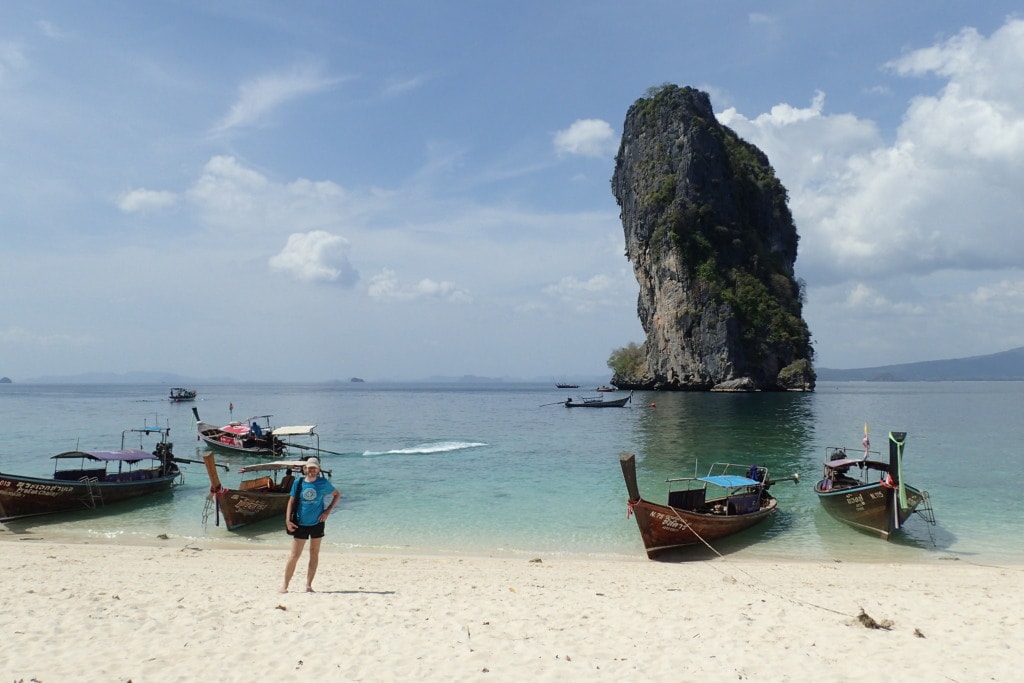 How to Get to Koh Poda
To get to Koh Poda by yourself, it is recommended to either hire a boat or sea kayak and take yourself. You will still need to pay an entrance fee, but you have the freedom of choosing where on the island you want to go.
The other option is to take a tour boat. You will find many agencies offering a 4 island tour of the Koh Poda Islands, and this is often the best value.
What to Do Around Koh Poda
Snorkel in the bright coral reef. Koh Poda is one of the most beautiful snorkeling spots around Krabi due to it's preserved nature. The best time to visit is in the morning before large groups of tourists come in when you will have the sea mostly to yourself.
Rent a sea kayak. Sea Kayaking is one of the favorite modes of transportation for tourists looking to island-hop as they have full freedom. It is a great option to see all parts of the island.
Relax and work on your suntan. With the abundance of activities around, it's important to take advantage of relaxing in this tropical paradise.
8. Bamboo Island
The beautiful Koh Mai Phai also known as Bamboo Island, is one of the further islands from Krabi and because of this it offers a more solitary experience.
The island is about 45 minutes from Koh Phi Phi Don and is a very small island, of which you can walk around its entirety in less than 30 minutes!
The island is home to the same white-sanded beaches and clear blue waters but has no impressive limestone cliffs or developed areas.
Due to the small number of tourists willing to make the long boat ride to this fairly empty island, it is one of the most beautiful and best-preserved.
Koh Mai Phai is your best option if you are looking for a solo island experience. There are no rental shops, so bring your own snorkeling gear to experience the amazing sea life and preserved colorful coral reef.
Although there are no hotels, the island offers rented tents and you can sleep on the beach and watch the sunrise over the ocean. This is one of the most magical experiences offered in Krabi, and definitely worth the trip to the island.
How to Get to Bamboo Island
The journey is too long to kayak and there are no tour boats to this island, so the easiest way to get to Koh Mai Phai is by hiring a boat from Ao Nang Beach.
What to Do Around Bamboo Island
Trek around the whole island. This won't take long, and is a great way to experience nature around the island and have a nice walk!
Bring snorkeling gear. There is no place to rent any gear on the island, but don't miss out on some of the best snorkeling in Krabi.
Stay overnight in a tent on the beach. Sleeping on the beach itself is a magical experience, but having the whole beach to yourself for sunrise is something else.
9. Koh Hong Island
Koh Hong Island is located in the Than Bok Khorani National Park and is part of an archipelago consisting of almost a dozen tiny islands. The islands are so tiny that most do not even have their own beaches. Koh Hong is the largest of the islands and is the most popular of them.
The islands offer stunning landscapes of soft white sandy beaches with turquoise waters and rising limestone cliffs. There are beautiful coral reefs still preserved, and even a beautiful natural lagoon in the center that makes it one of the more popular islands visited.
The island is the perfect place for outdoor activities, especially due to its unspoiled nature preserved by the national park. Even though many people come to visit this island, there is so much to do and so many places to visit around that it is rarely crowded. You can find people swimming, kayaking, snorkeling, sunbathing, and even hiking around the island's natural scenery.
How to Get to Koh Hong Island
There are many tour options for visiting the Koh Hong Islands, however they adhere to a pretty strict schedule. It is recommended to hire a longtail boat and explore the island on your own schedule.
What to Do Around Koh Hong Island
Visit the lagoon. The lagoon is located in the center of the island and can only be reached by a 10m channel via boat or kayak. It is the perfect spot for swimming and sightseeing.
Snorkel in the preserved reefs. Bring your own gear if you'd like to experience the protected reefs and sea life, as there are no places on the island for rentals.
Hike around the island's jungle. There are many jungle treks around the island leading you to untouched raw nature. You can find several viewpoints around the island and even your own private beaches.
10. Koh Lanta Beach
Koh Lanta is another popular island to visit from Krabi, however, the boat trip is a bit longer. The average boat takes about 2 hours to arrive at Koh Lanta, and many visitors choose to stay a few days before returning to Krabi. Koh Lanta is a large island with a lot to see, and a lot of stunning beaches, one of the most popular being Klong Dao Bay.
This beach is a picture-perfect tropical beach, with palm trees lining the coast of the white sand beach and turquoise waters. This beach is often the arrival point for many visitors to Koh Lanta and is quite developed.
However, there is a law passed that no buildings may be built above tree level, so there is still a natural feel to the island. There are many shops, hotels, and restaurants along this beach making it easy for all access accommodation.
This beach is perfect for swimming and relaxing and is home to a few scuba diving shops. Klong Dao Bay is the perfect place to begin exploring Koh Lanta. You can find an abundance of rental shops, tour guides, and activities around this area, along with information about where to explore next!
How to Get to Koh Lanta Beach
You can't hire a longtail boat to get to Koh Lanta because the journey is too long, unfortunately, however you can take a ferry from the Krabi town Passenger Pier to Koh Lanta for just 400 baht.
What to Do Around Koh Lanta Beach
Book a scuba diving tour. Koh Lanta is known for some amazing scuba diving spots. You can try a beginners course and even get your open water diving certificate here!
Explore Klong Dao Road. The road is 2km long and runs along the beach, you can explore the different shops, restaurants, and local hangouts to get a feel for the town and maybe meet some new people.
Visit Kantiang Bay, Khlong Nin Beach, or any of the other stunning beaches around Koh Lanta. This island is very large and is home to many breathtaking beach landscapes. It is recommended to not only visit the popular ones but explore and find your own private beaches.
Final Thoughts
All of the beaches around Krabi offer a dream destination tropical beach, with white sand beaches with turquoise blue waters and sometimes even the signature towering limestone cliffs Thailand has come to be known for.
Here at Travelness we think taht Railay Beach is the most recommended beach in the Krabi area because you can experience everything from the crowded tourist area to the quiet jungle and lonely caves, to even your own private areas of the beaches. We encourage you to visit Railay because of its diversity and its access to nearby amazing beaches like Phra Nang and Tonsai.
No matter where in Krabi you find yourself, or what beach you end up sunbathing on, it will be the perfect dream vacation!