11 Best Farmers Markets in Alaska
You may not know it, but farmers in the Last Frontier are known to grow vegetables of impressive size. Crops in a wide range of varieties can grow in the state, including potatoes, turnips, pumpkins, apples, and even hydroponic greens!
With a surplus of veggies being grown in Alaska, farmers often sell their wares at local farmer's markets. Some are open seasonally, and others — indoor markets — are open year-round.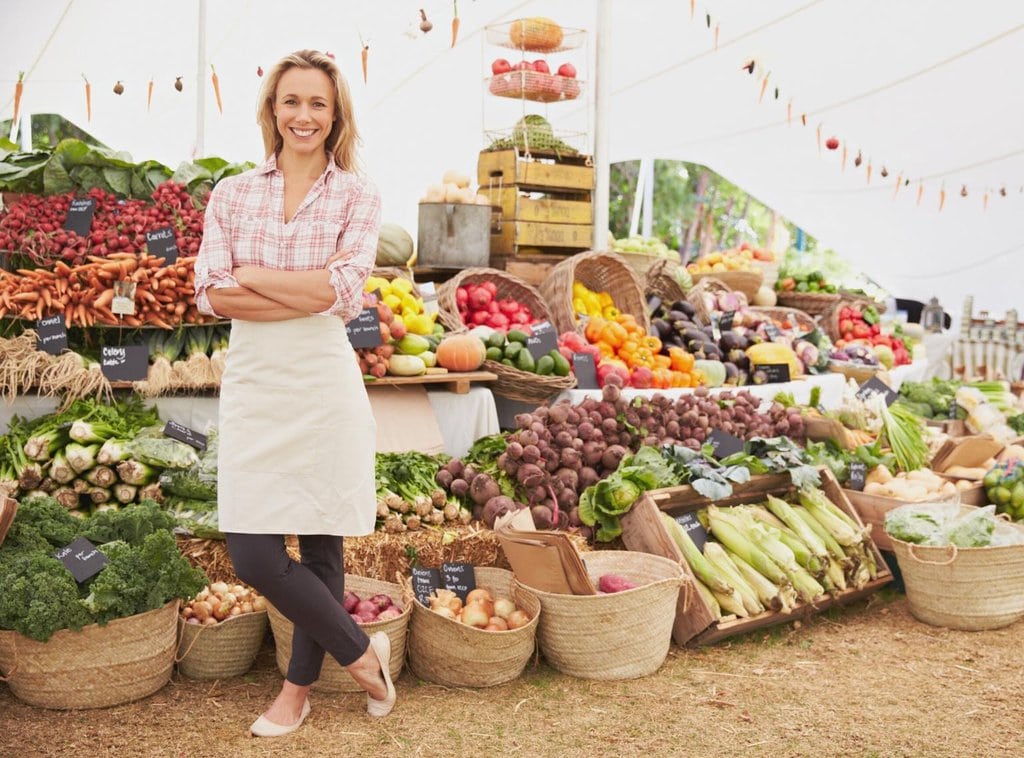 1. Anchorage Farmers Market
The Anchorage Farmers Market is the only non-profit and farmer-directed market in the city. Their goal is to provide for the health of the community by offering fresh food that is grown locally in Alaska. It is also meant as a way for local farmers to sell their products directly to local customers.
You'll find a dozen or so vendors offering fresh fruit and veggies, honey, prepared foods, and flowers. Visitors to the market love the variety of offerings and quality of the goods for sale. The Anchorage Farmers Market opens each year in May and runs until October.
Location: 1305 N. Smith Rd., Palmer, Alaska 99645
Season: May – October
2. Grow North Farm
An urban farm in Anchorage, Grow North is 28,000 square feet of farmland in the city's Mountain View neighborhood. It is a place where farmers hone their skills and sell their fresh veggies right where they are grown.
Customers get to shop "hyper-local," and the marketplace accepts both SNAP benefits and WIC. In addition to the market, visitors to Grow North can also find community events regularly taking place which often include live music. Even if you can't make the trip to Grow North, you can still get your fresh veggies by signing up for one of their weekly produce boxes.
Location: 3701 Mountain View Dr., Suite 100, Anchorage, AK 99508
Season: June – October
3. Haines Farmers Market
A community organization, Haines Farmers Market, offers a place in Chilkat Valley for growers, artisans, and chefs to sell their wares. Its mission is to improve nutrition options and provide food security for local residents. Locals recommend the market because of its wide selection of goods and because the items are so fresh.
The outdoor gathering space supports the vibrant culture of Haines and Chilkat Valley which is deeply rooted in agriculture. They accept SNAP benefits and EBT, with many of the onhand items being eligible, including baked goods and honey.
Location: 296 Fair Drive, Haines, AK 99827
Season: May – September
4. Homer Farmers Market
Farmers, gardeners, and greenhouse growers can all be found selling their wares at the Homer Farmers Market, which was established in 2000. The goal of the market was to provide the Kachemak bay community with sustainable and local agriculture.
You will find a wide variety of products on offer, including fresh seafood, salad greens, herbs, pottery, handmade jewelry, and so much more. Vendors take a variety of payment options including the Market Coins which can be purchased in $20 increments at the information booth.
The market is not pet friendly, so you will want to leave your furry friend at home.
Location: 1155 Ocean Drive, Homer, AK
Season: May – September
5. Muldoon Farmers Market
Muldoon, a volunteer-run, not-for-profit farmers market, can be found in East Anchorage. The market's organizers wanted to provide a place for local farmers, artisans, and crafters to sell their wares. You can find vendors on site every Saturday from late June until late September.
Booth priority is given to Alaska growers and seafood providers. However, there are also spaces reserved for local bakers and cooks as well as craftspeople. Early in the season, more of the booths will be dedicated to art and handmade crafts, but as the growing season progresses, more produce-focused booths will be found.
Location: 1301 Muldoon Rd, Anchorage, AK 99504
Season: June – September
6. The Petersburg Market
The Petersburg Market is a community-focused organization run by volunteers which provides space for locals to sell homegrown, handcrafted, and homemade items. They also offer space for non-profit organizations when needed.
Launched in 2009, the current vendor list includes area farmers, soap makers, and artisans. You may also find vendors selling traditional remedies created from local flora. Parents love the table activities which keep the kids occupied, and there are often demonstrations happening where you can learn new skills.
Location: 104 N Nordic, Petersburg AK 99833
Season: June – September
7. Sitka Farmers Market
With 2022 launching the market's 15th season, the Sitka Farmers Market is affiliated with the Sitka Local Foods Network. The SLFN is a non-profit organization responsible for running the farmers market as well as expanding the community garden.
Volunteers help keep the market up and running, and vendors sell fresh veggies, fruits, baked goods, and many more items. The market accepts WIC vouchers, SNAP benefits, and EBT.
You can also support the SLFN mission by purchasing a tee or sweatshirt from their shop!
Location: 330 Harbor Dr, Sitka, AK 99835
Season: July – September
8. Soldotna Saturday Farmers Market
Originally called the Central Kenai Peninsula Farmers Market when it launched in 1995, the Soldotna Saturday Farmers Market provides a venue for growers on the peninsula to showcase their fruits, veggies, and other goods. In addition to farmers, the market also supports artisans and craftspersons.
Dozens of vendors set up shop on a typical market Saturday, and hundreds of shoppers come from all over the peninsula to make their purchases. You'll find fresh veggies, pickled products, locally made hot sauces, laser art, and so much more! Vendors accept all major credit cards, EBT, and SNAP benefits.
Location: 193 E. Corral Ave., Soldotna, AK
Season: June – September
9. South Anchorage Farmers Market
Launched in 2006, the South Anchorage Farmers Market is one of the largest in the state. There are over 30 regular vendors found onsite, and there is often live music to be enjoyed. The Saturday market starts in May, and the Wednesday market begins in July.
Sellers can be found offering vegetables, fruits, live plants, prepared food, and even meats and seafood. If you aren't sure what to do with all your veggie purchases, you can check the South Anchorage Farmers Market website for a plenty of delicious recipes or you can purchase their cookbook from their shop.
Location: 11111 O'Malley Centre Dr, Anchorage, AK 99515
Season: May – October
10. Southside Community Farmers Market
The Southside Community Farmers Market in Fairbanks was started in 2015. A community-based market dedicated to providing fresh food to the community, its vendors sell everything from fresh vegetables to eggs. It is open on Tuesday evenings from June through September in the South Cushman neighborhood of Fairbanks.
SNAP benefits can be used at Southside, and many vendors offer a 50% discount for those using SNAP, WIC, or Senior coupons. The market also has a need-based program that provides discounts for other payment methods as well.
Location: 2400 Rickert Street, Fairbanks, AK 99701
Season: June – September
11. Tanana Valley Farmers Market
With a mission to promote Alaska agriculture, Tanana Valley Farmers Market in Fairbanks is a great place to find locally grown food, silver crafts, and local art. One of the state's oldest farmers' markets, Tanana Valley, has a permanent building to make shopping easier. People love the wide variety of items on offer, and the prepared food vendors are always a big draw.
If you head to the market on Wednesdays in July, you can experience the Chefs at the Market program. A local chef prepares dishes using the vegetables on hand that day in the market, and visitors can snag recipe cards to replicate the dishes at home.
Location: 2600 College Road, Fairbanks, AK 99708
Season: May – September
Farm to Fork, the Alaskan Way
Having access to freshly grown fruits, vegetables, and herbs is a luxury in many parts of the world. Alaska's numerous farmers' markets keep its residents and visitors supplied with nutritious options all season long.
If you are visiting the state during the warmer months of the year, you can't go wrong stopping by one of these markets. Not only will you be able to find delicious items to snack on, but you may also find unique handcrafted goods to take back home as souvenir items.