Top 12 Best Hot Springs in Alaska Not To Miss
When you think of Alaska, the first image that comes to mind is verdant forests, vibrant wildlife, icy glaciers, and (of course!) snow. This is especially true for tourists who may only know Alaska from the decks of a cruise ship.
While the description is apt, the one thing often forgotten is that Alaska has many hot springs!
I suggest when you plan an adventurous vacation to Alaska, you include hiking, camping, sailing, fishing, kayaking, and HOT SPRINGS! This way you can enjoy all of the activities The Last Frontier has to offer!
So in this article, I listed the 12 best hot springs in Alaska you can dip your toes in! Let's get started!
1. Baranof Warm Springs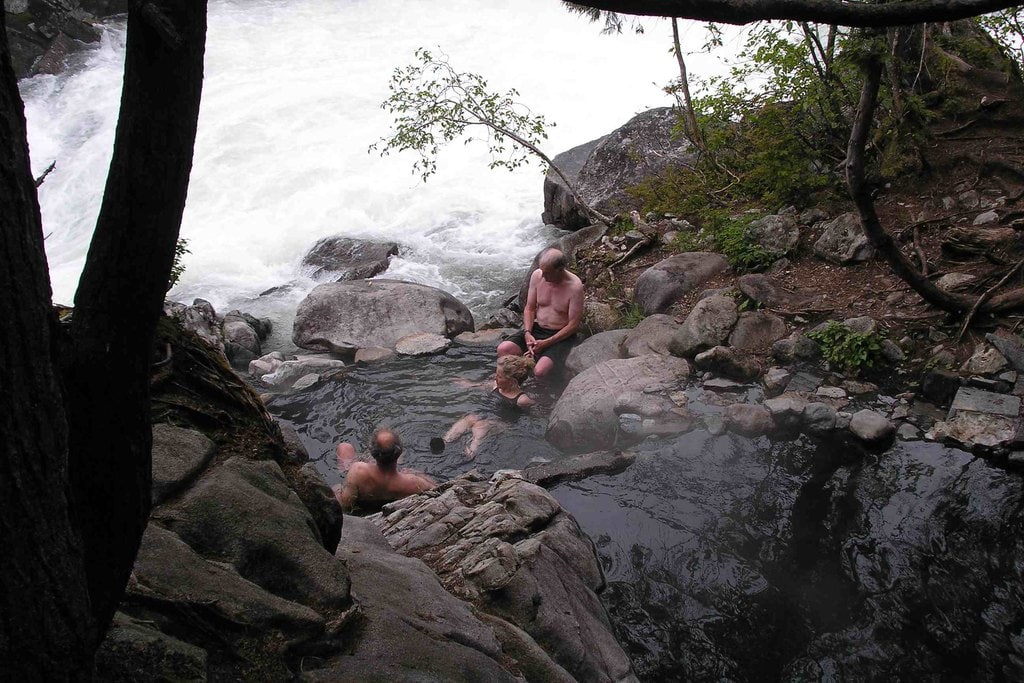 Accessible only by a floatplane from Sitka is the Baranof Warm Springs. With the glacially-fed Baranof Lake nearby, this area appeals to those who desire a quiet activity-filled getaway.
Baranof Warm Springs is in a seasonally occupied borough of Sitka, featuring more than 10 hot springs and trails complemented by gushing waterfalls. The area is also a great place to go fishing and live off your catch!
It is all utterly secluded from the rest of the world! No roads, no vehicles. Just serenity, peace, and astounding views!
Address: Sitka, AK 99835, USA
Entrance fees: No
Parking fees: n/a
Dogs allowed: No
2. Chena Hot Springs
Chena Hot Springs is the most well-known in Alaska. Before arriving, you enjoy a scenic 60-mile drive from Fairbanks, peering out at the Chena River as you get closer to the resort.
Chena Hot Springs is loved for its lukewarm temperatures and countless activities. Located in the Chena Hot Springs resort, visitors can use the outdoor and indoor tubs, camp at the campgrounds, and get an incomparable view of the Northern Lights while grabbing a beer from their ice bar!
Whether you are there for the Northern Lights tours, dog sled tours, or just to enjoy the springs, Chena's 440-acre resort does not disappoint. It is an all-around excellent family vacation spot and a must-visit for anyone traveling to Alaska.
Address: Fairbanks North Star Borough, Alaska
Entrance fees: Under 6 are free, 6 to 17- $12.00, 18 to 59 – $15.00, 60 Plus – $13.00, Family Swim Pass 10 Swims – $100
Parking fees: Free
Dogs allowed: Chena Hot Springs Resort welcomes two pets of any size for an additional fee of $50 per stay, plus a $200 refundable security deposit. They offer a grassy area for pet relief on the property.
3. White Sulphur Springs
Where the northern shore of Bertha Bay kisses Chichagof island in Southeast Alaska, you will find White Sulphur Springs. These hot springs remain nestled away from the hustle and bustle of life, engulfed in hemlock and spruce trees.
White Sulphur gives you an impeccable view of the ocean, while the warm water of the spring itself soothes weary bones. Better be on the lookout for bears in the area and do your most to stay safe!
Address: Tongass Dr, Sitka, AK 99835, United States
Entrance fees: $60 per night
Parking fees: Free
Dogs allowed: No
4. Chief Shakes Hot Springs
Situated near the Tongass National Forest by the Ketili River, these springs are owned by the U.S Forest service.
After the short hike, you are led to the Chief ShakesHot Springs, where two tubs remain, filled with the water from the spring.
Using the hot springs means that you get daily access to an open-air hot tub, a private tub, outhouses, benches, dressing rooms, a picnic area, and a fire pit. While the Host Springs themselves have no formal accommodation, The US Forest Service owns two cabins upstream from their location making it a convenient place to spend a few days.
Address: Wrangell, AK 99929, USA
Entrance fees: Free
Parking fees: Free
Dogs allowed: No
5. Manley Hot Springs
At the end of Elliot Highway in the interior of Alaska sits Manley Hot Springs. Before arriving, you drive through Alaska's mountains and valleys which hold significant history. To this day many people search for gold in those areas!
When you arrive, you'll notice that this hot spring is a bit different from the others. It has three naturally fed tubs of water from the hot springs, sitting in the middle of a greenhouse!
The beauty of the blend of hibiscus flowers, Asian pears, and grapes is effortless on the eyes, while the mineral water soothes you to your core. Manley gets my vote for the most aesthetic of the hot springs!
Address: Yukon-Koyukuk, Alaska,
Entrance fees: $5 per person per hour
Parking fees: Free
Dogs allowed: No
6. Goddard Hot Springs
Goddard Hot Springs sits in the southeast of Alaska, situated on Baranof Island, just 16 miles south of Sitka. With visitors all year round, the hot springs constantly call out to adventurers.
Goddard is complemented by cedar bathhouses and boardwalks to make travel around the area easy. Most importantly, spending time here is free of charge! However, Goddard Hot Springs can only be accessed by floatplane or charter boat.
As someone who has spent a considerable amount of time in Sitka, I definitely recommend adding Goddard Hot Springs to your to-do list when you make your visit.
Address: Sitka, Alaska
Entrance fees: Free
Parking fees: n/a
Dogs allowed: No
7. Kanuti Hot Springs
Twelve miles off of Mile 103 marker on the Dalton Highway sits Kanuti Hot Springs. This hot spring is exceptionally remote, requiring a floatplane or boat for access.
Kanuti Hot Springs is well known for its 14-mile scenic float during summer, and it is a popular location for cross country skiers during the winter. Hiking down Caribou Mountain is also a popular activity at Kanuti Hot Springs, but a pack raft is highly recommended.
Address: Kanuti National Wildlife Refuge, Alaska
Entrance fees: Free
Parking fees: n/a
Dogs allowed: Yes
8. Tenakee Hot Springs
Located in the southeast of Alaska, 45-miles southwest of Juneau, is Tenakee Hot Springs.
Littered with bathhouses and a small population of local residents, this remote village is the perfect spot to unplug and leave the rest of the world behind. Here, you have no cell phone service: it's just you, the people, the culture, nature, and the hot spring.
There are no roads or vehicles here either, with the only means of entering or exiting the area being seaplane or ferry.
For wildlife lovers, this little paradise is the perfect place for whale and eagle watching. The hot springs itself is located in a restored bathhouse built-in 1990.
However, you must bathe with soap and water before entering, and no clothes are allowed in the hot spring. Because of this, designated times for men and women are allotted during the day.
This gorgeous hot spring is free, but it is maintained by donations. If you decide to try Tenakee Hot Springs, try to contribute a little when you're there so that this bathhouse can remain free for all!
Address: Chichagof Island, Hoonah-Angoon Census Area, Alaska,
Entrance fees: Free (maintained by donation)
Parking fees: n/a
Dogs allowed: Not explicitly stated
9. Serpentine Hot Springs
Serpentine Hot Springs is located in Bering Land Bridge National Preserve, known for its spiritual healing.
Native Leaders have used these springs for centuries. Now, the Serpentine Hot Springs is a popular tourist destination and is accessible by plane.
The springs are surrounded by gorgeous rocky peaks and serenaded by the sounds of nature. It is a fantastic getaway, with a bunkhouse and bathhouse for tourists.
Address: Bering Land Bridge National Preserve, Alaska
Entrance fees:Free
Parking fees: n/a
Dogs allowed: Service animals only
10. Tolovana Hot Springs
Coming in as one of the most difficult hot springs to access on this list, Tolovana Hot Springs calls for an 11-mile hike, a lot of paddling in your canoe, or catching a bush plane to reach the spring.
The moderate to strenuous hike is the perfect option for those who love the outdoors and prefer an adventure before relaxation. However, those who may not be willing to make the trek should opt for the plane ride.
Promising amazing views and relaxation, Tolovana Hot Springs meets all expectations, with rustic cabins available for rest and outhouses too.
Aside from spending time in the two hot tubs, there are other activities that you can participate in. Two of the most notable options are cross-country skiing and birdwatching.
These hot springs are another great place to unplug and unwind from the weariness of day-to-day life and reinvigorate yourself, whether by just soaking or keeping active in nature.
Address: Fairbanks, AK 99708
Entrance fees: $60
Parking fees: n/a
Dogs allowed: Yes
11. Kilo Hot Springs
Located remotely in the Ray Mountains, Kilo Hot Springs is a difficult place to reach. (Even more so than Tolovana Hot Springs!)
With a resounding 40-mile hike ahead of you, your journey will take you to a broad valley on the other side of the Ray Mountains, complimented by a picturesque view. Start your journey by floating down the Yukon River before the hike into the mountains.
If 40 miles seems like too much for you, a small plane will get you 5 miles away from the hot springs. Once you arrive, you'll be greeted by over 211 miles of steaming waters!
Address: Ray Mountains, Alaska
Entrance fees: Free
Parking fees: n/a
Dogs allowed: Yes
12. Pilgrim Hot Springs
Pilgrim Hot Springs can be found in a remote part of Northern Alaska, between Hen and Chickens Hill and the Kigluaik Mountain range. The hot springs were purchased in 2009 by seven organizations, which open their doors to all visitors.
When you leave Nome to head to the springs, remember that there will be no cellphone service outside the city. When you arrive, you'll see that there is a lot to do, however, so your phone will likely be the least of your worries.
You can spend time exploring the abandoned orphanage of the property or keeping your eyes out for the migratory birds. Finally, take some photos under their high tunnel structure, which was originally intended to be used for a greenhouse.
There are four campsites available, which can be booked online, and cabins available for rent. Heading to Pilgrim Hot Springs is an excellent idea for a family trip. It promises beauty and serenity, fun, and adventure!
Whether you are there for the views of the mountains and cottonwood trees, the relaxation of the hot spring, or the exploration of the property, you will have a blast here.
Please note that the Pilgrim Hot Spring property is surrounded by indigenous lands. The sacred tundra must be respected, and no one should venture onto any land outside of the property without the correct permits.
Address: Nome, Alaska 99762
Entrance fees: $10 visitors permit
Parking fees: Free
Dogs allowed: Yes
Conclusion
Each Alaskan hot spring brings its own unique value to this list! While there are many more for you to try, each of these hot springs offers scenery, seclusion, and plenty of amenities for visitors to enjoy.
I have found that many people overlook a visit to the hot springs when they are planning their Alaskan vacations, but there is nothing quite like relaxing in steaming waters surrounded by the abundance of nature.
Be sure to add one of these to your itinerary — you won't be disappointed!