16 Best Things to Do in Anchorage
There are so many destinations when it comes to Alaskan travel, but one that seems to be at the top of many people's lists is Anchorage.
As the state's largest city, it really has a lot to offer including outdoor activities, wildlife viewings, and cultural destinations. On my last trip to Anchorage, I spent an entire month and still didn't do everything there was to do!
This list of the best things to do in Anchorage is a great starting point, especially for your first trip to the Last Frontier. You will get to experience Native art, the beauty of the landscape, and personal encounters with famous wildlife.
1. Alaska Native Heritage Center
At the Alaska Native Heritage Center, you can discover some of the traditions practiced by the major indigenous groups in the state. The center can be found downtown, and you can easily spend several hours looking at the exhibits, watching demonstrations, and listening to stories.
There are six Native Alaskan dwellings that are life-sized to explore. Plus, there are generally Native artisans on site giving demonstrations. You may even be able to snag yourself a dog sled ride if you call ahead.
Address: 8800 Heritage Center Dr, Anchorage, AK 99504
Hours: 9 am-5 pm Tuesday-Saturday
Fees: $12-$29
Best time to visit: May-Sept (closed during winter months)
2. Glacier Discovery Train
If you are looking for a fun day trip from Anchorage, the Glacier Discovery Train may be just the thing. Your ride will allow you to catch a glimpse of sights only viewable via the train on its way to Grandview.
There are several stops along the way, and you are free to get off (and stay!) at any of them. Those staying on the train for the duration will get breathtaking sights of Bartlett Glacier and Trail Glacier.
You can combine the train ride with a visit to the Alaska Wildlife Conservations center or a cruise through Prince William Sound.
Address: 411 West 1st Avenue, Anchorage, AK 99501
Hours: 1 route daily
Fees: $15-$148
Best time to visit: May-Sept (closed during winter months)
3. Flightseeing
For a bird's eye view of Alaska, you can try a flightseeing trip from Anchorage. These small planes or small helicopters allow you to get some spectacular views of the mountains, glaciers, and wildlife.
I took one of these flightseeing tours as a kid, and I was able to see various wildlife including a momma bear and her two cubs!
Of course each trip will be a different experience, but you can be assured that you will see Denali in all its glory.
There are multiple companies that offer flightseeing trips out of Anchorage, so you should have no trouble booking your tour. Here is the one I recommend.
Address: Varies
Hours: Varies by company
Fees: $200+
Best time to visit: Tours take place all year
4. Anchorage Museum
You'll find the Anchorage museum, Alaska's largest, in a contemporary-style glass building located downtown. While there are permanent installations, the museum also hosts traveling exhibits which means you can get a different experience every time you visit.
Many of the exhibits focus on art or technology, and plenty of them are interactive which is usually a big draw for kids. You'll learn state specific information as well as things about the Arctic as a whole.
The museum's mission is "to be a museum for people, place, planet, and potential, in service of a sustainable and equitable North, with creativity and imagination for what is possible."
Address: 625 C Street, Anchorage, AK 99501
Hours: 10 am-6 pm Tuesday-Saturday, Noon-6 pm Sunday
Fees: $10-$20 (under 5 is free)
Best time to visit: At least 2 hours before closing
5. Chugach State Park
Partially within Anchorage city limits, Chugach State Park is a nature preserve teeming with Alaskan wildlife. You are quite likely to catch a glimpse of a moose, and if you are lucky a bear.
There are 45 mammal species calling the park home, so even if you don't see a moose or a bear, you are most likely guaranteed to see some kind of critter!
Even if you don't see any wildlife, the beautiful terrain is enough reason to visit. There are views of mountains and glaciers visible from the park grounds. Plus, you will discover the lovely Eklutna Lake in the 495,204 acres that make up the park.
You'll find 280 miles of trails to hike, ranging from a leisurely stroll to a strenuous climb. You can also spend your time in the park doing activities like hunting, fishing, or camping.
This excellent tour provides you with a knowledgeable guide who can share interesting facts and stories about the park, its history, and the wildlife that lives there. They can also help you navigate the park and find the best spots for taking photos or spotting wildlife. I highly recommend it! More information & pricing here
Address: 18620 Seward Hwy, Anchorage, AK 99516
Hours: Open 24 hours
Fees: No entrance fee, but you will have to pay for parking or camping
Best time to visit: June-August
6. Whale Watching at Turnagain Arm
Seward Highway runs along Turnagain Arm for roughly 50 miles, but if you want the best chance for whale-spotting, you should make your way to Beluga Point.
The majestic, snowy-white beluga whales follow the salmon runs into upper Cook Inlet.
Your best chance of seeing a whale is during big falling tides, but they are sometimes hard to spot because they get confused with whitecaps.
I actually saw belugas from my deck while staying in a condo off of the Cook Inlet on my last trip to Anchorage!
With a good set of binoculars, you can get a very good view of the whales as they surface.
You can rent a car and drive yourself, but this cheap tour will let you experience all of this hassle-free! You should take it, at this price it's a no-brainer.
Address: Mile 110.4 on Seward Hwy
Hours: Open 24 hours
Fees: No entrance fee for roadside viewing
Best time to visit: Mid-July and September
7. See the Northern Lights
The aurora borealis can be seen from Anchorage during the winter months when the sky is clear and dark. Some of the Anchorage hotels will offer a "northern lights" wake-up call service since they are usually visible in the wee hours.
The Knik River Valley is a great spot to try because there aren't any mountains blocking the northern horizon. You can find out more details in my complete guide about the best places to see the Northern Lights in Alaska.
While you can definitely catch a glimpse of the all on your own, you will often have better luck if you hire a guide. These experts will know the best places in town for viewing.
This tour is the perfect way to see the Northern Lights in Alaska. You'll be able to learn new photography skills from a professional photographer, and admire the stunning views of one of nature's most incredible displays. Plus, round-trip transportation is included so you don't have to worry about a thing! Check the prices and reviews here to learn more.
Address: Anchorage, AK
Hours: Night
Fees: Possible guide fees
Best time to visit: September to April
8. Go Skiing at the Alyeska Resort
Considered Alaska's "premier ski destination", Alyeska Resort offers something for skiers of all levels. The area gets over 600 inches of snow per year, and there are 76 named trails around the resort.
There are 7 lifts to get you to the top of the trails, and if that isn't enough, they also offer heli-skiing trips. The resort offers 300 rooms for thawing out after a day whizzing down the mountain.
If there are those in your party that aren't interested in hitting the slopes, the resort offers spa services, shopping, and a saltwater pool to keep them occupied.
Address: 1000 Arlberg Ave, Girdwood, AK 99587
Hours: Vary by month
Fees: Lift tickets are $10-$60
Best time to visit: February-April
9. Alyeska Tramway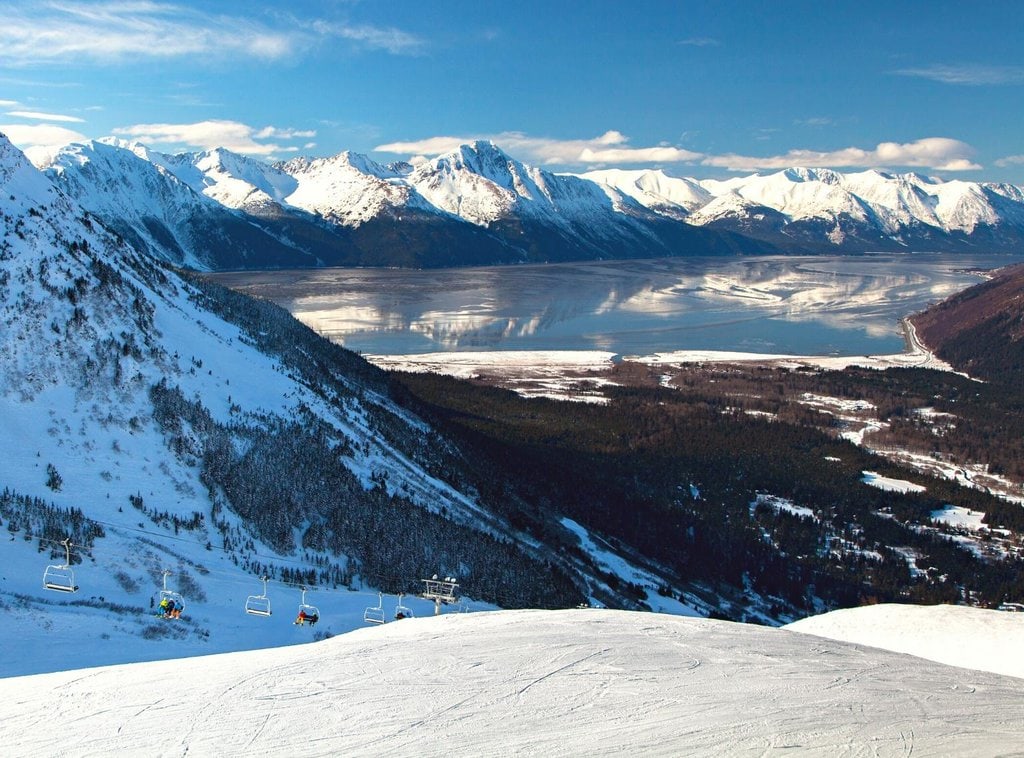 In the summer months, the Alyeska ski resort converts the lift to a sight-seeing tram. You'll travel 2,300 feet on the five-minute ride to the top of Mount Alyeska where you will get stunning views in all directions. It is not uncommon to see a bear or a moose during your tram ride.
From the top observation deck, you can see seven glaciers, Turnagain Arm, and the Chugach Mountains. If you tire of simply looking at the scenery, you can hit up the hiking trails and keep climbing.
Address: Tram Cir, Girdwood, AK 99587
Hours: 11 am-6 pm
Fees: $18-$35 (Under 5 free)
Best time to visit: Summer months
10. Tony Knowles Coastal Trail
A great family-friendly spot in Anchorage are the 11-miles of paved trail known as the Tony Knowles Coastal Trail. Named for a former state governor, the trail is a safe bet all year long.
You can walk, ride bikes, and watch for wildlife in the warmer months. Then switch to cross-country skiing once the snow starts falling.
The trailhead can be found on West 2nd Ave by the railroad depot, and the other end is at Kincaid chalet. However, there are several access points in between. People have spotted moose, bears, and even beluga whales from the Tony Knowles Coastal Trail.
Address: Downtown Anchorage to Kincaid Park
Hours: 24 hours
Fees: Free
Best time to visit: All year!
Bike tour (bikes and equipment included)
11. Glacier Snowmobiling
There are several outfitters that offer glacier snowmobiling trips out of Girdwood which is less than an hour outside the city. Depending on the tour you book, you may be able to slide right up to a glacier — close enough to touch it!
Alaska Backcountry Access offers a 6+ hour tour which includes 3 hours on the snowmobile and gets you up close and personal with the Nelchina Glacier. Glacier City Tours takes you on a trip through the Chugach Mountains, and Alaska Wild Guides offers a 3-day adventure package!
Address: Girdwood, AK
Hours: Varies
Fees: $300+
Best time to visit: November-February
12. Kenai Fjords National Park
Established in 1978, Kenai Fjords National Park is home to abundant wildlife, the Harding Icefield, and breathtaking fjords. You can spend your time in the park hiking, dog sledding, cross-country skiing, or simply enjoying the views.
In the waterways of Aialik Bay and Northwestern Lagoon, you can look for marine life such as harbor seals, whales, and sea lions.
Take a cruise or rent some kayaks to get out on the sparkling waters, paddling through the projective fjords.
Address: West of Seward, AK
Hours: 24 hours
Fees: Free
Best time to visit: June, July, and August
13. Alaska Wildlife Conservation Center
Established as a non-profit in 1999, the Alaska Wildlife Conservation Center acts as a refuge to animals that are unable to survive in the wild. They are protected from humans, diseases, and predators.
You get the chance to view animals in a near-natural habitat that you may otherwise be unable to see. The center has hundreds of species in residence including moose, elk, bison, and bears. You are allowed to walk or drive around the center for your animal viewing.
You should block off at least two hours to get a thorough visit.
Address: Mile 79, Seward Hwy, Girdwood, AK 99587
Hours: 10 am-5 pm
Fees: $13-$15 (Under 6 free)
Best time to visit: Morning hours
14. Potter Marsh Bird Sanctuary
Just south of Anchorage off of Seward Hwy is the Potter Marsh Bird Sanctuary which is home to over 200 bird species. There is a 1,550-foot boardwalk that visitors can traverse, and there are also benches dotting the wetland habitat that make the perfect bird-watching perk.
I visited the sanctuary with my dad on my last visit to Anchorage, and we had a lovely time looking for various species and consulting our bird book. Even if you aren't a big bird-watcher, the drive out to Potter Marsh along Cook Inlet is worth the trip alone.
Address: Seward Hwy, Anchorage, AK 99516
Hours: 6 am-11 pm
Fees: No entrance fee
Best time to visit: May and June
15. Kincaid Park
Located in southwest Anchorage, Kincaid Park offers great trails and great views of Cook Inlet. The site is actually an old Cold War missile base, but now it is a 1,500-acre park for all to enjoy.
You definitely won't lack for activities at Kincaid! There are trails for strolling, a disc golf course, places to fish, an archery range, and even a spot for motocross.
Wildlife viewing is also on the table while visiting the park as moose, bear, and bald eagles are often spotted.
Address: 9401 Raspberry Rd, Anchorage, AK 99502
Hours: 12:30 pm-8:30 pm
Fees: No entrance fee
Best time to visit: June-August
16. Sea Kayaking
Explore the waters around Anchorage in a sea kayak. You can spend a few serene hours paddling near tidewater glaciers where you may catch a glimpse of whales, sea lions, or sea otters as you glide through the waves.
The guided kayaking tours are available through several outfitters near Anchorage. I highly recommend sea kayaking while in Alaska as it is an experience unlike any other! More details, photos, and reviews here.
Address: Anchorage, AK
Hours: Varies
Fees: $300+
Best time to visit: Summer months
Anchorage Awaits…
Now that you have a good idea of what awaits you in Alaska's largest city, you should be able to work out your ideal itinerary. If your time is limited, I would be sure to see the Alaska Native Heritage Center and learn about the Indigenous cultures in the state.
If you have a little more time to play with then doing some beluga watching at Turnagain Arm should not be missed. Plus, you can squeeze in a visit to the Potter Marsh Bird Sanctuary while you are out on Seward highway!