What Are the 10 Largest Passenger Planes?
For thousands of years humans have been trying to take to the skies. From our early attempts at gliders and kites to today's heavier-than-air supersonic jets, flight has been a challenge that humanity has loved to face.
We've come a long way from the Wright Brothers' first flight at Kitty Hawk. The Boeing 747, the plane that pioneered the jumbo jet concept, contains over six million individual parts. As humanity entered the golden age of flight, we've created some impressive aircraft to accommodate the growing demand for air travel.
This list ranks today's largest passenger aircraft based on their typical three-seat configurations to give a realistic portrayal of what these impressive aircraft are capable of.
Let's take a look at some of the biggest airplanes that have ever graced the skies!
1. Airbus A380-800
The Airbus A380-800 is the biggest passenger plane in the world offering 575 seats in a typical configuration and up to 853 seats for a maximum capacity.
This aircraft has an astounding 261-foot wingspan and comes in at nearly 80-feet tall. Each Airbus A380 costs a mind blowing 445.6-million dollars which makes it the most expensive passenger aircraft. You're spending a lot of money for a whole lot of plane when you get your hands on an A380.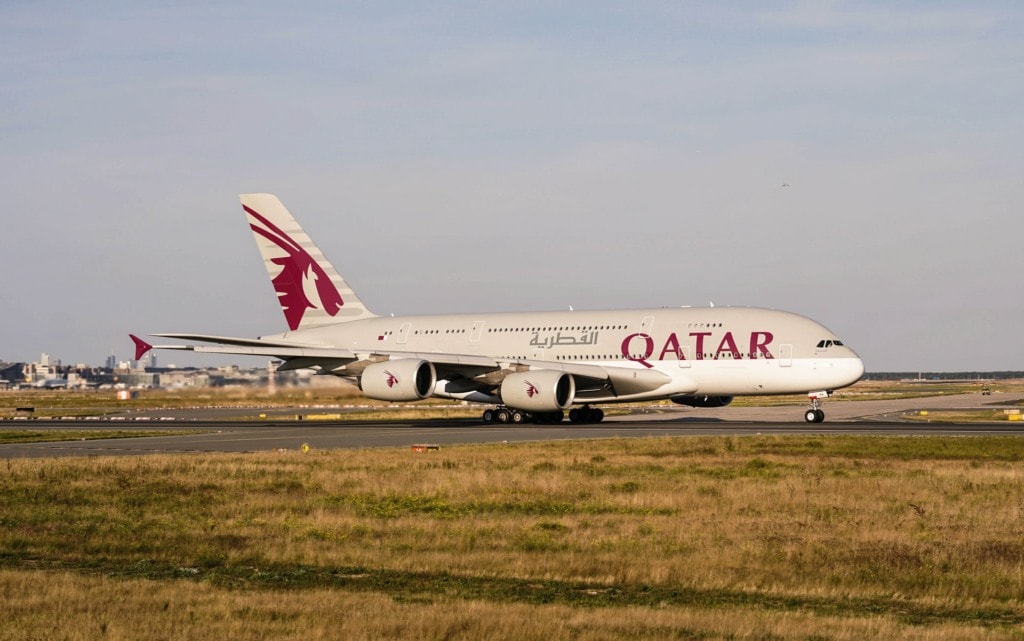 But as all good things come to end, this plane will no longer be produced:
Nearly 15 years after this aircraft took its first flight, the last Airbus A380 order will be assembled for 2021 (17 planes for Emirates and All Nippon Airways) and then the production will stop.
Why the Airbus A380 failed?
It's true that the plane is very expensive, but that price tag is not even enough to cover the production cost, let alone cover the research and development cost of the program (estimated to $25 billion). So it made sense for the company to shut down the production for economic reasons as it's losing money on each A380 they sell.
2. Boeing 747-8
The Boeing 747-8 is a portrait of size in the skies. This massive bird can house up to 426 passengers. That's more than some Airbus craft can handle in their standard configurations. This is the biggest and baddest member of the iconic 747 family and it definitely has the stats to prove it.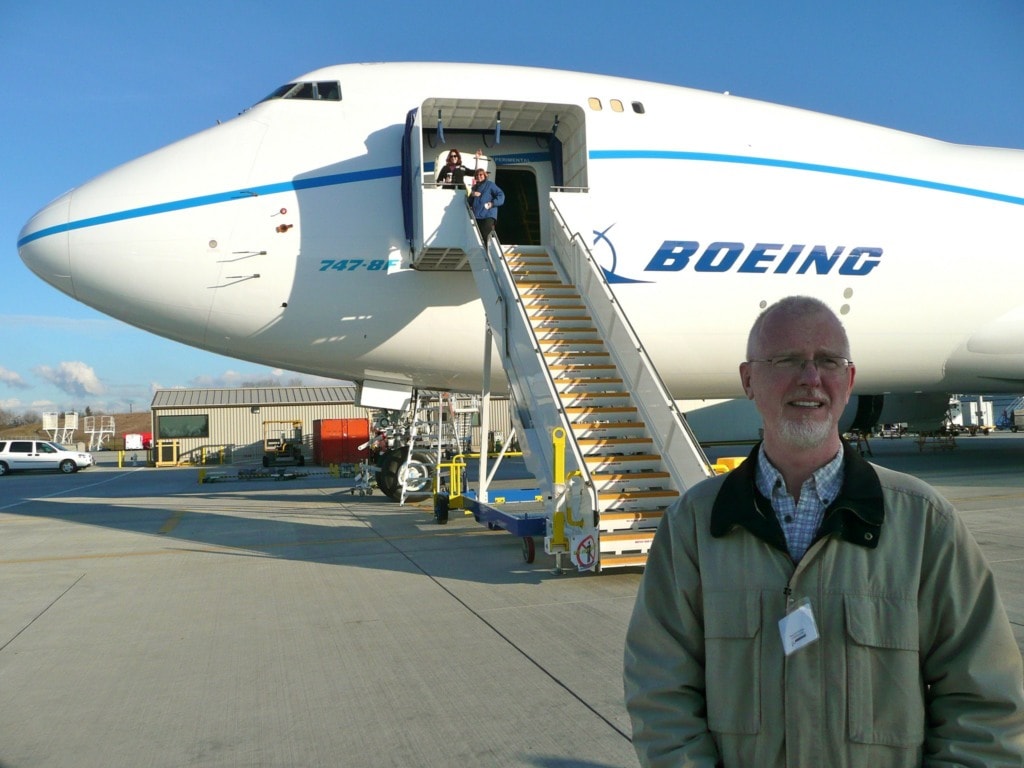 This plane comes in at over 250-feet in length making it one of Boeing's largest aircraft. When it comes to sheer size for aircraft, nothing is more well known and respected than the largest member of the 747 family. Even though these legendary planes are slowly being phased out of the skies, the 747 will always have a place amongst the largest aircraft.
The 747 is the aircraft that defined size in flight. Let's take a look at another legendary aircraft from the company that started the jumbo jet craze.
3. Boeing 777-9
The Boeing 777-9 is part of the emerging Boeing 777x line. These are some of the biggest aircraft that Boeing has ever put out there. This passenger plane can seat an astounding 426 passengers. That brings Boeing back into competition with some of the biggest planes made by Boeing's major competitor Airbus.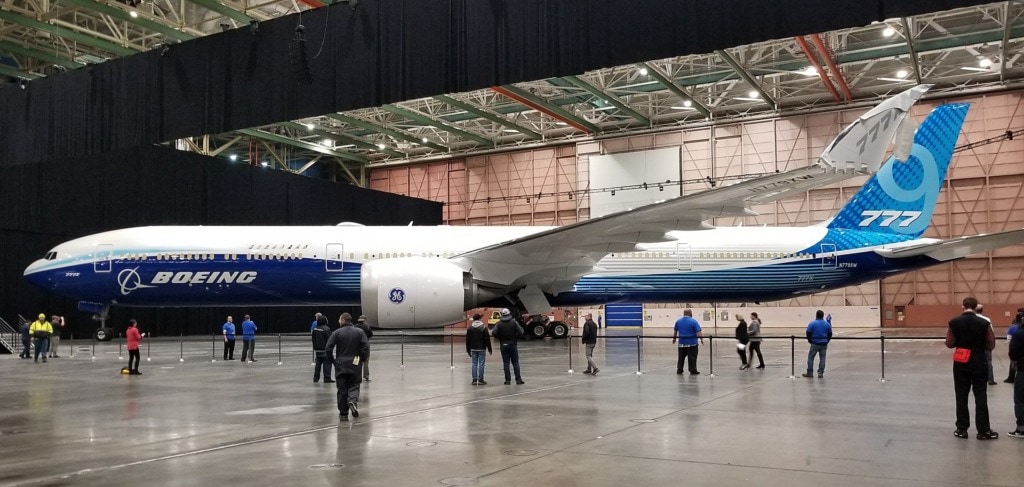 This aircraft comes in at over 251-feet in length and has a ticket price of over 442.2-million dollars! That's a lot of money for one massive plane. This aircraft also features new cabin architecture and design features. Boeing has aimed the 777x line at airlines like Emirates and Nippon who have been some of Airbus's most reliable customers.
Boeing is the company that pioneered massive passenger aircraft and no list of the biggest planes in the sky would be complete without the iconic 747.
4. Boeing 747-400
The Boeing 747 is one of the most iconic passenger planes of all time. The Boeing 747 is the aircraft that started it all when it comes to massive feats of aviation.
While the Boeing 747 has been cruising the skies since 1965, the 747-400 has only been around since 1988. The 747 is the aircraft that is credited for democratizing international air travel and the 747-400 improves on the classic aircraft by accommodating 416 passengers.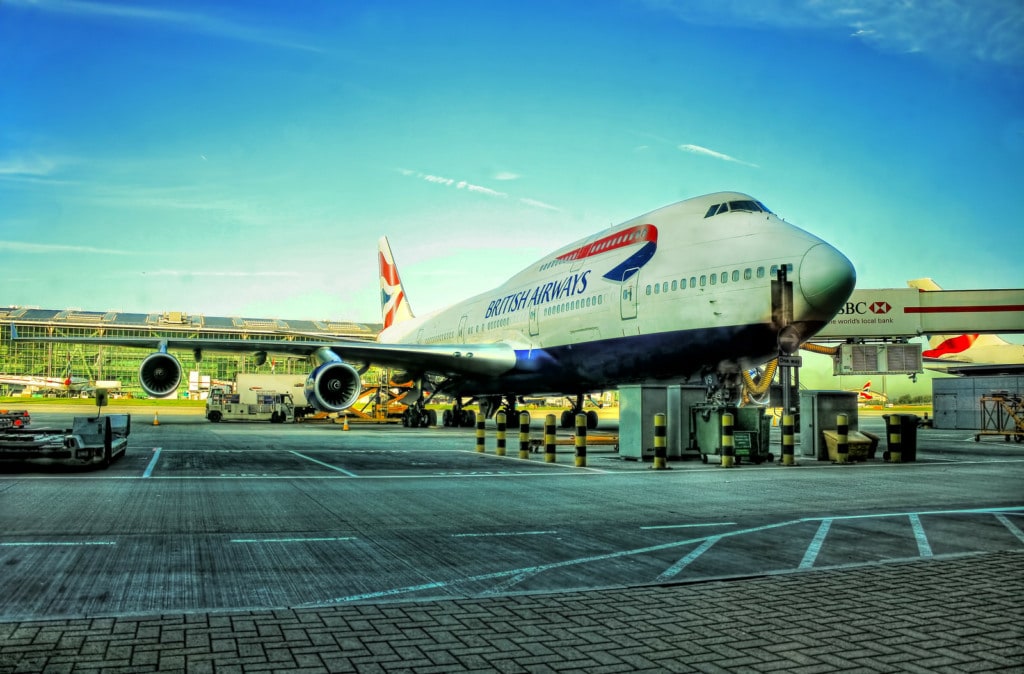 We owe the state of modern air travel to the one and only Boeing 747. The last 747s were delivered in 2020 as the aviation industry has grown over the decades.
When it comes to the biggest planes in the sky, there might be some that can eclipse its size, but no aircraft has a bigger legacy.
5. Airbus A350-1000
There are plenty of different ways to measure "biggest" when it comes to aircraft. It's no surprise to see another Airbus aircraft making the list as the company has been innovating new ways to achieve staggering size in flight.
The A350-1000 is their longest-fuselage version of their A350 line. This aircraft comes in at nearly 243-feet in length. This aircraft can seat anywhere from 350 to 410 passengers even while including a quiet cabin and wider seats than other aircraft.
With a maximum takeoff weight of 319-tonnes, this aircraft still manages to put out a maximum range of 16,100-kilometers. This craft also features the most powerful engines ever equipped to an Airbus passenger craft. Each engine produces 97,000-pounds of thrust at takeoff. This plane has a 159,000-liter fuel capacity to manage that kind of power.
Let's return to Boeing to take a look at one of their 747 successors.
6. Boeing 777-300ER
Boeing isn't just an artifact of history. Boeing is still one of the most popular names in gigantic passenger aircraft.
The Boeing 777-300ER is another example of Boeing's stellar commitment to size and efficiency. This craft can seat up to 396 passengers. That's a massive number of passengers by any standard. You can see how Boeing is still one of the most respected names in aircraft design.
This plane comes in at over 242-feet in length which also makes it one of the longest planes to ever take flight!
Boeing is one of the leading names in passenger aircraft and it's no wonder that they are going to take a few spots on our list. However, their competitor, Airbus, is busy creating some of the most impressive aircraft in the skies today.
7. Airbus A340-600
Airbus is no slouch when it comes to some of the most impressive passenger planes in the sky today.
The Airbus A340-600 is the largest variation of the classic A340 line. This aircraft can seat 320 to 370 passengers. This aircraft impressed pilots with its redesigned cockpit aimed at convenience for the flight crew. This helped boost the range of this plane to 7,900 nautical miles. This aircraft also incorporated new aerodynamic design features which helped to reduce overall operation costs for airlines.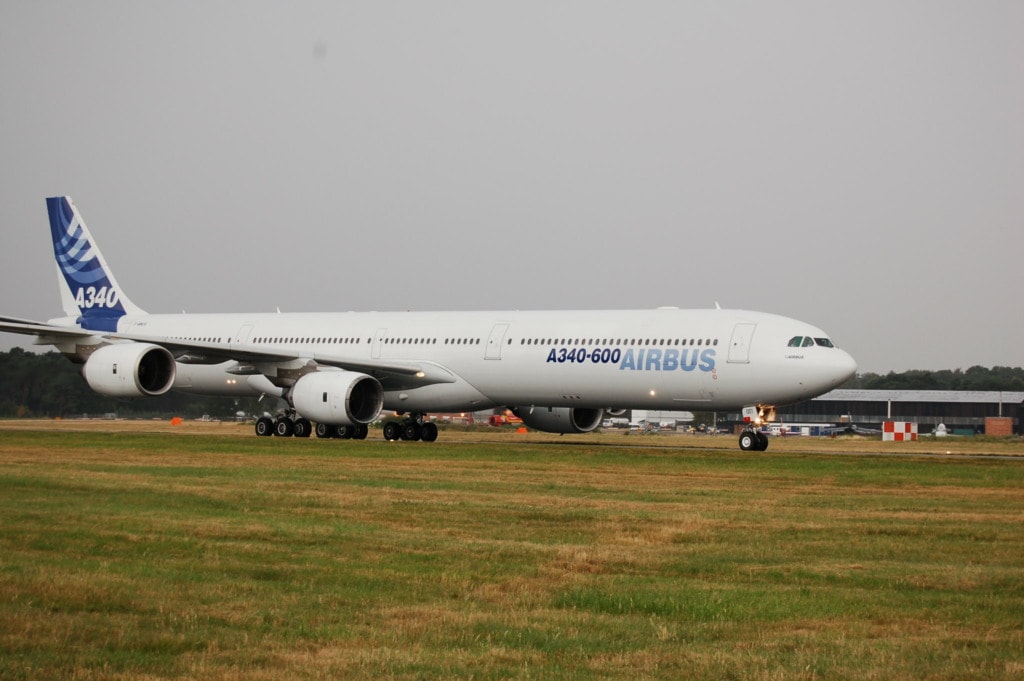 Airbus continues to make some of the most efficient aircraft in the skies today and this isn't the last time we will see one of their planes on this list.
8. Airbus A350-900
The A350-900 might be one large aircraft, but recent updates from Airbus has transformed this giant of the skies into an efficient ultra long distance traveling machine.
This Airbus behemoth can seat between 300 and 350 passengers. Even with that massive accommodation, it can still travel in a range of 15,000-kilometers. That outstanding distance is made possible by the carbon-fiber reinforced plastic fuselage which decreases fuel burn while also making repairs easier than before.
All of this performance still comes with plenty of power. This plane has a maximum take off weight of 280-tonnes and a 64.75-meter wingspan.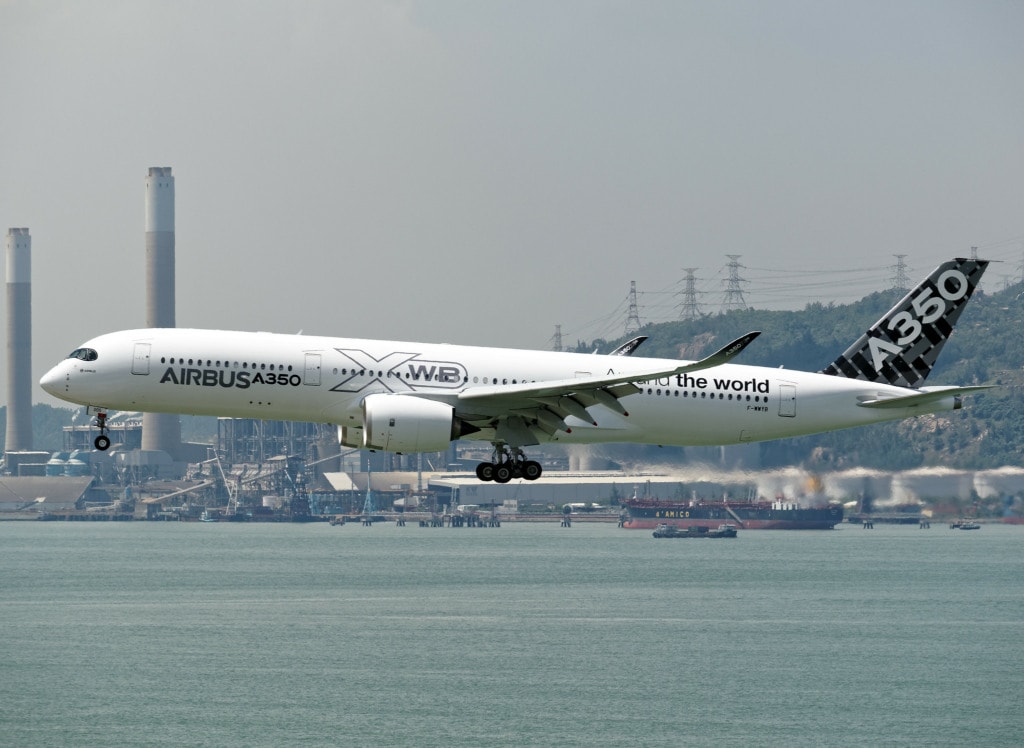 While Airbus is striving to constantly break the barriers of size and efficiency, Boeing is always ready to add another aircraft to this list.
9. Boeing 787-10 Dreamliner
The Boeing 787-10 Dreamliner is the king of the skies. This aircraft can seat up to 330 passengers in a fuselage that comes in at 224-feet in length. That's one impressive aircraft.
However, size alone isn't what makes the Boeing 787-10 Dreamliner so remarkable. This aircraft took bold steps forward to help improve both efficiency for commercial airways and comfort for passengers.
The Boeing 787-10 Dreamliner features a cabin that has a higher humidity which might sound uncomfortable at first, but it helps combat the dryness experienced by passengers in long flights. This reduces overall fatigue and helps to minimize the enemy of all long-distance passengers: jet lag.
The Dreamliner family also includes the 787-10's smaller family members the 787-9 and the 787-8.
As we head to the end of our list, let's take a close look at another Airbus plane.
10. Airbus A340-500
This four-engine, twin-aisle aircraft can manage a range of 9,000 nautical miles while comfortably seating 270 to 310 passengers.
This aircraft has an impressive maximum takeoff weight of 380-tonnes and supports that payload with a wingspan of 63.45-meters.
This is the longest-range jetliner offered by Airbus. It can handle some of the most demanding journeys without refueling and with a maximum passenger capacity. This aircraft is capable of taking on the Singapore to New York flight in one 18 hour trip.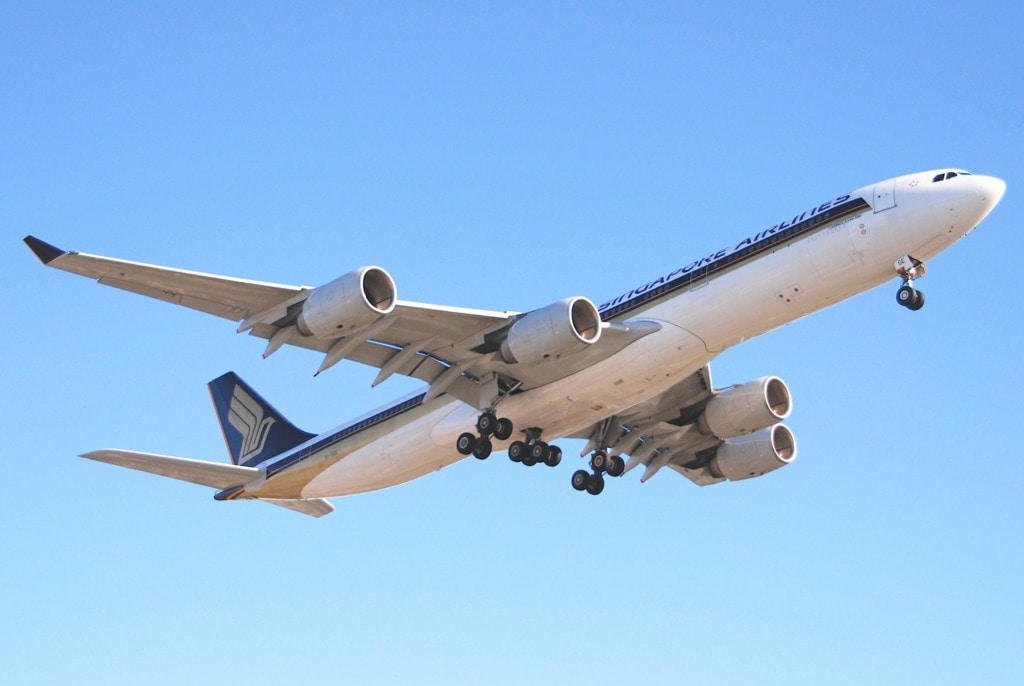 Airbus is constantly working to keep their A340 line updated with the latest technology to ensure that passengers can enjoy a comfortable flight even when on long hauls.
It's the impressive capacity combined with the ultra long distance capability that concludes this list with the A340-500.