Where to Stay in Chiang Mai? The Best Areas And Hotels
Chiang Mai is a popular tourist destination for many different travelers. With attracting so many diverse personas, the city is packed with accommodation options for all budgets. But, with the plethora of options available, choosing where to stay in Chiang Mai can be overwhelming.
After reading this guide, you will know exactly what are the best places to stay in Chiang Mai, what are the good (and the bad) neighborhoods, what are the best districts and the best hotels to stay in Chiang Mai depending on the type of traveler you are.
You will have all the right information to turn your trip into your dream vacation.
Let's get started!
About Chiang Mai
Chiang Mai is a beautiful city in the north of Thailand that hosts a variety of attractions. From the beautiful nature surrounding the city to Thailand's wonderful culture, Chiang Mai brings in travelers year-round. To enjoy a great stay though, you must choose on the time to go to the city. Check out our guide to know exactly when is the best time to visit Chiang Mai.
Southeast Asia is a budget travel destination, and in Thailand your money takes you far. At this moment $1 is equal to 35 baht, and often you can find a filling meal or street food for this price.
Chiang Mai is the second-largest province located in the North of Thailand. The population of the main province is only 127,000 people, and over 1,00,000 other city dwellers spreading into many neighboring provinces.
The city is surrounded by lush green mountainscapes with unexplored trails, hidden waterfalls, and other beautiful natural features.
Known for its rich culture, Chiang Mai is home to an abundance of breathtaking ancient temples and artifacts. But, attraction to this city ranges from shopping, education, and nightlife.
Chiang Mai is also home to the Elephant Nature Sanctuary, one of the first humane elephant sanctuaries in Thailand, and many other natural attractions.
Best Areas and Neighborhoods to Stay in Chiang Mai
Chiang Mai is a vast metropolitan area bustling with life. The city itself is not contained in the province of Chiang Mai. It expands over its neighboring districts, with over half the population of the city living outside of Chiang Mai Province. From there, the city divides into 25 sub-districts, which are then divided further into 204 neighborhoods.
The main areas in the city for accommodation and attractions are:
the Old City
Night Bazaar
Riverside
The main activities tourists can do around Chiang Mai include:
shopping at the Night Bazaar,
exploring the temples and ancient city walls,
eating delicious Thai food and street foods,
and exploring the beautiful natural surroundings of the city.
From the city center of Chiang Mai, many attractions are within walking distance. But if you prefer not to walk, the city has many forms of transportation available. You can choose to rent a motorbike for as little as $5 a day and rent a car for closer to 46$ per day, or choose from a multitude of public transportation options.
Public transportation around the city is accessible and cheap. Cheap buses, private motorbike taxis, and songthaew trucks (which function as a multi-person taxi) patrol the city streets. The average cost of a trip around the city center can range from 150 baht to as little as 30 baht for a songthaew.
Now let's explore each area of Chiang Mai and discover the best hotels to stay in these districts:
1. Chiang Mai Old City
The Old City is the most popular place to stay in Chiang Mai for many first time visitors and returning travelers.
There is no surprise why.
This neighborhood is popular for its location, fair pricing, and rich culture and history. Located in the center of the city the Old City is always busy but not necessarily crowded. This neighborhood is budget-friendly, with strong appeal to backpackers and those who want to travel with convenience.
Located in the heart of the city, the location of the Old City is unbeatable because it offers easy access to many city sites and attractions on foot. Still surrounded by ruins of the old fortress walls built in the late 13th century, the Old City is the cultural epicenter of the city. This neighborhood also contains the highest concentration of Buddhist temples in a single neighborhood.
Recommended Hotels in Chiang Mai Old City
Budget: Giant GuestHouse
Mid Range: Buri Gallery House
Luxury: Rachamankha Hotel
Things to see in the Old City:
Buddhist Temples: Wat Chedi Luang is located in the center of the city and very easy to locate, and Wat Phra Singh is one of Chiang Mai's most popular temples. There is no shortage of temples you will find walking around the city. Check out this list of the best temples in Chiang Mai for more information.
Sunday Walking Street Market: This market runs every Sunday from 4 pm to 12 pm. People walk and socialize along the 1km road from the Tha Pae Gate. The market consists of food, souvenirs, and massage stands.
Tha Pae Gate: The Tha Pae Gate is one of the most popular landmarks to visit. This gate once acted as a fortress to the Old City and now acts as a tourist attraction and gate into the city.
Chiang Mai Art and Cultural Center: The center is behind the Three Kings Monument, and is filled with information and artifacts about the history of Chiang Mai. This is a must-see for those interested in culture and history.
Cooking Classes: Most restaurants in the Old City offer cooking classes for traditional Thai meals. Learn to recreate your favorite meal and make traditional Thai food at home!
2. Night Bazaar
The "Night Bazaar" is within walking distance of the walls of the Old City, but at least 15 minutes from the Tha Pae Gate. The night bazaar area is usually quiet in the daytime, but lively during the night.
This neighborhood is home to one of the biggest night markets in the city that occurs daily. Beyond the night market, the area has modern boutique shops and malls making this neighborhood the ideal place for those looking to shop their way through Chiang Mai.
The Night Bazaar area is the perfect location for those desiring to be between the Old City and RiverSide neighborhoods. Although light on attractions, this neighborhood's hotels are full due to its many high rise hotels, and eclectic accommodation options.
Best Hotels in Night Bazaar
Budget: Na La Da Hostel
Mid-Range: Kate and Hasu Boutique Hotel
Luxury: Ping Nakara Boutique Hotel and Spa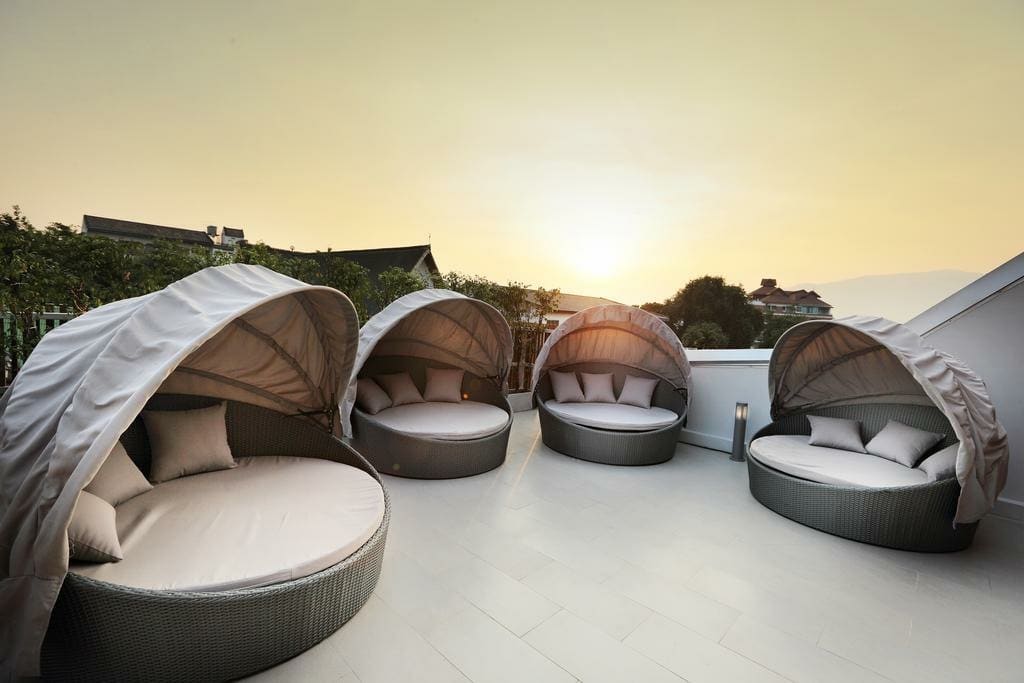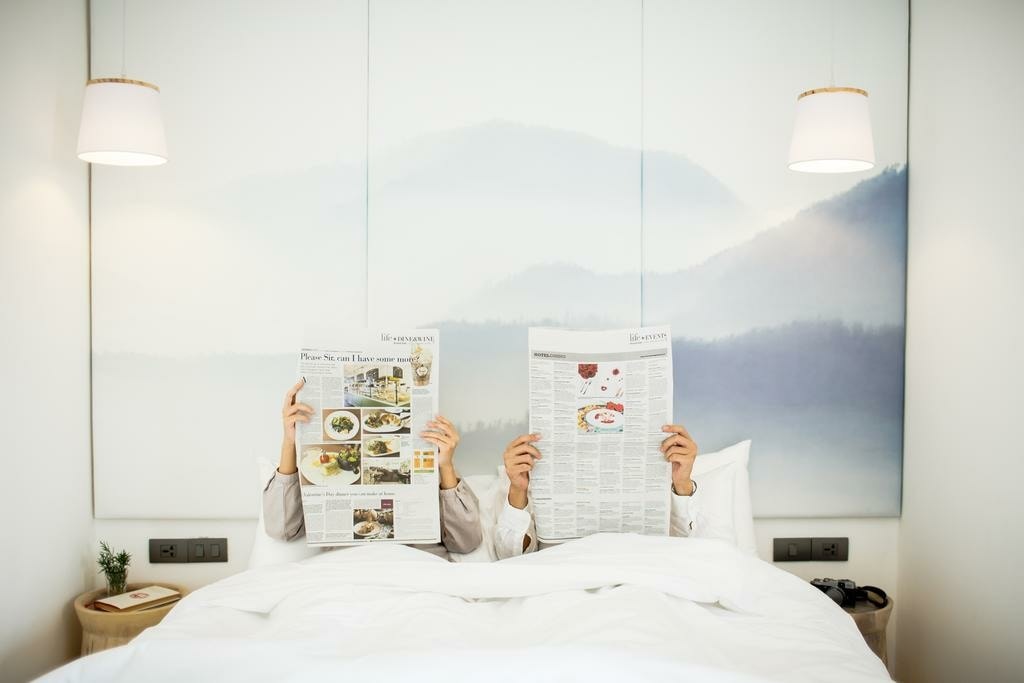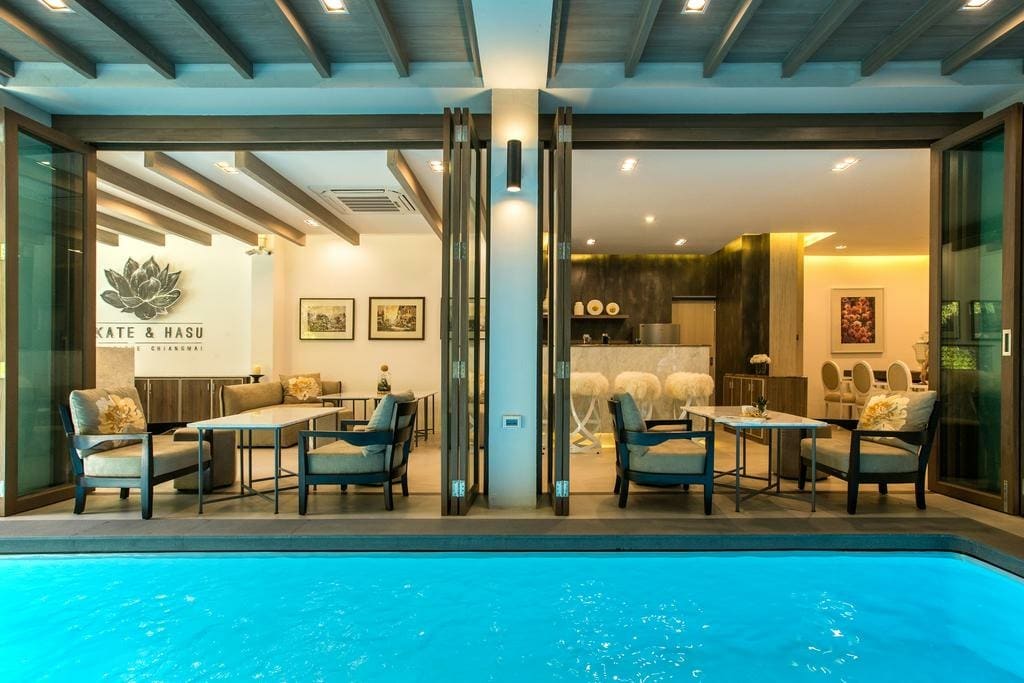 Things to do in Night Bazaar area:
Night Bazaar: The most popular attraction in this neighborhood is the Night Bazaar. This is the perfect one-stop place for souvenirs and street foods. Because there are multiple sections to the market, you can spend hours exploring this vast crowded market.
Wat Chong Khian: A breathtaking temple located within walking distance of the Night Bazaar street. Adorned with gold statues and roofs, Wat Chong Khian offers a calm atmosphere for those looking to explore less crowded temples.
Spas and Massage Parlors: Spas and massage parlors are available in almost every area of Thailand, but the Night Bazaar neighborhood holds some more high-quality places with reasonable prices.
3. Chiang Mai Riverside
This neighborhood is next to the Ping River that flows through Chiang Mai city, and is past the Night Bazaar area. The neighborhood offers a calmer environment than the Old City and Night Bazaar Areas, with limited nightlife, shopping, and attractions.
Staying by the riverside is ideal if you're looking for an upscale, scenic stay away from the bustling business of the city. This neighborhood is easily accessible, only ten minutes drive away from the city center.
The hotels in this area are on the luxury side of the expense scale, but that doesn't always mean expensive if you are coming from the Western world. Riverside has many beautiful restaurants, bars, and art galleries to visit for laidback socializing.
Recommended Hotels in the Riverside Area
Budget: Ketawa Hotel
Mid Range: Maraya Hotel & Resort
Luxury: X2 Chiang Mai Riverside Hotel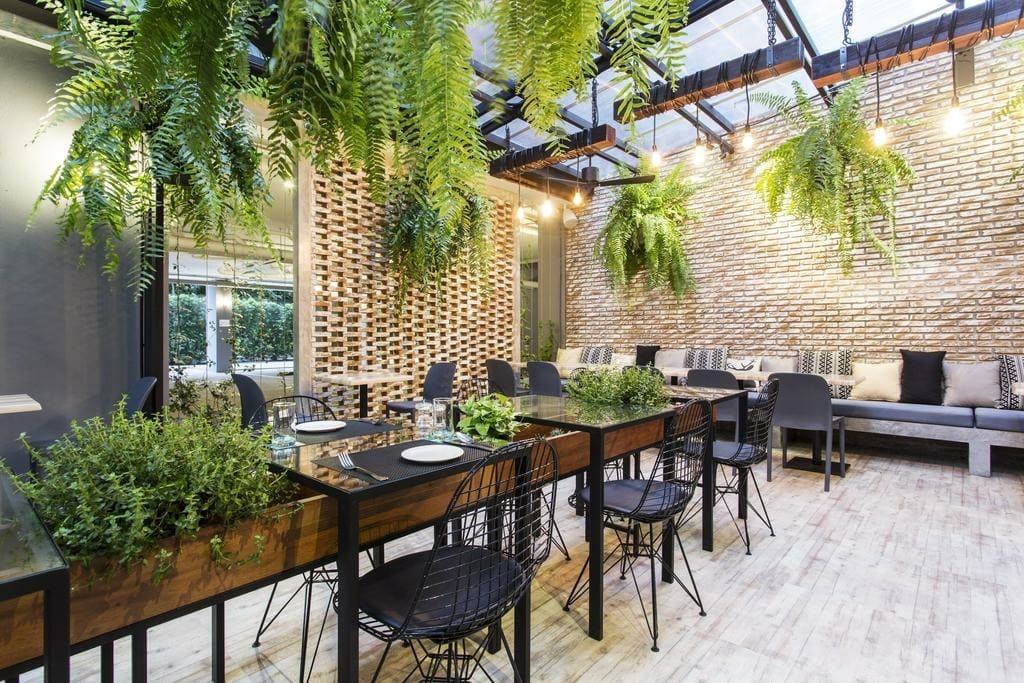 Things to do in Riverside area:
Tom Lamyai Market: Tom Lamyai is a unique flower market and the only place to get fresh flowers in Chiang Mai. This area is often crowded with people, usually Thai, looking at the beautiful blooms.
Dinner Cruise down the River: Experience the beauty of Chiang Mai's cityscape with a sunset cruise down the river. This experience is magical and romantic for couples and solo travelers alike.
Warorot Day Market: This is a must-see market for those in the Riverside neighborhood looking to experience an authentic local market. Warorot market offers ready-to-eat meals to fresh local produce. The market also has a wide range of goods such as clothing and housing goods for inexpensive prices.
Live Music at a riverside bar: A great evening activity is to find a riverside bar playing live music. You can sit for a drink or a meal, relax and enjoy the atmosphere.
4. Nimman . Nimmanhaemin
This is a rapidly growing neighborhood of Chiang Mai known for being modern and trendy. On the west side of Chiang Mai, Nimman neighborhood is bustling at all hours of the day.
Exploring this neighborhood is easy by walking, and conveniently located with only a 10-minute drive into the city center. Nimman is the perfect neighborhood to stay if you are looking to explore the trendy cafes, boutique shops, and some of the city's best restaurants and bars. Nimman offers a prominent youth culture and cheap hotels. This area is a perfect place for young backpackers looking for an alternative tourist neighborhood.
Recommended Hotels in the Nimman Area
Budget: The Little Siri
Mid Range: Sanae Hotel
Luxury: Akyra Manor Chiang Mai
Things to see and do in Nimman:
Wat Suan Dok: A few minutes from the main road is one of the only historical attractions in this area, Wat Suan Dok. This temple is a brilliant white, with a large golden stupa in the center. This temple is one of the top to visit in Chiang Mai.
Restaurant and Bar exploring: Nimman offers endless exploration of its many restaurants, bars, and nightlife attractions. Nimman is the perfect place to hang out and interact with locals. Exploring the local hangouts is the best way to do so.
Minimal Gallery: This art museum right near Nimman Road doubles as an art space and a minibar. Come to see the art and stay for a while. The second floor is an art studio/ academy for local artists.
Maya Life Shopping Center: This is Chiang Mai's newest and hippest shopping mall. It is not the largest of the malls in the city, but it is the most popular with the young crowd. This mall offers cheap to mid-range clothing shops, food stalls, a cinema, and arcade activities.
Chiang Mai Hotels: Tips and FAQ
Areas to Avoid in Chiang Mai
Thailand is known for being the "land of smiles", and is one of the safest countries to travel in. Sometimes the neighborhoods have a confusing economic mix of housing, but there are no dangerous neighborhoods in Chiang Mai to worry about.
Whichever neighborhood you find yourself staying, you will certainly find smiling faces and kind people. Your greatest worry of danger in Chiang Mai is typical tourist scams and pickpocketing.
Many areas in Chiang Mai seem appealing, such as the mountainside neighborhoods, yet areas like these are over 30 minutes away from the city center. Be wary to choose accommodation close to the attractions you want to visit, otherwise, you might spend your valuable time abroad in a taxi.
Where to Stay for the First Time in Chiang Mai?
Old city is the ideal place to stay in Chiang Mai as a first time visitor. The Old City is the most popular and often the cheapest place to stay in the city. The area contains most of Chiang Mai's attractions and it is walking distance between most, thus saving you money on transportation.
The Old City is also the cultural epicenter of the city and brings visitors a closer look into the history of Chiang Mai. This neighborhood is filled with budget homestays, hostels, and travel agencies making it the ideal base for first-time travelers.
Below you'll find our recommended accommodation to stay in Chiang Mai Old City.
Budget: Giant House
Giant House is a personal favorite homestay in the Old City for those traveling on a budget. Giant House has affordable options for private rooms and hostel dorms.
Mid Range: Buri Gallery House
Buri Gallery House is located in the heart of this historic city with comfortable and spacious rooms, and an ideal location. This hotel is minutes away from attractions like the Sunday Walking Street, Tha Pae Gate, and within proximity to many lively nightlife areas in the town.
Luxury: Rachamankha Hotel
Rachamankha Hotel is designed with Thai Lanna style and offers a convenient location to the Old City. This resort is ideal for those who like to live in comfort, enjoy beautiful artistic surroundings, and have easy access to city life.
Where to Stay in Chiang Mai on a Budget?
Julie's Guesthouse offers some of the cheapest accommodations in all of Chiang Mai. The dorm rooms cost about 200 baht, or $6. The guesthouse also offers private rooms at a bit higher rate.
This hostel is in the center of the Old City, where most backpackers find themselves staying for its convenient location and accessibility. Julie's Guesthouse has a shared common area, a terrace, and beautiful views of the city. This is the perfect hostel for backpackers on a budget.
2. Gap's House
Gap's Guesthouse is a quaint, and affordable guesthouse located by the Tha Pae Gate. This guesthouse offers private rooms starting at $11, including private bathrooms.
This guesthouse is also conveniently located close to the backpacker section of Chiang Mai and within walking distance of many attractions and restaurants and bars. If you are looking for a night in, the guesthouse also has a restaurant on the property to enjoy home-cooked Thai food and meet other backpackers.
3. Imm Hotel ThaPae Chiang Mai
If you're looking for time away from hostels and guesthouses, and are looking for some luxury in your travels, but still on the hunt for cheap accommodation, the Imm Hotel is one of the cheapest you'll find.
For $22 you can stay in a comfortable, clean, and convenient hotel. This hotel is located near the Tha Pae Gate and gives you easy access to the Old City. Imm Hotel offers free breakfast in the morning and 24-hour front desk service.
Where to Stay As a Solo Traveler in Chiang Mai?
There is no shortage of hostels to meet other travelers in Chiang Mai, below are some of my favorites:
Stamps hostel is outside of the Old City walls, and perfectly located between the Old City and Riverside neighborhood. This hostel has nightly activities to create a family-like atmosphere with the travelers. The environment is friendly, and the staff will try to make you feel at home.
2. Hug Hostel
This hostel is located inside of the Old City walls and the attractions in the area are accessible by foot. This hostel offers co-ed and female dorms and even a few double rooms for privacy. For those looking to meet friends while traveling, Hug Hostel has several common areas often filled with friendly faces wanting to meet people the same.
Only a two-minute walk from the Night Bazaar, Na La Da Hostel is perfectly located for solo travelers wanting to meet other travelers. Another feature this hostel offers is tour information and recommendations. Solo travelers who don't know much about Chiang Mai and want to take full advantage of their experience should take one of the hostel's free tours.
Thailand Wow is another hostel located in the center of Chiang Mai city that solo travelers love. The hostel hosts group trips to various attractions like temples and Thai boxing matches. The staff is very friendly and hold home-cooked family dinners every week. This hostel also has a large common space and Netflix area to meet people.
Where to Stay for Couples in Chiang Mai?
This unique boutique hotel located in a quiet neighborhood outside of the city walls and close to the Night Bazaar. This hostel offers a peaceful and romantic environment for couples to stay. Rimping Village offers a comfortable stay with luxurious well-decorated rooms.
The hotel has various other attractions like a beautiful outside swimming pool, a restaurant with a set menu and buffet options, and finally, garden courtyard common areas to take a romantic nighttime stroll through.
2. Sireeampan Boutique Resort and Spa
Sireeampan is the perfect hotel for couples looking for alone time away from the busy city. This resort offers an outdoor pool, along with a spa and wellness center. Treat yourselves to a couples massage or luxury spa treatments. The resort also has a high-quality restaurant on the property, the Sayomphorn Restaurant, serving Thai and Western dishes.
3. RainForest Chiang Mai Hotel
Another romantic hotel located 7 minutes drive outside of the city center. This hotel offers romantic and authentic Thai decor throughout the property and in the spacious and comfortable rooms.
This hotel offers massage services, free computer use, an in house restaurant, and tour information at the front desk. This hotel is perfect for couples looking to explore Chaing Mai without the work of planning, and all the luxury of a high-quality hotel.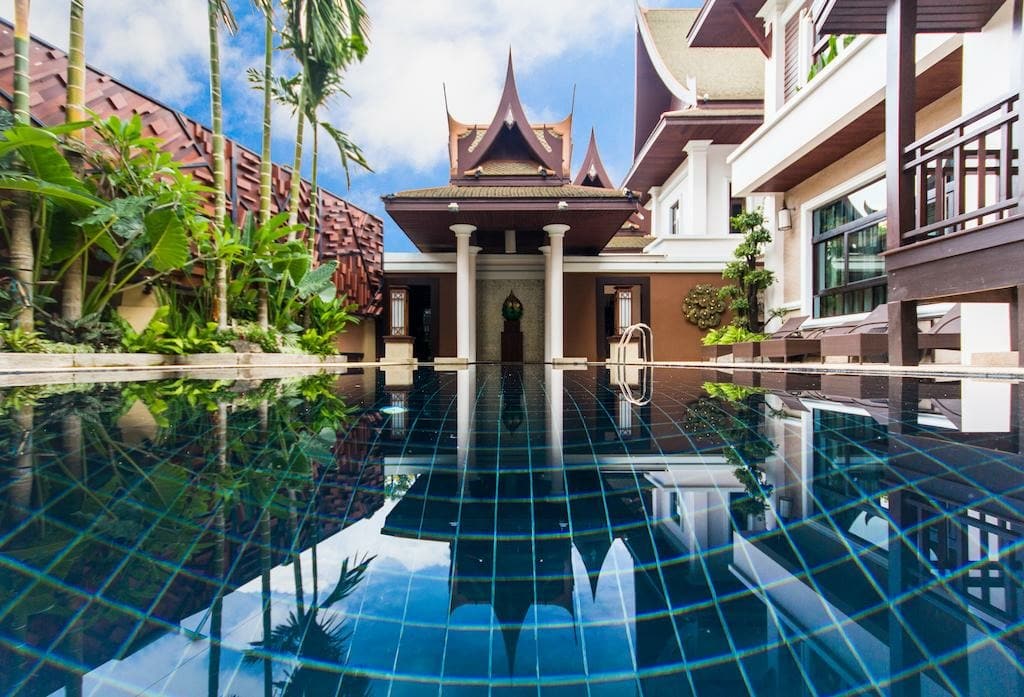 Where to Stay in Chiang Mai with Family and Kids?
The Old City is the best neighborhood to visit with kids. The neighborhood offers proximity to kid-friendly activities. But, if you are looking for a calm stay outside of the crazy nightlife and busy streets, it's recommended to check out the Riverside neighborhood.
Located in the Riverside neighborhood, this resort is perfect for combining a luxury stay in a beautiful resort with a functional family stay. The resort offers spacious and modern rooms with some rooms containing a full kitchen set up. Anantara has an infinity pool for kids and parents to play and relax in, along with spa treatments for tired parents.
The RatiLanna offers well priced large rooms ideal for families. The resort has beautiful views of the River Ping, a quiet library, Thai cooking classes, and even a fitness center with a spa. The RatiLanna Riverside Resort will help organize all your tours and travel plans and even offers in-room childcare at a surcharge price.
3. Four Seasons Resort Chiang Mai
The Four Seasons is located 30 minutes drive from the city. Although it is a far drive to the center, the accommodation offered is well worth it for families. This resort offers large villas with multiple bedroom layout options and offers many outdoor activities and cooking classes for adults and children. The Four Seasons Resort is also very close to the elephant nature sanctuary, a must-visit for families visiting Chiang Mai.
Where to Stay for a Luxury Vacation in Chiang Mai?
The Granary Resort is an affordable luxury accommodation option in Chiang Mai, located 2.8 miles from the stadium. The resort provides luxury rooms with air conditioning, a balcony, and a garden view. On top of the well-designed rooms, Granary provides an outdoor pool, courtyard gardens, valet parking, and an in house restaurant.
A chic destination resort designed to keep you connected to nature, inspired, and relaxed. The resort offers a stunning landscape of Doi Suthep and the courtyard gardens, and 42 lavish rooms to choose from.
This resort has everything you could need without leaving the comfort of your beautiful hotel. North Hill has 3 restaurants offering different types of cuisine, including Thai and western dishes, and 2 bars on the property as well. This chic hotel also has a stunning rock pool, a fitness center, and an outdoor amphitheater often showcasing local musicians.
The Dhara Dhevi's design is influenced strongly by cultural and architectural parts of the historic Lanna Kingdom. This luxury resort is one of the largest, spreading across 60 acres of well-manicured land.
This resort boasts of its elegant and modern accommodation along with its many attractions. The Dhara Dhevi has two outdoor pools, a high-quality spa, and nine dining options on the property. From classic Thai food to french delicacies, and even home-made ice cream made on the property, there is no shortage of good food. The Dhara Dhevi has many activities to enjoy; from tennis courts, a gym, a business center, and even a spa and sauna. If you choose to stay at Dhara Dhevi you will be living like royalty.
Where to Stay for Local Vibes?
While the neighborhood of Nimman offers a more trendy look into the lives of the locals, the neighborhoods near Wat Umong and Wat Pong Noi offer a more authentic look into Thai village life.
The village streets are lined with local street vendors, local markets, and local hangouts like bars and parks. Escaping the touristy neighborhoods gives you the feel of living in the country and not visiting. Choosing to stay in the local neighborhood gives you a better chance of making lifelong friends with a local in Thailand.
Budget: Chomdoi House Hotel
Chomdoi is less than 3 miles away from Wat Umong, and next to the Nimman neighborhood. This hotel gives you a taste of young trendy locals near Nimman and also the option of exploring Ing Doi Village and their local markets.
Mid-Range: At Pingnakorn Hotel
This comfortable hotel offers a convenient location on the riverside and is close to Mueang Mai Market and many local restaurants. The hotel is only 2.4 miles from Wat Umong and Rin Village.
Luxury: Villa Mahabhirom
This luxury hotel is located in the middle of a local neighborhood and is only 1.5 miles from Wat Umong. This is the perfect hotel for luxury living in Thailand's local communities.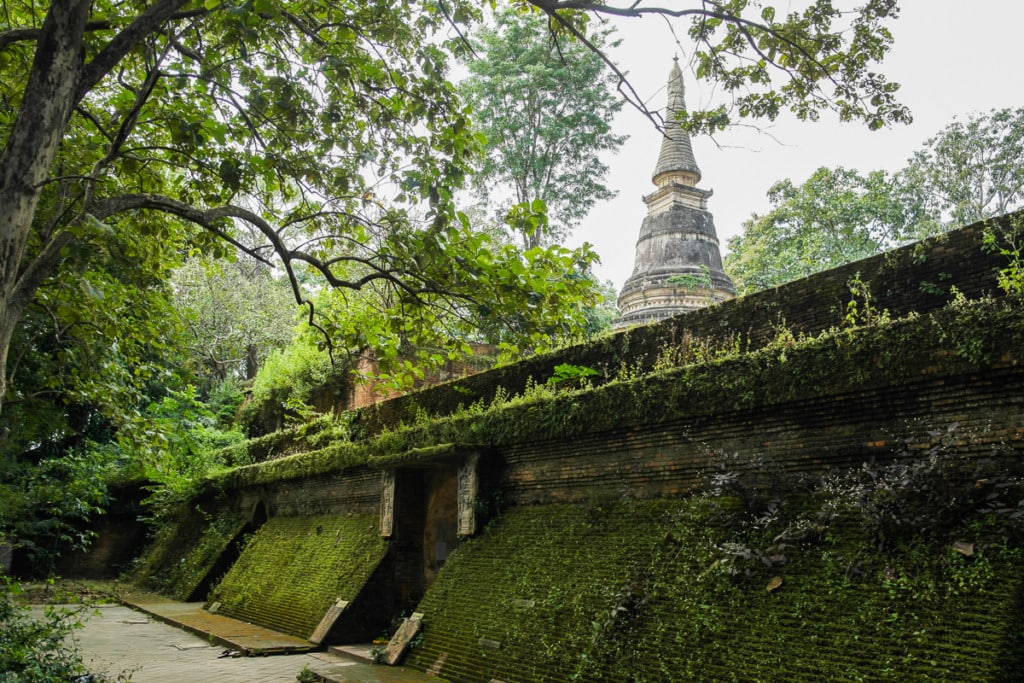 Where to Stay for Hiking and Nature Stays in Chiang Mai?
Many trekking tours run from the Old City and most hotels will offer booking information. Yet, if you want to be staying in nature near to hiking and nature exploration, the best option is to go at least 30 minutes out of the city in any direction.
1. Phu Tarn Tree Nature Resort
This resort is 30 minutes away from the city center, in the peace and tranquility of nature. The resort offers many activities to its guests, such as strawberry picking, outdoor sports, gardening, and cooking classes. Although this resort is far from the city, it is near many destinations like the Royal Park Rajapruek, Wat Intharawat, and the Chiang Mai Night Safari.
2. Rabeang Pasak Treehouse Resort
This resort is an attraction itself, its housing made up of teak treehouses. The resort is surrounded by an incredible jungle, singing with insects and birds. A small stream runs through the property and opens into a small waterfall. This resort is an hour away from the city center and puts you directly into the wild. The surrounding jungle is uncut and explorable in every direction.
This sustainable eco-friendly resort is made up of adobe houses and a large dormitory. This resort is perfect for those looking to explore the mountainsides on a budget. Earth Home offers various workshops to their guests on permaculture gardening, wellness courses, and natural building. This eco-stay is located in the village of Baan Maejo but is within a short distance to nature trails and uncut jungle.
The Best Places to Stay in Chiang Mai: Final Thoughts
Chiang Mai is a lively city balancing its cultural and historic attractions to the city's more modern and trendy attractions. There is something for everyone to enjoy in this city, whether it be food, sightseeing, or hanging out and meeting people.
The ultimate hotel stay in Chiang Mai is Rachamankha Resort, and if you can spare the cash it's beyond worth it. The resort is centrally located in the Old City and the bustling city life is easily accessible, yet the resort is calm and quietly tucked away. Check out their page on booking.com for the updated prices, they do have great clients ratings and detailed reviews that you can browse.
My favorite budget/backpacking hotel is Giant Guesthouse. Every time I pass through Chiang Mai, Giant Guesthouse is my go-to accommodation. The atmosphere and location are unbeatable and the staff working at Giant are so friendly and do their best to make you as comfortable as possible.
Safe travels! Have a wonderful trip to Chiang Mai 🙂