15 Best Beaches in Alaska
Visiting Alaska means nature, wildlife, and views! The Last Frontier boasts rich forests, exquisite mountain views, and an abundance of lakes — not to mention miles and miles of shoreline with magnificent beaches!
Alaska was the first place that I saw a black sand beach, and I thought it was the coolest thing ever when I was a kid!
From gravel to sandy, on the coast of the sea to surrounding a lake, Alaska has stunning beaches which are great for adventure, education, or just relaxation.
Whether you are going alone or with your family, Alaska beaches are a sight to behold and are often worth the trip alone. So don't hesitate! Keep reading to choose the beach that appeals to you most and head on out for your adventure!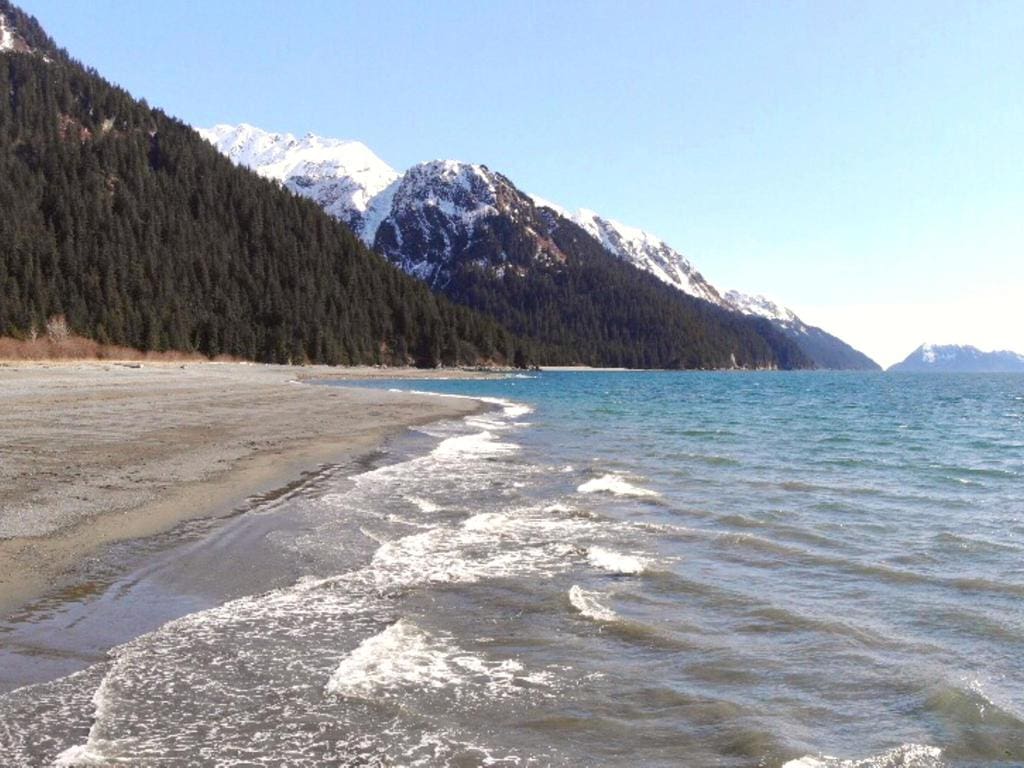 1. Kincaid Beach, Anchorage
Kincaid beach is what you'd consider an open secret, with its superb views of the Cook Inlet. This quiet beach is an excellent spot for you and your family to enjoy a relaxing day together. It is only a short drive from downtown Anchorage!
A 2-mile hike stands between you and Kincaid Beach, but fortunately, it isn't too tricky. In the end, you are rewarded with sand dunes for your children to play in, picnic tables, and a bonfire area. If you carry a change of clothes, you can always have mud fights too!
Despite the seclusion and beauty of Kincaid, surfers will not find big waves here. Even so, it is advised that you do not go too deep into the waters. Though small, the waves can be powerful and may pose a danger to your safety.
2. Fossil Beach, Kodiak
Perfect for family getaways in the summer, Fossil beach stands as one of the most exciting beaches to visit.
Sitting on the eastern side of Kodiak Island, Fossil Beach lies at the mouth of a river that drains Twin Lakes. It is best to plan your visit at low tide when the water has receded and the sand is exposed.
While you're visiting, you can sit in the sand and relax or build a sandcastle with your kids. If you are more interested in the sea, try going for a swim (Warning! The water will be FREEZING!) or maybe even whale watching.
You may also see sea lions or bison on this beach, making it a fun location to spot some wildlife. In addition, surfers may find that Fossil Beach provides them with waves strong enough for surfing!
Address: 41520 Pasagshak Rd, Kodiak, AK 99615, United States
Entrance fees: None
Parking fees: None
Dogs allowed: Yes
3. Black Sand Beach of Barry Arm in Harriman Fjord (Prince William Sound)
Surrounded by spectacular views of glaciers and mountains, Black Sand Beach is well-known among sea kayakers. They often camp here before they head out to sea!
Sea kayaking is one of my favorite activities to do in Alaska, and I definitely recommend it to anyone ready for a chilly ocean adventure.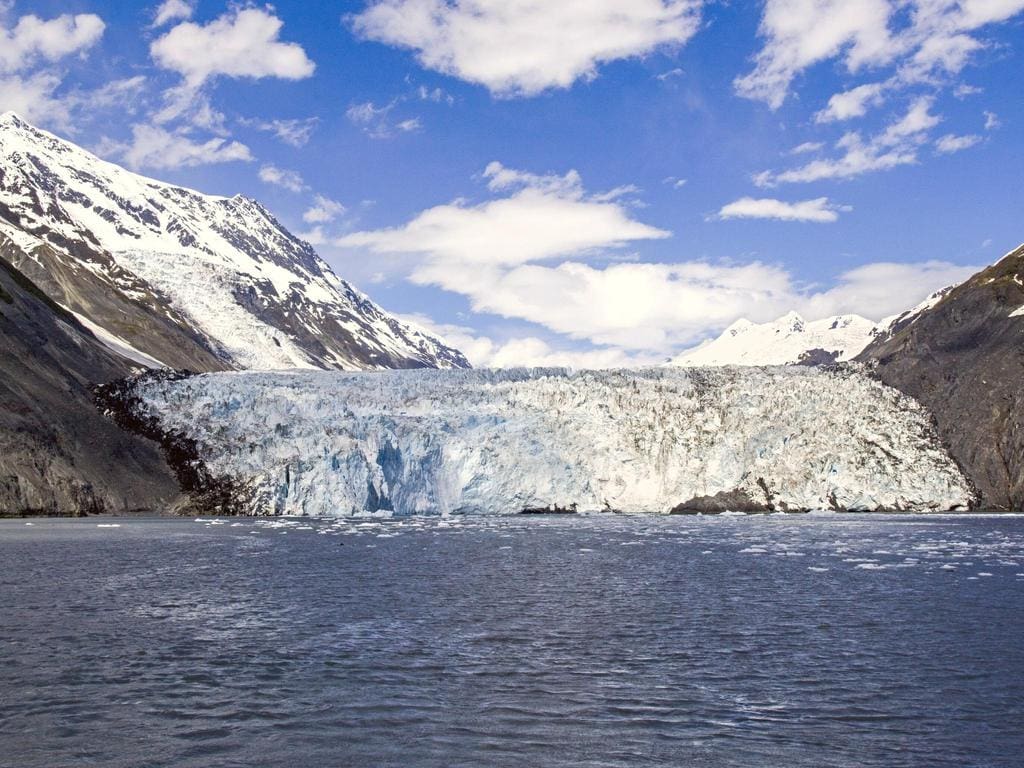 Aside from the water cascading down the glacier, you will also be witness to a fantastic view of Barry Arm.
Walk the beach at low tide, charter a boat, or take a guided tour — there is a lot to do at this beach, making it a great experience, especially for those who may not want to do any intense hiking.
Address: Alaska 99901, United States
Entrance fees: None
Parking fees: None
Dogs allowed: Yes
4. Lowell Point, Seward
Experience the Gulf of Alaska's ecosystem at Lowell Point, just 2 miles from Seward.
This beach is accessible via the Lowell Point Recreation site, a 19-acre park popular among kayakers. Standing proudly above Lowell Point are snowy mountains, while vibrant marine lives below the shores.
There is a short hike to reach the beach. However, the walk is worth it!
Address: 14150 Pinnacle View Rd, Seward, AK 99664, USA
Entrance fees: None
Parking fees: $5 / state parking pass required.
Dogs allowed: Yes
5. Kasilof River Beach, Kasilof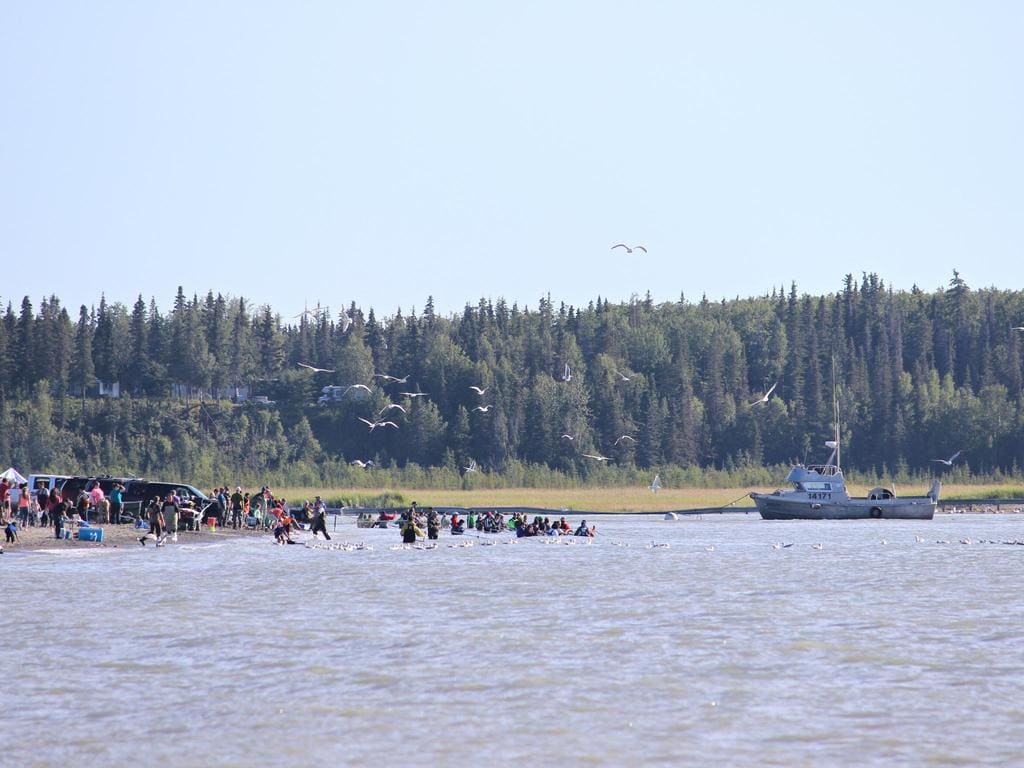 Beachcombing, sightseeing, wildlife viewing, and camping are all a package deal when you visit Kasilof River Beach. It sits at the mouth of the Kasilof River and is 15 miles south of Soldotna on the Sterling.
This beach is famous for its sockeye coho and king salmon sport fishing which happens on the bank or in drift boats.
Each year locals flock here to dip net salmon, often camping to maximize their catch! This event occurs between June 17 and Aug 15, so if you don't like big crowds, visit at other times of the year!
Related article: Best Things to Do in Kasilof
Address: 28091 Cohoe Loop Rd, Kasilof, AK 99610, USA
Entrance fees: None
Parking fees: None
Dogs allowed: Yes
6. Bishop's Beach, Homer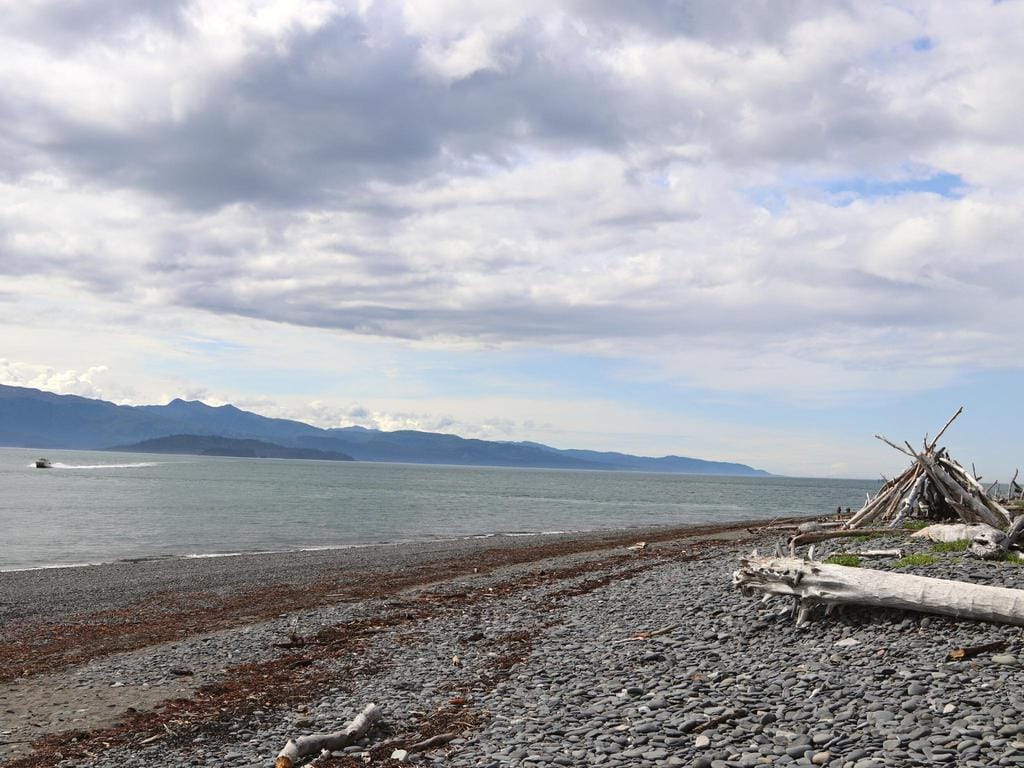 A hike down a short trail, starting from the Island and Ocean Visitor Center, leads you to Bishop Beach, just outside Old Town Homer.
Trails, a pavilion, a fire pit, a barbeque grill, picnic tables, restrooms, and public arts are the amenities you can find here. In addition, the beach is only a few minutes away from the lodging, restaurants, and other services! So, even if you didn't pack enough food, a short trip to town is all you need.
Tide pools are another common feature of Bishop Beach complemented by a panorama of Lower Cook Inlet. I can always spend a chunk of time gazing into the beauty of tide pools! It is so interesting watching all the little fish and sea creatures up close and personal!
During low tide, take a mile-long walk across the coast to truly absorb the beauty of Bishop's beach.
Address: 95 Sterling Hwy, Homer, AK 99603, United States
Entrance fees: None
Parking fees: None
Dogs allowed: Yes (on a leash)
7. Homer Spit, Homer
Glaciers and mountains surround Homer Spit, a narrow jutting of land, reaching 4.5 miles into Kachemak Bay. This bustling tourist area calls for shoppers and beachcombers.
However, those interested in fishing here have a unique experience. Try to catch salmon at The Fishin' Hole, or go for a fishing charter. Afterward, you can spend time visiting each business on the spit or take the ferret to Halibut Cove.
Don't forget to try a guided sea kayaking trip!
Camping, parking, toilets, and lodging are also available for those who want to spend a bit more time on Homer Spit.
Address: Homer SpitHomer, AK 99603, USA
Entrance fees: None
Parking fees: None
Dogs allowed: Yes
8. Outside Beach, Seldovia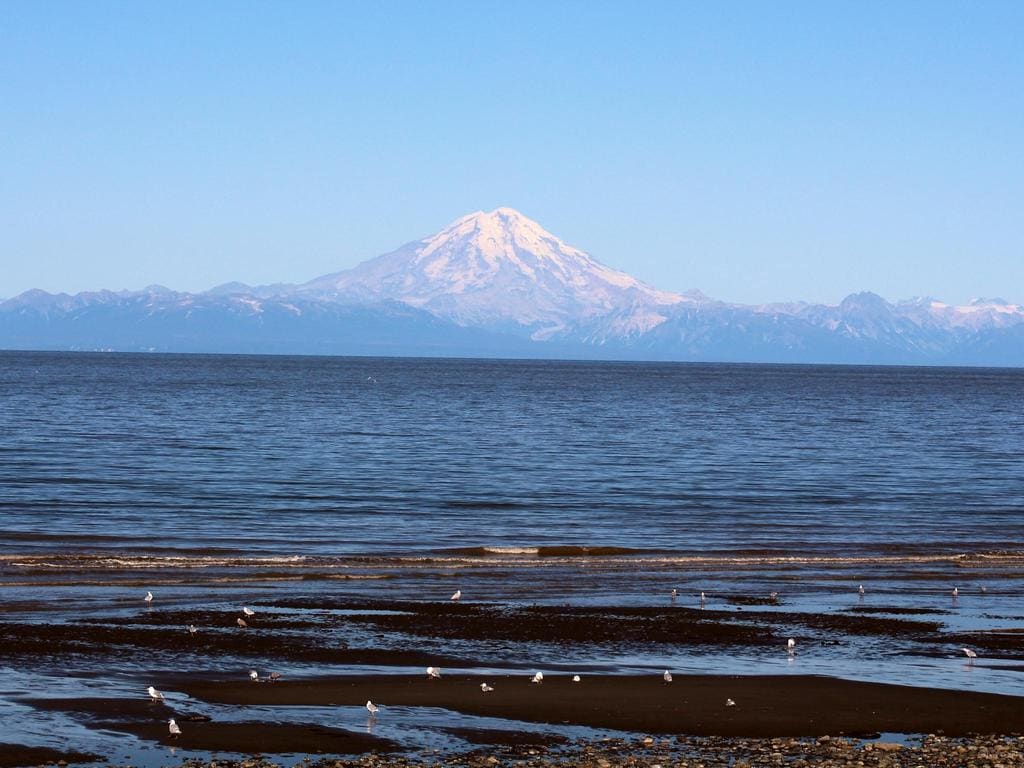 Famous for its boardwalk waterfront, Outside Beach whispers to those who enjoy nature's beauty. You can get there via the Otterbahn Trails.
With astounding views of Iliamna and Redoubt volcanoes, this beach is an excellent option for an overnight stay. Enjoy the tide pools, do some beachcombing, or simply picnic; you're bound to have a great time here!
Look out for bald eagles and seabirds. Even sea otters may pop up here.
Address: Seldovia Village, AK 99663, USA
Entrance fees: None
Parking fees: None
Dogs allowed: Yes
9. Buskin River Beach, Kodiak Island
Only 4.5 miles from Kodiak City is Buskin River Beach. Accessible through the Buskin River State Recreation Site, this quarter-mile gravel beach calls beachcombers, wildlife seekers, and anglers to its shores.
Complemented by Kodiak's green uplands, Buskin River Beach is a popular spot for picnicking, with overnight stays. There is a well-equipped Picnic Shelter available for the use of up to 50 people, including a charcoal grill and outhouse.
If you don't want to rough it, I recommend a night at the Buskin River Inn nearby. They have an excellent restaurant to accompany their comfortable rooms.
Address: Kodiak, AK 99615, USA
Entrance fees: None
Parking fees: $5
Dogs allowed: Yes
10. Wasilla Lake Beach, Wasilla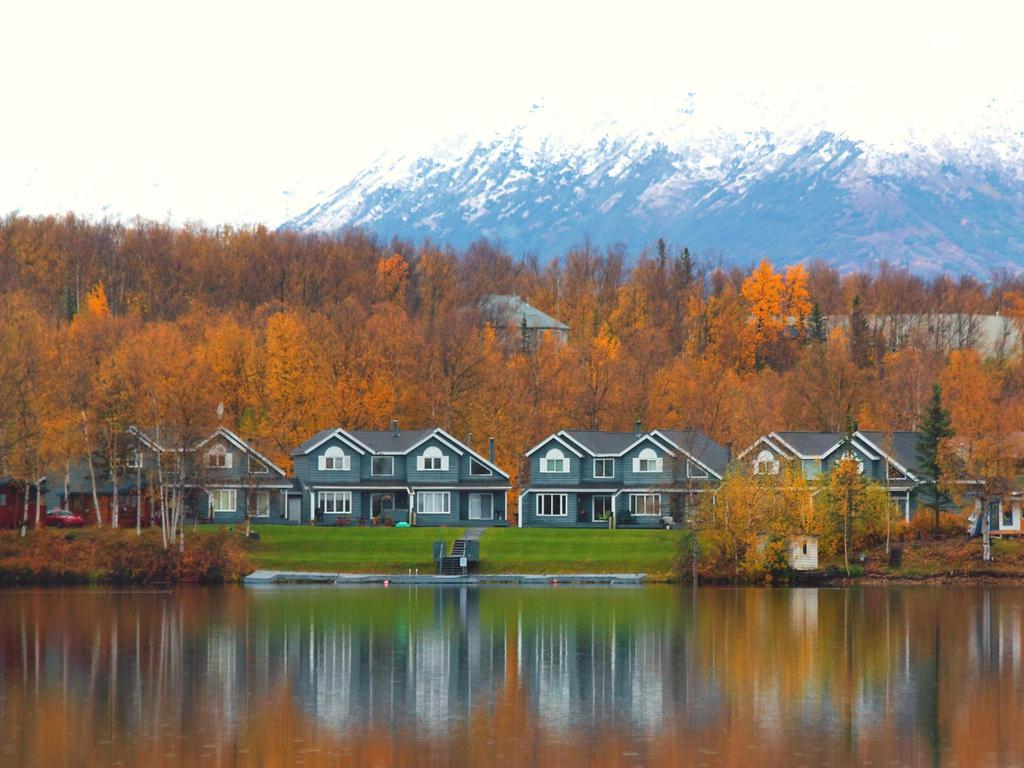 With a maximum depth of 14.6m, Wasilla Lake Beach caters to families. It is just off the highway, making it a great rest stop for travelers. This lake is located in Matanuska Valley, east of Wasilla.
Here you will find a sandy beach, great for building sandcastles with your kids. There are also some picnic tables and a pavilion available for your use while the children enjoy the playground!
Address: Wasilla Lake Alaska 99654, USA
Entrance fees: None
Parking fees: None
Dogs allowed: Yes
11. Christianson Lake, Talkeetna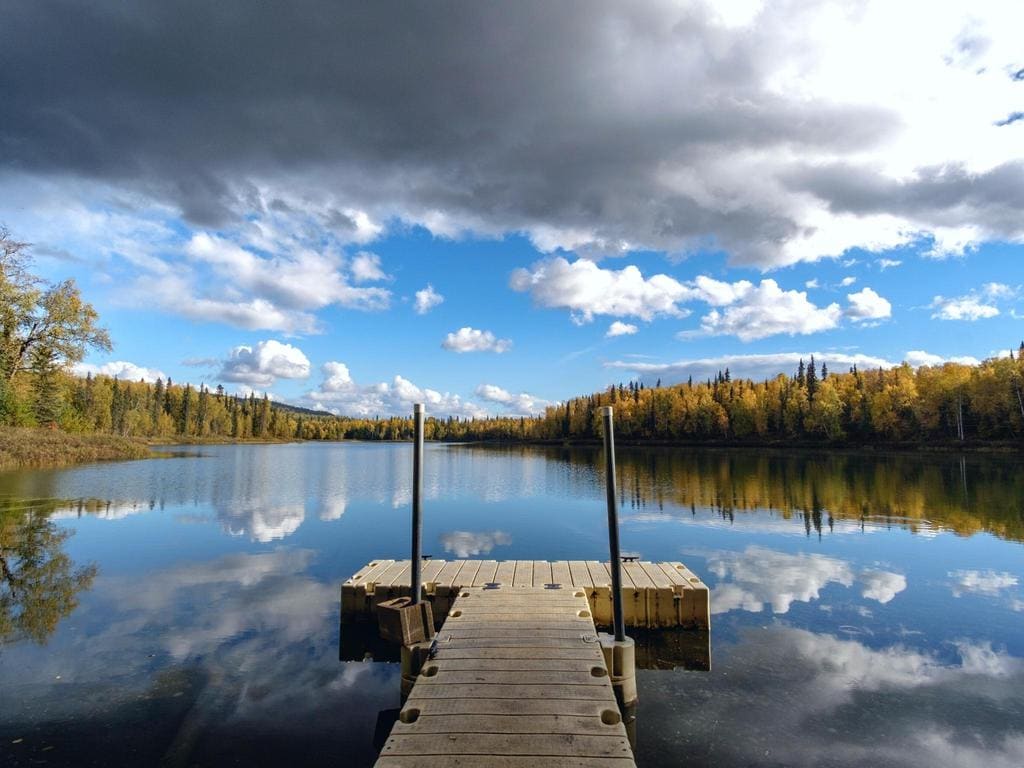 The northernmost and largest of the Talkeetna Lakes is Christianson Lake. It sits 1.5 mi east of the village of Talkeetna, in Cook Inlet Low in Matanuska-Susitna Borough.
It was locally named after Haakon Christiansen, a bush pilot who used the lake as a landing area.
This 180-acre lake is perfect for swimming and wading and is full of rainbow trout for those who may want to fish. Restrooms, picnic sites, pavilions, and boat launches are activities available for anyone.
Address: 15215 Botner Dr. Talkeetna, AK
Entrance fees: None
Parking fees: $5
Dogs allowed: Yes
12. Chena Lake Swim Beach
Chena Lake Recreation Area is the gateway to Chena Lake Swim Beach. This beach offers restrooms, pavilions, picnicking, and a playground for visitors. There is also a horseshoe pit and a boat launch nearby for those who may not want to simply relax.
Adventurers can hike along the 4-mile trail and view exciting wildlife.
Address: 3780 Laurance Rd, North Pole, AK 99705, USA
Entrance fees: None
Parking fees: None
Dogs allowed: Yes
13. Cannon Beach, Yakutat
With only 10 miles separating them, the long stretch between Ocean Cape and the mouth of Situk River is where Cannon Beach lies. It is a scenic and sandy beach, accompanied by beach grass and flowers while bordered by a forest.
Cannon Beach is a hotspot for surfers, with waves reaching more than 20 feet! Despite the difficulties getting there, it will be worth it when a surfer sees the impressive heights.
In addition to its recreational advantages, history enthusiasts may enjoy viewing the remnants of the artillery cannon dating from World War II.
Address: 99681, Yakutat, AK 99689, United States
Entrance fees: None
Parking fees: None
Dogs allowed: Yes
14. Eagle Beach, Juneau
Decorated with views of Lyn Canal, Juneau Mountains, and the Chilkat Mountains is Eagle Beach. It sits north of Juneau along the Glacier Highway.
To access this beach, you must visit the Eagle Beach State Recreation Area. It is fully equipped with a picnicking area and restrooms.
Once there, you have an option of 26 campsites, including 3 walk-in sites, and 5 hiking trails to choose from. When you head to the beach, keep your eye out for bears!
After you make it to the beach, you can indulge in the usual beach activities. Beachcombing can begin, as well as wildlife viewing. You may see a whale or sea lions on your trip, so keep your eyes out.
Address: Juneau, AK 99801, USA
Entrance fees: None
Parking fees: None
Dogs allowed: Yes
15. Petroglyph Beach, Wrangell
This rocky beach is well known for its rich historical value. As you walk its shores, you will come across more than 40 different sketches in rock, made by the Tlingit people over 8,000 years ago. They are called petroglyphs. You may also find petroglyphs of salmon, whales, and human faces!
In addition, Petroglyph Beach offers rich marine life and a boardwalk to spend your time and enjoy the scenery.
Address: Grave St, Wrangell, AK 99929, United States
Entrance fees: None
Parking fees: None
Dogs allowed: Yes
Alaska Beaches: Final Words
And here you have it, the 15 best beaches in Alaska.
But there are many more beaches in Alaska that draw the attention of locals and tourists alike. Each holds a unique piece of the state, highlighting its natural beauty, wildlife, and one-of-a-kind scenery!
For the adventurers, the family units, or those looking to reconnect with nature, visiting Alaska's beaches could be exactly what you're looking for. If you and your family like learning about history and Native cultures, I think you can't go wrong with Petroglyph Beach in Wrangell.
I am also particularly fond of Buskin River Beach, but I may be biased since I spent so much time fishing there as a kid!
Of course, when you visit Alaska, be sure to prepare yourself for encounters with Alaskan wildlife, especially bears! Stay safe, and most importantly, have fun!