9 Best Day Trips from Homer
Homer is one of Alaska's most beautiful beach communities. Located at the tip of the Kenai Peninsula on the beautiful Kachemak Bay, it is a place worth devoting a few days of your Alaskan vacation as you'll be surrounded by ocean, glaciers, volcanoes, and high peaks.
With fewer than 6,000 residents, this small town provides a plethora of sights and activities to keep you entertained and delighted.
If you have a few extra days to spare while visiting Homer, you may want to venture outside the town limits and partake in one of these day trips:
1. Visit Seldovia
Seldovia is a little coastal community overflowing with Alaska charm. Just 15 miles across Kachemak Bay from Homer, locals refer to it as the "City of Secluded Charm." The isolated village of roughly 300 individuals is nestled among a network of peninsulas, straits, and lakes.
Seldovia can be seen on foot in a reasonable amount of time. There are stores, galleries, restaurants, and a little stretch of the old boardwalk within a few blocks of the small boat harbor.
Built in 1891, St. Nicholas Russian Orthodox Church is a National Historic Site and can be reached after a short hike uphill.
The Otterbahn Trail, which runs 1.2 miles from town to Outside Beach, a picturesque site with beachcombing and a wonderful view of Kachemak Bay, is one of the area's most popular walks.
In the late summer and fall, keep an eye out for blueberries along the journey. Berry picking is a popular pastime in Seldovia! Blueberries grow so thickly that you can fill a two-quart bucket in minutes.
If you want you can also spend the night in Seldovia and wake up early in the morning to explore even more places and adventures.
2. Glacier Lake Hike
Glacier Lake Trail is a remote area in Kachemak Bay State Park that can only be reached by boat taxi from the Homer Spit. The track is almost entirely flat and easy for the 8-mile distance. Pack a picnic for a lunch stop at Glacier Lake!
From Glacier Lake, you can see Grewingk Glacier, a 13-mile-long glacier in Kachemak State Park. The glacier itself throws ice chunks into Glacier Lake, creating an incredible photo opportunity. The lake has a huge beach, the perfect spot to sit and eat your packed lunch.
Bring your day pack filled with bear spray, water, and snacks whenever you go trekking in Alaska. It doesn't matter if you're on a well-traveled trail or not; bear danger exists no matter where you go in The Last Frontier. In addition, the weather might be unpredictable. Bring rain jackets and/or ponchos, gloves, and knit caps as layers.
3. Elephant Rock Kayak Adventure
Whether you're a family searching for an adventure or a seasoned paddler, the popular Elephant Rock excursion is a great time. Paddle around Yukon Island, circling rugged rock arches while keeping an eye out for eagles and otters. Elephant Rock, a gorgeous location, is best visited in the warmer months.
The tour starts with a scenic 25-minute boat ride to the base camp on Yukon Island. Paddlers will be outfitted and receive shoreside instruction before paddling out with a naturalist guide.
The kayak guides are passionate about Kachemak Bay. Ready to impart their knowledge of its history, culture, geology, and abundant marine life to the daytrippers.
4. Water Taxi to Halibut Cove
Halibut Cove is a small community of around 90 permanent residents tucked on the east side of Kachemak Bay. A little isolated, there are no roads to or in Halibut Cove. Once a fishing community, it is now home to several artists. Don't forget to check out the floating post offices — one of the only of its kind in the U.S.
The village is about 12 miles from the famous Homer Spit, directly across Kachemak Bay. It is a worthwhile side excursion for anyone visiting Homer as it is a picturesque town with plenty to keep you busy for an afternoon — or longer.
Visitors can reach Halibut Cove by taking one of the water taxis that depart from the Homer Spit. The boat will pass by Gull Island, which is home to over 16,000 nesting seabirds such as puffins, kittiwakes, murres, and cormorants. (Many boat operators offer birding excursions of the island.)
You'll have plenty of time to wander the art galleries, have lunch at a fantastic seafood restaurant, and maybe even hike a few trails before your water taxi takes you back to Homer.
Or you can spend the night here in a beautiful cabin or lodge.
5. Bear Viewing at Katmai National Park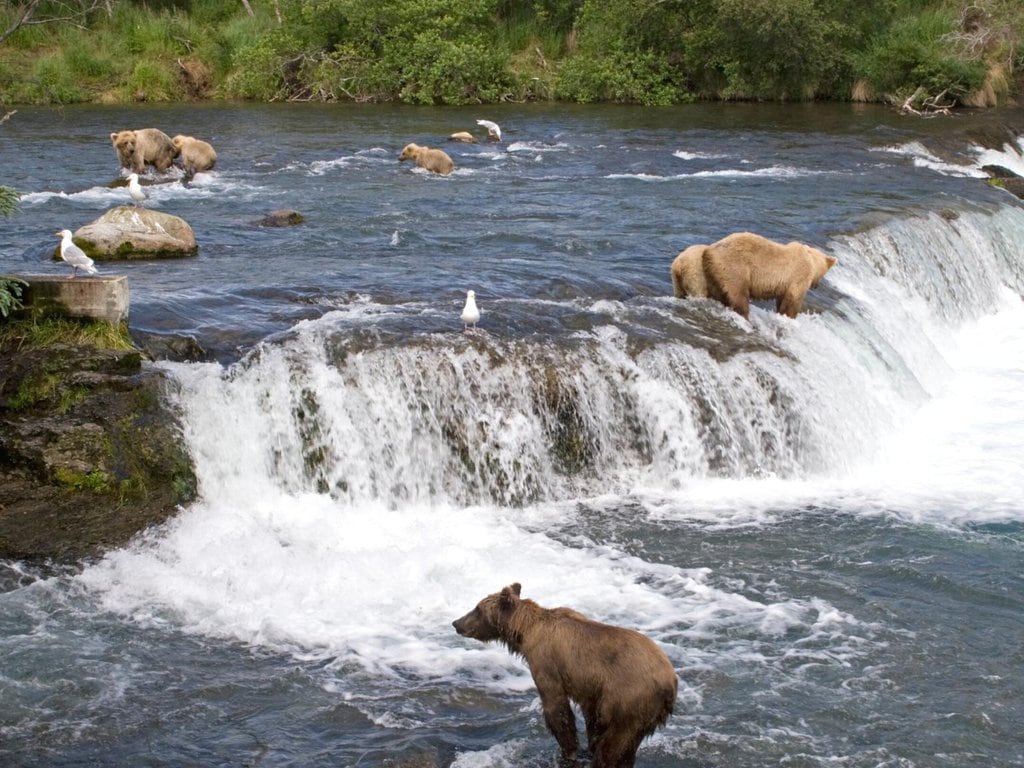 Fly across glistening glaciers, towering mountains, and active volcanoes on a spectacular trip into the Alaskan bush. Hike 3–5 miles in isolated Katmai National Park and Preserve for a fantastic day. Explore Katmai's vast ecology, including broad sedge meadows and salmon-filled streams. A naturalist guide will take you on a day hike where you will learn about Alaskan Coastal Brown Bears and the beautiful landscape in which they live.
Since a bear's life revolves around finding food, your exact landing spot in Katmai will depend on when you go. The tour will make its way to Hallo Bay to watch the bears romp on the beaches while dining on spring grasses in early summer. If you tour later in the summer, you'll head to Moraine Creek, where the bears are fishing for salmon.
The tours usually do not allow guests under the age of 7 (or even 12 sometimes) to participate due to the nature of the trip.
Check one of these options and go see some majestic Alaskan bears!
6. Kachemak Bay Wildlife Tour
Species diversity abounds in Kachemak Bay. Hundreds of sea otters, harbor seals, sea lions, Orcas, and Humpback whales are among the marine species visitors are likely to witness. Birdlife is abundant in the Bay and surrounding areas. There will be a large variety of seabirds, waterfowl, shorebirds, and other coastal species to see.
You'll also learn about Kachemak Bay's rich history, from the entrance of western civilization in the early 1800s to the early settlement of the area by the Alutiiq "Supiaq" people and Dena'ina Athabaskan tribe. Because of the abundance and diversity of marine food sources, the Dena'ina referred to Kachemak Bay as the "place to be" during the brutal Alaskan winter months.
Guests should dress appropriately for the changing weather in Kachemak Bay. Although the boat has a heated, fully enclosed stateroom with surrounding windows, passengers frequently spend time on the deck taking photographs or just soaking in the area's natural beauty. For those overcast, wet, and breezy days, bring a couple of layers of clothing and rain gear or a water-resistant windbreaker. If you have them, bring binoculars and cameras.
7. Charter a Fishing Trip
Homer is known as the World's Halibut Capital. This moniker was given for a reason! Due to its unique location, Homer serves as a great jumping-off place for some fantastic halibut fishing. Homer halibut are plentiful and grow to enormous sizes.
Fishing from Homer is a once-in-a-lifetime experience for most people that travel to Alaska. Book a long-range fishing trip which simply means going further out into the open sea. The boat travels 40-60 miles (approximately 2 hours travel time) out from the Homer Harbor, passing Seldovia, Port Graham, and Nanwalek to fish near the Barren Islands or even further!
The scenery and vistas along the way to the fishing grounds are unbeatable. There's a decent possibility you'll spot sea lions, sea otters, humpback whales, porpoises, puffins, and various other marine birds and creatures.
8. Horseback Tour
On a gentle Percheron Draft Horse, you'll explore Alaska's raw splendor. The gentle creatures have a mild disposition and can accommodate larger riders due to their size and stamina. You'll observe birds, snap photos of wildlife, and learn how to identify local wild flora on an unforgettable excursion. The guides are seasoned Alaskan naturalists with extensive local knowledge.
Because you are high up on a horse and can see over the shrubs and willows, you may view more scenery and wildlife than if you were strolling a path. You'll ride through the forests, across the muskegs, and down the river valley, giving you a taste of the area. The guide will provide you with ample opportunities to take photos or simply observe.
Remember that you are riding a horse in the Alaskan wilderness, where tree branches and shrubs may scrape you. Also, Alaskan mosquitoes are no joke. Expect an attack on your bare ankles and legs as you travel through the shaded wooded areas. Bring bug spray and leave the open-toe sandals and shorts for another day.
9. Go Flightseeing
From the air, take in the beauty of Kachemak Bay and Cook Inlet. As you fly past glaciers and stunning mountain passes, you'll learn about the bay's natural history and its indigenous people. Gaze down at crystalline glaciers, float over commercial fishermen at work in the inlet, and keep an eye out for whales, bears, mountain goats, and moose as you fly over the rugged terrain.
The flightseeing trip gives you 45 minutes of beautiful flight time above Kachemak Bay. Learn about Homer's past, hear the true tale behind "Smokey Bay," and see the stunning Grewingk Glacier up close and personal. If the weather permits, we can visit the Harding Ice Field for a view of the Gulf of Alaska.
It is best to keep your Homer plans flexible. In coastal Alaska, the weather is notoriously fickle. The pilot has absolute discretion over whether or not the plane can make the trip. Try to plan your flightseeing trip for the first day you arrive in Homer. If the weather prevents you from going, you may be able to squeeze your trip in on another day.
Making the Most out of Your Stay in Homer
As you can see, there is plenty to keep you occupied both in and around Homer. If you can only choose one of these excursions, I would recommend the Bear Viewing tour where you'll get to see bears in their natural habitat, learn about bear behavior and ecology, and gain a better understanding and appreciation for these animals.
In addition, this tour can provide opportunities for photography, wildlife watching, and adventure. It truly makes for a once-in-a-lifetime kind of experience!
For more activity ideas, check out my guide on the best things to do in Homer. And for choosing a place where to stay, don't miss my article about the best hotels in Homer.