14 Best Things to do in Homer
The city of Homer earned the nickname "end of the road" because it is situated at the southernmost part of the Alaskan Highway System. The beautiful city overlooking the Kenai Mountains and Kachemak Bay is often described as the "cosmic hamlet by the sea" for the eclectic vibe it fosters.
You will find museums, art galleries, fine dining and seaside accommodations, beaches, shops, wildlife exhibits, and the famous Homer Spit—a geological phenomenon jutting into the stunning deep blue bay, the second-longest in the world.
The climate in Homer is exceptionally mild as it is protected from the freezing northern cold by the majestic Kenai Mountains. If you're on the hunt for unique entertainment options full of adventure, the pristine Homer should be at the top of your Alaskan bucket list!
1. Visit Homer Spit
You can't visit Homer without making time to check out everything about this amazing natural wonder. You can walk for miles and get exceptional views of the sea and glaciers by the harbor. It is the perfect spot to take photos.
As you trek the most recognizable spot in Homer, you have easy access to its beaches and enjoy seeing eagles, seabirds, marine life, and the great tides. You can also go fishing or take boat tours.
Experience the boardwalk life when you traverse the four-mile Homer Spit Trail to the Nick Dudiak Fishing Lagoon. You can go birdwatching at the estuary on the first mile. Then go fishing, boating, or kayaking. Camping in Homer is a lifetime Alaskan highlight!
I highly recommend taking this Wildlife tour on boat that starts right at Homer Spit. You'll get to see humpback and orca whales, birds, sea otters, and other Alaska animals, all while enjoying the stunning landscapes of the Last Frontier. Don't miss out!
Address: 4535 Homer Spit Road, Homer, AK 99603
Hours: Open year-round, all-day
Cost: $50 per night to camp
Recommended Tour: Alaska Wildlife Tour in Kachemak Bay
2. Go on a Sightseeing Tour
Book a guided tour with Homer Alaska's Hop-On, Hop-Off Sightseeing Trolley to visit the Pratt Museum, Islands & Ocean Visitor's Center Downtown, Old Town Homer, Homer Spit, restaurants, gift shops, and breweries along Ocean Drive.
The driver will regale you with stories of the city's colorful history as you enjoy the sights. You can hop on and hop off anytime.
You can also take an Airboat tour (which in my opinion is much more exciting) and explore the region with your personal guide on an airboat adventure. Click here for more details and photos.
Address: Ocean Drive, across from the Washboard, Homer, AK
Hours: In-season – 7 days a week, including Memorial and Labor Day weekends.
Pre- and Post-Season, open only on weekends.
Cost: $25 to $50
3. Have an Adventure at Bishop's Beach
Comb the 2 to 2.5-mile one-way stretch of beach. You can spot sea stars, jellyfish, mussels, and anemones at the tidepools around Bishop's Beach. If you are brave enough, like some locals, you can even swim in the frigid ocean.
You can't camp at Bishop's Beach Park, but you can have a picnic adventure and grill some barbeque for a minimal fee. Hikers of all abilities can also trek along Beluga Slough Trail.
Address: At the end of Beluga Place
Hours: Open year-round, all-day
Cost: Reservation for a picnic table, fire pit, and BBQ grill: $25 for 4 hours; $50 for a full day
4. Shop 'til You Drop
You can find exceptional gifts from Alaskan shops lined along the Homer Spit. Get souvenir t-shirts, unique local art, jewelry, Alaskan memorabilia, and various gifts for yourself and your loved ones.
Check out Salty Girls Gift shop, Inua the Spirit of Alaska, Nomar, and other shops for great finds. Make sure to sample savory crepes and ice cream at the Flagship Creamery and try the oysters at Coal Point Seafoods. Visit the Salmon Sisters for some apparel and seafood to celebrate Alaska's coastal heritage.
Address: 1554 Homer Spit Road to 4474 Homer Spit Road, Homer, AK
Hours: Open daily, 10:00 AM – 6:00 PM
Cost: Free to window shop
5. Explore the Pratt Museum
Enjoy browsing art displays, homestead stories, native cultures, fishing, marine life, and natural history. The museum establishes the relationship between the places of Kachemak Bay and its inhabitants.
Address: 3779 Bartlett Street, Homer, AK 99603
Hours: Thursday through Sunday 11 AM – 4 PM; Closed Monday through Wednesday.
Cost: $15, Kids under 5 free
6. Visit Kachemak Bay State Park
The Kachemak Bay State Park can only be accessed by airplane or boat, which you can hire in Homer for a few hundred dollars. (Water taxi service starts at $80.) While it is not as accessible as other places in Homer, it is a magical experience to visit.
Aside from the outdoor recreation activities available, there are also picturesque vistas from every vantage point, which is why many people go to the state park. With more than 80 miles of trail and park, visitors can go hiking, camping, boating, fishing, or beachcombing.
Remember, the tides can swing from 15 to 28 feet on extreme days, so it's best to check the tide book and avoid winding up in the water.
You should also consider taking a 5-hour guided hike or a wildlife tour on your visit.
Address: Homer, AK 99603
Hours: May 25 – September 7
Cost: $75 per night to stay in a cabin in the park
7. Act Like a Local at the Farmer's Market
Homer's Farmers Market brings together growers of the garden, greenhouse, and farm produce bi-weekly. You can get locally-grown and harvested seafood, eggs, flowers, produce, handmade crafts, and more.
You can experience being a local and find community at the Farmer's Market.
Address: Ocean Drive, across from the Washboard, Homer, AK
Hours: Open May 29 – September 25. Saturdays: 10:00 AM – 3:00 PM; ​Wednesdays: 2:00 – 5:00 PM
Cost: Free
8. View the Alaskan Bruins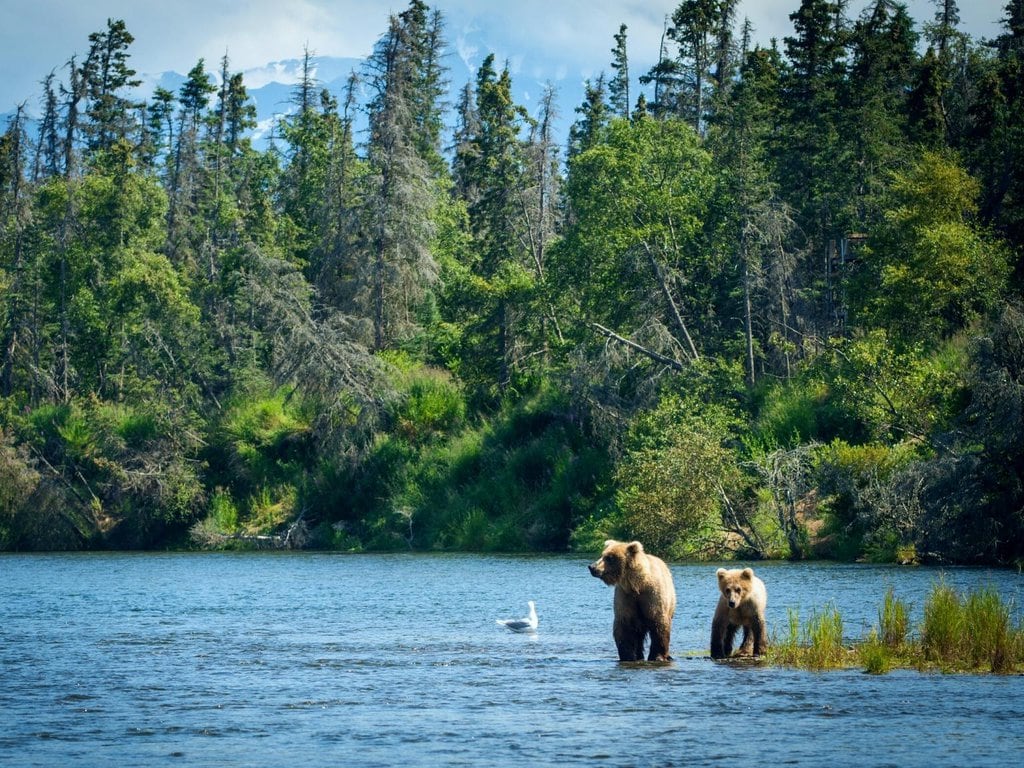 The Lake Clark National Park and the Katmai National Park are home to Alaska's huge brown bears. Homer is close to these parks, and if you take a scenic flight tour across Cook Inlet, you can enjoy seeing these bruins by the falls and coastline.
You can also book a day trip so you can hike with a guide to watch bears on sedge grass, swim, and dig for clams. There is no highway access to the parks, but you can get chartered flights from Homer.
Address: 3589 Brown Bear Loop, Homer, AK
Hours: May thru August
Cost: $495 to $800
9. Ride the Bay Ferry and Visit Seldovia
Go on a 45-minute ferry ride to Seldovia, where the Athabaskan Native American and Alutiiq Eskimo communities are found. You can explore the local museums and learn about their history, culture, and other events like the 9.2 magnitude earthquake that sunk the land area by six feet in 1964.
You can also explore the trails, try local food at restaurants, and buy souvenirs from the various shops.
Seldovia is, in fact, one of the best day trips from Homer.
Address: Lot 21 – Freight Dock Road System 6, Dock JJ, Homer Small Boat Harbor, Homer, AK
Hours: May 20 to September 12
Cost: $26 to $70, Kids under 2 free
10. Visit the Kilcher Homestead Living Museum
Suppose you have watched Alaska: The Last Frontier and want to know how it feels to homestead and live off the land. In that case, you should see the actual location of this famed television show.
See how it looks to make and catch everything you'll ever need to thrive—from gardening, hunting, fishing, and sewing. You can see old photographs, schoolbooks, vintage lamps, old utensils, and farm implements all around the cabin.
A guided tour features the vision the Kilcher parents had about living the natural life and land preservation.
Address: Kilcher Road, Homer, AK
Hours: Tours are available by appointment; Lodging is by special arrangement only
Cost: $20
11. Learn About Seabirds at the Islands and Ocean Visitor Center
Alaska's Aleutian Islands are the biggest seabird refuge on the planet. You can find educational programming, videos, and exhibits on the unique wildlife you can find in Homer.
Locals and visitors will learn a lot about the history of the island and the research done to restore the great area. Many of the interpretive programs in the center are outdoor experiences, perfect for naturalists.
Address: 95 Sterling Highway #1, Homer, AK
Hours: Summer – Open daily, 9:00 AM to 6:00 PM, Winter – Open Tuesday to Saturday, 12:00 PM – 5:00 PM
Cost: Entrance is free, but donations are encouraged
12. Visit the Seafarers Memorial
Loved ones know that when seafarers leave the harbor, one of two things will happen—they will either return with a new payload or never be seen again. The memorial was constructed in the early 1990s. It is a tribute to the men and women who risk their lives going out to the sea for their families and communities.
Seafaring is a gamble, but it comes with pure joy, especially if you live close to the ocean. Visit the memorial to get an understanding of the soul of seafarers. The solemn and moving place showcases a 15-foot tall, 20-foot wide, six-sided sculpture of a mariner and a poetic tribute on a bronze plaque.
Address: 4535 Homer Spit Road, Homer, AK 99603
Hours: Visit any time
Cost: Free. Donations are encouraged.
13. Go Halibut Fishing
Alaska is known as the world's Halibut Fishing Capital. Halibuts are enormous fish and make for a great trophy. You will enjoy being in the open water, baiting halibut. Make sure to get your picture taken when you reel one in.
You have two options to bring your fish home: have it filleted at the dock and stored in a cooler you brought or processed and flash frozen for travel. Before you book a fishing excursion, you would need an Alaskan fishing license. And since it can be a long (but fulfilling) wait, bring meals, snacks, and drinks for your trip.
Note that there is a daily limit of 2 halibut per person, but some years, non-residents are limited to one.
Address: Homer Spit, Homer Spit Road, Homer, AK
Hours: May 1 – September 15 is the best time to fish
Cost: $300 to $350 for an 8-12 hour excursion. Extra Cost for processing and fast freezing your catch.
14. Go on an Ultimate Alaskan Safari
You can go on various safaris aside from bear viewing: ice, fire, and helicopter hiking adventures. One or all of these adventures should be on your Alaska bucket list.
Walk on Harding Ice Field, fly over a hot active volcano, or stay at the adventure lodges. Whatever you choose, you can be sure to kick off an epic Alaskan adventure and have an unforgettable experience.
Address: Alaska Ultimate Safaris, 3720 Faa St., Homer, AK
Hours: Mid-June to Mid-September is the best time to go on a safari
Cost: $450 to $670
Homer's Got It All
Homer is an inviting town filled with friendly people and incredible views. It is definitely worth it to drop by this city when you visit Alaska. If you can do a halibut fishing trip, you should definitely try to fit it in. While I have never caught a halibut myself, I saw my dad pull one in that was bigger than my 7-year-old little brother! It was awe-inspiring, to say the least.
Try to stay in Homer for at least a day or two and enjoy breathtaking views and a bundle of activities – here are the best hotels in Homer. Take in the hip vibe as you stroll along Homer Spit and check out the shops and restaurants before you head on to your next Alaskan destination.