19 Unique Things to Do in Wasilla (by a local)
Nestled between Wasilla Lake and Lake Lucille, the city of Wasilla began as an intersection between the Old Carle Wagon Road and the Alaska Railroad. Now, it has grown into a flourishing agricultural town.
It is the sixth-largest city in Alaska and is a vibrant area with plenty of things to see and do — yet still retains a small-town feel. If you are visiting Anchorage, you can tack Wasilla onto your trip with ease as it is less than an hour's drive.
So, if you're looking for things to do in Wasilla, Alaska, you've come to the right place!
This little town is home to some of the best hiking, fishing, and camping in the state. In addition to its great outdoors, Wasilla also has a thriving arts and culture scene.
We tackled all of these, and more, in this article!
If you're looking for an unforgettable experience, here are 19 of the best things to do in Wasilla: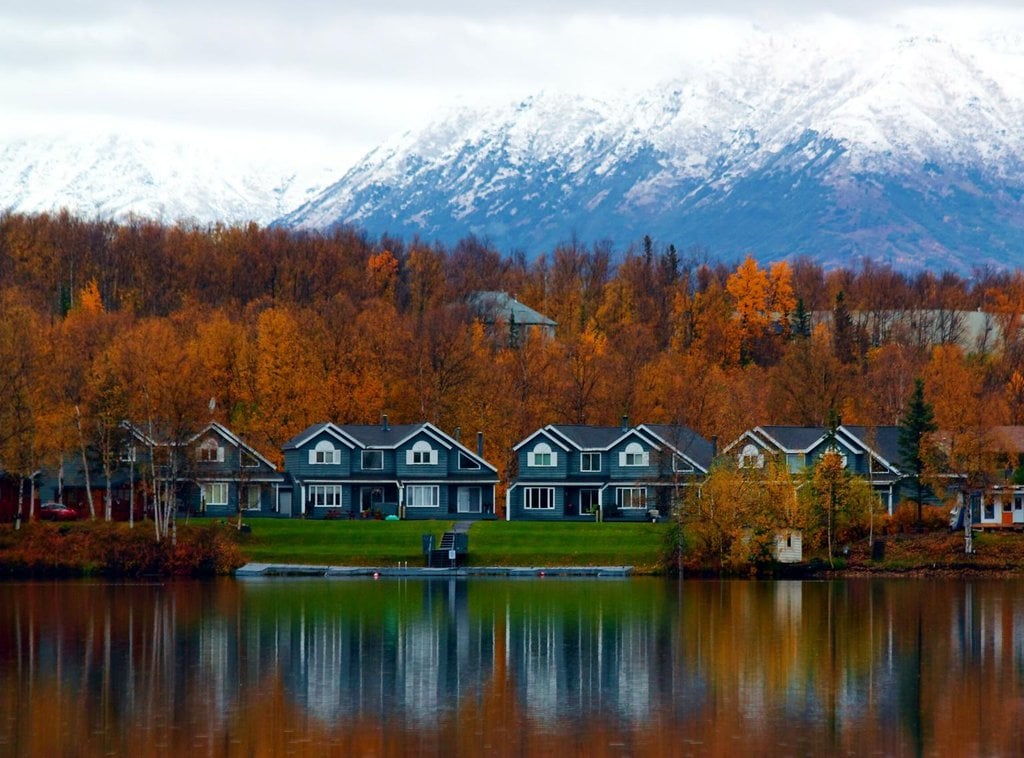 1. Learn About the History
Wasilla was originally the start of the annual Iditarod Dog Sled Race until 2008 when it was moved to Willow. Displays of this well-loved sport can be found at the Wasilla Museum and Visitor Center.
Aside from this, the museum also features gold mining exhibits and a gift shop.
Address: 391 N Main St., Wasilla, AK 99654-7021
Hours: Tuesdays to Fridays – 10:00 AM to 3:00 PM
Cost: $2.00 to $3.00, Children under 12 are free
When to Visit: Every March, June, October, and December, the museum holds seasonal events.
2. Get a Bird's Eye View of Wasilla and Surrounding Areas
Book a flightseeing tour to get a sky-high view of Wasilla and the surrounding areas. A
two-person charter flight lets you visit your choice of sights, such as the Talkeetna Mountains, Lake George, and the Knik Glacier.
Address: Wasilla Airport, Aviation Ave., Wasilla, AK 99654
Hours: Open 24 hours a day, 7 days a week
Cost: $275.00 to $450.00
When to visit: Flights are available all year-round but to avoid bad weather changing the date or time of your flight, it's best to go between mid-June to mid-August when the temperature is warmer, sunnier, and there is little rain.
3. Explore the Different Forms of Transportation in Alaska
As the "Last Frontier," Alaska is known to have the harshest terrain and climate anywhere in the United States. The Alaska we know today was formed, in part by the people and transportation that navigated this unchartered territory.
The Museum of Alaska Transportation and Industry features the remnants of these modes of transportation that tell the story of how they helped Alaska develop and grow.
Address: 3800 West Museum Drive, Wasilla, AK 99654
Hours: Only open during the summer – Fridays to Mondays 11:00 AM to 3:00 PM
Cost: $5.00 to $18.00, Active military families get in free
When to Visit: This museum is only open starting Mother's Day up to Labor Day.
4. Enjoy a Train Ride Through the Woods of Wasilla
A 1/8 scale train modeled after the classic blue and yellow Alaskan Railroad trains will take you for a half an hour ride through the woods of Wasilla and by the different landmarks in the town.
Train lovers will enjoy this activity that's fun for the whole family.
Address: 1300 S Island St, Wasilla, AK 99654
Hours: Saturdays and Sundays – 10:00 AM to 4:00 PM during the summer
Cost: $7.00 to $10.00, Under 1 is free
When to Visit: This is only open during the summer and only on the weekends.
5. Take a Walk Through the Wetlands of Wasilla Creek
The boardwalk trail that runs through the wetlands of Wasilla Creek takes you through the beautiful forest and wetlands. Along the way, you'll be able to spot Pioneer Peak and the Palmer Hay Flats.
The floating boardwalk trail is raised above the wetlands making it an easy walk, even for children, and is stroller and wheelchair accessible.
Address: 5990 Nelson Road, Wasilla, AK 99654
Hours: No posted hours
Cost: Free
When to Visit: The trail gets slippery when it's wet, so it's best to visit during dry, sunny days.
6. Enjoy Some Indoor Games and Activities
For rainy days or if you just feel like spending some time indoors, you and the kids can enjoy some family-friendly activities at Extreme Fun Center. Drive the bumper cars, play laser tag, or try your strength on the climbing wall. There is plenty to keep everyone happy.
Address: 3501 E Old Matanuska Rd., Wasilla AK 99654
Hours: Fridays to Sundays 11:00 AM to 9:00 PM; Mondays to Tuesdays 3:00 PM to 8:00 PM; Wednesdays to Thursdays 11:00 AM to 8:00 PM
Cost: $4 to $100 (varies by activity)
When to Visit: Peak time is mid-afternoon, and non-peak hours are usually in the morning and an hour before the establishment closes. Weekends are peak days and weekdays have fewer visitors.
7. Go Canoeing
Travel eight miles through a chain of lakes on the Lynx Lake canoe trail. This trail can be covered in one full day, but if you want to take your time and enjoy the sights, a whole weekend would be ideal.
Address: Tippecanoe Canoe Rental, South Rolly Campgrounds, Willow, AK, United States, 99688
Hours: Mondays to Saturdays – 9:00 AM to 5:00 PM; Sundays 9:00 AM to 2:00 PM.
Cost: $55.00+
When to Visit: Mid-May to early September
8. Shop for Gifts and Souvenirs
The Wasilla Farmer's Market is sponsored by the Wasilla Knik Historical Society. It is a great place to buy locally produced and manufactured items such as fresh produce, bread, jellies and jams, and Alaskan-made gifts.
Address: West end of Iditapark (Corner of Nelson and Weber St), Wasilla, AK
Hours: Every Wednesday from June to mid-September – 10:00 AM to 5:00 PM
Cost: No admission
When to Visit: Earlier in the day for more selection
9. Go Kayaking
Locals and visitors alike take advantage of the two lakes in the town, Lucille and Wasilla, and go kayaking. You can either rent a kayak and take it out yourself or book a kayaking tour.
Address: Wasilla, Alaska
Hours: No posted hours
Cost: Average kayak rental is around $65.00 for half a day and $400.00 for a full day.
When to visit: Between May and mid-June or after mid-August to avoid the busy tourist season, and to avoid competing with tour boats on the water.
10. Ride an ATV on a Glacier
There is a full-day ATV tour that will take you through the backcountry of Wasilla and surrounding areas. You will get to see the meadows, streams, mountains, and waterfalls along the way before reaching the highlight of the tour – the Knik Glacier.
Address: Alaska Backcountry Adventure Tours, 3901 S. Lindsey Circle, Palmer AK 99645
Hours: Mondays to Saturdays 8:00 AM to 6:00 PM
Cost: Passenger – $249.00; Driver – $389.00
When to visit: Between March to October
11. Play Golf
The two golf courses in Wasilla, Settlers Bay and Sleepy Hollow, are excellent for golf enthusiasts and beginners. Aside from playing the game, you can enjoy the scenery and even stay for a delicious meal at the clubhouse restaurants.
Sleepy Hollow Golf Course
Address: Sleepy Hollow Golf 2721 E Sleepy Hollow Cir, Wasilla, AK 99654
Hours: Mondays to Sundays – 8:00 AM to 9:00 PM
Cost: $5.00 to $27
When to Visit: Late April to mid-September
Settlers Bay Golf Course
Address: 7307 S Frontier Dr., Wasilla, AK 99654
Hours: Mondays to Sundays – 8:00 AM to 6:30 PM
Cost: $6.00 to $45.00
When to Visit: Late April to early October
12. Go Swimming
Even Alaska gets (relatively) hot. So, if the heat gets to be too much, you can jump in one of the two lakes in the area to cool off.
Want more options? Wasilla is located in an area coined as "Lake Country" with access to hundreds of lakes in the surrounding areas, where you can take your pick on where to go swimming.
Lake Lucille
Address: 1401 S. Endeavor Street, Wasilla, AK 99654
Hours: Open 24 hours
When to Visit: Spring or summer
Wasilla Lake
Address: Newcomb Park, 891 E Parks Hwy, Wasilla, AK 99654
Hours: Open 24 hours
When to Visit: Summer
13. Go Camping
With so many wide-open spaces in Wasilla and Mat-Su Valley in general, there are numerous places where you can pitch a tent, rent a cabin, or pull up your RV. Many of the state parks in the area offer tent camping, complete with picnic tables and fire rings for those late-night, cozy bonfires.
Address: Glenn Highway National Scenic Byway
Cost: $15.00 to $100.00
When to Visit: Summer
14. Cross-Country Ski
The Lake Lucile Park Trail System is one of the more popular places to cross-country ski once sufficient snow is on the trail. Wasilla is also surrounded by hundreds of groomed ski trails should you wish to venture outside the town.
Address: Lake Lucile Park, 1401 S Endeavor St, Wasilla, AK 99654
Cost: No admission
Hours: Mondays to Sundays – 8:00 AM to 10:00 PM
When to Visit: Late December to late March
15. Go Fishing
Finger Lake is a popular spot for fishing enthusiasts to fish for grayling, arctic char, and rainbow. The lake also provides ice fishing access during the wintertime.
Address: Finger Lake State Recreation Site, 7287 E Bogard Rd, Wasilla, AK 99654
Hours: Open 24 hours but no motors are allowed between 11:00 PM to 8:00 AM
Cost: $20.00
When to Visit: May to early September and winter for ice fishing.
16. Hike Through a Forest
The Crevasse Moraine Trail System is located off the Palmer-Wasilla Highway and is a moderate to difficult hike. It is about seven miles long, with most of the hike going through the forest.
Address: N Loma Prieta Dr, Palmer, AK 99645
Hours: No listed hours
Cost: Free
When to Visit: After lunch or late in the afternoon and early evenings are the more popular times for hikers to hit the trail here.
17. Watch a Sled-Dog Race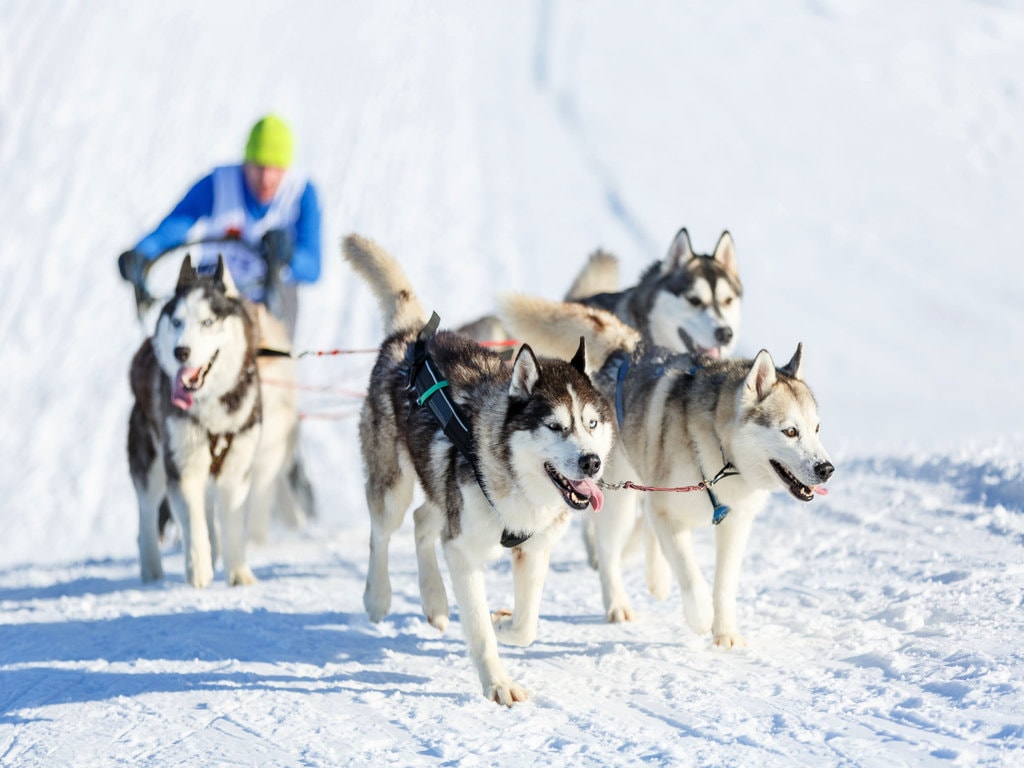 The Iditarod Trail Sled Dog Race is a world-famous dog sled race. It started in 1973 to commemorate the twenty mushers and their pack of dogs carrying serum for 674-miles from Fairbanks to Nome to save the lives of residents in diphtheria-stricken Nome in 1925.
Address: Deshka Landing Rd., Willow, AK 99688
Hours: Starts on the first weekend of March at 2:00 PM, in 2-minute intervals
Cost: $7,500 to ride in the basket of the musher's sled, or you can enter the auction to bid for a ride on the sled.
When to Visit: First Sunday of March
18. Dog Mushing
Suppose you can't make it in time for the Iditarod Trail Sled Dog Race. In that case, you can still experience dog mushing and getting on a sled dog cart tour with a dog pack that has run the Iditarod. This tour will take you through a trail with Alaskan wildflowers and spruce and paper birch trees.
Address: Iditarod Race Headquarters, 2100 Knik-Goose Bay Road, Wasilla, AK
Hours: Mondays to Fridays – 9:00 AM to 5:00 PM
Cost: $10.00 per person
When to Visit: June 5 to mid-September
19. Try the Local Cuisine
Try one of the popular local restaurants in Wasilla. The best restaurant to eat, hands down, would be the Grape Tap which features American cuisine and a wine bar.
Wasilla has an abundant seafood supply such as halibut, King Crab, and Alaskan King Salmon, fresh off the boat. For the freshest seafood dishes, try the Trout House and Windbreak Café.
Address: The Grape Tap, 322 N Boundary St, Wasilla, AK 99654
Hours: Wednesdays & Thursdays – 5:00 PM to 9:00 PM; Fridays & Saturdays – 5:00 PM to 9:30 PM; Sundays & Mondays – Closed
Cost: $$$
When to Visit: The restaurant plays guitar music every second Saturday of the month.
Wasilla is Iditarod Headquarters…and So Much More
Wasilla's claim to fame is the Iditarod Headquarters and being the home of former Mayor and Governor Sarah Palin. Still, there is more to this city than meets the eye.
Along with hiking and cross-country skiing trails, there are mountains, lakes, and glaciers to behold. You can check out the history of the Alaskan Gold Rush or enjoy many of the local restaurants Wasilla has to offer.
Before leaving Wasilla, make sure to try dog mushing with a dog pack that has run in the Iditarod race. Another must-do is eating fresh Alaskan seafood from one of the area restaurants to complete your visit.