Dragonfly Trail (Jewel of the Creek) Hiking Guide
The Dragonfly Trail Loop is a 1.8-mile loop hike located near Cave Creek, Arizona (less than a 1-hour drive from downtown Phoenix). This easy, yet beautiful trail is perfect for all ages. Along the way, visitors can enjoy plenty of local wildlife, two small creek crossings, towering cottonwood trees, and a kid-sized cave in the rocks. The loop is lovely to visit year-round. Dogs kept on a leash are also welcome on the trail. This short, easy hike is the perfect way to enjoy nature and explore the beautiful Jewel of the Creek Preserve.
🔍 Route Details & Map
Dragonfly Trail – Jewel of the Creek Preserve
Dragonfly Trail Map:
For families with young kids who want to get on a hike during Arizona's short hiking season, look no further than this oasis on Cave Creek!
Located in the Jewel of the Creek Preserve, the short loop of the Dragonfly Trail will take you through shady trees, alongside an always-flowing creek, over two delightful wooden bridges, and even past a kid-sized cave in the rocks.
Tall cottonwoods line Cave Creek and make Jewel of the Creek Preserve a little bit cooler than the surrounding desert.
Known for its resident bird population and hundreds of dragonflies and butterflies in the spring, this 1.8-mile loop will enchant you and your children with its charm and whimsy.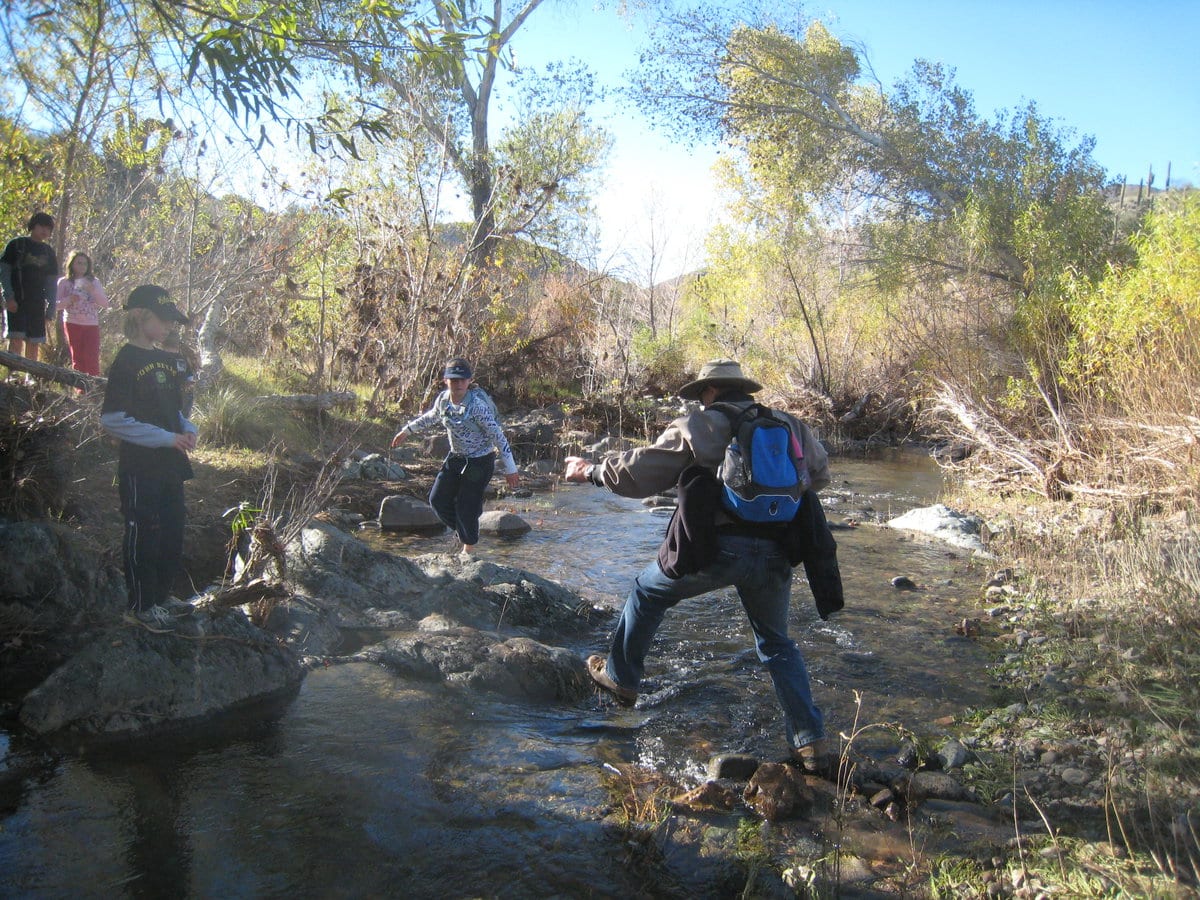 Dragonfly Trail: What to Expect?
Starting at the Jewel of the Creek trailhead on Spur Cross Road, this smooth and mostly flat dirt trail winds gently through cottonwoods and other native trees on one side of Cave Creek, before crossing over on a small wooden bridge.
The trail then heads back, but on the opposite side of the creek. The loop conveniently encompasses a mile-long stretch of the creek. Two creek crossings are required but the small bridges are easily traversed.
At only 1.8 miles (2.9 km) long, with options to make it shorter or longer by turning around at any time, children of all ages should be able to complete this hike.
The hike itself isn't challenging by any means, and should only take about an hour to an hour and a half to complete. Of course, adventurous and curious kids could easily spend a whole morning here!
The town of Cave Creek set aside this area of land, Jewel of the Creek Preserve, within the greater Spur Cross Ranch Conservation Area. Miles of remote trails crisscross through this landscape just northeast of Cave Creek and Phoenix and provide some classic desert hiking to visitors from all over.
Is the Route Difficult? How Long Does It Take?
Although the trail is not paved or wheelchair/stroller friendly, the flat and smooth dirt makes for easy walking for all ages and most abilities. Visitors should always wear sturdy shoes, as there are some mildly rocky areas of the trail.
Younger children may take their time to finish the Dragonfly Loop; after all, there's an unlimited amount of exciting plants and small creatures to discover!
Adults with a quick stride may finish the loop in under an hour, while most will take an hour to an hour and a half to complete. This place is so beautiful, you'll find yourself taking your time!
Highlights
Cave Creek – this constant-flowing creek (except during the driest months) provides a pleasant atmosphere of flowing water, complete with tiny minnows, dragonflies, stunning greenery, and towering canopies of cottonwoods.
Local wildlife – the myriad of trees hosts dozens of species of local and migrating birds. Their chirps and songs echo through the creek wash and serenade you during your hike. Dragonflies, ladybugs, and butterflies also make their homes here.
Kid-sized cave – just off the trail a short way into the hike, there's a small, shallow cave that is perfectly safe for your kids to explore. Their imaginations will run wild as they play inside this little cove.
Saguaros – the year-round water that flows through Cave Creek feeds into the local saguaro and makes them tall and chubby! One of the most iconic cacti in Arizona, these many-armed behemoths will have you craning your neck to take in their full glory.
Creek crossings – small wooden bridges help you cross the creek a couple of times, and your kids will have an especially good time traipsing across the planks to the other side.
Practical Information
Pro Tips for Hiking the Dragonfly Trail
Nearby Routes
Spur Cross Ranch Conservation Area has almost 13 miles of trails, and you can even take the southernmost section of Spur Cross trail to the Maricopa Trail, which connects you to nearby Cave Creek Regional Park. The 2-mile Dragonfly Loop also connects to the Spur Cross and Tortuga Trails within the conservation area.
Before You Go
Jewel of the Creek Preserve is contained within the Spur Cross Ranch Conservation Area, and the Dragonfly Trail Loop gives you a fantastic and easy tour through the preserve. Cave Creek is at its most gorgeous here, with towering cottonwoods providing plenty of shade and habitat for local wildlife.
The Dragonfly Trail itself is well-maintained, smooth, and dry with very little elevation gain. This is a perfect hike for beginners as well as children.
Your kids will have so many fun experiences on this hike, they'll be talking about it for days!
With its proximity to Phoenix as well as the charming town of Cave Creek, visiting Jewel of the Creek Preserve to hike the Dragonfly Trail loop should be on everyone's Arizona hiking list.
For more trails in Arizona check out my complete guide about the 13 Best Arizona Hikes with Water.
Explore Arizona
Still wanting to learn more? Dive in our Arizona Travel Guides and discover the best places to visit, interesting things to do, budgeting tips, comfortable accommodation, and everything you need to plan your perfect trip in the state.