11 Best Spots to go Lake Camping in Arizona
Arizona may be known as a primarily desert state, but that doesn't mean we have a shortage of beautiful lakes to explore and enjoy. One of the best ways to spend time outside and enjoy these natural resources is by camping, whether in a tent or a trailer/camper of some kind.
As I've gotten older, I find myself enjoying sleeping on a cot or a bed when I'm camping (as opposed to "roughing it" in a tent on the ground) and luckily there's no shortage of places to camp right from your vehicle.
In this article you'll discover the best spots for lake camping in Arizona and immerse yourself in the natural beauty of the state.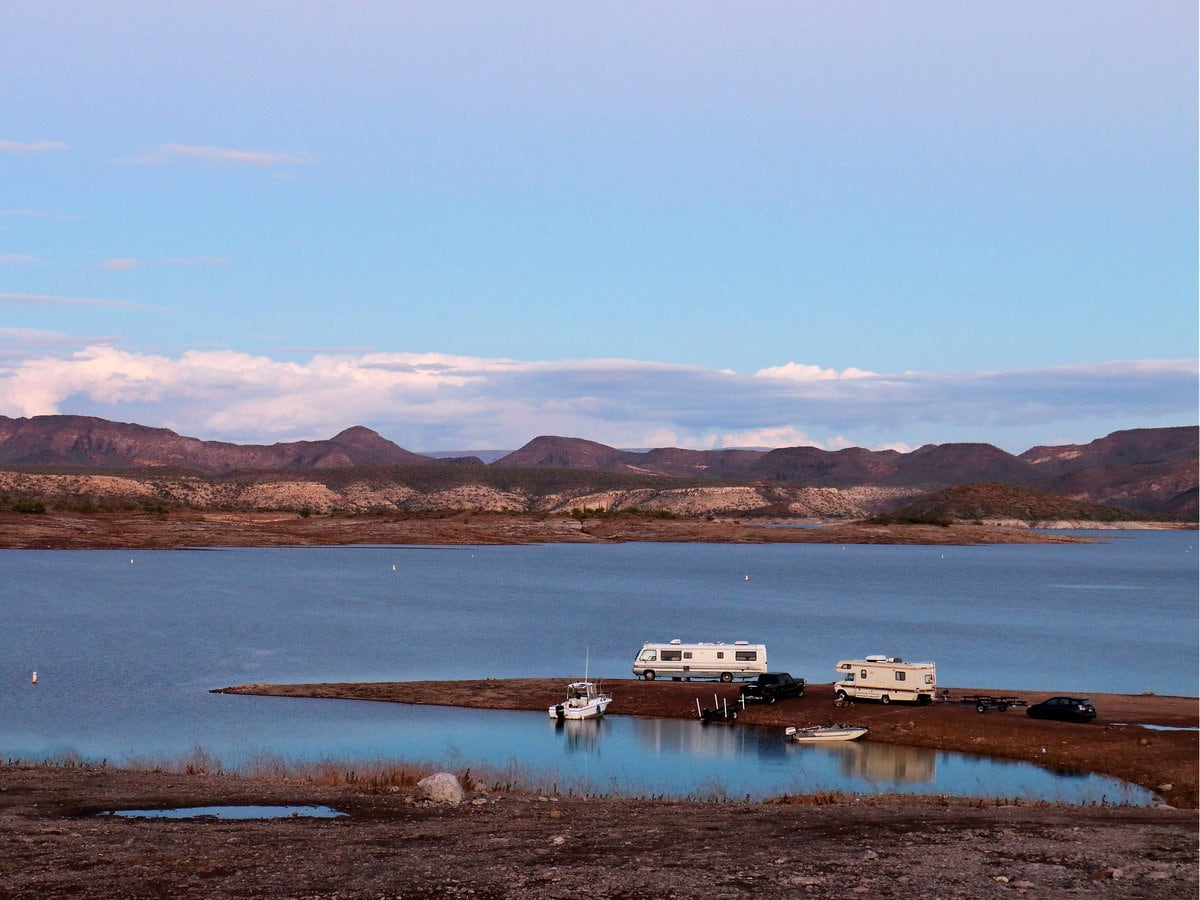 With over 128 lakes, there's no shortage of options for car camping, RV camping, or backpacking. Explore reservoirs, man-made lakes, and the only two natural lakes in Arizona, including the famous Lake Powell and Lake Mead. With activities like fishing, kayaking, and paddleboarding, camping near the water brings endless fun.
Read ahead to find the perfect lakeside camping trip for you, whether you want to car camp, lakes with RV camping, or backpack some distance for solitude.
Let's dive in!
The vast majority of Arizona's 128 lakes are actually reservoirs, which are man-made lakes created by building a dam. There are only two natural-occurring lakes in Arizona: Mormon Lake near Flagstaff, and Stoneman Lake in Sedona. The two biggest lakes/reservoirs in the Grand Canyon State, Lake Powell and Lake Mead, provide water and electricity (created by water flowing through the dams) to the majority of the state.
1. Lake Powell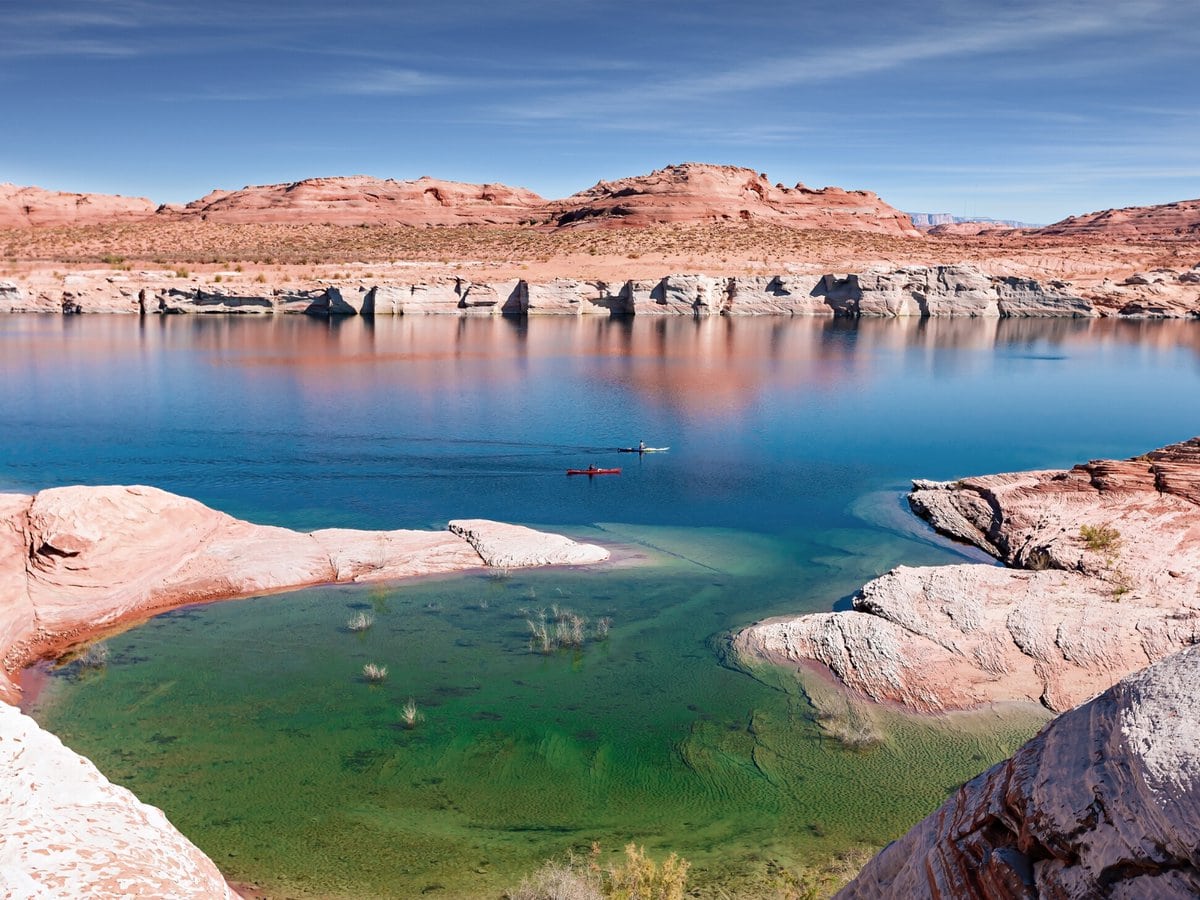 With dozens of campsites to choose from due to its vast size, camping at Lake Powell has no shortage of space for many to enjoy its beautiful slot canyons and red rock cliffs. Many families in Arizona choose to spend a few weeks at a time in the summer camped out on its sandy shores.
Houseboats are a popular way to camp on Lake Powell, allowing big groups to access some of the more remote canyons and campsites that are only accessible by the water. However, one of my favorite campsites, and the one I have spent the most time at on the shores of Lake Powell is Lone Rock Campground, located right on the border of Arizona and Utah.
The Lone Rock area is known for its long stretch of soft sandy shores, with miles of shoreline and room for substantial camping groups. You'll need all-wheel-drive vehicles that can handle deep sand, as you'll have a bit of driving after the pavement ends to get to your preferred spot. The appeal of Lone Rock campground is the vast expanse of wide open water in this area, perfect for boating, water skiing, and jet skiing.
2. Lake Mead
Lake Mead is one of the largest reservoirs in the United States, and most of it rests on the Nevada/Arizona border. On the Arizona side, Willow Beach Campground is one of the more popular and beautiful campsites that attract RV and tent campers alike.
Lake Mead is technically the Colorado River (the same as Lake Powell) but it has been enlarged by the use of several dams. There are hidden coves and sandy beaches that can only be accessed by boat or other watercraft, which makes Lake Mead a vast and fun place to explore! Launching from Willow Beach Campground gives you access to all of Lake Mead's secrets.
Willow Beach boasts a grill, marina, camp store, 28 full-service RV hookup sites, some tent camping sites, a 24-hour shower and laundry building, and even WiFi! Cell service is scarce in this part of the desert, so WiFi comes in handy for emergencies. You could easily spend an entire week here (or up to 6 months in an RV!) and not need to head back into the city for supplies or entertainment.
Campers praise the level sites, excellent facilities, and gorgeous views of the lake and surrounding countryside. The road to Willow Beach is a little rough, but worth the trek. The water flowing through Lake Mead (aka the Colorado River) is crisp and refreshing, offering a lovely respite from the blazing hot summer days. If you're planning on spending time at Lake Mead this summer, strongly consider staying at Willow Beach.
3. Bear Canyon Lake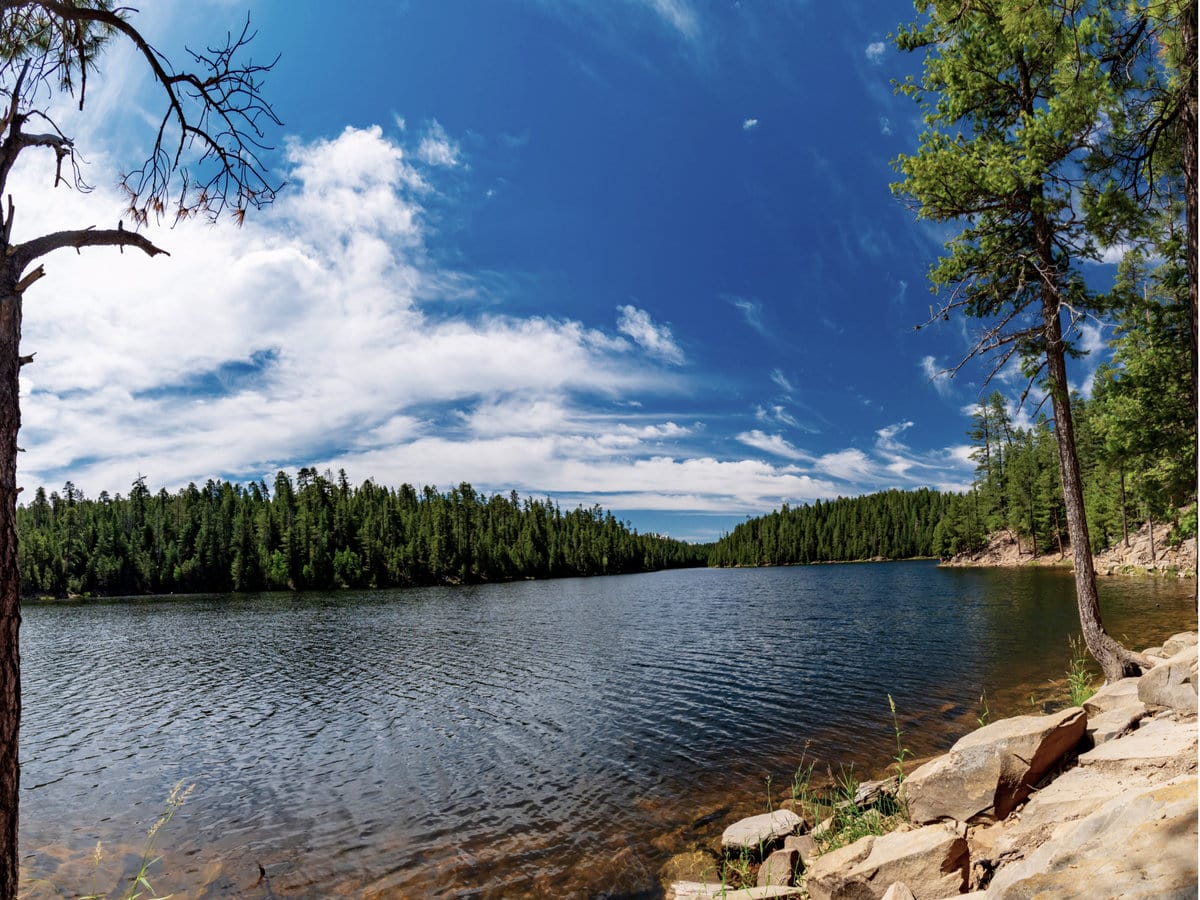 If you're looking for a little more "roughing it" type of lake camping, head up past Payson to the Mogollon Rim. There are a series of reservoirs along the edge of the Rim and my personal favorite is Bear Canyon Lake for its beauty and accessibility.
Here you won't find showers, camp hosts, or numbered camping sites; the campsites are undeveloped and basically open dirt spots among the towering pine trees, and it's first come, first serve. There are rustic toilets, which are infrequently maintained and quite stinky in my experience, but no other amenities.
The appeal to this type of camping is you can drive your car right up to your preferred spot and set up camp right next to your vehicle, which is my favorite way of camping due to its convenience. The camp spots are all situated above the lake, while Bear Canyon Lake itself is accessible by a short but rocky hiking trail down into the canyon (the trail is less than a half mile long).
Bear Canyon Lake itself is gorgeous! Situated in a long narrow canyon, the lake is about 50 feet deep and is frequently stocked with trout year-round, making it a popular destination for fishermen. You can fish from the shore or from a human-powered water vessel like a canoe or kayak (no motor boats allowed).
I've always spent my time at Bear Canyon Lake on the south end where the campsites are most plentiful. There is no camping allowed directly next to the lake to protect the water source, but I do enjoy setting up my hammock amongst the trees that line the lake for a relaxing afternoon!
4. Saguaro Lake
Only a few miles east of Mesa is a local favorite for wakeboarding, water skiing, and all water sports- Saguaro Lake. Tucked inside desert walls and lined by the towering Saguaro cacti for which it is named, Saguaro Lake is one of the more popular lakes in the Phoenix Valley due to its proximity to the suburbs.
One of a long line of reservoirs along the Salt River, Saguaro Lake only has boat-accessible camping sites at the Bagley Flat Campground and Boat Dock on the eastern shore; the lake isn't too big, so it's not a long journey, but you'll have to load all of your camping equipment into your boat. The 10 camping sites are first come, first serve, and there's no knowing if people are already there until you get there!
For a "day camp" type experience (if you don't want to boat camp or don't have the time for an overnight trip) try setting up your chairs and awnings at the Butcher Jones Recreational Site, located on the shores of Saguaro Lake and accessible by car. This sandy beach-like area is a favorite in the summer and can fill up quickly in the mornings, but is a great place to relax, play in the water, or enjoy some kayaking.
5. Canyon Lake
Upriver from Saguaro Lake lies Canyon Lake, which gets its name from the high and breathtaking canyon walls that line most of the lake. The lake can get pretty narrow towards the eastern end, but here you'll find plenty of seclusions and may even spot some local Bighorn Sheep that make the red rock canyon walls their home.
There is more convenient camping to be found at Canyon Lake than at Saguaro Lake, partly due to its unique size that creates a more available shoreline. The Canyon Lake Marina is the only official campsite available, allowing campers to park their RVs or cars and camp right near the shores of the lake. With 28 RV sites and 18 tent sites, there's plenty of room year-round for campers.
You may be able to boat-camp if you can find an open enough shoreline, but with the tall canyon walls, open space that is suitable for tent camping may be hard to come by! The Point Boat Dock and campground is located a couple of miles back into the canyon, but only has three available campsites and is only accessible by boat. The Marina is a guaranteed place to set up your camp for the weekend so you can be on the lake from sunrise until sundown.
6. Patagonia Lake
In southern Arizona lies a true oasis; Patagonia Lake is surrounded by desert but its shores are lined with lush vegetation, making it the perfect habitat for local wild animals and migrating birds. With miles of hiking trails and plenty of shorelines to explore on foot, Patagonia Lake is a favorite for those looking to enjoy the outdoors in southern Arizona.
As far as camping goes, you have a few options at Patagonia Lake State Park. For those that don't love the idea of "real" camping, there are seven cabins available for rent on the southeast end of the lake, with unbroken views of the lake from your front porch! Renters need to supply their own bedding, but each cabin is furnished with beds, ceiling fans, a barbecue pit with a picnic table outside, and a shower house only a short walk away.
If you want some more traditional camping at Patagonia Lake, pitch your tent at one of the 105 developed campsites along the beautiful shores. Each site has a fire ring, picnic table, and room for two cars or one RV. Some of these campsites even have a shaded ramada (perfect for those hotter summer days).
For more seclusion and "roughing it", there are 12 boat-in sites available on the far side of the Patagonia Lake, and you can even reserve these ahead of time! Spend your evenings watching for wildlife like whitetail deer and coatimundis roaming the lakeshore, and be sure to enjoy the famous Arizona sunsets. Fishing, boating, hiking, and other outdoor activities are sure to entertain for a weekend (or a week!).
7. Big Lake
Some of my favorite childhood memories are camping in the White Mountains of eastern Arizona, especially in the lush forests around Big Lake. Dispersed camping is easy to come by in this area, but be warned this is true camping- no bathrooms or other facilities are available. Tents and RVs are welcome anywhere you can find a flat spot suitable for your campsite, and most of them have primitive fire rings left by previous campers.
Nearer to Big Lake, you'll find a small store (with popsicles and cold drinks, a family favorite!), boat docks, and five different campgrounds providing flat ground, RV parking/sites, tent sites, fire rings, and easy access to the lake.
Big Lake itself is 575 acres in surface area (fitting for its name) and has plenty of room for fishing from its shores or your boat. This area of the White Mountains is one of the best for hiking, hunting, four-wheeling, and just getting out to enjoy Arizona at its best. To learn more about the area, pop into the visitor center or join one of the naturalist programs.
8. Lake Pleasant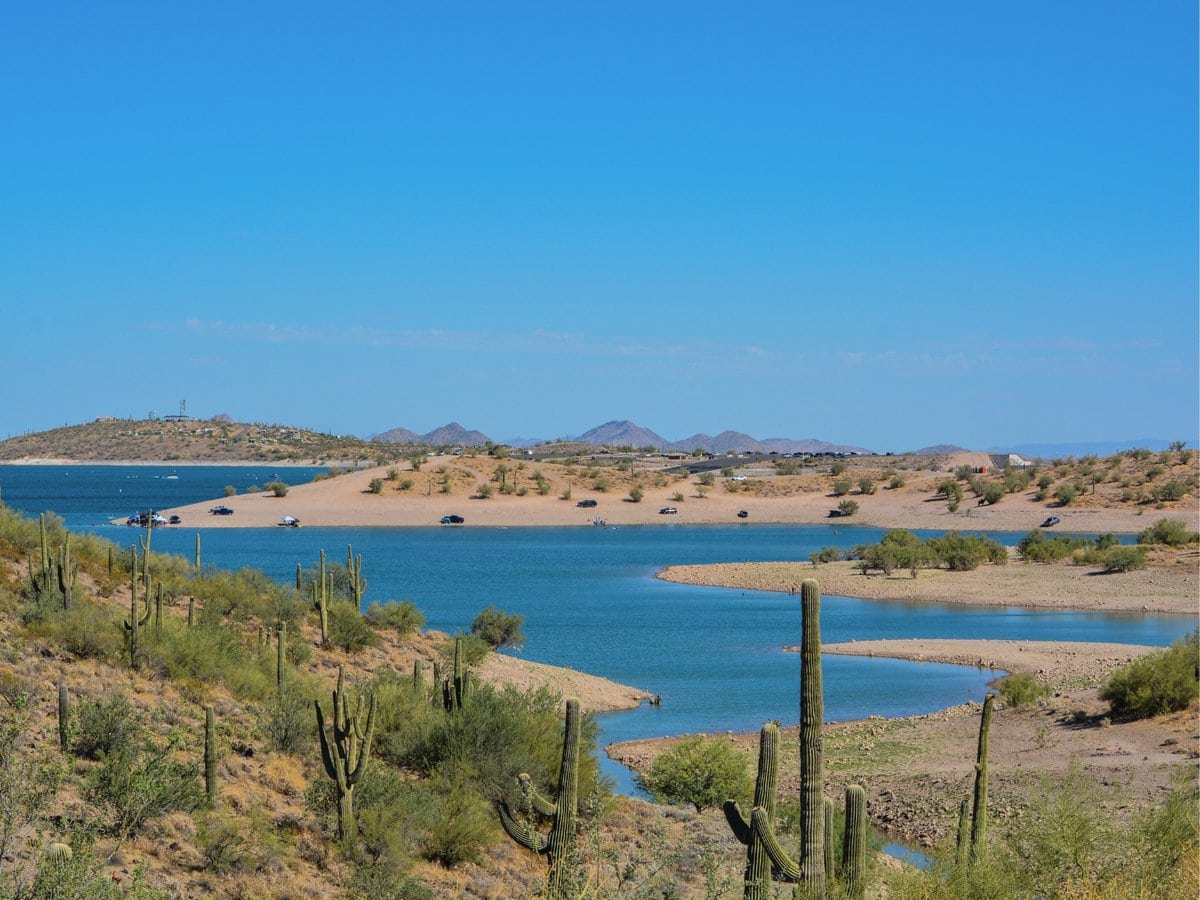 Lake Pleasant is located conveniently close to the state capital, Phoenix, and is one of the more popular summer destinations for the 7 million+ people that live in Maricopa county. The lake itself is 11.5 square miles of wide open water with plenty of room for wakeboarding, boating, fishing, and other water sports.
There are 148 total developed and semi-developed campsites at Lake Pleasant, and all are available for reservation in advance; the only difference between the two kinds of campsites is the semi-developed sites do not have hookups for electricity or water. Restrooms and shower facilities are available at each, making camping at Lake Pleasant less "roughing it" and more of an enjoyable experience for city folk.
If you want to get an early start, consider boat-in camping at Lake Pleasant; essentially, you don't set up a tent or anything on the shore but instead camp out on your boat in the water. Be sure to check the weather ahead of time to save yourself a miserable night! This is a great option for fishermen and boaters who want to get the earliest start possible on the water.
The only shoreline camping allowed is in the Dirt Spillway Primitive Camp Area, a spot designated for tent campers to set up right on the water itself. Spaces are limited but can be reserved online. This is true primitive camping, with no bathrooms or other facilities available, so come prepared!
9. Knoll Lake Campground
This picturesque little lake on the Mogollon Rim is kind of a hidden gem; with towering Ponderosa pine trees surrounding the shorelines, it feels like you're secluded from the world. Here you'll find the quiet that is hard to come by in other lake campgrounds. The most popular activities at Knoll Lake are fishing and boating.
There are a total of 33 designated camping sites- 30 single unit types (up to 8 people) and three double unit sites, for larger groups of up to 16 people. Plenty of room for a family reunion or weekend getaways with friends! There's drinking water and rustic bathrooms available but not much else, and no hookups for RVs or trailers, but don't let that deter you from visiting Knoll Lake Campground.
Many choose to camp by the lake for its beautiful setting and utilize the many trails and dirt roads in the area for 4-wheeling, hiking, and mountain biking. Camping at Knoll Lake is what summer getaways in Arizona are made of, as the weather is always much milder here than it is in the Phoenix Valley.
10. Kaibab Lake Campground
If you're wanting to enjoy both lake camping and the Grand Canyon in one weekend, Kaibab Lake Campground is for you! Located only an hour away from the popular south rim of Grand Canyon National Park, this scenic lake is surrounded by lush forests, grassy shores, and wildflowers in the spring and summer.
Kaibab Lake is a wonderful place for a summer picnic among the trees, but just be warned that afternoon storms can pop up without warning! The summer monsoons are especially strong and unpredictable in this region. While you can't swim in this lake, visitors are free to fish from the shores, stroll along the nature trail, and enjoy a campfire under the stars.
All of the campsites at Kaibab Lake Campground have a picnic table and fire ring with restrooms and trash facilities nearby. You can conveniently buy firewood, fishing bait, ice, and even ice cream from a small store on-site! With 70+ reservable sites, there's plenty of room for friends and family to enjoy a weekend in the pines.
11. Woods Canyon Lake
Another beautiful lake setting on the Mogollon Rim, Woods Canyon Lake is near the aforementioned Bear Canyon Lake but has some of the amenities and facilities that are lacking at Bear Canyon. If you need a huge campsite that can accommodate up to 100 people, reserving the group site at Woods Canyon Lake should be on your radar.
As one of the most visited of the seven Rim Lakes, Woods Canyon Lake can get a little busier but with 50+ acres of water surface for boating and fishing, there's plenty of room. There is only one designated group camping site, so reserving online well in advance is recommended. The campsite is a short walk from the lake, and there is a boat ramp nearby as well. Drinking water and toilets are available too which makes camping here all the more convenient!
Want to go for a hike while you're staying at Woods Canyon Lake? Hit up the nearby Rim Lakes Vista Trail for some of the most magnificent views from the edge of the Mogollon Rim, or jump onto the interpretive nature trail on the north end of the lake for a short stroll through the woods.
Before You Go
Many choose to camp near lakes for the extra activities that lakes offer, such as swimming, fishing, boating, kayaking, paddle boarding, and more! Many lakes also offer beautiful hiking trails along their shores. Camping by itself is fun, but camping by a lake takes it to the next level.
Lake camping in Arizona is especially popular since summer days tend to be hot; few things are better than jumping into the cool, deep waters of one of Arizona's lakes to cool off and enjoy some sunshine. Many lakes have designated sites that can be reserved in advance, making it easy to plan your summer getaway. So take your pick from all of these beautiful lakes and get to making some memories!