14 Ghost Towns in Montana You Have to Explore
In the American West in the 1800s, many small towns and cities seemed to grow into existence overnight due to the mining of gold, copper, and other minerals and ore.
Once the ore ran out, these "boom towns" seemed to disappear as quickly as they came, leaving behind forgotten mines, old buildings, and entire towns complete with streets, homes, and businesses.
These are called "ghost towns".
Scattered across the vast state of Montana are dozens of these ghost towns, with very little or no inhabitants left to maintain the buildings.
Some of these towns are in complete disarray, while some have been restored or preserved as historical markers. Some might even be haunted! If you are wanting to step back in time and learn about Montana's history, visiting a ghost town should be top of your list.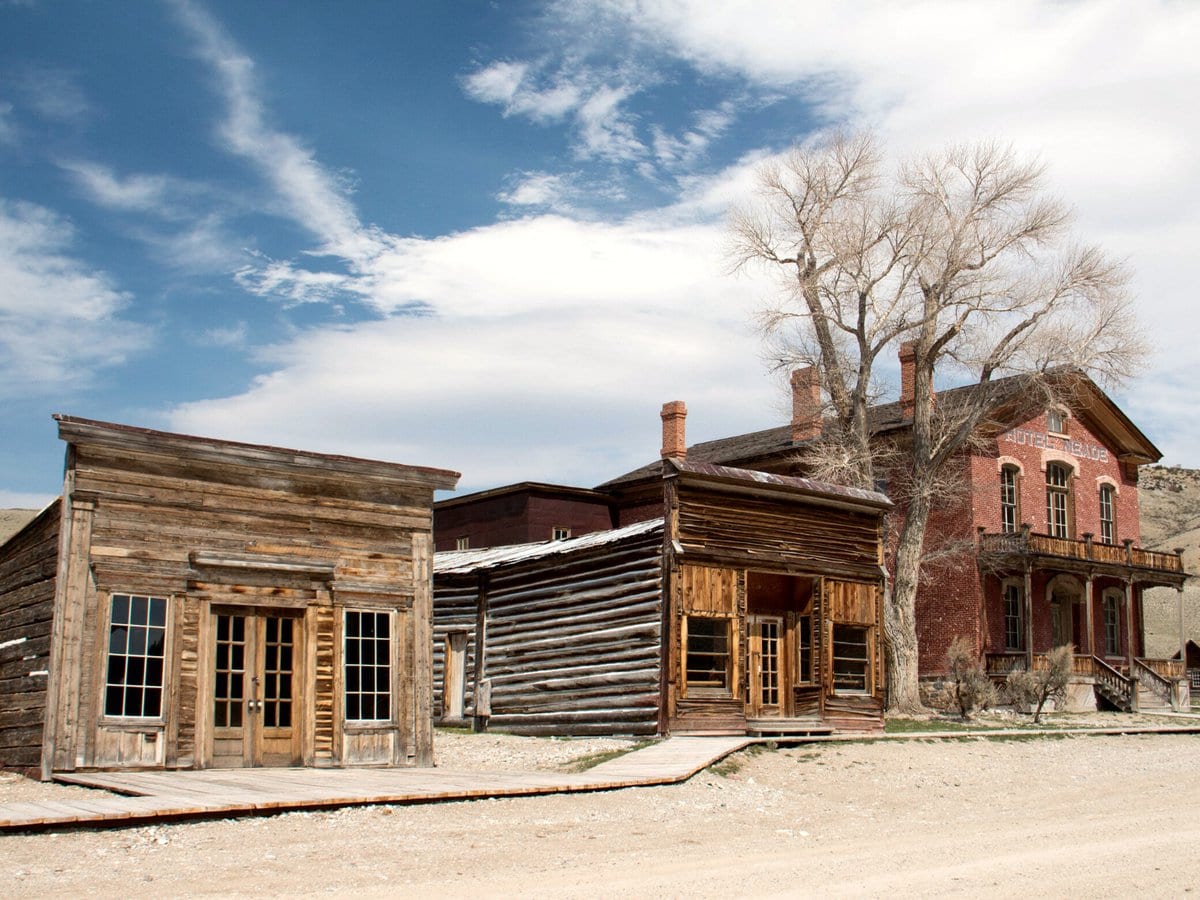 1. Castle Town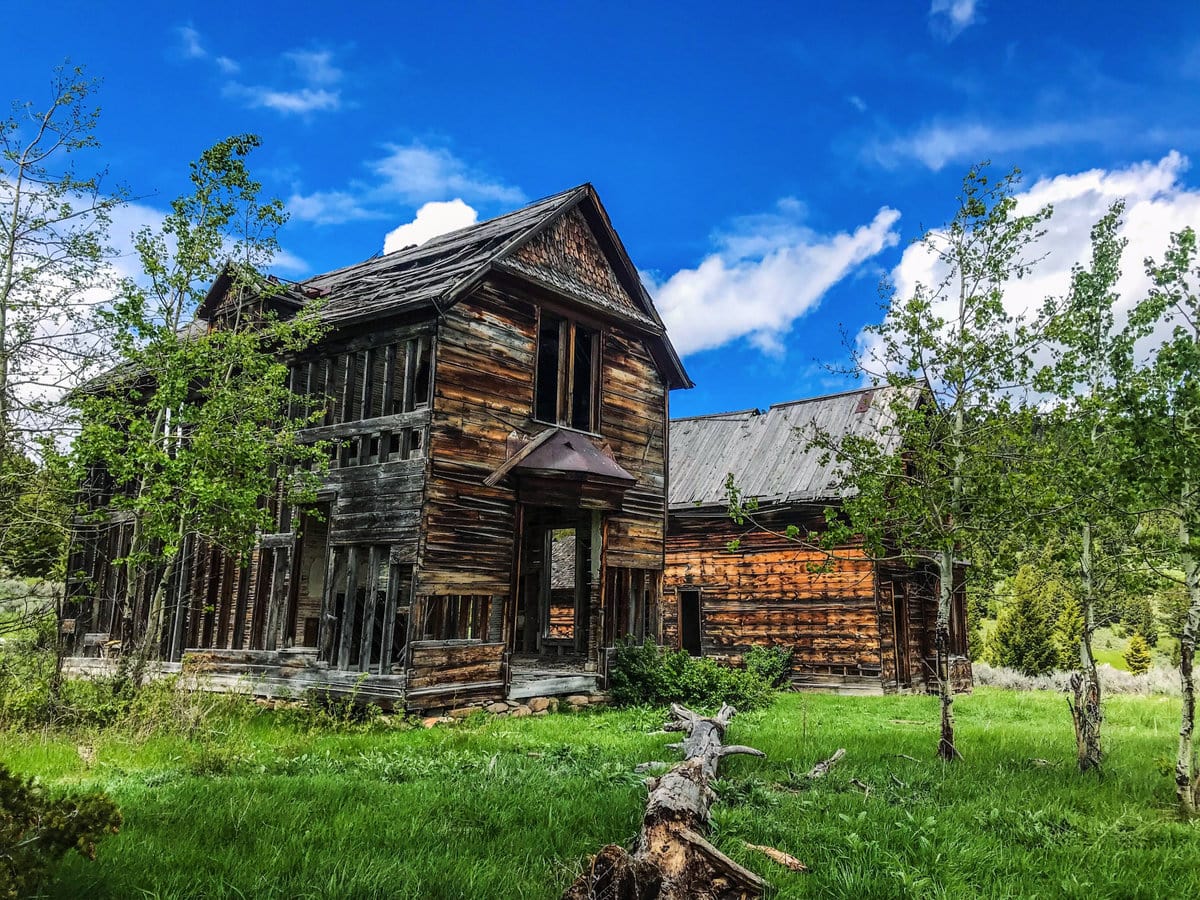 Once a booming silver mining town, Castle Town had almost 1000 claims made on mines in the area in only seven years' time! The first silver mine was dug in 1884, and by 1891 it was a full-on town with businesses, homes, a school, and of course saloons.
Over 2,000 people lived in Castle Town at its prime, including the famous Calamity Jane.
Her real name was Martha Jane Cannery Burke, but Calamity Jane got her nickname for her pursuits and adventures around the American West. She and her husband came to Castle Town to open a restaurant, but it was short-lived due to "bad debt" and they ended up leaving within months.
All that remains of Castle Town, after its quick demise from the "silver panic" of 1893 and eventual complete desertion in the 1930s, are a few old wooden buildings that are in danger of collapsing.
The town site is located on private land on a rough dirt road, so if you wanted to visit you'd have to seek permission from the landowner.
The closest large city is the state capital, Helena, about 100 miles away to the west.
2. Garnet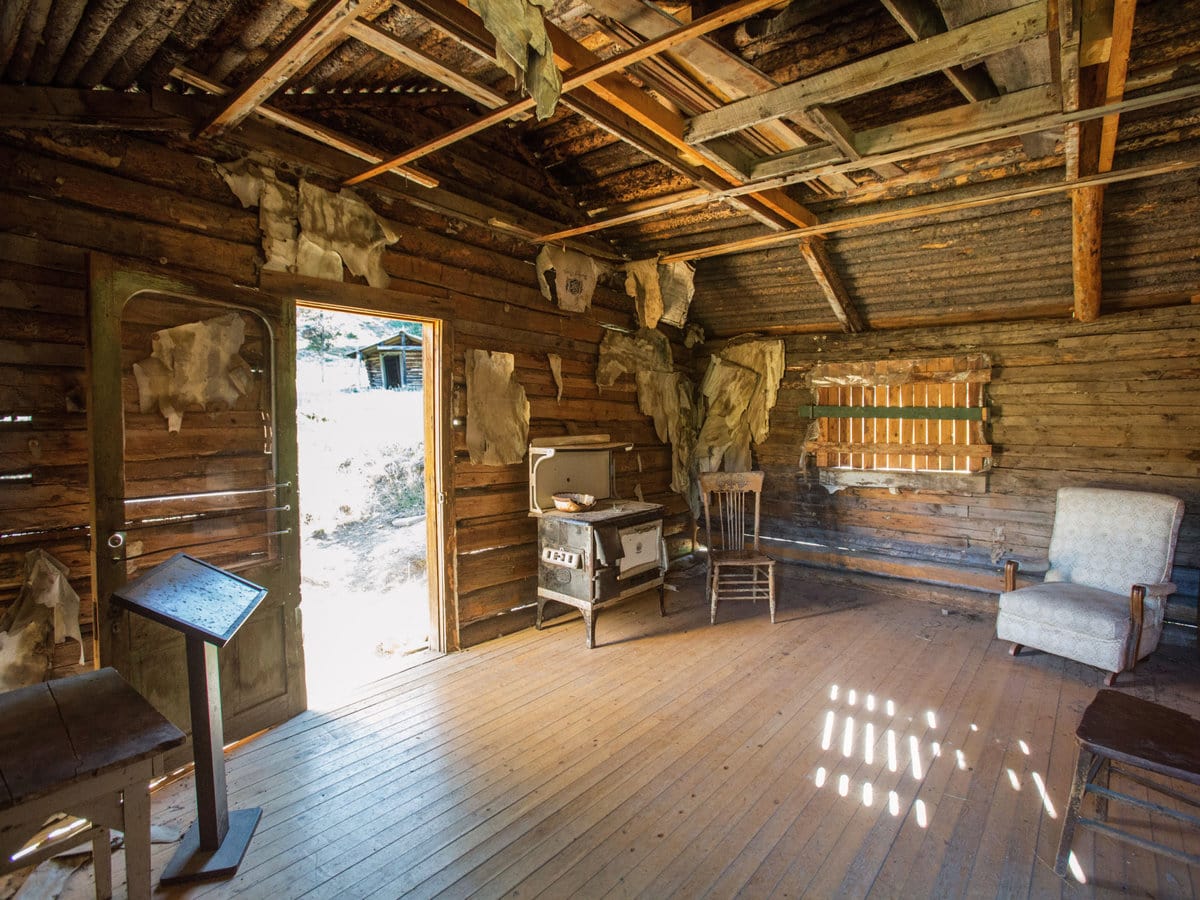 Located 11 miles down a dirt road and a full 20 miles from nearby Missoula, Garnet was first incorporated as a mining town in the 1890s, although the first miners were thought to be there as early as the 1860s.
Today, it is one of the best-preserved ghost towns in Montana and has over 180 buildings, sites, and structures available to view.
Garnet had as many as 1,000 people living there in 1898, but 20 years later the gold mine ran out and most of the residents abandoned the town. A devastating fire in 1912 destroyed nearly half of the town and those buildings were never rebuilt, although their charred remains are still there.
Nearly 16,000 people visit the ghost town of Garnet every year, and the United States Bureau of Land Management owns and maintains the site.
You'll want an all-wheel-drive or high clearance vehicle to visit Garnet, and always check the weather before you go as the town sits at nearly 6,000 feet of elevation, so snow can hit any time of year!
3. Coolidge
Just south of modern-day Butte lies the once industrious town of Coolidge, now a derelict ghost town. Coolidge used to be the site of the largest silver deposits in Montana, but at its prime only had a population of about 350 people.
The founder of this small mining town, William R Allen, used to be a politician but changed careers to become a prospector in the early 1900s.
He named his new mining camp and subsequent town after his friend Calvin Coolidge, the 30th President of the United States.
By 1922, there was a school, some log homes, a store, a post office, and even telephone services. The price of silver took a sharp dive in 1923 and closed the mines, and the town was deserted soon afterward.
The old log cabins and other dilapidated buildings are falling into disarray as nature takes back her land; since the fall of the town, no preservation or renovation has taken place.
You cannot reach Coolidge purely by car, but you can get pretty close. A one-mile hike is required to see most of the buildings and town site, but it is more than worth it if you're interested in the history of Montana.
4. Coloma
Just a couple miles from Garnet lies the ruins of Coloma; unlike Garnet, not much is known about this ghost town. The residents came and went so quickly that there weren't any permanent records kept, or if they were they were destroyed sometime in the following years. It is known that there was some profitable gold mines there in the late 1890s, and a couple attempts were made to mine again in the early 1900s, but there hasn't been any gold found there since.
Or has there been? Coloma is a mysterious place, located on public land and with only a few wooden buildings standing or half-collapsed. The small buildings at the mine entrances are falling into disarray, but it is rumored that people still come and look for gold there every summer.
It's estimated that $200-250,000 worth of gold was found in these mines, so it wouldn't be surprising if old-timers from nearby Missoula and other towns held their secrets about this ghost town. To get to Coloma requires a long drive on a rough dirt road and a short hike uphill to the ruins, and this old settlement will hold its secrets for many decades to come.
5. Bannack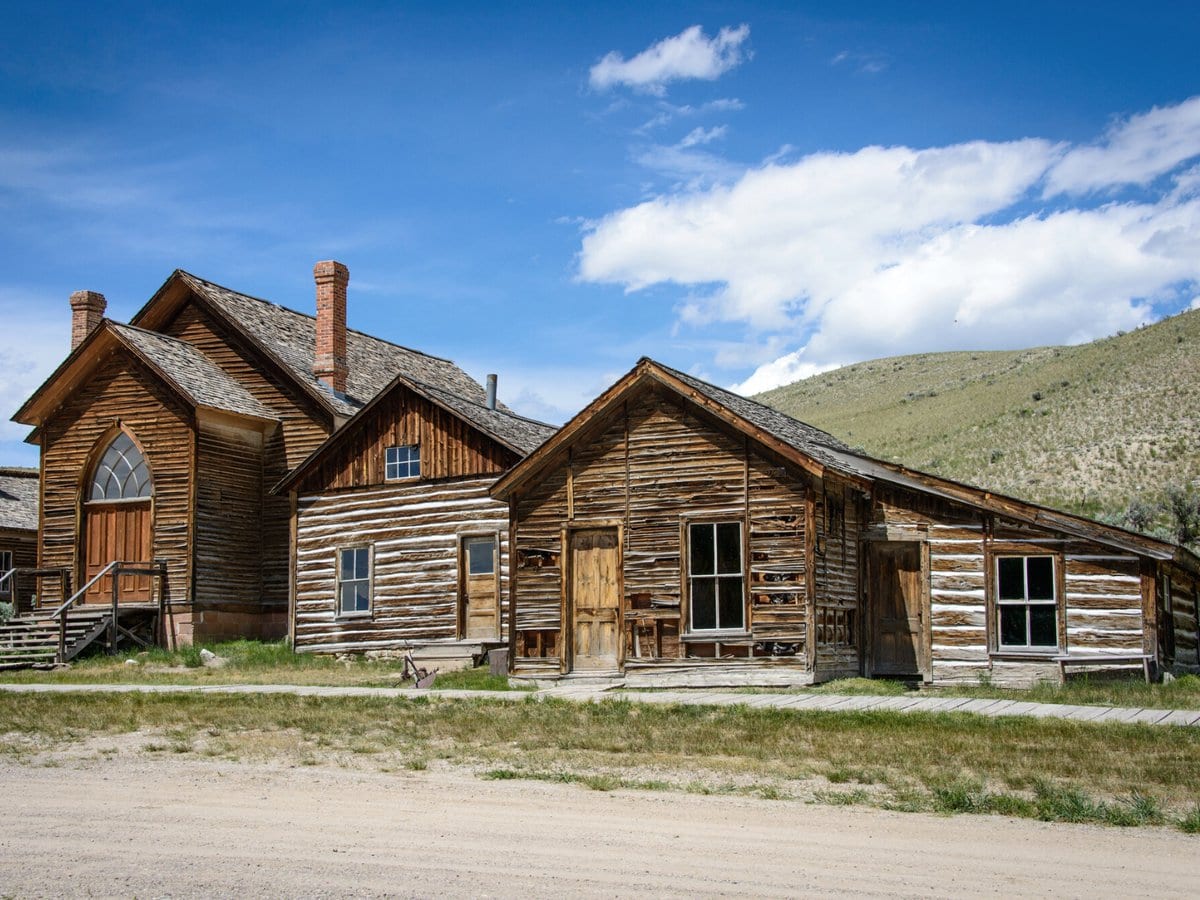 This well-preserved and maintained ghost town site is now Bannack State Park; originally settled in 1862, Bannack briefly served as the capital of Montana Territory until 1864.
At the height of its prime, Bannack had over 10,000 residents but was surprisingly remote at the time, connected to the outside world by the Montana Trail.
Bannack was a thriving town, with several hotels, saloons, a grocery store, a couple stables, and a few bakeries. All of the buildings were made of brick or logs, and today there are still 60 buildings standing which are maintained by volunteers.
The ghost town site of Bannack was added to the National Historic Landmark registry in 1961.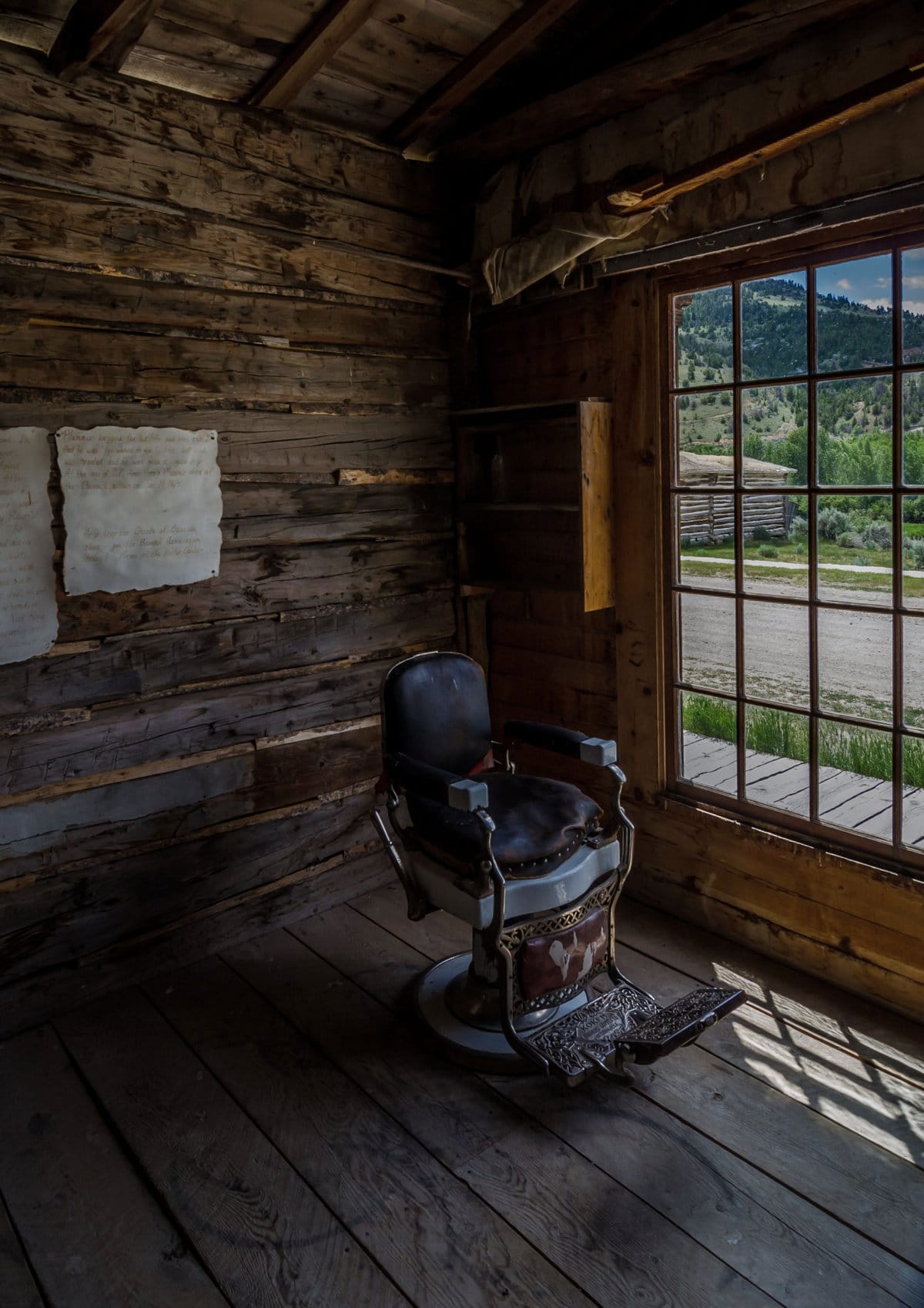 The last permanent residents left by the 1970s, most moving to nearby Dillon only 30 minutes away. Now as a state park, employees and volunteers hold "Bannack Days" every last weekend in July, re-enacting and imagining life as miners in the 1860s.
What was once a booming mining town is now a historical site, convenient for visitors and easily reach by car.
6. Comet
Comet was founded as another mining town in the 1880s, and the mines in the area fetched over $20 million in ore deposits! That's an almost unimaginable number in those times. Gold, silver, zinc, copper, and lead were all mined here and the mines were active all the way until 1941, although most of the mines were closed and the population dwindled by 1913.
The remains of this once large town are spread over about 35 acres, on either side of aptly named High Ore Creek. You can get here by car, and it's only a 40-mile drive from Helena, the state capital of Montana. Many of the buildings are falling over or in dangerous condition, so explore at your own risk! The ghost town of Comet is completely abandoned except for a single active residence; the occupant is a bit of a mystery.
Comet's heyday was in the 1890s, when rich ore was mined by the hundreds of pounds every day and up to 300 people lived here full time. Two dozen buildings remain standing, and whispers of the historic past live within their walls.
7. Aldridge
Aldridge is a ghost town located only a few miles from the north entrance of Yellowstone National Park, and was primarily a coal mining town at its height. Iron ore was also produced in Aldridge and nearby mines, and up to 50 tons of coal and iron were removed from the mines daily! The town and mining camps nearby went through several name changes over the years; from Horr, to Electric, and later to Aldridge.
The success of Aldridge was oftentimes tumultuous – mine workers went on strike frequently for higher wages and eventually, the mines were forced to be closed due to bad debts and money troubles. The townsite became a ghost town almost overnight, and although a few buildings are left standing they are in bad shape and most have fallen over or crumbled into piles of rubbish.
The nearest big towns are Livingston and Bozeman, while the small national park entrance town of Gardiner is only 9 miles away by car. Back in it's heyday, Aldridge was fairly remote and hard to access but today is easily found by dirt road. There's not much to see, but there could still be some hidden treasures that might interest you history buffs!
8. Granite
Another ghost town that has been purchased and maintained by the state of Montana, Granite was once a thriving silver boom town and is now known as Granite Ghost Town State Park.
Only a few miles from the charming town of Phillipsburg, Granite is completely deserted although a few of the buildings have been well-maintained and are open to visitors.
Granite grew to an incredible 3,000 residents in a short period of time, and the silver mining was very profitable. For the time period, it was pretty modern; there were libraries, hotels, a hospital, schools, and more.
Most of the remains today are half-fallen structures, such as the Miner's Hall, and only the brick exteriors remain.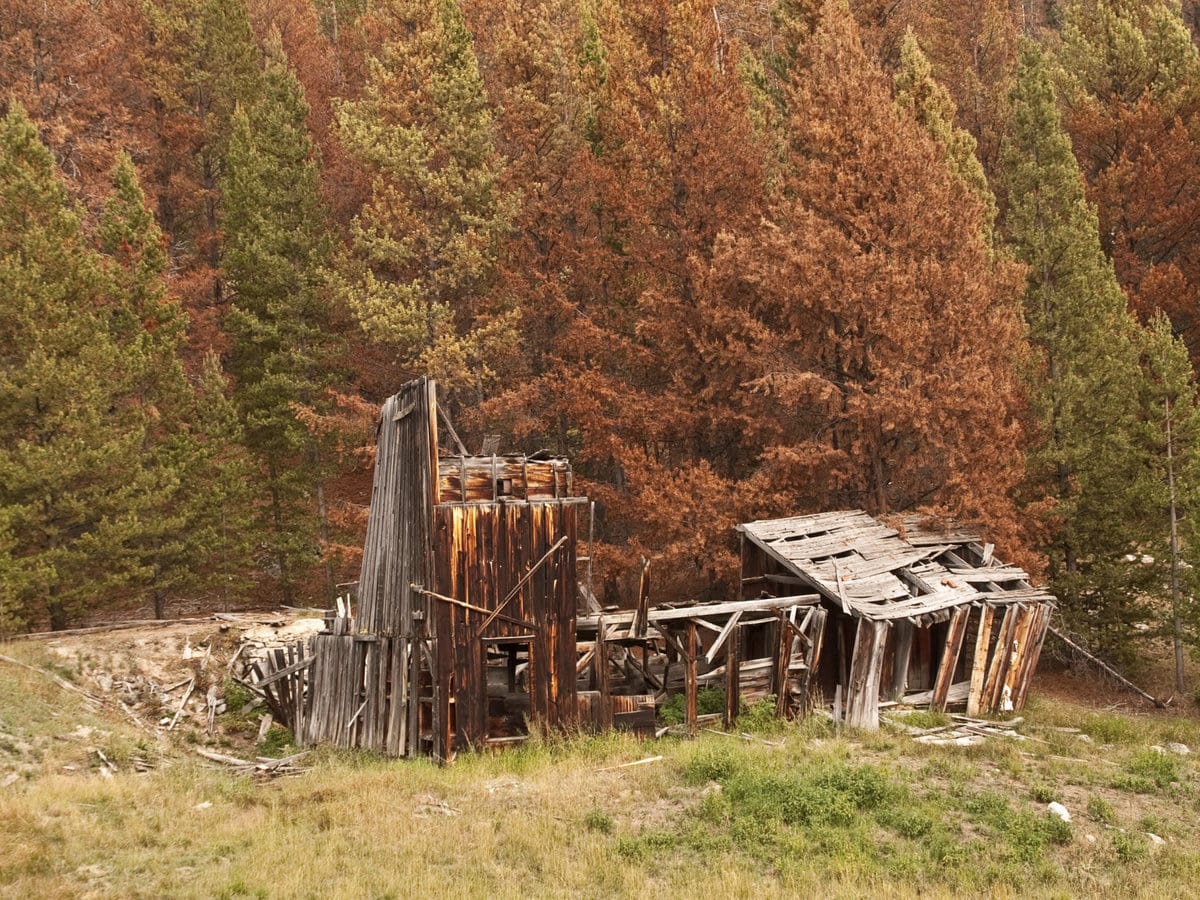 Visiting Granite requires a drive up a fairly windy dirt road, but the walking paths around the structures are easily maneuvered by visitors.
For a time, the mine near Granite was the richest silver mine on earth! There was one solid vein that yielded over $40 million in silver ore. Unfortunately, when silver prices tanked in 1893, the town tanked with it and was nearly deserted shortly thereafter.
Nobody lives in Granite anymore, and it is a true ghost town that shows off its rich history through the remains.
9. Elkhorn
Although 10 people still live in the tiny town of Elkhorn, it is still considered a ghost town. A few of the cabins have been refurbished and are lived in for parts of the year.
The town's remaining buildings and the surrounding area are considered part of Elkhorn State Park, and some of the buildings are open for visitors to explore.
The old log buildings are beautiful still in their advanced age, and the Fraternity Hall and Gillian Hall are especially well-maintained.
During its peak period, Elkhorn had up to 2,500 people living here, the majority of them mining the nearby silver deposits. Just like all the other silver boom towns in Montana, when prices for silver decreased in 1893, the town died along with it.
An epidemic of diptheria sickened and ended up causing many to die, especially children, in 1888 and the town never quite recovered. Once the railroad service halted to that area, many of the townspeople ended up moving away shortly after. And finally, once the mines were closed, the town was deserted for good.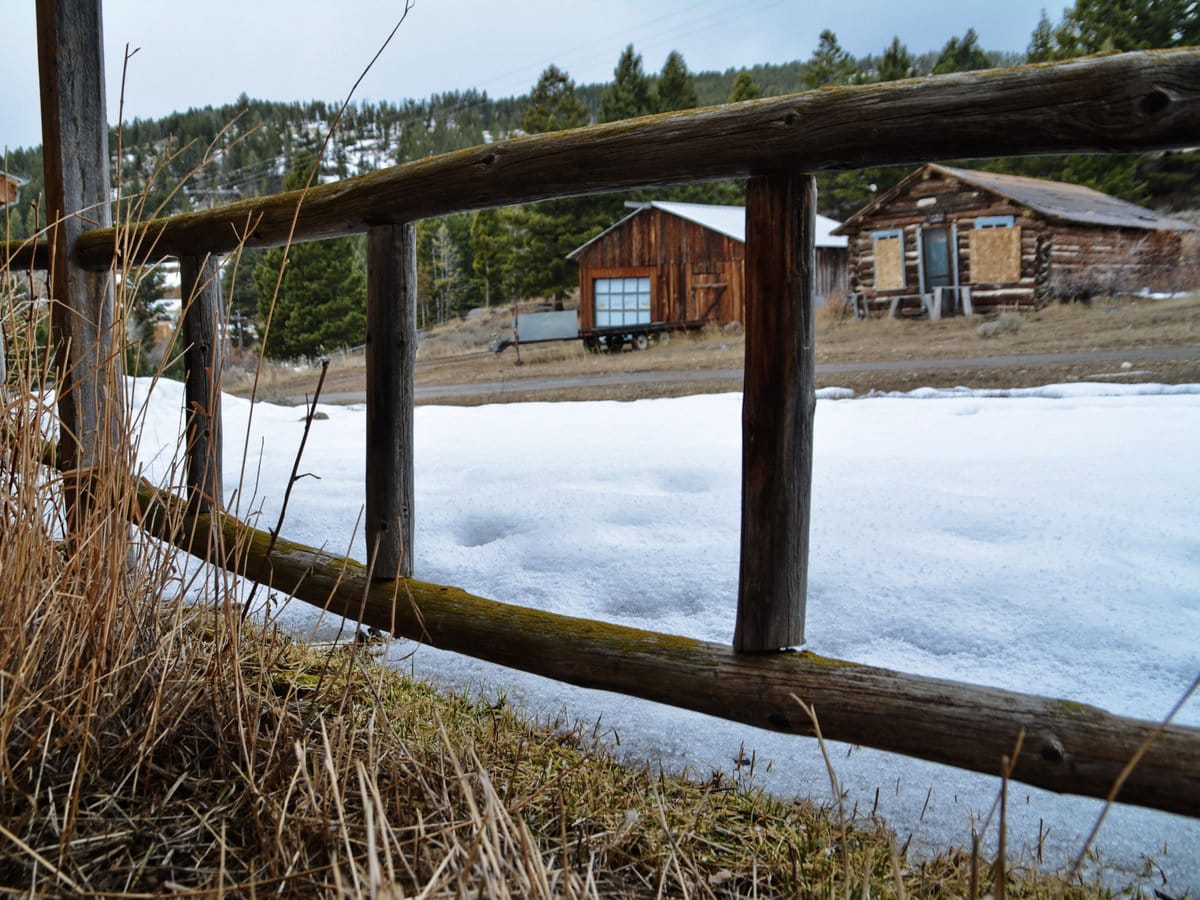 A few people have since moved back to Elkhorn in renovated cabins, but the majority of the town remains in ruins.
10. Rimini
In the rugged mountains 12 miles southeast of Helena sits the little ghost town of Rimini, thought to be named after the Italian city of the same name. Rimini is the site of one of the oldest mining districts in all of Montana, where silver was first discovered here in 1864. By 1890, the town was home to 300 residents, mostly miners and their families.
Like most mining boom towns in Montana, the population of Rimini slowly dwindled as the mines either no longer produced enough ore, or prices had reduced so much that it was no longer profitable. As recently as 2012, there were a few permanent residents of Rimini and some part-time summer visitors.
The town of Rimini went by several different names throughout the years, such as Lewis and Clark, Bear Gulch, Vaughn, and Colorado. At its height, the area supported more than 100 mines! Today, the town is still mildly active as far as ghost towns go, with old and new buildings still lining the streets. Many of the old buildings have been restored, while others still look like they did decades ago.
11. Copperopolis
The name makes it pretty obvious – Copperopolis was once a copper mining town. Only a few dozen families lived here at its height, and they quickly drained the copper mines of their lodes.
The mines were producing from early 1890s until 1903, when the price of copper dropped so much due to an economic depression in Germany that the mines were forced to close down. The families moved away, and Copperopolis became a ghost town.
It was rumored that only two men remained in the town once the miners vacated. The story was told that these two men really hated each other, so much so that they even timed their visits to the nearby spring in order to never see each other. I admire, for one, admire that level of petty.
All of the buildings have been torn down except for one cabin. All that remains are some foundations and scattered wooden beams from the cabins that were torn down.
Copperopolis is about as true of a ghost town as it gets!
It really is in the middle of the nowhere, as well, being off of a lonely dirt road near Highway 12, and miles away from any real town. The closest big city is Bozeman, with many other smaller towns closer by.
12. Louisville
One of the only ghost towns in Montana that was eventually settled by Chinese-American immigrants, Louisville was named for the original founder Louis Barrette.
Only a few miles east of Helena, the founders started Louisville as a mining camp before deserting it around 1870. The Chinese immigrants moved in shortly therafter, fleeing from Idaho after facing extreme prejudice at their mining camps there.
Although Louisville was mostly deserted when the Chinese immigrants arrived, they soon made the small town into a home for themselves.
The locals were more than a little hesitant to accept these newcomers, but the Chinese eventually made their own settlement on a small creek above Louisville. The locals came to call it "China Gulch".
Although the immigrants faced prejudice in Montana, they lived mostly peacefully in China Gulch and Louisville for many more years.
Eventually, the mining ran dry like it does in most ghost towns, and Louisville was abandoned forever. In 2008, archeologists dug around the area and found stone homes, opium tins, hearths, bottles, and hundreds on hundreds of soup bones.
13. Taft
Not all of the ghost towns in Montana sprang up around mines; many were built along the railroad and became popular waypoints along the journey West.
Taft used to be a thriving railroad town, and was named after President William H Taft. This tiny ghost town was situated along what is now Interstate 90, just east of the Idaho/Montana border.
Ironically, the town was named after then-Secretary of War Taft made a stop here on his way West, and seeing the dismal state of the camp, berated the men there for being such a blight on the American landscape. The raucous crowd found this hilarious, and shortly after named the camp after Taft.
The town was originally built to house railroad workers, who were building the almost 2-mile long St Paul Pass Tunnel nearby. Once the tunnel and the railroad were completed, many of the town/camp residents moved on.
There's also not much left of the ghost town; in 1910, a huge fire swept through the area and destroyed what was left of the homes and buildings after it had already been abandoned.
14. Pony
Arguably the cutest name of any ghost town in Montana, Pony was named after one of the original founders and miners, Tecumseh Smith, whose nickname "Pony" was due to his diminutive size and short temper. About halfway between Bozeman and Butte, you can access the ghost town area of Pony off a dirt road in the shadow of Hollowtop Mountain.
Settlers and miners came to the area in the 1860s and mined gold as well as other minerals and ore. As many as 5,000 people ended up living in Pony at one time, and the town was prosperous and thriving for the time period.
Many of the original buildings are still standing, encompassing an area of about 192 acres. The area is a designated historical district, with 95 buildings that are maintained by volunteers and nearby residents. A few brick and wooden buildings are still in decently good shape, considering their age. Even though the mining town of Pony was all but abandoned in 1922 after the mines were closed, you can still walk through the remains and imagine yourself back in time.
Before You Go
Ghost towns can be a favorite haunt (pun intended) for history buffs and archeological enthusiasts. For the towns that are located on public land, you can walk amongst the ruins and imagine what life was like for these pioneers. Many of them were miners looking for riches in gold and silver and other ore, and while many struck it big, many more did not. The towns that sprung up around these mines could just as quickly meet their demise when the mines shut down.
That's the story again and again for almost every ghost town in Montana. Strike it rich, boom overnight with thousands arriving to get their share, then disappearing almost overnight when the ore ran out. What's left behind are buildings in varying states of disrepair and disuse, and maybe even a ghost or two, if you're unlucky to come across them!
Visiting any of Montana's ghost towns can give you a glimpse into the past and remind us all of the fleeting nature of searching for wealth underground. All that remains are the echoes of these brave miners and their families among the derelict buildings and cabins.
For more spooky destinations, head over to: Arizona Ghost Towns: Top Creepiest Abandoned Places