13 Picture-Perfect Small Towns in Montana You Need to Visit
Montana is the fourth-largest state in the country with a population of just over a million people, meaning towns and cities are spread out a little more than in other large states. Often called "The Last Best Place" or "Big Sky Country", this gorgeous and scenic state is dotted with hundreds of small towns that have been there for over a hundred years.
Small town living isn't for everyone- having to drive an hour or more to the grocery store (or Target!) can be a deal breaker for some, but having lived the small town life in Montana for almost 3 years, I can say that's more than worth it!
Getting to know your neighbors, never having to lock your doors, being close to the mountains, and living more of a laid-back life makes small-town living a dream!
Most of the state of Montana is mountainous – split down the middle, the eastern side is wide open prairie, huge skies, and a more arid landscape. The larger, western side of Montana is what people think of when they hear of Montana, with snow-capped peaks, skiing, mountain towns, forests, and national parks galore.
Want to get the real Montana experience? Visit one of the following small towns that Big Sky Country has to offer.
1. Hamilton / Corvallis
Tucked in the southern part of the 40-mile-long Bitterroot Valley, the adjacent towns of Hamilton and Corvallis are one of the fastest-growing towns in the whole state!
Situated between the towering, snow-capped Bitterroot Mountains to the west and the Sapphire Mountains to the east, these two towns are full of charm and wild west history.
I'm combining the two towns into one for this list because they are so close together, but the towns themselves have a different feel.
Hamilton has a population of about 4,800 people and growing all the time, while Corvallis is a bit smaller at about 1,800 people.
Hamilton has incredible restaurants and bakeries on the main street drag, while the hub of Corvallis is "The Merc", the gas station/deli that sells some of the best homemade food you can find anywhere!
Everyone who lives in these towns (and the neighboring Bitterroot town to the north and south) has a deep love for the area; the Bitterroot Mountains have nearly unlimited trails through the canyons and peaks, and the weather is more mild compared to the rest of the state.
This area truly is an outdoor lover's paradise. At only 40 miles from the nearby city of Missoula, you're an hour's drive from any amenities that you could possibly need.
2. Stevensville
Stevensville is another small town in the Bitterroot Valley that lies between Hamilton and Missoula, and it sits in the shadow of St Mary's Peak (one of my favorite hikes in the Bitterroot!).
Officially recognized as the first permanent settlement by non-Indigenous people, Lewis and Clark actually passed through here and nearby Lolo on their famous expedition.
The Lee Metcalf National Wildlife Refuge is also nearby, with walking trails along the Bitterroot River that are great for seeing wildlife and enjoying some peace and quiet. Kootenai Creek is another favorite hiking trail and in the autumn months, the colors of the trees are spectacular!
Main Street in Stevensville has delicious restaurants and quaint shops, as well as some of the best ice cream you'll ever have at the local drugstore.
At Christmastime, the entire Main Street drag is lit up with lights crisscrossed overhead and a massive Christmas tree, bringing Christmas cheer to all who visit.
Nicknamed "Stevi" by locals, this small town of fewer than 2,000 people is only 30 minutes from Missoula, and year-round the highway to town is well plowed and safe to travel except during the strongest of snow storms.
Although the weather in Stevensville is milder than anywhere else in Montana, you're still likely to see a few big blizzards every winter! No worries, as Lost Trail Ski Resort is about an hour away to the south and you can snowshoe up any canyon nearby.
3. Whitefish
Head up north to Whitefish, one of the most luxurious small towns on this list. Home to Big Mountain Ski Resort (some of the best snow I've ever skied in my life!), Whitefish is a popular getaway for the rich and famous who want to enjoy small-town Montana.
The downtown area has several high-end dining and lodging options, but you'll also find more affordable fare as well.
Enjoying the outdoors is a must when you're in Whitefish, and the possibilities are almost endless. Take a bike tour and explore all of the scenic paved and mountain bike trails, try the alpine slide in the summer at Whitefish Mountain Resort, take a backcountry tour in a small plane, ski your heart out at the nearby ski resorts, or cross-country ski or snowshoe on the nordic trails.
Whitefish is also a great "base camp" for visiting Glacier National Park, about 30 minutes away. Even if the park is too busy to enjoy (not unheard of these days), there is still so much to do adjacent to Whitefish that you wouldn't miss it too much (more on Glacier NP later).
Getting to Whitefish can be a bit of a journey by car, but Glacier Park International Airport is only 15 minutes away in nearby Kalispell.
4. Livingston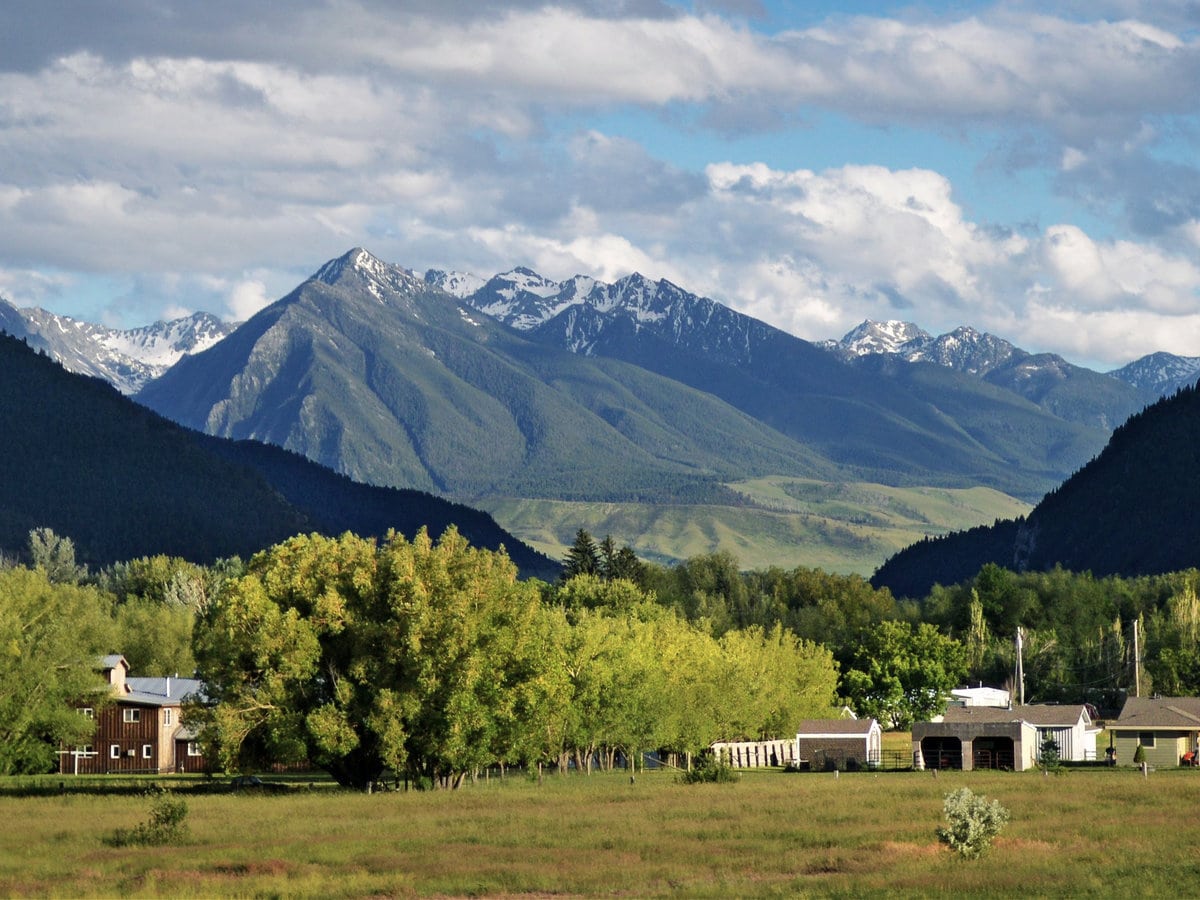 Known as one of the gateways to Yellowstone National Park, Livingston is a beautiful little town that has similar vibes to the nearby larger city of Bozeman. Bustling with several art galleries, delicious dining options, museums, breweries, and much more, Livingston makes for a great jumping-off point for visitors to Yellowstone, as the north entrance is only 45 miles away from this quaint town.
Livingston was the town where "A River Runs Through It" was filmed (although the film plot takes place in Missoula), as Main Street and the nearby Gallatin River still held the old-time feel that Robert Redford needed for his movie adaptation. Many other celebrities and famous people make their homes here in Livingston and the surrounding area is known fittingly as Paradise Valley.
Fly fishers flock from all over the world to take advantage of Livingston's world-class rivers and creeks, and nearby Bozeman is an incredible city full of historic houses, new-age dining, shops, and museums. Bozeman is one of the larger cities in Montana, but still maintains a small-town charm and should be on your list of places to visit in the area.
5. West Yellowstone
West Yellowstone is right on the border of Idaho, Montana, and Wyoming, as well as close to the western entrance of Yellowstone National Park. This proximity to America's first national park is perfect for those who want to spend a few days exploring Yellowstone's geysers and natural beauty.
If you aren't lucky enough to see bears or wolves as you tour the park, don't worry – you can head to The Grizzly and Wolf Discovery Center in West Yellowstone to see these beautiful animals. The Center cares for orphaned or injured animals that can't be returned to the wild and gives visitors a chance to see them up close.
West Yellowstone is fairly isolated compared to some of the other towns on this list. The cities of Bozeman, Montana, and Idaho Falls, Idaho are about the same distance in opposite directions, approximately 1.5 hours drive to the north or south. There are only a thousand or so people who live in West Yellowstone permanently, as this area of the country can get very harsh in the winter! However, the proximity to such natural wonders makes the hard winters worth it.
6. Choteau
Choteau is a charming small town that lies at the foot of the Rocky Mountains, with the great plains stretching away to the east. The granite walls of the Rockies rise suddenly out of the grasslands, providing almost limitless options for outdoor recreation. The Bob Marshall Wilderness Complex is less than 100 miles to the southwest, which is one of the largest wilderness areas in the United States.
The night skies in Choteau are truly spectacular, with the nearest cities being Great Falls or Browning, both well over 5o miles away. When they say Montana is Big Sky country, they mean it! Sunsets, sunrises, and the night skies are all breathtaking.
Just like most small towns in Montana, the restaurants in Choteau are chock full of delicious homestyle cooking. Stop at the Log Cabin Cafe for breakfast, or grab a drink at the Antler Bar. The golf clubs in town offer great views of the mountains, and there are several outfitters in town if you're looking to get into the backcountry. However you decide to spend your time in Choteau, you'll be treated with warm hospitality by the friendly locals.
7. Red Lodge
Located near the scenic Beartooth Mountains on beautiful State Highway 212, Red Lodge is a tiny town of fewer than 2,400 people about an hour away from Billings. Just like most small towns in Montana, the people in Red Lodge are friendly and welcoming! Outdoor enthusiasts will love the variety of activities to be found here in Red Lodge, with a ski resort (Red Lodge Mountain) only a short drive away, as well as a Nordic center for cross-country skiing.
The world-famous scenic Beartooth Highway starts in Red Lodge as it winds towards Yellowstone National Park. This highway is known as "the most beautiful drive in America", and meanders through the Beartooth Mountains, which are some of the most rugged and highest elevation mountains in the country.
The road itself reaches elevations of over 11,000 feet, so be prepared to feel a little out of breath when you stop to take in the views!
Be sure to visit the Yellowstone Wildlife Sanctuary, which houses animals from the surrounding areas and from Yellowstone National Park who have been injured and unable to return to their wild habitat. Here you can see bison, wolves, mountain lion, bobcats, coyotes, birds of prey, and bears, and they all come from the Greater Yellowstone Ecosystem. The animals at this sanctuary serve as ambassadors for their species and provide education for all who visit.
8. Anaconda
Situated at the foot of the Anaconda Mountain Range and only a few minutes from Butte, Anaconda is a mountainous town with plenty of outdoor adventure to be had within minutes of Main Street. Hunting, fishing, skiing, mountain biking, and hiking can all be done in close vicinity to Anaconda, making this small town a great "home base" for those looking to experience the great Montana outdoors at its best.
A unique event in Anaconda is the annual Winter Getaway Dart Tournament, which holds the title of largest dart tournament in the state; winter can get long and somewhat dark and gloomy, so picking up a hobby like darts could be a way to keep up your social life! A few notable state parks or outdoor points of interest are located nearby as well, such as Lost Creek State Park, Mount Haggin, and the sprawling Anaconda Pintler Wilderness.
Want to see Anaconda and the surrounding mountains from the sky? Montana Zipline Adventures is located just outside town, and zips you at high speeds across several ziplines courses, dozens of feet in the air and ranging in length from 650 feet to over 2,000 feet long! Enjoy panoramic views of the nearby mountain ranges as you fly through the air (safely!).
9. Columbia Falls
One of the gateway towns to Glacier National Park, Columbia Falls is only a short drive from the most beautiful national park in the entire country (in my opinion!). Columbia Falls is consistently ranked as one of the safest and best places to live in Montana. To see Columbia Falls at its most festive, visit in the last weekend of July during Heritage Days; enjoy a parade, carnival, rodeo, basketball tournament, and the running of wild horses through town to celebrate their heritage and history.
If you don't want to camp during your visit to Glacier National Park (only 15 minutes away), I highly recommend staying in Columbia Falls to take advantage of the hotels, restaurants, and other conveniences. The summer farmers market on Thursdays is one of the best in the state, and there are even a few top-rated golf courses in the area if you need a day off from exploring the park.
One of my favorite restaurants in Columbia Falls (and a favorite of locals, it's always busy!) is the Nite Owl and Back Room restaurant and bar. Stopping here for a huge plate of rotisserie chicken with all the sides is the best way to end a day exploring Glacier National Park. Grabbing food to go? The mighty Flathead River that flows through town provides an incredible backdrop for an evening picnic at River's Edge Park.
10. Polson
The views in Polson are unmatched, especially that first glimpse of Flathead Lake as you drive into town from the south. Flathead Lake is one of the largest freshwater lakes in Montana, and Polson hugs the southern shoreline. It is located on the Flathead Indian Reservation and has a population of about 5,100.
Located about halfway between Missoula and Kalispell, Polson provides more amenities (such as large chain grocery stores and restaurants) than nearby smaller towns, and you can get incredible views of Flathead Lake from almost anywhere in the town.
Enjoy Sacajawea Park along the water's edge, grab a drink at Glacier Brewing Company, or enjoy the largest museum in Montana, the Miracle of America Museum. Full of interesting artifacts, antiques, old cars/aircraft, and historic relics from all over Montana, the Miracle of America Museum is sure to educate and entertain young and old.
11. Bigfork
Head north from Polson along Highway 35 towards the upper end of Flathead Lake, and you'll wind through cherry orchards, forested land, lakeshore views, and small settlements of cabins and lodges. On the northeast shores of Flathead Lake lies Bigfork, a small tourist town with about 4,000 permanent residents.
Paddleboarding and kayaking are very popular here in the summer, as the Swan River meets the shores of Flathead Lake and creates Bigfork Harbor. Boats come and go at the marina all day long. Bigfork is a party town in the summer, with several lodges located near the harbor and restaurants and bars lining the harbor and Highway 35 as it passes through.
In the winter, visit Base Camp Bigfork to go dog sledding! This is one of the few places that offers dog sledding adventures with experienced teams and guides. Or you can rent cross-country skis or snowshoes and explore on your own two feet! Year-round fun is available in Bigfork, making this small town an excellent visit for outdoor enthusiasts.
12. Libby
Closer to the Canadian border lies the northwestern mountain town of Libby, tucked up against the banks of the Kootenai River. With only 2,700 permanent residents, Libby is smaller than most on this list; but fewer people usually means more serenity. Nearby Kootenai Falls has been featured in a couple of motion pictures (The River Wild and The Revenant), and the hanging suspension bridge gives you a birds-eye view of these beautiful waterfalls.
If you've ever wanted to step back in time and experience Montana's legendary cowboy life, make a reservation at McGinnis Meadows Cattle and Guest Ranch! You get the whole cowboy experience working real cattle on real horses on a real ranch! With an all-inclusive stay that provides comfortable accommodations, home-cooked meals, and hours of horseback riding every day.
Libby is surrounded by mountains; the Kootenai and Kaniksu National Forests to the east and west are havens for wild animals including grizzly bears, moose, deer, and mountain lions! Hiking, camping, mountain biking, and other outdoor adventures are just a short drive from Libby, making this charming town a great base camp for weeks of outdoor fun.
13. Belt
Belt is the very first town in Montana that I ever visited, joining a college roommate and her family on the 4th of July in 2013 in her quaint little hometown. By far the tiniest town on this list, Belt has only 500 permanent residents and is tucked into a little gully next to Belt Creek. If you don't know where to find it, you'll literally miss it as you drive past on Highway 89! It really is hidden from the outside world.
Belt is very small, and so has few "things to do" but what it lacks in size, it makes up for in charm and serenity. Located only 30 minutes east of Great Falls with all of its available "big city" amenities, living in or visiting Belt gives you the true small-town Montana experience with the convenience of everything you need nearby.
One of the more beautiful settings in Belt is the hanging bridge over Belt Creek. The gentle tumbling of the water over the rocks provides a calming scene in an already quiet place. Enjoy a picnic at Castner Park, and grab a drink at Belt's own Harvest Moon Brewing Company. Every year, the Belt Rodeo attracts cowboys and wranglers from all over the state to enjoy the little town and all it has to offer.
Before You Go
Small town living isn't for everyone, but for those that are looking for some serenity and escape from the craziness of today's world, visiting one of Montana's small towns might be just what you need.
Friendly people, delicious mom-and-pop restaurants, gorgeous hiking and biking trails, stunning vistas, and unique experiences like dog sledding makes visiting (or moving to!) Montana a dream for many.
Plan ahead for your trip, as Montana is no longer the best-kept secret, and tourist season can get fairly busy at the more popular places! Even in the busy seasons, Montana is well worth the journey to get here and you'll have a trip that you'll never forget.
Glacier and Yellowstone National Parks make it more convenient for seeing some of the most beautiful areas in the state, but never forget that it is still a wild place!
For more hidden gems head over to my selection of the best ghost towns in Montana to explore.