Top 17 Best Lakes in Arizona
Arizona is no "land of 10,000 lakes", but we do have many bodies of water that are big enough for all sorts of recreational activities. The majority of the lakes in Arizona are reservoirs, or man-made lakes created by dams built on rivers and streams. Given the dry climate in this state, these lakes help to preserve water for use during droughts while also providing places for boating, swimming, fishing, kayaking, and paddle boarding.
Whether you're looking for a smaller lake where you can fish for native Apache trout, or wide open water for even the most experienced wakeboarder, the lakes in Arizona are easily accessible and ready for your adventures.
1. Lake Powell
Arguably the most beautiful of all the lakes in Arizona, Lake Powell is a behemoth of a water system. The lake itself covers more than 250 square miles, while the Glen Canyon National Recreation Area around the lake covers about 1.5 million acres.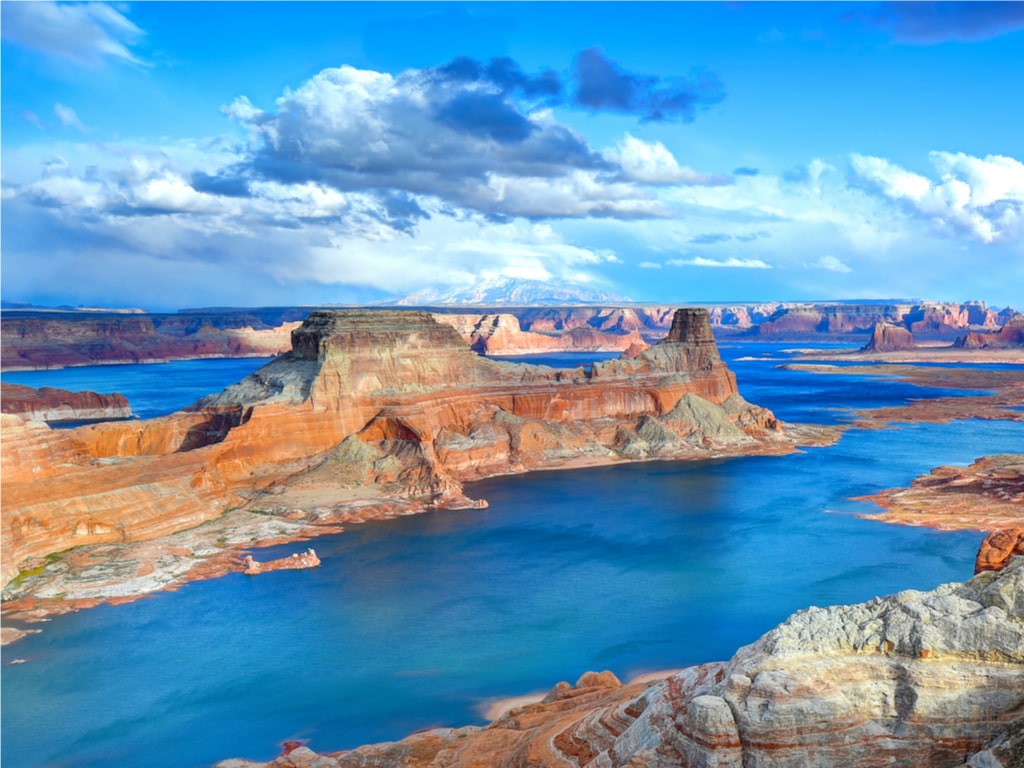 Lake Powell has so many small side canyons that it's almost impossible to explore them all. Due to these canyons, the shoreline of Lake Powell actually stretches 1,960 miles long!
Lake Powell was formed by the construction of the Glen Canyon Dam in 1956, and the resulting lake formed in what was formerly miles and miles of slot canyons. Like most places near southern Utah and northern Arizona, the shore lines are primarily red rock sandstone.
Since Lake Powell sits on the border of Utah and Arizona, where you tend to spend your vacation here depends on where you're coming from. Utahns tend to set sail on their houseboats from the Bullfrog marina, while Arizonans frequent the Lone Rock camping area. Several marinas dot the shorelines of both the north and south sections of Lake Powell.
The most common activity here by far is boating, and wakeboarders especially love getting out on the water at first light to take advantage of the glassy still water. Kayaking, jet skiing, paddle boarding, and swimming are also popular activities on this lake.
Due to its size, there is plenty of room for thousands of tourists to enjoy Lake Powell on any given day. Be on the lookout for mule deer and bighorn sheep on the rocky cliff faces. Take a side trip to Rainbow Bridge, one of the most stunning natural arches in the world.
Location: Page, AZ
Entrance Fee: $30 per vehicle for 7 days, marina and boat fees may also apply
2. Saguaro Lake
Located only a short distance from the city of Mesa, Saguaro Lake is a reservoir and one of four in a series of lakes along the Salt River. It is the most easily accessible of these lakes, and is so named due to the numerous towering saguaro cacti that line its shores.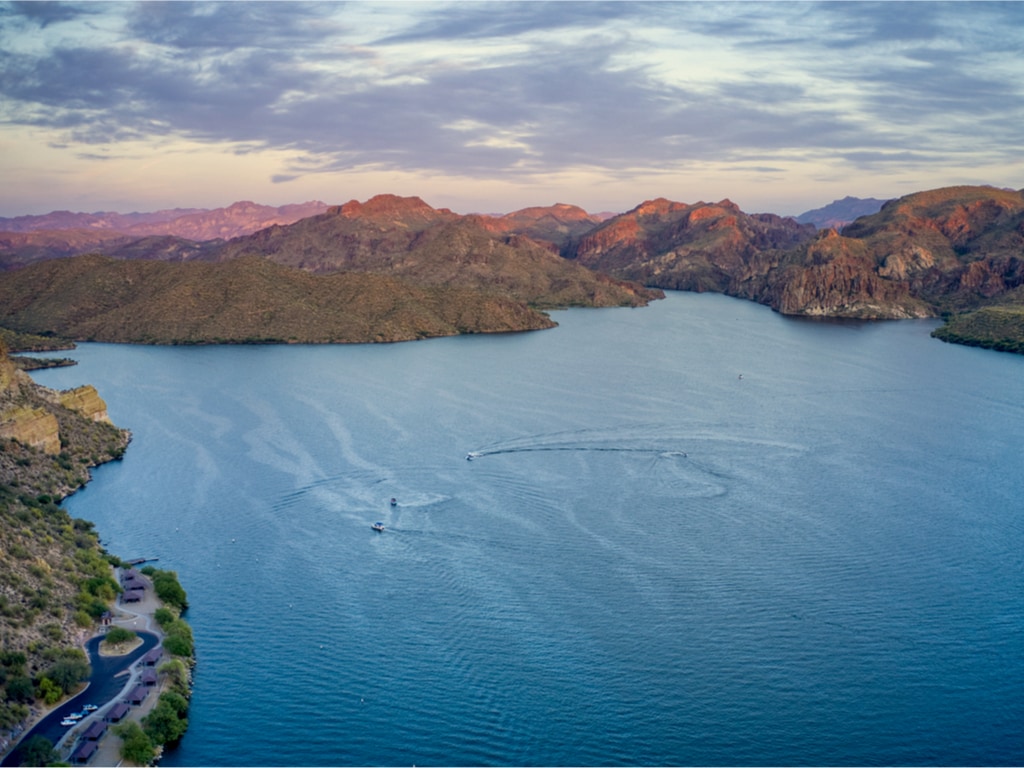 There is one entrance and one marina on Saguaro Lake, but plenty of room for boaters and kayakers to enjoy the mild waters here. There is a locally beloved group of bighorn sheep that enjoy loitering on the rugged cliffs, so count yourself lucky if you spot them.
There's even some places to cliff jump into the water from the shoreline, just be sure to always test the depth before you leap! If you don't have a motorized boat, you can embark on your kayaks, canoes, or paddle boards from Butcher Jones Beach on the northeast side of the lake. There's also a hiking trail from here that follows the shoreline.
Saguaro is the perfect lake destination for those who want a quick morning wakeboard session or nighttime kayak, since its proximity to Mesa makes it a convenient location.
Location: Along Bush Highway between Mesa and Highway 87
Fees: $8 Tonto Day Pass
3. Canyon Lake
Upriver from Saguaro Lake lies the slightly smaller Canyon Lake. The towering canyon walls along the shorelines give Canyon Lake its name. This lake is another reservoir, formed by the construction of the Mormon Flat Dam in the early 1920's.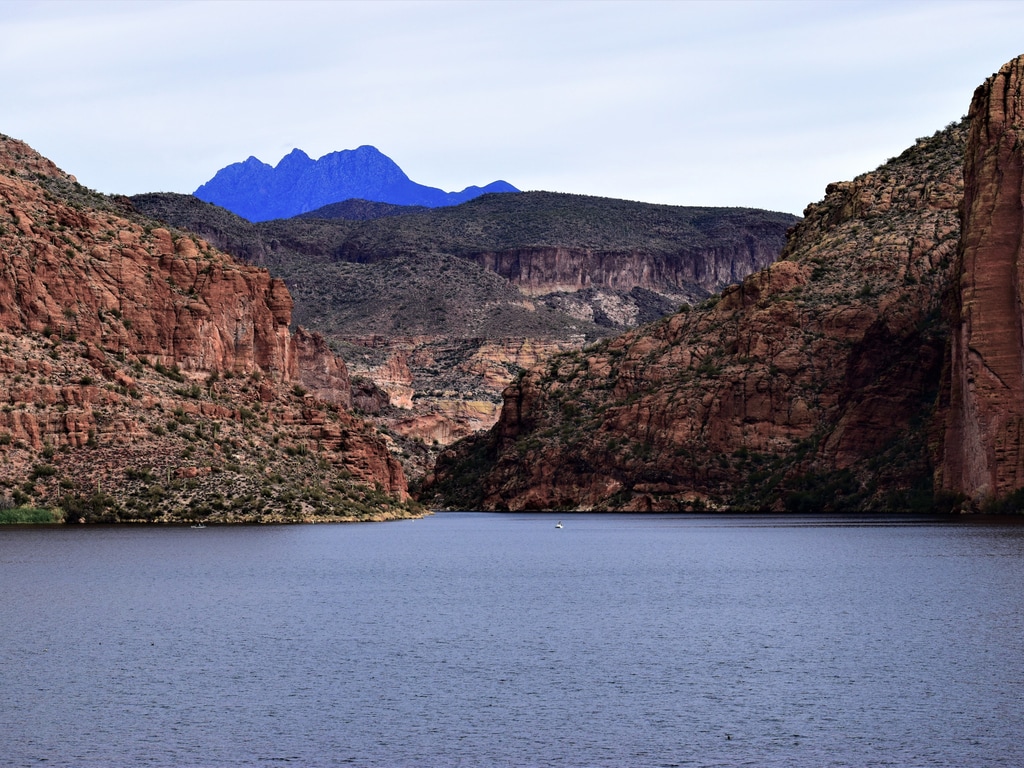 Getting here requires driving on a paved winding road, taking Highway 88 just past the Superstition Mountains. This is a great place for scuba divers to practice their skills and get certified, and for beginner kayakers looking to get more comfortable in their watercraft.
There's a campground just a 3 mile boat ride through the lake and cliffs, providing a very peaceful location for a weekend of relaxation. The marina and campground in the main area of Canyon Lake provide a place to grab lunch at the restaurant, and a sandy area to set up your beach umbrella and enjoy the sunshine.
Although slightly farther from the city than Saguaro Lake, Canyon Lake is still a great place to enjoy those long, hot summer days.
Location: 45 miles east of Phoenix
Fees: $8 Tonto Day Pass
4. Roosevelt Lake
The largest of the Salt River reservoirs, Roosevelt Lake is named after President Theodore Roosevelt; he also dedicated the dam upon its completion in 1911. The lake itself sits in the shadow of Four Peaks mountain (one of the best mountains in Arizona), and one of the best views of the lake can be found on Four Peaks summit.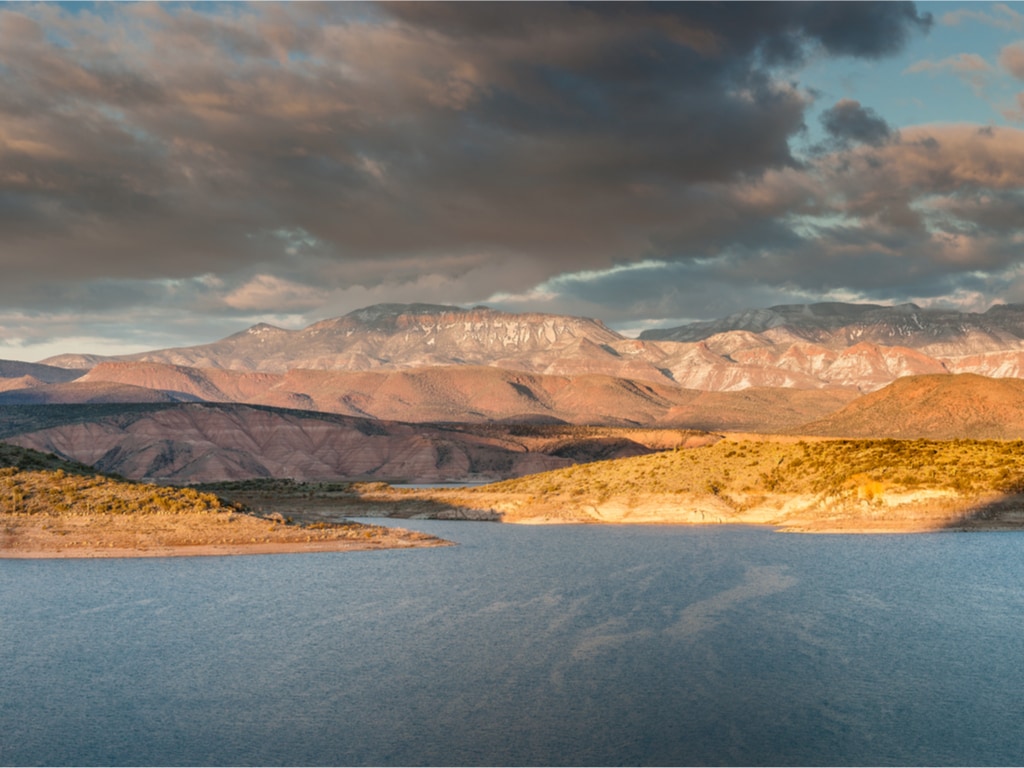 There are several different species of fish who make their homes in Roosevelt Lake, and fishing is one of the more popular activities on the water. Other recreational activities include boating, hiking nearby (the Arizona Trail crosses Highway 88 just northeast of the dam), kayaking, and paddle boarding.
There are also at least 6 areas to camp on the shores of Roosevelt Lake, providing an excellent base camp for a multi-day fishing trip. The Roosevelt Marina offers a store, boat rentals, an RV park, and even a boat concierge service for all your boating needs.
Roosevelt Lake is huge- it covers a total of 33 square miles, meaning there's plenty of space for everyone to enjoy this desert oasis.
Location: 80 miles northeast of Phoenix
Fees: Daily Pass ($8) plus watercraft sticker for boating ($4)
5. Big Lake
Nestled among the pines and Douglas firs is Big Lake, about 26 miles from the small town of Springerville in the White Mountains. It is considered the best fishing lake in these mountains, providing anglers plenty of opportunity to catch native Arizona fish species.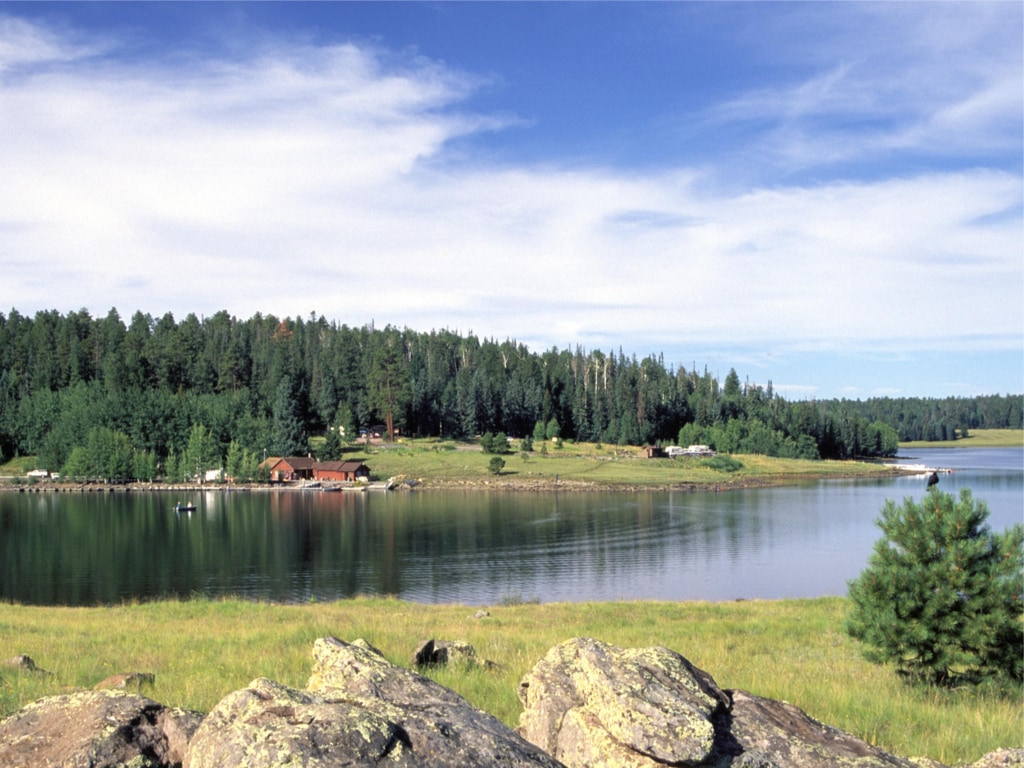 There's a small store located near the boat ramps at Big Lake- stop by here for a popsicle and cold drinks after a long morning of fishing! Kayakers and paddle boarders also take advantage of this lake for its beautiful setting and grassy shorelines.
At 575 acres, Big Lake isn't as "big" as the other lakes in this list but is still large enough for boating. The surrounding areas offer prime camping spots, showcasing some of Arizona's best mountain terrain. Other smaller lakes in the area make Big Lake a great destination for fisherman and small watercraft users.
Location: White Mountains in central eastern Arizona
Fees: None
6. Lake Pleasant
Yet another reservoir in Arizona, Lake Pleasant provides water for much of the western Phoenix valley. Although the reservoir serves a practical purpose, it is also a hub for water recreation for the northwest Phoenix area. Boating, windsurfing, jet skiing, and scuba diving are all popular activities here.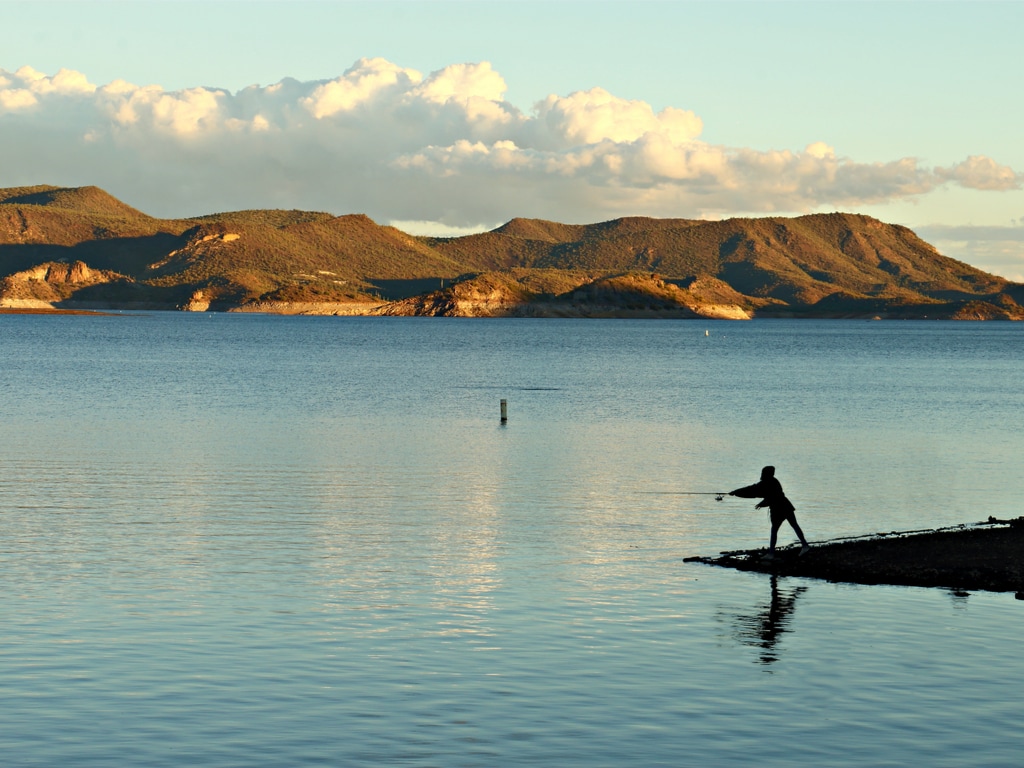 Annual events take place on the 11 square miles of lake: Lake Pleasant Paddle Days where kayakers and paddle boarders gather to socialize and test their skills, and Bill Luke Bass Days, a carnival-like event with vendors, food, and live music.
There are some Hohokam ruins nearby, remnants of an ancient people who used the Agua Fria River (which flows into Lake Pleasant) to water their crops and sustain their small village. The ruins are on top of Indian Mesa, and a short hike will take you to the top. You'll see artifacts scattered about, mostly pottery, but remember to be respectful and leave them where they are!
Location: Peoria, AZ
Fees: $7 Day Pass
7. Bartlett Lake
Located 20 miles east of Carefree, Bartlett Lake is another reservoir that is crucial for water storage for the Phoenix Valley. This is one of the more popular fishing lakes in the region, in fact the state record for small-mouth bass was caught here!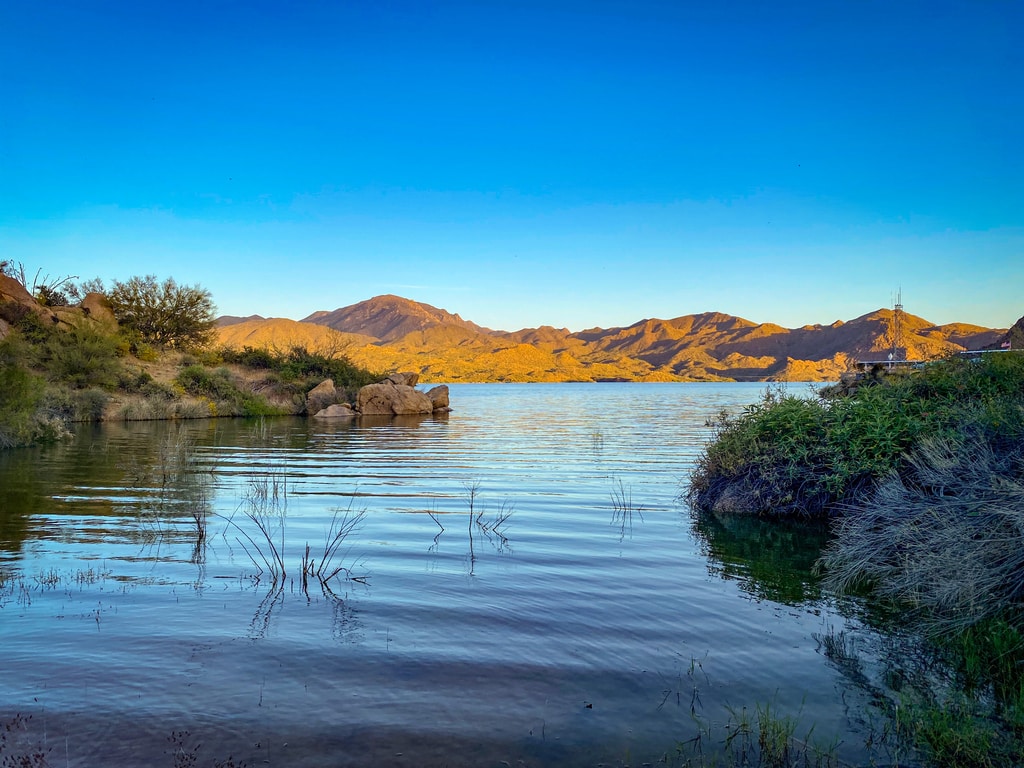 Bartlett Lake is surrounded by pristine Sonoran Desert terrain, so be on the lookout for desert wildlife such as coyote, deer, bighorn sheep, and javelina who use the lake for their water source. The Verde River supplies the water for this lake, and one can use a non-motorized watercraft such as a kayak or paddle board to travel upriver.
There are four boat-launching ramps, but this lake fills up quickly on the weekends, so be sure to get there early for prime fishing spots. Bartlett Lake may be smaller than other Arizona lakes on this list, but it can still provide a great outing for fishing and other activities.
Location: Between Carefree and Fountain Hills
Fees: $7 Day Pass
8. Tempe Town Lake
The only lake located right in the middle of the city, Tempe Town Lake was created by a dam and is the star of downtown Tempe. Paths line the lake on both sides, and several bridges cross the lake, making this a biking, walking, and running hub.
On some mornings, you can spot the Arizona State University rowing team practicing their strokes on Tempe Town Lake. In the fall, the lake is the location of the Ironman Triathlon, and is a spectator-friendly race due to the looped course. Rent a paddle boat, powered by your own feet like a bicycle, or put in your own boat at the marina.
Although Tempe Town Lake is used for the swimming portion of the triathlon, swimming in this lake is not recommended otherwise due to poor water quality. If your kids need to cool off in the summer heat, there is a large splash pad located at Tempe Beach Park next to the lake. Several restaurants near the lake make this a great place to spend your weekend.
Location: Tempe, AZ
Fees: None
9. Watson Lake
Let's take it up north a bit; scenic Watson Lake is located near Prescott, AZ and has some of the most unique and iconic rock formations on its shores. Another reservoir, this lake is formed by a dam built on Granite Creek in the early 1900's.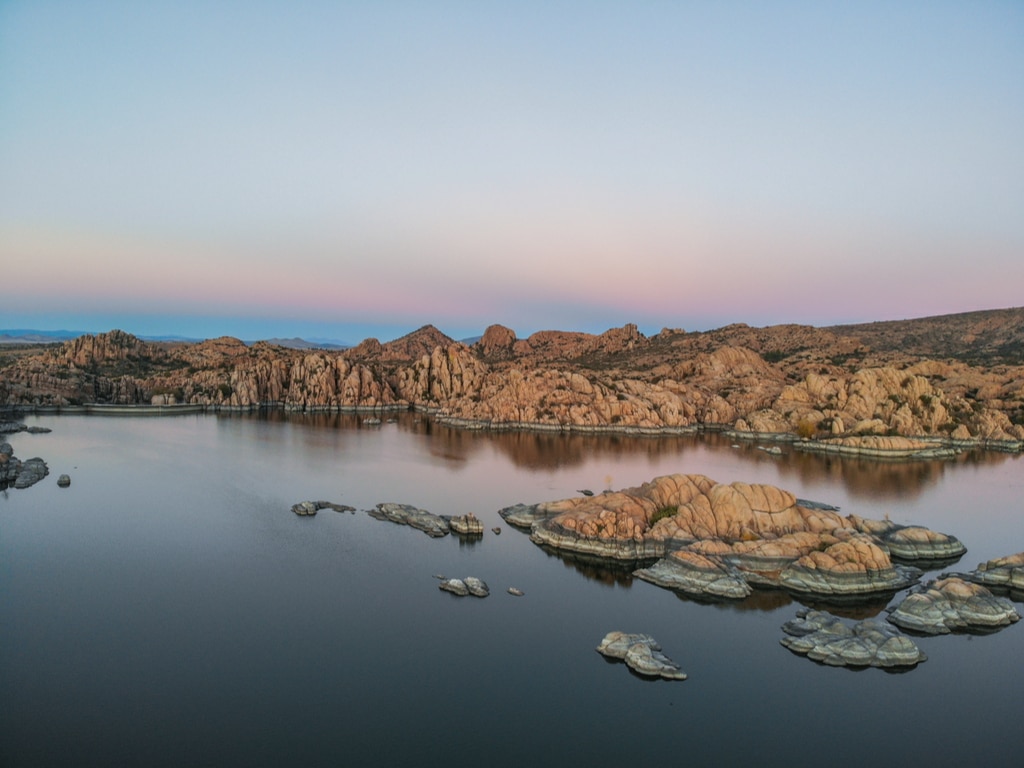 Prescott is home to the only rowing team in northern Arizona, who use Watson Lake as their training grounds. The rocks and huge boulders surrounding the lake are a popular destination for rock climbers and bouldering enthusiasts. A hiking trail will take you all the way around the lake, for a total of 4.5 miles.
Swimming is not allowed in the lake, but don't let that stop you from enjoying the water! Fishing, canoeing, paddle boarding, and kayaking are all allowed on the lake. Campgrounds nearby make Watson Lake a beautiful location for a weekend excursion.
Not a camper? No worries! The city of Prescott is only 4 miles away, and the downtown scene has plenty of restaurants and touristy shops to keep you fed and entertained. Spend all day hiking, boating, fishing, and rock climbing at the lake and then sink into a soft bed at one of Prescott's many hotels.
Location: Prescott, AZ
Fees: $3 for parking
10. Bear Canyon Lake
Too hot in the Phoenix area? Take a 2.5 hours drive up to the Mogollon Rim, and hike the short distance down to Bear Canyon Lake. This lake is rarely busy, and used mostly by fishermen and hikers.
Getting there requires about 10 miles on a dirt road, but it is well maintained and doesn't require a high clearance vehicle. The hike down to the southern edge of the lake from the parking lot is only a quarter of a mile, but it can be steep in spots. Once at the bottom, hang up a hammock between the stands of pine trees, or hike the 3.5 miles around the edge of the lake.
There is plenty of shade and green grass to spread out for a lovely picnic. On the northern end of the lake, a different road goes all the way to the dam, giving you shore access to put in your kayak or paddleboard.
Another favorite activity for kids is catching crawfish from the shores, which can also be used as fish bait. Bear Canyon Lake is a great destination for families with kids, just be aware of the weather forecast as it can get quite cold here in the winter. This is the perfect lake for a day trip to get away from the heat.
Location: Near Forest Lakes, AZ
Fees: None
11. Apache Lake
Apache Lake is another reservoir built along the Salt River, located 5 miles downstream from Roosevelt Lake. The usual water activities can be found here, such as boating, fishing, kayaking, and more.
The historic Apache Trail road passes by here (but is currently impassable after a mudslide in 2019). Apache Lake is only accessible now from the east side, making it a longer trip than usual. Due to the longer road trip required, Apache Lake is less crowded than it used to be, making this a great place to escape the crowds on the weekend.
The Apache Lake Marina and Resort provide plenty of amenities for visitors to the lake; hook up your RV, rent a room at one of the 3 motels, eat at the restaurant, or stop in at the general store to provide everything you need for your vacation at Apache Lake.
Location: 5 miles west of Roosevelt Lake
Fees: $7 Day Pass and $4 Water Pass
12. Lake Mead
Lake Mead has the distinction of being America's first ever national recreation area. Created by the gigantic Hoover Dam (which took 6 years to build and claimed over 100 lives in the process), Lake Mead spans across the border of Arizona and Nevada.
There is over 750 miles of shoreline, so put in your boat at one of the marinas, find a secluded cove, and enjoy Lake Mead at its best. As America's largest reservoir by water volume, there are nearly 250 square miles of open water to enjoy.
Boating is the most popular activity here (just like most lakes in Arizona) but there is also ample room for jet skiing, long distance swimming, kayaking, and sunbathing on the many sandy beaches.
There are four marinas and several hotels and resorts located around Lake Mead. It's proximity to Las Vegas makes this a popular oasis in the desert for the rich and famous. Rent a houseboat with friends for a week-long adventure on the water!
Location: 24 miles from Las Vegas
Fees: Entrance Fee- $25 per vehicle, and varying fees for watercraft and camping
13. Lake Havasu
The location of the historic London Bridge (surprise! It's not in London), Lake Havasu is one of the hottest areas of the state. Thank goodness for the huge body of water nearby to cool off; Lake Havasu covers 46 square miles and the water temperature is fairly mild year round.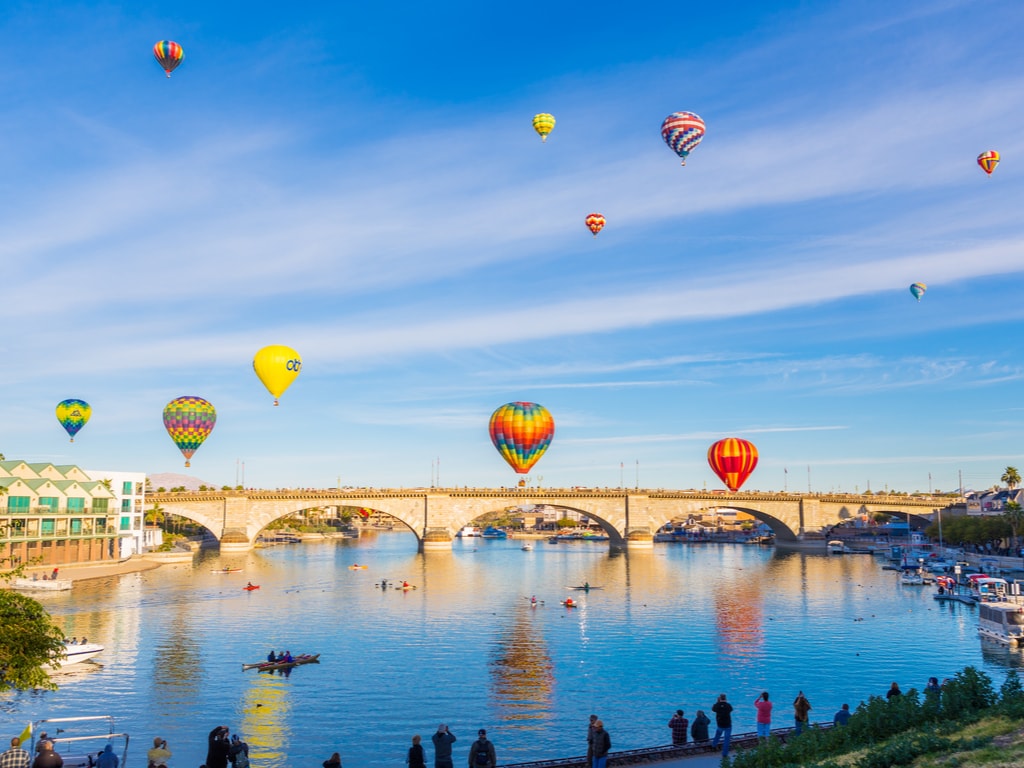 There's plenty of scenic shoreline for picnics, camping, swimming, and sunbathing. There's beachfront camping available, as well as RV camping right near the water.
Desert trails nearby make Lake Havasu a year-round playground.
Visit Lake Havasu Museum of History to learn about the construction of the Parker Dam that created the lake, or enjoy the local animals at the two wildlife refuges. Enjoy the Mohave Sunset Trail as it winds through the brush and trees near the shoreline.
Lake Havasu is known as "Arizona's Playground" and it's not hard to see why! This reservoir definitely makes the oppressive heat a little more tolerable.
Location: Havasu City, AZ
Fees: $15-20 per vehicle
14. Lake Mohave
Lake Mohave is a seperate body of water from Lake Mead, although they are both encompassed in Lake Mead Recreation Area. A big portion of Lake Mohave is in steep-walled canyons, but it eventually opens up into more open water.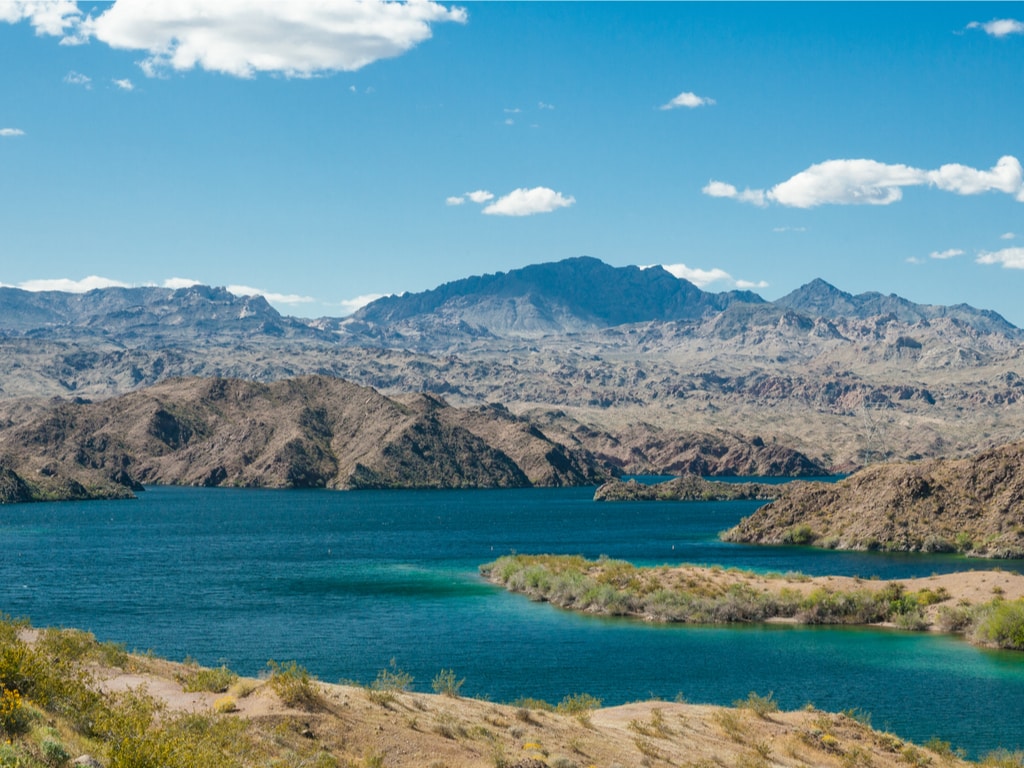 Due to Lake Mohave being downriver from Lake Mead, and because the water in Lake Mohave is released from the bottom of Lake Mead, the water is consistently more cold through the canyons and into the more open area of the lake. On extremely hot days, this water is downright refreshing!
All the usual lake activities are available at Lake Mohave, such as boating, fishing, swimming, and person-powered watercrafts. There are designated campgrounds and RV parks found along the shorelines on both sides. In fact, this lake straddles the Arizona and Nevada border so each shoreline is in a different state!
The many coves and secret fishing hideouts in Lake Mohave make this a great getaway for fisherman, boaters, and water sports enthusiasts looking for some more privacy.
Location: Lake Mead Recreation Area
Fees: $25 per vehicle for & day pass
15. Patagonia Lake
No, this isn't South America's Patagonia; this small town and lake by the same name are in southeastern Arizona, and it is a lesser-known oasis in the desert. Patagonia Lake State Park includes Patagonia Lake and Sonoita Creek.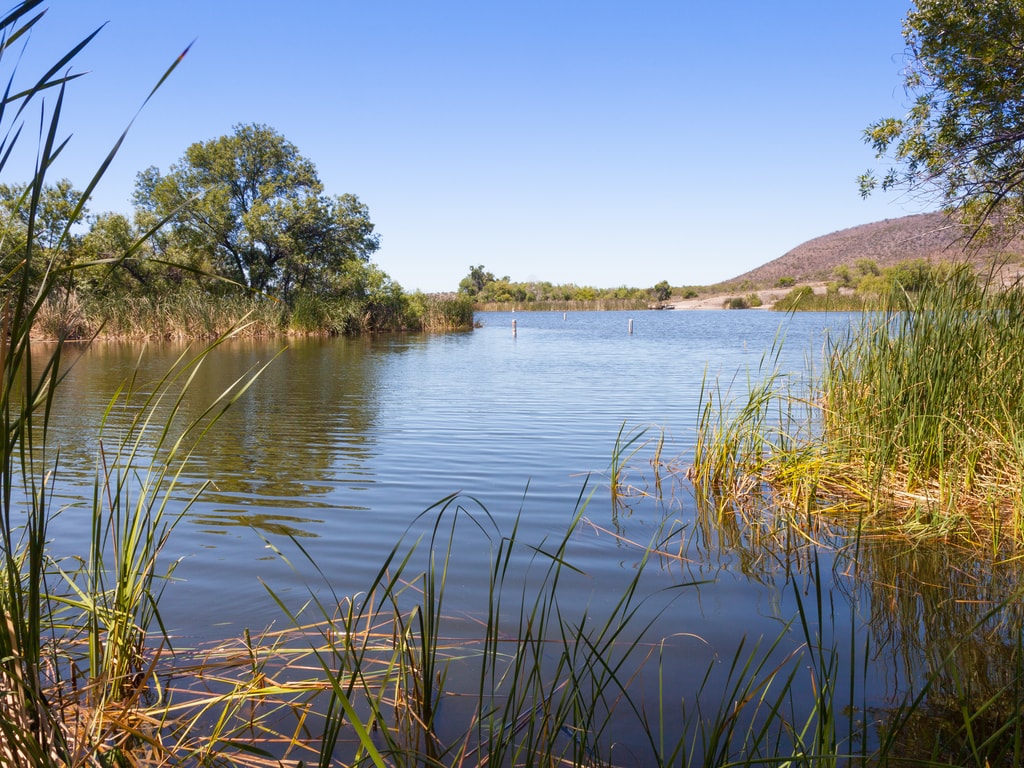 For a smaller lake, there sure is a lot to do here! There are over 100 campsites, including 12 that you can only get to by boat. There's several miles of hiking trails, and one of them will take you farther into Sonoita Creek, which flows out of Patagonia Lake.
Or rent one of the cabins that are situated near the lake, with stunning views to catch that waterfront sunset. Each cabin can fit 6-8 people, and make for a great weekend getaway spot. Birdwatchers love Patagonia Lake for its diverse wildlife and bird spotting opportunities.
Location: Patagonia, AZ
Fees: $15-20 per vehicle
16. Kinnikinick Lake
The name is fun to say, and even more fun to visit. Located southeast of Flagstaff, this small lake is a great place to see elk, bear, deer, and bald eagles in their natural habitat. Only smaller motorized boats are allowed here, and kayaks, canoes, and paddle boards are always welcome.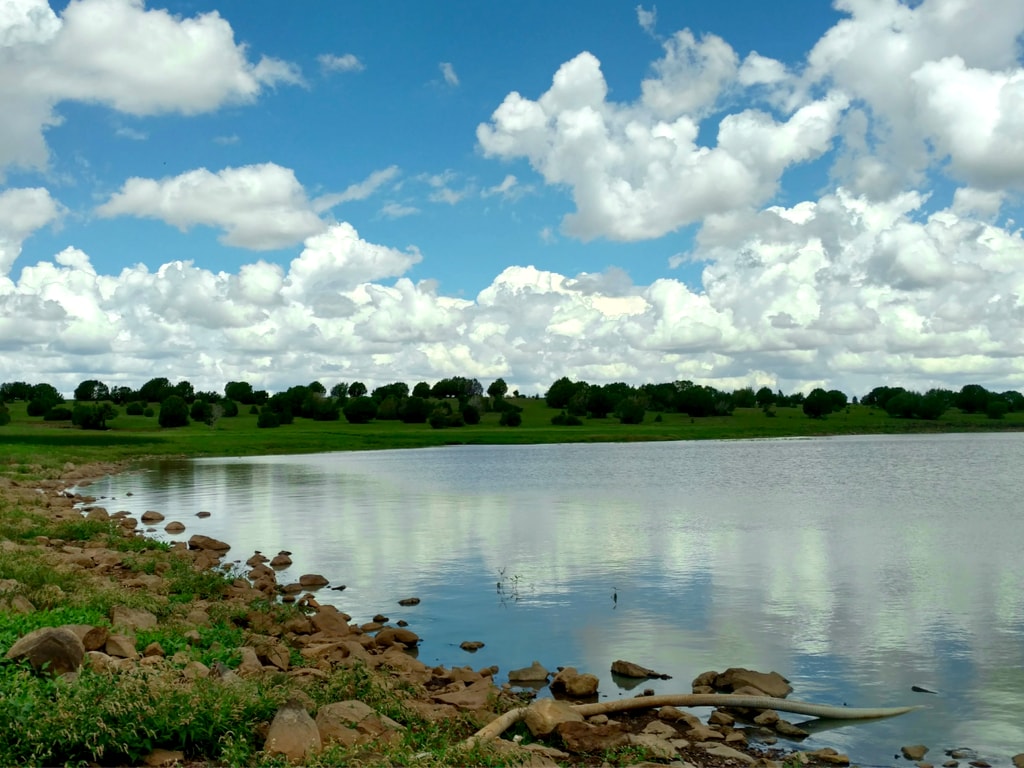 This lake is day-use only, in order to protect the delicate shorelines from campers and keep the wildlife comfortable in their home. There is a picnic area here, but no bathroom facilities- remember your Leave No Trace principles!
Kinnikinick Lake is stocked with trout, so be sure to bring your fishing poles to test your luck on these high-country fish. Be wary of weather: at 7,000 feet elevation, storms can come up suddenly. Overall, this small but beautiful lake is worth the trip.
Location: 1 hour southeast of Flagstaff
Fees: None
17. White Horse Lake
A beautiful sub-alpine lake located 18 miles outside Williams, White Horse Lake is a popular fishing destination that is stocked in the summer with trout and catfish. There's something for everyone at White Horse Lake.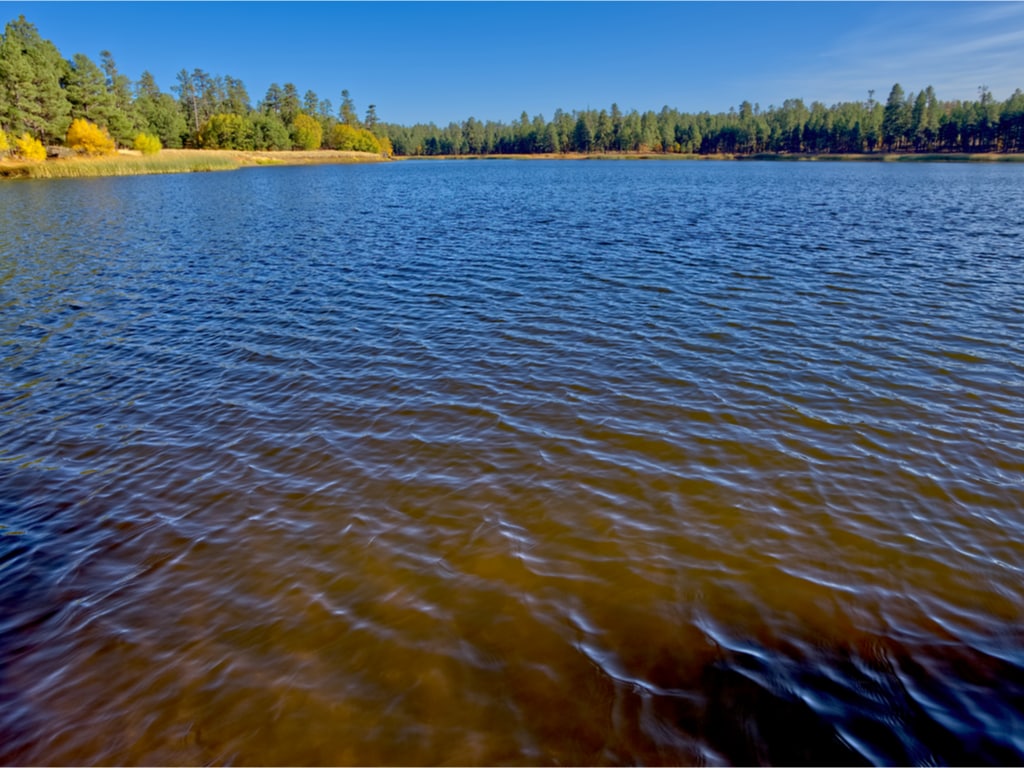 There are over 100 campsites (some are reservation only) that are nestled in the pine trees, making this a perfect getaway to escape the Phoenix heat. Composting and pit toilet facilities are located conveniently near the campsites.
White Horse Lake is only about 35 acres in surface area and about 15 feet deep, but still provides a beautiful setting for a camping trip. Hiking and mountain biking trails nearby provide other options for campers and day-use recreation.
Location: Southeast of Williams, AZ
Fees: $26-40 per night for campsites
Frequently Asked Questions
How many lakes are there in Arizona?
There are 128 lakes in Arizona, but due to the natural dry-climate of the state, many of these lakes are seasonal and do not contain water throughout the entire year. The state also has 5 major rivers.
How many natural lakes are in Arizona?
Arizona only has 2 natural lakes: Mormon Lake near Flagstaff (seasonal only) and Stoneman Lake in Sedona. Both lakes are very small and shallow compared to the man-made reservoirs throughout the state. All the other lakes are man-made and were created for flood control, power generation, or irrigation.
What is the largest lake in Arizona?
Theodore Roosevelt Lake is the largest lake located entirely in Arizona with a surface area of 21,493 acres (8,698 ha) and a maximum depth of 349 ft (106 m). Lake Powell and Lake Mead are larger but they are both located partially within bordering states (Utah and Nevada respectively).
What is the best time of year to visit the lakes in Arizona?
The best time to enjoy the lakes of Arizona are the months of May through September. Winter months may be too cold even for fishing.
Can I swim in Arizona's lakes?
Yes swimming is possible in most of Arizona lakes! A few on this list (Watson Lake and White Horse Lake for example) are closed to swimming. Other lakes may be too chilly to swim in, so always swim at your own risk! For more details you can checkout our guide on the best swimming holes or the best beaches in Arizona where you can swim.
Conclusion
Arizona may be mostly desert, and prior to settlers moving here in the 1800s, there were only two lakes of measurable size in the entire state. Now, after building dams and creating reservoirs through the early to mid 1900s, there are almost 130 lakes for us to enjoy!
The desert sun is relentless and some days unbearably hot, but if you can get yourself to one of Arizona's beautiful lakes, you'll be able to enjoy the Grand Canyon State year round. So put on your swimsuit, or grab your fishing pole, or load up the kayaks, and enjoy the refreshing water in lakes throughout Arizona.
Explore Arizona
Still wanting to learn more? Dive in our Arizona Travel Guides and discover the best places to visit, interesting things to do, budgeting tips, comfortable accommodation, and everything you need to plan your perfect trip in the state.