15 Family-friendly Things to do in Pattaya with Kids
Alright, let's be honest—Pattaya hardly has a lofty reputation for being the most family-friendly place in the world. And it typically attracts a different crowd to kid-carrying couples.
But it's not all bad news…
Because the place is so touristy, Pattaya actually caters for a massive range of people. So if you are visiting the city with children, you'll find a surprising amount of stuff to do.
And in this guide, we've covered the best of it… bringing you the top 15 family-friendly things to do in Pattaya with kids. Expect waterparks, lonely islands, fun-filled beaches, and plenty more.
Pack a pad thai and come join the fun!
1. Explore an Ethical Elephant Sanctuary
If your kids don't like elephants, there's something wrong with them.
And if there's anywhere on the planet to get all trunk-deep in some exciting elephant experiences, it's Thailand.
But no-one wants to visit a place where the elephants are treated cruelly (well, no-one with a brain, anyway).
And when you're in Thailand, trying to work out which elephant adventures are ethical and which aren't can be a bit tricky.
But luckily for you, this well-reviewed tour is popular, and it guarantees you'll have an ethical ol' time. It's a half-day tour, and it packs in loads of exciting stuff. You get to see elephants, learn about them, swim with them, hop in a mud spa, and help to prepare their food.
Conveniently, you also get picked up from (and dropped back off at) your Pattaya accommodation. And on top of that, as part of the experience, you'll also get your mouth around a tasty traditional Thai buffet. Each tour includes an English-speaking guide.
Since you're traveling with kids, here's an important point: because the tours focus on sustainability, safety, and taking care of the elephants, you can't ride the big beasts.
2. Take a Trip to Koh Larn…
Also known as 'Ko Lan,' this lovely island is an underrated little spot sitting just off the west coast of Pattaya.
And there's loads to do on the place. They have quiet beaches (and some busy beaches), lots of places to eat and drink, and a massive range of activities (including snorkeling, parasailing, paragliding, banana-boating, jet-skiing, ziplining, glass-bottom kayaking, monkey-spotting, and loads more).
Although it's only small (3 miles/4.5km x 1.5 miles/2km), the island is packed with loads of great views, and I honestly don't know why it doesn't get more recognition. Maybe because you access the island from Pattaya, which everyone (sort-of justifiably) thinks is a horrendous place.
My favorite thing to do here is take a bicycle onto the ferry, and cycle around the entirety of the island. But it's a pretty hilly place… so unless your kids are athletes in training, that's probably not a very good idea.
To save you the hassle of having to sort everything out yourself, this tour brings you to all the island's highlights, and lets you enjoy a big full day of activities without having to use your brain. During your fun-packed day, you'll get involved in parasailing, kayaking, banana boating, jet-skiing, and lunch-munching.
3. … or Hit Some Other Islands
If you're looking to hit up some lesser-known islands instead, you can take a tour to the under-the-radar shores of Koh Pai, Koh Rin, and Koh Ped.
I like this tour cos it takes an impossible venture and makes it easy—none of these islands are accessible with standard public transport.
A full day catamaran cruise, you get an English tour guide, a Thai-style BBQ-based buffet lunch, and a load of monkeys. Other highlights include swimming, snorkeling, bays, beaches, urchins, eels, and a load of fish.
If you and your kids want to explore quiet, uncluttered, non-busy beaches, this is the best way to do it. The beaches on mainland Pattaya can be packed—but on Koh Pai, Koh Rin, and Koh Ped, they never are. For something a bit different, I massively recommend this tour.
4. Gawp at the Crooked Carvings of the Sanctuary of Truth
Alright, children aren't usually interested in temples. So I can understand if you think this is a terrible suggestion.
But give me a sec—the Sanctuary of Truth isn't just any old boring temple. Instead, it's kooky and quirky, and its jagged form is made COMPLETELY from hand-carved wood.
Measuring in at a massive 20 storeys, it looks like a weird combo between something from a horror film, and something from a kids' nursery book. Aside from all the bizarre architecture, other kid-friendly attractions inside the Sanctuary of Truth include a petting zoo (where you can feed the animals), motorboating and speedboating (for an extra fee), and a mini assault course.
And because it's only a little wander from Wong Amat Beach, you don't have to venture too far from kid-friendly sands and shores to reach the place.
You can explore the Sanctuary of Truth at your own pace, or you can book a tour. Tours are available in Thai, English, Chinese, Korean and Russian.
5. Haggle with Some Water-Based Storeowners
Look, Pattaya's Floating Market is a bit touristy. It's overflowing (get it?) with overpriced souvenirs, people trying to sell you stuff, and loads of eye-rollingly tacky tat.
But if you've never before seen a floating market, you'll still enjoy it. And anyway, because it's A MARKET ON WATER, your kids will definitely like the place.
So put your pretentiousness to one side, and get yourself here.
On a visit, you'll find street food, stilt-bottomed homes, a load of boats, unusual snacks and sweets, and more. You can take boat tours, or you can just walk around. If you're with kids, I recommend a boat tour, cos they're (of course) much more immersive and fun. And on a tour, you normally get some interesting insights.
Quick note: This market isn't as busy as it used to be, and if you go on a weekday, the place can feel a bit bleak and barren. So rock up on Saturday or Sunday, and you'll have a better time.
6. Laze Around on Jomtien Beach
Pattaya Beach is a decent place, but it can be a bit busy, and a bit noisy. And cos it's not far from some of Pattaya's questionable nightlife, it's not always the most kid-friendly place in the world.
But head to nearby Jomtien, and you'll find quieter sands with a much nicer vibe. The whole beach measures in at around 4 miles (6km), and it's peppered with bars, restaurants, coconut sellers, watersports, busy areas, quiet areas, and loads of other things you'd expect from a beach that I'm not gonna bother to list.
If you want to use a lounger or a chair, you'll of course need to pay for it. Last time I was in Jomtien, the loungers cost around 100 baht each.
Broadly speaking, the more south you go, the quieter it gets. And the northern end of the beach can get busy quickly, so get here early if you can.
7. Hit Up All the Major Sites on a Big Bumper One-Day Tour
Like saving time and getting loads of things done all speedily? I've got a solution for you.
This popular and top-quality tour takes you to the three places we've just covered in the last three points, and loads more highlights. In case you have an absolutely abysmal memory and you've somehow forgotten what those places were, they're The Sanctuary Of Truth, Pattaya's Four Regions Floating Market, and Jomtien Beach.
But along with those hotspots, this tour also takes you to Buddha Mountain, Big Buddha Temple, the big hillside Pattaya City sign, Bali Hai Pier, and the strange Art in Paradise Pattaya.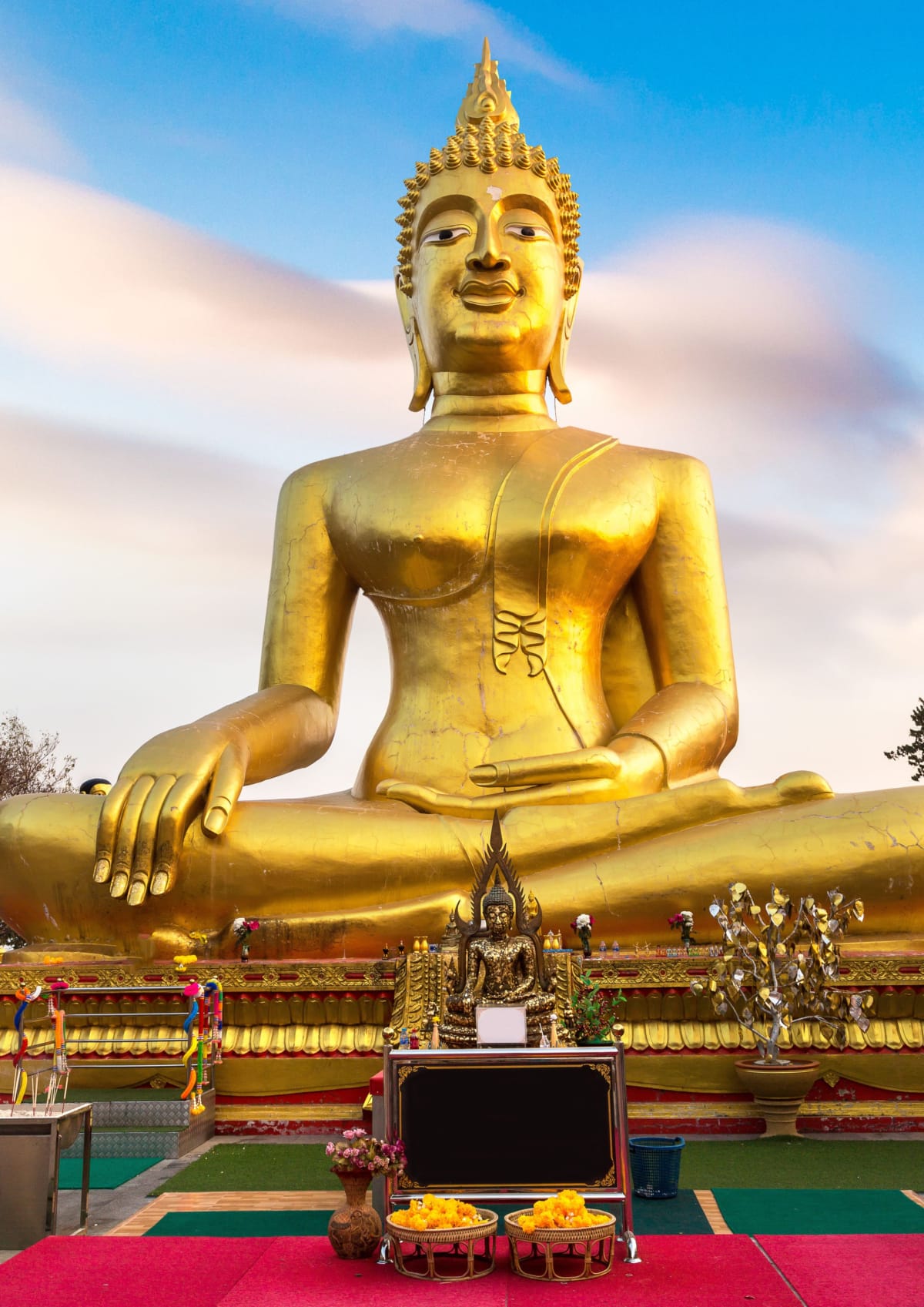 So if you're short on time, or can't be bothered with working out transport (or both), this tour is the perfect way to see loads of famous sights in one big jam-packed day. For ticking off loads of stuff, I totally recommend it.
You'll enjoy it, your kids will enjoy it, and your brain will enjoy the no-planning simplicity. All tickets to all attractions are included in the price of the tour.
8. Enjoy Some Flumey Fun at Columbia Pictures Aquaverse…
Is there anything kids like more than waterparks?
(That's not necessarily a hypothetical question, cos I don't have any children.)
Anyway, Columbia Pictures Aquaverse is the most well-known waterpark close to Pattaya. A flume-filled funfest, it features wave pools, massive slides, rubber rings, a lazy river, excitement for both young and old kids, and some of the best themed fun you've probably ever seen. Themed areas include zones based on Jumanji, Zombieland, The Emoji Movie, and loads more.
It also has lots of places to eat and drink, good toilets and changing facilities, and a modern vibe. Some waterparks and theme parks in Thailand can feel a bit dated and scruffy, but this one really doesn't.
Non-water-based attractions include mini-golf and go-karting (but both cost extra).
If you're looking for more water-based adventures, check out Ramayana Water Park. It's not quite as modern or interesting as Columbia Pictures Aquaverse, but it's still a good day out.
9. … or Get All Watersporty at the City's Various Beaches
But, obviously, cos Pattaya is a beach-based place, you don't have to venture to a waterpark for some wet-and-wild mayhem.
Where you have beaches, you have water. And where you have water, you usually have watersports.
And Pattaya throws up loads of them, no matter which beaches you venture to. If you're on Pattaya's beaches, Jomtien's beaches, or even the beaches on Koh Larn, you'll find loads of people trying to sell you jet-ski fun, banana-boating, paragliding, and all that other stuff.
So there's no particular provider I recommend. But get yourself down to a beach, find some fast-talking man with a laminated watersports menu, and get yourself involved in the fun.
10. Wrap Your Eyes Around Some Unique Illusions
Remember Art in Paradise Pattaya, which I mentioned a little while ago? Well, now the place is getting an entry of its own.
An immersive and unusual hands-on exhibition area, it features a load of strange drawings, photo opportunities, dioramas, and 3D scenes. You know those places where you can get your photo taken beside a physics-defying 3D-style painting of a dinosaur, or a lion or whatever? It's one of them!
It's best for kids aged around 10 or under. Though it's pretty big and pretty modern, it's still a bit tacky and cheesy—so older kids will probably hate the place.
You'll probably spend 2 or 3 hours here. When you're done, head to very-nearby Terminal 21, a family-friendly shopping center with lots of child-friendly restaurants, and a massive affordable food court. They also have an amusement arcade, a mini train, and a cinema.
11. See a Smaller Side of Life at Mini Siam
Imagine someone took a load of massive sites, landscapes, and famous cities, then shrunk them down to tiny proportions—so you could walk amongst them and pretend to be a big giant.
Well, strolling around Pattaya's Mini Siam sort of feels like that.
You'll wander around mini recreations of some of Thailand's most famous sites, including temples, palaces, and images of Buddha. Other highlights include a big Europe section (with an Eiffel Tower, a Coliseum, and a replica of London's Tower Bridge), the pyramids, that big hilltop Jesus from Brazil, and the Statue of Liberty.
Mini Siam has almost 30 different sections, so you'll probably spend a couple of hours wandering around the place. Young kids will enjoy it, and so will adults. But teenagers will probably be a bit too cool for it all.
It's well-maintained and well-manicured, and some sections sort of have the vibe of a pretty manor-house garden. It has ponds, lawns, lily pads, and some little rivers and waterways. The on-site cafe churns out decent kid-friendly food—but if your kids want something a bit more exciting, there's a McDonald's a 1-minute walk away.
12. Frost Magical Ice of Siam
Another vaguely-tacky-but-definitely-child-friendly attraction, the uncatchily-named Frost Magical Ice of Siam is stuffed with a load of different ice sculptures (and sculptures that look like they're made from snow).
Expect igloos, polar bears, snowmen, reindeer, some interactive sections, a tube-based snowslide, an icy slide, and a load of photo opportunities. There's no on-site ice rink, even though most people expect to find one.
You'll also find an on-site bar, serving up a wide range of drinks, all in frosted glasses.
Again, it's good for kids around 10 or under—any older children will hate it.
As a nice bonus, the place can be a decent escape from the often stiflingly-hot climes of steamy steamy Pattaya. Included in the price of your entry ticket, you get a cold-weather coat. They don't provide gloves, but I'm sure you'll survive—you're at a family-friendly attraction, you're not trekking up Everest.
Right beside the place, you'll find Pattaya Sheep Farm, offering sheep, animal shows, and some chances to hand-feed some furry little friends. The sheep are surprisingly tame and well-behaved.
13. Believe (or Don't)
You've all heard of Ripley's Believe it or Not, the worldwide "look at this weird thing" chain that sits in many of the planet's most touristy destinations.
Well, as you've probably worked out by now, Pattaya is home to another of them.
Stuffed inside the massive confines of Pattaya's Ripley's Believe it or Not, you'll find more than 300 weird and wacky exhibits, broken down into 7 different sections.
Some highlights include optical illusions, themed worlds, zombies, clowns, grave-robbers, old-school torture devices, a four-eyed man, a Titanic replica made from more than 1 million matchsticks, and even some Louis Tussaud's waxworks.
If you're on the hunt for hands-on fun, you'll find loads of it. There's a laser maze challenge (where you feel like you're breaking into some bank in a 90s movie), a 9D simulator ride (I didn't think 9 dimensions existed, but there ya go!), and a spooky walk-through haunted house.
It's a fun-filled combo featuring a range of spooky, pretty and unusual attractions, and even teenagers will enjoy the creepier and kookier stuff.
Be warned though: the 7 different zones all have separate entry fees, ranging from 250 baht to 525 baht per person per section. So unless you're a millionaire, you'll just want to choose 1 or 2 of the attractions.
14. Make Some Finny Friends at Underwater World
If you correctly guessed that Pattaya's Underwater World is an aquarium, give yourself a pat on the back.
Admittedly, this isn't the best aquarium in the world. It's a little dated, a little small, and a little smelly (I blame the fish). But unless your kids are underwater aficionados, they're still gonna enjoy the place.
Inside, you'll find shark dives, a 100-meter (330-feet) underwater tunnel, live feeding, an anti-gravity tank, coral reefs, a touch pool, a reptile zone, and a load of varied creatures and critters. Some exhibits focus on local marine life, while some are a bit more general.
Aside from all the fish, you'll also see snakes, lizards, turtles, and more.
For young kids who like animals, I definitely recommend this one.
If you book online, the tickets are way cheaper.
15. Do Some Two-Wheeled Exploring
Last up, something for active kids.
Pattaya is a pretty underrated place to cycle, and I've hit loads of bike rides in and around various parts of the place.
If you want to rent a bike in the city, the best place I know of is in Jomtien, at 'Pattaya Rent a Car.' They're (obviously, if you've read the name) more famous for renting out cars, but they have around 10 or so decent bicycles, of different sizes and types.
Rent a bike here, and you can cycle north or south along the coast. In both directions, roads and cycle tracks stick pretty close to the shore for at least a few kilometers. And as I've mentioned, another option is to cycle around Koh Larn.
But the best family-friendly place to ride your bike is around the entire perimeter of Map Phrachan, a reservoir sitting outside the city center. It's a flat, pretty, and varied ride, and you'll find loads of nice views, and places to eat and drink.
The best bike rental store I know of is Cycle Hub, which sits on the eastern side of the reservoir. So catch a taxi, and start your ride from there.
Being a Digital Nomad: Tips, Tricks and Places
Do you want to be a digital nomad?
If you do, maybe you don't know where you might want to live. Or how to live there. Or whether you need a visa. Or how to make friends in the scary sprawl of a brand-new city. Or how to stay productive while you travel. Or how to find an apartment. Or whether this lifestyle really is for you. Or… I'm sure you get the idea.
But with some insight and experience, it's not as difficult as you think. So in this book, I've gathered my 6 years of digital-nomadding experience… and I've used it to answer all your questions, soothe all your fears, and get you on your way. After reading this, you'll realise being a digital nomad is much easier (and much more possible!) than you think.