10 Best Islands to Visit in Alaska for Unforgettable Adventures
When you think of island-hopping, it is probably Greece or the Caribbean that comes to mind. However, you can absolutely go island hopping in the Last Frontier — you just need to pack warmer clothes!
Alaska's islands are some of the world's most pristine landscapes, and they offer a challenging but stunning playground for daring visitors. Visitors to these islands will enjoy sandy beaches, breathtaking landscapes, volcanic structures, and many outdoor activities.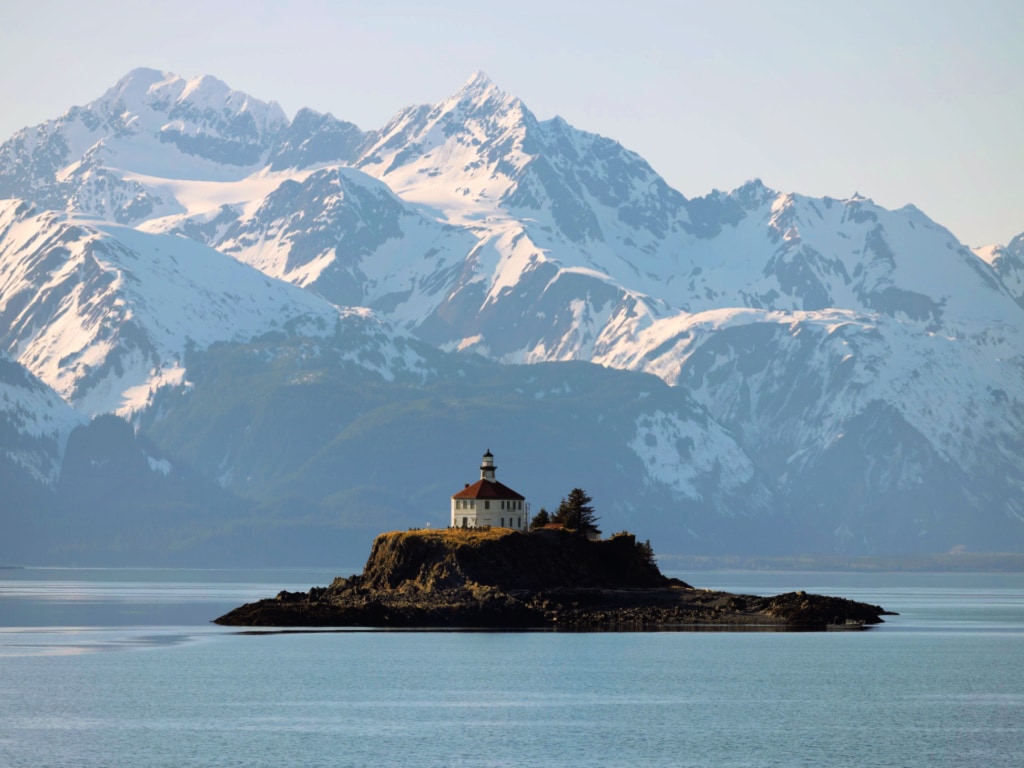 1. Kodiak
Kodiak Island — Alaska's largest island and the second-largest island in the country — has a total area of 3,670 square miles and a length of more than 100 miles. Kodiak, often known as the Emerald Isle, is a popular destination for nature lovers due to its lush terrain and numerous outdoor activities.
A connecting flight through Anchorage is the shortest method to travel to Kodiak. There are numerous flights a day, and it takes roughly an hour to fly from Anchorage. If you have more time on your hands and want to take the scenic route, ride on the Alaska Marine Highway System's state ferry in Homer. The travel from Homer to Kodiak can take a full day or overnight, depending on the ferry timetable. You can either drive or stroll on the ferry.
Kodiak boasts the largest fishing port in the state. Commercial fishing is vital to the local economy. Adventurers visit Kodiak to see the legendary Kodiak brown bear making tourism significant as well. Salmon, halibut, Kodiak bear, and Sitka deer draw hunters and anglers to the area in droves. Visitors also come for the Kodiak National Species Refuge, which protects a wide range of wildlife on Kodiak Island.
I lived on Kodiak for five years as a kid, and it is one of the most beautiful places I've ever experienced. Every day on the island is filled with bald eagles, majestic mountain views, and Alaskan charm.
2. Adak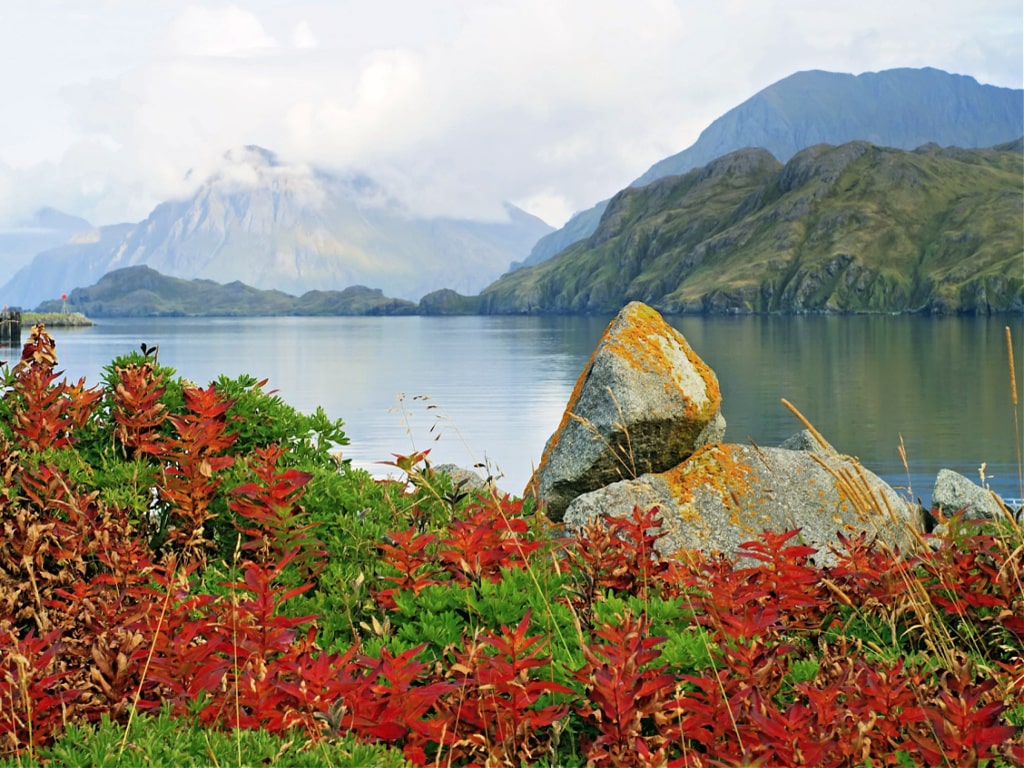 Adak Island can be found off the coast of Alaska, near the Andrean of Islands group of the Aleutian Islands. It is the 25th largest island in the United States, with a land area of 274.59 square miles, and home to Adak, Alaska's southernmost town. Alaska Airlines makes the four-hour flight to Adak twice a week, and the majority of 400-ish visitors come for caribou hunting or birding.
Adak vegetation is predominantly tundra at the lower elevations because of severe winds, frequent cloud cover, and frigid temperatures. Mount Moffett, at 3,924 feet, is the highest point on the island, located towards the northwest edge.
During WWII, Adak, which was home to the Aleut people, became a US Army airbase to ward against a feared Japanese invasion of Alaska. Due to its proximity to Russia, the site was ultimately transferred to the Navy and remained a critical base and submarine monitoring hub during the Cold War.
In 1980, the island's southern section became the Alaska Maritime National Wildlife Refuge. Although recreational activities like hiking, camping, fishing, beachcombing, and bird and animal viewing are encouraged, the lands are managed to conserve fish and wildlife and their habitats. Caribou hunting is also permitted. There are no roads in refuge territory, and ATVs are not permitted, so access can be difficult.
Before traveling to Adak, it is highly suggested that you get Medivac evacuation insurance because medical facilities on the island are limited. Emergency medical evacuation from Adak into Anchorage can cost tens of thousands of dollars.
3. Fox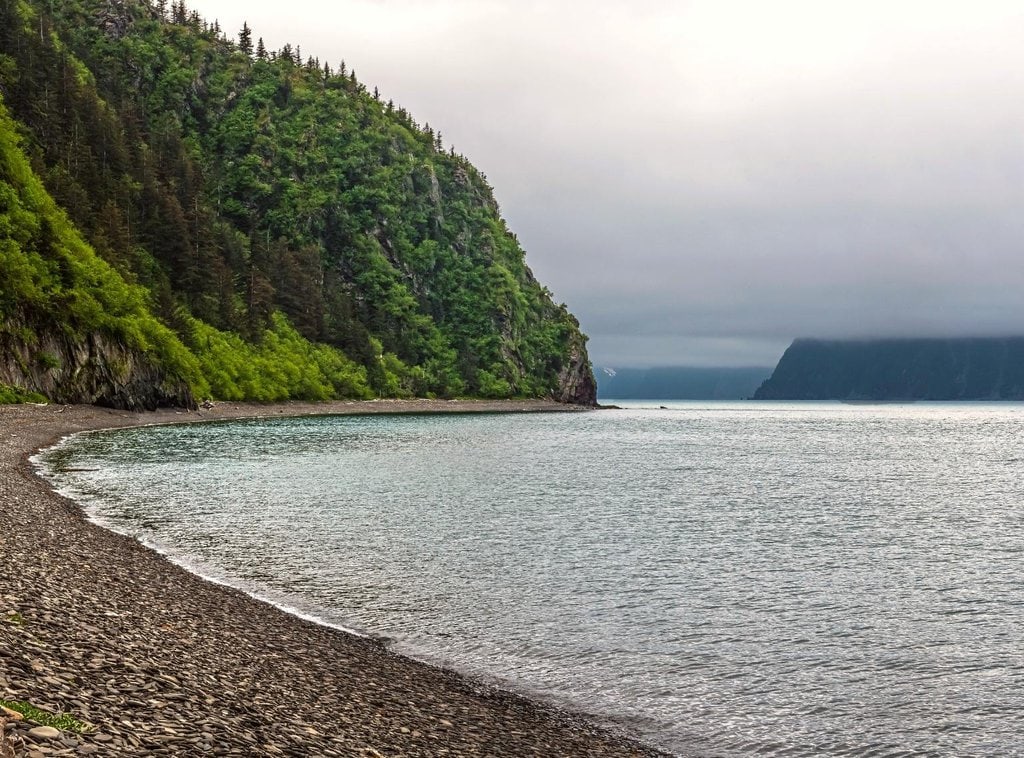 Fox Island is a small island off the coast of Seward in Resurrection Bay. The island is 3.4 miles long and two miles wide, and it is primarily mountainous, with three peaks and the saddles that connect them. A spit has formed on its east side due to the remnants of a glacial moraine.
In the summer, Fox Island is a popular spot for kayaking, camping, and hiking, and it has two resorts on its shoreline. Sandspit Point State Marine Park and Sunny Cove State Marine Park are two state parks located on the island.
Fox Island in Resurrection Bay feels blissfully secluded despite being only 12 miles from Seward. The only way to get to the island is by boat. Upon arrival, you can go beachcombing, learn about the island's wildlife from a park ranger, or shop for souvenirs.
If you want to stick around for a while, consider a stay at the Kenai Fjords Wilderness Lodge. The lodge offers an entirely unplugged, high-end experience with no TVs or phones. All-inclusive packages include a private waterfront cabin, delicious meals, and guided hiking tours. The lodge books up, so make your reservations early!
4. Pennock
Pennock is a little island off the coast of Alaska, located near the town of Ketchikan. The island belongs to the Alexander Archipelago and is part of the Ketchikan Gateway Borough.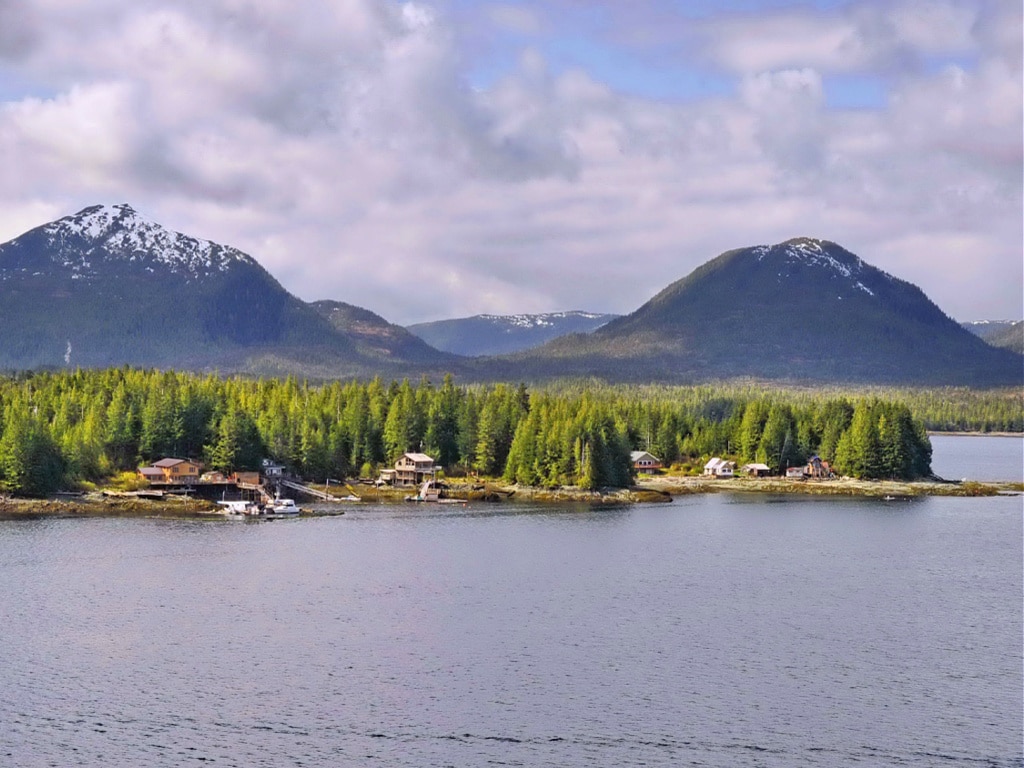 The Tongass National Forest manages the majority of the island as public land. The narrow island is three-mile-long and separates the Tongass Narrows' east and west channels between the considerably larger islands of Revillagigedo and Gravina.
Captain W. E. George, a local pilot, named the island after Homer Pennock, a prospector who led a group of prospectors to the Cook Inlet area between 1900 and 1903.
Pennock Island is heavily wooded and mostly uninhabited, but a small town at Whiskey Cove is situated across from Ketchikan's Coast Guard base.
There's a lot of opportunity for excellent kayaking around Pennock Island. You can observe various activities such as seaplanes taking off and landing and views of the fishing boats entering the harbor.
The annual "Pennock Island Challenge" swim fundraising race, which began in 2004, takes place around Pennock Island. The racecourse winds its way around the mountainous island for 8.2 miles in a circular path. Solo races, relay races, wet suit and non-wetsuit teams are among the events. The racers are cold water experts since the water temperature is between 55 and 60 degrees Fahrenheit.
5. Baranof
Baranof Island can be found in the Alexander Archipelago in Alaska's Panhandle. Brown bears and Sitka deer are found in high numbers. Fishing, seafood processing, and tourism are the main industries. With a surface area of 4,162 square kilometers and a population of fewer than 9,000 people, it is the smallest of Alaska's islands.
The majority of Baranof Island is within the Tongass National Forest, and it is home to the Alexander Archipelago's largest mountain, Mount Alexander.
Baranof Island was named after Alexander Andreyevich Baranov, the first governor of Russian Alaska, by a captain of the Imperial Russian Navy in 1805. Baranov was a top manager of the important Russian-American Company which controlled the region's fur trade. The native Tlingit people, on the other hand, call it Sheet'-ká X'áat'l or just Shee.
I've spent considerable time in the town of Sitka, located on Baranof Island, hiking in magnificent lush forests and wandering the picturesque main street.
There are also opportunities to interact with grizzly bears, view bald eagles, and go humpback whale watching from Baranof. Sea kayaking in the calm of secluded mountain-lined bays and inlets is also an excellent way to spend a few hours.
6. Unga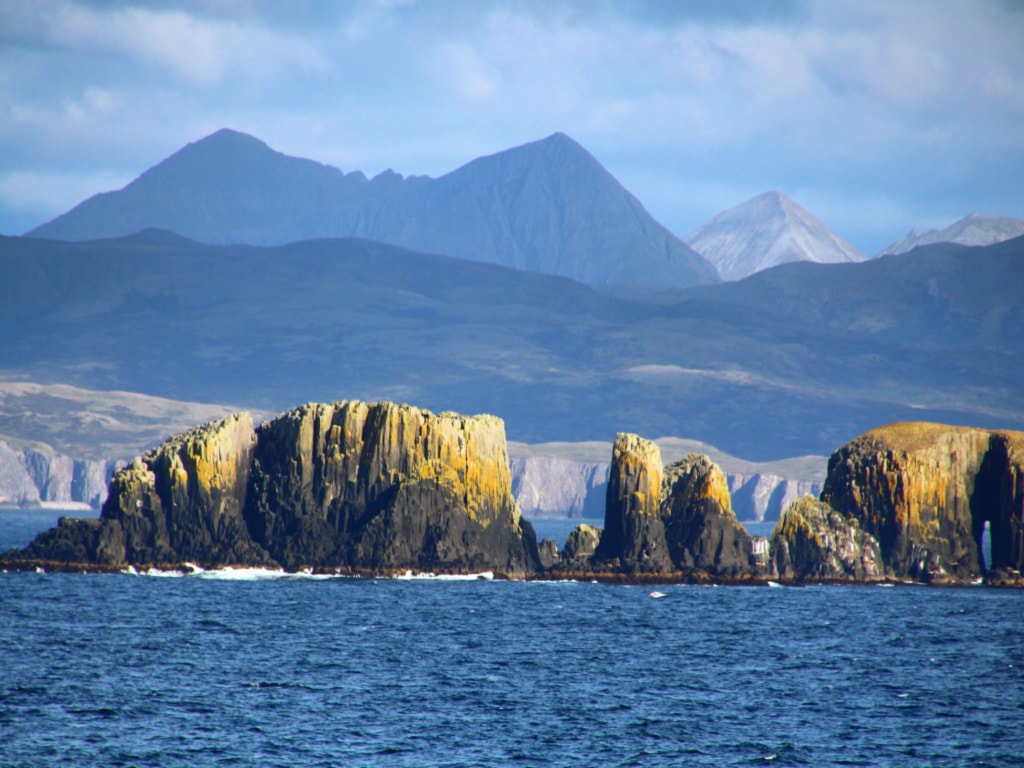 The largest of the Shumagin Islands, Unga Island is located off the coast of Alaska's southwestern peninsula. The island is the 36th largest island in the United States, with a land area of 170.73 square miles. The National Park Service listed Unga Island as a National Natural Landmark in 1968.
Unga Island was once known as Grekodelarovskoe after Greek explorer Evstratii Ivanovich Delarov, who explored the area for the Russian-American Company in the late 1800s.
Despite being uninhabited, the island is a popular day-trip destination because it contains a rare petrified forest, one of the Aleutians' most notable abandoned villages, and the remains of a gold mine.
Sand Point is a beautiful region that attracts hikers due to its lack of bears. The island is reached by boat from Popof Island, where the area's principal settlement, Sand Point, is located on the northwest shore.
Birdwatching is also a very popular draw to the island, which is home to a variety of bird species such as eagles, puffins, cormorants, and kittiwakes.
7. Sebree
​Sebree Island is a small island in Glacier Bay's Muir Inlet. It is named after Rear Admiral Uriel Sebree, a United States Navy commander and the Governor of American Samoa.
Sebree Island is a popular place for drop-off sea kayaking and overnight camping, with Muir Inlet to the east and Tlingit Point to the west. A charter boat or private vessel can is needed to get you to the island. Day excursions are usually available from Hoonah.
The broad range of avian visitors to Sebree Island attracts a lot of birdwatchers. Surf Scoter, White-winged Scoter, Black Oystercatcher, Pigeon Guillemot, Marbled Murrelet, Kittlitz's Murrelet, Tufted Puffin, Horned Puffin, Black-legged Kittiwake, and other birds have been seen frequently.
8. Chichagof
Chichagof Island is located directly north of Baranof Island, separated by Peril Strait. It is bordered on the east by Chatham Strait, on the northeast by Icy Strait, on the northwest by Cross Sound, and on the west by the Gulf of Alaska.
With a surface area of 2,048.61 square miles, a length of 75 miles, and a width of 50 miles, it is the fifth-largest island in the United States and the 109th largest island in the world. It has 742 miles of coastline.
Admiral Vasili Chichagov, a Russian Arctic explorer who never visited Alaska, was honored with the naming of this island. Chichagof sits entirely within the Tongass National Forest, and the West Chichagof-Yakobi Wilderness has been formally designated along the western shore.
Visitors can explore the rugged landscape of the Tongass National Forest for a once-in-a-lifetime adventure. Chichagof Island boasts the most bears per square mile of anywhere on the planet. Packages for watching grizzly bears from a seaplane are pretty popular.
9. Unimak
Unimak Island is the biggest in the Aleutian Chain. It is the ninth largest island in the United States and the 134th largest island globally, with a total size of 1,571.41 square miles. Mount Shishaldin, one of the world's ten most active volcanoes, is located there.
910,000 acres of the island were declared as wilderness after the Alaska National Interest Lands Conservation Act was established in 1980. Part of the Alaska Maritime National Wildlife Refuge, the US Fish and Wildlife Service maintains the region.
It's one of the most stunning tourist spots in Alaska. Unimak Island has a fascinating history in addition to its beautiful surroundings. On the island's far eastern extremity, False Pass is home to about 60 people.
This region attracts many people who want to go fishing and hunting. Unimak's fertile volcanic soil, generated from its volcanoes, particularly Mount Shishaldin, supports a diverse array of plant and animal life, contributing to the size of the island's bear population.
10. Bogoslof
Bogoslof Island is at the top of an underwater stratovolcano. It is located 35 miles northwest of Unalaska Island in the Aleutian Islands group, on the southern margin of the Bering Sea. The island's highest point is 490 feet above sea level. It measures 1,040 meters in length and 1,512 meters in width. The 320-acre island is uninhabited.
Although the stratovolcano climbs 6,000 feet from the seabed, the peak is the only piece that rises above sea level. The island is thought to be relatively recent, with the volcano being completely submerged before 1796 and most of the island generated by eruptions before 1900.
Due to fog and weather, this island is difficult to reach. If you manage to make land, there are amazing opportunities to witness stellar sea lions and northern fur seals. The island is a breeding ground for some 50,000 murres, kittiwakes, and other marine birds. It's one of Alaska's top islands for wildlife photography!
Frequently Asked Questions
Island Hopping in the Last Frontier
Whether you visit Kodiak, Sebree, or Pennock, your time spent exploring Alaska's islands will never be a waste. There is so much to learn regarding wildlife, history, and conservation! While there are plenty of other islands to explore, we think these 10 should be added to everyone's travel list.