The Best Day Trips From Bangkok
Bangkok is the largest city in Thailand and the most visited city in the world, it also has more than enough attractions to keep your days busy. Bangkok is home to culturally explorative temples and statues, world-class restaurants and accommodations, and many lively, exciting experiences.
However, if you only explore the city of Bangkok, you'll be missing out on many other exciting day trips around the central region of Thailand.
You can experience untouched nature, culturally significant locations, and even local markets. There are tons of locations within a short drive outside of the city smog with lots of attractions to ensure you make the most of the time around Bangkok.
The following article lists the best day trips from Bangkok and details information about the location and how to get there.
Let's discover!
1. Ayutthaya
Ayutthaya is located 80 km (50 miles) from Bangkok and is easily accessible from the big city. This city is famous for its historical attractions, like famous ruins and old temples, and cultural attractions like the floating market, or Bang Sai Royal Folk Art and Craft Center. There are plenty of attractions for any traveler looking to visit Ayutthaya, however its most famous attractions are the historic ruins.
Within the city center lies Ayuttaya's greatest attraction: the Ayutthaya Historical Park, which is recognized as a UNESCO World Heritage Site. On the site, you can wander through the ancient ruins of the old capital and 4 significant temples from the early 14th century. Just west of the Historical Park lies the Royal Palace and the Royal Chapel.
Ayutthaya is a must not miss for historical buffs, after all, it was the country's second capital after Sukhothai. The city has a relaxed atmosphere and provides an interesting perspective into the history of Thailand and the accompanying Buddhist spiritual beliefs.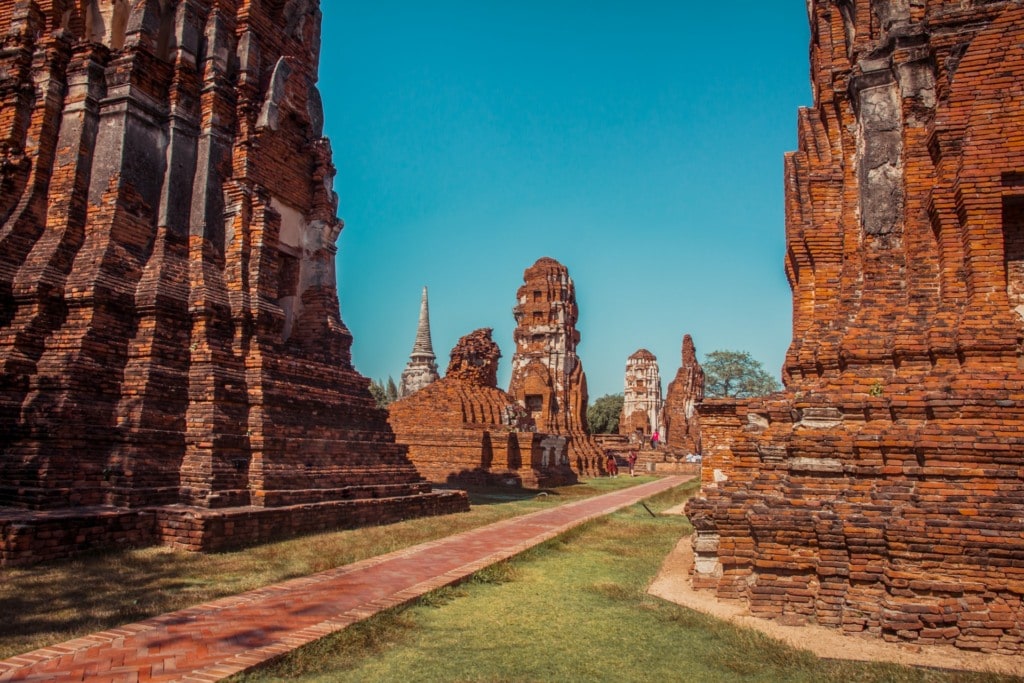 How to Get There
There are a few options for transportation to Ayutthaya: train, taxi, and bus. The best option is to take the train from Bangkok's Hualamphong Station. The train is about 2 hours to Ayutthaya and costs from 20-300 baht depending on what seats and services you choose.
The fastest transportation option and another cheap option to get to Ayutthaya is by public bus. Every 30 minutes, a bus leaves from Mo Chit Station. The journey is 90 minutes and costs only 60 baht per person.
Finally, the most expensive option is hiring a private taxi. Although this is the fastest mode of transportation to Ayutthaya it costs upwards of 1,000 baht.
What to Do Here
The main attraction to Ayutthaya is the Historical Park, however, there are plenty of other attractions and activities around. It is recommended to visit some of the less-visited temples like Wat Phra Ram, and Wat Ratchaburana. These temples offer a more private and intimate experience while exploring the ruins.
Recommended Tours
Ayutthaya Historical Park Tour
This is a basic tour of the Historical Park and the Royal Palace. The tour teaches not only about historical impacts but also about Buddhisms while you tour the famous Ayutthaya temples. You can even opt for visiting the floating market and Elephant Village as well.
Ayutthaya Temple Tour by River Boat From Bangkok
This tour is all-inclusive and takes you from Bangkok to Ayutthaya and back via river cruise. The river cruise runs along the Chao Phraya and offers a close view to the adjacent buildings lining the river, including several temples. This is an ideal relaxing day trip without the hassle of coordinating travel plans.
2. Damnoen Saduak Floating Market, Ratchaburi
The Damnoen Saduak Floating Market is known to be one of Thailand's best and most popular floating markets. It makes for a fun one day trip away from Bangkok.
The market is located 100 km (62 miles) southwest of Bangkok but is often found as a tour option, ensuring easy travel to the location. Many tour agencies will include a trip to the popular Rose Garden as it is relatively close and serves as a good stopping point.
When arriving at the floating market, you will notice immediately how lively the location is!
The scene is bustling with tourists and those selling on the river. The "river hawkers" are usually dressed in traditional costumes selling fruits, handicrafts, and even flowers.
But it might unfortunately very difficult to get a sense of the local market due to the large amounts of tourist crowds. To get the most authentic view of the market, it is recommended that you arrive early in the morning to see the local people preparing and going on with their lives before the mass amounts of tourists arrive.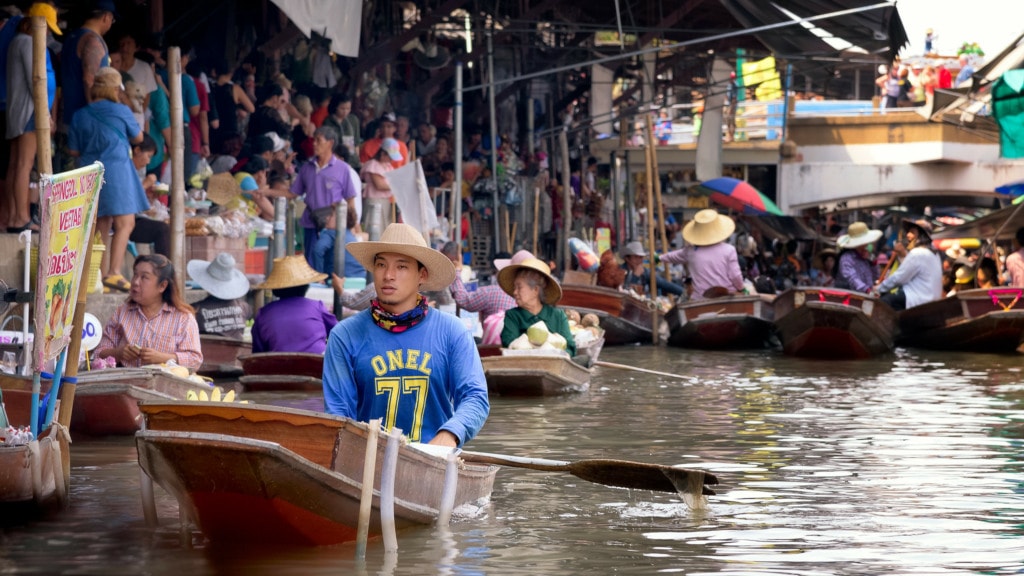 How to Get There
The easiest and most convenient way to get to Damnoen Saduak is via tour group, however, this grants you very little freedom from the timed schedule.
You can also take a public bus from Bangkok's Southern Bus Terminal taking you to Damnoen Saduak. These buses leave every 40 minutes and start as early as 6 am. The usual fare is 50 baht and will take you as far as 1 km before the floating market. From the drop off point, you must hire a boat to get to the market.
What to Do Here
The best activity is to hire a long-tail boat and explore the market from the water. You can hop on and off as you'd like to explore the market stalls along the water. This unique experience gives you a first-hand experience of the famous market where you can interact with locals and support their handicrafts or farming.
Recommended Tours
Damnoen Saduak Floating Market Full-Day Tour
This tour offers pick up from a designated location and drop off. The tour offers a visit to Maeklong Railway, Longboben Temple, and finally at the Damnoen Saduak Floating Market. The tour offers a guided experience of the attraction, or the option to lead your own experience and meet with the group at a later time.
Half-Day Trip to Damnoen Saduak Market
This tour also offers pick up and dropoff from Bangkok, but offers a shorter half-day tour. The tour will take you around the market to try delicious local foods, and gaze upon the souvenir stalls. This tour gives you a unique experience of both the Damnoen Saduak Market and the Chatuchak Weekend Market.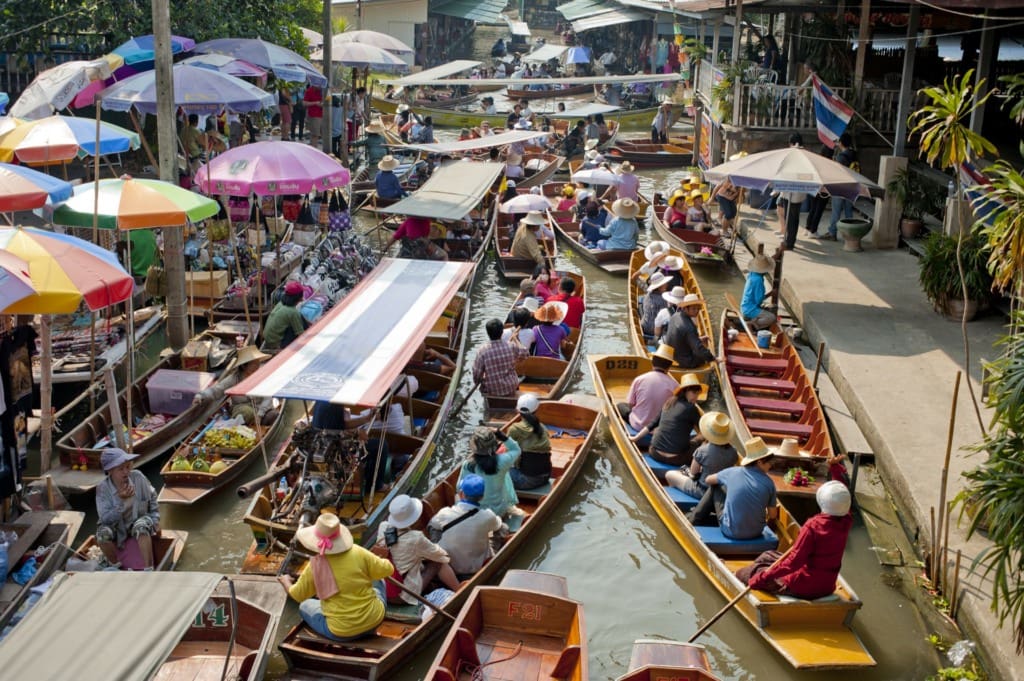 3. DreamWorld
DreamWorld is an amusement park located just 40 km (25 miles) from Bangkok. This theme park is one of the most popular in all of Thailand and is the perfect experience for friends and families. When arriving at DreamWorld you will find many different rides, roller coasters, and game experiences. There are 4 different zones to the park, with lots to explore and tons of great photo opportunities.
The ticket to DreamWorld covers all rides and experiences. There are no further fees except food and drink once inside. There are even characters around the park that do meet and greets as well! DreamWorld is a unique experience for those looking to have some fun on their vacation.
It closely resembles Disney World with its layout of zones, adventure options, rides, and characters. It is one of the few amusement parks and has the most rides in all of Thailand. Whether you are a family, group of friends or thrill-seekers, DreamWorld is the perfect day trip for you.
How to Get There
The cheapest way to get to DreamWorld from Bangkok is by public bus. If you begin at Siam Paragon Shopping Mall, take the BTS line Sukhumvit towards Victory Monument. Once arrived, look for bus 538 towards Don Muang and Rachamonkolk. This will take you to DreamWorld on the way.
The other option is to hire a taxi for around $15. Depending on where in the city you depart from, the fare could be a bit more or less expensive. This is the easiest and safest way to get there.
What to Do Here
DreamWorld is home to many different adventures, rides, character exhibits, and photo opportunities. There are activities for guests of all ages and you are guaranteed to find something you'll love here. The best thing to do at DreamWorld is explore!
Recommended Tours
Full-Day at DreamWorld, with Pickup and Drop Off
The tour offers pickup and drop off at your hotel in Bangkok making it one of the most convenient for transportation. Everything is included in the price of the tour, including tickets and lunch! Although, this tour is not much more than a transportation service. Once arriving at DreamWorld the company lets you run wild through the park until pick up at 5:30.
Day Tour of DreamWorld and SnowTown
This tour is another convenient option offering pickup and drop off at your hotel located in Bangkok. This tour is unique because it offers a guaranteed entrance to the popular attraction SnowTown, which often becomes crowded during high season. Everything is included with this tour, including tickets and lunch.
4. Elephant World Sanctuary
Unfortunately, a lot of people come to Thailand with the intent to ride one of these gentle giants, without the knowledge of the pain the sentient being must go through…
We do not endorse riding elephants. Instead, take a visit to an Elephant Sanctuary.
At these sanctuaries the elephants are well taken care of with land to roam, plenty of food to eat, and love from the many volunteers. Elephant sanctuaries give you the opportunity to feed, play, and even bathe these beautiful beings without causing them any harm, and allowing you to create a loving bond.
The Elephant World Sanctuary is located just over 2 hours from Bangkok. This sanctuary not only offers elephant experiences but also wants to educate the visitors about elephants, and elephant culture in Thailand.
There are several programs offered here, ranging from a short day trip to a week-long experience. The goal of this program is to increase education and make the program enjoyable while teaching about the importance of conservation.
This is a must not miss experience for any animal lover!
How to Get There
The best way to get to Elephants World Sanctuary is by booking a tour with pick up and drop off, however it is possible to book your own transportation by taxi. Expect a hefty price in the taxi because the location is quite far from Bangkok. For some of our recommended tour options with pick up and drop off, please check below.
Recommended Tours
This tour option will pick you up from your hotel in Bangkok and drop you off the following Day. This tour gives you the option of getting up close with the elephants, preparing their food, and playing in the river with them. The volunteer will also educate about the history of the sanctuary and the local wildlife, and even about the history of elephants in Thai culture. You will spend the night in a cozy hut accommodation.
This is a tour booked through the official sanctuary website. It offers no pick-up or drop off, but does guarantee a full week of elephant experience. You will not only prepare their food, bathe them, and learn about them but also work hard to better the sanctuary. This program is perfect for hardcore animal lovers and activists that want to better the lives of these beautiful creatures.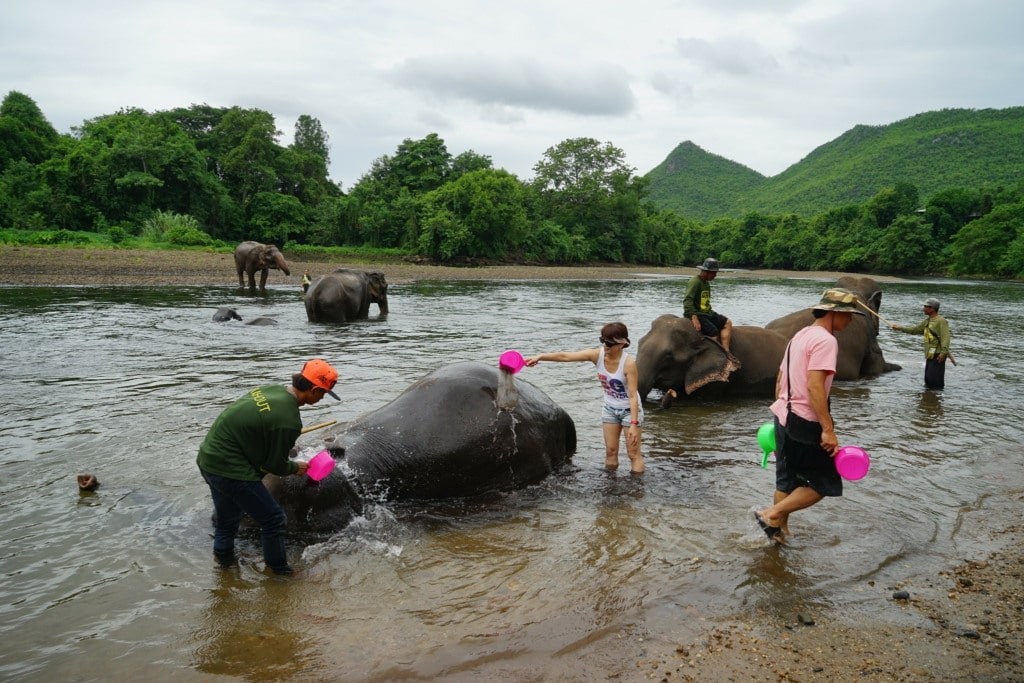 5. Hua Hin
Hua Hin is located 200 km (124 miles) from Bangkok and makes for the perfect day trip to the beach.
This is a popular seaside location for many locals and Thai tourists alike, however, it remains off the beaten path for Western tourists.
The location is characterized by its white sandy beaches lined by palm trees and clear blue waters and by the city's high rise hotels. There are plenty of high-class restaurants, shopping opportunities, and accommodation options here.
Beyond spending the day at the beach, there are plenty of attractions in Hua Hin including theme and water parks, shopping malls, and even art exhibits.
Hua Hin is the perfect location for those looking to have a bit of a luxury escape from Bangkok to enjoy amazing weather at the beach. A trip to this beach town is also a perfect escape from the masses of western tourists to see authentic Thai vacation life.
How to Get There
There are plenty of transportation options to get to Hua Hin, but the most convenient and fair are by bus and train.
The Roong Rueang Bus leaves from Bangkok Airport and arrives at Hua Hin in 3 hours. The ticket price is around 200 baht. Buses leave as early as 6 am, but do not run during the night hours (there is also an option for a minibus that tends to be a bit cheaper).
The cheapest option of travel is via train. The price depends on what type of car you choose with what services, but generally runs between 120-300 baht. This form of transportation takes 5 hours but offers a scenic view.
What to Do Here
A popular event in Hua Hin is exploring the Night Market. This night market is similar to most Thai markets – with locals selling their various souvenirs, handicrafts, and street foods. The market is located in the center of the town, and the entirety of the nightlife gravitates here to explore, eat, and shop.
Recommended Tours
Vana Nava is one of Thailand's most popular water parks, and is the perfect day trip to escape the heat and smog of Bangkok. You are responsible for arriving at Hua Hin and there are no hotel transfer services. There are over 20 different rides, shopping, and swimming opportunities within the park.
Full-Day Tour of Sam Roi Yod National Park
This tour offers pick up and drop off from Hua Hin and takes you to explore the Sam Roi Yod National Park, only an hour south from Hua Hin. This tour offers a complete tour of the natural wonders that you can complete at your own pace. This tour offers amazing viewpoints, cave exploration, local Thai lunch, and even free time to swim at the park's beaches.
6. Kanchanaburi
Kanchanaburi is located just 100 km (62 miles) outside of Bangkok. Kanchanaburi is home to beautiful attractions like the River Kwai and the famous Erawan National Park, but it is also known for its tragic history.
Prisoners of war were taken advantage of during World War II here. Under the Japanese army, the prisoners were forced to build what is now known as the Death Railway – a railroad from Thailand to Myanmar. Many tourists are attracted to this destination for the historical aspects and come to visit the museums, pay their respects, and see the Death Railway.
Other tourists are attracted to this area for the lush nature the area has to offer. Besides the beautiful river and lagoon, Kanchanaburi is home to Erawan National Park and its famous 7-tier waterfall. There is an abundance of nature trails, waterfalls, and caves to explore in the park. No matter what attracts you to visit Kanchanaburi, you will surely find something to love.
How to Get There
The easiest and most convenient way to get to Kanchanaburi is by public bus. Buses depart from the Sai Tai Mai Terminal (Southern Terminal) from 4:00-22:00 and the price is 110 baht. You have the option of taking a minibus for a slight amount more. The mini buses depart from the same area and timeframe for 120 baht.
You can also get to Kanchanaburi by train, leaving at 8:00 and 14:00 from Thonburi Station (Bangkok Noi) in Bangkok. Although this is the slowest form of transportation, taking upwards of 3 hours, the fare is about 100 baht.
What to Do Here
The most popular activity in Kanchanaburi is riding the Death Railway. Many tourists come from around the world to attend the museum and ride the train. The trip offers breathtaking views and an inside look into the tragic history of Kanchanaburi. It is recommended to book tickets in advance, for the train can book up fast. After experiencing the railway, you can pay your respects at the nearby war cemetery.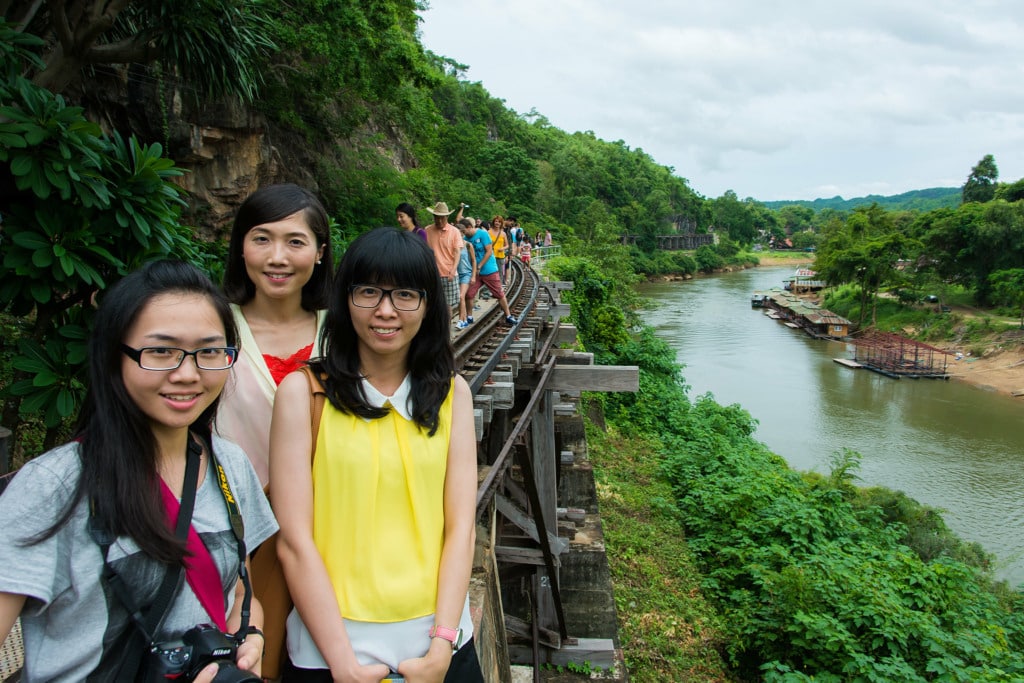 Recommended Tours
Private Erawan National Park Tour From Bangkok
This tour offers convenient transportation with pick up and dropoff in Bangkok. The tour offers to visit several of Kanchanaburi's highlight attractions including the bridge over the River Kwai, Erawan Waterfall, and Krasae Buddha Cave. The tour also includes a ride on the Death Railway.
This is a cheaper tour option from Kanchanaburi. The tour offers pickup and dropoff from a specified location within the town, and is all-inclusive. The tour will take you to Erawan Waterfall and afterwards will provide kayaks to explore down the river Kwai.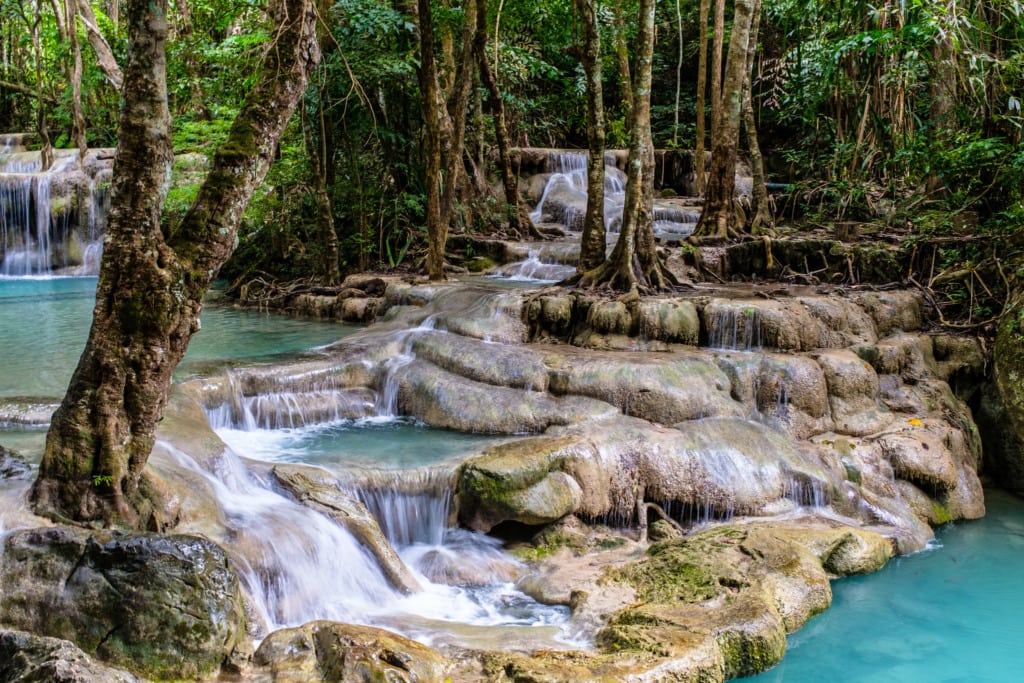 7. Khao Yai (National Park)
A visit to Khao Yai is one of the longer day trips from Bangkok- but is a must-see for nature lovers. The journey takes about 3 hours on average and is 120 km (75 miles) from Bangkok. The town of Khao Yai is a sleepy gem, with very few visitors and only a few attractions. This town gives an authentic look into Thai local life and the local flora and fauna.
Khao Yai is a quirky town with interesting attractions like various themed hotels and cafes. But the main attraction in Khao Yai is the national park. The national park is the first established in Thailand and is also the third-largest. You can find various hiking and biking trails all throughout the park leading to the various viewpoints, waterfalls, and caves.
It is one of the best places in all of Thailand to view animals in their natural habitat. The park is home to gibbons, elephants, sun bears, and hornbills among many other indigenous animals. The Khao Yai National Park is the perfect day trip for nature lovers looking to escape the harsh city life in Bangkok.
How to Get There
The easiest way to get to Khao Yai is by taking the bus to the nearby town of Pak Chong. There are a few buses that leave from the Mo Chit Bus Station in Bangkok every few hours. The journey will take about 3 hours to Pak Chong and will cost from 150-200 baht. If you are staying in a guesthouse, most will arrange your pick up, however, if not- you will need to organize a taxi into Khao Yai.
To get to the park, it is easiest to book a tour or find your own transportation via songthaew or tuk-tuk.
What to Do Here
The most popular attraction in Khao Yai is the National Park, and with good reason. There are plenty of beautiful nature treks, swimming holes, and opportunities to witness the rare uncut wildlife in Thailand. It is recommended to visit the Haew Suwat Waterfall, Haew Narok Waterfall, and the Pha Diew Die Viewpoint.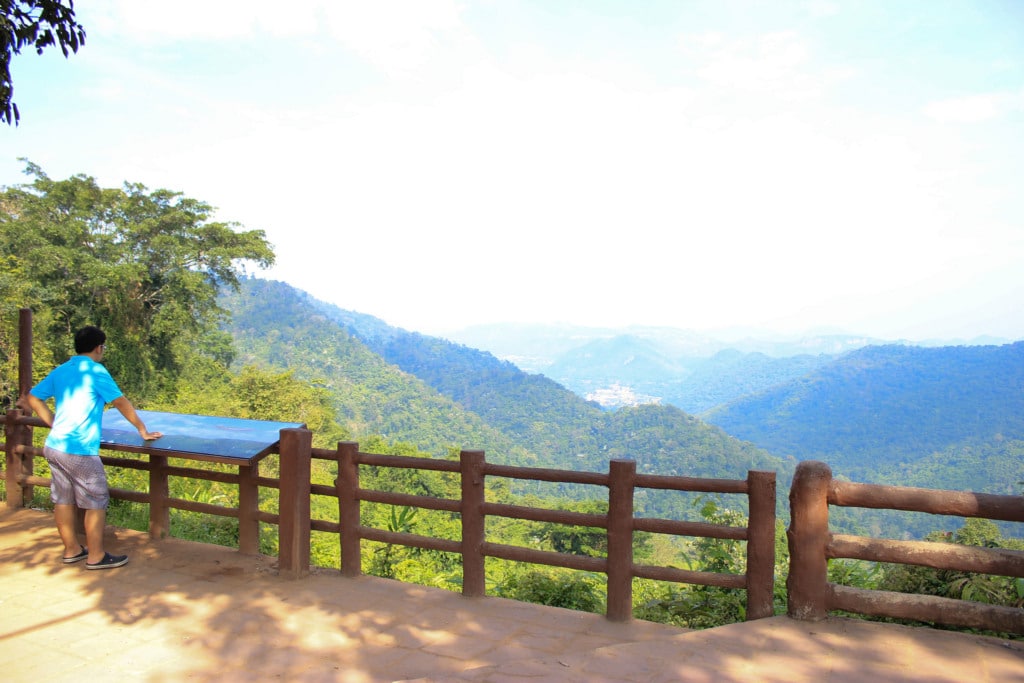 Recommended Tours
This tour offers hotel pick up and drop off from Bangkok and shows only small portions of Khao Yai. This is recommended for those looking for a short day trip and not looking to explore Khao Yai National Park in its entirety. The tour takes you to various attractions including the National Park, but only allows for a short time of exploration.
Full-Day in Khao Yai & Thai Cooking
This tour combines a full day in the Khao Yai National Park with a Thai cooking class. You will prepare and eat a 5 course Thai meal, and then walk to a beautiful waterfall in the National Park. This tour is a great way to escape Bangkok for culture, nature, and good food.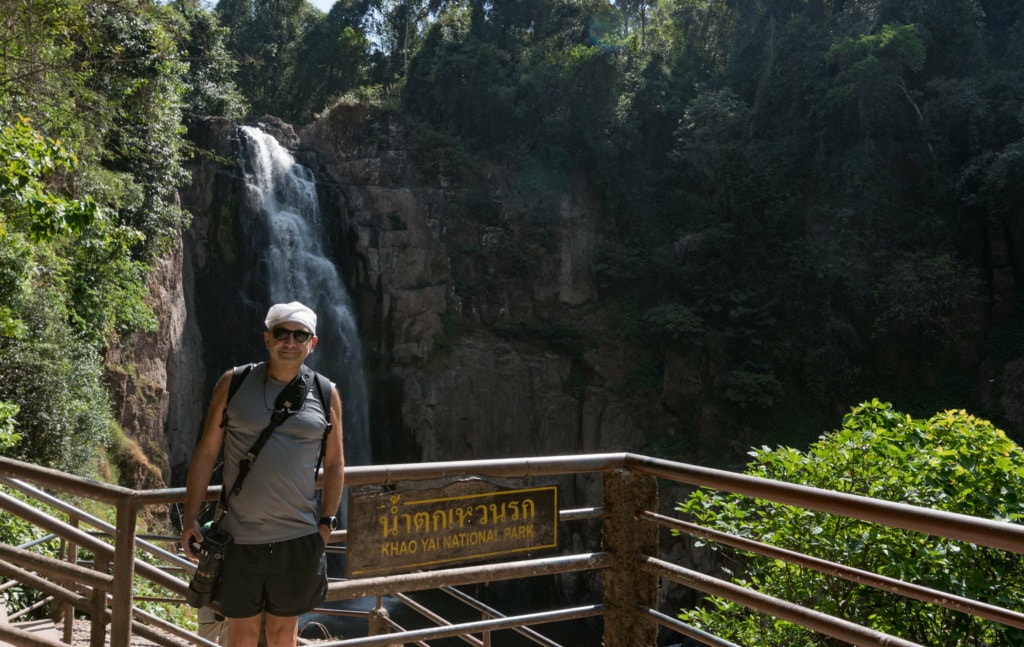 8. Koh Si Chang
Koh Si Chang is located 12 km (7 miles) off the shore, and 74 km (46 miles) from Bangkok. The island is one of the lesser-known islands and even less visited. This island is not known for having the nieces beaches but is unique for its dense history and culture. The island was once used as the vacation getaway of King Rama IV, V, and VI. You can visit the remains of the palace and visit an informational museum here.
You can also visit the San Jao Phaw Khao Yai temple. It is a multi-level temple sitting high upon a cliff looking out over breathtaking views of the sea and the mainland. From here you can venture further to Buddha's Footprint and Lookout. This is a sacred space to inform the spirits of your presence according to local beliefs.
Although the island is not specifically noted for its beaches, the island has many small beaches that are calm and untouched by many tourists.
It is best to steer clear of Taam Phang Beach for it is the most commercialized and crowded beach on the island. A trip to Koh Si Chang is one of the most beautiful beach locations within reach of Bangkok and makes for a nice island escape.
How to Get There
The easiest and most convenient way to get to Koh Si Chang is by public bus and transferring to a ferry. Take a public bus from Mo Chit Station or Ekamai Station, both will have buses leaving hourly to Sri Racha. The journey will be about 2 hours. From Sri Racha, you will need to hire a tuk-tuk or songthaew to get you to the Ko Loy Pier where you will find ferries leaving hourly for Koh Si Chang. The ferry ride will take around 40 minutes.
What to Do Here
If you visit Koh Si Chang, check out the Phra Chudadhuj Palace in which the royal family used to vacation. This is the only island palace ever built in Thailand and is still well maintained. You can explore the historic palace and learn about the royal family from the museum. There is even a temple to visit on the grounds, and the best part is that entrance is free!
Recommended Tours
Day Tour of Koh Si Chang from Bangkok
This tour is a roundtrip from Bangkok, ensuring easy travel and good time management. The tour includes all fares and even covers lunch. This tour includes several attractions like Wat Tham Yai Prik and the Royal Palace. But, the tour also includes enough time for beach relaxation and swimming at some of the popular beaches.
Day Tour of Koh Si Chang from Pattaya
This tour offers a cheaper option of leaving from Pattaya, while still including a round trip transport and lunch. This is a smart option for budget travelers who can get themselves to Pattaya before visiting the island. The tour includes the same attractions like the Royal Palace, museum, and temples.
9. Nakhon Nayok
If you are looking to have a more authentic feel of Bangkok's local provinces, take a day trip to Nakhon Nayok. Nakhon Nayok is located about 2 hours and 120 km (75 miles) from Bangkok and is easily accessible through public transportation or by booking a tour. This countryside province is very rarely visited by tourists and is not very well known. You can explore the un-commercialized nature, uncrowded markets, and authentic Thai restaurants.
Nakhon Nayok does not have many ranging attractions, however, it is home to many natural parks. Some of the most popular attractions in the area include the Wang Takrai Park, Nang Rong Waterfall, and various beautiful temples like Wat Chulapornwararam. This quiet town has much to see and do and it is untainted by crowds. You can find many local people eager to make friends with you and show you around though!
Nakhon Nayak is one of the best places in Thailand for adventurers and adrenaline junkies. There are unique experiences catering exactly to this with whitewater rafting tours, trekking, and even quad-bike rides through the local nature. A day trip is just what the doctor ordered to get out of the smoggy city of Bangkok, and into the beautiful nature of Nakhon Nayok.
How to Get There
The best mode of transportation to get to Nakhon Nayok is by bus. You can easily catch a bus from the Mo Chit bus station. The buses leave once every hour. The bus journey will take roughly an hour and a half and cost around 150 baht. There is also the option of taking the train to Nong Nam Khao and then taking a taxi to Nakhon Nayok which will take roughly 2.5 hours.
What to Do Here
One of the best sights to visit on your day trip will be to Wat Chulapornwararam. This temple is built in the middle of bamboo groves, and it is known for its large archway of bamboo leading you to the small quiet temple. This site is a beautiful location to relax and research this cultural and historic site. If you are looking for something a little more adventurous, try some whitewater rafting! You will find several different tour groups and shops offering this unique experience.
Recommended Tours
This tour offers pickup and drop off from your hotel in Bangkok, making it the most convenient option for transportation. The tour includes a full day of adventuring in Nakhon Nayok. With adventures like ox-cart ride, ATV driving, and white water rafting you will surely enjoy your experience of the Thai countryside. The tour includes transportation and lunch.
This tour is based out of Nakhon Nayok and you will be responsible for your arrival. This tour offers a leisurely trekking opportunity unlike any touristic tour you've done before. They offer information about local flora and fauna and will guide you throughout the day. The tour is centered around a waterfall and they ensure you will have plenty of time to relax and play in the pool basin here. This is the ideal tour for those looking to experience nature the local way.
10. Pattaya
Pattaya is located just 147 km (91 miles) from Bangkok and makes for a perfect beach town day trip! Pattaya is already a popular tourist destination with many international travelers, making the city one of the busier places to visit.
The city was once a small fishing village but has been commercialized towards tourists with hotel complexes, shopping malls, nightclubs, and western catering restaurants. This city still has some ties to its old past seen through the Wat Phra Yai Temple and the Sanctuary of Truth.
But Pattaya is not known for its historic side, rather it is known for its luxury. Tourists flock to the picturesque beaches of Pattaya with its white sandy beaches and palm-tree lined coast. The streets come alive at night with parties, live music, and street food. The close proximity to Bangkok makes Pattaya an easy day trip beach destination, but the vibe of Pattaya may leave you wanting to stay more.
Make sure to follow some specific safety rules though, as some tourists might feel uncomfortable in the city if they're not prepared enough. Pattaya can indeed be quite the beast.
How to Get There
The route from Bangkok to Pattaya is heavily traveled, and the easiest, most popular route of transportation is via public bus. There are departures from Ekkamai BTS station, Mo Chit Bus Station, and the Southern Bus Station. The average price of a ticket for an air-conditioned bus is 120 baht. The length of the journey averages at 2 hours.
What to Do Here
Pattaya is a lively city with plenty to explore, but it is best known for its incredible nightlife. If you have the time to spend the night, it is highly recommended to check out the Pattaya Night Market. There is incredible street food, many vendors, and live music from the bars lining the streets. This is an incredible opportunity to make friends and enjoy the party scene that travelers tend to create. Remember to remain responsible though, Pattaya is known for petty theft.
Recommended Tours
This tour offers an escape from the crowded beaches of Pattaya with a half-day tour of the nearby Coral Islands (Koh Larn). The tour will drop you off at various spots around the island to encourage participation in activities like parasailing, snorkeling, fishing, and suntanning. You also have the option of opting out and spending your time relaxing in the beautiful nature along the island coast. Everything is included.
This tour is a full day of island exploration and snorkeling around Pattaya. The cruise offers pick up and drop off, and even has a buffet lunch on board. You will explore the islands of Koh Pai, Koh Rin, and Koh Ped. The snorkeling gear is provided, and you will experience a range of wildlife from monkeys to sea urchins and even lionfish.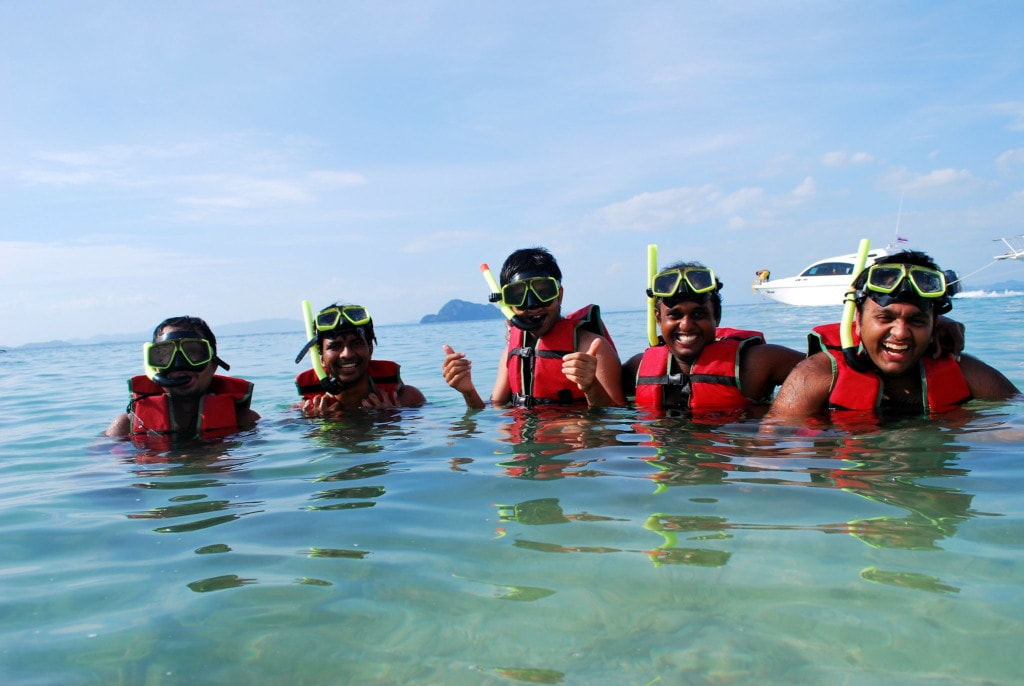 11. Samut Prakan (Ancient City)
Samut Prakan is located 32 km (20 miles) outside of Bangkok. Although it is known as the Ancient City, it was actually built in the mid-1900s. Samut Prakan is well preserved as one of the largest open-air museums. This "ancient city" is a miniature model of historic Thailand. Everything you can see today in Samut Prakan has been recreated in perfect detail using the old techniques from the ancient periods.
Many of the recreated structures, like Sanphet Prasat Palace, no longer exist in their original places due to destruction from wars, fires, or other natural disasters. The replica buildings were recreated under the guidance of Thailand's National Museum, meaning that even though these buildings are replicas, you will still experience the authentic monument.
This recreated city is a beautiful and concise exhibition of Thai architecture – with accompanying introduction to Thai history. The goal of this property is to preserve the Thai culture and heritage. The property even has over 80 yoga poses around the property with explanations and illustrations to demonstrate their purpose.
How to Get There
There are no public buses that run directly near. The most convenient way to reach Samut Prakan is by hiring a Taxi. Tell the driver you are headed to Muang Boran, Samut Prakan. The average cost should be about 600 baht as it can be quite a tedious drive out of the city.
What to Do Here
The best activity is to explore Samut Prakan. To get the best experience and full immersion, follow along with the meditation and yoga exercises. The plaques around the property cover various historical events, literary figures, markets, and other informational topics. Exploring the ancient buildings and surrounding meditation gardens can take the full day, so come prepared with water and a snack.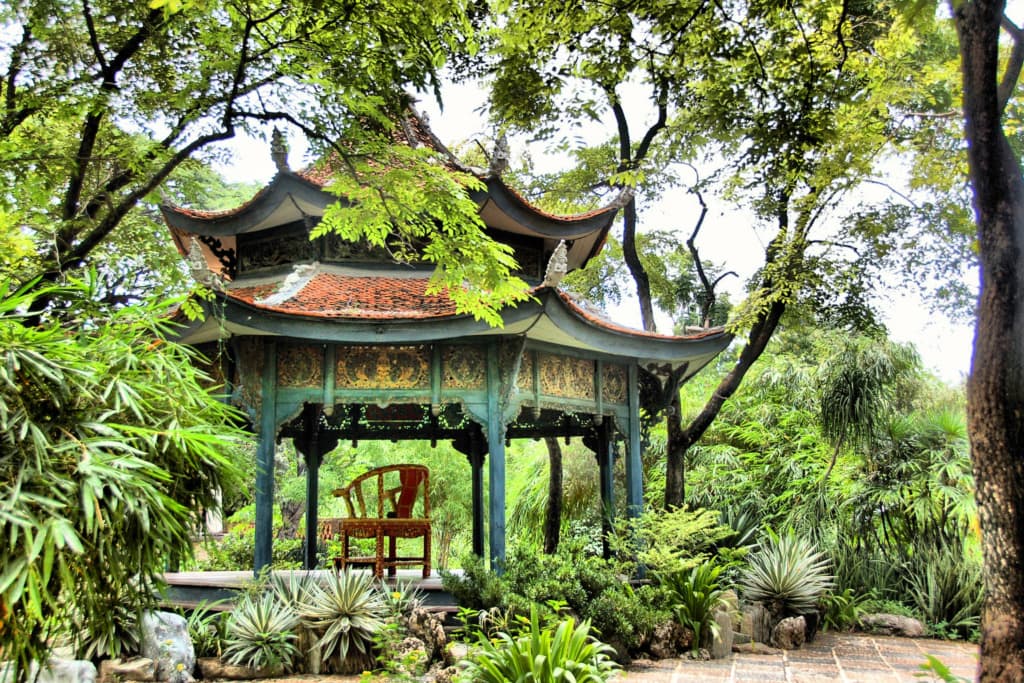 Recommended Tours
Muangboran Ancient City Museum Tour
This tour covers the whole of the 240-acre outdoor museum and covers 10 different eras in Thai history. You can explore the recreated temples, palaces, and ruins and even attend cultural performances and dances. The ticket includes bike hire, tram rides, and an audio guide through the museum.
Muangboran Ancient City Admission
This is simply the cost of admission to the open-air museum, however, it does offer the option of an audio tour. This option gives you as much time as you would like to explore and allows you to spend time where you would like. The audio tour is self-guided and allows for full immersion into the areas you are interested in.
Wrapping Up
Although Bangkok is a magical and exciting city, it can sometimes become a bit overwhelming. Many people book accommodation in Bangkok, only to realize they want to experience more than just the city life. Luckily, it is located near some amazing day trips options that any traveler will love!
If you find yourself short on time and can only take one day trip from Bangkok, be sure to visit Ayutthaya. It is highly advised to take a trip to Ayutthaya not only for the historical aspects, but to witness the lovely culture that stemmed from the country's past. The city is full of historical and cultural attractions and the beauty of the ruins in the Ayutthaya Historical Park will leave you speechless.
But no matter what day trip you decide is right for you, you are guaranteed to find something you love and make lasting lifetime memories!