Is Bangkok Safe? A Helpful Detailed Safety Guide
This guide will answer the famous question "is Bangkok safe?" for different kind of travelers. Then it will provide you with helpful and practical information and tips to enjoy your stay in Thailand's capital.
---
One of the most-visited cities in the world, busy Bangkok welcomed almost 23 million international tourists in 2019 (source). With a bustling nightlife, a huge heritage, and some of the world's most delectable street food, Bangkok has so much to offer. One of the most interesting cities on the planet, it's a madcap destination full of mayhem, chaos, and smiling faces.
With any big city – and Bangkok is a very big city – some tourists planning a trip are wary of staying safe. Though the city suffers from a little crime, it's actually a very safe destination. The vast majority of Bangkok's tourists experience absolutely no problems in the city.
But just like when you're visiting Pattaya or anywhere, there are some things you should do to stay safe.
In this article, we've given you all the advice and pointers you need to make sure your trip to Bangkok is completely safe. We've compiled lots of information to keep you happy, healthy and having fun.
For a fantastic, stress-free trip to Bangkok, we've got your back.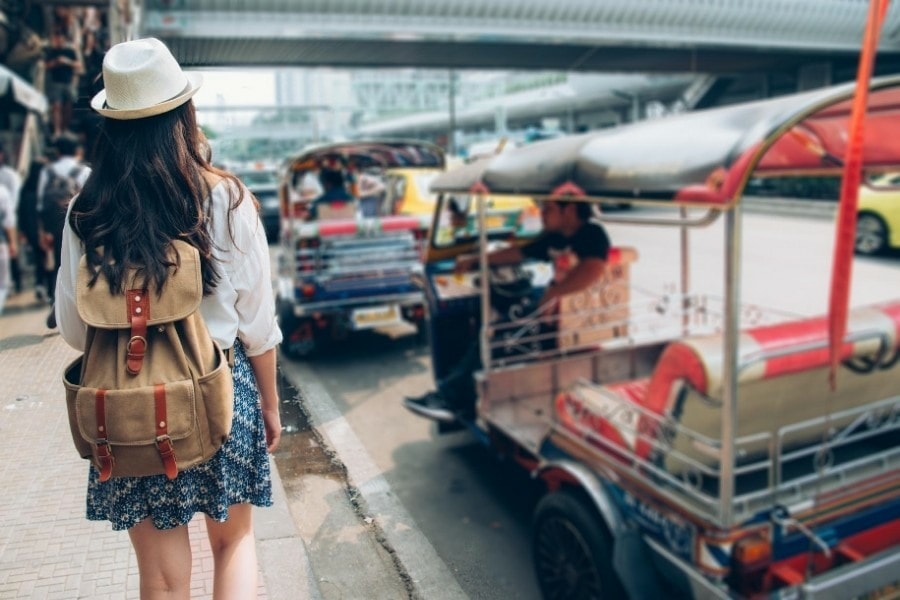 Is It Safe to Travel to Bangkok?
Yes, Bangkok is very safe and Thai people are very friendly. Also because tourism brings so much money to the city, the police and the government are keen to make sure that crime is low and tourists' visits are trouble-free.
The vast majority of these visits are fun and problem-free, incidents of violent crime against tourists are very low.
Yes, the city has experienced some problems in the past. A small number of tourists have experienced issues, and a small number of terrorist attacks have occurred in the city. But all big cities have these problems – and compared to most other cities of its size, Bangkok is relatively way more safe.
Though you should take caution and be vigilant while you're in Thailand's capital, there's nothing you should be overly concerned about. You'll have a brilliant time in one of the world's most brilliant cities!
Emergency Numbers in Bangkok
Here are all of the emergency numbers you need to know for Bangkok:
Police: 191
Police ambulance: 1646
Fire department: 199
For all of the above numbers, the person answering the telephone may speak English, but there's no guarantee. With the above numbers, you therefore have two options – call and hope they speak English, or ask a nearby English-speaking Thai person to make the call for you.
If you want a guarantee of calling someone who is an English speaker, you can call Thailand's tourist police. All call operators for Thailand's tourist police speak English.
The number for the tourist police in Bangkok is 1155
All Bangkok emergency numbers we've listed are open 24 hours a day.
Can You Drink the Water in Bangkok?
We recommend that you don't drink the tap water in Bangkok. Though the water is absolutely drinkable when it leaves the plant which makes it, it then travels through dirty, broken, inhospitable pipes, so it's often rendered undrinkable by the time it reaches your lips.
Lots of local people do drink Bangkok's tap water, and some foreigners drink the tap water with no ill effects. But it's still not 100% safe.
Bottled water in Bangkok is cheap and easy to find, so it's best to avoid the city's tap water.
You should also consider buying a travel water bottle with a filter (you can find one of the best on amazon here). These are highly recommended as you most likely won't find yourself near a safe source or water during most of your trip. And in the middle/long run it will actually save you money from all the water bottles that you would have bought otherwise (and also save the environment from unnecessary plastic waste).
Having a filtered water bottle can be very handy in these situation and will give you access to potable water anywhere in the city. Don't skip on them!
For example check out the Epic Nalgene OG with hundreds of five stars rating on Amazon.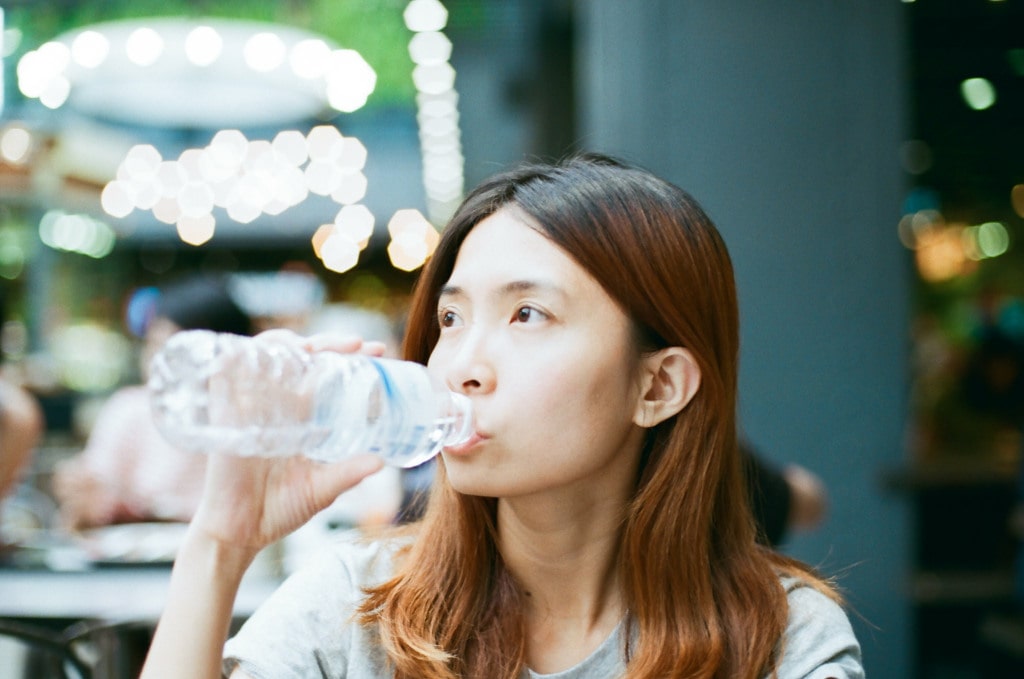 Is It Safe to Travel Alone in Bangkok?
Absolutely. For many travelers, Bangkok is the first city in which they've traveled solo. If you've never before traveled alone, it's one of the best cities to do it for the first time.
In any given year, thousands of solo travelers adventure solo in the city, so it's definitely an easy place to do it.
Here are some great reasons why:
Language: lots of people in Bangkok speak very good English. In some cities around the world, you'll struggle to find an English speaker. In Bangkok, you'll struggle not to.
Infrastructure: the tourist infrastructure in Bangkok is set up perfectly for solo tourism. Travel is easy, lots of things are written in English, and lots of deals, restaurants and markets are built with tourism in mind. Bangkok is a city with tourism at its core.
People: the vast majority of people in Bangkok are friendly. Most people are very happy to help you out, so even though you're traveling solo, you'll rarely be truly alone.
Ease: compared to many other parts of Asia, it's easy to travel here. We wouldn't recommend that you take your first solo trip in the tundras of Mongolia, because it's not suitable for solo travel. But Bangkok absolutely is.
Money: Bangkok is cheap. If you've never before traveled in Asia, you'll be surprised by just how affordable Bangkok is. Because it's so inexpensive, you can splash the cash on little luxuries to indulge yourself without feeling like you're overspending.
If you can travel solo anywhere, it's Bangkok. It's absolutely one of the best places in the world for a solo trip.
Is Bangkok Safe for Female Tourists?
Yes Bangkok is safe and is a great city to visit as a female tourist.
In many ways, Thai men are very respectful towards women. You're highly unlikely to experience any catcalling or unwelcome attention, and the vast majority of interactions with men are very pleasant. While men in some nations objectify women, that's very rarely the case in Thailand.
Generally speaking, people in Thailand (both male and female) are very friendly – friendlier than many other nations in the world.
Bangkok is also a city that never sleeps, which is great for solo female travel. At all hours, food carts line the streets, most areas are well-lit, and people are wandering through the city. Because of this, you'll often be surrounded by at least small numbers of other people. It's very rare that you'll ever be alone on the street.
You can also easily find female dorms in Bangkok in many of the city's hostels.
You should of course use the same precautions in Bangkok which you'd use anywhere, but Bangkok is relatively a very safe city for solo female travel. Every day, countless numbers of solo women travel the city safely – and have lots of fun doing it.
A couple of important notes for females travelers: if you want to enter temples, you might be asked to cover your shoulders or upper legs. Carry a lightweight, versatile scarf (or something similar) to ensure you don't have to miss out on Bangkok's terrific temples. As a woman, you should also note that in the Thai culture it's taboo to touch monks.
It's shameful that solo travel provides greater challenges for females than it does for males – and hopefully one day, that won't be the case. But while there are many destinations that aren't currently set up for solo female travel, Bangkok absolutely is.
Is Bangkok Safe to Visit with Your Children and Your Family?
Another big yes! While lots of Southeast Asia is pretty much exclusively visited by budget-conscious backpackers, Bangkok is popular with tourists of all descriptions – and that includes families. Lots of travelers visit Bangkok with their kids.
That said, there are some things you should be aware of. Depending on where you're from, Bangkok may be a little more rough and ragged than you're used to, with cracked pavements, careless drivers and the occasional trash-lined street. Chaotic and crazy, the city is a little more disordered than anywhere your kids might have been before.
This does bring with it some small challenges, but as long as you keep a watchful eye over your kids, they'll be safe in the city.
Bangkok has a huge number of family-friendly attractions, so it can be a great place to visit with kids of all ages. With cooking classes, Southeast Asia's biggest aquarium, boat trips and floating markets, there are lots of things that your kids will love.
And because the city is culturally very different to anywhere your kids might have visited before, they're likely to find fun on every corner. With busy roads, colorful temples and endless street food, your kids will be entertained just by strolling through the city. In Bangkok, there's always something interesting to look at, for kids and adults alike.
Terrorism in Bangkok
Sometimes, Bangkok is the unfortunate recipient of terrorist attacks, both attempted and successful. Over the past five years or so, there have been a small number of significant terrorist attacks, resulting in a number of deaths.
This is of course a concern, and is of course profoundly troubling for those involved.
But we should also have some perspective. Bangkok is a big city, and many big cities are the unwilling recipient of terrorist attacks. It's also important to remember that Bangkok has a population of more than ten million people, so it's very unlikely that any terrorist attack would ever affect you or your time in the city.
The chances of a terrorist attack occurring while you're in the city are tiny. The chances that it would affect you specifically are even tinier.
Yes, terrorism in Bangkok is a very minor concern and a very minor consideration. But you shouldn't let that change your plans in any way.
Be aware of any suspicious bags, packages and people. But, otherwise, don't worry.
Criminality in Bangkok
Criminal activity in Bangkok really isn't much of a problem. Tourists are rarely targeted, and police penalize criminals very strictly.
Though you shouldn't at all be fearful of crime in Bangkok, you should of course take some precautions – and there are some things you should be aware of.
Muggings and robberies are rare, but a relatively common robbery method is bag-snatching. Scooter gangs drive by tourists carrying over-the-shoulder bags, and use a razor to cut these bags. Quickly and surreptitiously, these gangs manage to steal bags and typically get away with their crimes.
You can avoid falling victim to this crime by wearing a backpack instead of an over-the-shoulder bag. If you do wear an over-the-shoulder bag, keep it on your shoulder which is furthest away from the road.
You should also keep your belongings securely on your person, and be aware of pickpockets in several settings – on the street, on public transport and on long-distance transport.
Scammers are also a small problem, but you'll typically be okay if you follow your instincts. If someone seems suspicious, they are likely suspicious. Be wary and trust your gut.
Scammers, though you shouldn't worry about them, are more likely to be a problem than any other type of criminal in Bangkok.
Here are some common Bangkok scams you should be wary of:
Tuk tuk scams: if a tuk tuk driver tries to take you anywhere but your chosen destination, you should refuse, regardless of the reason. They might tell you that the temple you're visiting is closed, or that they know a cheaper hotel than the one you're heading to, or that there's a special event in the city. This is always a scam. A particularly notorious example is the Somboondee restaurant scam. This restaurant charges huge fees for bad food, so don't let tuk tuk drivers take you there.
'This is closed' scams: similarly, if someone outside of an attraction is telling you that the place is closed, don't believe them. It won't be.
Bracelet scam: this one is pretty popular the world over. If someone tries to put something on your wrist, don't let them. They'll try to charge an exorbitant fee, claiming that the 'gift' they've given you comes at a price.
Bird food scam: if someone tries to put a bag of bird food in your hand – while instructing you to feed the on-street birds – don't feed the birds. When you've finished your feeding frenzy, you'll be hit with a hefty bill.
Ping pong show scams: if someone tries to take you to a ping pong show, or some other similarly-vulgar spectacular, don't bother. You'll be hit with a huge bill when you try to leave. Be especially wary of bars which aren't on the ground floor – these places are more likely to be scamming dens.
The gem scam: don't believe anyone who tells you to buy some gems. Even if lots of people are in on the scam, don't believe any of them. You'll wind up buying invaluable gems, and wasting lots of money in the process.
Timeshare scams: similarly, if anyone tries to sell you a timeshare property, don't get involved. Ever. For any reason.
Fake police scams: if a police officer asks to see your passport, or tries to hit you with a fine, ask to be taken to the police station. Because this so-called police officer isn't a real officer at all, they won't want to take you there. If they're a real officer, they'll have no problem taking you to a station.
Though you should be mindful and wary of all these common scams, you shouldn't be afraid of them. Trust your instincts, and be wary of anyone who's making an offer that seems strange. But don't let the potential of possible scams ruin your trip.
Again, it's important to note that very few tourists are ever the victim of crime. And few are the victim of successful scams. For the vast majority of tourists, visits to Bangkok are trouble-free.
Are There Any Current Political Tensions in Bangkok?
On occasion, protests do take place in Bangkok, as groups of people gather in the streets to demonstrate against the government. But these protests are typically relatively small, and cause little disruption.
While demonstrations in some countries can cause huge, dangerous problems for visitors, that's not the case in Bangkok.
If any protests do occur, simply stay away from them, and you'll be absolutely fine.
You should always check for current advice before you travel, but at the time of writing, there's no need at all for you to be concerned about any political tensions in Bangkok.
Bad Areas and Neighborhoods in Bangkok
Bangkok is typically safe in its entirety, though you should of course exercise caution in all parts of the city, especially at night. Avoid badly-lit areas (though there aren't many of them!), no matter where they are.
You should also avoid the slum area of Khlong Toey, which can be rife with drug users, drug dealers and similarly-shady characters.
You should also be careful in the red light areas of Bangkok. Though lots of tourists do indeed visit these areas (some simply to walk around), they can be packed with nefarious characters. Be careful in Patpong, Nana Plaza and Soi Cowboy.
None of these areas are particularly dangerous, but you may want to avoid them if you're a cautious person.
Safe Areas to Stay in Bangkok
Generally speaking, be aware of the areas above, and you'll be absolutely fine. But whichever part of the city you stay in, you should stay in a well-lit accommodation (in a well-lit area) with good reviews.
If you stay in a well-reviewed accommodation, it's likely to be very safe. In any area with lots of well-used, well-reviewed accommodations, you'll be absolutely fine.
Is It Safe to Drive in Bangkok?
In short, no. You shouldn't consider driving a car in Bangkok. Thailand's roads are some of the most dangerous in the world. They're also some of the busiest and most manic, making Bangkok a very stressful place to drive. Stress and danger aren't a good combination, so there's very little reason to drive, especially given how reliable, expansive and affordable Bangkok's public transport network is.
Bangkok's road rules might be very different to anywhere else you've ever driven. And even if they aren't, Bangkok's residents rarely abide by them.
If you do decide to drive a car in Bangkok, ensure you have the necessary documents, so that you're driving legally. But, again, we don't recommend it.
If you really want a private car for getting around in Bangkok, we recommend you hire one with a driver. It's a very affordable option, and it gives you all the freedom you want without any of the danger and stress of driving. And as an extra added bonus, if your driver speaks English, it can help you to get some great insights into Bangkok life.
A marginally better option than driving a car in Bangkok is driving a scooter. Though we still wouldn't recommend hiring a scooter, two-wheeled vehicles are better suited to Bangkok's roads than four-wheeled ones.
Some tourists rent scooters throughout Thailand. Though most do so in quieter, more rural areas of the nation, a smaller few do so in Bangkok. Again, we don't recommend it, but driving a scooter in Bangkok is absolutely less stressful than driving a car.
If you do decide to hire a scooter in Bangkok, rent from a reputable agency, drive slowly, and always wear a helmet. You should only drive a scooter in Bangkok – or anywhere! – if you already have experience doing so.
Is Public Transport in Bangkok Safe?
Yes, public transport in Bangkok is absolutely safe. Not only is it safe, but it's extensive, affordable, and you have lots of options to choose from. Bangkok's public transport network is made up of:
BTS: the Bangkok Skytrain, this option shuttles you around the city overground.
MRT: like the BTS, this option is an inner-city rail service, but it's underground rather than overground.
River Boats: these taxi river boats ride Bangkok's waterways, often offering quicker and more affordable routes than land journeys (depending, of course, on your destination!).
Buses: commonplace, but slow and hard to understand, Bangkok's buses can be useful if you can work out the routes. If you can't, it's easier not to bother.
Tuk tuks: Thailand's most iconic type of public transport, tuk tuks are a great way of getting from one place to another. Like a mini taxi, Bangkok's tuk tuks are surprisingly affordable.
On the BTS, MRT, river boats and buses, you should be wary of pickpockets. Keep your belongings on your person, and be cautious of anyone getting suspiciously close.
On river boats and tuk tuks, make sure you agree on a fare before you travel. Drivers on both tuk tuks and river boats often try to rip tourists off, so make sure you don't give them a chance to!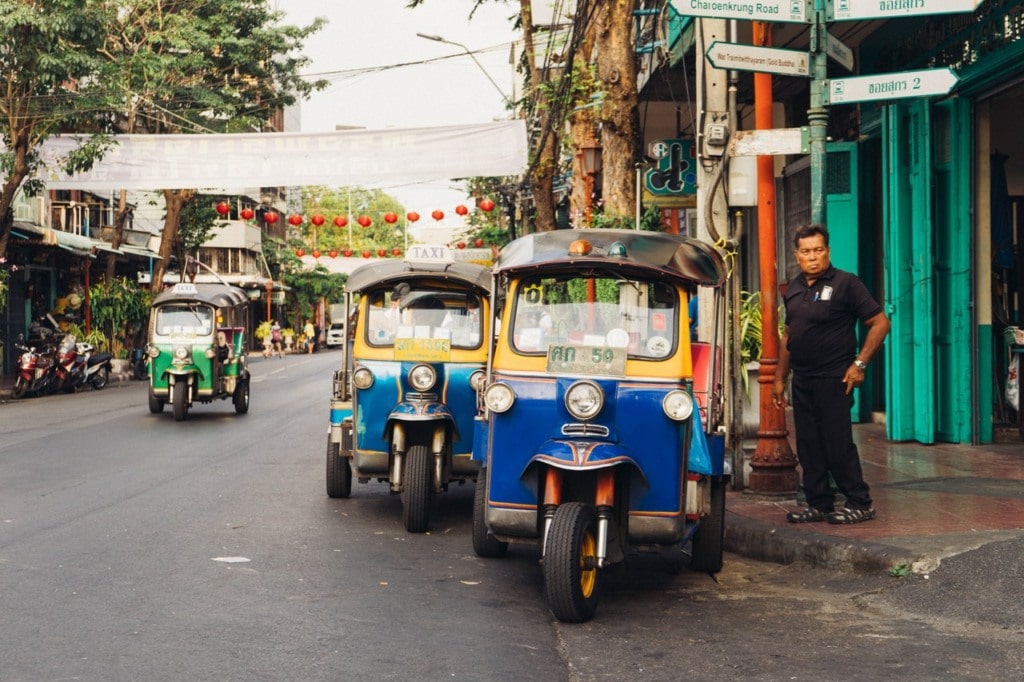 If you're concerned about navigating public transport, the BTS and MRT systems are the most trustworthy. You pay at a machine, the fares and destinations are fixed and signs typically all have English translations. All of these features allow for a very tourist-friendly experience.
That said, all public transport in Bangkok is generally very safe, While you should be aware of the minor and unlikely threat of pickpockets, you should use Bangkok's extensive – and often even exciting! – public transport network. It's a great way to get around the city, and it's a great way to get closer to the authenticity of local Bangkok life.
Bangkok also has a hop-on-hop-off city sightseeing bus, which you can use to access many of the massive city's key attractions.
Though walking in Bangkok is safe, the city is far too expansive for you to get around solely by walking. You will need to use some form of transport for reaching some destinations.
If you like to stay active when you travel, hiring bicycles is an option. Though Bangkok's roads and streets aren't very accommodating for cyclists, it can be a fun way to travel if you stay safe, sensible and well-equipped. Only rent good-quality bicycles, and always wear a good helmet.
Is Uber Safe in Bangkok?
Uber doesn't exist in Bangkok! Instead, locals use an equivalent app, Grab. Grab works just like Uber, but it's way more affordable. Throughout Southeast Asia, locals use Grab every day to make quick, affordable, reliable journeys.
With Grab, you can book both cars and scooters. Not only are scooters much quicker and much more affordable than cars, they're also way more fun – and your driver will always have a spare helmet for you to wear.
Are Taxis Safe in Bangkok?
Though taxis aren't dangerous or unsafe, some drivers will try to charge you very unfair, expensive fees. Save yourself the trouble of this possibility by using Grab instead. With Grab, you won't be scammed and you won't have to worry about the potential of awkward fee-based conversations.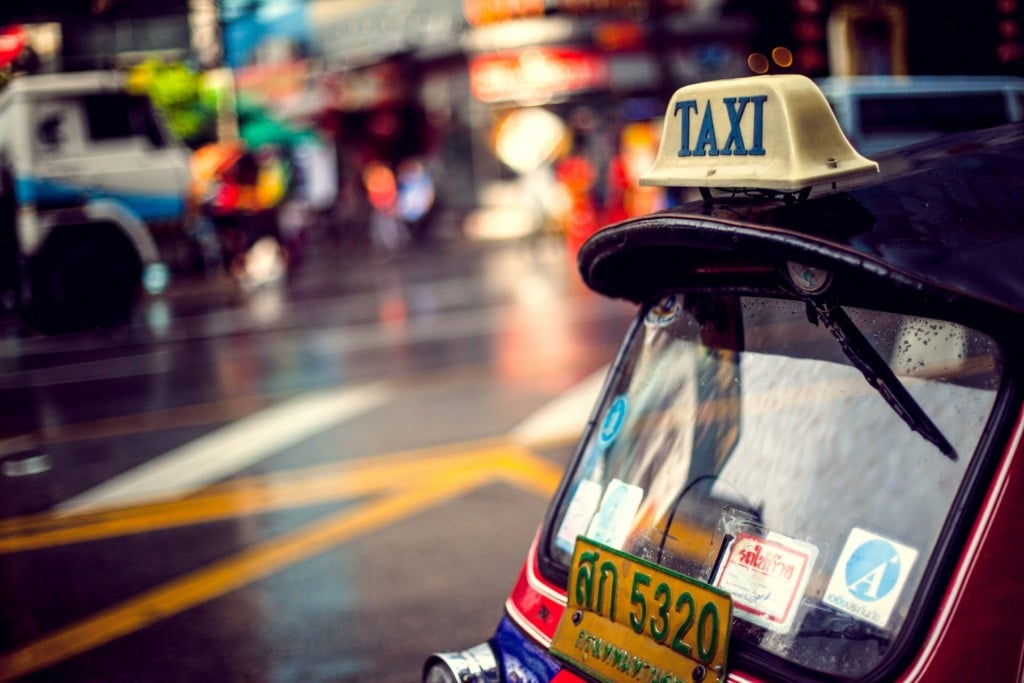 How to Protect Your Money and Documents in Bangkok
You should exercise the same cautions which you would in any city.
Here's how to protect your cash and important documents in any city in the world, including Bangkok:
Don't carry all of your money with you when walking in the city. Instead, you should leave some in your accommodation, in a locked safe.
The money which is on your person, don't keep it all in one place. Keep some in your pockets, along with a separate amount in an emergency money belt. If you do encounter any trouble, you won't have to hand over all of your money.
You should always carry your passport and/or ID with you – but keep these documents separate from your cash. You don't want to hand over important documents to a robber.
If you're a particularly careful person, you could carry a fake wallet with fake or expired papers. If robbed, you could simply hand these papers over instead of your real documents. We would consider this to be an excessive precaution, but it's an option if you want to be especially careful.
How to Protect Your Belongings While in Bangkok
Use the same precautions which you would in any tourist destination across the world:
Don't leave your bags unattended anywhere, or for any reason.
Don't leave valuables in your accommodation unless they are securely stored in a safe. If your accommodation has no safe, ask staff about other options.
Is Bangkok Safe to Live in?
Generally, yes. In a survey conducted by InterNations, expats rated Bangkok as the 20th-best expat-friendly city in an 82-city survey. It was ranked fifth of all Asian cities.
Tens of thousands of expats live in Thailand's capital city, so it's clear that it's a safe, comfortable, desirable place to live.
Yes, Bangkok has a moderate risk of terrorism, and there are pockets of poor areas throughout the city, but it's generally a very safe place to live.
The vast majority of people in Bangkok are friendly and helpful. Compared to many other cities of its size, Bangkok is way more warm, welcoming and hospitable.
Pharmacies in Bangkok
It's very easy to find pharmacies in Bangkok. In most of Southeast Asia, you're never far from a pharmacy, and Bangkok is no exception. If you're visiting from Europe, you'll be surprised just how common pharmacies are here – you can usually find one lurking helpfully on every single street corner.
All pharmacies in Bangkok are very trustworthy and reliable. While some are chain stores, with recognizable names, others are family-owned and smaller in size. But they're all to be trusted.
Most pharmacy staff speak some English, so you can typically get a solution for most problems quickly and simply.
Recognizable chain pharmacies in Bangkok include Watsons and Boots, and most large supermarkets will also have a pharmacy inside. Smaller family-run pharmacies typically have a blue or green sign with white writing, along with lots of pill packets in their windows. They're easy to spot.
Thai regulations are a lot more lenient than regulations in other parts of the world. Drugs which are closely-monitored and strictly regulated in other nations are often freely available over the counter in some Thai pharmacies, especially those which aren't part of a chain.
You can often buy heavy-duty pain relievers over the counter, along with other strong medication. If you're buying something which you're not accustomed to, take caution with your doses, and don't take a dose which you're not comfortable with.
You will probably find that the drugs you buy in Bangkok are cheaper than they are back home, especially if you buy an off-brand product. These off-brand products are just as reliable and effective as their brand equivalents.
A note on medication: if you require any daily prescription medications, it's essential you bring them with you, along with all original packaging and paperwork. You may not be able to readily buy these medications in Thailand.
How to See a Doctor in Bangkok
If you have a small medical problem in Bangkok, you should simply go to a pharmacy and speak to a pharmacist. As we've mentioned, you might be surprised at the amount of medications available over the counter in Bangkok. For small illnesses and ailments, you'll probably find that a pharmacist can solve your problem.
For anything more serious, you should go directly to a hospital. At any other facility, staff are unlikely to speak English – and therefore unlikely able to help.
Generally speaking, Bangkok has two types of hospital – private and public.
Public hospitals are used almost exclusively by Thai locals, but doctors can generally speak some English.
If you want something more reliable – but potentially a lot more expensive – you should go to a private hospital. These hospitals are largely designed to accommodate foreigners, and have doctors who speak very good English. The quality of care is very high, but so too are many of the fees.
At private hospitals, queues are typically very short – or non-existent. At public hospitals, you may have to wait a while to be seen by a doctor. If you choose to go to a public facility, you should try to visit very early in the morning, when waiting times will be shorter.
In short, while both types of facility offer excellent medical care, private hospitals offer shorter queues and better levels of English – but at a much higher price.
Top Safety Tips to Follow when You're in Bangkok
Instead of using on-street taxis, use Grab. It's much more reliable and easy to use than normal taxis.
If anyone (other than attraction staff) tells you that a certain attraction is closed, they're lying. Don't listen to them, it's most likely part of a scam.
Be very careful in red light districts, even if you're just passing through. Don't enter bars at the request of on-street staff or touts. Any deals they're offering will most likely be much more pricey than they claim.
Avoid the slightly-unsafe areas we've listed earlier in the article, especially at night.
Use mosquito spray! Bangkok has lots of mosquitoes, which can transmit dangerous diseases.
Be mindful of roadside bag snatchers. Wear a two-shoulder backpack instead of an over-one-shoulder bag.
Don't rent a car, unless it comes with a driver.
… and if you ride a scooter, be very careful! Only rent a scooter from a reputable company, always wear a helmet and only drive if you have previous experience doing so.
Be careful while walking on the streets. Bangkok's streets are full of hustle and bustle, with manic drivers, non-stop scooters, endless food carts, cracked pavements and other perils. Be alert when you're walking and wear a reliable money belt in which you can store your important papers (passport, ID) and your big money bills.
If you rely on daily medication, bring it from home, along with all original packaging and paperwork.
If any police officers approach you in the street, assume that they may not be real officers. Instead, they may be scammers. If they won't leave you alone, insist that they take you to the nearest police station. Real police officers will oblige; fake ones won't.
Always agree on a price before you set off on a tuk tuk ride. If you don't, some tuk tuk drivers might try to rip you off upon arrival.
… similarly, don't let tuk tuk drivers take you anywhere but your desired destination. Some might try to take you to other destinations as part of a scam.
Familiarize yourself with Thai currency, to make sure you don't accidentally hand over too much money! Some scammers take advantage of naive travelers who don't know the difference between different notes.
Bangkok's different seasons vary widely. If you travel during monsoon season – or during other wet months – be sure to take waterproof clothing.
If you're female, don't touch monks.
Don't disrespect the Thai royal family – or any of its past or current members – in any way. Doing so can land you in jail.
Steer clear of monkeys and street dogs. Rabies is still a problem in Thailand.
The most important tip of all – have fun!
Final Thoughts
Overall, Bangkok is very safe, very fun, and very welcoming for even the most inexperienced of travelers. Thailand's capital city welcomes millions of visitors every single year, and the vast majority of trips are exciting, exhilarating and trouble-free.
Bangkok is one of the most exciting cities in the world.
A non-stop whirlwind of mayhem and madness, it's a fast-paced destination packed with adventure. From fascinating temples to mile-wide smiles to some of the best street food on the planet and then fabulous day-trips, it's easy to cram your Bangkok trip with plenty of excitement.
Though it's way different to anything you might have experienced before, the city still somehow feels very much like home.
Stay safe and you'll have one of the best trips of your life.
Being a Digital Nomad: Tips, Tricks and Places
Do you want to be a digital nomad?
If you do, maybe you don't know where you might want to live. Or how to live there. Or whether you need a visa. Or how to make friends in the scary sprawl of a brand-new city. Or how to stay productive while you travel. Or how to find an apartment. Or whether this lifestyle really is for you. Or… I'm sure you get the idea.
But with some insight and experience, it's not as difficult as you think. So in this book, I've gathered my 6 years of digital-nomadding experience… and I've used it to answer all your questions, soothe all your fears, and get you on your way. After reading this, you'll realise being a digital nomad is much easier (and much more possible!) than you think.