15 Most Stunning Glaciers in Alaska That Will Take Your Breath Away
Alaska is known for its natural beauty. With so much of the state untouched and untamed, it is no surprise that Alaska's trails, beaches, and waterfalls appeal to the adventurous spirit.
Despite the endless outdoor options, nothing can quite compare to viewing a glacier in Alaska up close!
I will never forget my first glimpse at that icy blue-ness on a helicopter tour. Standing in the shimmering glory of a glacier brings joy and awe.
Glacier viewing will definitively be an excellent highlight for your Alaskan trip. Get active, rejuvenate yourself, and set out on your glacier hunting journey.
Keep reading to find out which glacier in Alaska sings to you!
Best Glaciers in Alaska
Here is the map of the best glaciers in Alaska. Scroll down to learn more about them, see what they look like, get pro tips, and more details.
1. Matanuska Glacier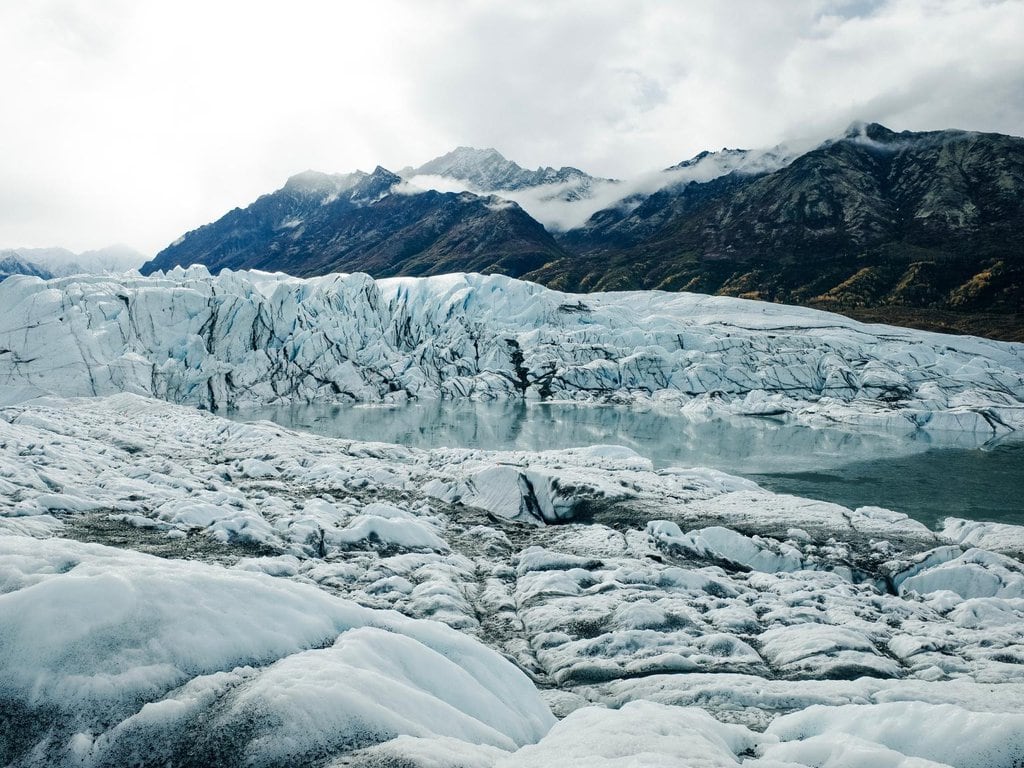 Located in the Matanuska River Valley, this valley glacier sits 24 miles long, nestled on the valley floor. Only an hour from Anchorage, the Matanuska Glacier is a popular location for tours.
You can either be guided by a professional or simply follow along with the orange and yellow cones for a self-guided experience!
At the office, pay for your planned experience. If you are a self-guided person, you will pay about $30 per person. I like self-guided because of the freedom you get. You can stop along the path wherever you please!
On the other hand, a guided tour gives you the whole glacier exploring experience. Plus, you can learn facts from your guide that you may not already know. It is a personal preference.
For first timers I highly recommend to go on this tour rather than alone, it's more secure that way and you get to enjoy and explore the glacier a lot more.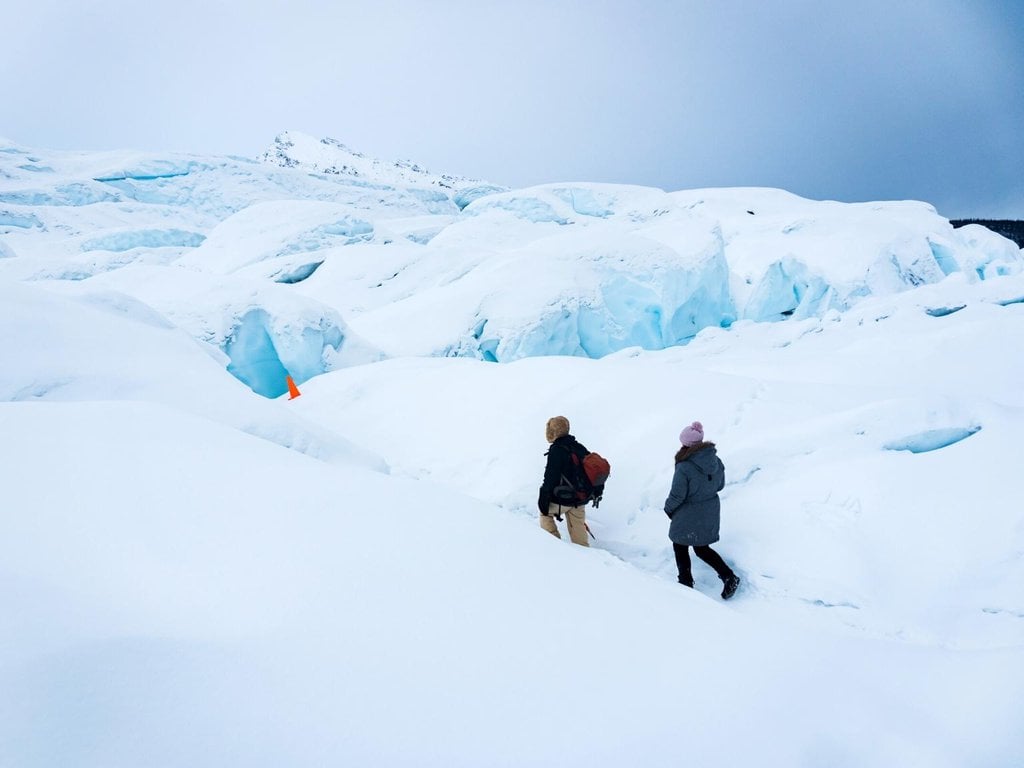 If tours are not your speed, river rafting is an option during summer. At the same time, trails are available for your hiking and camping pleasure, starting at the Matanuska Glacier State Recreation Site.
Location: Glenn Hwy, Sutton-Alpine, AK 99674, United States
Distance: 100 miles from Anchorage
Best way to visit: driving
2. Knik Glacier
Famously known for its appearances in movies, including Star Trek V, The Knik Glacier is a favorite for many who enjoy nature's icy displays. You can find this beautiful blue location east of Anchorage, nestled in the Chugach Mountains.
The glacier's size reaches a whopping 400 feet, holding the responsibility of feeding the Knik River. The Knik Glacier calves daily, with the ice falling into the Knik Lake, dotting it with icebergs. It is such an astounding beauty, it is hard to look away.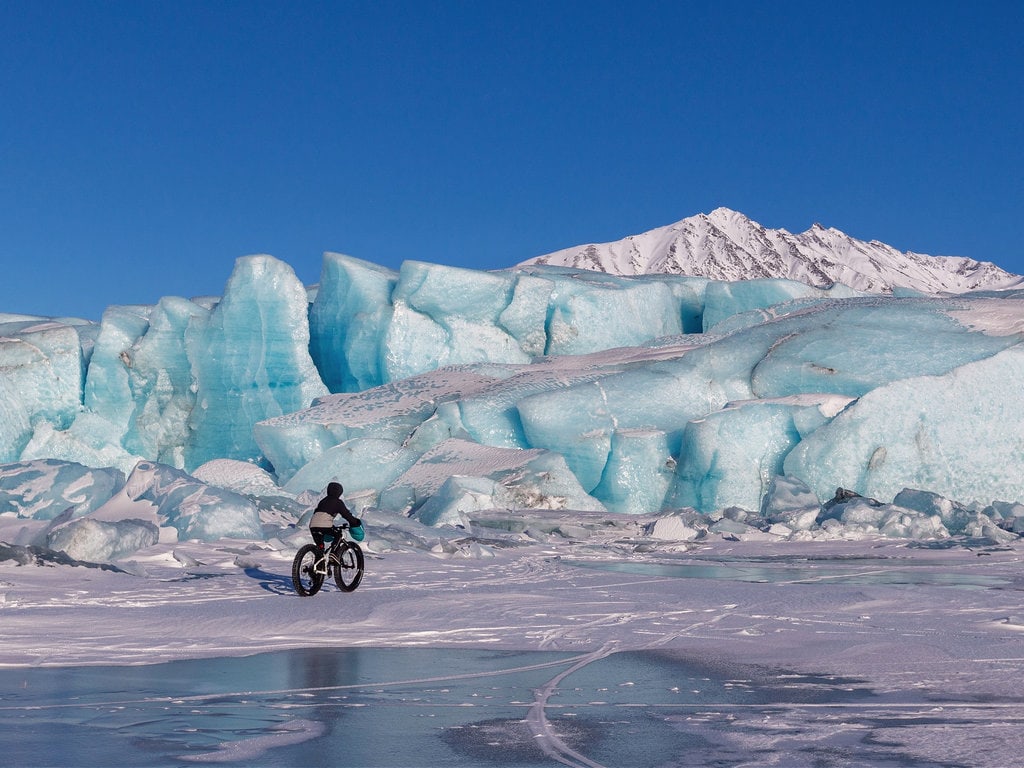 Dog-mushing is one of the most popular Knik Glacier activities. If this is not your style, however, you have the option of flightseeing, fat-biking, or driving by on the Glenn Highway.
Address: Alaska 99686, United States
Distance: 48 miles from Anchorage
Best way to visit: plane
3. Worthington Glacier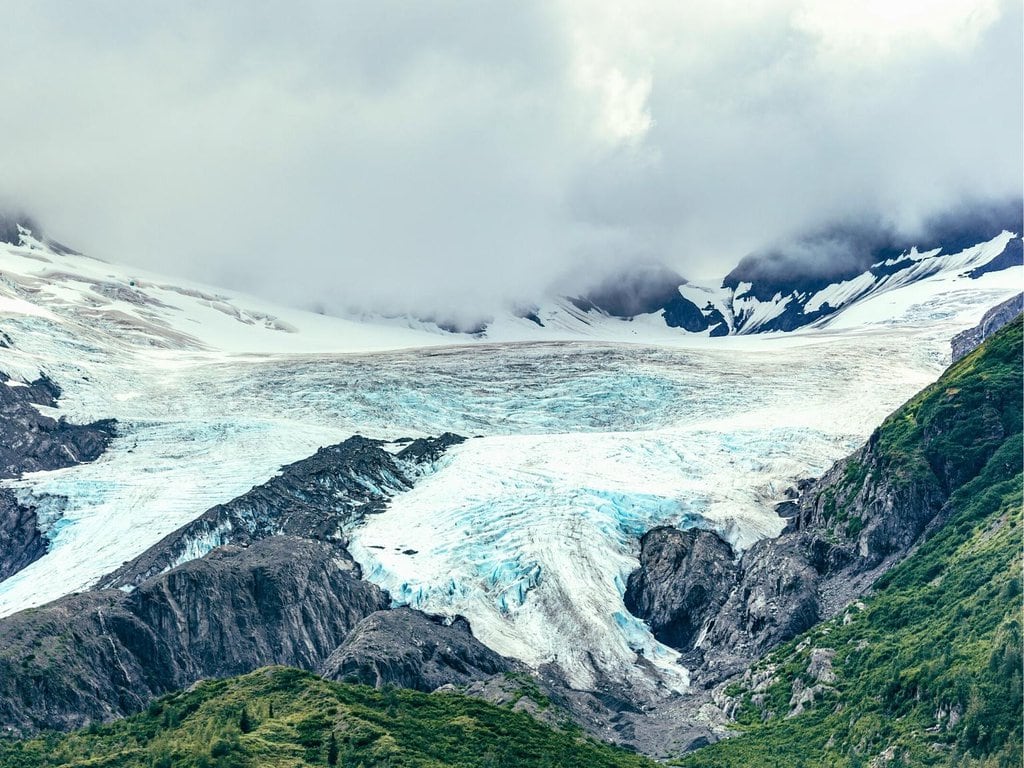 Known as the snowiest place in Alaska, reaching 80 feet of snow during 1951-52! The Worthington Glacier is 4 miles wide and easy to find!
Head to the Worthington Glacier State Recreation Site, just off Richardson Highway at milepost 29. When you arrive, you walk to the observation deck, where you can get a stunning view of the glacier.
Those that are a bit more adventurous can take the two-mile hike from the observation deck to the glacier itself for a more up close and personal experience.
If you are physically able, I 100% recommend taking the trek out. Seeing a glacier up close is something special.
Address: 28.7 Richardson Hwy, Valdez, AK 99686, USA
Distance: 28 miles east of Valdez
Best way to visit: driving
4. Valdez Glacier
The Valdez Glacier in the Chugach Mountains is to the east of the city with the same name. The Valdez glacier has a rich history.
It is known as the All-American Route, as those hunting for gold traveled across the glacier to reach deeper into Alaska.
The glacier stands at 20 miles long, with its melt supplying the 640 ft deep Valdez Glacier Lake.
Aside from the interest of the Gold Rush, quite a few events and activities occur in the area. The Valdez Glacier Lake is excellent for kayaking during the summer, while the winter calls for ice skaters in need of space and fresh air!
In addition, many winter sports like snowmobiling and skiing happen here, making it a popular spot for those who love the ice, water, and outdoors!
Address: Valdez, AK 99686
Distance: 5 miles east of Valdez
Best way to visit: kayak
5. Exit Glacier
Have you ever wanted to walk right up to a glacier? Then the Exit glacier is one for you!
Earning its name from being the first exit for the cross of the Harding Ice Field in 1968, this glacier holds a rich history and a phenomenal outdoor experience.
While it is one of the small glaciers on this list, it is still a popular location for tourists and locals. This is, of course, because of how close you can get to the glacier and the numerous activities available!
You can participate in cross country skiing, snowmobiling, or fat bike riding. For a hiker, there are a few trails, the most notable being the Harding Icefield Trail. This hike gives you a different angle to view the glacier and is an excellent source of exercise, coming in at 4 miles with 1000 feet in elevation!
If you are genuinely adventurous and active, this might be the glacier for you to visit.
Address: Kenai Fjords National Park, Alaska, U.S.
Distance: 15 miles from Seward
Best way to visit: driving
6. Portage Glacier
The Portage Glacier sits in the Portage valley at the end of a lake, and it is 6 miles long. The glacier has been retreating for years, so if you'd like an up-close and personal view of the glacier, a boat trip is your best option.
Despite this, you will still be able to catch a glimpse of this once massive glacier on foot. A hike down Portage Pass Trail gives you a chance to view the glacier as well.
You can have the best of both worlds by going on this tour. It includes a cruise and a hike to marvel at the beautiful glacier, plus many other activities. I highly recommend it, especially for first timers!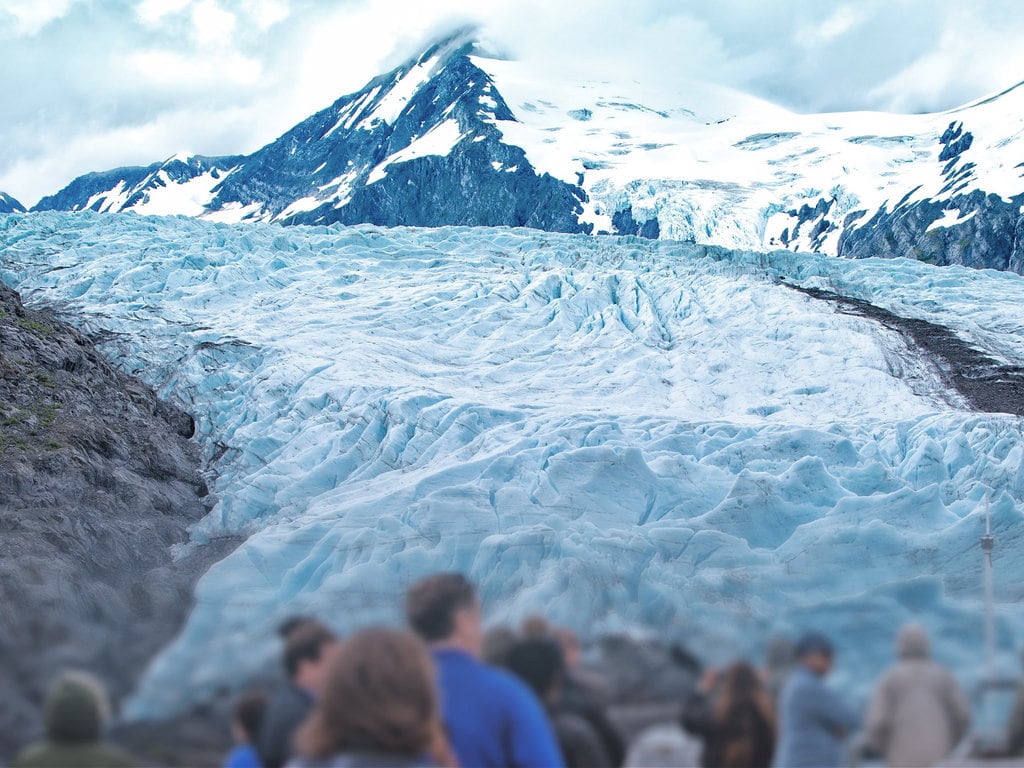 There is one more way to see the Portage Glacier. Try heading into Whittier and visit the Anton Anderson Memorial Tunnel. On the other side, you can also get a view of this gorgeous glacier!
Otherwise, the nearby Begich Boggs Visitors Center has many other activities that you can participate in, making Portage Valley a great exploration spot! Try out the 5 mile Trail of Blue Ice if you are a hiker or biker, and there's no need to rush because there are campgrounds where you can spend the night.
Salmon viewing is also an option here for all nature lovers which is why I think Portage Glacier is one of the most well-rounded places to visit.
Address: Portage Lake Loop, Girdwood, AK 99587, USA
Distance: 2.8 miles from Whittier
Best way to visit: boat
7. Byron Glacier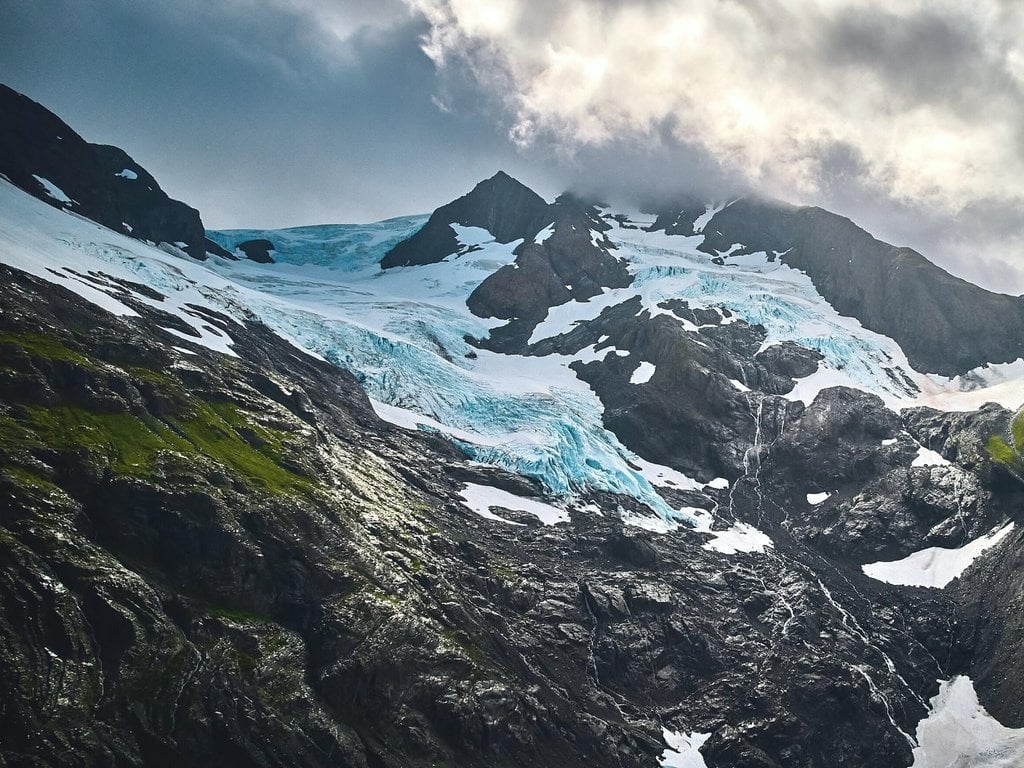 Portage Glacier isn't the only one in the Portage Valley. You can also find the Byron Glacier!
Accessible by a short day hike, start at the Begich Boggs Visitor center and make your way up to the glacier.
When you arrive, ice caves are what you should look out for. You can explore to your heart's content. However, be wary when entering ice caves as they can be dangerous. Ice and rocks in the ceiling may dislodge and fall on you, resulting in severe injuries and, in more extreme cases, death. This has happened before, so make sure you are very careful.
Address: Portage Lake Loop, Girdwood, AK 99587, USA
Distance: 55 miles from Anchorage
Best way to visit: hike
8. Castner Glacier
Known for its large ice cave, Castner Glacier is a 12-mile long glacier that appeals to those who love hiking and ice.
There are many trails available for you to get to the glacier. The most notable is on the south side of Castner Creek. The hike is upwards of 2 miles and starts easy, gradually increasing in difficulty as the trail becomes steeper.
If you are going just to see the glacier, this hike shouldn't be too challenging.
However, if you plan to enter the ice caves, go with an experienced mountaineer instead. Ice caves are dangerous and can pose an immediate threat to your safety and life.
One interesting fact about this glacier is that it was named after Lieutenant J. C. Castner, USA, by his superior, Captain E. F. Glenn, U.S, in 1898!
Address: Richardson Hwy, Delta Junction, AK 99737, United StatesPortage Lake Loop, Girdwood, AK 99587, USA
Distance: 117 miles from Fairbanks
Best way to visit: hike
9. Margerie Glacier
Deep in the Glacier Bay, National Park and Preserve is the Margerie Glacier, one of the few advancing glaciers. Made of tidewater, Margerie has been growing about 30 feet a day for decades, reaching a whopping 21 miles long and 250 feet.
To visit, you will have to travel by boat, given that it's the best way to see it. You can try out a sailboat for visitors, but others may see it on a cruise, a tour boat, or kayaking for the more adventurous.
Upon arrival, you are rewarded with a stunning one-of-a-kind view of the blue ice! And if you're lucky, some Stellar sea lions!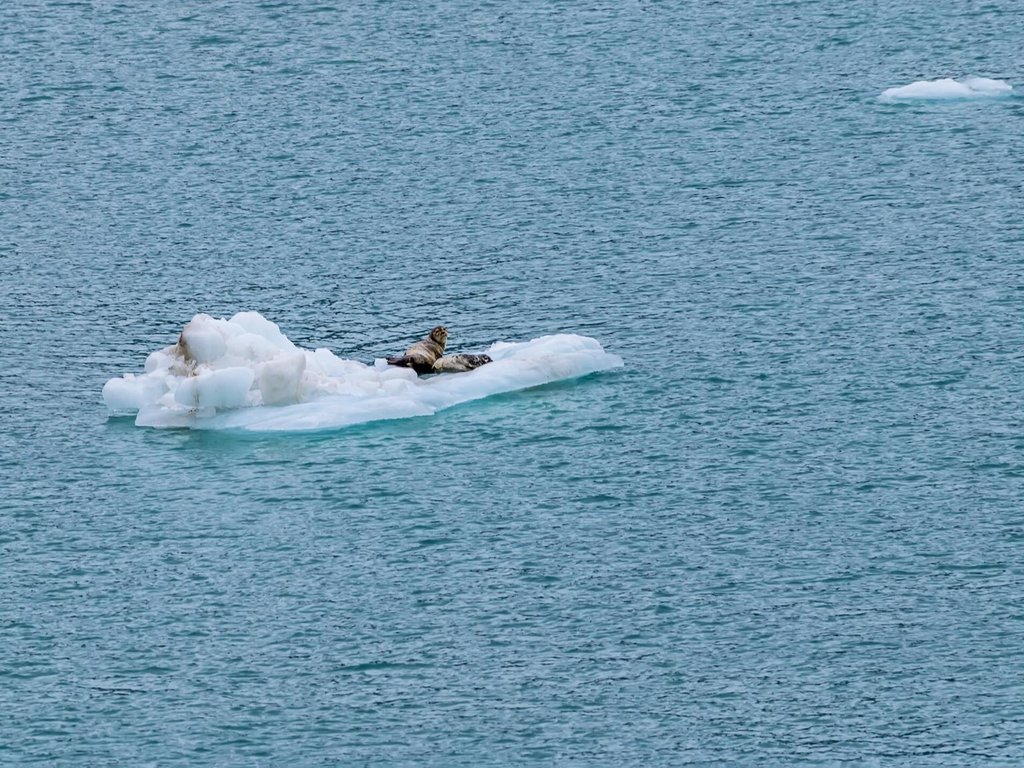 If you are a glacier lover, this one is a must-see!
Address: Glacier Bay, Alaska, United States
Distance: 120 miles from Fairbanks
Best way to visit: boat
10. Childs Glacier
Want to see a glacier calving? Then, the best glacier to visit is Child's Glacier which calves every 15 minutes, even during summer.
The glacier was named by Captain W. R. Abercrombie, USA, "after George Washington Childs, of Philadelphia", during Abercrombie's exploration on the Copper River in 1884. Strolling lazily by the glacier, this same river is the cause of the consistent calving.
To get to Child's Glacier, you will start by taking a flight or ferry to the small fishing town of Cordova. From there, you still need to drive about an hour up what used to be the Copper River Railway. Finally, you will see Child's Glacier across the River, with a stunning view complementing it.
If you're not driving, transportation to Childs Glacier via shuttle van and boat is available from the Orca Adventure Lodge. Aside from the glacier may just spot a few stranded salmon. For more exploration, you can check out the Million Dollar bridge nearby.
Address: Cordova, AK, United States
Distance: 31.4 miles from Cordova
Best way to visit: Driving
11. Twin Sawyer Glaciers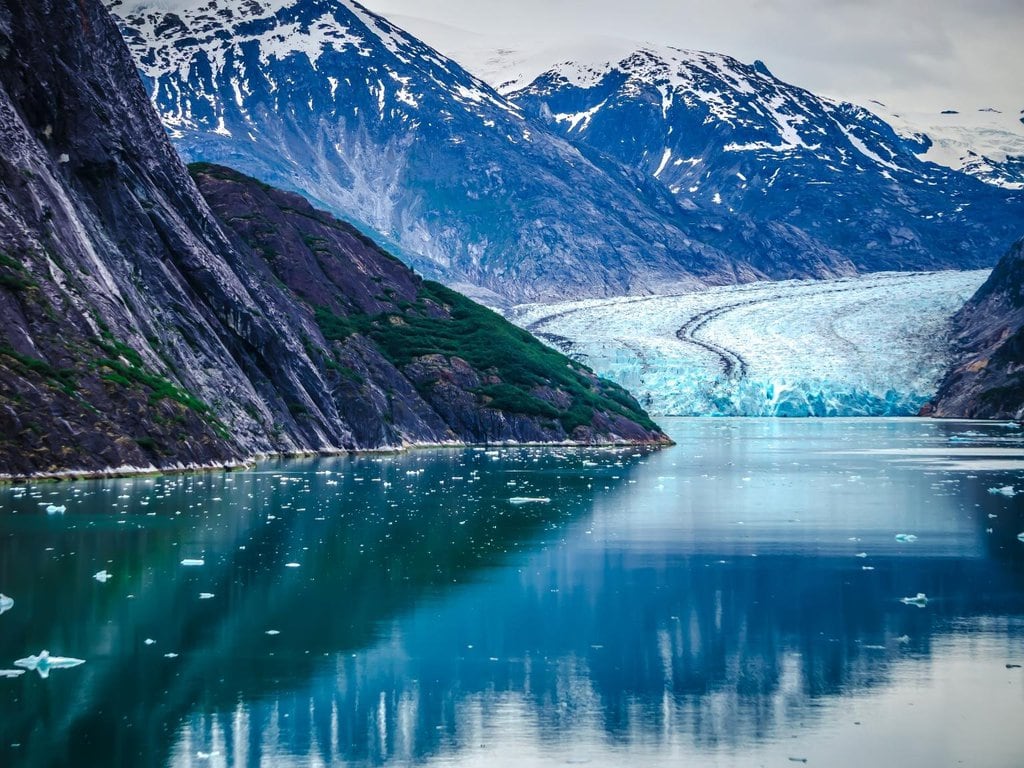 The two tidewater glaciers, known as the North and South Sawyer glaciers, are nestled at the head of Tracy Arm, south of Juneau. To get here, you have the option of booking a cruise ship or a tour to see these 2 giants. These trips often use the Stephens Passage as their route!
Floatplanes are also an option for those who get queasy on the water. It is a popular destination on tour routes in the area, so you have multiple tour options to choose from.
Aside from this, you will have a chance to see bears, mountain goats, and seal colonies near the glacier itself. For wildlife lovers, this is the icing on the cake for this memorable trip!
Address: Tracy Arm, AK, United States
Distance: 50 miles from south of Juneau
Best way to visit: Boat
12. Hubbard Glacier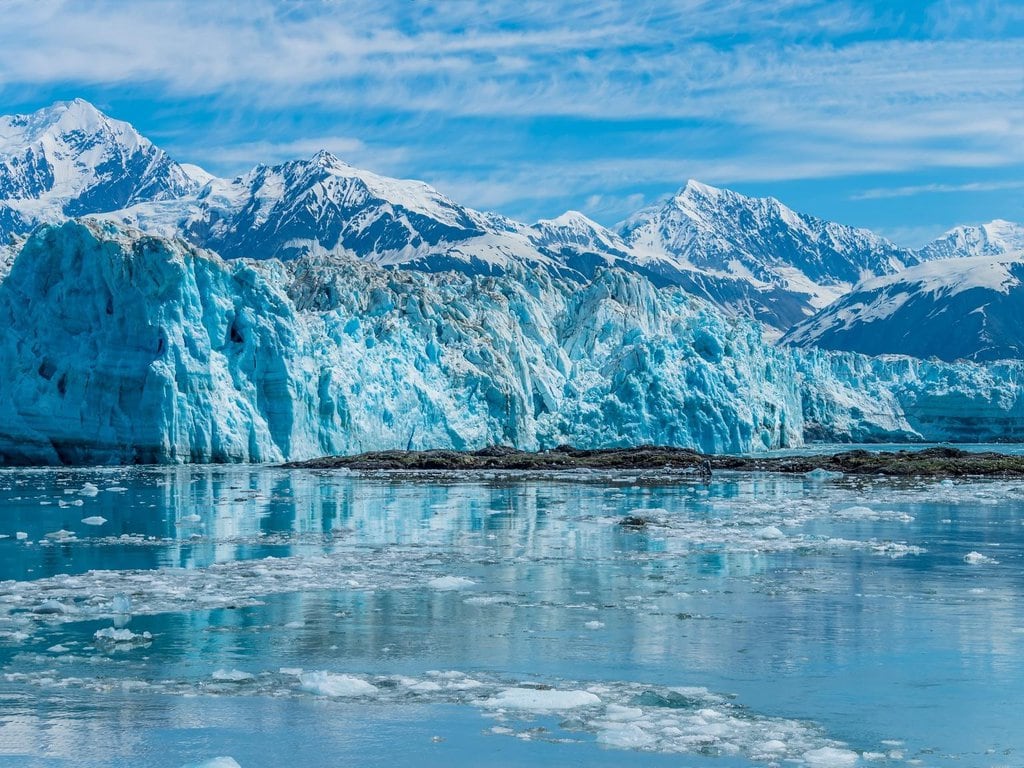 Another one that is advancing, Hubbard Glacier was named after the first president of the National Geographic Society in 1980. Standing at 76 miles long, the Hubbard resides off the coast of Yakutat.
It is an active glacier, with 2 significant surges noted in the last 3 decades. These surges threatened to flood Yakutat, traveling across the bay to reach the shores of the coastal town.
The easiest way to see this glacier is via cruise. However, you won't get too close. This is to keep passengers safe from calving. If cruising is your thing, Hubbard glacier is an excellent place to visit!
Address: Wrangell–St. Elias National Park and Preserve Alaska
Distance: 200 miles from the northwest of Juneau
Best way to visit: Boat
13. Aialik Glacier
Named after Aialik Bay by Grant Higgins of the U.S. General Survey, Aialik Glacier stands at 3.5 miles long, making it one of the smaller glaciers on this list.
You can find it in Kenai Fjords National Park. Despite its small size compared to glaciers around Alaska, Aialik holds the title of the largest glacier located in Aialik Bay. This glacier was formed by tidewater.
To visit, you will need to book a cruise or kayak. If you want to see this glacier calve, the best time to visit is between May and June.
It is also a good spot for whale watching.
You can get all of this by going on this award-winning tour: Kenai Fjords National Park Glacier & Wildlife Cruise.
Address: Kenai Peninsula Borough Alaska 99664, United States
Distance: 12 miles from northwest of Seward
Best way to visit: Boat
14. Spencer Glacier
Found between Anchorage and Denali, Spencer Glacier sits by Spencer lake, dotted with royal blue icebergs known as growlers.
Named in honor of Edward A. Spencer, general timekeeper for the Alaska Central Railway, this glacier has stunning views, surrounded by incredible mountain peaks!
This glacier isn't just for experienced hikers and mountaineers. Spencer Glacier is a family-friendly vacation adventure, with plenty of campgrounds and opportunities for hiking and exploring the glacier.
Nature walks and sightseeing are also everyday activities here, with rafting and paddling for those who want a closer view of the glacier.
Address: Chugach National Forest, Seward Alaska
Distance: 60 miles from south of Anchorage
Best way to visit: Raft
15. Ruth Glacier
You can find Ruth Glacier in the Denali National Park reserves, standing 40 miles long, with a gorge a quarter of its size. This gorge is known as the world's deepest glacier gorge and calls the attention of tourists yearly.
This glacier was explored by Frederick Cook, a physician, and ethnographer in 1903. Completing his exploration, he named the glacier "Ruth" after his youngest daughter.
If you want to visit the glacier, the easiest way is by air taxi from Talkeetna. Need more of a challenge? You can always climb Mount Denali to view this gorgeous glacier!
Address: Matanuska-Susitna Borough, Alaska, U.S.
Distance: 50+ miles from north of Talkeetna
Best way to visit: Air Taxi
Final Words
Alaska has no shortage of places to visit; trails, beaches, and waterfalls dot the state and bring excitement to those who love the outdoors. Glaciers are no different! Many of them are scattered across The Last Frontier and are fun places to visit.
These are just a few of the countless options available. Whether it's for the science, the views, the exercise, or the adventure, visiting at least one icy blue glacier should be on everyone's bucket list! I recommend finding a sightseeing trip that lets you get up close and personal with the glacier if you really want to make the most of the experience.