Best Ice Caves to visit in Alaska
There aren't too many natural phenomena that can wow like an ice cave, and there are several to explore in the Last Frontier.
Geologists use the name "ice cave" to describe two different formations:
The first is a bedrock cave that ices over due to freezing underground water vapor. The ice turns into blue sheets turning a rock cave into something out of Disney's Frozen.
The other type of ice cave is formed when water melts out of a passageway inside a glacier. Alaska's ice caves fall under this category, and they are spectacular to behold.
Please note that glaciers and ice caves can be dangerous and unstable. Please be safe when visiting them.
In this article, I've laid out the most beautiful ice caves in Alaska you can visit for unforgettable adventures. Let's dive in!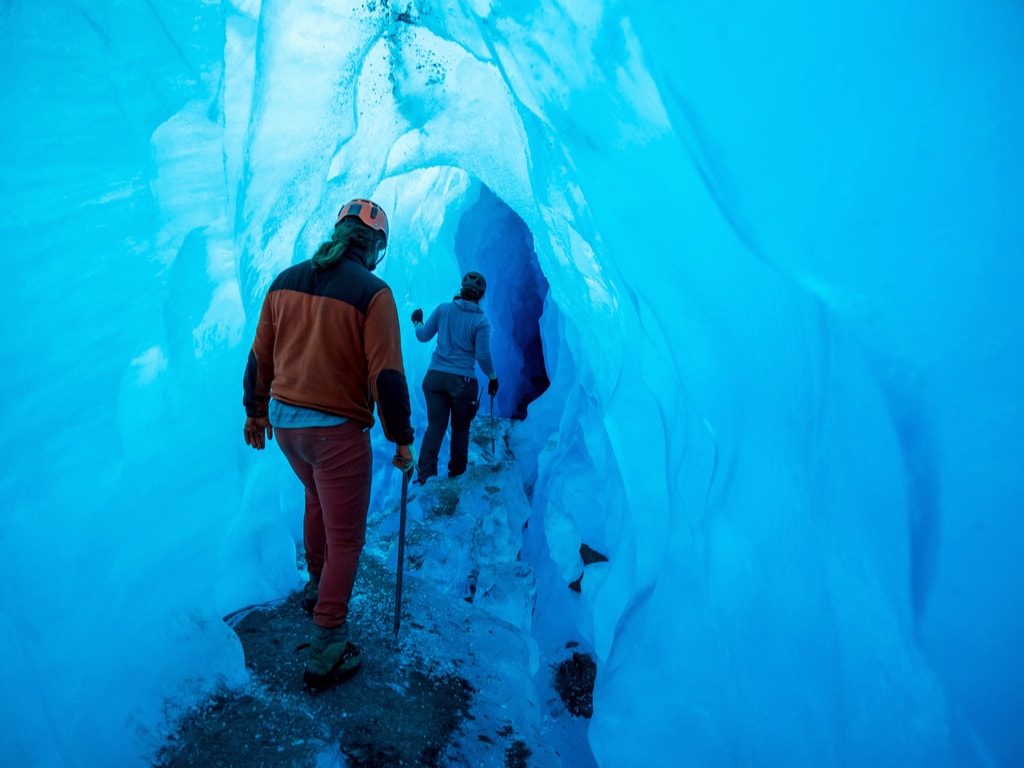 1. Mendenhall Ice Caves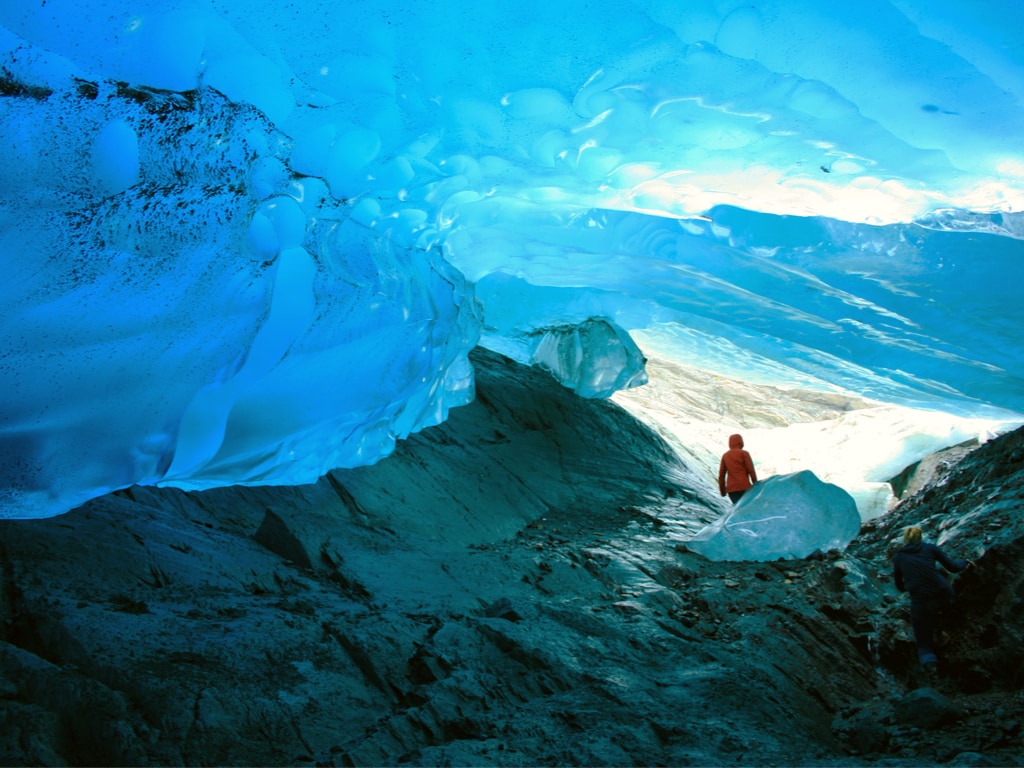 You'll find the Mendenhall Glacier in the Mendenhall Valley roughly 12 miles from Alaska's capital city of Juneau. The glacier is 13 miles long and sits in a part of the Tongass National Forest knowns as the Mendenhall Glacier Recreation Area.
The ice caves give a look a little bit like walking under a frozen river full of swells and shimmering blue domes. It can be as eerie as it is stunning to explore. Getting to one of the caves can be tricky, and hiring a guide is definitely recommended.
There are multi-hour hiking tours that can get there, and most will provide the necessary crampons and axes needed. It is good to keep in mind that they can last six or more hours, and the paths can be quite treacherous. Other tours may include paddling across the lake to reach the cave entrances. Tongass park officials can help you choose a local tour guide if needed.
Should you attempt to explore the ice caves on your own, it is important that you let someone know — a park ranger, family member, or hotel staff —where you are headed and when you expect to return.
Address: Juneau, AK 99801
Hours: Open 24 hours
Entrance Fee: Tours start around $200 per person
2. Spencer Glacier Caves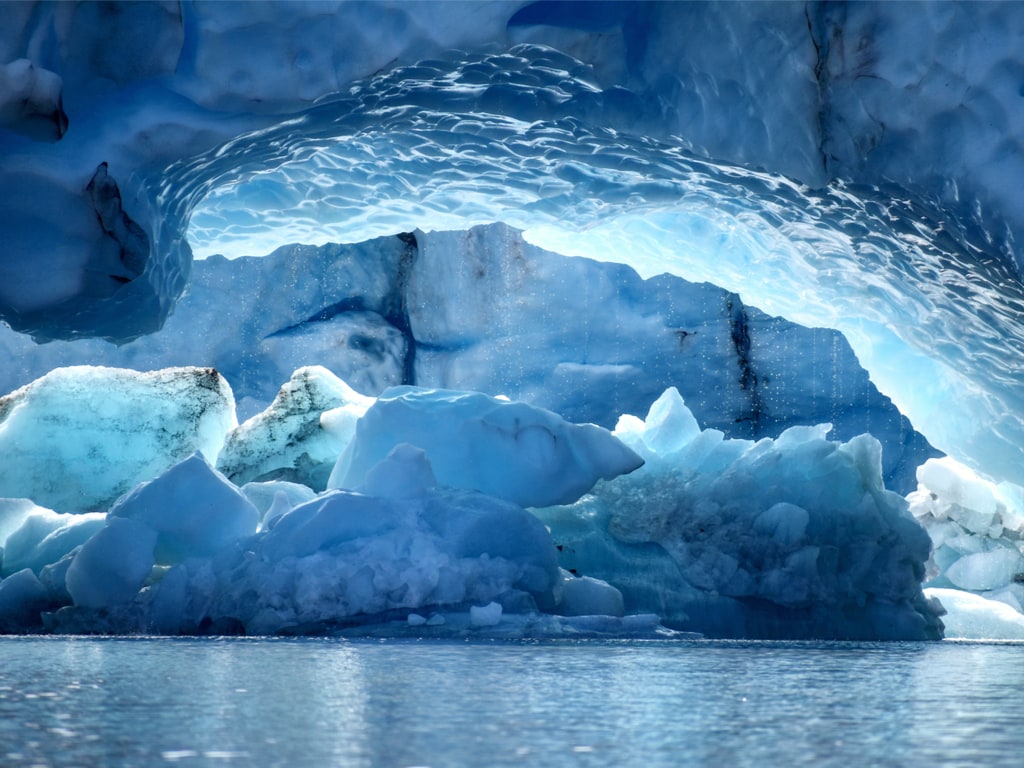 Located roughly 60 miles from Anchorage, Spencer Glacier rises 3,500 feet from Spencer Lake. The glacier's peaks and headwalls are inside the Chugach National Forest just south of the Turnagain Arm. Visitors to the area are astounded by the mountain vistas and sparkling waterfalls.
Getting to the glacier and its caves is done via the Alaska Railroad. You can hire either a hiking tour or a kayaking tour for Spencer Glacier Ice Caves which generally leave from the Spencer Whistle Stop train station. The tour guides will do their best to find a safe ice cave or crevass to explore.
As with any glacier, exploration can be dangerous. In fact, Spencer Glacier is named after a railroad employee who went missing in 1905 after heading out on an ice trek.
Address: AK 99664
Hours: Open 24 hours
Entrance Fee: Tours start at around $250 per person
3. Matanuska Glacier Cave
The largest glacier in the U.S. that is accessible by car, the Matanuska Glacier is 27 miles long and is about 100 miles from Anchorage. You'll find the Matanuska Glacier State Recreation Site off of Glenn Highway. This 229-acre facility has trails and a small campground to enjoy.
Since Matanuska is an active glacier, it moves roughly one foot per day which means its features are always changing. Exploring the ice caves is best done on a guided tour so that you can ensure you are safe and have all the necessary gear. There are tours available all year, and many include a shuttle ride from downtown Anchorage.
You can reach the glacier in your own car on the S Glacier Park Road which is found at mile 102 off of Glenn Highway not too far from Palmer, Alaska. If you aren't ready to go trekking through the ice and just want a good view of the glacier, you'll find a stunning vista at mile 101 on Glenn Highway.
Address: AK 99674
Hours: Open 24 hours
Entrance Fee: Tours start at around $120 per person
4. Root Glacier Caves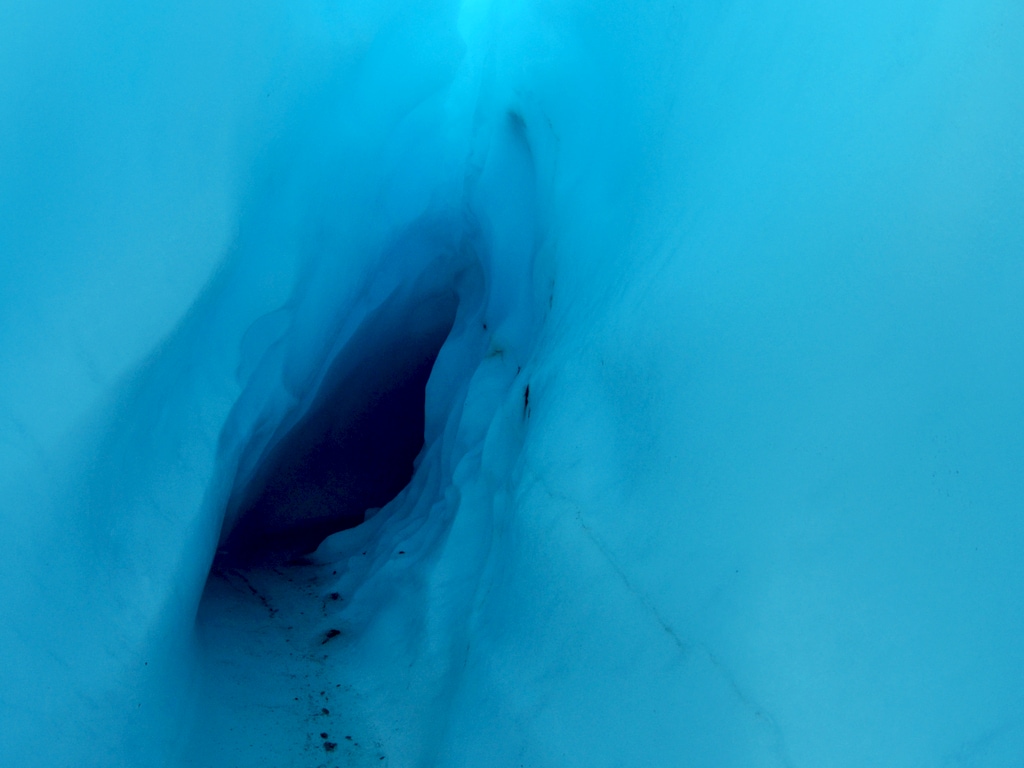 A 7-hours drive from Anchorage will bring you to Root Glacier located in the 13.2 million-acre Wrangell-St. Elias National Park & Preserve, the country's largest national park.
In addition to the excellent views of Donoho Peak, a trip to Root Glacier gives you the chance to view the glacier's tide pools, deep ravines, and moulins. (Moulins are holes in the ice made by melting water.) The Jumbo Creek ice cave lets you step into a world of blue ice!
Root Glacier can be reached with a 1.5 miles hike from Kennecott, a historic abandoned mining town. The trail leads right onto the glacier, and it is recommended that you wear crampons as the ice can be dangerous. A touring company will provide the necessary gear. You should also avoid the edge of the glacier as the ice can be very unstable there.
Bears are commonly seen around Root Glacier, so don't forget to study your Alaska bear safety tips before heading out.
Address: AK 99566
Hours: Open 24 hours
Entrance Fee: Tours start at around $100 per person
5. Kennicott Glacier Caves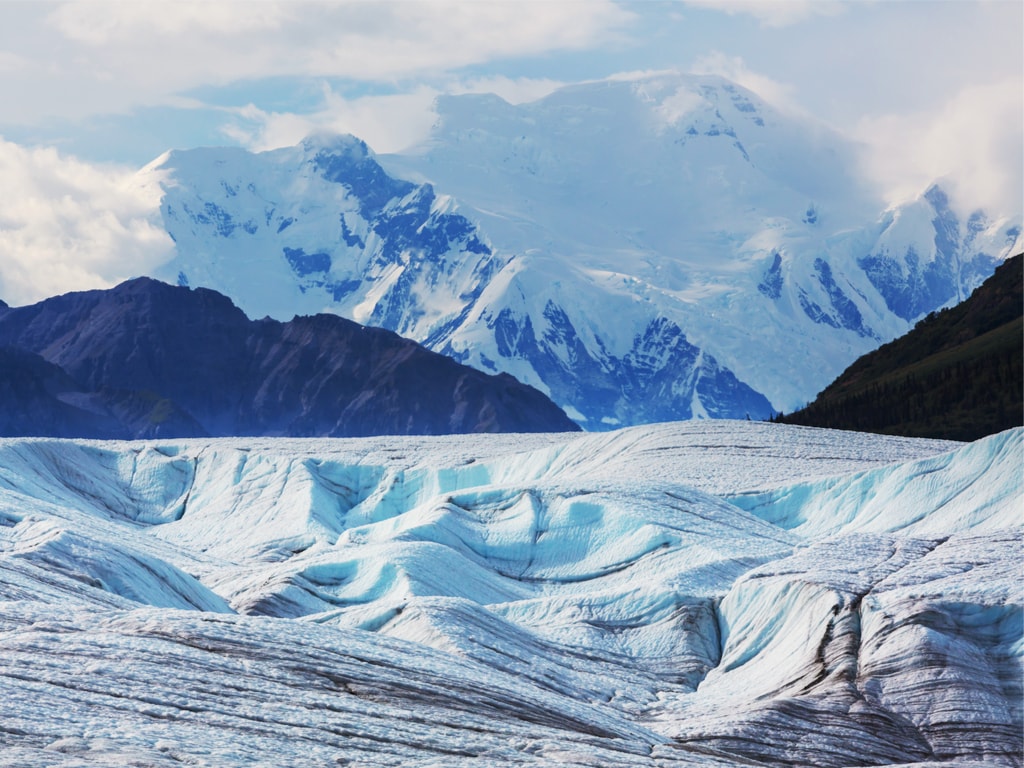 Root Glacier's neighbor, Kennicott Glacier is also located in the Wrangell-St. Elias National Park and spans from Mount Blackburn (Alaska's 5th highest peak!) to the Kennicott River. At first glance, the Kennicott Glacier may not look like much, but underneath the dirt and rocks, you'll find plenty of blue glacial ice.
It is best to explore Kennicott and Root Glaciers with a guide as they are continually moving and changing. The ice caves can easily become unstable, and a guide will help you determine which are safe to enter.
Kennicott Glacier is about 310 miles from Anchorage and is accessible off of McCarthy Road. After parking, you will need to take the pedestrian bridge over the Kennicott River or take the shuttle to town.
Address: AK 99566
Hours: Open 24 hours
Entrance Fee: Tours start at around $100 per person
Alaska's Sparkling Ice Caves Won't Last Forever
Due to changes in climate, these glacier caves are unlikely to be around in the decades to come and should be explored sooner rather than later.
According to the Juneau Icefield Research Program, the Mendenhall Glacier has retreated nearly two miles since the program started monitoring it in 1929, and the retreat is projected to continue for the foreseeable future.
Heading to the Last Frontier should be at the top of your bucket list if you want to experience an Alaskan ice cave!