Where to Eat the Best Khinkali in Tbilisi? 13 Restaurants Ranked
Where to find the best khinkali in Tbilisi? I tried lots of places to find out, so many that I lost count. In this article, I've put together a list of the 13 best khinkali restaurants in Tbilisi for you to discover and enjoy.
Big fat dough-built dumplings stuffed with tasty fillings, khinkali is Georgia's most famous food. And when you're in the nation, you need to munch on as many as you can (just like the locals do).
Though khinkali is usually filled with meat, other flavor options include cheese, cottage cheese, potato, mushroom, and more (so even vegetarians and vegans can munch on the morsels).
No-one quite seems to know where khinkali originates (and I won't bore you with the nebulous maybe-Mongolian history)—but Georgian people love them, tourists love them, and you'll also love them.
Come and get your lips around this: here are the 13 best places to eat khinkali in Tbilisi!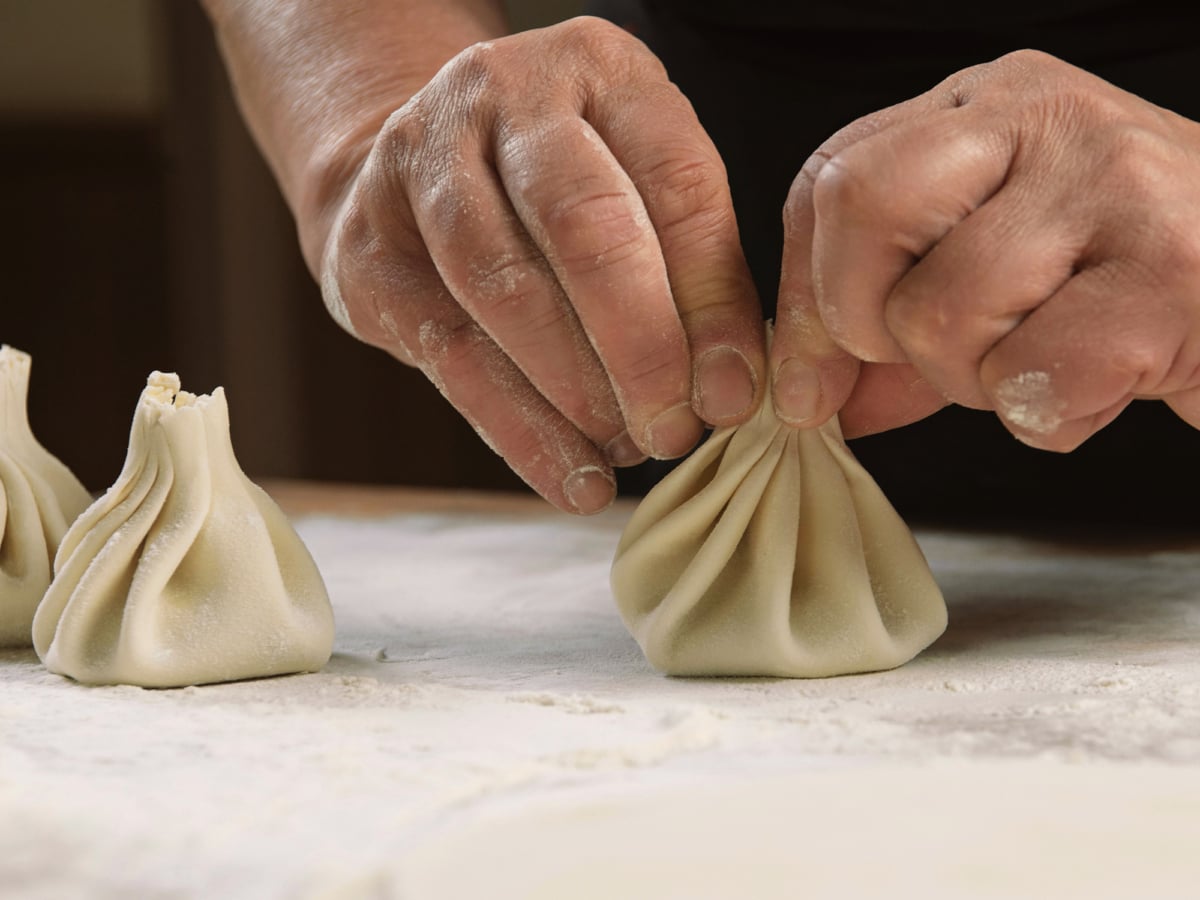 Are you planning your trip to Tbilisi?
If you're traveling to Tbilisi, you want to make sure you have accommodation and tours booked ahead of time! Check out our top-rated tours and hotels to help you plan! (Click the links for photos and details)
🚕 Book your private transfer from Tbilisi airport to your hotel
🇬🇪 Top Tours & Activities in Tbilisi
🛏️ Best Hotels in Tbilisi
🚗 Looking for the best way to rent a car in Tbilisi? Click here to check rental car rates for Tbilisi!
If anyone says Amo Rame's flavor-filled dumplings aren't the best khinkali in Tbilisi, they're wrong.
There are two branches of this place. The original is in Liberty Square, and that's the one I like best. It's a nice combo between trendy and rustic, and they have a small(ish) menu that places the focus firmly on khinkali. Get your mouth around some, and you'll see exactly why.
The other Amo Rame branch sits in Marjanishvili (where I used to live). It's a little classier, which isn't ideal for a stinking little minger like me.
Anyway, whichever of the two you visit, their khinkali is the closest to perfect I've found. They don't look like typical khinkali—instead, they're smaller and squishier, with a sort of greasy glaze. They're absolutely packed with flavor, though sometimes a little too salty (but this is Georgia, where EVERY FOOD YOU'LL EVER EAT is too salty).
If you're only going to eat khinkali in one Georgian venue, I reckon it should be here. They also do good soups, good salads, and some nice local drinks.
There are loads of Pasanauri restaurants dotted around Georgia.
Named after a tiny town famed for its tasty treats, it's a popular Georgian chain, and you can always rely on the place for a cheap meal.
There are various branches in Tbilisi (to be honest, I'm not even sure exactly how many there are—I've listed the three addresses I've visited above, but there are definitely a few more).
Anyway, regardless of the exact number, all Pasanauri branches are pretty similar to one another. But my favorite is the one just around the corner from Liberty Square (listed at number 1 above). It's central, it has a nice atmosphere, and the prices are invitingly low.
All branches of Pasanuari have massive menus, including great versions of lobio (bean stew), mtsvadi (pork shashlik), and eggplant with walnuts (an unusual but brilliant Georgian classic).
But, obviously, you're here to hear about khinkali. Alright, they're not mind-blowingly special, but they're tasty and reliable, and packed with big hearty portions of whatever filling you choose. And because people are constantly ordering them, they're always super-fresh.
Pasanauri restaurants are usually massive—so if you're with a big crowd, these places are always a good option. And the restaurants are always informal and welcoming, so they're handy if you're chowing down with kids.
Many locals will tell you Zodiaqo serves up the best khinkali in Tbilisi—and on some walking tours, if you ask where to get the tastiest little parcels, the guides will tell you to come here.
Of the two options, the branch at Gia Chanturia Street is best. It's saved on my Google Maps as 'khinkali,' which I think is some pretty big evidence in its favor.
In terms of decor, they're both pretty simple and basic inside. The branch at Gia Chanturia Street is a bit more cozy and atmospheric (sort of like a purposely-run-down art gallery), while the other one has a big outdoor terrace, which is nice in good weather.
They have a few different varieties of khinkali here. My favorite is the type stuffed with a tasty combo of cottage cheese and sulguni (sulguni is a super-salty brined cheese from Georgia). They also make fried khinkali, which is pretty unusual (and also, in my opinion, pretty unnecessary).
As you might have noticed from online reviews, the service at Zodiaqo is a bit slow, and the staff don't really seem to care about doing their jobs. Well, sorry to disappoint you, but that isn't exclusive to Zodiaqo—that's just how things are in Georgia.
Anyway, if you visit either Zodiaqo, you'll always see locals sitting with massive plates of dozens of steamy steamy khinkali. Join them, and you'll understand why.
If you like laid-back and informal, you'll think this is the best khinkali in Tbilisi.
The dumplings admittedly aren't the tastiest you'll eat, but the whole place is no-fuss and no-frills, with absolutely no pretense. Eating here feels like you're munching on a building-site canteen: there's no decor, no whiff of a smile from the staff, and no unnecessary flair. It's exactly the sort of place I love.
It's open from 10am until 2am 7 days a week, which I think tells you everything you need to know about the vibe of the place.
Sometimes, they have live music. And by 'live music,' I mean people who are doing a terrible impression of the worst karaoke they've ever heard.
Ironically, last time I was here, the kitchen had run out of khinkali. That tells you how knockabout and disorganized the place is—but it also tells you how good the khinkali is.
Aside from khinkali, the menu is massive, and includes all the Georgian classics you'd expect (and loads of stuff you might not). Some of my favorites here include the pkhali (mashed-up vegetables mixed with walnuts), the specialty kebab, and the pelmeni soup.
Right beside the Khinkali House in Rustaveli, Sabatono is a slightly more classy option than its nearby neighbor.
I love this place for a lot of reasons.
First, let's talk about the khinkali (since that's why you're here). In my experience, it's some of the best in the city, with loads of great flavor, without too much salt. But here's the interesting part: they're absolutely massive, and about three times the size of a normal khinkali.
Inside, the place is comfy and cozy, with an informal but alluring atmosphere. It feels like you're eating inside some irreverent weirdo's living room, and it's home to a load of cool and quirky decor. If you like strange spaces, you'll love it.
It's a little smaller than most other places on our list. So if you're coming here on a weekend, I recommend booking in advance.
Aside from the khinkali, other menu highlights include kharcho (a plum-favored beef soup), the cheese plate, and some hyper-local drinks.
Alright, I'm gonna be honest with you. This isn't the most impressive restaurant in the world. There's better food in Tbilisi, and better khinkali in Tbilisi.
But if you want a spacious family-friendly spot in one of the city's nicest areas, Maspindzelo gives you that. They have a huge sunny outdoor terrace that (almost) overlooks the river, the staff are friendly, the drinks are cheap, and they have LOADS of tables (so they should always have space for you).
The khinkali here is full of flavor, and they have three different varieties: meat, cottage cheese, and potato. It's pretty standard, but it's reliable and tasty. Other menu highlights include the chicken with blackberry sauce, the spinach pie, and any of the barbecued meats.
In summer, I massively recommend coming here.
Back when I lived in Tbilisi, I spent my final night in the city eating khinkali here.
Does that make it the best khinkali in Tbilisi? Maybe not, but I thought you might be interested in that mawkish half-baked insight into my life.
Anyway, the khinkali here is great, and it's some of the tastiest I've ever eaten. Which, I suppose, is what you'd expect from a venue that specializes in the stuff. They also have a much wider range than some of the other places we've mentioned on this list—they churn out three types of meat khinkali, along with cheese khinkali, potato khinkali, and mushroom khinkali.
But they're most well-known for their speciality offering, a type of khinkali made with dambalkhacho (which is sort of like a moldy cottage cheese. Yum).
Other highlights include the megrelian pork sausage, their beetroot salad, and their cornbread.
Asi Khinkali has a small outdoor area, with a couple of tables. Inside, there are only four or five tables—so if you're gonna come here on a weekend, you should probably book in advance.
It's one of those places that's fancy in a shabby-chic way. It looks a bit knockabout, but it's actually a bit more high-end than most other places we've brought you. Good for a date!
In terms of variety, this is absolutely the best khinkali in Tbilisi. If you're looking to get your lips around a wide range of unique stuff, you won't find better than this.
Along with traditional tastes, they offer khinkali with chicken, chicken and shrimps, oyster mushrooms, cheese and truffles, and plenty more. They also have more than five types of meat khinkali.
Most famously, you can build your own khinkali here—you can choose your dough, your filling, and the sauce it comes with. And on top of all that, you can choose to have your khinkali boiled, shallow-fried, or deep-fried.
It's like a khinkali-based version of a build-your-own pizza place.
And get this—for dessert, you can even fill your fat mouth with some chocolate khinkali.
It's a busy little place, with a bustling, welcoming atmosphere. Because it's quite fun and informal, it's really popular with kid-carrying families. But it's not all good news—because it's quite big and busy, you'll sometimes have to wait a while for your food.
Veliaminov is a good option if you don't want to stray far from the center of the city. It sits just south of Liberty Square, so it's pretty popular with tourists hunting for a central but affordable meal.
The place is known for churning out some of Tbilisi's best meat khinkali. They offer three meaty types of the stuff, but no vegan or vegetarian options.
If you're gonna come here for khinkali, I recommend getting only khinkali, and nothing else (well, maybe some salad, cos who can do salad wrong?). The other stuff here isn't terrible—but the khinkali is definitely better than most other options on the menu.
Inside, it's all exposed brick and basic—munching here feels like you're eating in some ancient wine cellar.
Recently, this place has started gathering a reputation for serving up big steamy samples of some of the best khinkali in Tbilisi. It's another local favorite—and some Georgians will tell you Cafe Daphna makes the best stuff in the city.
They serve that dambalkacho khinkali I already mentioned earlier (the one with moldy cottage cheese, in case you forgot). And aside from all the other standard stuff (meat, mushroom, potato) they also do a tasty and rich khinkali with both cheese and potato.
I recommend also munching on the beetroot salad, and the Georgian platter, which has loads of mini Georgian treats.
Inside, Cafe Daphna is more like a cute and contemporary cafe, rather than a standard restaurant—so it's pretty popular with young people, and groups of friends. Chowing down here sort of feels like eating inside an art gallery.
It's a little more expensive than most other places we've covered—meat khinkali here is almost 2 lari per piece. Pricey!
This massive city-center option is a hefty ol' restaurant, and they always have space. So if you're with a big crowd, or with kids, it's a handy choice. It's a very touristy joint, and right off the city's main avenue.
Broadly, the food here isn't anything special—but the khinkali is always good and reliable. Whenever you come, you'll see locals sitting with endless plates of khinkali. And if it's good enough for them, it's good enough for you.
When you're here, make sure you try the khinkali with sulguni (again, that's the salty brined Georgian cheese). It's the best sulguni-based khinkali I've eaten. Other options are khinkali with meat, mushrooms, and potato.
Sometimes, on weekends, Share has live music. But in true Georgian style, they play the music absurdly loud—perfect if you want to have absolutely no conversation with whoever you're eating with.
Alright, I have to be totally honest—I've never actually been here. But lots of people have told me it serves up some of the best Khinkali in Tbilisi, so I wasn't gonna leave it off my list.
Does that make me an honest man, or a dishonest one? No, I'm not sure either.
Anyway, this under-the-radar pick isn't as well-known as some of the other places we've brought you. But everyone who knows it seems to love it.
They have a wide range of dumplings, including the basic classics, along with a potato and cheese combo, and a unique khinkali with dried meat.
It's an informal place, and looks more like a cafe than a restaurant. And because it's tucked away on a sidestreet, it's much more popular with locals than tourists.
Aside from khinkali, they sell only a few other things—sauces, snack platters, desserts and drinks. So if you want a place where the focus is firmly on khinkali, you've found it.
Last up, another place I haven't visited. God, I'm so shameless.
Pictograma is a new name in the Tbilisi khinkali game—as far as I know, it opened up around a year ago, but it's firmly beginning to become a well-known dumpling depot.
The dumplings here are a bit smaller than you get in most other places—they look and taste a lot like the stuff you're served in Amo Rame. They only offer two flavors—khinkali with meat, and khinkali with potatoes and cheese. But if a place serving only two types of khinkali is getting a reputation for churning out good khinkali, their stuff really must be good.
Another informal cheap-chairs-and-tables hangout, it's pretty small, pretty affordable, and pretty laid-back.
According to what I've heard, the spinach pie (mkhlovani) is good, and so is the fried beef.
Before You Go
There they are—the best places to eat khinkali in Tbilisi. Thanks for chewing and chomping with us!
For more information on getting your lips around some drool-worthy dumplings, check out our guide to the best khinkali in Kutaisi (the third-biggest city in Georgia, and where I currently live).
And for more delicious dishes in Tbilisi, check out my articles about the best pizza in Tbilisi, the best cafes in Tbilisi, all the best places to have a breakfast in Tbilisi, and the best restaurants in Tbilisi.
Being a Digital Nomad: Tips, Tricks and Places
Do you want to be a digital nomad?
If you do, maybe you don't know where you might want to live. Or how to live there. Or whether you need a visa. Or how to make friends in the scary sprawl of a brand-new city. Or how to stay productive while you travel. Or how to find an apartment. Or whether this lifestyle really is for you. Or… I'm sure you get the idea.
But with some insight and experience, it's not as difficult as you think. So in this book, I've gathered my 6 years of digital-nomadding experience… and I've used it to answer all your questions, soothe all your fears, and get you on your way. After reading this, you'll realise being a digital nomad is much easier (and much more possible!) than you think.