21 Best Restaurants in Tbilisi Where Locals Love to Eat
I've been living in Tbilisi for the past few months, and I've spent an inordinate portion of that time chewing, chomping, and eating my way around various parts of the city.
Unsurprisingly, as the nation's capital (and biggest city by far), it's Georgia's gastronomical epicenter, with a huge number of restaurants, and a load of varied stuff.
So in this article, I've brought you the best restaurants in Tbilisi.
I've covered traditional food, foreign stuff, low-cost canteens, classy joints, and everything in between. Bring your silverware, load up your plate, and come join the fun!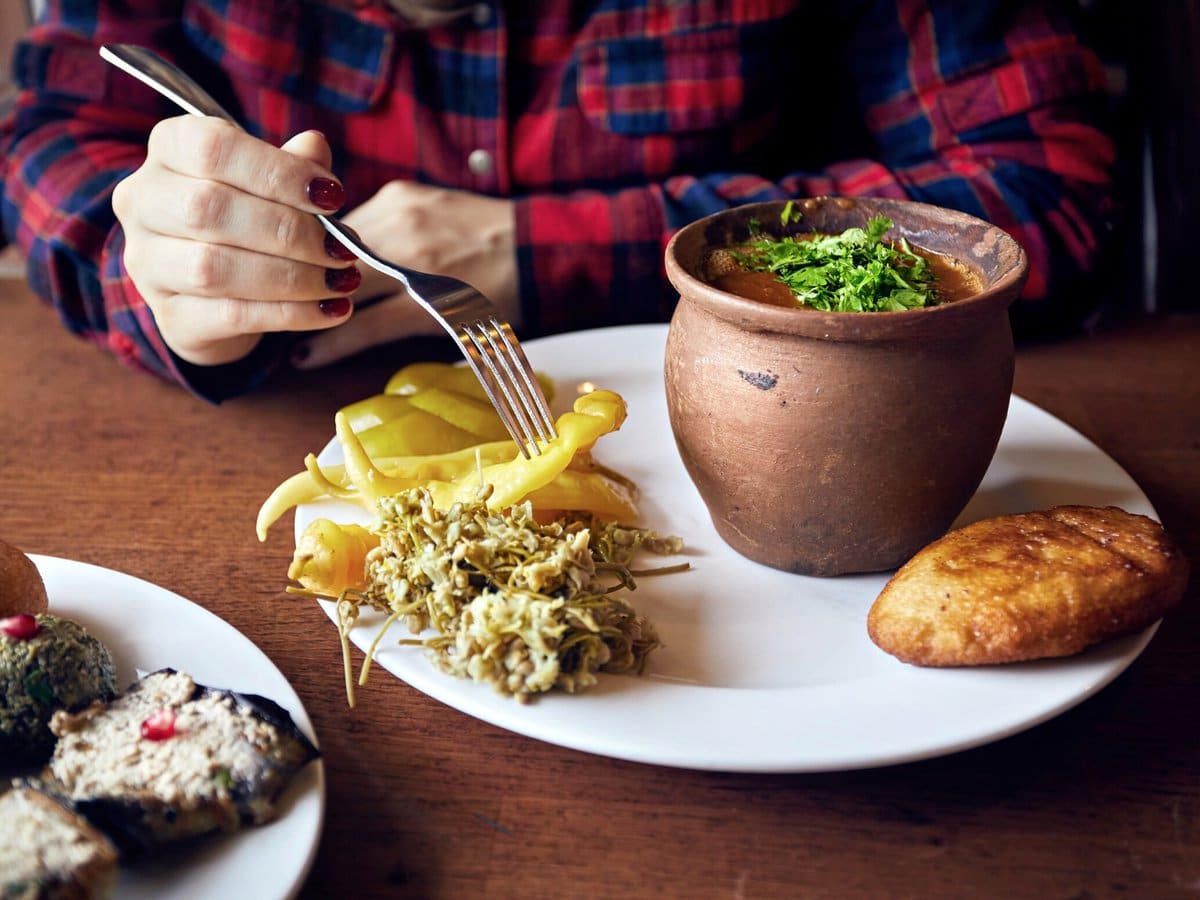 Are you planning your trip to Tbilisi?
If you're traveling to Tbilisi, you want to make sure you have accommodation and tours booked ahead of time! Check out our top-rated tours and hotels to help you plan! (Click the links for photos and details)
🚕 Book your private transfer from Tbilisi airport to your hotel
🇬🇪 Top Tours & Activities in Tbilisi
🛏️ Best Hotels in Tbilisi
🚗 Looking for the best way to rent a car in Tbilisi? Click here to check rental car rates for Tbilisi!
1. Best Budget Restaurant in Tbilisi: Mapshalia
If you ask anyone to recommend the best budget restaurant in Tbilisi, they'll recommend Mapshalia.
Food in Tbilisi can be pretty cheap—but here, it's outrageously cheap. You can get a dish for a couple of dollars, and you can buy yourself a tasty feast of varied delectables for around $5 or $6.
Mapshalia is charmingly rustic and no-frills. Don't expect anything fancy… but expect lots of Georgians eating cheap, tasty, filling food in a barely-decorated venue. If you like local canteen-style hangouts rather than touristy restaurants, you'll absolutely love Mapshalia.
It's a cash-only joint, which tells you everything you need to know about the place.
The locals who eat here are usually pretty friendly and hospitable—so don't be surprised if you wind up making friends.
2. Best Brunch Restaurant in Tbilisi: Kikliko
Tbilisi is brimming with hipster-style brunch joints, all frequented by mustachioed bohemians munching on avocado and sourdough.
Of all the brunch joints I've visited, this place is by far the tastiest, coziest, and most alluring. The interior is pared-back and minimalistic, the food is simple, affordable and well-executed, and (my favorite thing about the place) the staff are super super super friendly.
The coffee is great, the juices are tasty and healthy (with loads of choice), and they have a small but comfy two-table garden. It's a popular hangout with the neighborhood's adorable stray dogs.
As you may or may not know, Tbilisi and its people are obsessed with techno music—and even Kikliko even plays non-stop techno. So if you've ever wanted to listen to tubthumping dance tunes while munching on poached eggs, you've somehow found the perfect place to do it.
3. My Favorite Restaurant in Tbilisi: Tiflis
I absolutely love this place.
It's not quite as informal as Mapshalia, but it's still a pretty low-key place. You get great food at relatively low prices, with a fantastic combination of Georgian classics and contemporary twists.
The khinkali is great (more on that delicious local delight later), but my favorite dish here is the chef's special kebab. It's one of the best things I've eaten in the city.
I really like the atmosphere in and around Tiflis. Set right between the river and one of the city's busiest pedestrianized zones, you always find lots of locals wandering around here, so it's a perfect people-watching spot.
But if you prefer a little more isolation, they have a couple of private rooms, which are open to anyone who wants them.
Top tip: 'Tiflis' is just another name for 'Tbilisi' in some languages. So don't be surprised when ten million eateries pop up when you Google the name of this restaurant.
4. Best Indian Restaurant in Tbilisi: Taste of India
For me, this is the #1 Indian restaurant in Tbilisi by a pretty big margin.
They have some of the best Indian food I've ever eaten—and the tandoori chicken here is maybe the tastiest chicken I've ever chowed down on in my life.
I love it because it's not a touristy joint. Instead, it's more of a local hangout, popular with the Indian students who live in the city. I don't think I've ever seen anyone other than Indians eating here (apart from me and some of my non-Indian friends)… and that's usually a pretty good sign of quality and authenticity.
They have private booths and public tables. And get this—they even offer a daily-delivery service, in which the restaurant will deliver two meals a day to your home.
5. Khushi
People will tell you that this is the best Indian restaurant in Tbilisi. I think it's the next best after Taste of India, but let's not get bogged down in the details.
Whether you think it's the best or not, it's still a lovely place. I've eaten here three or four times, and it's always super tasty. I recommend the daals, the chickpea curry, and any of the tandoori stuff.
They also make really good bread, and the lassis are great. It's a little more expensive than some of the other Indian places in the city, but it's still very affordable by western European standards, with a main dish costing around $5.
Khushi also hosts popular expat meetups, perfect for making new friends if you're feeling lonely in the city.
6. Weller
One of the first places I ate at in Tbilisi, Weller is a little classier than the type of venue I usually hang out at.
It's trendy in a 'ooh let's go on a date and spend quite a lot of money in this dimly-lit ambient restaurant' way… rather than the 'this place looks like a repurposed outhouse' sort of way.
That said, the food is great. Specializing in Middle Eastern and North African cuisine, they serve up treats like kebabs, hummus, falafel, baba ganoush, bourek, baklava, great meat dishes, and plenty more.
It's also a really popular spot for brunch—and it's a good option for something a little different. Rather than the typical eggs benedict and all that, you get stuff like shakshuka, mezze platters, and dishes you've probably never even heard of. Massively recommended (be warned though: the brunch menu is currently only served on weekends).
7. Best Khinkali Restaurant in Tbilisi: Amo Rame Khinkali
Khinkali is one of the tastiest treats you can get your mouth around in Georgia. Knot-topped parcels of dough filled with various delicious fillings, I recommend eating as many as you possibly can.
And I reckon this place crafts the best in the entire city.
I'm definitely not alone in my opinion…. get this: Amo Rame has been a well-known restaurant for a long time. But their khinkali became so popular that they couldn't cater to demand. In response, they opened a second restaurant just over the road… and this second restaurant is dedicated to serving only khinkali.
It's massively popular with locals, and it's always brimming with khinkali munchers. So book in advance!
My favorite is the meat khinkali, but the mushroom and potato options are both great too.
➡️ For more restaurants like this, check out my guide to the Best Khinkali in Tbilisi.
8. Khinkali House
Another khinkali spot, here's another of my favorite laid-back joints in the city. As you've probably worked out by now, my favorite eateries are no-frills places with no pretense… and no desire to do anything other than fill your belly with good food.
And at the Khinkali House, that's exactly what you get—expect big portions, low prices, and occasional live music. The undecorated tables are spacious and uncluttered, perfect for sitting in big groups. And with late hours, it's a popular spot for an informal meal after a bar-hopping session.
They serve some of the best khinkali in the city, but they also offer salads, soups, pastries, great meat dishes, and the best spinach with walnuts (a Georgian staple) that I've had in the nation. In short, if it's Georgian and traditional, you can get it here.
Conveniently, this place is right beside Rustaveli Metro station… so it's right in the heart of the city, and you don't need to walk very far to find it.
9. Shavi Lomi
One of the most popular restaurants in Tbilisi, Shavi Lomi serves vaguely-classy versions of some well-known Georgian classics.
It's a little more upmarket than most of the places I've featured on this list, so it's a good option for a date… or if you're eating with someone else you're trying to impress.
I really like both the pork barbecue and the mushroom soup. One of the most popular options here is Shavi Lomi's 'Goby', small portions of various Georgian specialties, all mixed together in one bowl. It's like a tasting menu for Georgian must-eats.
They also have a lovely shaded terrace. And if you can't get enough of what Shavi Lomi serve up, try out Ninia's Garden, the team's new venue. I haven't visited, but I have friends who love it.
10. Keto and Kote
A popular choice for classy eats and romantic meals, Keto and Kote is an absolute staple for Tbilisi's visitors.
Most websites, foreigners and tour operators claim that this place is the best restaurant in Tbilisi. And while it's not necessarily one of my favorites, it's definitely worth a visit.
Inside, the place is elegantly sparse, in a way that's somehow both minimalistic and flamboyant. Set in an old house with old balconies, eating at Keto and Kote feels like you're eating in the past, and they deliver fine dining without any pomp or pretense.
The food is great—some of the best dishes include the pulled beef, the walnut salad, the dolma and the great selection of Georgian appetizers.
Because the place is perched on the brow of the hill above Rustaveli, it offers great views and a convenient location.
11. Best High-End Restaurant in Tbilisi: Xeme Restaurant
Right on one of Tbilisi's main streets, there's a reputable five-star Biltmore Hotel.
And sitting on the very top floor of the place is Xeme Restaurant, a popular go-to for anyone seeking an upmarket experience.
It's largely popular because of two main factors: firstly, it offers a high-end atmosphere on a relative budget, with meals at unbelievably low prices (typically between $6 and $20). They specialize in sushi (though not exclusively) which is a relative rarity in Tbilisi.
But secondly, and more importantly, it's the best city-center view that Tbilisi has to offer. For most of the city's top viewpoints, you need to hike, drive, or take a cable car. For this one, you simply hop in an elevator and press the number 31.
If you like class and wonder on a cut-price budget, this is one of the best restaurants in Tbilisi. Admittedly, the food isn't incredible… but no-one is coming here for the food.
12. Ghebi
Another excellent option for a low-price meal, Ghebi is located just a few doors down from Mapshalia.
While it's not quite as popular (and vaguely more expensive) as its frugal-favorite neighbor, it's still a fantastic place to eat.
Because it's slightly lesser-known than Mapshalia, it's actually a better option if you want a real local experience. You'll rarely find foreigners here—and when you do, they're usually long-term expats rather than short-term visitors.
Named after a village in the lofty region of Racha, this place specializes in food from that area. So expect lots of bread, cheese, potatoes, and hearty, heavy stuff (yep, even more so than usual). The eggplant is great, and so are the meat dishes.
The wooden-cellar-style interior is really interesting and alluring, and the staff are friendly and patient. For cheap, local and authentic, I massively recommend this place.
13. Best Thai Restaurant in Tbilisi: Chaba Cafe and Cuisine
A laid-back joint serving up tasty Thai food (along with cuisine from other nearby Asian nations), Chaba Cafe is a great spot for a quick informal meal. And as a nice bonus, the prices are pretty low.
My favorite here is the chicken with cashew nuts. But other tasty treats include the chicken noodles, the green curry, and the pad thai. The sushi is okay too.
Thanks to Eastern Europe's inexplicable aversion to spice, it can be difficult to find spicy food in Tbilisi. But if that's what you're hunting for, you'll get it here. It's not quite as spicy as proper Thai food, but it does a reasonable job of emulating that heat factor.
Another good option for Thai food is Yummy Thai. I recommend giving both places a go—Chaba and Yummy Thai are right around the corner from one another.
14. Pasanauri
Okay, I've got to be honest with you—I've never actually been here.
But the place is one of the most popular chain restaurants in Tbilisi, and lots of my friends (both foreign and local) absolutely love it. So for those reasons alone, I need to include Pasanauri on my list.
Of all the branches throughout the city, the most popular is the one beside Liberty Square—I've heard it has the freshest, tastiest food, and the best atmosphere. It's also a 5-minute walk from the nearest metro station, which is nice and convenient.
They serve the same type of fayre you get in most traditional Georgian eateries—expect lots of bread, cheese, salad, walnut sauces, spinach, and cheap food and drink.
For a tasty, filling, hearty, and informal meal, Pasnauri is a go-to. And I'll probably go-to it one day soon.
15. Best Turkish Restaurant in Tbilisi: Ankara Style
I love eating here.
I live in Marjanishvili, the Middle Eastern enclave of the city. And because it's a Middle Eastern enclave, you find lots of varied eateries in the area, offering meals and morsels from Turkey, Lebanon, Yemen, Israel, and more. They're largely all informal places, serving authentic food at relatively low prices.
Of all the laid-back Turkish restaurants in this area, Ankara Style is by far my favorite. They have canteen-style food you can point at and pick from, along with a menu of grilled meats, great desserts, and plenty more.
I recommend any kebab-based dishes, along with the spicy tomato salad. But it's all good stuff—and it's a pretty popular breakfast spot.
Fun fact: while I'm writing this guide, I'm munching on some tasty takeaway chicken dish I got from Ankara Style. I don't know what it's called, but I know my mouth likes it.
16. Chveni
One of the best restaurants in Tbilisi if you're looking for classy and high-end, Chveni offers some interesting, elegant and unusual flavors, and it's all excellently executed.
Some of my favorite dishes here are the watermelon and feta salad, the Georgian goat's cheese with pumpkin jam, and the snails in cream sauce.
Inside, the decor is super interesting, featuring a knockabout collection of various mismatched items. If you like the type of restaurants that look like they were assembled from the unwanted remnants of a jumble sale, you'll love the place. It has a bar-like atmosphere rather than a restaurant-style vibe, which I really like.
It's a little pricier than some of the other eateries we've featured on our list, but it's worth the money. And as a nice bonus, the staff are really friendly and helpful.
17. 144 Stairs
As you can probably guess from this restaurant's name, this place is precariously perched at the lofty top of 144 vertiginous steps.
Because of that, it offers excellent views of the city. It's just beneath the fortress that looms over Tbilisi—so the views you get from there, you also get from 144 Stairs.
One of my favorite Georgian meals is shkmeruli, which is a dish of chicken in a creamy garlic sauce. And of all the places I've eaten it, this is the best I've had. It's really tasty, and boneless, which makes a nice change.
The tomato and basil bruschetta is also really good, as is the tuna salad (though I know neither of those are Georgian classics).
It's notoriously difficult to find this hangout… but be patient and persistent. It's totally worth it.
18. Tone
One of my favorite spots for casual food in the city, this place serves high-end sandwiches.
Tone is a traditional type of Georgian bread, and you'll see it everywhere in the city. Baked in an old-school clay oven, it's doughy, salty, tasty, and some of the best bread I've ever eaten.
Though most modern-thinking young Georgians are eschewing their roots, the people who own this place are absolutely embracing them, using baked-on-site tone bread to craft some of the tastiest sandwiches in the city. Expect sandwiches with steak, chicken, cheese, and lots of trendy ingredients from around the world.
This is the most down-to-earth fusion food you'll probably ever eat.
Tone is set inside Fabrika, a multi-purpose venue that's one of the hippest hangouts in the city. You can't visit Tbilisi without spending some time in Fabrika.
19. Best Burger Restaurant in Tbilisi: Grill More
This place serves up lots of great stuff, including steaks, salmon, and salads. But they're most well-known for their burgers—and if you visit here without eating a burger, you're doing it wrong.
They offer expected classics including cheeseburgers, chicken burgers and chili burgers… but the big highlight of their menu is their 6-cheese burger, which might just be the most decadent and unnecessary thing you've ever eaten. I recommend it regardless.
The burgers here are pretense-free, but they're masterfully made, and super tasty; they're way better than your average fast food burger.
Because it's in Saburtalo, a largely-residential neighborhood, the prices are pretty low, and it's not a particularly touristy hangout.
Some of the other best burger restaurants in Tbilisi include Pipes, Burger House, and Smashburger.
20. Best Steak Restaurant in Tbilisi: Steakhouse #1
Okay, here's another entry I haven't actually visited myself.
But I have lots of friends in Tbilisi who love steak. I asked them all where to find the best steak in the city—and they all recommended eating here.
So if I'm wrong, blame them, not me.

Anyway, the imaginatively-named Steakhouse #1 offers different types of both Georgian and American steaks, along with various sauces. The sides are the stuff you'd typically expect, including spinach, asparagus, fries, and cheesy mashed potatoes.
They also serve pastas, salads and sandwiches, but most people come here exclusively for the big juicy doses of tasty meat.
Because Steakhouse #1 serves steak (and because it's situated in Vake), it's a little more expensive than most restaurants in Tbilisi—but compared to western European steakhouses, it's still very affordable.
21. Best Restaurant in Tbilisi for Cheese and Charcuterie: 8,000 Vintages
This chain of hangouts is most famous for its drinks, but they also offer some surprisingly tasty treats… and all in the form of cheese boards, charcuterie boards, and other types of boards.
Of all the 8,000 Vintages, the best and most popular is the branch at 60 Irakli Abashidze Street, right in the heart of Vake.
They don't have a huge amount of food, but if you like cheeses, cured meats, and all that other stuff, this place is an absolute must-visit. Lots of the food is local, and all of it is ridiculously tasty.
The tasting boards typically come with Kakhetian oil (that's oil from a mountainous region of eastern Georgia), local walnuts, and other unique delicacies.
They also offer a great dessert board, and themed boards from other parts of the world. For something a little different, this place is really great.
Best Restaurants in Tbilisi: Before You Go
There they are—the 21 best restaurants in Tbilisi. Check them all out, and get chewing and chomping!
If you want to know anything else about exploring Georgia's capital, we also have guides on where to have the best khinkali in Tbilisi, the best pizza in Tbilisi, the best breakfast in Tbilisi, the best cafes in Tbilisi, why you should visit Tbilisi and all the things the city is famous for.
If you fancy some shopping adventures, check out my guide about the best thrift stores in Tbilisi.
Being a Digital Nomad: Tips, Tricks and Places
Do you want to be a digital nomad?
If you do, maybe you don't know where you might want to live. Or how to live there. Or whether you need a visa. Or how to make friends in the scary sprawl of a brand-new city. Or how to stay productive while you travel. Or how to find an apartment. Or whether this lifestyle really is for you. Or… I'm sure you get the idea.
But with some insight and experience, it's not as difficult as you think. So in this book, I've gathered my 6 years of digital-nomadding experience… and I've used it to answer all your questions, soothe all your fears, and get you on your way. After reading this, you'll realise being a digital nomad is much easier (and much more possible!) than you think.