Breakfast in Tbilisi: 18 Best Cafes & Bakeries
For the past few months, I've been living in central Tbilisi. And over that period, I've spent endless hours munching my way around the city.
In this flavor-packed guide, I've put that belly-busting knowledge to good use, bringing you the top 18 places to find the best breakfast in Tbilisi.
Expect great coffee, hefty pastries, local specialities, beefy buffets, all-day breakfasts, bites on-the-go, and plenty more.
Looking for the best breakfast in Tbilisi? You've found it!
Are you planning your trip to Tbilisi?
If you're traveling to Tbilisi, you want to make sure you have accommodation and tours booked ahead of time! Check out our top-rated tours and hotels to help you plan! (Click the links for photos and details)
🚕 Book your private transfer from Tbilisi airport to your hotel
🇬🇪 Top Tours & Activities in Tbilisi
🛏️ Best Hotels in Tbilisi
🚗 Looking for the best way to rent a car in Tbilisi? Click here to check rental car rates for Tbilisi!
What is a Typical Georgian Breakfast?
There's not really any such thing as a 'typical' Georgian breakfast.
Georgians live late, work late, and lazily clamber out of bed late…so they don't really prioritize waking up early to devour a tasty morning feast.
And on top of that, most cafes and restaurants open up quite late, so heading out for an early breakfast isn't really a common thing here.
Often, you'll find the best Georgian breakfasts in guesthouses (especially in rural areas). In these guesthouses, you'll usually receive some saliva-inducing combination of yogurt, fruit, eggs, sausage, cottage cheese, salty cheese, tomatoes, cucumber, bread, preserves, tea, and coffee. If you're lucky, you might get all of it.
Pastries are a relatively popular breakfast food in Georgia (though they're also eaten for any meal… and also just as a big snack). The most well-known pastry is khachapuri, a cheese-filled pie-style bread with endless regional variations. But you also get similar breads stuffed with beans, mushrooms, spinach, meat and more.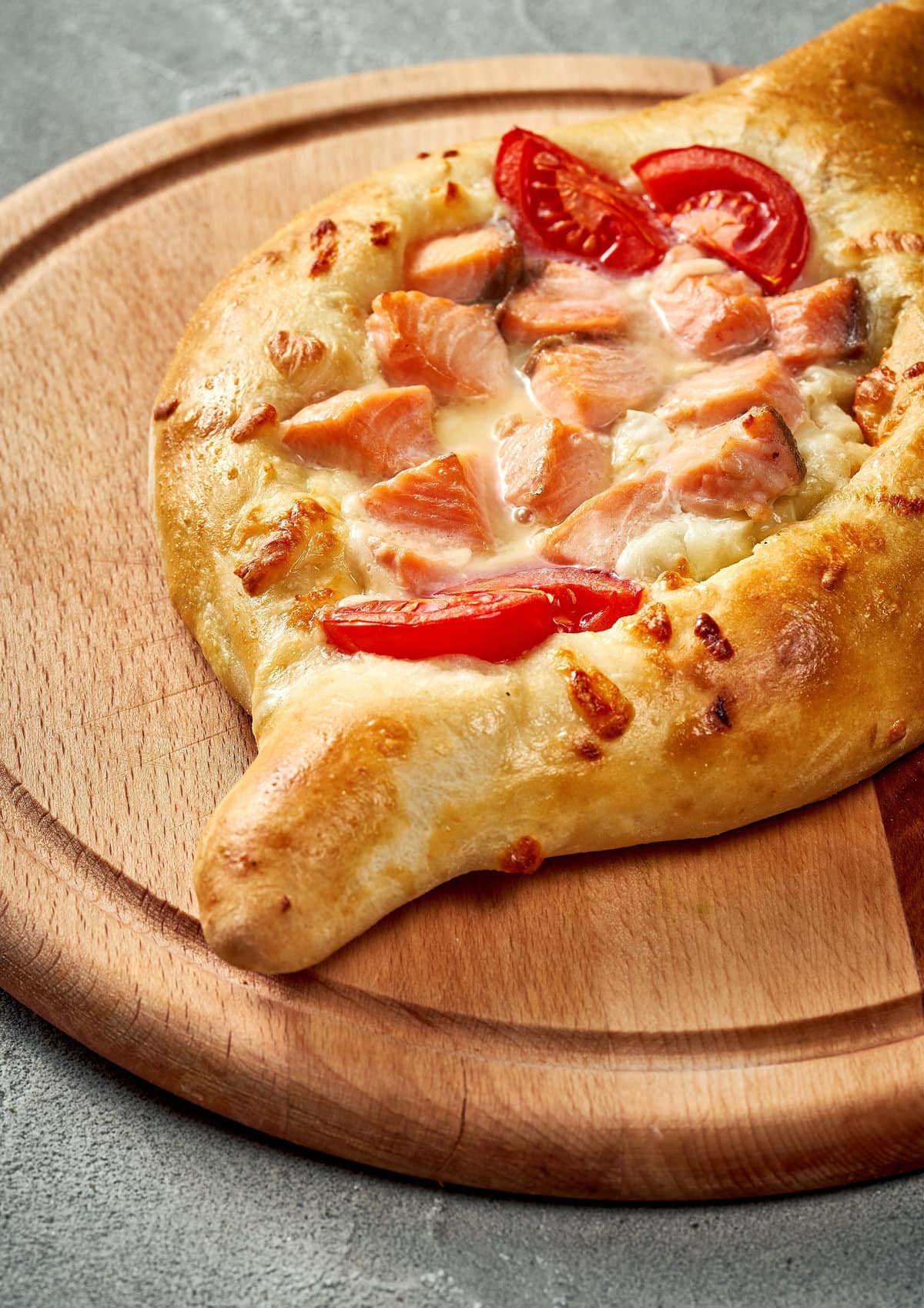 Because Georgians don't really have a breakfast tradition, they also don't usually have a designated breakfast time. So in the majority of restaurants, breakfast items are on offer all day.
If I'm aware of any specific breakfast times for any specific restaurants, I've noted that in the descriptions (but you should always check for the most up-to-date information!).
12 Best Cafes and Restaurants for Breakfast in Tbilisi
1. Kikliko
This is my favorite breakfast joint in Tbilisi, and I come here pretty often.
Sitting in Vake, the most upmarket part of the city, Kikliko is cute and charming—and considering its trendy neighborhood, it's a surprisingly affordable place to eat.
The alluring eatery is named after the dish of the same name, which is sort of like French bread (but Georgian). Served with your kikliko, you can get ham, cheese, salad, or caramel. But they also offer non-kikilko treats, such as pancakes, eggs benedict, and eggs florentine.
The portions are pretty small, so I usually order two. But if you're a normal person with a normal appetite, one might be enough.
They also have a small-but-pretty garden, and they always play quiet techno music (good ol' Tbilisi).
For atmosphere, food, opening hours, and everything all mixed together, I really think Kikliko offers the best breakfast in Tbilisi. They only serve brunch-based food, so they're experts at what they do.
2. Coffee Lab
Next up, my favorite coffee shop in the city.
If you like good coffee with your breakfast, you genuinely won't find anywhere better than this.
They of course serve cappuccinos, lattes, espressos and all that normal stuff—but they also have aeropress, French press, and other interesting drinks. If you really like coffee, I recommend getting your lips around their tasting menu, with its three different flavors.
The food is nothing exceptional, but it's still pretty good. The menu includes classics such as oatmeal, eggs with salmon, eggs with bacon, and French toast. But they also offer waffles with sulguni (a type of Georgian cheese)—a nice option if you're looking for breakfast with a local twist.
They have a big outdoor seating area, which is lovely in good weather.
Because Coffee Lab is in Saburtalo, it's not in the city center. But it's absolutely worth the trip—and it's easily accessible by metro.
3. Erti Kava
Another good choice for great coffee, Erti Kava is a local favorite (and it's become so successful that it now has branches in both Batumi and Mestia).
The coffee is good, and the food is tasty too. Highlights include smoothie bowls, oatmeal, avocado on toast, bagels, cottage cheese pancakes, and lots of egg-based eats and treats. If you like sweet stuff, make sure you have a slice of honey cake.
It's hugely popular, so don't be surprised if you need to queue for a table on weekends.
The staff are super friendly… this is one of the smiliest venues I know in the entirety of Tbilisi. And as another nice bonus, it opens at 8am—perfect if you want to get started early.
All in all, Erti Kava definitely offers some of the best breakfasts in Tbilisi.
4. Supra
Although Georgia has no real breakfast tradition, Turkey definitely does.
In Marjanishvili, the middle-eastern district of the city, there are lots of Turkish eateries—and some of them serve up some pretty good Turkish breakfasts.
Of all the ones I've tried, Supra is the best—and though Tbilisi is always pretty quiet in the mornings, this place is always busy around breakfast time. The traditional Turkish breakfast isn't massive or astounding, but it's tasty and affordable. They also offer various egg dishes, great Turkish tea, and some tasty cheeses.
This isn't necessarily the very best breakfast in Tbilisi… but if you're craving some Turkish food, Supra is a great option.
5. Bagelin
If you like bagels, I can't recommend this place enough.
Specializing in NY-style stuff, the circular-shaped eats here are stuffed with great flavors. Options include a breakfast bagel, salmon and cream cheese, the BLT, and a vegetarian mushroom speciality.
But the most popular item on the menu (and probably my favorite) is the so-called 'hot mess,' filled with chorizo, hot sauce, eggs, and pickled jalapeños.
Best of all, the (dense and doughy!) bagels themselves come in different flavors, and you can choose your bread when you place your order. Options include sesame, wholewheat, local svaneti salt, and even smoked sulguni (that's a type of Georgian cheese).
For heavy, hearty and decadent, Bagelin offers some of the best breakfasts in Tbilisi.
6. Hurma
One of the most well-known cafes in the city, Hurma is a popular morning-meal spot—and if you ask people where to find the best breakfast in Tbilisi, they'll usually recommend this place.
The menu is pretty small, but it's all tasty. Two of my favorites here are the syrniki with berry sauce and sour cream, and the strange-but-delicious coconut oatmeal.
The drinks selection is pretty varied, including kombucha, matcha lattes, smoothies, protein-based drinks, unusual lemonades, and a great range of teas.
Beyond breakfast, Hurma also becomes a decent nightlife spot as the evening rolls in. Laid-back and relaxing, but ambient and friendly, it's definitely worth revisiting at night.
7. Cafe Stamba
One of the most famous venues in the city, Stamba is a lot of things. It's a hotel, a library, a bookstore, a very trendy hangout, and the city's former publishing house.
But it's also famous for its tasty cafe/restaurant, which offers some of the best breakfasts in town. Aside from the standard brunch-style stuff, they also dish up muesli, ricotta pancakes, French toast, gravlax, and a surprising array of imaginative smoothies (my favorite is the celery, basil, aloe and apple).
Stamba is a little more classy than most other places I've featured on this list, offering an upmarket atmosphere and some delicately-assembled plates.
All of that said, Cafe Stamba is most well-known for its brilliant buffet breakfast. But I'll bring you all the tasty details on that funfest later in this guide…!
8. Lui Coffee
The only 24-hour cafe in the city (or at least the only 24-hour cafe I'm aware of), this is a perfect place to get a super-early breakfast.
They offer standard fayre such as pancakes, scrambled eggs and oatmeal. But they also dish up plenty more unusual edibles, including matsoni (Georgian yogurt), shakshuka, Ukrainian pancakes, Asian pancakes, cottage cheese donuts, and loads more. if you're looking for an extensive breakfast menu, you won't find better than this.
They also offer lots of fresh cakes and pastries (presented in a tasty-looking glass cabinet), and the coffee is pretty good.
For an early-morning offering, this is definitely the best breakfast in Tbilisi.
9. Family Kitchen
Okay, this place doesn't offer the best food in the world.
But if you really want to see what Georgians eat in the morning, this is the best place for breakfast in Tbilisi. For authentic local stuff with absolutely no pretense, this is exactly where you want to be.
It's a canteen-style self-service joint, where all the food is displayed in a bunch of cabinets. You point at what you want, and the staff dish up big hearty portions of it.
You'll find meat, salads, soups, breads, pastries, desserts, hot drinks, cold drinks, and everything else. If you arrive at breakfast time, you'll notice a surprisingly wide range of options… and you'll see what I meant when I told you that Georgians don't really tend to eat specific stuff for breakfast.
Family Kitchen is super cheap, even if you order a bunch of stuff (which you probably will).
10. Kikodze
Pretty classy, Kikodze is a good choice if you're on the hunt for somewhere a little more elegant and upmarket.
Some of their most unusual breakfast dishes include cold yogurt soup with local cheese, cold beetroot soup, scrambled eggs with truffle oil, and various types of bruschetta.
They also do standard stuff too (including great coffee)… but I won't list all of those for the hundredth time in this guide (although I found their eggs benedict on brioche super super tasty).
This is another venue that transforms into a good hangout spot at night. Sitting inside Wine Factory, this is one of the best laid-back nightlife areas in the city, and it's perfect for a fun but relaxing evening.
11. Sol
A good choice if you're looking for a relatively healthy breakfast, colorful Sol is a charming little place with a lovely atmosphere. They have lots of fresh ingredients, and the food is a little less rich and stodgy than some of the other places we've featured.
With bagels, omelets, smoothie bowls, pancakes and more, they have a pretty extensive menu. My favorites are the 'your breakfast,' (featuring toast, sausage, egg and salad), and the unique rice porridge with white cherry and pistachio. Their shakshuka (which is a traditional Tunisian dish) is also great.
Open and glass-fronted, Sol is bright and airy, and it's a good spot for people-watching, or sipping on a coffee while you read a book.
12. Chaduna
Right in the heart of the Old Town, Chaduna is situated in a fantastic part of the city.
Seemingly set in the confines of a former family home, this is your typical Tbilisi Old Town place. The staff are super friendly, it's bohemian and laid-back, and it attracts a mixed crowd of locals and tourists.
This is a great spot to munch on the strangely-named Georgian specialty 'chizhi bizhi,' a Georgian breakfast meal which is sort of like shakshuka. Made with eggs, peppers, onions and stewed tomatoes, it's pretty tasty no matter where you eat it… but it's especially tasty here.
Other options on the menu include omelets, breakfast quesadillas, cottage cheese pancakes, and decent hot chocolate and coffee. As of now, all breakfast food menu items are exactly the same price as one another (15 lari).
4 Best Bakeries in Tbilisi for a Quick Breakfast on the Go
1. Entree
Because Entree is a Georgian chain, there are loads of these places dotted around various parts of the city.
My favorite is the one in Marjanishvili, but that's probably because I live there. Right beside Marjanishvili Metro station, it's a good place for a quick bite before you move on elsewhere.
Anyway, no matter which Entree you visit, you'll find sandwiches, pastries, pies, croissants and coffee. It's all pretty tasty, and it's all available for takeout… so you can nab a bite as you move.
If you prefer to sit down, they serve a limited range of standard breakfast meals before 11am, including surprisingly good eggs with ham.
2. 31 Kote Marjanishvili Street
Another option in the Marjanishvili neighborhood, this is my favorite place to grab a quick bite any time of day (well, assuming you're not looking for something healthy). But it's especially good for a filling no-fuss breakfast, especially if you want to start early.
A reasonably big 24/7 Georgian bakery, this place doesn't even have a proper name—it's just some tasty venue on the corner of a sidestreet.
Their pastries are great. Get yourself a lobiani (that's bean-stuffed bread), a khachapuri, or a bread filled with mushrooms or spinach. All of the pastries are massive and tasty.
They also offer cakes and sweet pastries, and a small cabinet of salads and meat (no matter what time you visit).
For quick, filling, and on-the-go, this is absolutely one of the top choices for the best breakfast in Tbilisi. It has a small standing area, but most customers just use the place for takeaway.
3. Caravanserai Bakery
Popular with both locals and tourists, this no-frills place offers pies and pastries right in the heart of the Old Town. Hidden down a flight of stairs, you'll smell it before you see it… but be prepared for a little hunt, because it's notoriously difficult to find.
Inside, you'll discover lots of typical Georgian pastries… but they also serve up burek-style pies, which is perfect if you're somehow tired of khachapuri (though I'm not sure why you would be).
Because it's always so busy, the turnaround is mega fast… so whatever you buy will always be fresh. And despite this place's brilliant reputation, the prices are still super low (lower even than some of the other way-less-good bakeries in this area).
Note: it's only open for takeaway.
4. Dezerter Bazaar / Station Square
Here's a quick disclaimer: this isn't one particular venue.
Instead, it's a local market area, jam-packed with endless things to buy. You'll see fruits, vegetables, meat, spices, antiques, household stuff, kids' toys, handmade goods, endless oddities, and loads of weird miscellany.
But most importantly for you, you'll also find endless hole-in-the-wall local bakeries serving up lots of tasty low-price pastries.
If you want a real local breakfast that real local people eat, this is exactly where you want to be.
Find the bakery with the biggest queue, find the biggest pastry you can buy, and chow down on its salty, stodgy goodness.
When you're done eating, this general area is an interesting place to wander around… I definitely recommend spending an hour or two here.
2 Best Breakfast Buffet Restaurants in Tbilisi
1. Stamba
Alright, I've already mentioned this place, for its excellent a-la-carte morning meals. But they also offer the most high-quality breakfast buffet in the city.
Get yourself here for breakfast, and you'll be treated to lots of tasty morning morsels, including freshly-cooked eggs and meats, and lots of high-end food. The place is a little more classy than most other eateries I've featured on this list… so if you're looking for an indulgent and high-end breakfast, this is best you'll find in the city.
It's expensive, and you'll probably never pay more than this for a meal in Tbilisi… but if you're in the mood for a filling buffet breakfast, it's definitely worth the money.
2. Fabrika
If you're a regular reader of this site, you'll have noticed I mention Fabrika in basically every guide on Tbilisi.
That's because it's one of the most famous hangouts in town (with some of the best cafes in the city)—and it's packed with places to eat, drink, party, sleep, work, shop, get your hair cut, buy old records, and make friends with dogs in the courtyard.
But on top of all that, it's also a great choice for anyone seeking the best buffet breakfast in Tbilisi. It's quite a lot cheaper than Stamba, but it's still brimming with lots of tasty treats.
The breakfast here is served in the main Fabrika restaurant area, and includes eggs, meats, fruits, muesli, fresh pancakes, an omelet bar, pastries, cakes, lobiani, khachapuri, jams, freshly-brewed coffee, and plenty more.
Before You Go
And just like that, we've cleared our plates, drained our coffees, and come to the end of our guide on the best breakfasts in Tbilisi.
If you want to know anything else about Georgia's capital city, check out our guides to the best restaurants in the city, the best pizza in Tbilisi, the best cafes in Tbilisi, the top 17 reasons you should visit the place, and our jam-packed three-day itinerary.
And for some fun city adventures, checkout my guide for the best thrift stores in Tbilisi.
Thanks for reading, thanks for choosing Travelness, and thanks for being such an intrepid explorer!
Being a Digital Nomad: Tips, Tricks and Places
Do you want to be a digital nomad?
If you do, maybe you don't know where you might want to live. Or how to live there. Or whether you need a visa. Or how to make friends in the scary sprawl of a brand-new city. Or how to stay productive while you travel. Or how to find an apartment. Or whether this lifestyle really is for you. Or… I'm sure you get the idea.
But with some insight and experience, it's not as difficult as you think. So in this book, I've gathered my 6 years of digital-nomadding experience… and I've used it to answer all your questions, soothe all your fears, and get you on your way. After reading this, you'll realise being a digital nomad is much easier (and much more possible!) than you think.