11 Best Markets in Vietnam
Markets are one of the most prominent attractions in Vietnam and it is essential to visit one during your time in Vietnam.
Markets give an inside look into the local culture with an authentic Vietnamese atmosphere. The buildings become lively early in the morning with locals getting their stalls ready. At any point in the day, you can witness the hustle and bustle of daily life for the lives of the local people.
At the marketplaces, you will find various stalls of clothing, produce, street food, Vietnamese fruits, and unique souvenirs. If you are looking for an experience away from the modern touristic areas in town and typical attractions, check out one of the famous or smaller local markets.
The article below lists the best markets in Vietnam and everything you'll need to know about them like where they are located, the opening hours, and what you will find there.
Let's explore! 🇻🇳
1. Ben Thanh Market
City: Ho Chi Minh
Address: Le Loi street, Ben Thanh Ward, District 1, Ho Chi Minh City
Opening Hours: 6 am – 0 am
Ben Thanh market might be the most famous market in all of Vietnam, and it happens to be the oldest in all of Saigon.
The Ben Thanh market was initially founded by some traders and vendors gathered in the 17th century. Later the French properly established it in 1859, and although it no longer resides at the original spot, it is still considered to be the oldest market.
The new place is now called the New Ben Thanh Market.
This market is the largest in all of Ho Chi Minh City. There are 2 separate stories and endless sections of goods throughout the property. Locals and tourists alike come to witness this large selling and trading market.
The crowds can be quite overwhelming and it is easy to get lost among the many alleys and shops. Luckily there are vendors waiting to sell you some delicious meals to revive you on your shopping day!
What to Find Here:
There are several produce vendors around the area, however, this market is catered towards prepared food. This market should be on the top of any foodies list when visiting the Vietnamese markets. The Ben Thanh market has a large number of food stalls waiting to make you street foods or classic traditional Vietnamese dishes right before you!
Beyond the food section of the market, you can find plenty of souvenir shops selling the classic 3D cards, statues, t-shirts, etc. Then you can find interesting home decor, accessories, and even some electronics.
2. Hoi an Central Market
City: Hoi An
Address: Tran Quy Cap street, Cam Chau, Hoi An, Quang Nam
Opening Hours: 6 am – 6 pm
There are several different marketplaces around Hoi An but the Hoi An Central Market is the most popular one.
From as early as 4 in the morning this market lights up and comes to life with the local people preparing their stalls.
Slowly throughout the day, the locals come to buy their groceries and supplies for the day, and the tourists get to watch and add to the bustle of the market.
The central market is an important destination for any tourist finding themselves in Hoi An. Not only is the market a main formation of Hoi An's commercial spirit and cultural side, but it provides great insight into Hoi An's history.
Hoi An has even been recognized as one of the World's Cultural Heritage Sites by UNESCO!
It has a perfectly preserved trading port and it is highly recommended to visit the wide range of markets around the area. Although the site no longer operates as a large scale trading area, tourism has grown exponentially here, keeping the commercial aspects alive.
What to Find Here:
You can find a variety of different products in this massive marketplace. You can find fresh food like produce in the outside stalls. There is a large outdoor market section where you can find products like fruits and vegetables, and even fresh made coconut milk for sale. There are also cooked food stalls littered throughout the property selling delicious street food.
The upstairs portion of the market is more eclectic. You can find vendors selling clothing, souvenirs, and even cooking supplies.
3. Hanoi Weekend Night Market
City: Hanoi
Address: Hang Dao Street, Hoan Kiem, Hanoi
Opening hours: 6 pm – 0 am (Weekends only)
This famous night market is held within the Old Quarter in Hanoi, known to be the touristic area. The market stretched from Dong Kinh Nghia Thuc Square to the gates of the Don Xuan Day Market. This market is a unique experience for tourists visiting Hanoi wanting to experience a more energetic side of Hanoi (not that Hanoi isn't energetic with its bustling city life, it's just a different kind of energy).
The market is open from Friday until Sunday every week and the roads are blocked off during this time to make space for the "walking street" that becomes filled with stalls and vendors. You can spend endless hours wandering around this market enjoying the food, souvenirs, and musical performances.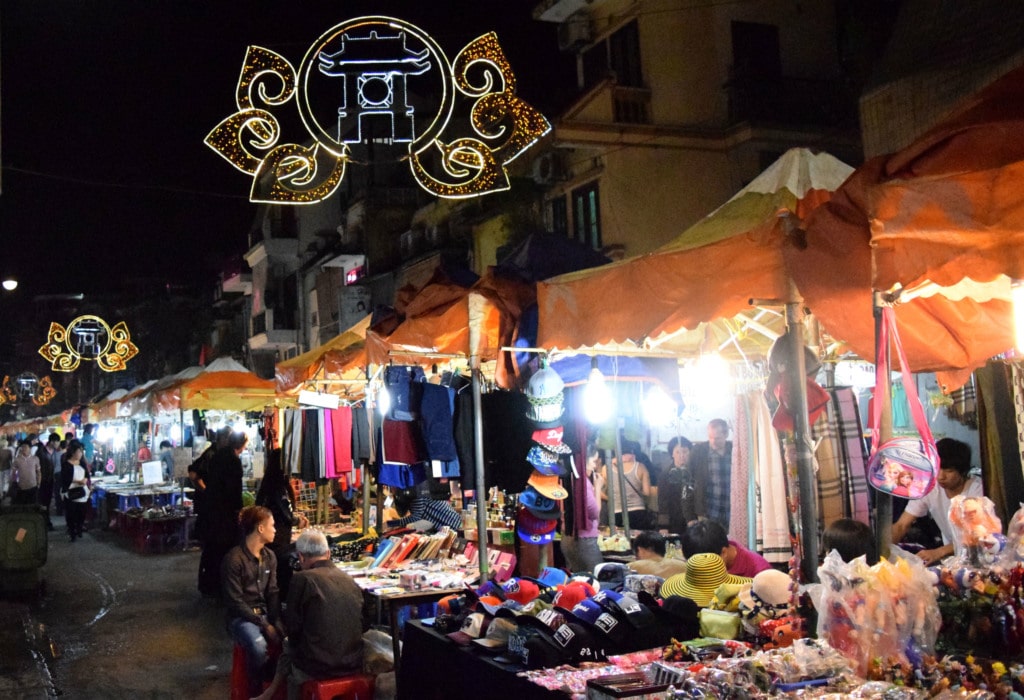 The best night to visit this market is on Saturdays when it is the most lively. Saturday nights usually are accompanied by live performances, live paintings, or even fresh exhibitions. These experiences bring the enjoyment of not only traditional Vietnamese art and music but also some modern creations as well.
What to Find Here:
Like most markets in Vietnam, the main attraction is the abundance of local food options around this market. Hanoi is known for having amazing cuisine and this market has amazing authentic Vietnamese dishes like Pho (a delicious noodle soup), Banh Mi (the famous Vietnamese sandwich), Bun Cha (a grilled pork dish with vermicelli), etc.
The market also has a huge assortment of classic souvenirs from culturally-reflected statues and items, to 3D popup cards. Most items lean towards more touristic souvenirs, like T-shirts with Vietnamese scenery or classic traditional paintings. You can find a variety of clothing, accessories, and even some home decor.
4. Dong Xuan Market
City: Hanoi
Address: Dong Xuan, Hoan Kiem, Hanoi
Opening hours: 8 am – 6 pm
The Dong Xuan market is one of the most authentic Vietnamese markets. It is one of the largest and most famous trading/selling marketplaces in all of Hanoi. The market was originally built in the French colonial period under the order of the French, and at this time it was one of the important new architecture features in the area.
Nowadays, the market is even more lively than ever. It is easy to get lost or even overwhelmed in this market due to its large size. The vendor stalls stretch beyond the 2 designated buildings spill out into the streets. The market is divided into sections based on the type of goods the vendor sells, making it an extremely convenient place to buy the exact items you're looking for. The market usually sells things in wholesale, making the items on the cheaper, more accessible price range.
What to Find Here:
The Dong Xuan market is surrounded by streets of fresh produce vendors often frozen standstill with traffic of the locals coming and going to get their food for the day. Inside there are spectacular stalls selling items like dried food, prepared street foods, and another section inside for fresh produce. Beyond these are sections to find clothes, accessories, wooden art statues, and fabrics. You will definitely find some treasure if you visit this local market.
5. Binh Tay Market
City: Ho Chi Minh City
Address: 57a Thap Muoi Street, Ward 2, District 6, Ho Chi Minh City
Opening Hours: 6 am – 7 pm
This market is one of the most famous markets in Ho Chi Minh- and also one of the most historical. Rumors say that Binh Tay Market was built/ funded by a Chinese businessman motivated by ideas of supporting his trading career. The market is located in the Vietnamese Chinatown, and the market is easily visible with its strong decorative patterns of both Vietnamese and Chinese style. Chinese lifestyle is blended into those that live here, and it remains a very authentic Chinatown not a tourist attraction.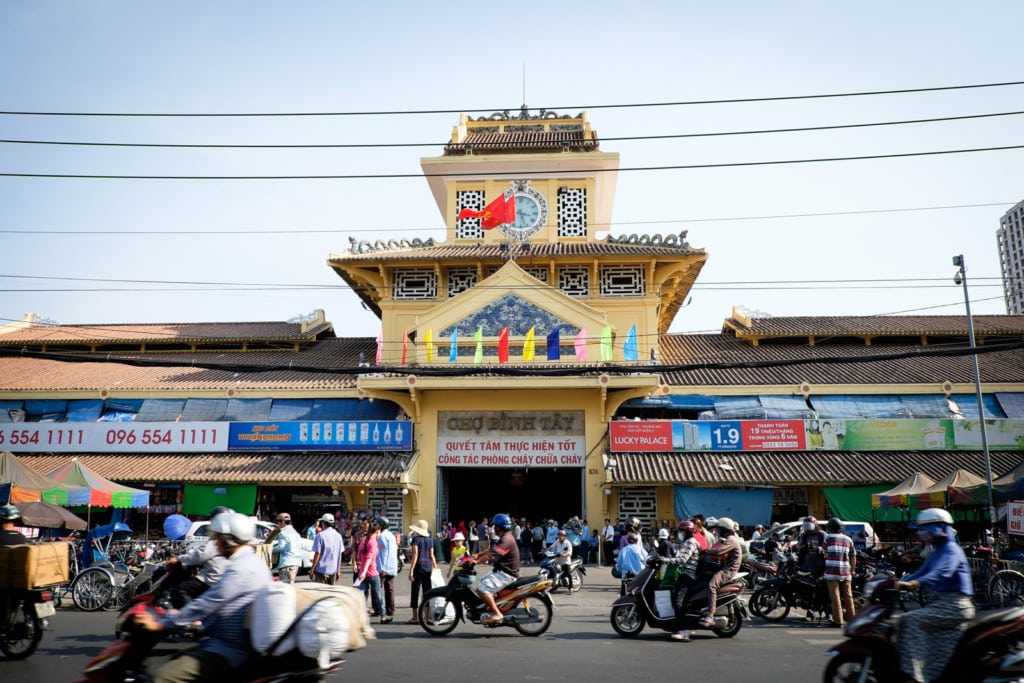 Binh Tay Market is similar to most other Vietnamese markets. However, Binh Tay is a more authentic and local market compared to several other markets in Ho Chi Minh. The locals rise early to set up the market, and the bustle of customers remains constant throughout the day. This market is also separated into sections of similar goods, but it is still simple to get lost in the large marketplace. The market specializes in wholesale items, but there are plenty of vendors to find exactly what you are looking for.
What to Find Here:
You can find incredible Vietnamese cuisine in the market from street food snacks to a meal of pho. This two-story market offers produce stalls on the outside, and small market stalls with chairs for cooked foods. There are endless vendors of clothing, accessories, and home supplies. You can even find a stone honoring the founder of the market – Guoyan, Quach Dam.
6. Ho Thi Ky Flower Market
City: Ho Chi Minh City
Address: Alley 52, Ho Thi Ky, Ward 1, District 10, Ho Chi Minh City
Opening Hours: 6 am – 6 pm
The Vietnamese love filling their homes and shops with beautiful colored and nice smelling flowers. The Ho Thi Ky Flower market is the main flower provider for almost all sellers and individuals in Ho Chi Minh City. The large market is filled with piles and barrels full of beautiful flowers all organized into their specific stalls and stands, and the scenery can be breathtaking. Many tourists and locals attend this market with no intention to buy anything, but rather enjoy the smells and sights of this unique market.
Many of the flowers are imported from fertile areas like Da Lat (which is known as "The City of Thousands of Flowers", Mekong Delta, and other various areas with a nice growing climate.
What to Find Here:
You can find an endless amount of flowers at the Ho Thi Ky market. There are at least 100 different stalls selling beautiful bouquets of flowers or single flowers by themselves. Although you will find no food or produce or clothing, you can witness the beauty of the many exotic plants Vietnam can offer. You can also experience the buzz of a local market while watching the local people.
7. Nha Trang Night Market
City: Nha Trang City
Address: 78 Tue Tinh, Loc Tho, Nha Trang City, Khanh Hoa Province
Opening Hours: 6 am – 0 am
Nha Trang Night Market is a very popular tourist attraction in Vietnam. Nha Trang is a beautiful beachside city that brings many tourists year-round. The night market is one of the strongest attended events in Nha Trang bringing thousands of people to explore.
The night market is similar to a lot of night markets throughout Asia but this market is unique due to its wide range of specialties.
The night market is one of the most popular activities in the city, making it the most lively and exciting event in Nha Trang. This is a wonderful market for people watching and making friends with some local people and even some travelers.
Many locals and tourists alike gather here to spend the night enjoying the company of friends and families while exploring the many stalls and eating delicious foods.
What to Find Here:
Like any other night market, you will find a plethora of food options to choose from. It is recommended to try some of the local cuisine like the pho dishes, My Quang noodles, or one of the many banh mi choices. You will also find an abundance of vendor stalls selling souvenirs like postcards, shirts, or toys. There are so many products to look through at this market you might never see everything!
This market is known for its specialty of Bun Cha Sua- a rice vermicelli with jellyfish soup. This is a very popular dish among locals and you can find it easily in this market. This dish is limited to Nha Trang due to its coastal location. Banh Can is another Vietnamese dish resembling a savory pancake with seafood.
8. Dinh Cau Night Market
City: Duong Dong
Address: Vo Thi Sau Street, Duong Dong, Phu Quoc Island
Opening Hours: 4:30 pm – 12 am
Located on the beautiful and touristic island of Phu Quoc, this market is similar to the Hanoi Old Quarter Night Market. This market is filled by travelers and tourists making the atmosphere friendly but not so authentic. The market is held on the largest street on Phu Quoc, but the street remains pedestrian-friendly by closing the market area to motorized transport.
This market is organized by its many different stalls with food and then a makeshift dining area to sit and eat. After you have had your fill for dinner you can continue on to the shopping portion of the market. You can find a variety of different handicrafts and souvenirs here, and even if you aren't looking to buy anything it is always nice to window shop for an hour or so!
What to Find Here:
The Dinh Cau Night Market has amazing food stands set up. Most dishes revolve around seafood and there are a variety of different options. You can find many local restaurants lining the street as well as serving budget-friendly Vietnamese dishes. This market does not offer much fresh produce besides in smoothies and juices.
The market does have amazing souvenir stalls perfect for those looking to choose a personal item for your friends or family. You will find items like clothing, accessories, jewelry, postcards, and even some art. Keep in mind that because Phu Quoc is a tourist destination, and the night market is a tourist attraction, prices will be much higher here.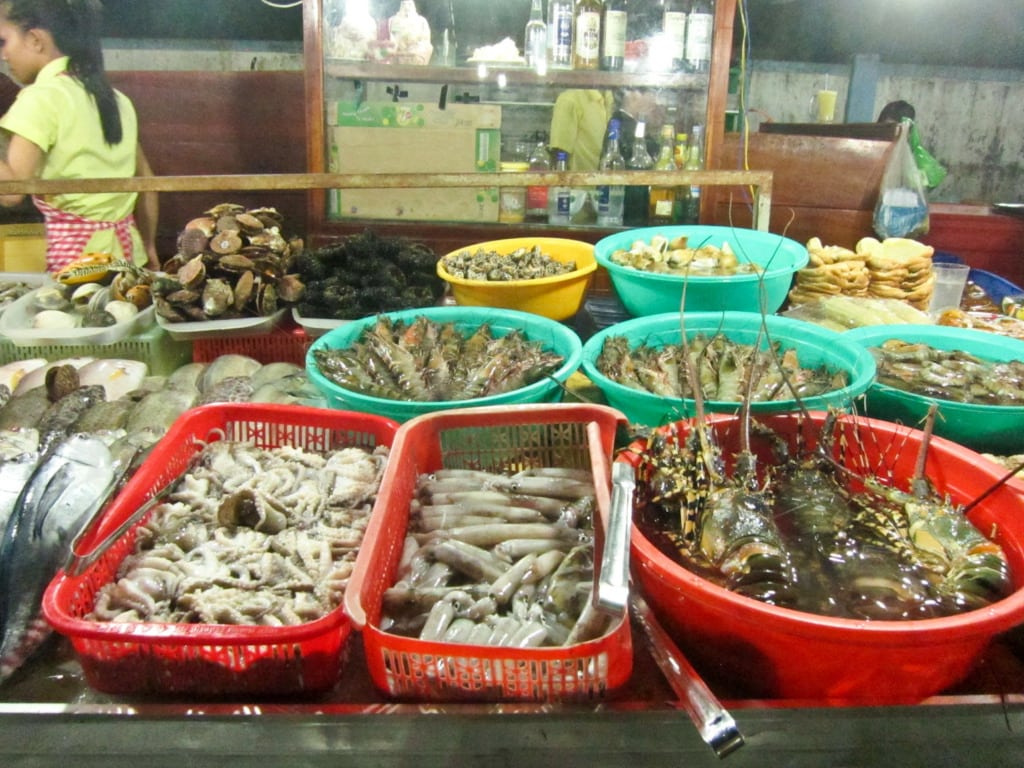 9. Han Market
City: Da Nang
Address: 119, Tran Phu Street, Hau Chai District, Da Nang
Opening Hours: 5 pm – 7 pm
The Han Market is a large attraction in Da Nang and is a significant landmark. The market has been operating since the 1940s. It is a two-story building with hundreds of stalls inside and even spilling into adjacent street sides. This market is said to resemble a smaller version of the Ben Tanh market in Ho Chi Minh. The stalls are filled with the same materials, souvenirs, and food options but Han Market operates on a much smaller scale.
Even if you aren't looking to buy anything while you are in Da Nang, a visit to this market is a good way to experience the authentic side. You can watch the locals run their shops, or run their errands. Visiting the Han market is a great way to participate in life in Vietnam and interact with the local people.
What to Find Here:
The first floor is filled with stands for produce like fresh fruits and veggies. You can also find seafood and butchered meat here. There are also dried foods, packaged chili paste, rice crackers, etc. There is an indoor food court in this market as well which offers every Vietnamese dish imaginable at an affordable price.
Above the first floor, you can find home decor and supplies, cosmetic supplies, and even a wide range of fabrics. There are several tailor shops open in the Han market offering custom made suits, dresses, and other garments.
10. Dong Ba Market
City: Hue
Address: Tran Hung Dao Street, Hue
Opening Hours: 4 am – 8 pm
The Dong Ba Market is located in the UNESCO listed site of Hue and is considered to be one of the oldest markets of its kind. This market is less popular with tourists and frequented more by locals. This is the perfect spot to get an authentic feeling of a local market, let alone- a market that has been around for possibly hundreds of years?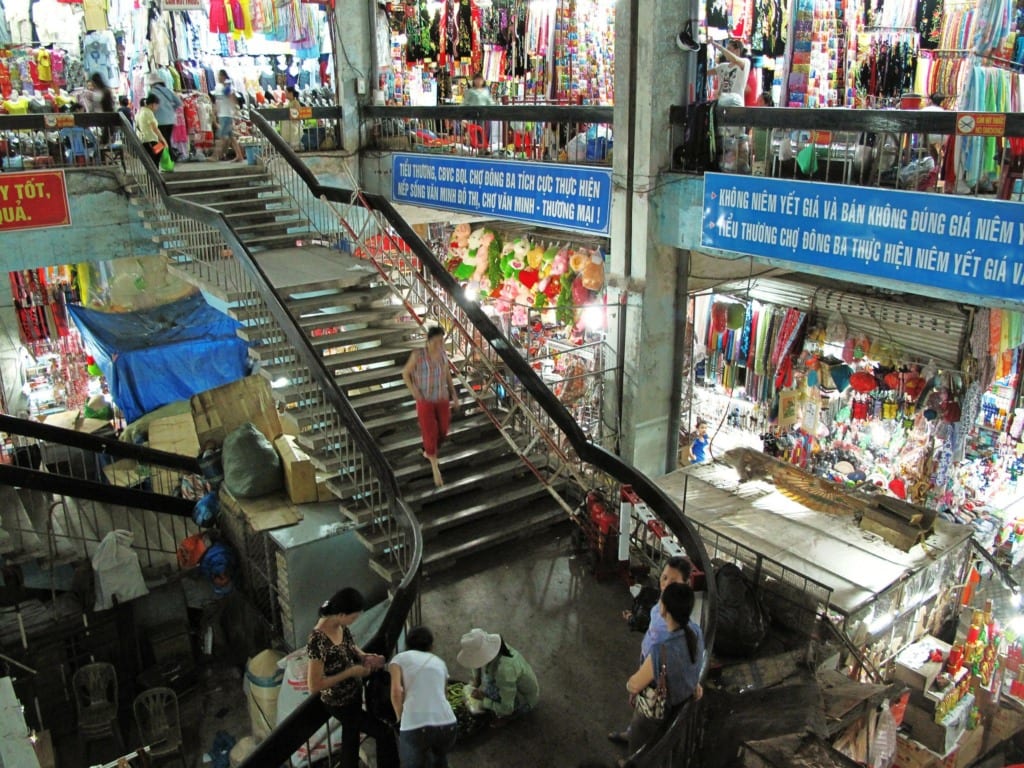 This market exists strongly on an alleyway street frequented by motorbike traffic, so you do need to keep your wits about when exploring the produce. When entering the market building you will find additional produce stands before you find the shopping sections. The best time to visit the market is during the early morning or afternoon because the vendors are more responsive and eager to sell.
What to Find Here:
The Dong Ba Market provides some amazing locally grown produce. There is an abundance of stands providing exotic fruits and healthy fresh vegetables. There are also seafood stands and butchers stand, making it easy to get your groceries in one place.
You can also find home decor and supplies inside, along with clothing and women's cosmetics. The shopping portion of the Dong Ba Market is very unique because it is not geared towards tourists, rather the local people.
11. An Dong Market
City: Ho Chi Minh City
Address: An Duong Vuong Street, District 5, Ho Chi Minh City
Opening Hours: 8 am – 2 pm
An Dong Market is a modern fashion wholesale market accompanied by handicraft vendors. This market is completely indoors, separated into four levels. This market is ideal to visit for those interested in fashion and handmade items. There is a large collection of clothing, textiles, shoes, bags, and accessories from many different brands. The top floor is dedicated to local artists and their quality handicrafts and trinkets.
This market has an interesting mix of wholesale mass-produced clothing and unique handmade items. Nevertheless, this is the perfect market for those looking to make some additions to their closets or find some unique one of a kind items.
What to Find Here:
The first two floors are made up of stalls with clothing, textiles, and bags. You will also find stalls dedicated to shoes, accessories, or handbags. There are some original designs and some knockoffs. The top floor is reserved for local artisans and their arts to either display or put for sale.
Quick Tips for Vietnamese Markets
It is always best to buy your products from a local market instead of a supermarket! Not only will you be supporting the local people and small farms, but most of the time the prices are cheaper!
Bargaining in Vietnam: Yes or No? It is important to know the average price for items before bargaining. Generally, the first price is very inflated and you can bargain down to a reasonable price. If you are simply trying to pay the lowest amount possible, it will come across as disrespectful. If you can spare the money and the price is fair, support the locals!
Understand the local currency! Not understanding the currency is a simple and frequent mistake many foreigners make. If you understand how much money you are paying in your own currency, you will be able to understand if you are being ripped off easier.
Keep a minimal amount of money on you. Though it does not happen often, it is good to be prepared for any petty theft that might happen in a crowded, bustling market.
Wrapping Up
When you visit a Vietnamese market, you will experience an authentic feel of the local culture.
The markets, especially the local ones, are the perfect places to interact with the local people, enjoy traditional food, and even find unique souvenirs!
There is an abundance of markets around Vietnam and they are all completely unique. No matter what kind of market experience you are looking for, one of the previously mentioned markets will surely bring you a wonderful experience.
With such a wide variety of items and unbeatable prices, Vietnam is the perfect place for those looking to buy all Vietnam has to offer. Remember to pack light because you are sure to pick up a souvenir or two (or ten).