21 Best Things to Buy in Vietnam
'The Vietnamese currency is 23,000 VND to 1 USD*! That's insane! I feel like a millionaire! I'm gonna spend all my money on EVERYTHING! And it's called Dong! Dong!! HAHAHAHA – DONG!!!!"
(*At the time of writing. Don't blame me for currency fluctuations if you're reading this in 2025. I'm not Rockefeller)
That made-up quote – that's every tourist when they first go to Vietnam.
In Vietnam, everything's cheap, and everything's way more affordable than back home. From drinks to food to memorabilia to souvenirs. So you're probably gonna search for cool things to buy and splash your cash like some sort of lunatic. Most other tourists do.
So we're here to help you.
Explore some Vietnamese markets and let's put that Dong to good use. In no particular order, here are the best things to buy in Vietnam:
1. Food
Look, not all of the entries on this list are gonna be this long. Or this obvious. But if you're not buying food when you're in Vietnam, you're an idiot.
Firstly, you'll die. We all need food to live, even on vacation. But secondly (and less literally), the food is amazing, with one of the most varied, interesting and tasty street food scenes in the world. Some of Vietnam's tastiest treats (and there are a huge range of them) include:
Street snacks: Banh mi (one of the best sandwiches you'll ever eat), Nem Lui (lemongrass pork skewers), banh xeo (prawn pancakes) and spring rolls.
Soups: Pho (the nation's national dish), bun rieu (a crab and noodle soup) and bun bo hue (beef and bone marrow in a strong broth with a unique but amazing sweet flavor).
Noodle dishes: most soups have noodles, while there are also dry (or relatively dry) noodle dishes such as mi quang (a versatile and herby dry dish) and bun cha (a sweet, sour, herby mixture of pork meatballs and assorted sides).
Other meals: banh cuon (small pancake parcels with an endless number of textures), banh khot (tiny pancakes with prawns) and ga nuong (fried chicken with rice).
Weird stuff: che (a strange but amazing sweet soup), cha ruoi (savory cakes made of mashed worms), and thit cho (roasted dog).
… and that's just the start. Once you're strolling along Vietnam's streets, you'll be surprised by just how much varied food there is in and on every street, corner and cart. Even if you've been to other Southeast Asian countries, you'll still be surprised by just how much gastronomical fun is packed into Vietnam's flavorscape.
Most entries on the rest of this list are souvenirs and things you can take home with you. But this entry isn't. You shouldn't try carrying a steaming hot bowl of pho onto your flight home (even if you'll probably want to), but you should spend a massive portion of your time in Vietnam munching and mealing.
Where to find it: everywhere, but street food is the best food. Don't go to westernized restaurants; eat where the locals eat
Average price: cheap cheap cheap. You can find some meals for as little as $1
2. Coffee
More stuff you can cram in your big fat mouth.
Disclaimer: if you're from Italy or Colombia or Jamaica or Ethiopia, you're not gonna like this.
But Vietnamese coffee is the best coffee in the world. The nation is also one of the biggest coffee-exporting countries in the world.
And you can drink coffee on every corner in Vietnam.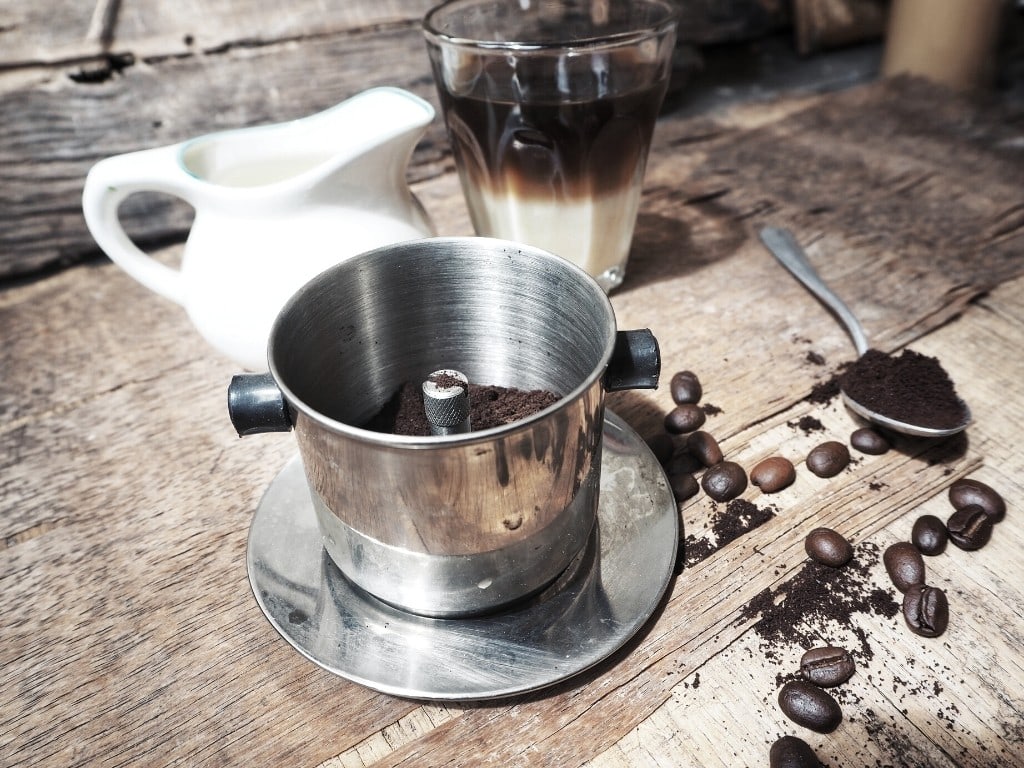 Here's how the best stuff works: you approach a store front with tiny plastic chairs and tiny plastic tables. You buy a coffee which costs about $0.30. You watch as the plain-clothed server pours sweet, syrupy condensed milk into your coffee. And you perch yourself on your tiny chair and watch Vietnamese life pass you by as you drink one of the weirdest, tastiest, most incredible coffees you've ever tasted.
If you want to drink good coffee in Vietnam, you can find it anywhere.
But if you want to buy some beans or grounds to take home with you and weep into as you look fondly back on your Vietnam trip, you want to make sure you're finding good stuff.
If that's what you're looking for, go to the local market in any city, and find a store which specializes in selling coffee and only coffee. If you do that, you'll be buying the good stuff.
Where to find it: any good coffee store in any good market in any city, but Hanoi's coffee stores are usually the best coffee stores
Average price: around $4 for 1kg
3. Tailored Suits
Yeah, this one is weird isn't it. I thought so too until I went to Hoi An, and saw endless rows of tailor stores liberally lining every street.
For some reason, people like going to Hoi An and getting a tailored suit. I'm not one of them, but if you want to walk around in tropical temperatures with a three-piece suit, go for it, you sweaty weirdo.
Compared to prices in the western world, Vietnam's tailored suit fees are ridiculously cheap. People come from all parts of Vietnam for Hoi An's famous suits. And people come from all over Asia for Vietnam's famous suits.
But it's not all suits – you can get tailored dresses and more. You turn up, get measured, choose your design and your fabrics, and look like the cutest little person that ever did live.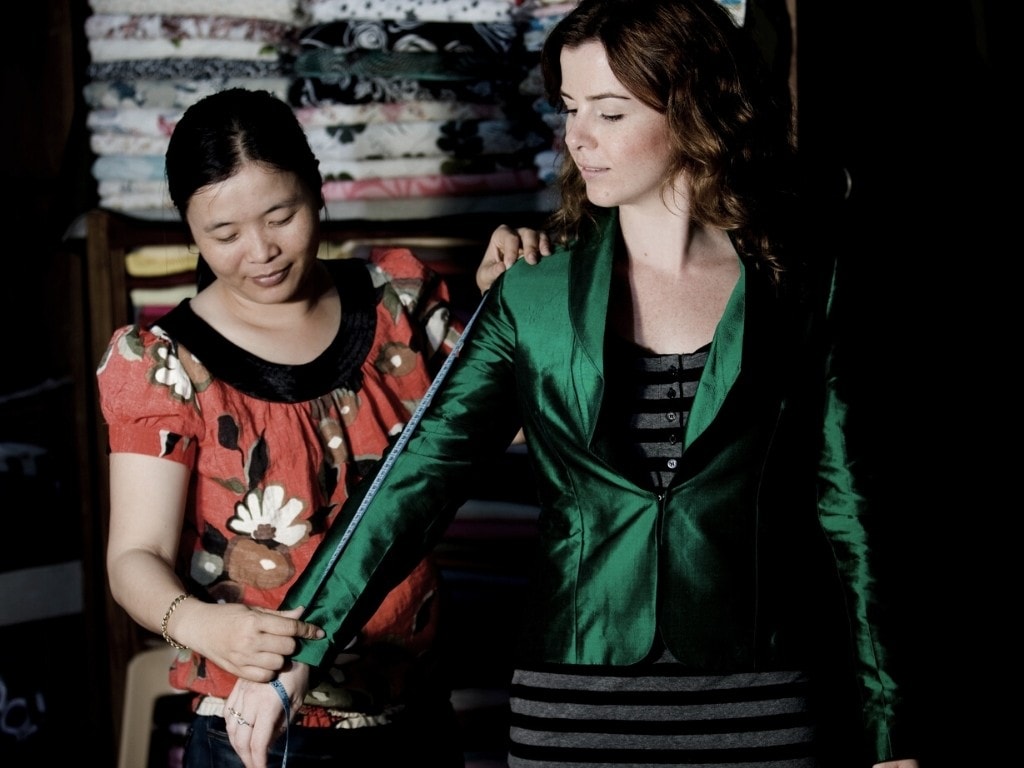 Where to find it: you can get tailored stuff all over Vietnam, but Hoi An is absolutely the best place to do it. They offer mega-fast turnarounds to cater to all the short-stay tourists. Of all the tailors in Hoi An, Ba Ri Tailor is one of the most reputed
Average price: $150-$200 for a custom suit; a little cheaper for other custom-made things
4. Ao Dai
Another entry, another piece of clothing.
The Ao Dai is essentially the national Vietnamese dress for women, but it's worn for special occasions, not for taking out the trash or going to the gym. In the shape of a tight-fitting long dress along with a pair of pants, it's classy but contemporary, despite its traditional roots.
If you want to get one for yourself, you have two options: buy a ready-made one at a store or (again) go to a tailor.
Since you'll probably not be wearing your Ao Dai very often, it's best to get a ready made one.
Where to find it: good clothes markets in Hanoi, Hoi An or Ho Chi Minh City
Average price: for a good-quality non-bespoke Ao Dai, you can expect to pay around $20
5. Silk
Vietnamese silk is some of the world's best silk, with a huge reputation and an even huger heritage. Once so revered that it was used as a currency, it's now more commonly used to make clothes (good joke Paul).
In a country that's hot, humid and sticky, it makes sense that silk is so popular. And though it was once reserved for royalty and nobility, silk is now much more widely worn (though it's still relatively expensive).
Where to find it: you can find Vietnamese silk everywhere, but lots of it is of bad quality, so only go somewhere with a good reputation. Check out Silk Street in Hanoi, Van Phuc Silk Village (on the outskirts of Hanoi), Hoi An Silk Village or Hoi An Silk Market
Average price: around $4 for a meter of good silk
6. Conical Hats
If you're the type of tourist who likes to wander around with daft things on your head, you'll love this. While lots of locals wear these conical hats (or 'Non La,' if you want to know the proper name) for reasons historical, cultural and practical, dumb tourists like wearing them too.
And so the shrewd Vietnamese market workers have capitalized, selling them on every corner of every city.
The hat relates to an old legend about a goddess, while it also protects from the rain and the sun. And it's an iconic symbol for a nation immensely proud of its heritage.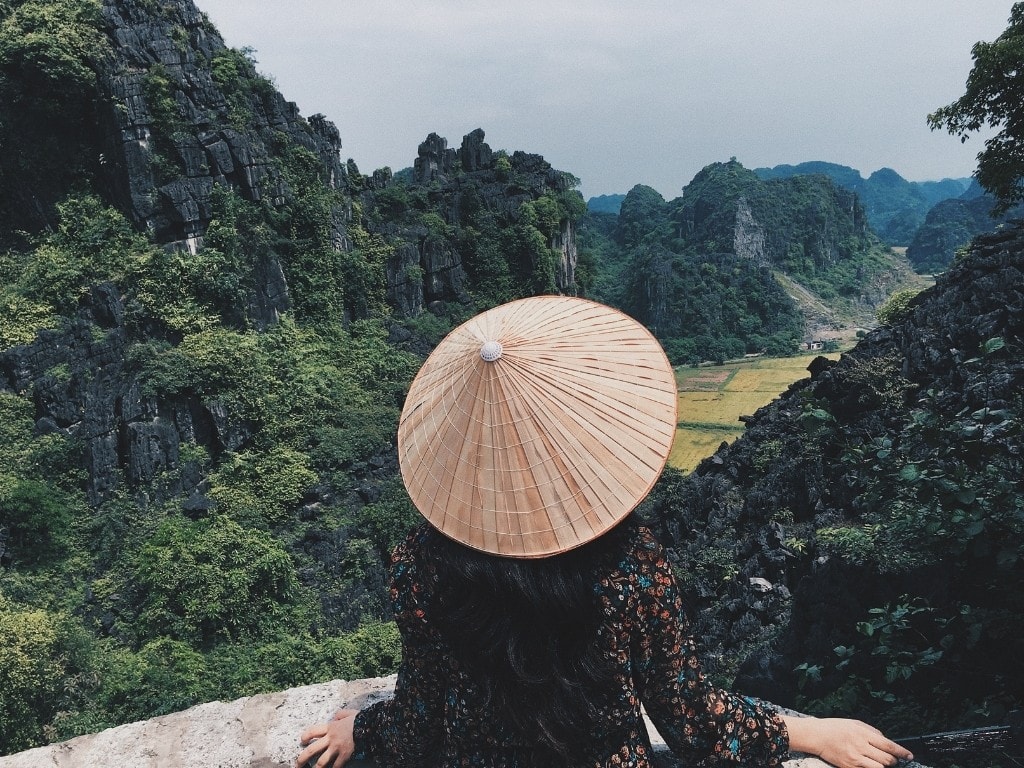 Where to find it: everywhere. You'll find Non La on the Mekong Delta, in markets, in stores and being touted to beer-drinking tourists. You don't have to look far, and you don't have to worry about buying a specific one – any conical hat will do.
Average price: around $1. Cheap!
7. Bamboo Stuff
Vietnam has lots of bamboo. And lots of resourceful and resilient people.
Put those together and you get… lots of bamboo stuff.
If you like weird souvenirs and eco-friendly stuff, bamboo is a good bet. You'll find bowls, hats, baskets, decorations, furniture and more.
For interesting gifts and souvenirs which contribute to the local economy without damaging the environment, bamboo oddities are a great option.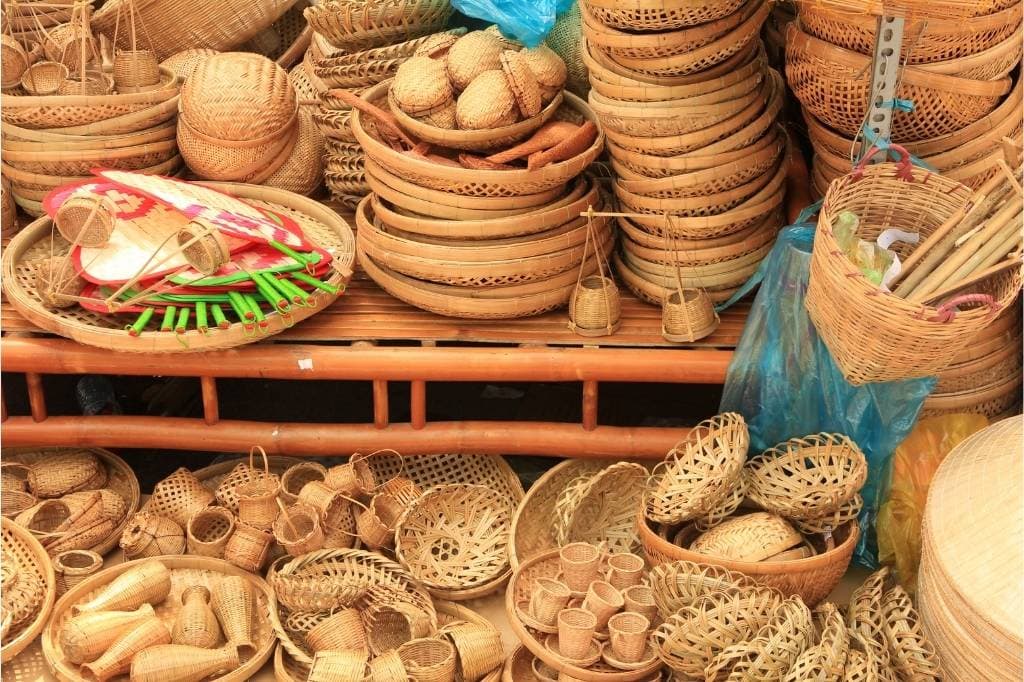 Where to find it: everywhere
Average price: that depends what you're buying, but you can find some stuff for a couple of dollars or even less
8. Musical Instruments
Plink plink plonky plonky plink. Plink plink plonk plonk plonk.
That's you after buying a musical instrument in Vietnam.
Now I know that you don't usually go on vacation to start a band. No-one leaves London with a drum kit.
But Vietnam has some pretty weird and unique musical instruments. And lots of them are pretty cheap, making for an affordable and funky (though admittedly noisy) souvenir. Flutes and violins are the most popular choices, and usually the most affordable.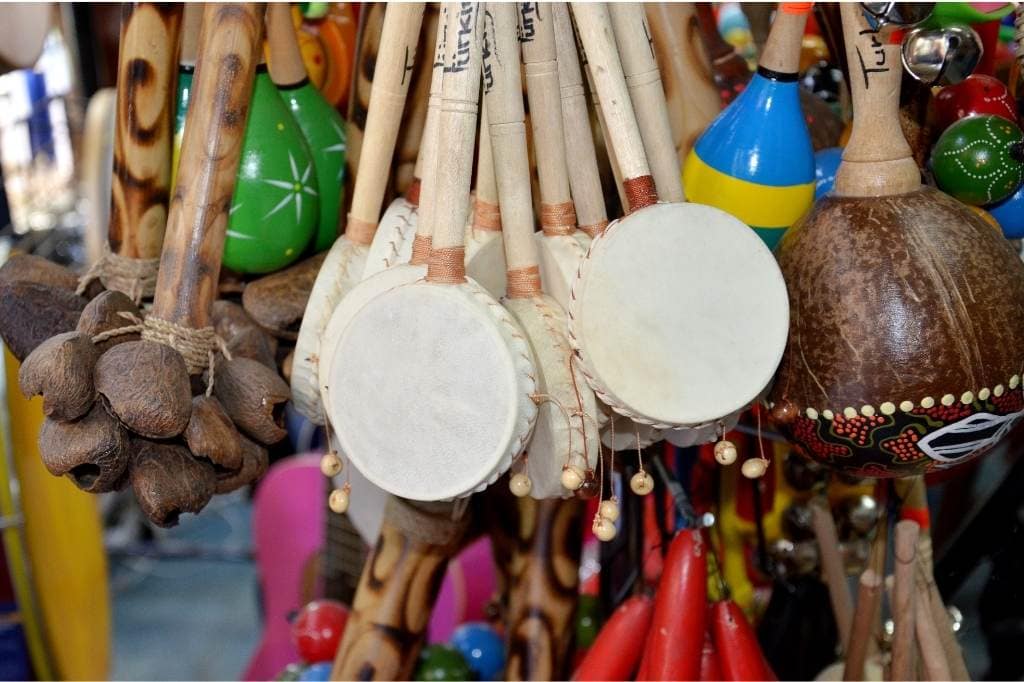 Where to find it: find a store in a big city – and only buy a musical instrument from a store which sells nothing but musical instruments
Average price: these can massively range depending on quality and what the instrument actually is. Expect to pay anything from $3 to $150
9. Lanterns
Hoi An is the city of lanterns. If you've ever seen a photo of Vietnam, it was probably Hoi An. And if it was a photo of Hoi An, it probably had lanterns in it.
Charming, cute and quaint, Hoi An has lanterns everywhere. On its storefronts. On its bridges. In its markets. Floating down its river.
First brought to the city by Japanese merchants in the 16th century, the lanterns have stuck around, making the city's nightscapes one of Vietnam's most alluring (and illuminating) sights.
These lanterns are traditionally made of bamboo and silk – and although lots of them still are, they're now made from all sorts of things. If you want a really beautiful and really unique souvenir from Vietnam, a Hoi An lantern is a brilliant idea. They look good, they're iconic, and they're heavily associated with Vietnam.
Where to find it: don't buy a lantern from anywhere but Hoi An. Hoi An is the city of lanterns. It offers the lanterns of lanterns. The gold standard of lanterns. The best spots to get a lantern in Hoi An are the Hoi An Night Market and hole-in-the-wall store Thuy Tham
Average price: around $5 or $6 for an attractive, high-quality lantern
10. Fruit
Vietnamese fruit is incredible.
If you've never before eaten tropical fruit in a tropical country, Vietnamese fruits are gonna blow your confused little mind.
Hot, humid weather is the best place for growing the best fruit. And it's the best place to enjoy it.
While you're in Vietnam, try mangoes, bananas, pineapple and lychees. And after you've tried all that stuff, try some of the weirder fayre too, including jackfruit, dragonfruit, rambutan and longans.
If you're looking for something especially exotic, try durian. Infamously iconic for its overwhelming stench, it's a stinky sweet treat which tastes a lot better than it smells.
You can find great fruits all over Vietnam – and if you avoid all the street touts, you can buy it for ridiculously affordable prices.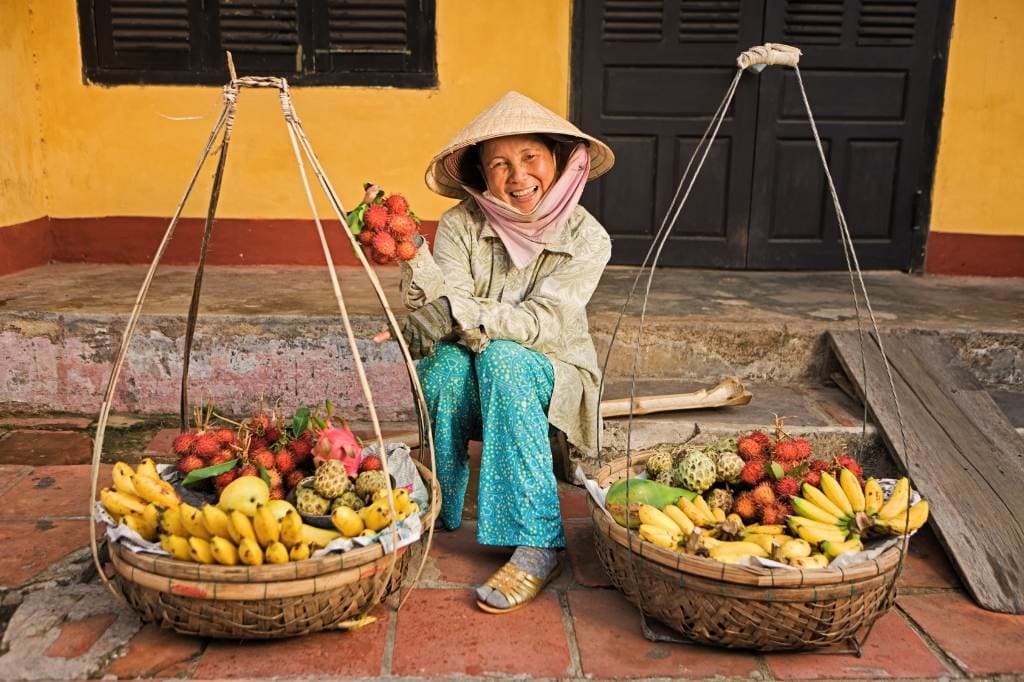 Where to find it: all markets throughout Vietnam. Don't buy fruit from people on the street, unless your negotiating skills are good
Average price: bananas – 2kVND; pineapple – 5kVND; most other things – 30kVND per kilo. But to get these prices, you'll have to haggle. If you look like a tourist (which you do), you won't be offered a low price at first
11. Coconut Candy
A staple tourist treat throughout the entire sprawl of the Mekong Delta region, you can't explore the Mekong Delta without finding these.
Going on a boat tour? You'll be offered some coconut candy. Going to Can Tho or My Tho? You'll be offered coconut candy. Visiting a Mekong coconut farm? I think you've probably worked out the pattern here.
The region is packed with coconut trees, so the candy is just as commonplace. Mixed with sugar and other ingredients, you can get coconut candy in lots of flavors. It's good for snacking, bus journeys and taking home to your friends and family.
If you're in the Mekong Delta region, you should visit a coconut candy workshop. The process is surprisingly rudimentary and hands-on, and it's an interesting insight into how the stuff is made.
Where to find it: anywhere on or near the Mekong Delta
Average price: around $2 for a huge bag
12. Phu Quoc Pepper
Phu Quoc is famous for its top-quality pepper. An island which is actually closer to Cambodia than Vietnam, it's famous for (allegedly) having the cleanest air in the whole of the nation.
Similar to Kampot's equally world-famous pepper, Phu Quoc's pepper is pungent, punchy and sweet.
You probably think all pepper tastes the same. But once you've tried this stuff, you'll be apologizing to Phu Quoc's pepper plants forever. It's an unusual thing to buy in Vietnam actually. It makes for an excellent souvenir, and you can take it away to spice up all of your boring meals back home.
Phu Quoc is also famous for fish sauce. If you're gonna buy any when you're in Vietnam, buy it here.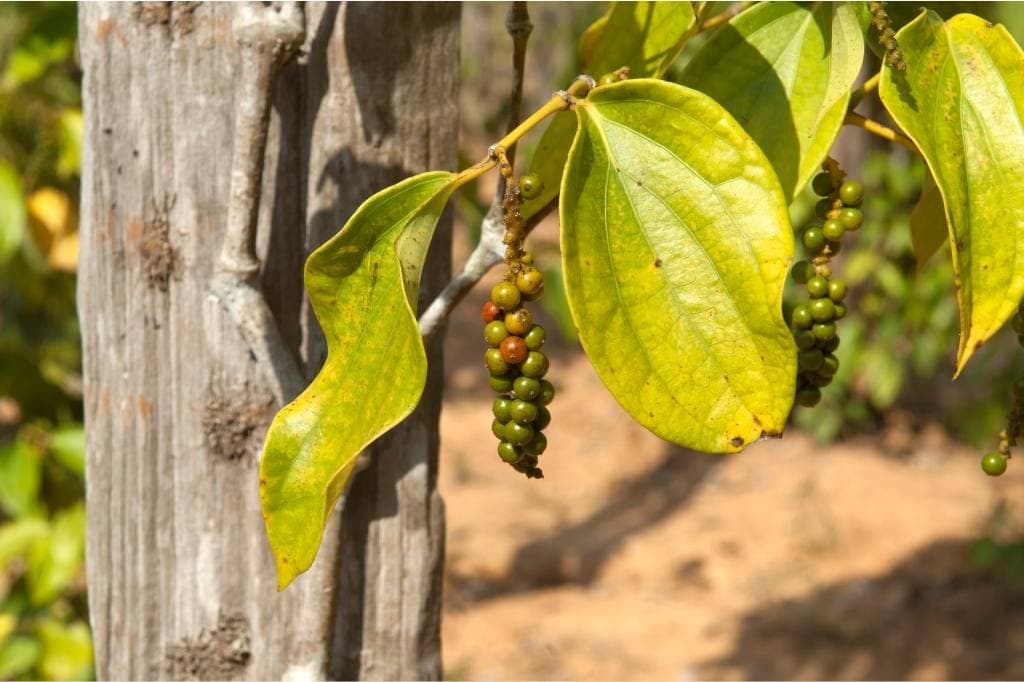 Where to find it: there are lots of Phu Quoc pepper plantations in Phu Quoc – visit one and get some
Average price: around $3 or $4 for a kilo of the good stuff
13. Pearl Jewellery
Now that's a cool thing to buy in Vietnam!
Vietnam's lengthy shoreline is famous for producing some of the best pearls in Asia. You can get pearls as they are, but most people buy pieces of jewellery with pearls in them.
Nha Trang, Halong Bay and Van Phong Bay are known for their pearls. But no matter where you buy them, make sure you're buying local – lots of places sell cheap Chinese pearls for cut-price fees.
Where to find it: Saigon Pearl in Nha Trang is commonly considered to be the best place to buy local Vietnamese pearls. You can get necklaces, bracelets, rings and more here
Average price: prices start at around $130 for a good piece of jewellery
14. Lacquerware
For me, this stuff is pretty boring. But if you like vases, jars and other pieces of mundane pottery, you might like Vietnamese lacquerware.
But in spite of my (maybe unfounded) cynicism, lacquerware is a craft which requires a huge amount of skill and an even bigger amount of patience. Some of the bigger pieces take up to 100 days to plan and make.
Some pieces of lacquerware are plain, and some are insanely ornate.
Where to find it: buy these in night markets or at stores which specialize in selling them. Two of the best specific spots are the night market in Hoi An and Ben Thanh Market in Ho Chi Minh City
Average price: anything between $5 and $75 depending on how big and ornate the piece you're buying is
15. War Memorabilia
If you like unique local stuff, you'll love all of this.
Vietnam is jam-packed with interesting and unusual pieces of memorabilia from the Vietnam war, which ended only in 1975.
You can get books, photographs, propaganda, medals, posters, clothing, uniforms, binoculars, canteens, mosquito nets and loads more.
Lots of this stuff is replica, but a good chunk of it is authentic, and actually from the war itself.
Though the war was a horrendous and disastrous period in the nation's history, Vietnamese people look back on the era with a reserved stoicism and pride in their own tenacity and resilience – so you don't have to worry about offending anyone by buying war memorabilia. Just make sure you treat it all tastefully and with respect.
Even if you don't want to buy anything, these stores and galleries are an interesting way to learn more about Vietnam, its history and its people.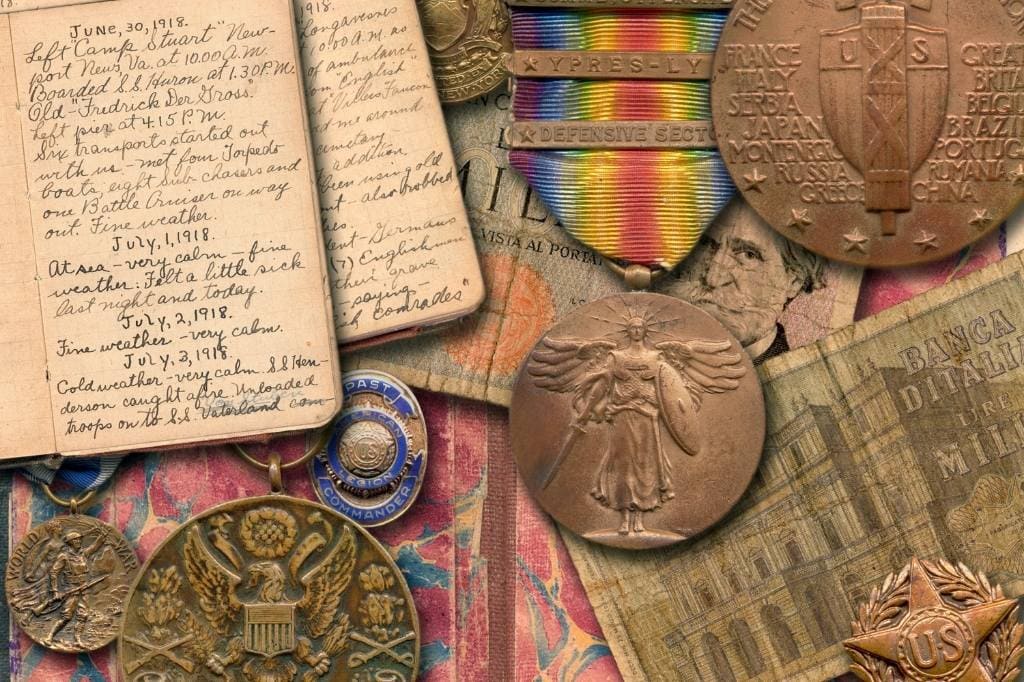 Where to find it: some good spots include Hanoi's Le Duan street and Dan Sinh Market in Ho Chi Minh City, but you'll find lots of stores, markets and galleries dotted around the entire country, especially in bigger cities
Average price: this completely depends upon what you buy – but be prepared to haggle hard
16. Propaganda Posters
If you don't want to buy a fully-equipped arsenal of army gear, you can just buy a couple of propaganda posters instead. Hugely unique, these have an old-school aesthetic which you can't really find anywhere else.
As one of the last remaining communist countries in the world, Hanoi still has lots of communist style, architecture and aesthetics dotted around the nation – so finding good propaganda posters in markets isn't a difficult task.
Patriotic and retro, Vietnamese propaganda posters are an excellent souvenir for taking away from your trip to Vietnam – and they'll look great hanging on your wall at home.
Again, you'll find these all over the country. Some are replicas, some are real; for most people, the difference doesn't matter.
Again, make sure you're tasteful – remember you're buying something which makes a political statement.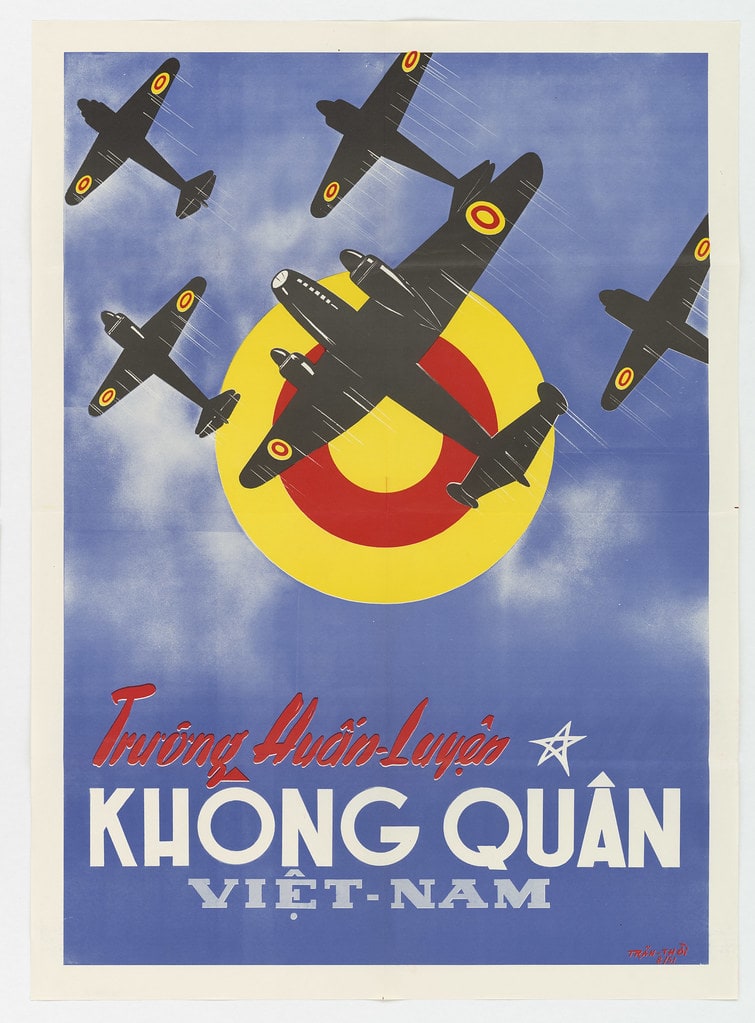 Where to find it: two of the best spots are Ben Thanh Market in Ho Chi Minh City, and Lotus Propaganda Posters in Ho Chi Minh City. But, again, you'll find lots of this stuff dotted around the city
Average price: this varies hugely depending on the style, age and authenticity of each one. But if you just want some cheap replicas, you can sometimes find them for a couple of dollars each
17. Banana Shirts
We've all seen photographs of banana-bedecked tourists wearing dumb banana shirts as they wander around Vietnam.
I don't really know why, but these shirts are everywhere in Vietnam. You'll see them in clothes stores. You'll be offered them by on-street touts. You'll see couples wearing matching banana shirts as they hold hands and take selfies. You'll see banana shirts. Banana pants. Banana socks.
They're not good quality, but that's not the point.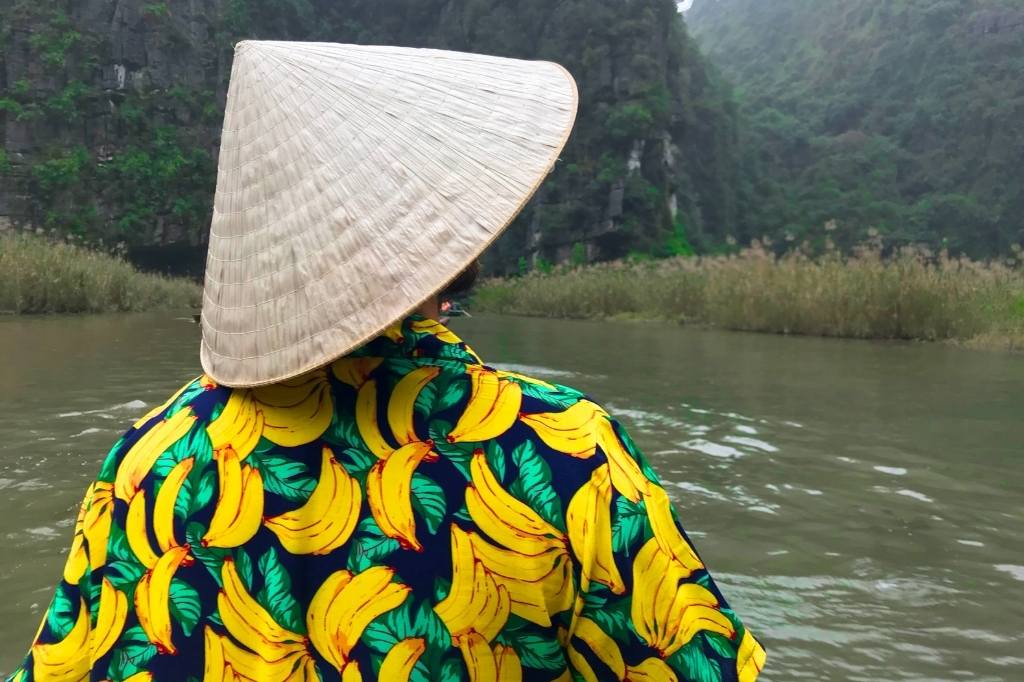 Where to find it: everywhere – and you really don't need to look out for a good-quality store; they're all terrible quality
Average price: if you pay more than $5, you've made a big mistake
18. Other Dumb Printed Shirts
It's not just bananas! You'll find shirts with monkeys, stupid slogans, pictures of turds, bowls of pho and more. If you like dumb shirts, Vietnam will be like a theme park to you, with extravagantly gaudy designs on the corner of every popular tourist street.
Where to find it: any popular tourist area in any popular tourist city
Average price: usually around $5 per shirt
19. Elephant Print Pants
To complete your terrible tourist wardrobe, elephant print pants are a must. They're most famously worn and bought in Thailand, but you can find them in Vietnam as well.
If you want everyone in the world to know that you've been to Southeast Asia, get yourself some of these pants. And post endless pictures of you wearing them on Instagram.
Though a bizarre staple of the tourist wardrobe, these pants aren't all for show – they're lightweight, breathable and comfortable, and they'll keep you cool in sweaty, sticky Vietnam. And because of the elastic waistband, they're great for all shapes and sizes.
Where to find it: everywhere, and (again) don't worry about buying something of especially-good quality; all of the elephant pants in Vietnam are cheap. You're not gonna find some well-made ones, no matter how long you spend looking for them
Average price: you'll be told that these cost around $10, but you'll get them for half of that if you haggle
20. Phin Coffee Filters
If you fall in love with Vietnamese coffee and want to make it at home, a phin coffee filter is a good idea.
This filter (when filled with grounds and water) sits over the top of your cup and slowly drips coffee into it, making it easy to drink amazing Vietnamese coffee. You've got to be patient, but it's worth it.
If you're gonna make coffee from Vietnamese grounds at home, it's the only way.
Where to find it: most stores and markets sell them – they're everywhere in Vietnam
Average price: around $2
21. 3D Pop-up Cards
Cute and charming, these tiny pop-up cards are adorned with delicately-crafted designs, and they're surprisingly intricate.
They're a great idea for a souvenir which is actually useful, since you can take them home and give to people for birthdays or Christmas or whatever. They also look much more expensive than they really are, so they're good for sneaking someone a surprisingly-affordable gift.
Where to find it: tourist stores throughout the country, but they're especially popular in Ho Chi Minh City
Average price: around $2 each
In Short…
… there you have it: the top 21 things to buy in Vietnam!
An insanely affordable country for most travelers, Vietnam is packed with budget-friendly bargains of all descriptions. From world-beating coffee to propaganda to pointy hats, you can buy all types of stuff, both useful and unusual.
Want to know more about Vietnam? We've got everything you need to know right here on our site, with articles on cities, waterfalls, tipping, things to do, places to visit and much more.
Sling that guidebook in the bin – we're your guidebook now baby!
Being a Digital Nomad: Tips, Tricks and Places
Do you want to be a digital nomad?
If you do, maybe you don't know where you might want to live. Or how to live there. Or whether you need a visa. Or how to make friends in the scary sprawl of a brand-new city. Or how to stay productive while you travel. Or how to find an apartment. Or whether this lifestyle really is for you. Or… I'm sure you get the idea.
But with some insight and experience, it's not as difficult as you think. So in this book, I've gathered my 6 years of digital-nomadding experience… and I've used it to answer all your questions, soothe all your fears, and get you on your way. After reading this, you'll realise being a digital nomad is much easier (and much more possible!) than you think.