Top 15 Best Places to Visit in Vietnam
If you're assembling a huge hit list of all the places you want to visit in Vietnam, stop. Put down the pen, scrumple up that paper and wipe the tears of frustration from your eyes: our list is all you need.
In this article, we've brought you the top 15 best places to visit in Vietnam. Some of our entries are regions, some are small attractions and some of them are just a bit weird. But they'll all make you want to buy a ticket for the next flight to Vietnam.
We haven't covered cities, and we haven't just given you a list of the most well-known places in Vietnam. We've all heard of Hanoi, Ho Chi Minh City and Hoi An, but we've delved a little deeper to find you some much more exciting stuff.
If you're looking for the best cities in Vietnam, we've concocted a list of those too. But for a variety of non-city attractions, this list offers the best selection on the internet.
In no particular order, here are the top 15 best places to visit in Vietnam:
1. Mekong Delta
The Mekong Delta is huge, making our first entry on this list a region rather than a single specific attraction.
But here's why:
One of the biggest river deltas in the world, this whole region is home to an existence far removed from the lives lived in any other part of the world. In this southern region of the nation, the Mekong river splits to form countless smaller streams, rivers and waterways which make up a sprawling network of wetlands.
Most journeys here are taken by boat. Most kids play by splashing around on rafts and in rivulets. Most farming and industry is centred around the use of water. This area is unlike any other part of Vietnam – and unlike most other parts of the world.
Here, you can find fruit farms, sugar cane, rice paddies, floating markets, stilted houses and countless fleets of various boats, barges and rafts. For observing rural communities living their lives in a unique way, this is one of the best experiences on the planet.
The area is also packed with authentic homestays, incredible market experiences and hugely unique food, including fish, candies and rats. Yes, you read that last part right.
Lots of tourists visit Vietnam's Mekong Delta on a whistle-stop day trip from Ho Chi Minh City. But that's a massive mistake.
Yeah, it's a cool trip, and you can squeeze in tiny portions of all the things which make the Mekong Delta so famous. But on a trip like this, you only see the most touristic sections and you don't get to experience the most exciting and interesting markets, farms and people.
If you really want to enjoy and experience the unique authenticity of the Mekong Delta, give the region at least 2 or 3 days of your time.
Location: across a huge stretch of southern Vietnam, but the best cities and towns from which to explore include Can Tho and My Tho
Distance from the closest big city: Ho Chi Minh City is a good initial access point
How to get there: Travel to Can Tho or My Tho and explore from there
2. Da Lat Crazy House
A labyrinthine chaos cavern of hidden rooms, winding staircases and bizarre passageways, Da Lat's crazy house is undoubtedly the strangest attraction in the whole of Vietnam.
A psychedelic experiment of gargantuan proportions, this place is primarily a guesthouse. But it's also so much more than that, and it's the best attraction in Da Lat.
Full of sculptures, weird architecture and endless opportunities for shaking your head in confusion, it's colorful, creative and kooky, and it's impossible to navigate without getting lost. In your quest to step foot in every part of the Crazy House, you'll find wacky bedrooms, narrow bridges, garish colors and a whole host of other lost visitors.
The Crazy House creator can sometimes be found on-site, and she's always up for answering questions. She claims that she built the house because she wanted to create something "different from anything else in the world. And she's definitely achieved that.
Reminiscent of both Dali and Gaudi, it's an insane feat of expressionism, and it's incredible.
If you want an even more confusing fix of disorientation, there's a bar in Da Lat which is based upon the Crazy House. Try navigating that when you've had a beer.
Location: 03 Đường Huỳnh Thúc Kháng, Phường 4, Thành phố Đà Lạt, Lâm Đồng 66000, Da Lat
Distance from the closest big city: it's in the center of Da Lat
Opening hours: 8:30am – 7pm every day
How to get there: walk!
Entrance fee: 40,000 VND (around $1.75)
Parking fee: free
3. Hai Van Pass
Vietnam's most famous viewpoint is one of the nation's biggest attractions. Situated between Da Nang and Hue, the Hai Van Pass is (as you might have guessed) a scenic mountain pass which winds its way up and down the mountains which stand between the two cities.
A 20km stretch of road which runs close to Vietnam's insanely-long coastline, the road is packed with hairpin turns, misty mountain views and some of the most challenging bends that the country has to offer.
Regularly voted as one of the best coastal roads in the world, it's one of the biggest highlights of any Vietnam trip.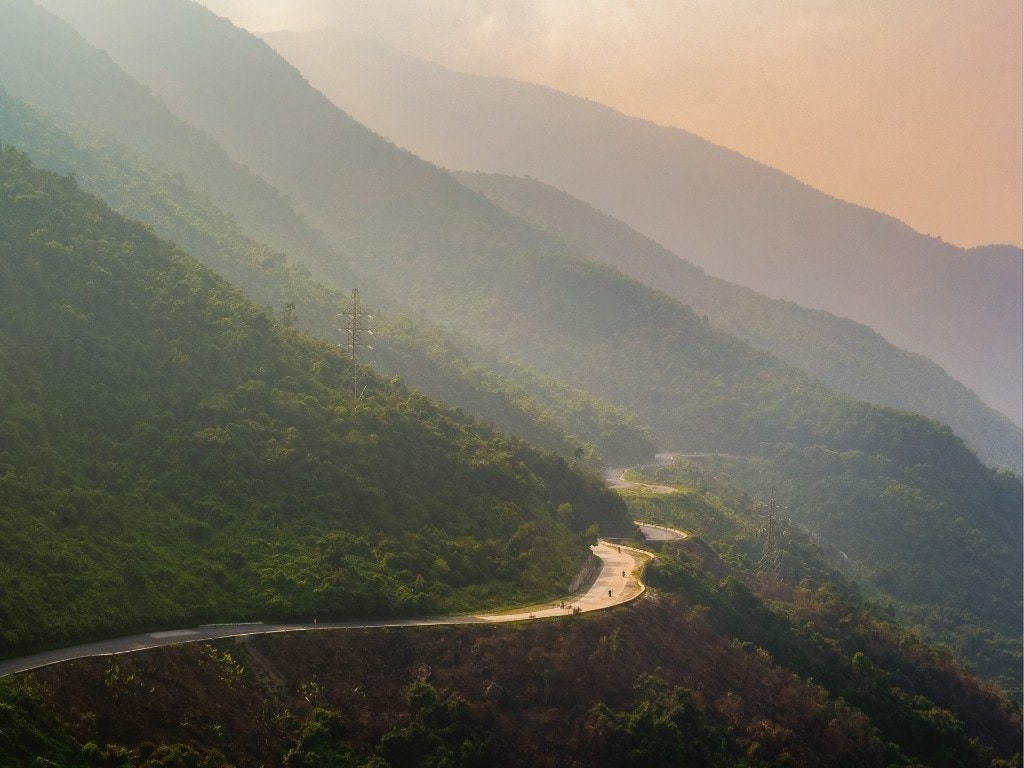 But a note here: to go over the Hai Van Pass, you need to make an effort to go over the Hai Van Pass. You can't just ride any old bus, because most buses and cars instead use the easier and quicker tunnel route, which cuts out the pass entirely.
If you want to tackle the pass, you should ride a scooter, or go on a tour, which are available both on scooters and in cars. But the views are of course seen best from the back of a scooter.
Location: between Da Nang and Hue
Distance from the closest big city: around 27km (or 17miles) from Da Nang
Opening hours: it's a road, so it's open all the time – though there's obviously little value in tackling the Hai Van Pass when it's dark
How to get there: on the back of a scooter, whether you ride it yourself or hire a driver
Entrance fee: the road itself is free to ride on, but tour prices and scooter rentals vary in price
4. Golden Bridge
Nestled in the misty Ba Na Hills, close to Da Nang, is Vietnam's most famous (and weirdest) bridge. Crafted to look like it's being supported by two rusty hands, it's both alluring and confusing.
The bridge is part of Sun World, so let's take a quick detour. Sun World is a weird resort which sort of resembles a more medieval version of Disney World's Epcot. A bizarre theme park with rides, attractions and games, it's like someone decided to build a Gothic European town in some Vietnamese mountains.
And there are wine cellars. And a wax museum. And video games. And a beer tent. I told you it was confusing.
If you like anything weird, you'll love Sun World.
But the weirdest part of all is probably the bridge, which is connected to the rest of the park by a 20-minute cable car ride. It's almost 3,300 feet above sea level, and it clocks in at a hefty length of 500 feet. The views are misty, majestic and impressive, and the bridge itself is an incredible feat of architecture.
If you really want to indulge in the park and its bridge, you can stay overnight.
Location: Ba Na Hills, Sun World
Distance from the closest big city: Around 23km (or 14 miles) from Da Nang
Opening hours: 8am – 6:30pm every day (though it's best to go very early or very late if you want to avoid crowds)
How to get there: Take the cable car from Sun World resort
Entrance fee: it's free to visit the bridge if you have a park entry ticket – but this entry ticket is pretty expensive, at a lofty fee of 750,000 VND for adults (that's around $33)
Parking fee: prices vary, but the cost is very small
5. Halong Bay
Okay, we've all heard of Halong Bay. And you'll have already read about Halong Bay on every other 'best places to visit in Vietnam' article in the world. But busy and over-touristed as it may be, you can't visit Vietnam without visiting Halong Bay. And that's the end of it.
One of the most incredible natural wonders in all of Southeast Asia, Halong Bay is a great getaway for outdoor adventures, and it's set in a deep-blue bay liberally dotted with towering limestone karsts. Since 1994, this place has been an UNESCO-listed site, and it's probably the most iconic region in the entire nation.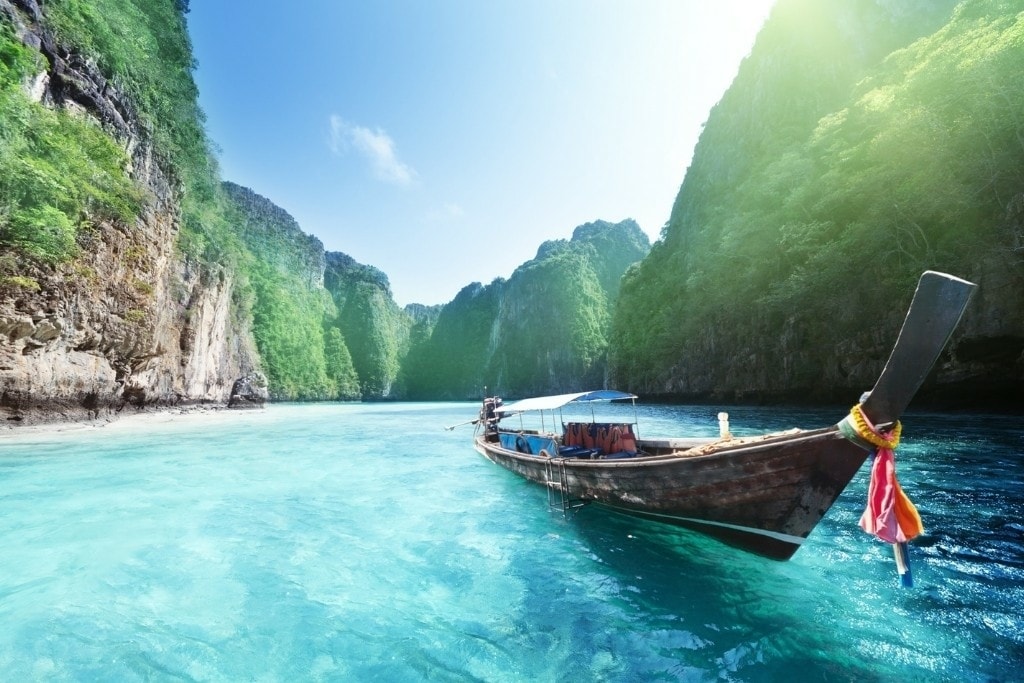 It's a perfect destination if you like hiking, snorkelling, swimming, kayaking, caving, sunbathing or having your lunch stolen by monkeys. Visits are taken by boat trip, in which your knockabout vessel will glide through the majestic peaks which rise dramatically from the South China Sea.
You can take day trips or multi-day trips, but the longer the better. If you stay longer in the region, you can reach the more remote parts of the bay, where there are less tourists, more natural wonders and better opportunities for solitary exploration.
But no matter how much time you spend exploring, you'll enjoy great swimming, excellent outdoor adventures and some of the best buffets you'll have ever eaten.
Location: it's a big bay in the North East of the country
Distance from the closest big city: 172km (107 miles) from Hanoi, or 63km (39 miles) from the closer city of Haiphong.
Opening hours: N/A
How to get there: you can arrange trips from Hanoi and Haiphong, or you can travel to Cat Ba Island independently and arrange a trip from there. If you want a bespoke, multi-day trip which doesn't just visit the most popular sites, arranging your own tour from Cat Ba is the best choice.
Entrance fee: tour prices vary
Parking fee: N/A
6. Phong Nha-Ke Bang National Park
Caves, caves and more caves.
Another UNESCO-listed site, Phong Nha-Ke Bang National Park is slowly emerging as the next big destination in Vietnam, so it's a good idea to visit now before all the caves get filled by t-shirt stores and keychain-touting kids.
Home to the oldest karst mountains in all of Southeast Asia, the National Park is a maze-like sprawl of hundreds of huge cave systems.
The biggest cave in the complex, Hang Son Doong, is so big that it has its own ecosystem. It's also the biggest cave in the world, its accessible area clocking in at around 5km (or 3 miles). Tours are, for most people, prohibitively expensive, but it's pretty easy to explore lots of the other caves in the region.
But it's not all subterranean exploration through dark caverns.
Other adventures include bike rides through rural villages, kayaking through small pools, excellent jungle hikes and so much more. This isn't the built-up tourist-friendly stuff you get in the better-developed parts of Vietnam. Instead, it's a rustic web of wooden bridges, humble homes, small springs, threadbare hammocks and truy remote ethnic villages.
There's also ancient fossils, excellent wildlife and some of the friendliest people you'll ever meet.
If you like outdoor adventures, this is – for now – the best experience that Vietnam has to offer. It's a proper adventure, and it's not yet sanitized or diluted in any way.
Location: the northern part of central Vietnam
Distance from the closest big city: around 220km (or 137 miles) from Hue
Opening hours: it's a National Park, so it's always open, but it's of course best explored during daylight hours
How to get there: it's easiest to take a bus, which you can catch from many destinations in northern and central Vietnam
Entrance fee: it's free to enter the park, but different caves have various different entry fees
Parking fee: N/A
7. War Remnants Museum
This might just be the most depressing and disturbing museum in the entire world.
A no-holds-barred insight into the people, events and atrocities of the Vietnam War, the majority of the exhibits here are made up of intimate photographs which chronicle the pain, torture and death of those affected by the war. There are pictures of grieving families, corpses, disfigurations and more.
It's upsetting and disturbing, but it's one of the world's most effective testaments to the perils and pain of unnecessary warfare. You won't necessarily enjoy the museum, but you'll absolutely appreciate it. It's an important insight into the war – but more importantly, it's an insight into Vietnamese history and Vietnamese people.
Through visiting this museum, you'll realize why Vietnamese people are now so tough, tenacious and friendly, and you'll appreciate the nation and its people even more than you did before.
If you leave this place without crying, you'll have done a better job than most people.
Location: 28 Võ Văn Tần, Phường 6, Quận 3, Thành phố, Ho Chi Minh City
Opening hours: 7:30am – 4:30pm every day
How to get there: you can walk or take a taxi from any part of Ho Chi Minh City
Entrance fee: 15,000 VND (around $0.70)
Parking fee: there's a small amount of parking (which most tourists of course won't use), but it's very cheap at 3,000 VND (around $0.15)
7. Cu Chi Tunnels
Another war-related exhibit, and another exhibit in the south of the nation.
Though the War Remnants Museum is situated in the city itself, the Cu Chi Tunnels are on the outskirts of Ho Chi Minh City.
A huge subterranean network, these tunnels were once hundreds of kilometres long, and the Viet Cong lived, hid and planned in these tunnels as part of their efforts to win the war. They once ran under much of the nation.
They're inexplicably complex, with trapdoors, hidden quarters, living areas, factories, kitchens and hospitals. Some of the deepest parts have such little oxygen that it was impossible to survive in them for more than a few minutes.
On tours of the area, you can learn much more about the tunnels and the Viet Cong. The most unpleasant (but most interesting) part of any tour is when you get to enter some of the tunnels yourself. They're intense, stifling and claustrophobic, and even a few seconds in them is too much. Imagine living in them.
There are two sites you can visit: Ben Duoc and Ben Dinh. The former is more authentic, while the latter is made up mainly of reconstructions, and is normally the one you'll visit if you book an arranged tour from Ho Chi Minh City.
Location: There are two sites: Ben Duoc and Ben Dinh
Distance from the closest big city: the tunnels are close to the center of Ho Chi Minh City
Opening hours: 7am – 5pm every day for Ben Duoc and 8am – 5pm for Ben Dinh
How to get there: you can arrange a tour from Ho Chi Minh City, or you can use public transport if you prefer to do things solo. Doing it solo is a better adventure, and allows you to take your time and explore the tunnels and the exhibitions at your own pace
Entrance fee: various, according to whether or not you book a tour, and which tunnels you visit. But if you visit Ben Duoc solo, it's 90,000 VND (around $4) with a guide
Parking fee: typically free of charge at both sites
9. Ban Gioc Waterfall
Vietnam's most impressive waterfall, this place is swiftly becoming one of the most-visited sites in the entire nation. So get there before all the crowds do.
Right on the border with China, Ban Gioc waterfall measures in at a huge 300 meters in width, making it the widest waterfall in the nation. And because of its size, this gigantic waterfall isn't one you just meander towards by foot. Instead, most visitors hire a bamboo raft with a driver, which rides you tantalizingly close to the giant waterfall's spray.
Situated in the sleepy and serene Cao Bang province, it's remote and rural, and it's a great place to spend some time if you like staying in small villages.
Location: TL 211, Đàm Thuỷ, Trùng Khánh, Cao Bang, Vietnam
Distance from the closest big city: 83km (or 52 miles) from Cao Bang city
Opening hours: N/A
How to get there: you can drive from Cao Bang city on a scooter, or you can take a minibus from Cao Bang city directly to the falls. Lots of people visit the falls on organized tours from all types of places, but that's not at all necessary
Entrance fee: 40,000 VND (around $2) – and you sometimes need to show your passport. A trip on a bamboo raft typically costs 50,000 VND
Parking fee (if any): 10,000 VND (around $0.50)
10. Cao Dai Temple
Yeah, I know – Vietnam is full of temples and you're tired of hearing about them. But before you roll your eyes and move on to #11 on this list, give me five seconds.
This isn't just any old temple. It's one of the weirdest temples in the world.
Ever heard of CaoDaism? Exactly – I didn't think you had.
Here's what it is: a unique modern religion established in southern Vietnam in 1926. But it's not really a religion of its own. Instead, it incorporates elements of various other religions, including Christianity, Islam and Buddhism. All pretty normal right?
Wrong.
Yeah, these guys worship Jesus, Muhammad and Buddha, but they also worship figures such as Shakespeare, Julius Caesar and Joan of Arc.
If you want to visit the home of CaoDaism, get yourself to the southern Vietnamese city of Tay Ninh, about 90km (or 56 miles) from Ho Chi Minh City. Here, you'll find the world's biggest (and first) CaoDaist Temple, a colorful cornucopia of bizarre colors, images and ceremonies.
As a bonus, you get to experience Tay Ninh, one of Vietnam's most sleepy cities. If the non-stop atmospheres of Hanoi and Ho Chi Minh City are getting too much for you, Tay Ninh offers some welcome respite.
Location: Phạm Hộ Pháp, Phường Long Hòa, Thị xã, Hoà Thành, Tay Ninh
Opening hours: 24 hours a day, but the best times to visit are during the daily chanting ceremonies, which take place at 6am and 6pm
How to get there: walk or take a taxi from the center of Tay Ninh
Parking fee: free
11. Hanoi Train Street
We've all heard of trains. And we've all heard of streets. So surely this can't be very special.
Think again you little cynic – this is actually one of the coolest attractions in the nation's capital.
Let's take you through it step by step.
You find a tiny little street with a train track running through it, the tracks impossibly close to the houses which line the street. You think you must be in the wrong place, as you doubt that any train could ever squeeze through the pokey proportions you're looking at.
You buy a smoothie or a coffee or a beer from one of the house owners who've shrewdly capitalized on the tracks which run through their neighborhood. You then wait. You chat to the local homeowners, you pet the local dogs and you repeatedly look at the train tracks in confusion.
You wait patiently for the oncoming train. And it comes.
But before you hear it, you feel it. You feel the ground rumbling underfoot as you wonder how many seconds you have left of your life. You imagine the train careering into your head, your knees, your feet. You shudder as you see the juggernaut approach, sure that your life is coming to an end.
But as the train judders through the street, it doesn't hit you. It instead comes within inches of your nose, as it shakes the floors, houses and resolves of the terrified tourists lining the street.
Before you know it, the train has gone, leaving you in shock, and leaving your smoothie spilled all over your legs.
That's Hanoi's train street!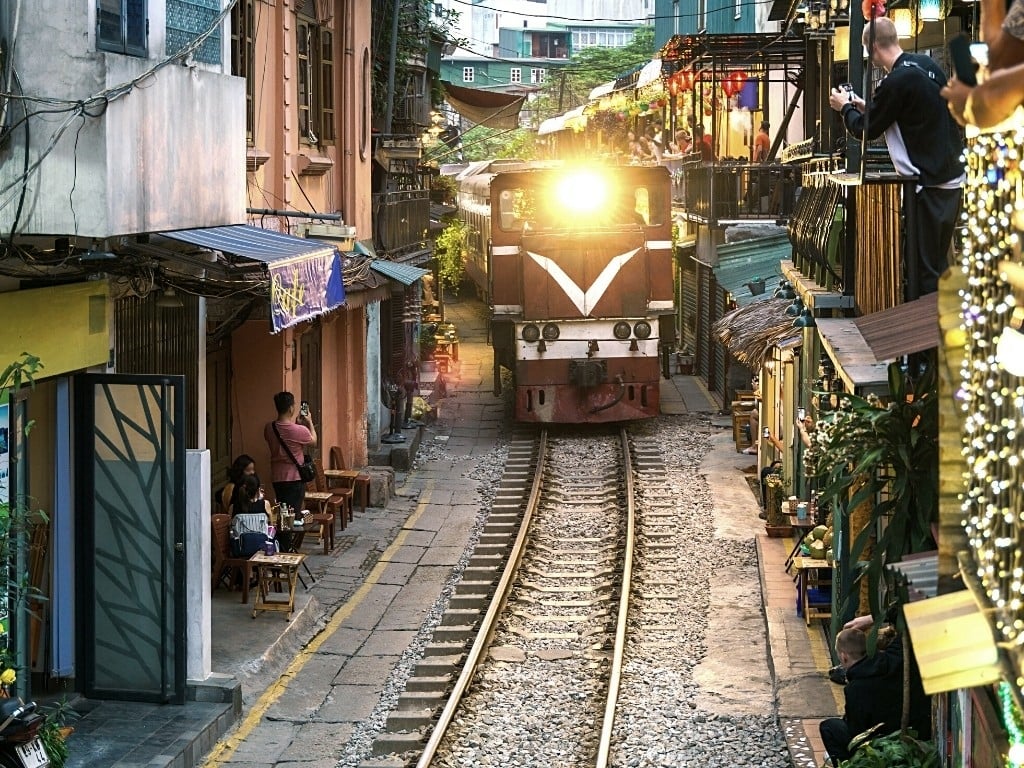 Location: 5 Trần Phú, Hàng Bông, Hoàn Kiếm, Hanoi
Opening hours: the street is never closed, but you should (obviously) only visit when a train is expected. Check the current times before going to the street, as these times often change
How to get there: the easiest way is to take a taxi to the street
Entrance fee: none, but it's normal to buy a drink or snack from one of the many small in-home cafes on the street
Parking fee: N/A (there's hardly enough space for the train, never mind parking)
12. The Sand Dunes of Mui Ne
Mui Ne is a charming little fishing town on Vietnam's south coast, and it's great for all types of action and adventure.
But it's best known for its bizarre sand dunes, which look like they've been ripped from the Middle East and plopped inexplicably onto the Vietnamese coastline. With vast stretches of barely-touched dunes, you feel like you've somehow stumbled into the Sahara.
But they're not just for looking at.
Since they're so huge, these vast dunes become an adventure playground for visitors and locals alike who are seeking some thrills. Some people bodyboard on them, others ride quad bikes, some even take tours by Jeep. Others float above the dunes in hot air balloons.
Both the red dunes and the white dunes are dotted with small swamps and lakes, and you'll always find local kids keen to teach you to bodyboard. They'll also try to sell you one of their own bodyboards, but let's not be cynical.
If you're a sunrise seeker, the Mui Ne dunes are one of the best sunrise spots in the whole of Vietnam.
Location: throughout Mui Ne
Distance from the closest big city: Mui Ne isn't a city in itself, but it's almost big enough to feel like one. Phan Thiet is the official city in the area, though where Phan Thiet ends and Mui Ne begins is pretty vague. In short, if you're in either Mui Ne or Phan Thiet, it's easy to visit the dunes
How to get there: you can make your own way on a scooter, book an organized trip or hire private transport
Opening hours: N/A
Entrance fee: N/A
Parking fee: N/A
13. Thuy Tien Waterpark
Yeah, I know – all cities have waterparks. We've all been on a log flume Paul, get over yourself.
But because this place was abandoned many years ago, this isn't any old normal waterpark – it's one of Vietnam's most unusual attractions.
Packed with graffiti, abandoned structures and allegedly once home to three alligators, it's all a little weird. If you like abandoned stuff, taking photographs, or anything strange, you'll absolutely love it here.
To gain access, you pay (or is it bribe? It's hard to know in Southeast Asia) the lone security guard who ominously hangs around the waterpark, which resembles a set from a long-forgotten horror movie. The place was built in 2004 for $3 million, but it quickly closed down after being opened before it was fully completed. Good old Vietnam.
With now-desolate pools, slides and attractions, it's a pretty weird dose of post-apocalyptic algae-strewn perplexity. Just don't try sliding on any of the flumes – there isn't much water around the place these days.
Location: hồ Tiên, Thủy, Thủy Bằng, Hương Thủy, Thừa Thiên Hue
Distance from the closest big city: it's on the outskirts of Hue, around 8km (or 5 miles) from the center
Opening hours: N/A, but you should only go during daylight hours
How to get there: you can hire a taxi from Hue, or ride a scooter
Entrance fee: 10,000 VND (around $0.50)
Parking fee: N/A
14. Am Phu Cave
Imagine a bizarre ghost house set in the confines of a gloomy Vietnamese cave.
You're now sort of imagining Am Phu Cave.
An inexplicable maze of devils and demons, this is both horrifying and hilarious. A recreation of the Buddhist depiction of Hell, it's packed with images of punishment, confession and supposed penance.
On the outskirts of Da Nang sit the marble mountains, so-called because sculptors once used the marble inside to craft statues of Buddha. One of the mountains is home to Am Phu, the infamously jagged, pitch-dark cavern crammed with bizarre and ghoulish figures.
As you navigate the cave and its ghastly residents, you ascend on a metaphorical journey which takes you from dingy darkness to sunlit pagodas. Congrats – you've left behind Hell to reach Heaven!
A bizarre journey of spooks, specters, and fear, it's one of the strangest religious complexes on the planet.
Location: 81 Huyền Trân Công Chúa, Hoà Hải, Ngũ Hành Sơn, Đà Nang 550000
Distance from the closest big city: around 10km (or 6 miles) from the center of Da Nang (depending on where you consider the center to be)
Opening hours: 7am – 5:30pm every day
How to get there: take a taxi or rent a scooter
Entrance fee: 15,000 VND (around $0.70)
Parking fee: N/A
15. Ho Chi Minh Mausoleum
You'd expect Ho Chi Minh Mausoleum to be in Ho Chi Minh City.
But it's instead situated in Hanoi, the nation's capital.
One of the most sacred sites in the entire country, the Ho Chi Minh Mausoleum is the final resting place of Ho Chi Minh himself, and is a quiet, respectful tribute to one of Vietnam's most iconic and influential figures.
Inside the mausoleum, Ho Chi Minh's body lies embalmed in a glass case, illuminated only by dim lighting.
But the outside of the building is much more striking.
It looks like it was copied from a 'how to make a Communist building' text book, and is bold and beautiful in its imposing starkness. It rises grandly from the square in which it sits to completely dominate the area.
It looks particularly good at night, when the lighting picks it out beautifully against its black backdrop.
If you visit, make sure you're quiet and respectful, don't wear shorts, skirts or vests.
Location: 2 Hùng Vương, Điện Bàn, Ba Đình, Hanoi 100000
Opening hours: opening times vary throughout the year, and it's sometimes closed, so check before you plan your visit
How to get there: walk or take a taxi from any part of Hanoi
Entrance fee: free, but donations are welcome
Parking fee: you can park in many places nearby for free
Conclusion
There you have it: the top 15 best places to visit in Vietnam.
Some of them are weird, some of them are beautiful, some of them are worthy of days of exploration, but they're all some of the biggest and best attractions in the entire country.
If you want more ideas for Vietnamese adventures, read our guide on the top things to do in Vietnam. It's brimming with plenty of obscure and exciting stuff.
Want to know more about Vietnam? We've got plenty more articles on our site, so you can do all your learning here. We've got information on the best cities to visit in Vietnam, the best waterfalls in the nation, delicious Vietnamese fruits you should try, and some things the country is most famous for.
Sling that guidebook in the bin – we're your guidebook now baby!
Being a Digital Nomad: Tips, Tricks and Places
Do you want to be a digital nomad?
If you do, maybe you don't know where you might want to live. Or how to live there. Or whether you need a visa. Or how to make friends in the scary sprawl of a brand-new city. Or how to stay productive while you travel. Or how to find an apartment. Or whether this lifestyle really is for you. Or… I'm sure you get the idea.
But with some insight and experience, it's not as difficult as you think. So in this book, I've gathered my 6 years of digital-nomadding experience… and I've used it to answer all your questions, soothe all your fears, and get you on your way. After reading this, you'll realise being a digital nomad is much easier (and much more possible!) than you think.