19 Best Things to do in Kodiak – Handpicked by a Local
I was fortunate enough to call Kodiak home for five years, so in this article I am thrilled to share with you some of the best things to do on your visit to this nature lover's paradise.
Known for its lush green forests, excellent fishing, and its signature animal, the Kodiak Bear, Alaska's Emerald Isle also boasts a rich history, particularly for World War II enthusiasts
Kodiak Island has something for everyone, from breathtaking wilderness hikes to heart-pumping fishing trips. But with so much to see and do, it can be overwhelming to plan your visit.
To help you make the most of your time on the island, I've rounded up the top 19 best things to do in Kodiak, all the must-see attractions, and exciting activities. From kayaking with sea otters to sampling local seafood, these are the experiences that will make your trip to Kodiak truly unforgettable.
1. Kodiak National Wildlife Refuge
President Franklin D. Roosevelt established the Kodiak National Wildlife Refuge in 1941 to safeguard the endangered Kodiak brown bears and their habitat. The refuge today preserves the island's pristine nature, allowing species to thrive in the vast expanses of mountains, streams, lakes, marshes, grasslands, woodlands, and meadows.
Over 3,000 bears, 400 breeding pairs of bald eagles, over 30 million salmon, and a variety of other fish, birds, and mammals call the environment home.
Begin your tour of the refuge at the Visitor Center, which will lead you to wildlife viewing, environmental education, hunting, fishing, and camping in one of the refuge's quiet cottages.
2. Whale Watching
For observing the world's largest mammals, Kodiak matches any other location in Alaska. In April, gray whales pass through on their way north. From June to November, minke, humpback, and fin can be seen.
Whale watching and other marine animal tours are provided on local charter boats if you want an up-close and personal view. However, you can see whales from cliffs or beaches such as Miller Point at Ft. Abercrombie State Park, Surfer Beach, and Fossil Beach.
But if you're looking for an unforgettable experience that will stay with you for a lifetime, then taking a whale watching tour is a must. You'll be able to see these majestic creatures up close and personal, which is an experience you won't find anywhere else.
Here's an excellent one with several top reviews: Kodiak Scenic Tours: Whale Watching Boat Excursion
3. Meet the Most Dangerous Occupation in the United States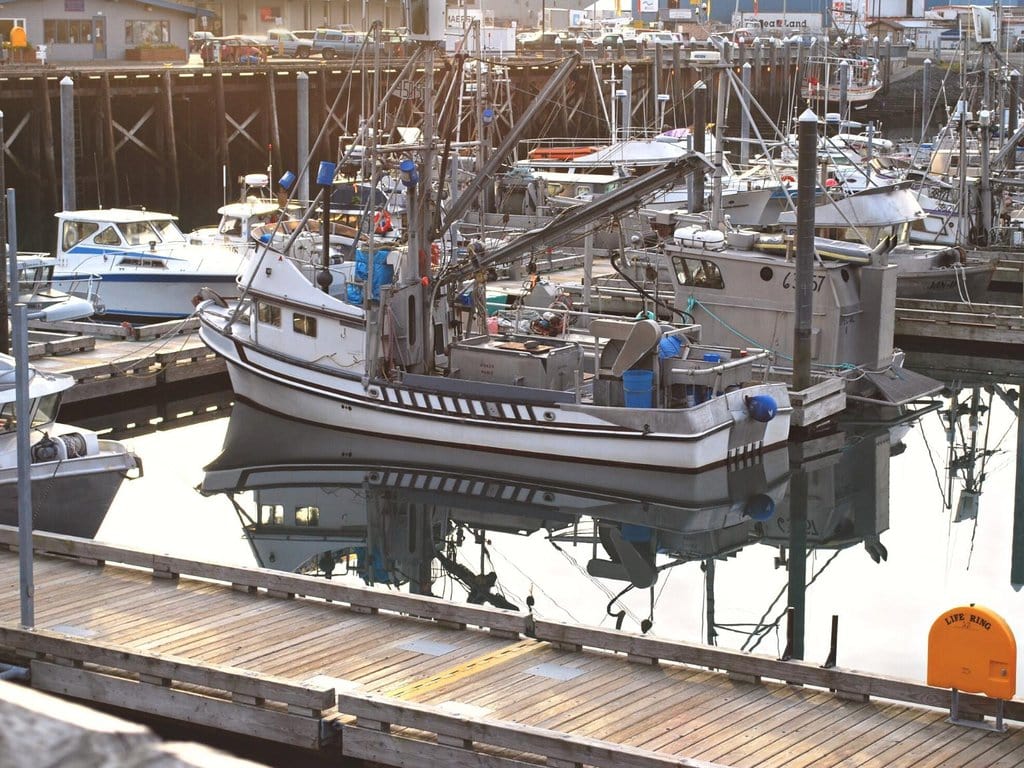 Alaska is well-known for its fishing industry, and the Kodiak Waterfront Walking Tour is the perfect way to learn more about it. This 90-minute tour will take you through the heart of the commercial fishing world, from the boats and gear to the processing plants and the people who work there.
The tour will take you through the heart of the Kodiak fishing industry, where you will see firsthand the everyday dangers and challenges that commercial fishermen face. You will also learn about the history of the industry and how it has shaped the lives of those who work in it.
This is a rare opportunity to get an inside look at one of the most dangerous and demanding occupations in the world. Don't miss your chance to take this tour and learn about the men and women who make their living as Alaskan commercial fishermen.
Click here for prices and more info
4. Alutiiq Museum & Archaeological Repository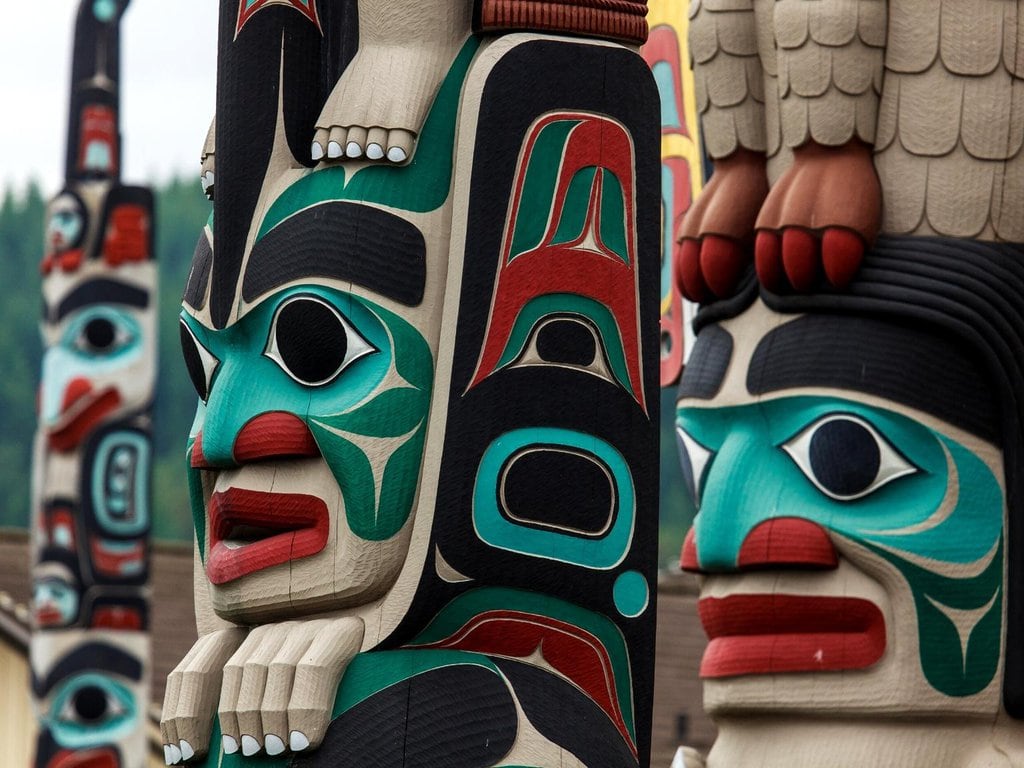 For over 7,500 years, Kodiak Island has been home to the Alutiiq people. People of the Alutiiq/Sugpiaq have long lived in coastal settlements, surviving by hunting marine mammals from skin-covered boats and gathering the plentiful summer resources.
Tourists can learn more about Native Alaska's history and culture at the Alutiiq Museum & Archaeological Repository.
Learn about subsistence living while immersing yourself in the cultural arts, such as weaving, carving, dance, sewing, singing, and storytelling. During summer, the museum also offers a wide range of exhibitions and events.
5. Fort Abercrombie State Historical Park
The historic Fort Abercrombie park, which protects the ruins of World War II fortifications, offers visitors beautiful views as well as a fascinating glimpse into the past.
People interested in the Aleutian invasion will enjoy learning more about the defenses put in place in Kodiak, as well as exploring the remains that still stand today.
The seaside area is an excellent site to see puffins in their natural environment and stroll on the black sand. If the weather is warm enough for you, then you can take a dip in the lake.
Bears are known to visit the area — especially during berry season — therefore bear safety, procedures, and etiquette should always be followed.
6. Kodiak Crab Fest
The Kodiak Crab Festival includes five fun days. Activities include classic and unusual tournaments, games, races, and competitions.
The festival takes place Memorial Day weekend starting on Thursday. Locally, the event marks the end of winter and the arrival of summer, which brings with it long days, salmon runs, and plenty of fun.
Crab Fest includes carnival rides, local artisans selling goods, and plenty of food to enjoy! Nearly the whole town of Kodiak turns up for the festival, so if you are visiting during fest weekend, be sure to stop by the event.
7. Kodiak Laboratory Aquarium & Touch Tank
The oval freestanding aquarium holds 3,500 gallons of water and is the main attraction of the Kodiak Laboratory Aquarium & Touch Tank. A touch tank is also available for visitors to interact with marine invertebrates.
The research done at the facility contributes to the long-term management and conservation of Alaska's marine species. The waters around Alaska are home to some of the world's most important commercial fisheries, as well as enormous and diversified populations of whales, seals, sea lions, and porpoises.
8. Chartered Halibut Fishing Trip
Fishing for halibut is something that most people want to experience while on an Alaskan vacation. Halibut can be caught all year, with the season beginning on February 1 and ending on December 31. Halibut are abundant during the months of June, July, and August.
The majority of halibut weigh between 30-90 pounds. However, a 300-pound monster was caught in under 50 feet of water in 2008, and an 8-footer was caught in 1999. Fishers are allowed two halibut per day with size limitations.
Going on a chartered trip to catch halibut is an excellent experience because your captain will know the spots where you are most likely to catch a fish. Plus, they will be able to advise you on whether your catch meets regulations. There are several companies on the island that offer chartered fishing trips.
9. Hiking
With rugged territory, little tree growth, and a road system that provides easy access to beaches and trails, Kodiak is a hiker's dream.
Hike trails on Pyramid Mountain to discover the joys of plant identification. Take a family-friendly stroll in Fort Abercrombie State Park to see tidal pools, where you can watch sea stars devour mussels and anemones open and reopen their colorful tentacles.
You can also join one of the local Audubon Society's group hikes or participate in the annual race up Pillar Mountain during the Crab Festival in May. The Kodiak Visitor's Center sells a waterproof hiking map to help you find the perfect trail for you.
No matter where you decide to hike, remember bear safety. Make lots of noise as you travel the trails to alert any bears nearby that you are approaching. It is also recommended you take some bear spray with you.
10. Flightseeing
From a floatplane, take in the rough and spectacular mountains and fjords of southwestern Alaska!
Explore Kodiak or the Katmai Coast from the air, sea, and land with one of Kingfisher Aviation's famous Kodiak Brown Bear Viewing Tours. Since 1998, Pilots Glen and Kyle Eaton have been securely transporting tourists into the Alaska wilderness.
Their flying service's main purpose is to provide Alaska guests with a unique guided bear viewing experience between May and October. On my Kodiak flightseeing experience, I saw a momma bear and her two cubs, mountain goats, and tons of puffins!
11. Sea Kayaking
Get up close and personal with Kodiak marine wildlife on a sea kayaking adventure. If you're hunting for sea otters, puffins, and sea lions, an on-the-water excursion should be at the top of your Kodiak activity list.
Sea kayaking in Alaska can be a chilly activity, so you will want to make sure you wear proper gear. I found that you warm up a bit while paddling, so layers are a great way to stay comfortable.
There are several outfitters on the island where you can book guided and unguided tours.
12. Holy Resurrection Russian Orthodox Church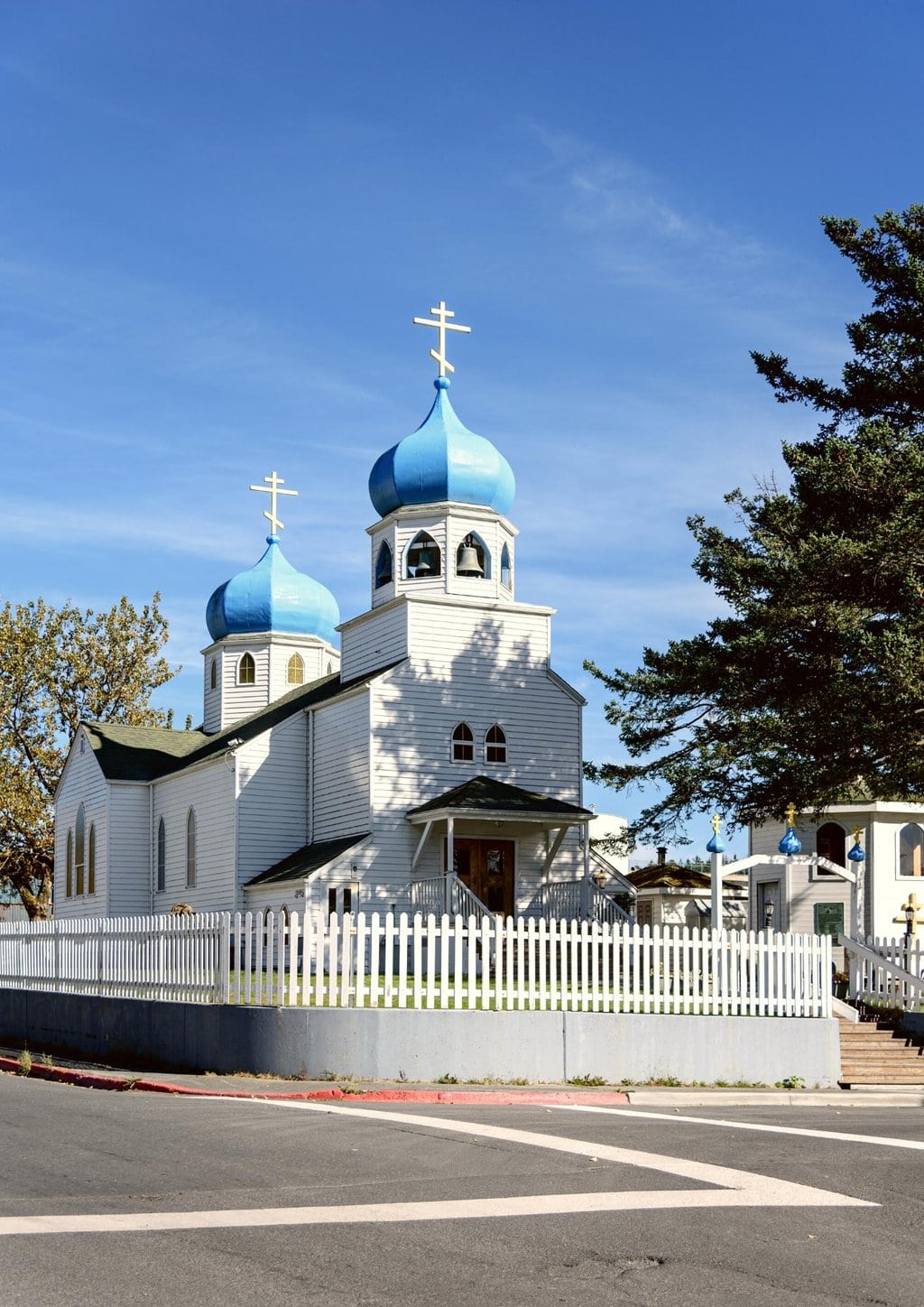 The Russian Orthodox Holy Resurrection Cathedral is a Kodiak site that you should visit. This historic parish was founded in 1794 by a Russian monk who would later become St. Herman.
A beautiful small white building, surrounded by trees, with its characteristic twin turquoise-colored onion domes crowned by golden crosses, is the fourth church built on the same site; the current structure comes from the 1940s.
The wooden reliquary, which houses St Herman's relics, is located at the front of the church. Here you'll also find a glass cabinet containing the monk's own gold cross and cap. The perpetually burning ceremonial oil lamp over the reliquary is used for anointing the ill, a cause dear to St Herman's heart during his lifetime.
13. The Kodiak History Museum
An absolute delight for history aficionados, the Kodiak History Museum, previously called the Baranov Museum, has exhibits about the history of Kodiak Island and Alaska dating back to when it was a Russian colony.
It also offers a variety of unique events and festivals that highlight Kodiak's historical significance. Consider paying a visit to this fascinating museum if you want to learn more about the island's history.
At the time of this writing, the museum is temporarily closed due to the pandemic.
14. Fossil Beach
The cliffs on each side of this lonely beach, at the end of Pasagshak Rd, are lined with bowling-ball-sized concretions where sand and silt have been cemented in minerals. You'll also see old shell fossils and other remnants from the past.
You can walk around the easternmost cliff and see more fossils encased in the sandstone during low tide. Keep a lookout for a herd of scrawny bison roaming the neighborhood.
Make your way up the hillside immediately to the left of where the road stops for a taste of WWII history. On Narrow Cape, there are a number of bunkers and the remains of a searchlight station.
​​15. Scenic Drive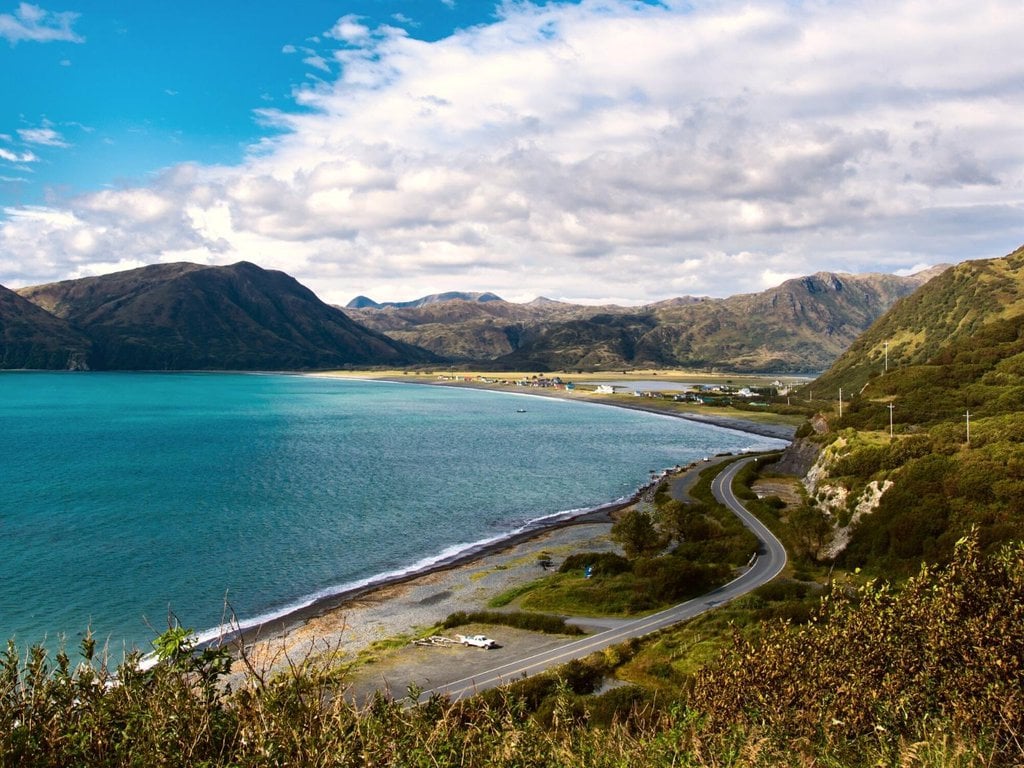 Kodiak has a reasonably good road system for an isolated town on an island accessible only by ferry or plane. You can find various scenic drives with access to beaches, mountains, state parks, and historic sites.
The Alaska Aerospace Corporation's launch site 40 miles south of town has resulted in the paving of even the most distant routes. However, heavy rains and harsh winters can cause road conditions to alter, and there are some dirt portions, so check for updates before setting out on your drive.
Some of the routes that I would recommend include Pasagshak Bay Road where you'll find great fishing beaches and Monashka Bay Road which offers stunning views.
16. Buskin River State Recreation Site
The Buskin River State Recreation Site is located near the state airport and borders the Buskin River which attracts anglers from all around the world who come to catch sockeye and coho salmon.
There are also historic military tracks connecting WWII structures buried in the spruce forest on the park's north side for hikers and mountain bikers. Brown bears, eagles, harlequin ducks, and harbor seals are among the birds and fauna visitors can expect to witness.
The majority of the camping sites are RV-friendly, and there is an RV overflow area. On a first-come, first-served basis, camping spaces are available. Near the river, there are two picnic shelters and a handicapped-accessible fishing platform.
17. Climb Barometer Mountain
Kodiak's most famous mountain is located roughly 4 miles from town near the end of the airport runway. Hiking Barometer is a pastime enjoyed by visitors and locals alike.
Once you've gained several hundred feet, there's a well-defined trail leading up the east ridge. The views along the trip are spectacular, and from near the summit, you can see the entirety of Kodiak. While climbing, you can also watch planes take off.
The roundtrip distance is around 4 miles, with an elevation gain of approximately 2,500 feet.
18. Dining
One thing not to miss while on a visit to Kodiak is the plethora of fabulous dining options. Take a ride out towards Chiniak to dine at the Olds River Inn Restaurant, where you can get fresh seafood options and more. Check the hours because this spot closes during the winter months.
Family-friendly establishment Henry's Great Alaskan Restaurant has been another local favorite since 1957. Make sure you try the Klondike Burger! Some will say the best food in town can be found at the Aquamarine Cafe, where they are serving up classic sandwiches, pizza, and more.
19. Salmon Fishing
Salmon fishing on Kodiak Island is fast-paced and action-packed, and it may even be the ideal Alaskan fishing vacation destination! You can find plenty of spots to throw in your line around the island, but you may have the best luck by hiring a fishing guide from one of the many outfitters.
In June, you can try for sockeye and king salmon, and silver fishing happens in August.
The Emerald Isle Awaits
Kodiak is one of my favorite places in Alaska, and I think it should be on the top of everyone's Last Frontier bucket list. You have the opportunity to explore the best of Alaskan wilderness on such a beautiful and verdant island.
Enjoy fishing for halibut and salmon, dine in the local restaurants, and catch a glimpse of the great Kodiak Grizzly!
For more Last Frontier adventures check out my guide about the most beautiful lakes in Alaska as well as the best cruises in the state.