Top 10 Best Hikes in Alaska
Accounting for two-thirds of America's national parklands, Alaska offers nature's beauty in her truest form. Since I spent a good portion of my childhood living in The Last Frontier, I can attest to the impressiveness of the views, wildlife, and the hiking trails!
The Alaskan forests call to the adventurous spirit in all of us.
It doesn't matter if you are a total newbie or an experienced hiker; Alaska offers hiking trails with enjoyable exercise, adventure, and the ecstasy of the great outdoors. Breathe the fresh air, listen to the wildlife, and have the off-grid experience of a lifetime.
Keep reading to find out the best hikes in Alaska, which trails are suited for your hiking level, and which ones will give you the experience you've always dreamed about.
Let's get started!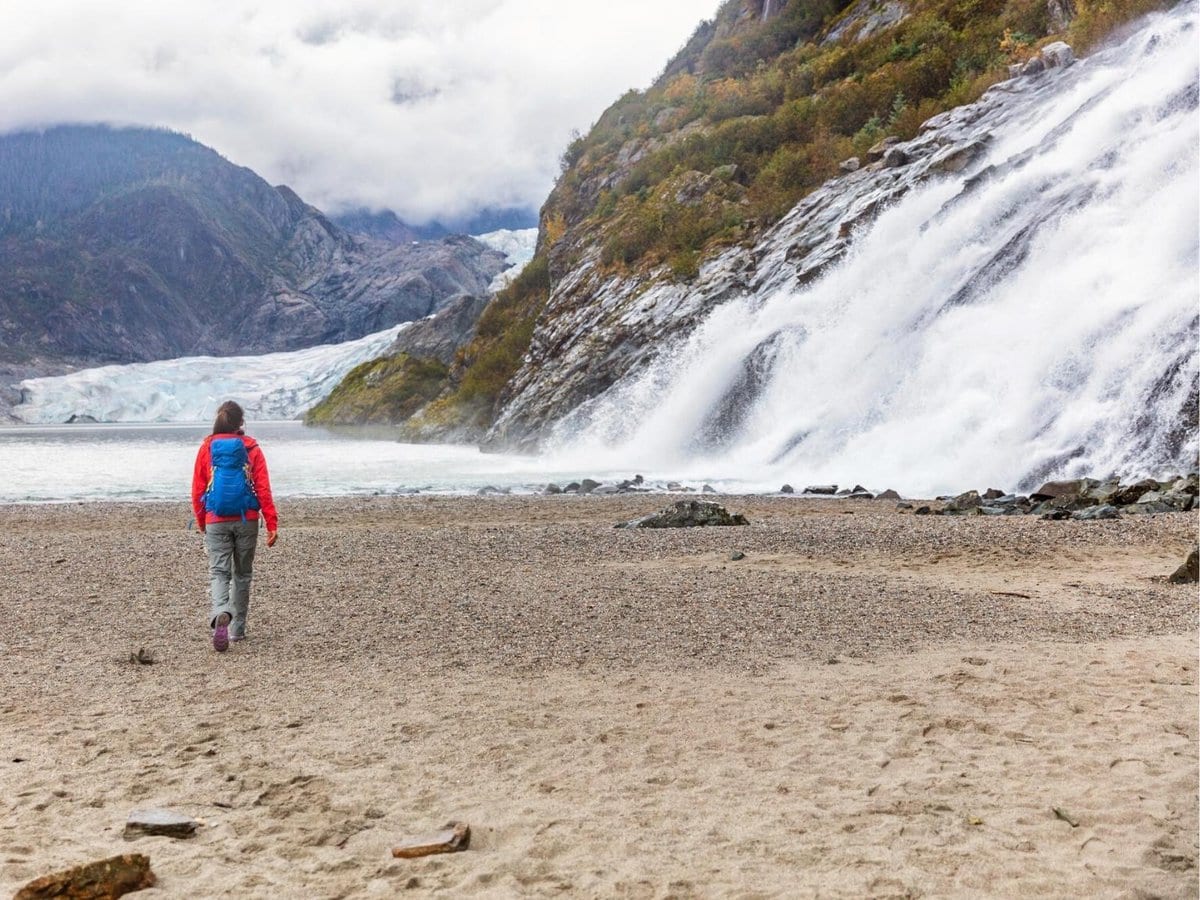 1. Flattop Mountain Trail – Anchorage
At the edge of southern Anchorage is the Glen Alps trailhead, which takes you to Flattop Mountain (the easiest mountain to climb in Alaska, source).
This short, well-developed trail is a popular choice for hikers.
It isn't too tough, only picking up near the end. At its finale, you will reach the flat plane that lies at the first peak of the mountain.
This popular spot is where hikers celebrate the Summer Solstice and is an excellent camping option. You can continue from Flattop Mountain and follow the southeast ridge to climb Peak 2 and Peak 3!
On this hike, you will see views of the city skyline, Cook inlet, Aleutian Islands, and I even spotted Denali once on a clear day!
2. Resurrection Pass Trail – Anchorage, Hope
Perfect for biking and backpacking, Resurrection Trail near Hope and near Sterling promises a fantastic adventure. Though it is known for its mud and bugs, Resurrection Trail may still be worth your time.
This trail highlights natural beauty with beautiful gorges and waterfalls. In addition, you can see Denali and the Alaskan Range by climbing 1600 feet to the top of the ridge west of Resurrection Pass.
Purchase all of your food and pack your bags with layers of clothing for possible shifts in weather. Then you will start this overnight hike at Cooper Landing with the intention of reaching one of the 19 campsites or 8 cabins to spend the chilly night.
You can enjoy birdwatching or take in the historic gold mining areas near hope along the trail. If blueberries are in season, you can enjoy them along the way too!
3. Mount Marathon – Seward
Located in Seward, Mount Marathon is a moderate hike that starts at the gate on Maddison Avenue. It is known for its annual foot race which is thought of as the most challenging 5k course in the world.
The trail starts wide and steep but levels out as you continue on. You will meet a forest once you clear the incline and wind up close to the tree line.
You will complete two more ascents of note and then a general upward walk that ends at the turnaround boulder on 3,022 Racepoint.
You can glimpse Resurrection Bay during your walk and a direct view of the many surrounding mountains. Eagles and ravens will circle at this height, perfect for birdwatchers to enjoy.
4. Kesugi Ridge Trail – Near Trapper Creek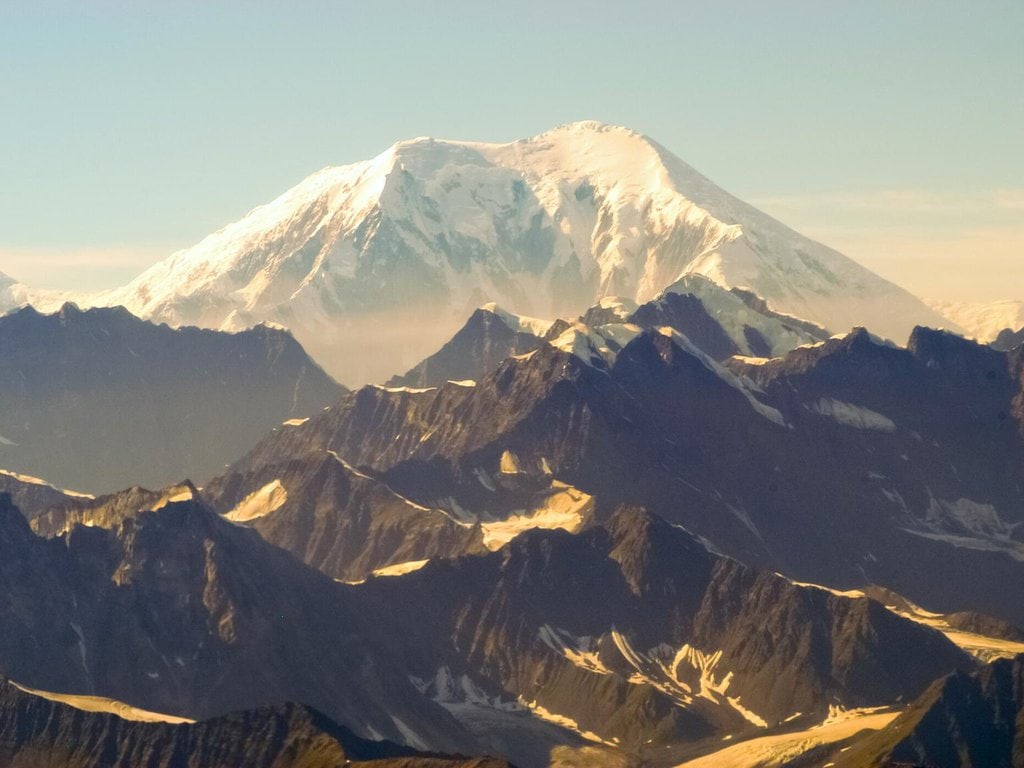 Starting at Little Coal Creek trailhead, Kesugi Ridge Trail spans 29 miles and is a strenuous hike. To access the trailhead, you'll need to visit Denali State Park.
You begin your walk with a 2000 ft incline over 4 miles, then contend with the direct heats as you access the ridgeline at the top. In addition, you must consider the exposure to sudden weather changes, especially as you are camping out in the open.
Despite this, the trail sees moderate traffic, mainly because the views are worth it! Often called one of the most beautiful trails in America, try out Kesugi Ridge if you are most interested in seeing the beauty of Alaska's nature.
You'll see breathtaking views of Denali and the Talkeetna Range while surrounded by wildflowers, birds, and more. Take your furry friend out on this adventure with you, and stay safe along this beautiful trail!
5. Exit Glacier View Loop – Seward
This short hike, spanning less than 1 mile, is a great family option. If you enjoy time outdoors with your kiddos, consider this flat trail. The trailhead sits near Seward, starting at the Exit Glacier Nature Center.
This fully accessible loop trail is worth the trip. You get a front seat row to the Exit Glacier, as well as time to enjoy the flora and fauna that grow along the trail.
Hiking bikes, snowmobiles, dog sleds, and cross country skiing are all activities to consider as you pack to head on up to the trail. The best time to try out this trail is from May to September.
If you would like to make it a more educational experience, consider hiring a guide who can discuss the effects of global warming on the glaciers and give the history of Alaska's people.
6. Lost Lake Trail – Seward
Lost Lake Trail is a moderate option for hikers with a sprinkling of mild elevations and breathtaking scenery. I think this hike feels more like a long stroll than a strenuous outdoor adventure!
You'll find the trailhead at Primrose Campground on Kenai Lake, just off the Seward Highway. This hike is a 6-hour event for most people, and unlike some other trails, it is dog-friendly.
Your views on Lost Lake trail cover a variety of terrains. You start through a forest, taking a glimpse at Resurrection bay before you emerge from the trees.
In addition, alpine meadows and sparkling lakes can also be found on this trail. Finally, you will meet the tundra, which is an excellent place to camp out. Otherwise, you can stick around and study the forest as you hike — a pastime many enjoy!
7. Indian River Trail – Sitka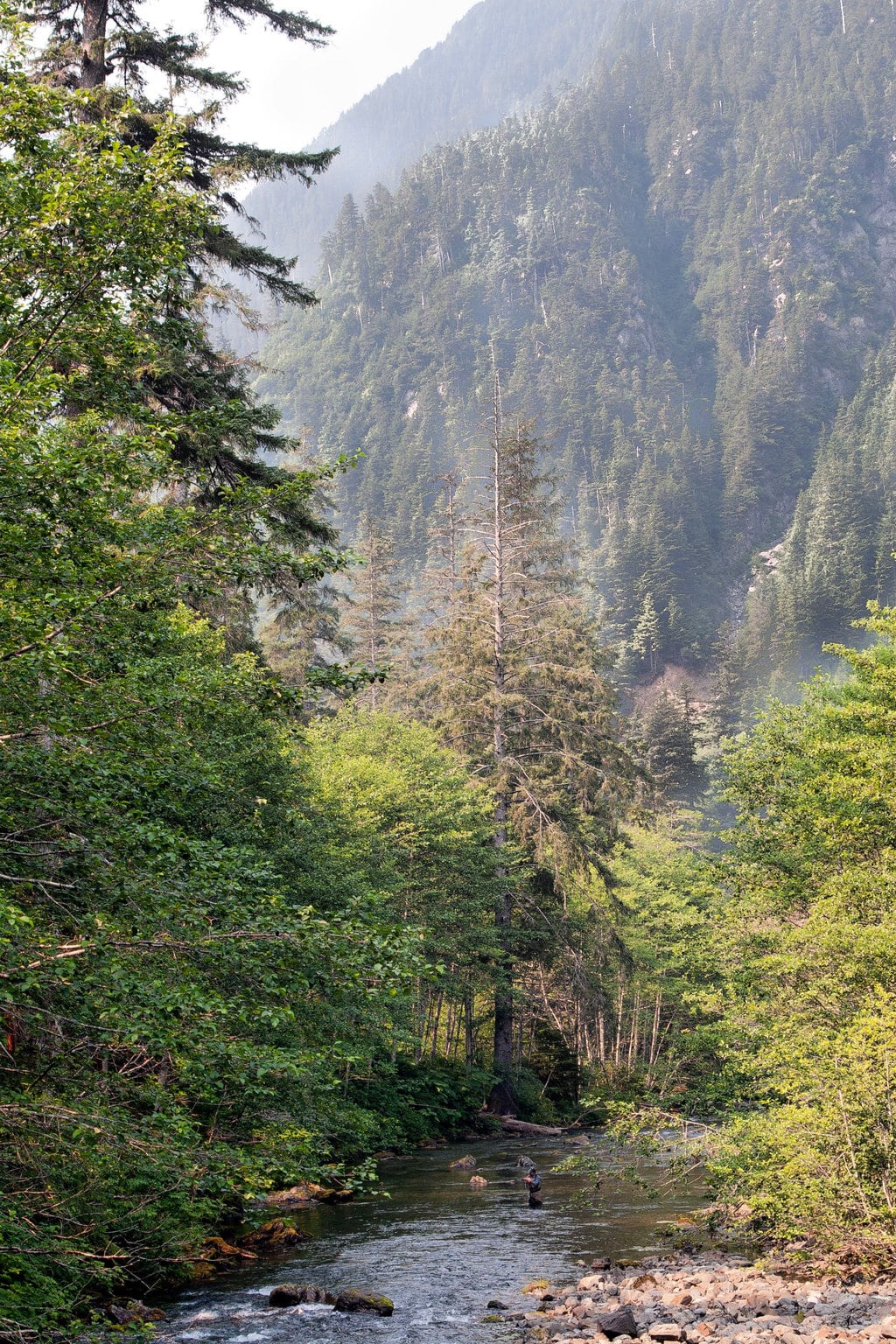 A short walk from Sitka is the Indian River Trail. This is a very accessible trail, perfect for beginners or those interested in light exercise.
A two-hour walk that follows the Indian River and tumbles through lush, untouched rainforests. As you continue, the path narrows, leading to a 70-foot waterfall. This family-friendly trail calls many people to its beauty yearly, meaning that you may see more than a few people as you hike.
If you are interested in the forest, you can look for signs of hand logging by picking out notched stumps within the trees as you walk!
Keep a good lookout because you may come across a black or brown bear by the river on this trail. This is because the river has fish! Black or brown bears have been known to make frequent appearances on the trail (and in town on some occasions!)
Remember to warn the bears of your presence by talking loudly or singing as it will help you avoid up-close encounters. Despite their attraction to the river, the bears are not known to travel the trail itself.
You can find the trailhead on Indian River Road, and parking is available.
8. Chilkoot Pass Trail – Skagway
Chilkoot Trail promises an international multi-day hike that includes tales of the 1897-1899 Klondike Gold Rush and other ancient sites along the path. This moderately traveled trail holds activities and views for you to enjoy.
You'll pass through high mountain basins and coastal rainforests, but you will need to stop by camping sites each day to rest. Despite the difficulty, this hike is well-loved, constantly garnering interest year after year.
Unlike the other trails on this list, Chilkoot passes from Alaska to Canada. This means that you will need to carry your passport, make a reservation, and purchase a permit well before the trip.
These steps ensure you have safe and legal passage from one country to another, leaving you free to enjoy this extraordinary 3-5 day experience. You can find the trailhead 9 miles from downtown Skagway.
9. West Glacier Trail – Juneau
If you love Glaciers, this trail in Juneau is for you! West Glacier trail is an easy to moderate walk, with the only challenge being the slight incline at the end. Only 20 minutes drive from Juneau, the West Glacier Trailhead starts just past Skater's Cabin.
This hike promises you exquisite views of the Mendenhall Glacier and Nuggets Falls. You'll be making your short trip through willows, alders, and cottonwood.
Thankfully, the hike isn't terribly strenuous, so you'll have plenty of time and energy to take in the beauty of the area. Keep in mind that you cannot access this trail from the Mendenhall Glacier Visitor Center.
10. Deer Mountain Trail – Ketchikan
Southeast of downtown Ketchikan is the Trailhead for Deer mountain. Known as a moderate to difficult hike, Deer Mountain is not as famous as some of the others on this list.
However, you can find many spectacular sights, including islands, channels, and fjords along this well-developed trail. You'll be greeted with changes in scenery, from forests to meadows to alpine sights.
Taking this trail to Deer Mountain is a half-day hike at about 2.5 miles — where the developed trail ends. If you are not well equipped for strenuous hiking, it is suggested that you turn back here.
Carrying on to Blue Lake may take a full day, adding another 4.5 miles to your hike.
You will find shelter on a first-come, first-serve basis along the trail. If this is occupied, take shelter using the camping grounds around Blue Lake or the basin between John Mountains and Mahoney.
It is suggested that you take all necessary precautions while on this hike. Given Ketchikan's long winters, traveling with an ice ax is the best option!
Life Saving Pro Tips to Know Before Hiking in Alaska
1. Be Bear Aware
When hiking in Alaska, you often face a chance of encountering a bear. After all, it's bear country. In fact, I've seen bears from my apartment balcony in the middle of Anchorage!
While they mostly avoid humans and enjoy their personal space, you may unwittingly come across one. You should know different bear safety tips and techniques to keep you and your party safe.
You should always carry a good bear spray with you while hiking, and store your food in bear-resistant food containers while camping.
Avoid surprising bears by making noise while you walk; talking works fine. This is especially pertinent when you are hiking off-the-beaten-trail. Don't camp near trails or roads since bears often use them, and hang your food in a tree away from your campsite.
If you encounter a bear, identify that you are a human by waving your arms, hitting something loudly, or talking. Once they realize that you are a human, they will leave you alone…most of the time. If they attack, fight back or play dead. Do not run!
Visit any website for the National Park Services or official government resources such as the USDA on how to be bear-aware before you go hiking!
Please stay safe!
2. General Wildlife Safety
Staying safe from wildlife, in general, is always the best option. You must understand what species live in Alaska and how to remain safe.
Start any trip to Alaska with proper research into bear and moose safety while discovering what it takes to hike there. It is advised that you also have a chat with your doctor, especially if you have any significant allergies or ailments. Once you are comfortable, then it's time to hike!
Aside from bears, you must consider insects and moose. When facing insects, carry a bug spray with "Deet" as the active ingredient. It is essential to a safe hiking journey.
On the other hand, if you encounter a moose, do not approach them. Allow them to move on and avoid engaging with them. They are aggressive animals, and much bigger than you imagine them to be.
3. Personal Safety
When out on a hike, you want to ensure that you are well prepared for any scenario.
After having done thorough research, you want to choose the best clothing for the hike, depending on one the time of year.
Take extra clothes, a medical kit, and food in a bear-resistant container. Finally, make sure you have good shoes and other tools like ice axes that you think may come in handy.
4. Consider a Guide for Hiking
As a beginner unfamiliar with Alaska, having a guide to direct you along your hike is a safe option.
Guides have traveled these trails often. They know where things may become unsafe or difficult. In addition, they may have survival skills that can help you out in a pinch.
Conclusion
It doesn't matter if you are a beginner or a professional hiker, Alaska has trails that bring a challenge for all skill levels. But they also offer the reward of relaxation, exercise, and incredible views.
There are plenty of opportunities available, from short hikes lasting no longer than a few hours to 5-day hikes! Try any one of these trails and see if they match your expectations.
Enjoy the trails, and stay safe as you embark on your adventures! To learn more about hiking trails in Alaska or general travel guides, browse the rest of our website!