12 All-Time Best Day Trips From Fairbanks
Centrally located in Alaska's interior, Fairbanks puts visitors in a prime spot for exploring. Whether you want to see spectacular mountains, wild forests, or glistening lakes, you can reach them easily from Fairbanks!
Tourists come for a glimpse of the Northern Lights, to venture into the Arctic Circle, or even to enjoy fishing from the banks of the Chatanika River. There are so many things to do in and around Fairbanks, that you'll want to stay awhile.
Let's start exploring!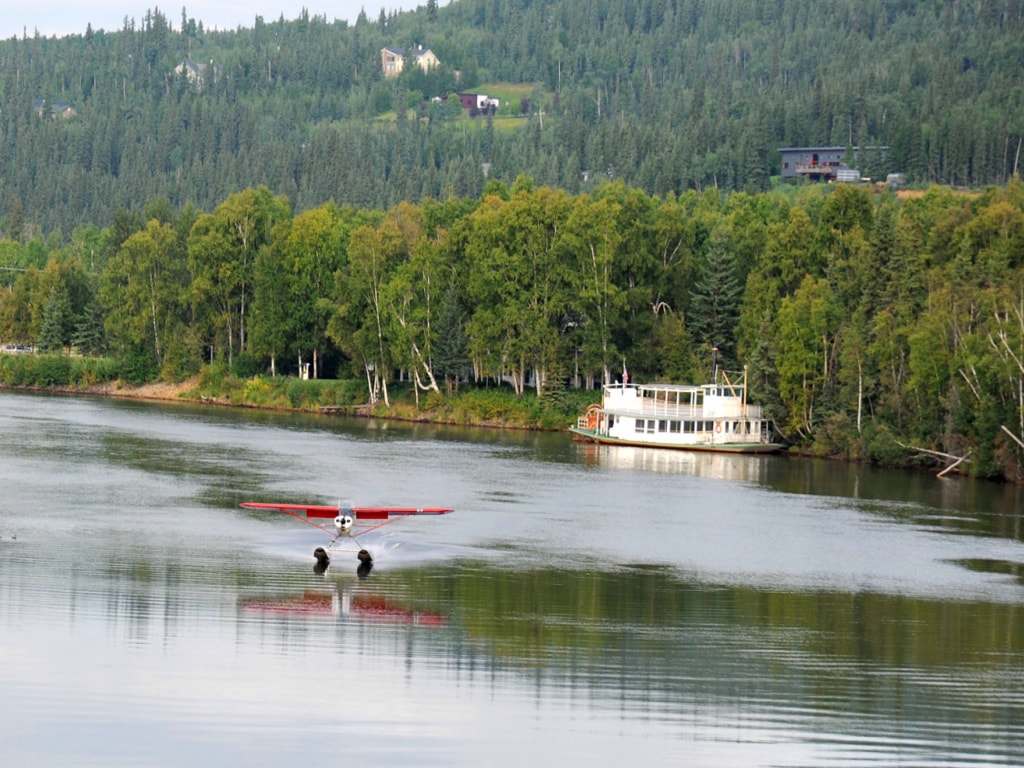 1. Aurora Viewing
Set off on an aurora-chasing expedition! You'll get away from the city's light pollution on your quest for the breathtaking natural phenomenon.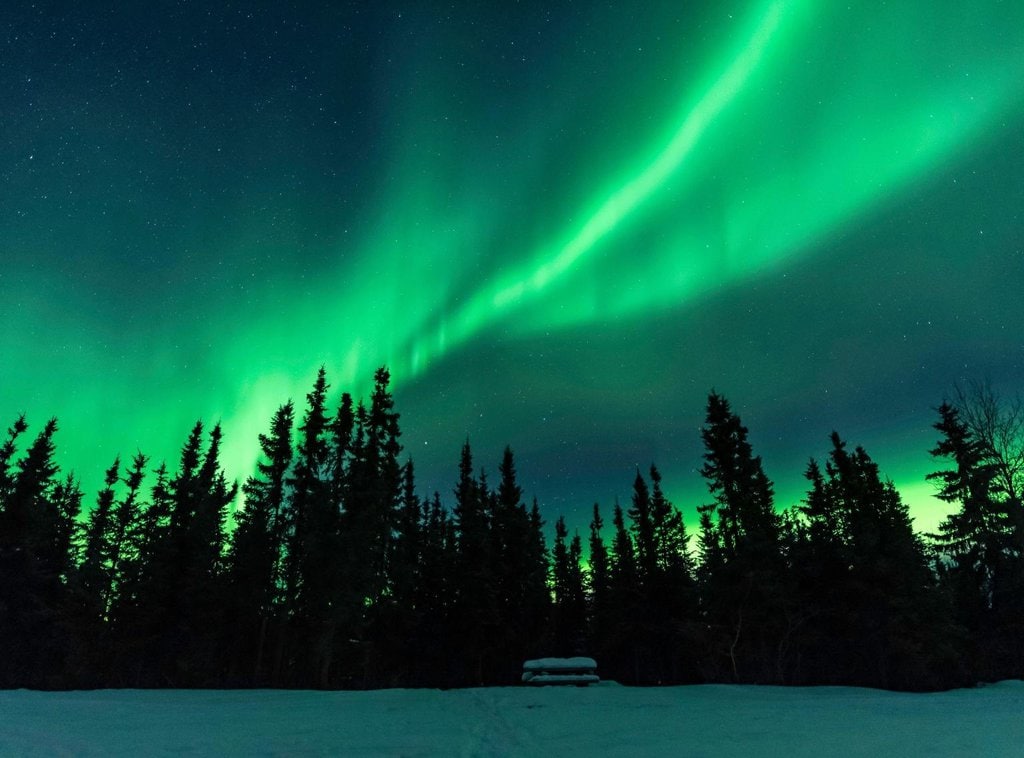 The tour guides will pick you up from your hotel (or another agreed-upon meeting spot), so you can join a small group and travel in a warm van to their secret aurora viewing spots.
Along the way, the tour guides will explain the science of the Northern Lights, teach you why Fairbanks is such a great viewing area, and dive into some of the Interior's history.
You will also get a mini-photography lesson so you can nab a great photo of the colorful display. Camera rentals are available as well!
Don't waste your time, book your places asap as the tours sell-out fairly quickly. The best tour you can get (and the most complete one) is this one: Incredible Aurora Viewing Adventure. But if you want a cheaper option, this one is perfect too, although shorter so you'll have less time to enjoy the Aurora.
Distance: Pickup from Fairbanks hotel
How to get there: Van
Time to get there: up to 2 hours (viewing locations change)
Time to spend there: Tour lasts 5+ hours (2-3 hours for the cheapest ones)
2. Riverboat Discovery Cruise
Go back in time aboard the Riverboat Discovery, an original Alaskan sternwheeler cruising the Chena and Tanana Rivers.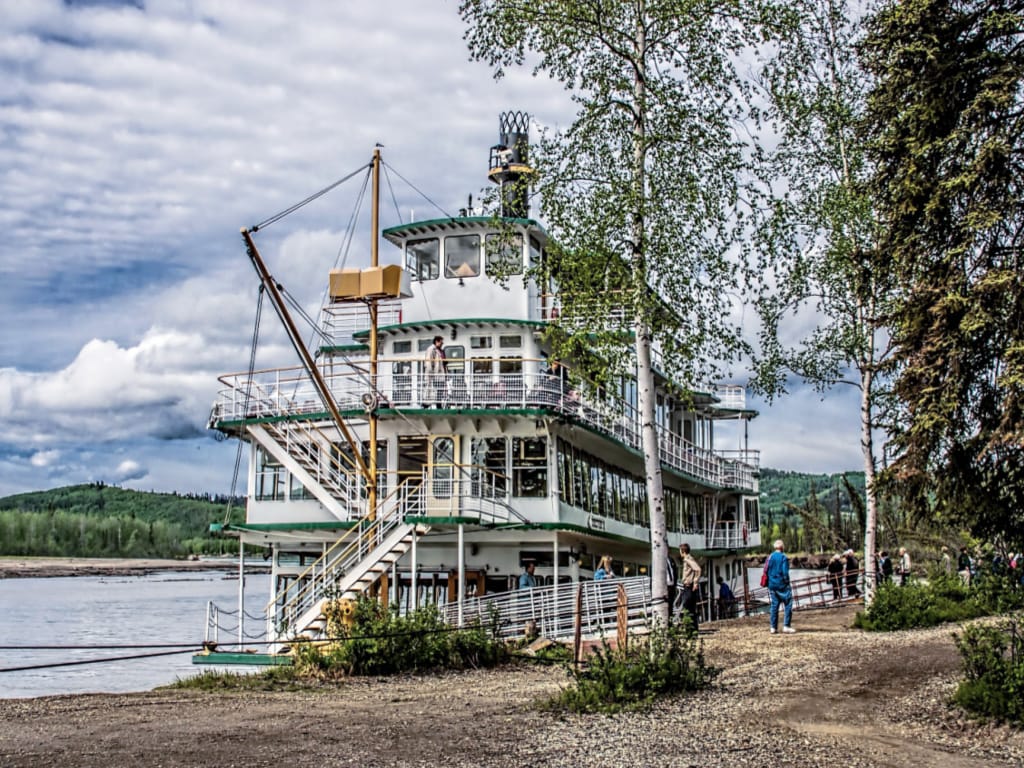 The Binkley family has been operating riverboat tours in Fairbanks since 1950, letting you sail out into the Last Frontier's nature. The third- and fourth-generation captains will teach you about the area's history and natural beauty.
Along the riverbank, you may see some of Alaska's famous wildlife, and you'll also have the opportunity to see Alaska's bush pilots take off straight from the river.
When you stop at the Chena Indian Village, you'll learn how Native Alaskans smoked and dried salmon; you'll also get to sample a bit if you like. This tour also visits an Iditarod dog kennel to learn about sled dogs, reindeer, and even participate in a45 minutes gold panning experience.
Finally, you'll get to experience the "wedding of the waters" where the silty clouds of the Tanana meet the crystal clear Chena.
Distance: Dock is 1 mile (1.6 km) from the airport
How to get there: Car or walk
Time to get there: <10 minutes
Time to spend there: 3+ hour tour
3. Chena Hot Springs Resort
Chena Hot Springs Resort boasts natural hot springs, a unique Ice Museum, and fantastic aurora viewing. It is the Interior's most accessible and developed hot spring resort.
The discovery of the hot springs was first recorded in 1905, but it was also used by Indigenous people before that. It quickly became known for treating the aches and pains among prospectors, and Fairbanks locals would also make the trek to bathe in the therapeutic waters.
While you can book a room and stay at the resort, visitors can purchase day passes to enjoy the springs, pools, activities, and restaurants. Guests can also book a Chena sled dog kennel tour to learn more about dogsledding.
Distance: 62 miles (99 km)
How to get there: Resort shuttle, car
Time to get there: 1.5 hours
Time to spend there: 4+ hours for all activities
4. White Mountains National Recreation Area
The White Mountains National Recreation Area offers a million acres of year-round fun and serenity.
Your day trip can include hiking, fishing, wildlife viewing, and gold panning in the summer (you can extend your day trip into an overnighter with the available camping locations!).
Winter visitors can go skiing, snowshoeing, and even dogsledding.
Beaver Creek is a big draw for those that like whitewater rafting. The river originates in the White Mountains flowing through the Interior before dumping into the Yukon River.
If you choose to take the float, it'll require more than a day trip!
You'll launch near Nome Creek Road and float through the isolated wilderness for over 300 miles — taking up to three weeks to reach Dalton Highway Bridge. It is the longest road-to-road float on the continent.
Another option is to explore the region on a real bushplane. You'll take off at Fairbanks and head to the White Mountains for the day. You can even land there (option to discuss with the pilot). The scenery is magical, you'll remember this flight your whole life!
Distance: 77 miles (124 km)
How to get there: Car
Time to get there: roughly an hour
Time to spend there: 6+ hours
5. Arctic Circle Drive
Traveling across the Arctic of Alaska is an experience. The Dalton Highway is the only land route across the region, and it runs north from Fairbanks, crosses the Yukon River, and goes through the Brooks Mountain Range.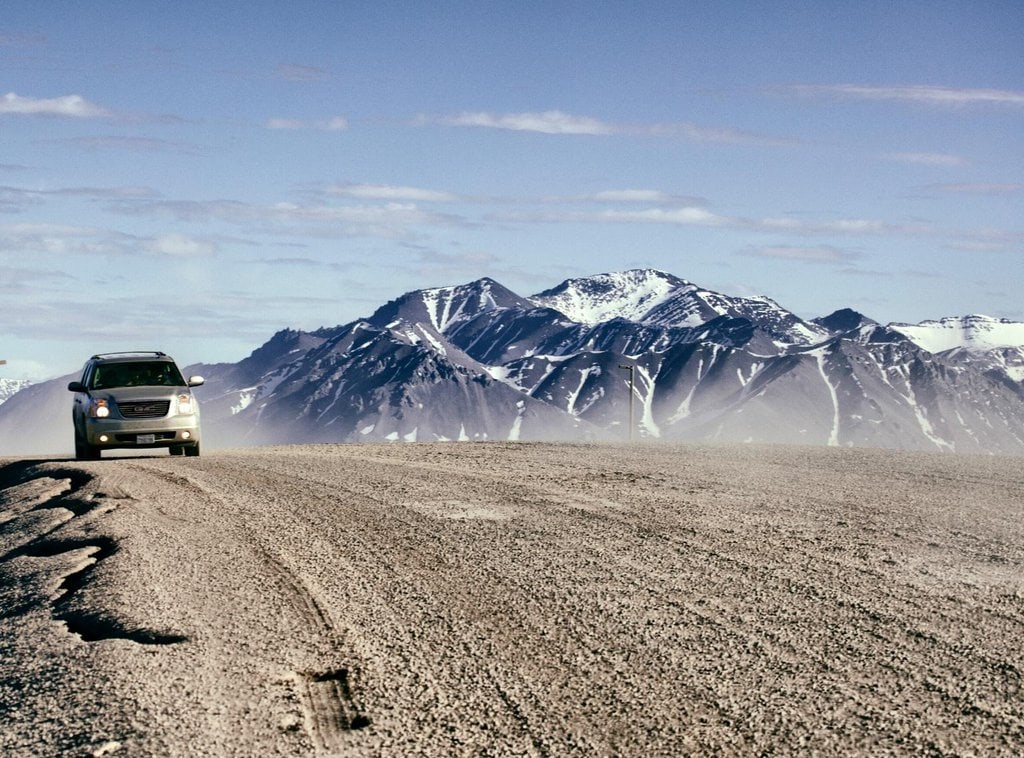 Interior Alaska's immensity and solitude are unlike anything else! The stunning views make the early departure time and the hours spent on the road worthwhile!
The guides of this specific tour are incredibly knowledgeable, and the bus includes drop-down screens showing videos about the Indigenous people and the pipeline history.
Stops on the tour include the ghost town of Joy, the Yukon River Trading Camp, Finger Rock Viewing Area, and a walk across the tundra to pick blueberries. Visitors love seeing the Alaska pipeline up close, and (of course) there is crossing the Arctic Circle itself.
Distance: Roughly 200 miles, tour leaves from Fairbanks
How to get there: Bus (handled by the tour operator)
Time to get there: Less than 10 minutes to pickup location
Time to spend there: Tour lasts 12-14 hours
6. Gold Dredge 8
From 1928 through 1959, the Gold Dredge 8 worked in Fairbanks' Goldstream Valley, extracting millions of ounces of gold. Now, it's listed on the National Register of Historic Places. Fairbanks was founded by hardworking miners, and the dredge stands as a memorial to them.
A train takes you through the ancient mining district while an entertaining conductor delivers historical insight. Miners demonstrate the usage of conventional mining equipment such as gold pans and sluice boxes.
Every guest is given a little sack of pay dirt when returning to camp to try their luck at panning. Trying to master the swirl and pour technique makes you appreciate those early prospectors even more! The gold that each guest discovers is theirs to keep. The tour also includes time to walk about the gold dredge and browse the well-stocked gift shop for souvenirs.
Distance: 10 miles (16 km)
How to get there: Car
Time to get there: 20 minutes
Time to spend there: 2-3 hours
7. Nenana
Nenana is a former railroad construction site where President Warren G. Harding pounded the final golden spike into the Alaska Railroad in 1923, signifying the railroad's completion.
However, the town is most famous for the Nenana Ice Classic, an annual guessing contest in which residents speculate on when the ice will break up.
Each year in early March, a black-and-white tripod is placed on the river ice, and tickets are sold to anticipate the date and hour the tripod will fall into the melting river. It's an Alaskan tradition dating back to 1917, and the pot sometimes reaches upwards of $300,000.
Your day trip can include visiting the Alaska Railroad Museum or the Nenana Visitor Center.
Distance: 55 miles (88 km)
How to get there: Car
Time to get there: 1 hour
Time to spend there: 4+ hours
8. Hike Angel Rocks
Angel Rocks Trail is one of the most popular treks in town! The rocks are actually massive granite tors that developed when granite cooled with the Earth's crust.
After playing on the rocks, head back to the parking lot to take the 3.5-mile loop to the overlook. If you have more adventure left in you, you can take the 8.3-mile path to Chena Hot Springs. (The elevation covers 1900 feet.)
The shorter hike will take you about three hours of straight treking, but you will likely want to slow down and take in the scenery along the way. There are a picnic area and restroom facilities available. At certain times of year, you'll find blueberries for picking, but remember, bears also enjoy blueberries!
Distance: 53 miles (85 km)
How to get there: Car
Time to get there: 1 hour and 15 minutes
Time to spend there: At least 3 hours
9. North Pole
In 1952, a development company purchased a tract of land near Fairbanks and renamed it North Pole, hoping to attract a toy company. The toymaker never came, but a city council member did create a roadside attraction/post office called the Santa Claus House that has been attracting tourists ever since.
Today, you'll find the streets like Santa Claus Lane and Kris Kringle Drive decked out in Christmas decor all year round.
You can take a photo with the 40-foot fiberglass Santa that stands outside the gift shop. If you visit in the winter months, you'll see holiday-themed ice sculptures, and you can even get your Christmas cards postmarked from the North Pole!
Apart from Christmas and Santa Claus, there are many fun activities you can also engage into.
Hop on a snowmobile and explore Fairbanks' breathtaking surroundings, you might encounter mooses or arctic foxes too!
Or jump onto the custum-build sled made specifically for this activity and pulled by energetic dogs. Then, glide swiftly across the stunning landscape around North Pole. A truly exciting and beautiful experience.
Distance: 13.5 miles (21 km)
How to get there: Car, tours are also available from Fairbanks
Time to get there: 17 minutes
Time to spend there: 3-4 hours (or stay overnight in the Santa Suite!)
10. Chena Lake Recreation Area
Chena Lake Recreation Area is a 2178-acre popular site with plenty of shorelines. The freshwater lakes are up to 38 feet deep in some places, with boreal forest surrounding the shores.
People head to the lakes for picnicking, hiking, and even some swimming in the summer. The summer afternoons in the interior can be bright and sunny, although the water still isn't exactly warm.
There are some hiking routes to explore, including the 2.5-mile Nature Trail Loop running through the taiga forest. Leashed dogs are allowed to come along for the trek.
In the winter, park visitors enjoy snowshoeing, ice fishing, and dog mushing. It can also be a good spot for viewing the Northern Lights.
Distance: 20.9 miles (33 km)
How to get there: Car
Time to get there: 30 minutes
Time to spend there: Several hours or make it a camping trip!
11. Fort Yukon
The Hudson Bay Company established Fort Yukon — 8 miles north of the Arctic Circle — as a fur-trading station in 1847. It is one of Alaska's oldest non-Native towns, and fur trading is still a significant source of income for many of its 500+ residents.
The Fort Yukon tour leaves from Fairbanks in the evening and lands along the river. You'll spend a few hours learning about village life from a local host and touring the village surrounds in a repurposed school bus checking out things like the historic Episcopal Church built in 1899.
The flight to and from Fort Yukon gives you an excellent perspective for viewing the Alaskan wilderness.
Distance: 145 miles (233 km)
How to get there: Small plane
Time to get there: Roughly 50 minutes of flight time
Time to spend there: Tour last about 3 hours
12. Running Reindeer Ranch
The ranch is a family-friendly destination, but the tours are recommended for older children as they can be long, and the guides do a lot of teaching, which may bore younger kids. Children under 3 are required to be in a backpack carrier for their safety.
Distance: 12 miles (19 km)
How to get there: Car (RV drivers need to call ahead to ensure parking)
Time to get there: 25 minutes from downtown
Time to spend there: 2-3 hours
Fascinating Fairbanks
Fairbanks is one of the most fascinating cities in the state. Tourists travel from all over the world to see the Northern Lights and bask in the midnight sun. Whether summer or winter, you'll find plenty to keep you entertained.
If you can manage it timewise, a visit to the Chena Hot Springs Resort should not be missed. Even if you don't want to sit in the bubbling waters, the ice museum is a unique experience.
For the best places to stay, head over to my selection of the best hotels in Fairbanks, and fo more activities and adventures, check out my guide on the best things to do in Fairbanks.