21 Free Things to Do in Glasgow: The Complete Guide
Glasgow is quickly becoming a very popular tourist destination. The gateway to Scotland's incredible highlands, many tourists come here to access some of the best hiking that the UK has to offer.
But beyond that, Glasgow is a fantastic attraction in itself. A UNESCO City of Music, Glasgow is friendly, funky and full of things to do. With museums, monuments and a huge musical heritage, it appeals to many different types of people, from families to to couples to backpackers (and it offers a huge range of places to stay!).
It also has lots of free events and attractions, perfect if you're traveling on a budget.
Whether you're traveling solo, with kids or with your partner, we've listed plenty of exciting free Glasgow attractions in this guide. We've separated our list into five different sections:
Museums and galleries
Outdoor adventures
Ancient buildings
Local vibes
Arts and events
We've listed all the best freebies that Glasgow has to offer, along with practical information on opening times, how to get to each one and more.
A small note: though we've included details on opening hours which are currently correct, you should double-check these opening hours before making any visits. At any time, any attraction or venue may change their opening hours – and you don't want to be disappointed!
Best Free Things to Do in Glasgow
I- Free Museums and Galleries in Glasgow
1. Kelvingrove Art Gallery and Museum
This art gallery is incredible. It holds over 8000 objects, with pieces from Salvador Dali, Claude Monet, Vincent Van Gogh and more. The gallery also has a huge amount of local Scottish art, which is a great insight into the nation, its history and its people.
Often considered to be one of the best art galleries in all of Europe, many people come to Glasgow to visit the Kelvingrove.
But it's not just a gallery! There are plenty of fun and interactive museum exhibits for all the family, with dinosaurs, animals and Egyptian artefacts. It's great for couples, families, solo travelers and everyone in between.
You can even download a treasure map app to help you (and your kids) to explore the museum in an unusual and exciting way.
If you're looking for something to appeal both to you and your kids, this is a great choice – there are plenty of interesting and exciting exhibits to keep kids occupied.
The museum is set in Kelvingrove Park, which is a beautiful attraction in its own right. With a skate park, riverside walks, a kids play area and more, it's a great green escape.
Address: Kelvingrove Art Gallery And Museum, Argyle St, Glasgow, Scotland, G3 8AG
Contact Number: +44141 276 9599
Website: https://www.glasgowlife.org.uk/museums/venues/kelvingrove-art-gallery-and-museum
Closest Underground Station: Kelvinhall
Opening Hours: 10am-5pm Mon-Thursday and Saturdays, and 11am-5pm on Fridays and Sundays.
2. Gallery of Modern Art
The most visited art gallery in the whole of Scotland, this place offers modern art and contemporary creations rather than traditional stuff. The exhibitions change regularly, so many locals visit several times a year.
Some exhibitions are weird and wacky, while others are less unusual, so there's always something appealing regardless of your taste.
Set right in the heart of Glasgow's central Royal Exchange Square, the four galleries are set in a beautiful neoclassical building. If you like architecture, the building is a great attraction in itself – it looks like it's been ripped straight from ancient Rome.
Though the gallery sometimes provides family-friendly activities and events, it's an attraction best suited to adults.
Right outside the Gallery of Modern Art is the Duke of Wellington, which has become a quirky city icon thanks to the perpetual pranks of Glasgow japesters – the statue has a traffic cone perched upon its head. What started as a regular drunken prank slowly became a legendary city mainstay. The tradition apparently began in the 1980s.
Now, the cone is a permanent fixture. It's the perfect spot to get a Glasgow selfie.
Address: Royal Exchange Square, 111 Queen Street, Glasgow G1 3AH
Contact Number: +44 141 287 3050
Website: https://www.glasgowlife.org.uk/museums/venues/gallery-of-modern-art-goma
Closest Train Station: Both Argyle Street and Glasgow Central are very close
Opening Hours: 10am-5pm Mon-Wednesday and Saturdays, 10am-8pm on Thursdays and 11am-5pm on Sundays.
3. Riverside Museum of Transport and Travel
An excellent family attraction, this museum is set in an ultra-modern building right on the banks of the River Clyde. With over 3000 historic vehicles, the exhibitions range all the way from skateboards to steam trains to what might just be the world's oldest bicycle.
Other exhibits include recreations of old-fashioned streets and stores, so you can travel way back in time to shop just like Glasgow locals did in the ancient days of yesteryear. You can even visit a retro pub!
For kids, there are over 150 interactive exhibits. Your little ones can enjoy playing with trams, trains and so much more. With exhibits you can climb aboard, retro stores you can explore and lots of touch screen interaction, it's an excellent place to take your little ones.
Some days, you can even get free guided tours here.
Address: 100 Pointhouse Rd, Govan, Glasgow G3 8RS
Contact Number: +44 141 287 2720
Website: https://www.glasgowlife.org.uk/museums/venues/riverside-museum
Closest Underground Station: Govan
Opening Hours: 10am-5pm Mon-Thursday and Saturdays, and 11am-5pm on Fridays and Sundays.
4. St Mungo Museum of Religious Life and Art
Named after the patron saint of Scotland, this award-winning museum explores the importance of religion across many different eras and cultures.
A charming and unique museum, it's full of unusual displays and objects including a zen garden and countless bizarre relics. The museum also hosts lots of events and family-friendly activities.
The museum focuses not just on Scottish people and Scottish religion, but offers a study of various religions around the world. It's a great insight into what different religions have meant (and continue to mean) to different people at different times.
It's probably unlike any other museum you've ever visited, with a respectful but irreverent look at everything religion represents. If you like unusual attractions, you'll love this.
Address: 2 Castle St, Glasgow G4 0RH
Contact Number: +44141 276 1625
Website: https://www.glasgowlife.org.uk/museums/venues/st-mungo-museum-of-religious-life-and-art
Closest Train Station: High Street
Opening Hours: 10am-5pm Tues-Thursday and Saturdays, and 11am-5pm Fridays and Sundays. On Mondays, the museum is closed.
5. The Tall Ship
On a good day, the banks of Glasgow's River Clyde can be a beautiful place to spend some time. The Tall Ship, a museum dedicated to Glasgow's maritime heritage, is perfectly poised in a great location on the riverside. If you're strolling along the river, you should take a look here.
This restored Victorian sailing ship has exhibitions, tours and mini cinema. You can meet the crew, and you and your kids can ask them lots of questions about the ship's history.
Visitors can also take a visit to the engine room and the captain's cabin.
The sumptuous ship was built on the banks of the Clyde itself, making the boat a great source of local pride.
With family events and a play area (built right into the hold of the ship!), this is a great place for family fun. A family riverside picnic after your visit is an excellent way to round off the excitement.
Address: 150 Pointhouse Place, Stobcross Rd, Govan, Glasgow G3 8RS
Contact Number: +44141 357 3699
Website: https://thetallship.com/
Closest Underground Station: Govan
Opening Hours: 10am – 4:30pm every day.
6. Scotland Street School Museum
This building opened in 1906. When it did, it was a real school with real students.
Now a free-entry museum, you and your kids can visit the building to learn all about the history of the British education system and its students. British Victorian schools have a reputation for stringent rules and strict enforcement, an idea which is explored and unpacked in the museum's fantastic exhibits.
Kids can even dress up in the uniforms of yesteryear!
With three fully-reconstructed classrooms, it's a genuine insight into how schools looked, functioned and felt in the Britain of days gone by.
Address: 225 Scotland St, Glasgow G5 8QB
Contact Number: +44141 287 0500
Website: https://www.glasgowlife.org.uk/museums/venues/scotland-street-school-museum
Closest Underground Station: Shields Road
Opening Hours: 10am-5pm Tues-Thursday and Saturdays, and 11am-5pm Fridays and Saturdays. On Mondays, the museum closed.
7. Hunterian Art Gallery
The oldest public museum in Scotland, the Hunterian is full of ancient artefacts including fossils, meteorites and mummies.
It also has sections on zoology and anatomy, with some vaguely-morbid exhibits. With body parts and creepy curiosities, it's a great place if you like something a little eerie or unusual.
The complex houses five different buildings in total: the Hunterian Museum, the Hunterian Art Gallery, Mackintosh House, the Zoology Museum and the Anatomy Museum. With lots of variety, there's something for everyone.
Address: 82 Hillhead St, Glasgow G12 8QQ
Contact Number: +44141 330 4221
Website: https://www.gla.ac.uk/hunterian/
Closest Underground Station: Kelvinbridge
Opening Hours: 10am-5pm Tues-Saturday, and 11am-4pm on Sundays. Closed on Mondays.
8. The People's Palace and Winter Gardens
If you like interesting insights into the local history of the city you're visiting, you'll love The People's Palace. With the use of objects, photographs, film, and interactive exhibits, the museum tells the story of Glasgow and its people, both historic and current.
Information dates back to the 1700s, so it's a great way to put Glasgow and its people into a wider context.
Set right outside the palace, in the Winter Gardens, is the largest terracotta fountain in the world!
The gardens themselves have a glorious glasshouse, which is home to outlandish and exotic plants, trees and flowers.
Glasgow Green, the park on which both of these attractions lie, is worth a visit in its own right. Glasgow's oldest park, it has a play village and a play area for kids, with ample places for picnics and family games.
Glasgow Green sometimes even plays host to live music, sporting events and fireworks displays.
Address: Templeton St, Glasgow G40 1AT
Contact Number: +44141 276 0788
Website: https://www.glasgowlife.org.uk/museums/venues/peoples-palace
Closest Train Station: Bridgeton
Opening Hours: 10am-5pm Mon-Thursday and Saturdays, and 11am-5pm Fridays and Sundays.
II- Free Outdoor Adventures in Glasgow
1. Pollok Country Park
Fantastic for families, couples, big groups and solo travelers, Pollok Country Park is outside of the city centre, but it's absolutely worth the trip. With vast swathes of woodlands and gardens, it's popular, but it's also very easy to find a peaceful spot.
In 2008, this green getaway was named the best park in Europe, battling off competition from famous grassy rivals in Italy, France and more.
There's a play park, wildlife garden, woodland walks, orienteering course, vegetable garden and picnic areas, along with a beautiful waterfall.
If you want to spot some of Scotland's famous Highland Cattle without venturing too far from the city, this is a great place to do it – there are plenty of the beastly behemoths around the park. And horses!
If you have kids, this is a great place to let them run around and burn off their energy. But it's also equally great for a romantic stroll.
For enjoying walking and the outdoors without having to venture too far from Glasgow, this is a fantastic pick.
Address: 2060 Pollokshaws Rd, Bellahouston, Glasgow G43 1AT
Contact Number: N/A
Website: https://www.glasgow.gov.uk/pollokcountrypark
Closest Train Station: Pollokshaws West
Opening Hours: 24 hours
2. Glasgow Botanic Gardens
With flowers, plants, a rose garden and a herb garden, the Botanic Gardens in Glasgow are a terrific treat for any fauna fans. For over 200 years, they've been bringing vivid and varied flowers to the centre of the city.
Many of the gardens are themed, which make them exciting even for children – but if your little critters get bored, the onsite play area will keep them occupied.
The glasshouses themselves are some of the most stunning architectural sights in the whole of Glasgow. The Kibble Palace in particular, with its gleaming, curved facades, is very special. The Kibble Palace is stuffed full with tropical plants from around the world.
The gardens also have many themed self-led trails, including a tree trail and a children's trail.
Address: Glasgow Botanic Gardens, 730, Great Western Road, Glasgow, G12 0UE
Contact Number: +44141 276 1614
Website: https://www.glasgowbotanicgardens.com/
Closest Underground Station: Hillhead
Opening Hours: The grounds are open daily from 7am until dusk, while the glasshouses are open daily 10am-6pm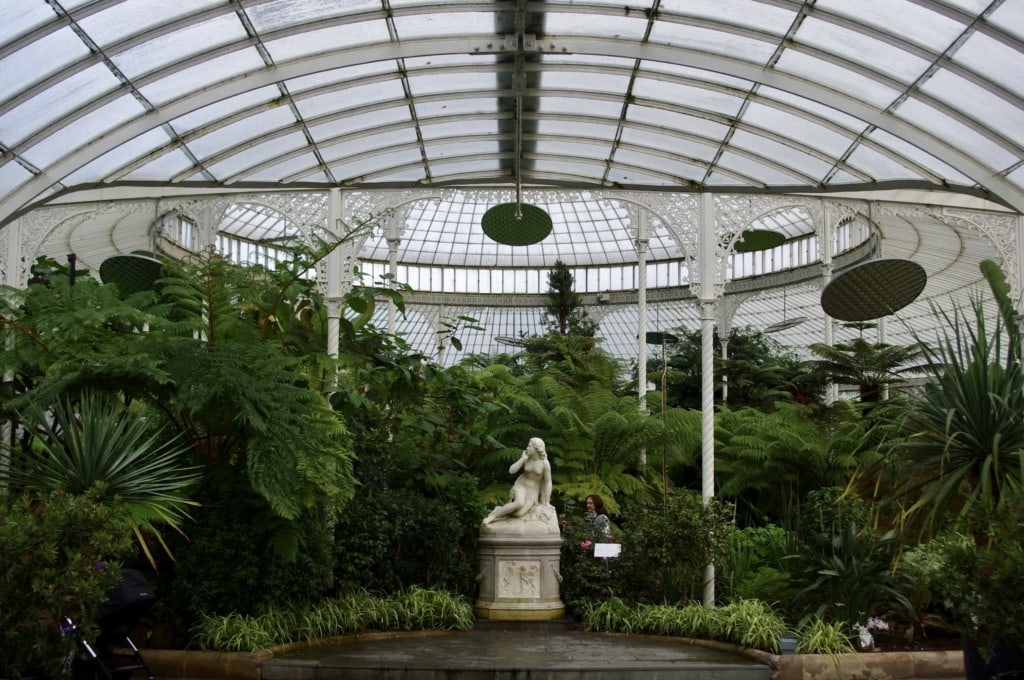 3. Tollcross Park
Another great pick if you have kids, this park has a farm with goats and sheep. If they get close enough, your kids can feed and pet them.
The park also has an official nature walk, where you might be lucky enough to spot bats and foxes. For flower lovers and romantic types, the park also has a rose garden.
Throughout the year, many events are held here, while the on-site environment centre has lots of interactive exhibitions.
Address: 254B Wellshot Rd, Glasgow G32 7AX
Contact Number: N/A
Website: https://www.glasgow.gov.uk/article/16596/Tollcross-Park
Closest Train Station: Carntyne
Opening Hours: 24 hours!
4. The Highlands
Okay, the Highlands aren't in Glasgow's city centre. But we'd be entirely remiss not to mention them here, since nature is one of the best free tourist attractions on the planet!
Many people visit Glasgow to access the incredible Scottish Highlands – and that's a great idea.
If you love hiking and wildlife, Glasgow can be a brilliant place to base yourself. Scottish wilderness is incredible, with landscapes quite unlike any other place on the planet. Until you've visited Scotland, it can be hard to imagine just how remote, rural and rugged some parts of the nation can be.
In this article, we couldn't possibly pick apart all of the different hiking options which are available on a trip to Scotland – you could feasibly spend months in the country and still leave many wild areas untouched.
But if you're visiting Glasgow, it's likely that you'll want to do some hiking. If you're looking for Highland areas which are (relatively) within touching distance of the city, two very popular choices are Ben Lomond and Loch Lomond. The Cobbler is also very popular.
If you want to visit the Highlands, it's best to hire a car, which of course will cost money. But the highlight – the hiking itself – is absolutely free. You never need to purchase any permits or permissions to hike in Scotland.
For smaller hikes around the city, any of the parks we've listed are a great idea – as are the city's canals!
III- Free-to-Visit Ancient Buildings in Glasgow
1. Glasgow Cathedral and Necropolis
Religious buildings: the evergreen entry in 'free city attractions' across the world. But Glasgow cathedral is particularly special. The oldest cathedral in mainland Scotland, it's built on the site on which Glasgow's patron saint Mungo is said to be buried.
With imposing interiors and incredible stained glass windows, it's an impressive sight.
If you're particularly interested in religious history, you can book a free tour of the cathedral. These free tours are an excellent way to learn more about the building's history and medieval gothic architecture.
The onsite necropolis isn't just a standard cemetery – t's an attraction of its own, with graves of over 50,000 people. It's a great place for a peaceful (though vaguely spooky) stroll, and offers incredible views of Glasgow's cityscape.
Some of the gravestones themselves are beautifully ornate, with very intricate and interesting designs.
If you're a particularly morbid person with a curiosity for the creepy, you might want to book a free tour of the cemetery. In this tour, you'll learn about deaths in Glasgow, Glaswegian history, and famous cadavers who've made this cemetery their home.
Address: Castle St, Glasgow G4 0QZ
Contact Number: +44141 552 8198
Website: https://www.glasgowcathedral.org/
Closest Train Station: High Street
Opening Hours: 9:30am-5:30pm Mon-Saturday, and 1pm-5pm Sundays.
2. City Chambers
Completed in 1888, the City Chambers is one of the most prestigious buildings in the entire city. If you like Victorian architecture, you'll love this.
One of the most beautiful civic buildings in the UK, there's a depiction of Queen Victoria on its front. With ornate marble stairs and intricate interiors, it's one of the most eye-catching buildings in the entire city.
You can view the building publicly, or you can book a guided tour. Both options are free of charge.
Address: George Square, Glasgow City, Glasgow City G2 1DU
Contact Number: +44141 287 2000
Website: https://www.glasgow.gov.uk/index.aspx?articleid=19136
Closest Train Station: Glasgow Central
Opening Hours: 8:30am-5pm Mon-Friday. Guided tours are conducted twice daily at 10:30am and 2:30pm.
IV- Free Local Vibes in Glasgow
1. City Centre Mural Trail
Glasgow has a huge amount of street art, with lots of building-sized pieces adorning many of the city's walls. If you like graffiti of any description, you'll love these murals. They're not your average street art – they're intricate, unique and innovative.
Much of the art is an insight into the city's history, identity and atmosphere.
You can download a trail of all the best pieces here. This map guides you to 30 different pieces of interesting art adorning the facades of the city center. If you follow the entire trail, you'll be treated to a varied and vivid selection of some of the world's best street art.
For something a little different, this is a great way to get acquainted with the atmosphere of the city. It's also surprisingly popular with kids.
Address: N/A
Contact Number: N/A
Website: https://www.citycentremuraltrail.co.uk/murals/MuralMap
Closest Train Station: High Street is the closest to the beginning of the trail
Opening Hours: 24 hours (though you of course can't see the murals properly during dark hours)
2. Free Public Pianos
There are 16 public pianos dotted across Glasgow. They're a fun addition to the cityscape, and they're popular with locals and tourists alike. Whether you want to tinkle the keys yourself or watch others do much the same thing, they're a fun way to spend some time in the city.
Because music is very much part of Glasgow's fabric, these on-street pianos feel like a perfect representation of the city's culture and heritage.
Online, you can find many impressive videos of locals plinking on the keys.
Fun for adults and kids alike, make sure you visit a couple of these pianos while you're in the city.
Address: Around the entire city
Contact Number: N/A
Website: http://streetpianos.com/glasgow2014/
Closest Train Station: N/A
Opening Hours: N/A
3. Barras Market
Traditional British markets are an exciting animal all of their own. With fruits, vegetables, oddities and antiquities all sharing on-street space, there are plenty of wares to purchase and peruse. You can find books, board games, retro clothes and plenty more.
With stalls both indoors and outdoors, the Barras Market complex is bigger than you might imagine. You'll be surprised by its size – and by the patchwork of its mismatched mayhem.
In any city, the best way to get a handle on real local life is by watching it happen. In Glasgow, Barras Market is the best place to watch life go by while getting in on the action yourself.
Whatever you've ever thought of buying, you'll find it here, sharing space cheek-by-jowl with bizarre bargains you never even knew existed.
Barras Market is a great place to people-watch. It's also a perfect location to hear the proper Glaswegian accent. With real working class history and heritage, you'll find no neutered accents or attitudes here.
Address: 242 Gallowgate, Glasgow G1 5DX
Contact Number: N/A
Website: http://www.theglasgowbarras.com/
Closest Train Station: High Street
Opening Hours: 10am-4pm, Saturday and Sunday
4. Hidden Lane
A close-knit community of various artists, musicians and designers, the Hidden Lane features around 100 mini studios. Colourful and kooky, these mini venues and working spaces are a mishmash of quirky creativity.
On some days, you can visit the individual studios to see what the artists are up to. If you want to see even more of the work, there's a gallery in the lane.
Whatever type of crafts you like, there'll be something here to interest you. With tattooists, jewellers, photographers, upcyclers and more, it's way more than your average painting studios. You can even take yoga classes!
If you like unusual arts or creative creatures, you'll love it here. Bohemian and innovative, it's a wonderful place with a wonderful vibe.
You should check the site for individual opening times and visit slots, but you can walk around the area at any time.
Address: The Hidden Lane, 1103 Argyle Street, Finnieston, Glasgow G3 8ND
Contact Number: N/A
Website: http://www.thehiddenlaneglasgow.com/
Closest Train Station: Exhibition Centre
Opening Hours: For appointments and visits, various. For simply walking through, you can go any time
5. Walking Around the City
Glasgow's city centre is an excellent place for an aimless amble. With famous streets, incredible architecture and on-street arts and performers, there's plenty to occupy your attention, no matter where you wander.
Because it's such a friendly city, you'll no doubt end up making friends, having a chat or sharing a laugh with a Glaswegian.
Some significant areas include Buchanan Street, Argyle Street, Sauchiehall Street and George Square. With pedestrianised streets, stores, cafes and more, there are plenty of pit stops on every corner of Glasgow's city centre.
You should also take a walk around Glasgow's 'Lanes,' which are all situated around Byres Road. Cobbled and colourful, these small streets are semi-hidden and tidily tucked away, but full of great places to shop, eat and drink. They're a small centre of alternative chic and independent innovation.
V- Free Events & Arts in Glasgow
1. CCA Glasgow – Centre for Contemporary Arts
This art gallery is way more than just an exhibition space. Glasgow has a proud history of performance, art and cultural invention – and the CCA celebrates much of it with a great program of events.
Many of these events aren't free. But a small few are. Offerings include spoken word, exhibitions, film, poetry, performance and literature events. It's a truly great venue with a very varied selection of exciting entertainment.
Keep checking the website for updates on what's on. If you're lucky, you might just find a free event that's perfect for you!
Address: 350 Sauchiehall St, Glasgow G2 3JD
Contact Number: +44141 352 4900
Website: https://www.cca-glasgow.com/programme
Closest Underground Station: Cowcaddens
Opening Hours: Varied
2. Free Gigs
Glasgow is a city with music at its heart. Iconic Glaswegian artists include Travis, Belle & Sebastian and Mogwai, along with many more huge international names.
Glaswegians are very proud of their music, and they love playing live at every given opportunity. Many pubs and bars offer free music nights on multiple days of the week, where you can hear the exciting output of many of the city's up and comers.
For free music, some of the best hangouts are The Ben Nevis Bar, The Hebridean, Machair and BLOC+.
There are many free gigs and events in Glasgow throughout the year. This site is a fantastic resource for finding them.
Free Things & Activities to Do in Glasgow: Final Thoughts
Glasgow is an exciting and interesting city, full of smiling faces and creative culture. It's also home to hundreds of free events and attractions, making it a perfect place if you like to find entertainment on a budget.
Year round, you should check for free entertainment – there are always events on offer throughout the city. But Glasgow also houses many permanently free attractions, such as museums, murals and country parks.
From public pianos to artists' studios to some of the world's best street art, the city has free fun for people of all ages.
For your first visit, make sure you check out the Kelvingrove Art Gallery. With over 8000 objects, it's one of the best art galleries in Europe. It's free, it's fun, and it's suitable for all the family.
Being a Digital Nomad: Tips, Tricks and Places
Do you want to be a digital nomad?
If you do, maybe you don't know where you might want to live. Or how to live there. Or whether you need a visa. Or how to make friends in the scary sprawl of a brand-new city. Or how to stay productive while you travel. Or how to find an apartment. Or whether this lifestyle really is for you. Or… I'm sure you get the idea.
But with some insight and experience, it's not as difficult as you think. So in this book, I've gathered my 6 years of digital-nomadding experience… and I've used it to answer all your questions, soothe all your fears, and get you on your way. After reading this, you'll realise being a digital nomad is much easier (and much more possible!) than you think.