Where to Stay in Glasgow – The Best Areas and Hotels Guide
Glasgow is quickly becoming a very popular tourist destination, for travelers of all descriptions that search where to stay in the city. From families to backpackers to music lovers, visitors swarm to Scotland's biggest city every single day.
An officially designated UNESCO City of Music, Glasgow offers huge cultural heritage along with an excellent location, right on the edge of the Scottish highlands.
But along with many tourists, Glasgow also has many accommodation options. If it's your first time visiting Glasgow, you may not know which area to stay in, or which hotel to stay in.
Staying in a big city can always be confusing, especially when there are so many options. But in this guide, we've stripped away all the confusion by breaking down your best accommodation options for the big city.
We've covered various options of various styles. No matter your chosen budget, your chosen vibe, and your chosen company for your trip, we've got something perfect for you.
We've also covered all the exciting events and attractions that Glasgow has to offer – along with where you can find them all!
If You're In A Hurry, Here's Our Advice In Short…
The city centre of Glasgow is of course the heart of the city, and the busiest area. Because of that, it's the best place to stay for most first-time tourists.
Central, interesting and easy to access, it's home to most of the best events and attractions which make Glasgow a fun and exciting place to visit.
If tourist attractions are your priority, staying here is your best option.
Later in this article we've included advice on some of the best hotels and hostels in this area.
Top attractions in the city centre:
Gallery of Modern Art
Shopping streets
Glasgow cathedral and necropolis
City chambers
The riverside area
Excellent street art murals
About Glasgow
Before we give you all the best areas and all the best accommodations, we're here with a few Glasgow facts to offer some context:
Currency: Pound Sterling – £
Language: everyone speaks English. Everything is also written in English. These things make Glasgow a very easy city to visit and navigate
Population: Almost 1.7 million (source)
Number of hotel bedrooms in the city (across all accommodation options): over 15,000! (source)
It's clear that Glasgow is a big city with many accommodation options. Because of this, lots of people spend their Glasgow trip in uninteresting and unsatisfactory accommodation. But we'll make sure that doesn't happen to you.
To get things started, here's an in-depth guide to the many different neighborhood in Glasgow:
Best Areas and Neighborhoods to Stay in Glasgow
Glasgow is divided into six main areas:
City Centre
Finnieston
The West End
The East End
South Side
North Side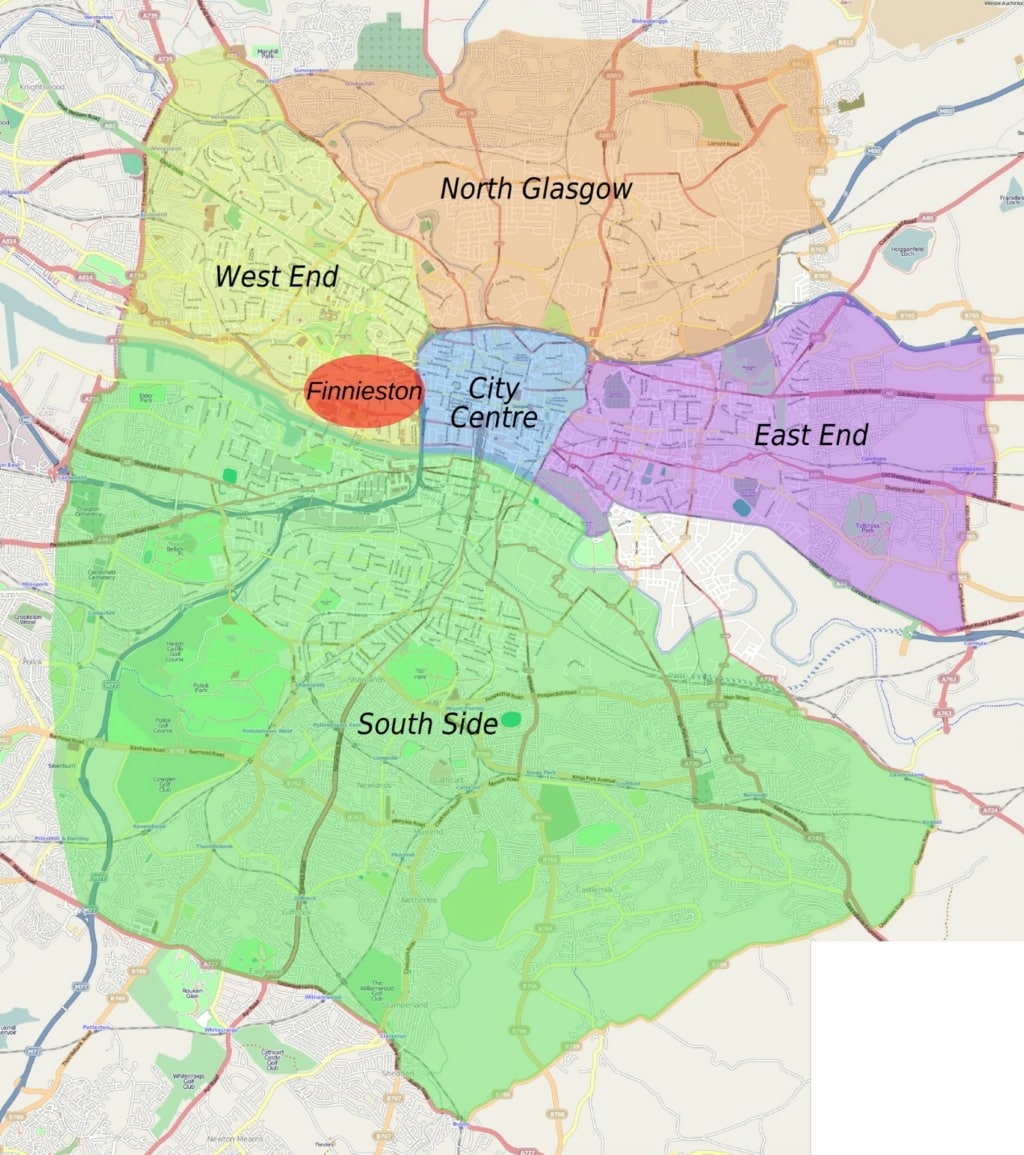 Though this may seem like a lot of areas, none of them are particularly big. Glasgow, in comparison to other big popular tourist cities, is relatively small. It's a very walkable city, so you can easily walk from one place to another, especially within the centre.
All areas can be reached from one another by foot.
But if you don't want to walk, for whatever reason, you have many other options. Glasgow has an excellent, extensive public transport system consisting of buses, trains and metros. You can also hire bicycles from many easy-access points across the city.
Here's an introduction to these different areas:
Glasgow City Centre
As you might have guessed, this area is the epicenter of Glasgow.
Of all Glasgow's areas, this feels the least like a residential area. Because Glasgow's city centre is brimming with stores, cafes, restaurants, bars and attractions, it's absolutely the most 'downtown' area of the city. If you like the cosmopolitan feeling of exploring a vibrant city centre, you'll love it here.
Full of culture, creativity and imposing Victorian architecture, Glasgow's city centre has an infectious atmosphere. It's fun, fervent and exciting.
Many tourist sites are in this area, making it a convenient spot for many of the city's top attractions. This area also includes both Central Station and Buchanan Street station, which can connect you to the rest of Glasgow, making it a great place for transiting around.
Here are the top things to do in the city centre:
Glasgow cathedral and necropolis: The oldest cathedral in mainland Scotland, it's built on the site where Glasgow's patron saint Mungo is said to be buried. Behind the cathedral is the necropolis, a cemetery housing more than 50,000 bodies. The views from this cemetery offer some of Glasgow's best panoramas.
Gallery of Modern Art: the most visited gallery in the whole of Scotland, this has four galleries, set in the grounds of a beautiful neoclassical building. The exhibits change all the time, and vary from bizarre creations to more accessible stuff. If you like any type of modern art, there'll be something here which you'll love.
Buchanan Street: the hub of Glasgow shopping, this is a shopper's paradise.
Wandering: there's always plenty of action and adventure lurking on every corner of Glasgow's city centre. A simple walk around this part of Glasgow is a highlight for many of the city's visitors.
Where to Stay in the City Centre
Luxury pick: Kimpton Blythswood Square Hotel
The only 5-star hotel in the whole of Glasgow, this place oozes class and charm. Dating all the way back to 1823, this building was once the home to the Royal Scottish Automobile Club. With a suave atmosphere, delicious afternoon teas, an on-site spa and beautiful surroundings, it's perfect for those who like a little class.
Mid-range pick: Grand Central Hotel
Brilliantly located, right beside Glasgow Central Station, this is perfect if you're arriving by train – or if you'll be using trains to get around while you're in the city. The pastel decor is homely, chic and relaxing, making it a great spot to chill after a long day of sightseeing.
Budget pick: Euro Hostel Glasgow
For a centrally-located hostel in a busy city centre, this is very affordable. With a games room, a buffet breakfast, drinks deals and plenty of social areas, it's a perfect place to have fun and make friends without ruining your budget.
Finnieston
Known across the UK as one of the hippest, trendiest districts in Europe, Finnieston is great if you like to experience the alternative sides of a city.
In 2018, The Independent, a British newspaper, named Finnieston as one of the top 10 neighbourhoods in Europe. A bold claim, but it's certainly backed up by Finnieston's vibes.
It's cool and quirky without much gentrification, which is a rare thing. Finnieston possesses the rough and ragged spirit of Glaswegians along with a big dose of the alternative. It's not pretentious, and it's not full of posers, but it certainly has a trendy charm.
It's also a hub for independent food and drink, with excellent eateries and brilliant bars and pubs.
Here are the top things to do in Finnieston:
The Hidden Lane: this is archetypal Finnieston. The Hidden Lane features around 100 mini studios, stuffed with interesting artists crafting unique creations. And it's not just a bunch of painters – you'll find everything here, from tattooists, to yogis to upcyclers. You can take a look around the studios, chat to the artists and visit the gallery.
SSE Hydro Arena: Glasgow is full of incredible music venues. According to those who like big gigs and arena shows, this might just be the pick of the bunch. For a big live show in the city of live shows, check the listings for the SSE Hydro Arena while you're in town.
The Kelvingrove Art Gallery and Museum: one of the best art galleries in the whole of Europe, the Kelvingrove holds over 8000 objects, including pieces from Salvador Dali and Vincent Van Gogh. But it's not just a gallery – it's also a museum, with lots of fun and interactive exhibitions for all the family. Even better, it's free!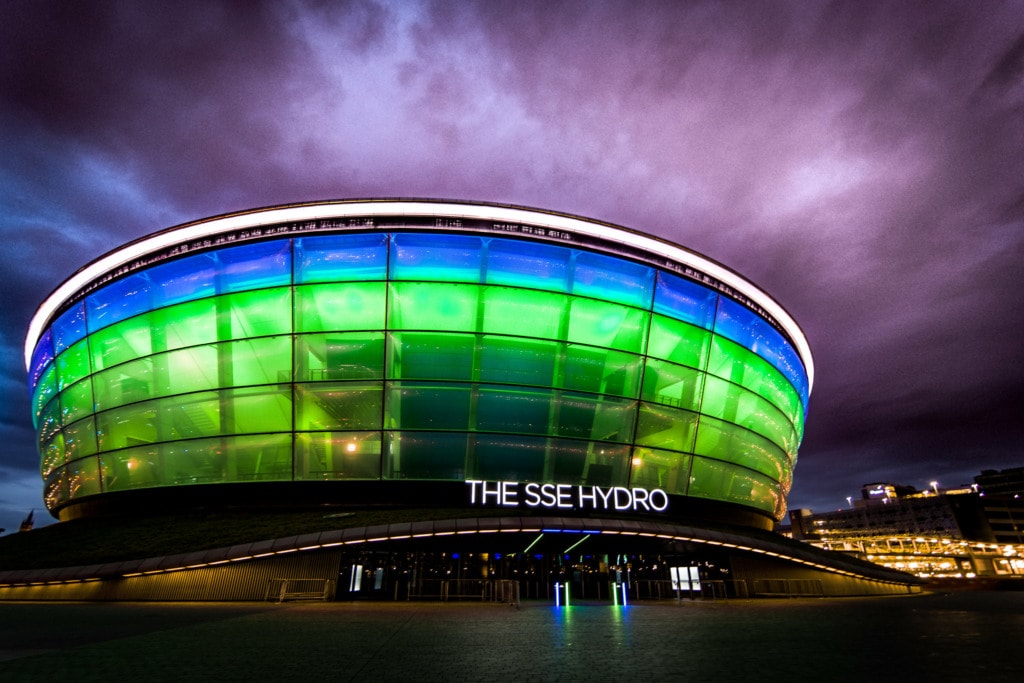 Where to Stay in Finnieston
Luxury pick: The Alamo
Excellent luxury and comfort at a fantastic price, The Alamo offers incredible views of Glasgow and has super comfy beds. The decor is understated and antique, with a beautiful monochrome palette.
Mid-range pick: SEC Hydro Argyle
Perfectly situated beside the SSE Hydro Arena if you're attending a gig while you're in Glasgow, these apartments are central, comfortable and convenient.
Budget pick: University of Glasgow – Cairncross House
Situated in the grounds of Glasgow University, these rooms come with a shared kitchen and shared bathroom. But if you just want a basic room for sleeping in, this can be a perfect solution.
The West End
Okay, the West End of the city includes Finnieston… but because Finnieston has a vibe all of its own, we've decided to include the West End as a separate area.
While you're in the West End, you should of course spend some time in Finnieston. But the West End isn't just Finnieston. Outside of the constraints of the hippest part of town, the West End is a mishmash of student hot-spots and upper class charm.
With a plethora of beautiful Victorian and Georgian architecture, and plenty of leafy green zones, the West End offers lots of cosmopolitan class.
This area also has lots of boutiques, vintage stores and excellent food.
Here are the top things to do in The West End:
Kelvingrove Park: Glasgow is full of green spaces, but this one is a real local favorite. It has a skate park, riverside walks and a kids' play area along with many spots for picnics. Sometimes there's even open-air music here.
Riverside Museum of Transport and Travel: this is great for kids. With over 3000 historic vehicles along with the stores and streets of yesteryear, it's an interactive extravaganza, full of excitement and entertainment. From trams to trikes to steam trains, it's all here.
The Tall Ship: another great attraction for kids, this once-functioning ship has now been transformed into an interactive museum. You can talk to the staff, visit the captain's cabin and learn all about Glasgow's maritime heritage. The ship sits on the Clyde, still residing in the waters on which it was built.
The Clyde: the river itself is a great spot to spend some time, especially on a beautiful day. It's a charming place for a picnic and a stroll.
The Lanes: these small streets are all built around Byres Road. They're colorful, they're cobbled and their chic, and they're full of cool places to eat and drink. If you like independent stores, you'll love the lanes.
Where to Stay in the West End
Luxury pick: Dakota Glasgow
This place is slightly outside of the West End. But we'd be remiss not to include this fantastic hotel in our list somewhere. Simultaneously retro and modern, the interiors in this hotel are beautiful. The hotel has elegant, indulgent decor along with a library room and a cigar lounge. It's impressive and imposing without pretension.
Mid-range pick: Acorn Hotel
Simple, clean, comfortable rooms, this place is a favorite for mid-range travelers. But don't let the 3-star rating fool you, there's still some luxury here, including satellite television and GHD straighteners in each room.
Budget pick: Glasgow Youth Hostel
Perhaps the best hostel in the whole of Glasgow, this offers a little more luxury than your average hostel. Because of that, it's popular with everyone, from the typical backpacking crowd to families and couples. The interiors are pretty attractive for a hostel.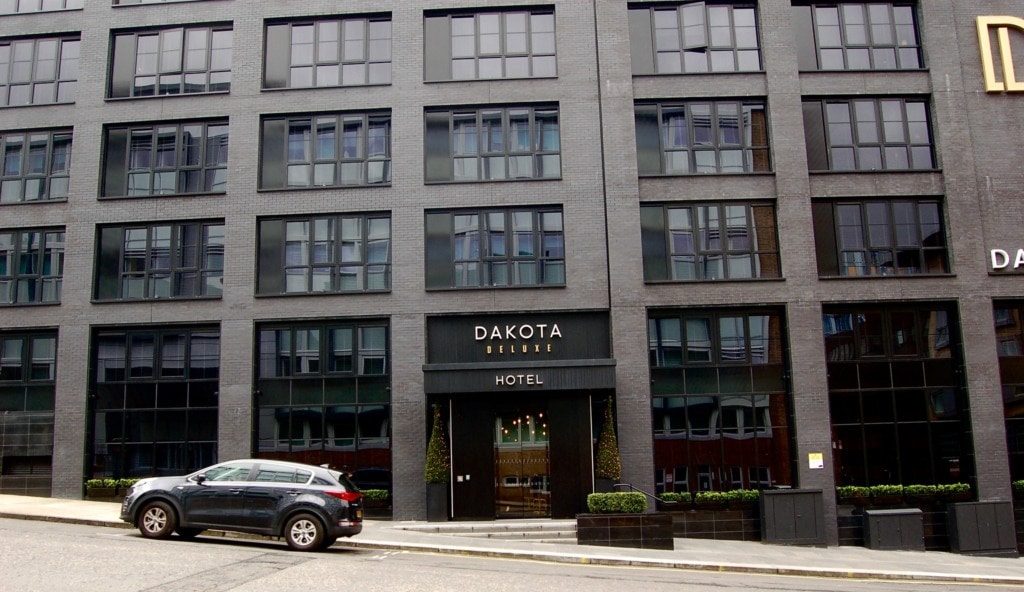 The East End
The East End begins at the cathedral and necropolis. But that's not all this area has to offer. Once you venture into the East End, you're greeted by much of Glasgow's historical heritage.
A hub for culture, cuisine and real local vibes, this is a great area if you like to explore all that 'real' Glasgow has to offer. Much of Glasgow's tradition has disappeared in the very centre of the city, due to chain stores and mass tourism. But on the eastern side, historical Glasgow very much lives on.
From local music venues to traditional British markets, this part of the city is all retro Glasgow – welcoming, warm and rough around the edges.
Here are the top things to do in the East End:
The People's Palace: this museum tells the interesting story of Glasgow and its people, dating all the way back to the 1700s – and up to the present day. This museum is a fascinating place to put your Glasgow trip into a wider context.
Barras Market: if you want a slice of traditional Glasgow life, this is it. The market harks back to the days of yesteryear, when most shopping was undertaken not in big stores, but between on-street traders. Here, you'll find anything and everything you can imagine – along with plenty of stuff you never have. It's also a great place to meet real local people, with their strong accents and stronger humor.
The Barrowlands: Glasgow is one of only two UNESCO Cities of Music in the UK. If you have any interest in musical heritage, you have to visit The Barrowlands. It's the most famous music venue in the city – and many locals think it's one of the best in the world. If you're serious about music, catching a gig here is a must.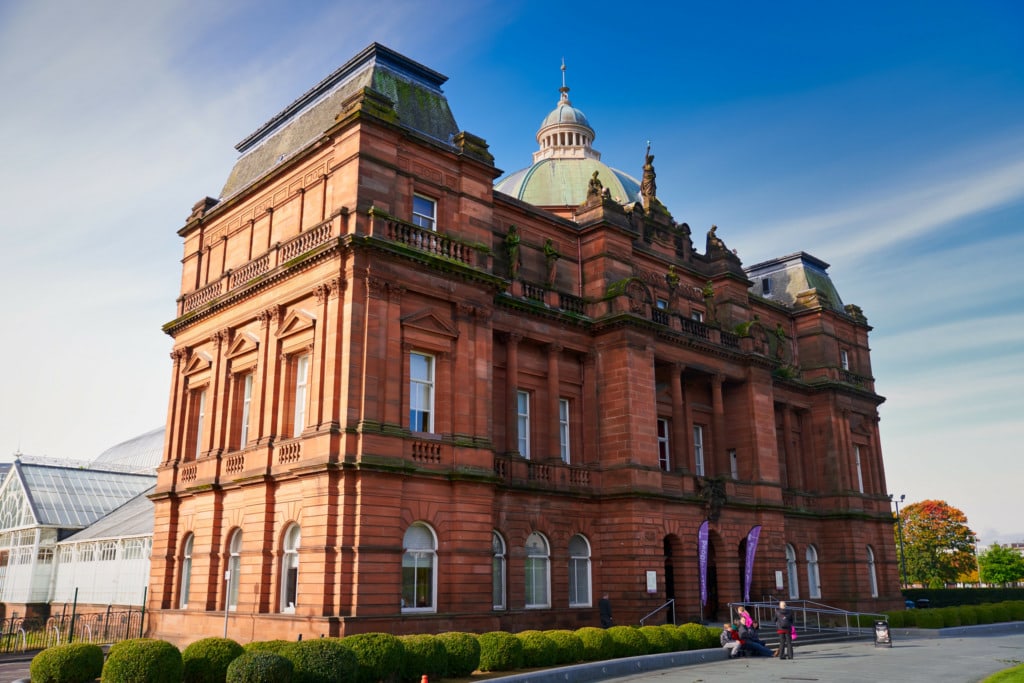 Where to Stay in the East End
Luxury pick: The Fraser Suites
Set in a renovated 19th-century bank, these suites sit between the East End and the city centre, so the location is perfect for exploring both areas. With a boutique minimalist style and plenty of comfort, these suites offer lots of luxury at a surprisingly good price.
Mid-range pick: Seton Guesthouse
Set in a beautiful terraced building, with excellent traditional local breakfasts, staying here is like living as a Glasgow local for a few days. Way more personal than a typical hotel stay, this is a great way to experience the atmosphere of Glasgow's East End.
Budget pick: Tartan Lodge
There's nothing interesting in this accommodation, but the price is great for what you get. The private rooms are clean, tidy and nicely-decorated, making them a perfect basic base for your Glasgow adventure. You get nothing special here, but you do get to save money for the rest of your trip.
The South Side
The South Side is a hidden gem, with fantastic architecture, incredible eateries and a great sporting heritage. Green and serene, it offers a little more peace than most of the districts north of the river, removed as it is from some of the chaos and craziness of big city life.
If you're a person who prefers country parks and the quieter life, you might just love staying in the South Side.
Here are the top things to do in the South Side:
Pollok Country Park: In 2008, this park was named the best in Europe. To win the award, Pollok Country Park beat competitors in Italy, France and more. There's plenty packed into its green space, including a play park, wildlife garden, woodland walks, orienteering course, vegetable garden and picnic areas, along with a beautiful waterfall.
Ibrox Stadium: the home of Rangers FC, city centre stadiums are somewhat of a rarity in the UK. But this one sits proudly in the heart of the city centre. If you're a football fan, catching a game here can be an excellent way to get an insight into local life. If you'd rather attend a Celtic game, their stadium is on the east side of the city, a little further afield.
Glasgow Science Centre: a brilliant attraction for kids and adults alike, the Science Centre is full of exciting and interactive experiences and exhibits, including a planetarium. If you or your kids like immersive education, this is one of the city's best attractions.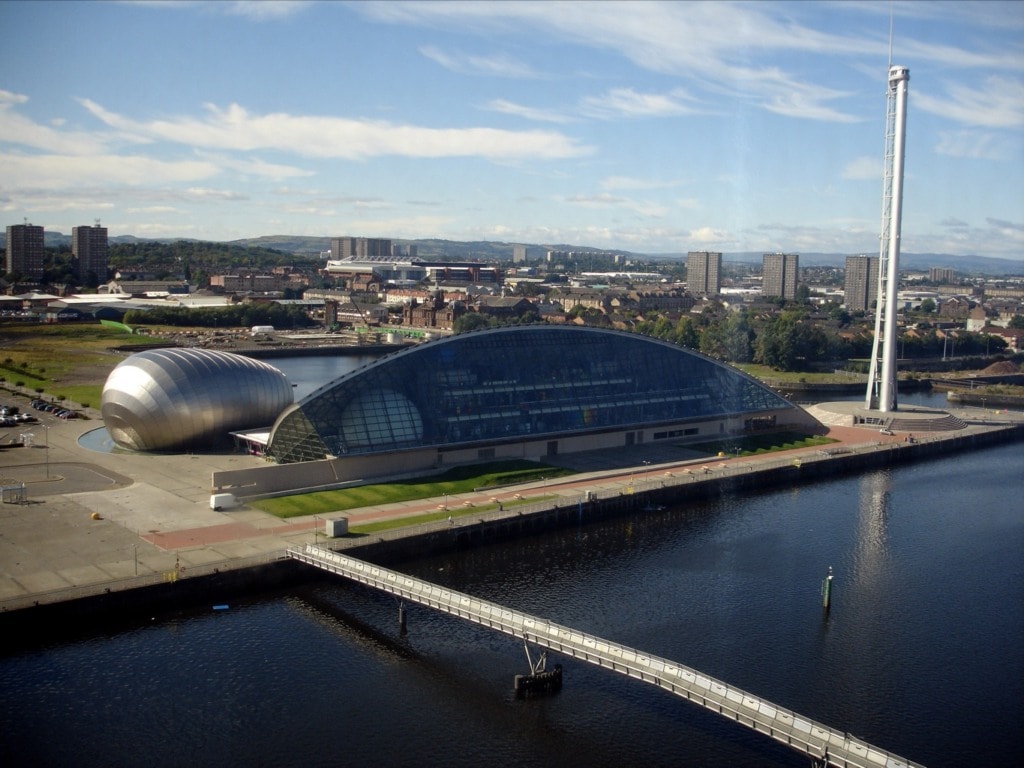 Where to Stay in the South Side
Luxury pick: Sherbrooke Castle Hotel
It doesn't get more luxurious than staying inside a hilltop castle. Beautiful food in a baronial building, staying here will make you feel like a member of the British royal family. If you like decadence, you'll love this.
Mid-range pick: GoGlasgow Urban Hotel
A great affordable pick for a mid-range hotel, the interiors are cool and classy, with charcoal tones. The hotel is very clean and comfortable, and the staff are super friendly. This is also a great choice for business travelers, with a work desk in each room.
Budget Pick: Ibis Budget Glasgow
In the UK, Ibis hotels are known for great rooms at a very affordable price. Though staying here isn't as inexpensive as a hostel, it's the best budget pick on the South Side. The modern rooms have simple decor. Many of the rooms have excellent views of the River Clyde. Only a ten-minute walk from the city centre, this is a great pick if you want the best of the city without having to stay in the busy main area.
The North Side
The quietest of all Glasgow's main areas, this is another good pick if you like a quiet trip. Even sleepier than the South Side, it's a great place to stay if you like to relax away from the centre after a long day of activity and sightseeing.
But the North Side is not without its attractions. In spite of the sleepy vibes, this part of the city offers adrenaline-fuelled activities both on land and water.
Here are the top things to do in the North Side:
Speirs Wharf and the Canal: Speirs Wharf was once the industrial hub of Glasgow's business dealings. The former mills, refineries and warehouses no longer contain the fun and frenzy they once did in the 18th and 19th centuries, but they're a great place for a stroll. From here, you can enjoy excellent views of the city along with walking, cycling – and perhaps even boating – along the Glasgow canal network.
Watersports: yes, you read that right. Glasgow is culturally and creatively innovative, but its people have also found interesting ways to make use of the city's canals. At Pinkston Watersports, you can take part in rafting, canoeing, kayaking, riverboarding, wakeboarding and more.
Speedway: Glasgow has one of the best Speedway tracks in the UK at the Peugeot Ashfield Stadium. If you're in Glasgow from March to October, you should check out the fixtures, for a nail-biting night of near misses and speedy escapades.
Where to Stay in the North Side
Luxury pick: The Murano
The North Side of Glasgow doesn't have any particularly luxurious hotels. But if you're staying in the quieter part of the city, your idea of luxury is probably a pocket of solitude in an otherwise-busy city. If that's the case, this apartment should be exactly what you need. Clean, pastel and modern, the apartment is minimalist and comfortable.
Mid-range pick: Victorian House
These rooms are very comfortable, and very well-located. They're actually just inside the city centre, but with their proximity to the North Side, they're a great choice for a relaxing stay. The traditional Scottish breakfasts here are excellent, featuring smoked kippers, haggis and potato scones.
Budget Pick: Tartan Lodge
There aren't any budget picks in the North Side of the city. But this place, in the East End, is fairly northern, making it a great choice if you want to stay near to the North Side of the city.
Glasgow Hotels: Tips and FAQ
Areas to Avoid in Glasgow
Though Glasgow is generally a very safe destination, it does have a reputation for aggression and violence. Though that reputation is largely based on very old-fashioned ideas, there is still a lingering shadow of crime in the city.
That said, crime is relatively way lower than it used to be – and it's very rarely targeted at tourists. But if you want to stay particularly safe, here are some streets and areas you should be aware of:
Sauchiehall Street
Hope Street
Clyde Street
Possil
Springburn
Lambhill
Cadder
Maryhill
The area around the Central Station
None of these areas are hugely dangerous, but you may want to avoid them if you're a very cautious person. During the day, you're very unlikely to encounter any problems here. But at night, you should be a little more cautious.
If you're not interested in nightlife, you should also avoid busy nightlife areas at night. Though you're unlikely to encounter any trouble, some British people like to drink a lot. A very small minority can become aggressive when drunk.
Because Glasgow is a big city, it has many residential areas in the outskirts, where there isn't much excitement for tourists. For a good trip, you want to be in close proximity to all of the best things that Glasgow has to offer. For that reason, make sure you stay in one of the six areas we've listed.
Where to Stay for the First Time in Glasgow
If it's your first time in Glasgow, it's best to stay in the city centre. Though it can be busy and bustling, it's the best place to soak up Glasgow's atmosphere – and it's in the best position to explore all of Glasgow's other areas.
If you stay in the city centre, you're well-located for all of Glasgow's top attractions, events and areas of interest. By staying here, you can visit all that Glasgow has to offer.
Above, we've already listed the best three options in this area. But in case you missed them…
Luxury pick: Kimpton Blythswood Square Hotel
The only 5-star hotel in the whole of Glasgow, this place is full of elegance and class. Dating all the way back to 1823, it's perfect for those who like their vacations to be indulgent.
Mid-range pick: Grand Central Hotel
The pastel decor is homely and laid-back, so it's a great place to relax. But the best thing about this is the location – it's as central as it gets, both for sightseeing and traveling by train.
Budget pick: Euro Hostel Glasgow
This hostel is very affordable considering how central, sociable and comfortable it is. It's also very busy, making it a perfect place to find travel buddies.
Where to Stay in Glasgow on a Budget
In most UK cities, the best budget pick is always a hostel. Staying in a hostel a great way to save money, which you can spend on other parts of your trip.
Some of Glasgow's hostels have private dorms, so you don't necessarily have to share a room in order to save some cash.
If saving money in Glasgow is more important than a luxury place to sleep, here are your three best options:
This has a great central location and it's super sociable and comfortable.
This is pretty luxurious for a hostel, so it's a good option if you want to save money while still having a little extra comfort on your trip. It's popular with families and couples, not just solo backpackers.
3. Clyde Hostel
Sandwiched between the city centre and the West End, this is in a great location. It's a pretty basic hostel, but it has all you need, with a good kitchen and fairly sociable vibes.
Where to Stay As a Solo Traveler
If you're traveling solo, you'll probably want to make friends while you're on your trip. If that's your plan, you should stay in the city centre. Here, you're in the centre of the action, surrounded by excitement, activity and lots of fellow travelers.
If, like most solo travelers, you want to make friends, it's best to stay in a hostel. In good, sociable hostels, it's very easy to make friends and find travel partners for sharing adventures with.
In any hostel, it's easy to make friends. But it's best to find hostels which have a reputation for being sociable spaces. Here are the most sociable hostels in Glasgow:
1. Alba Hostel
The decor is quaint and cozy, the location is great and the atmosphere is friendly. This hostel attracts sociable and chatty travelers and staff alike. There's a large lounge, a sociable vibe and no curfew.
With a busy bar, a central location and lots of friendly travelers passing through every day, this hostel is very sociable and very comfortable. There's also a chill out room and pool tables.
If you like to socialize with a variety of people, this is a great pick. While some hostels attract only solo backpackers, this has a mixed crowd, with families, couples, backpackers and everyone in between.
Where to Stay for Couples
There's no one particular part of Glasgow which offers romantic vibes.
You should instead think about what type of adventuring you and your partner would like to do while in the city. If you like urban energy and high-end stores, choose the city centre. If you prefer to experience the more 'authentic' aspects of a city, stay in the East End or West End instead.
But throughout the whole city, Glasgow has a number of hotels perfect for couples of all descriptions. Here are three of the best:
1. Kimpton Blythswood Square Hotel
If you and your partner don't mind spending a little extra money, this is as fancy and frivolous as Glasgow gets. Comfy bathrobes, afternoon tea, a mud chamber, relaxation pools and an on-site spa, this offers a truly romantic backdrop for your Glasgow getaway.
2. The Z Hotel
Right in the city centre, this is a perfect pad for couples who like city dwelling. Each room has a 40-inch TV, comfortable beds and contemporary designs.
3. Hotel du Vin
Classy and modern, each room has a luxuriously comfortable bed, a deep bath and a large shower, perfect for hours of self-indulgent romancing. If you want a romantic meal, you don't need to go far – the atmospheric bistro serves beautiful food both classic and modern, including Scottish-inspired fare.
Where to Stay in Glasgow with Family and Kids
If you're holidaying with kids, it's important to find events and attractions which they'll love. Glasgow is a great pick for those traveling with little ones – it has lots of child-friendly fun, along with plenty of glorious leafy-green spaces.
The best two areas to stay with kids are:
The city centre, because of its proximity to tourist attractions, good restaurants, and lots of fun things to do.
The West End. In this area, you can find The Tall Ship, The Riverside Museum of Transport and Travel, Kelvingrove Park and the Clyde. All of these attractions are excellent picks for kids, making the West End a great place to spend time with your little ones.
But regardless of the area you stay in, it's important to find accommodation that's perfect for your little critters.
Here are three of Glasgow's best child-friendly hotels to stay in:
With large family-sized rooms and an excellent West End location, this ticks two big boxes. The staff are very friendly and accommodating.
2. Glasgow BW Signature Collection
The location is very central, excellent for accessing all public transport to move around the city. The rooms have Sky Sports, which sporty kids will love. For children who prefer being active, there's an excellent pool in the hotel.
3. The Spires
If you prefer to stay in an apartment rather than a hostel, this is the best pick. The location is great, the family rooms are very well-equipped and there's plenty of space for your little ones to run around.
Where to Stay for a Luxury Vacation
If you want a luxury break, the city centre is the best area to stay. You have a huge selection of great places to eat, drink and shop. And because you're central, you won't have to spend too much time commuting from one area to another.
Glasgow has a number of decadent and indulgent hotels, perfect for a luxury stay. Here are three of the best:
1. Kimpton Blythswood Square Hotel
This hotel has already featured twice in this guide. But it's the absolute prime pick for those seeking a luxury stay. The only 5-star hotel in the whole of Glasgow, this place is full to the brim with class and decadence. With afternoon teas, an on-site spa and beautiful surroundings, it's unbelievably elegant. Stay here and you'll really feel special.
The hotel has truly beautiful decor along with a library room and a cigar lounge. With exposed brickwork, monochrome tones and stylish fixtures and fittings, the rooms are very impressive. The Bar & Grill here is managed by a chef who was trained by the incomparable Rick Stein!
Once the home of a prime minister, this place was destined for greatness. The rooms are decorated in tartan-based pastel colors, while the contemporary style perfectly complements the original features. The food and drink are excellent too.
Where to Stay for Local Vibes in Glasgow
The West End. This area harks back to Glasgow's history, with generous helpings of Georgian and Victorian architecture. It's also full of trendy boutiques and lots of green spaces, which are all very popular with locals of all ages.
But more than that, the West End includes Finnieston, which is the perfect representation of what Glasgow is slowly becoming. Creative and cultural, without any pretension or pomp, Finnieston is exactly that.
With thrift stores, local eateries and arts aplenty, The West End is a great way to understand what Glasgow is really all about.
A quick note: the East End is also a great place for authentic local vibes, but we think the West End is a little more varied, so it gets our vote here.
For a great local atmosphere in the West End, these are the three best places to stay:
Luxury pick: The Alamo
The Alamo offers incredible views of the surrounding area, and it's perfectly suited for discovering all the best that the West End has to offer.
Mid-range pick: Acorn Hotel
If you just want somewhere simple, comfortable and clean to explore the West End from, this will be all you need. It's nothing special, but it's great at the price.
Budget pick: Glasgow Youth Hostel
Perhaps the best hostel in the whole of Glasgow, you might find some Scottish travelers here, who can be a perfect key into exploring the authentic sides of Glasgow life. The staff are also very patient, knowledgeable and chatty, so they can offer lots of recommendations on places you should explore to get a slice of real Glasgow life.
Where to Stay for Hiking
If hiking is your priority, you might want to stay outside of Glasgow's centre in order to have easier access to the surrounding mountains. Most hikers who flock to Glasgow want to explore Loch Lomond and The Trossachs National Park. If that's your plan, but you also want to spend time in Glasgow, the best place to stay is in Balloch.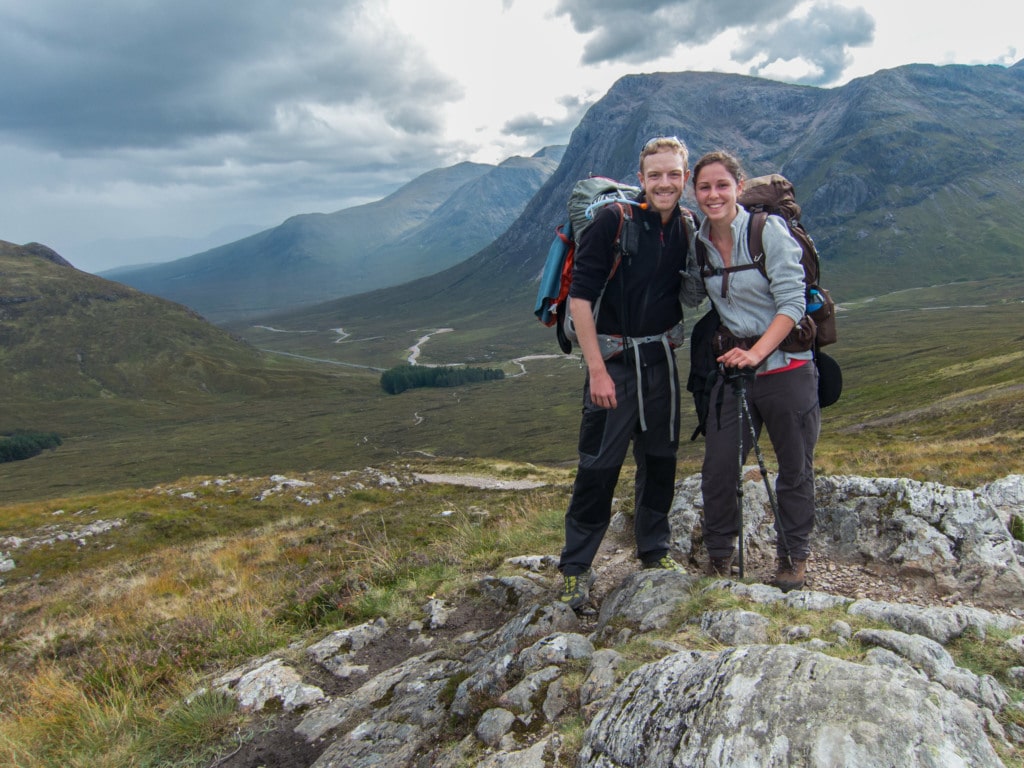 Balloch is a village which lies right on the edge of Loch Lomond, but it's less than 40km from central Glasgow, making it a good compromise between city excitement and serene solitude.
Here are our top 3 picks for Balloch:
Luxury pick: Innkeeper's Lodge
Situated in a pub, these rooms are clean, comfortable and cosy. With fireplaces, beamed ceilings and great food, it's an excellent place to have a well-deserved rest after a tiring hike.
Mid-range pick: Lomond Woods Holiday Park
This is way better than your average caravan park. The caravans are beautiful, and the lodges are even better. If you stay here, you can arrange ranger-led walks into the mountains. There's also a pool table and a table tennis table on-site. And because you're not staying in a swanky hotel, you don't have to worry so much about your muddy boots.
Budget pick: But and Ben
A pretty property with a shared lounge, this is very comfortable and clean. The location is excellent.
Where to Stay in Glasgow: Final Thoughts
Glasgow has so much to offer. From live music to award-winning parks to some of the best galleries and museums in the UK, it's a diverse and different city, perfect for a cultural adventure.
Because of its various activities and events (of which many of them are totally free), it's quickly becoming a very popular city for tourists from across the globe.
But with so many tourists also comes many accommodation options. With so many to choose from, it's easy to pick somewhere shabby or substandard. But all of the options we've included above are excellent picks, with great locations, amenities and atmospheres.
Our number one pick of Glasgow hotels is this one:
Grand Central Hotel: affordable, central and relaxing, this place is perfect for couples, families, solo travelers and everyone in between. An excellent compromise, it's elegant without expense, and central without chaos.
For budget travel, this is our number one pick:
Glasgow Youth Hostel: perhaps the best hostel in the whole of Glasgow, this is sociable, fun and affordable, but it's a little less rugged than your average hostel. Because of that, it attracts families and couples, not just budget backpackers. This hostel is great for making friends and socializing, but it can be equally private and peaceful. The location is excellent.
Being a Digital Nomad: Tips, Tricks and Places
Do you want to be a digital nomad?
If you do, maybe you don't know where you might want to live. Or how to live there. Or whether you need a visa. Or how to make friends in the scary sprawl of a brand-new city. Or how to stay productive while you travel. Or how to find an apartment. Or whether this lifestyle really is for you. Or… I'm sure you get the idea.
But with some insight and experience, it's not as difficult as you think. So in this book, I've gathered my 6 years of digital-nomadding experience… and I've used it to answer all your questions, soothe all your fears, and get you on your way. After reading this, you'll realise being a digital nomad is much easier (and much more possible!) than you think.