All the 13 Stunning UNESCO Sites in Scotland
One of my favorite nations on the planet, Scotland is brimming with plenty of stuff to do… including hidden beaches, world-class hikes, charming villages, great road trips, and some of the best outdoor adventures on the planet.
But Scotland is also the proud owner of some pretty good UNESCO sites.
So how many UNESCO sites are there in Scotland? What are they? And where can you find them?
Coming up, we've covered all that and more… and we've brought you some pretty surprising extra stuff. Come join the fun!
UNESCO World Heritage Sites in Scotland
UNESCO World Heritage sites are typically super-famous places, and there are loads of them dotted around the planet.
There are currently 1,154 official sites across the globe, including some of the world's most iconic tourist spots. Some of the biggest names include Machu Picchu, the Taj Mahal, the Great Wall of China, the Pyramids of Giza, Stonehenge, and Yellowstone National Park.
According to the official UNESCO website, "World Heritage is the designation for places on Earth that are of outstanding universal value to humanity and as such, have been inscribed on the World Heritage List to be protected for future generations to appreciate and enjoy."
Basically, if it's a big, important, iconic, historical place, it's usually designated as an official UNESCO World Heritage site.
Some are natural places, some are historical places, some are scientific places… and some are a combination of more than one of those things.
Scotland is home to 6 UNESCO World Heritage sites, which are classified as being of "outstanding universal value". They are:
1. The Antonine Wall
Sort of like Scotland's version of Hadrian's Wall, the ruins of this big long borderland run across central Scotland, between the Firth of Forth and the Firth of Clyde. In total, the wall once measured at around 36.5 miles (58.5 km) — and at one point, it was the final Roman frontier.
Some small ruins of the wall remain, along with museums, walks, and exhibits that celebrate its history.
Strangely underrated, the Antonine Wall is a great insight into the UK's Roman history and heritage.
2. Heart of Neolithic Orkney
The entirety of Scotland is home to a load of Neolithic relics and ruins—but of all of Scotland's regions, the remote northeastern islands of Orkney possess the nation's highest concentration of excellent Neolithic stuff.
The so-called 'heart of Neolithic Orkney' is made up of four separate sites: Skara Brae, Maeshowe, the Stones of Stenness, and the Ring of Brodgar.
Together, they form one of Scotland's UNESCO sites, and one of the most impressive Neolithic collections on the planet. Here's a quick rundown of each one:
3. New Lanark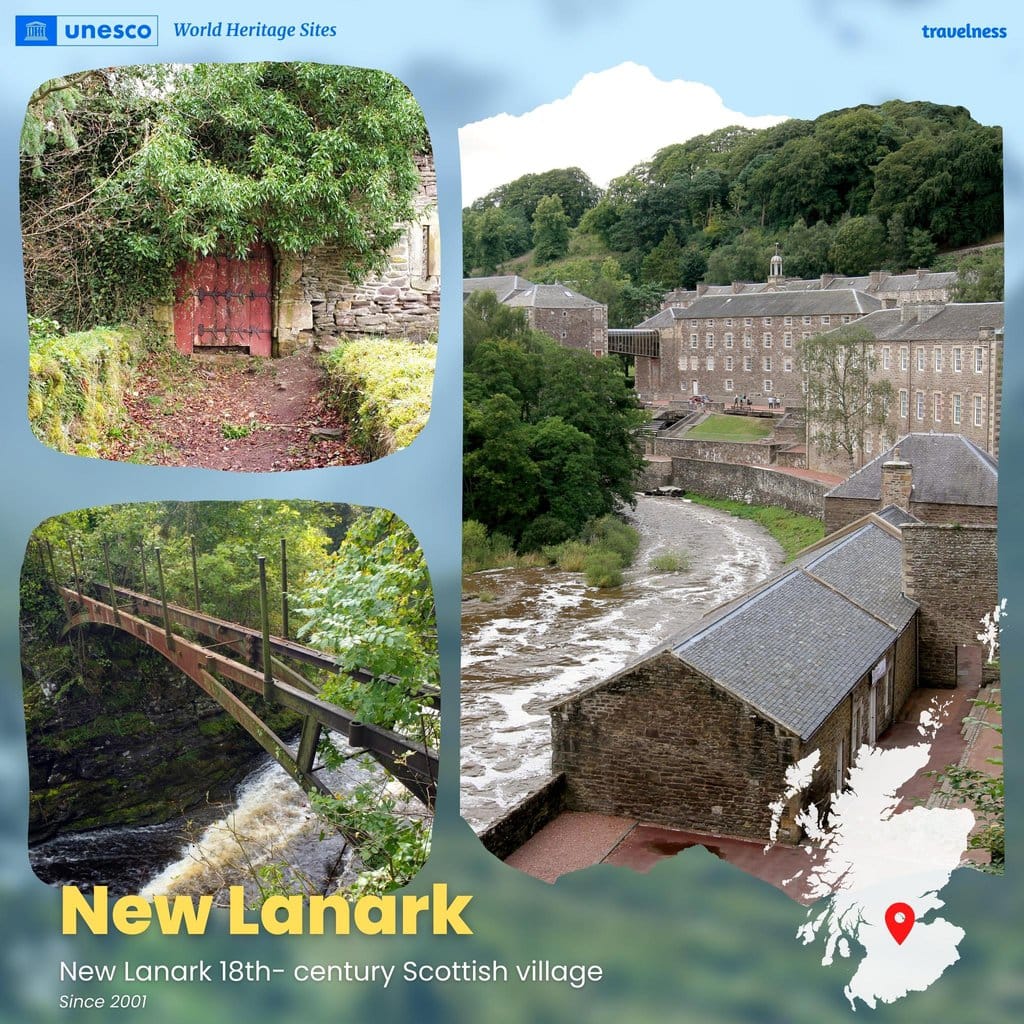 Large parts of Scotland have a massive industrial heritage… and New Lanark is one of the most important, interesting, and historical industrial sites in the whole of the nation.
A restored 18th-century cotton mill village, New Lanark sits on the River Clyde, right in the cavernous confines of a narrow valley. Around 130 people still live in the village today, and it's one of the prettiest settlements in the entirety of Scotland.
4. The Old and New Towns of Edinburgh
Edinburgh, like any big city, has lots of separate districts and neighborhoods.
But two of its neighborhoods (the 'old town' and the 'new town,' which, when combined, make up the central part of the city) are recognized by UNESCO. In this part of the city, you get ancient architecture, cobbled streets, labyrinthine lanes, and loads of things to see and do.
And looming over it all is the massive (and massively famous!) Edinburgh Castle.
5. St. Kilda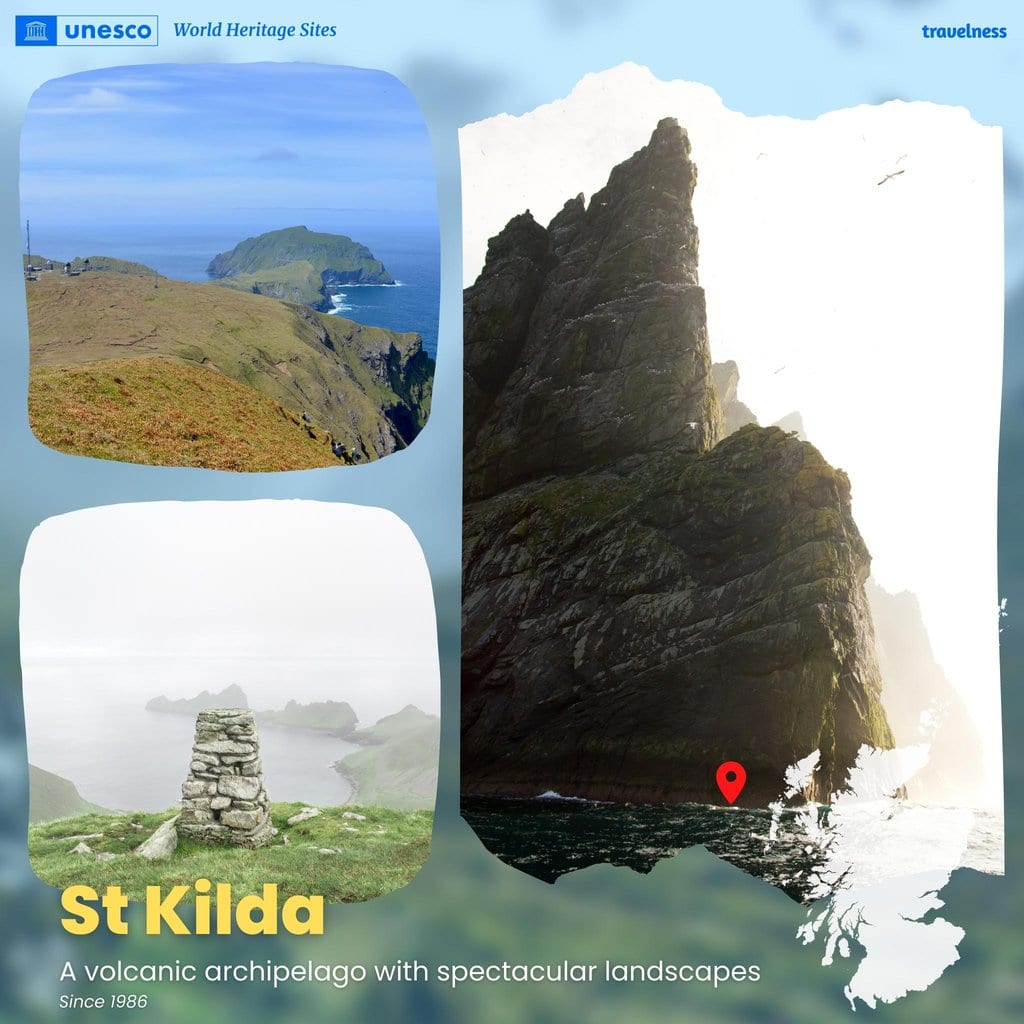 Though the name might have fooled you. St. Kilda is not a saint.
Instead, St. Kilda is a collection of very-remote islands off the west coast of Scotland.
Imagine you head west from mainland Scotland to Skye. Keep going west from Skye, and you hit the islands of Lewis and Harris. Keep going west for another 45 miles (72km), and you hit tiny St. Kilda.
Since 1930, the place has had no permanent population. In 1930, St. Kilda was evacuated, for a combination of different reasons—the population was dwindling, the locals were becoming ill, tourism was increasing, and the First World War wreaked havoc on the people of the islands.
St. Kilda doesn't have any full-time human presence, but it's home to Europe's largest colony of seabirds.
6. The Forth Bridge
Bridges aren't usually this impressive.
Measuring in at a lengthy 1.5 miles (2.5km), the Forth Bridge lies just west of Edinburgh and runs over a stretch of the Firth of Forth. If you're into impressive industrial achievements, you'll probably love this place.
Some people also know this place as the Forth Rail Bridge, but that's not its official name.
UNESCO Global Geoparks in Scotland
Okay, here's where things get a little complicated.
Most people (including probably you) have already heard of UNESCO World Heritage sites (and if you hadn't before, at least you have now).
But UNESCO also recognizes various other places of importance, classified via many different categories. Three of the most important are their UNESCO Global Geoparks, UNESCO Biosphere Reserves, and UNESCO Creative Cities.
Coming up next, we've covered all three of those… and we're getting started with Scotland's UNESCO Global Geoparks!
According to the official UNESCO page, these UNESCO Global Geoparks are "single, unified geographical areas where sites and landscapes of international geological significance are managed with a holistic concept of protection, education and sustainable development"… and the body has named two parts of Scotland as being part of the special club. They are:
1. Shetland
A collection of islands off the eastern side of Scotland's northern coast, Shetland is remote, beautiful, and one of Scotland's most alluring and adventurous areas. The region is made up of more than 100 islands, but only 15 of them are inhabited.
If you like faraway places with few travelers (and few locals!), you should absolutely visit. The islands' highlights include ancient settlements, beautiful beaches, friendly faces, and some of the UK's most remote outdoor adventures.
2. North West Highlands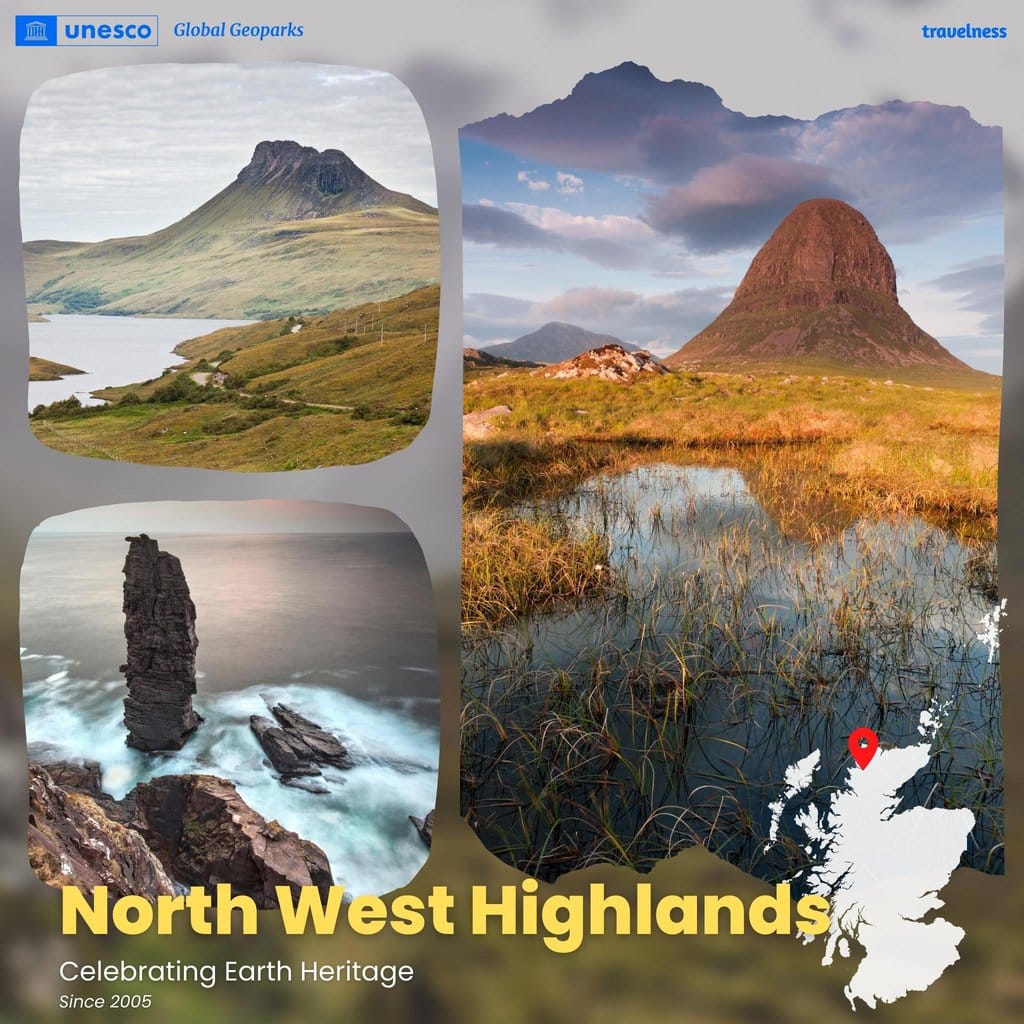 The North West Highlands is one of my favorite regions on the planet, and it's the best part of the iconic (and insanely-impressive) North Coast 500 road trip.
In the North West Highlands, you get incredible mountains, underrated beaches, charming villages, and some of the most remote and rural landscapes you've probably ever seen.
Of all the places we've featured on this list, the North West Highlands is my favorite. It's honestly impossible to articulate how surprisingly-beautiful this entire area is. So here's my advice: just go.
UNESCO Biosphere Reserves in Scotland
In some ways, UNESCO Biosphere Reserves are similar to UNESCO Global Geoparks… but there are some small differences.
In the overly-verbose words of UNESCO themselves, these so-called reserves are areas that "promote solutions reconciling the conservation of biodiversity with its sustainable use. They are learning areas for sustainable development under diverse ecological, social and economic contexts, touching the lives of more than 250 million people."
Scotland has two of these UNESCO Biosphere Reserves:
1. Wester Ross
Sitting in the northwest of Scotland, Wester Ross is packed with lots of woodland and plant life.
Though it's not a formally-defined area, with no clear-cut beginning and end, it's generally thought to be one of the most remote regions of Scotland.
Its most famous places include Beinn Eighe, Loch Maree, Loch Ewe, Ullapool, Gairloch, Torridon, and Shieldaig.
I absolutely love this area—and if you visit, I reckon you will too.
2. Galloway and Southern Ayrshire
Another big part of Scotland, Galloway and Southern Ayrshire is much further south than Wester Ross.
Sitting in southwest Scotland, the area is made up of beaches, woods, lochs, moorland, and loads more various landscapes.
Part of the so-called 'Scottish lowlands,' this area proves why you don't necessarily need to go to the Highlands to see some of Scotland's most beautiful places.
UNESCO Creative Cities in Scotland
The UNESCO Creative Cities scheme recognizes cities across the planet that have creativity at their core. So if a place has contributed to the world of cinema, music, painting, architecture, or any other type of art, it might be shortlisted as a so-called UNESCO Creative City.
Scotland has a huge creative heritage, with lots of artists, poets, writers, musicians, and other creatives hailing from the nation.
In their response to that history and heritage, UNESCO has given the Creative Cities designation to three separate Scottish places:
1. Glasgow, City of Music
For live music, Glasgow is one of the best cities in the UK—and lots of famous musical artists have come from the place. Some of the biggest names include Chvrches, Camera Obscura, Deacon Blue, Franz Ferdinand, Primal Scream, Mogwai, Travis, Texas, and Simple Minds.
The third-ever UNESCO City of Music and the first UK city to be given the designation, Glasgow has more gigs, concerts, and music events than any other city in Scotland.
2. Dundee, City of Design
One of Scotland's lesser-known cities, but still a brilliant place to visit, Dundee is small but charming.
In UNESCO's own words, "design is […] an integral part of Dundee's contemporary creative scene and economy, with expertise in fashion and textile, art and jewelry as well as a wealth of digital companies making their mark on the world."
There are some great venues and creative hangouts in the city, including, most famously, the V&A Dundee, which is the first design museum in Scotland.
3. Edinburgh, City of Literature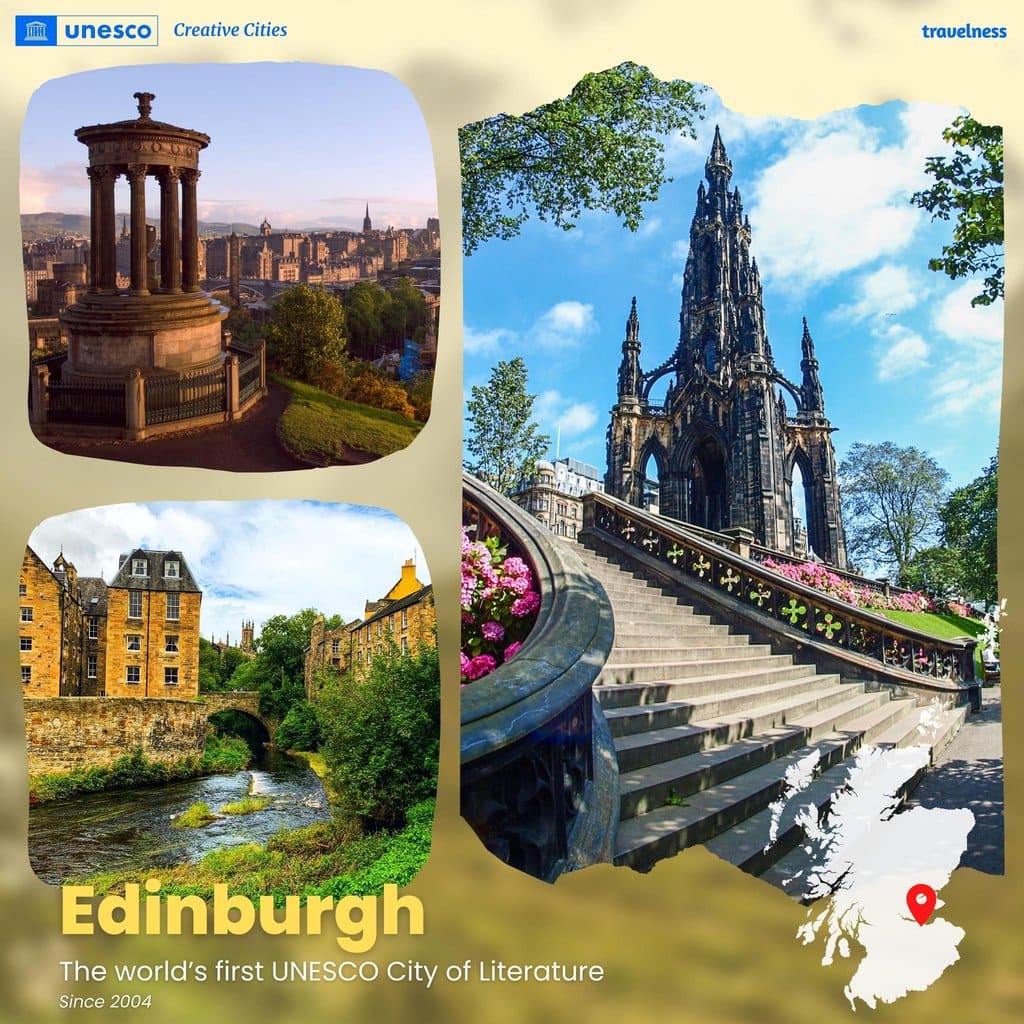 One of the most artistic cities on the planet, Edinburgh plays host to the Fringe Festival every year, the biggest arts festival in the world.
But that's not all it's famous for… the city also has a massive literature heritage, and celebrates the Edinburgh International Book Festival each August. Lasting 2 weeks, the festival is the world's biggest "public celebration of the written word".
The world's first UNESCO City of Literature, Edinburgh has birthed lots of famous writers, including Arthur Conan Doyle, JK Rowling, and Irvine Welsh (the last of which is my favorite writer on the planet).
Frequently Asked Questions
What is a Unesco designation?
In short, a UNESCO designation is a symbol of recognition from UNESCO, the United Nations Educational, Scientific, and Cultural Organization.
This designation implies that the designated place is somehow unique or significant in relation to science, culture, history, heritage, education, or creativity. If it's recognized by UNESCO, it's an important place (or even an important abstract thing, but we'll get to all that soon!).
How many different types of UNESCO designations are there?
There are 5 different types of UNESCO designations. You have:
1. World Heritage sites: the ones you've all already heard of. If it's a massively-famous tourist site, it's probably also an official World Heritage site.
2. Biosphere Reserves: places that promote the conservation of biodiversity. There are currently 727 officially-designated UNESCO Biosphere Reserves.
Intangible Cultural Heritage: this category covers performances, rituals, traditions, and art forms, rather than physical places, monuments, or objects.
3. Global Geoparks: geographical areas with "international geographical significance," whatever that even means.
4. Creative Cities: currently made up of 246 different cities, this designation celebrates cities that have creativity (both past and present!) at their core.
UNESCO also has five more categories of awards, registers, and recognitions, but these are slightly different from their designations. Here's much more information on these 10 different designations and categories from the official UNESCO site.
What is Scotland's UNESCO Trail?
The Scottish UNESCO trail links up the 13 Scottish UNESCO sites that we've covered in this guide. So, to recap, that's 6 World Heritage sites, 2 Global Geoparks, 2 Biosphere Reserves, and 3 Creative Cities.
But, importantly, it's not actually a physical trail that you can walk, drive or cycle across. Instead, it's a digital adventure, which allows you to explore the history, heritage, and significance of each location.
Although, of course, if you decided to physically visit and explore the 13 sites all in one trip, there'd be nothing stopping you. It would probably be a pretty cool way to explore Scotland, especially considering that the various sites are plonked in vastly-different areas of the nation.
Before You Go
Hopefully, we've now answered all of your questions about UNESCO sites in Scotland!
If you want to know anything else about the history and heritage of the nation, check out our articles on the best free museums in Edinburgh, the best castles in Scotland, and the top 23 reasons you should visit the place at least once in your life.
Thanks for reading, thanks for choosing Travelness, and we'll see you next time.
Being a Digital Nomad: Tips, Tricks and Places
Do you want to be a digital nomad?
If you do, maybe you don't know where you might want to live. Or how to live there. Or whether you need a visa. Or how to make friends in the scary sprawl of a brand-new city. Or how to stay productive while you travel. Or how to find an apartment. Or whether this lifestyle really is for you. Or… I'm sure you get the idea.
But with some insight and experience, it's not as difficult as you think. So in this book, I've gathered my 6 years of digital-nomadding experience… and I've used it to answer all your questions, soothe all your fears, and get you on your way. After reading this, you'll realise being a digital nomad is much easier (and much more possible!) than you think.