Top 10 Largest Cities in Alaska by Population
Alaska is the biggest state in the U.S. – bigger than Montana, California, and Texas combined. However, as large as it is, it is also one of the least populated states ranking at 48 in the number of residents, only Vermont and Wyoming have smaller populations. With Alaska being as large as it is in area, it is no surprise that it is the least densely populated state with just 1.2 people per square mile.
Many people don't know just how remote the state can be. While I have personally spent most of my time in Alaska in the more populated areas, there are spots where you won't find another person for many miles. If you want to stick to the more urban areas during your Alaskan travels, you will want to visit one of the following cities.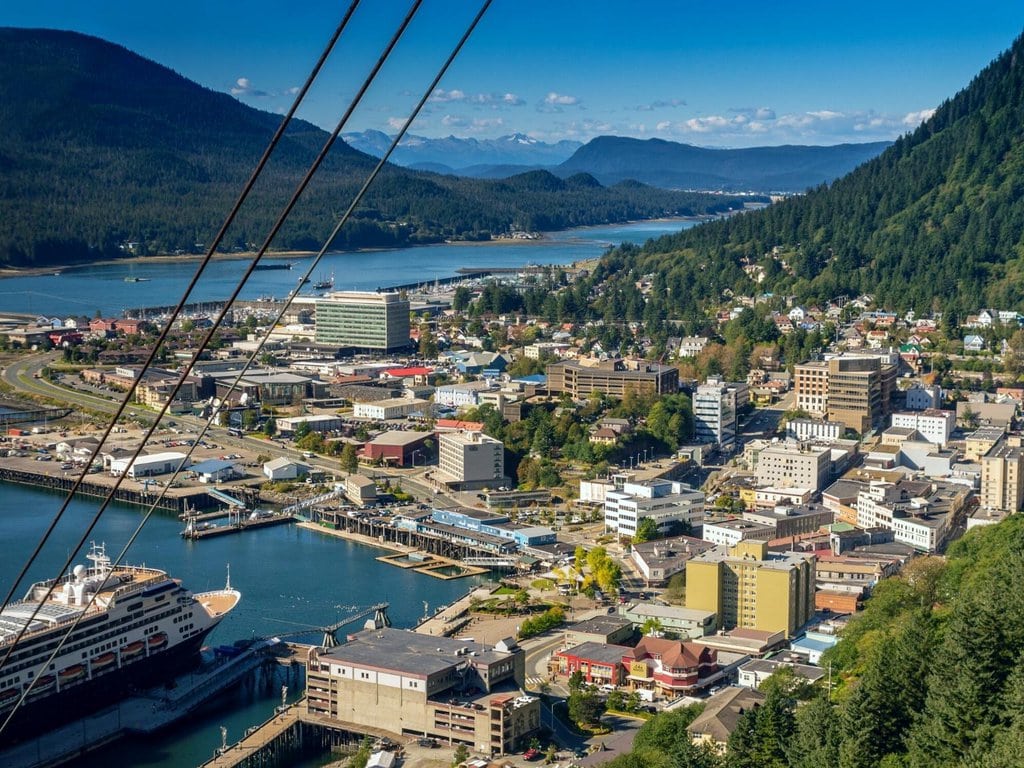 10 Largest Cities in Alaska by Population
| Rank | City | Population in 2022 | Population in 2020 | Population in 2010 |
| --- | --- | --- | --- | --- |
| 1 | Anchorage | 291,131 | 291,247 | 291,826 |
| 2 | Fairbanks | 32,711 | 32,515 | 31,535 |
| 3 | Juneau | 32,451 | 32,255 | 31,275 |
| 4 | Knik-Fairview | 20,174 | 19,297 | 14,912 |
| 5 | Badger | 18,941 | 19,031 | 19,482 |
| 6 | College | 11,006 | 11,332 | 12,964 |
| 7 | North Lakes | 9,821 | 9,450 | 7,595 |
| 8 | Meadow Lakes | 9,522 | 9,197 | 7,570 |
| 9 | Wasilla | 9,299 | 9,054 | 7,831 |
| 10 | Tanaina | 9,049 | 8,817 | 7,655 |
10 Most Populated Cities in Alaska
Source: U.S.Census Bureau (2022 population extrapolated from 2010-2020 data)
1. Anchorage
Residents: 291,131
Anchorage is the biggest city in Alaska with a population of 291131 residents.
Anchorage is a midsized city with plenty of outdoor adventures for its residents and visitors. Anchorage's population is about 40% of the entire state's population.
During the three to four months of summer in Alaska, when the daylight hours are very long, Anchorage residents enjoy the mid-60 degree weather. A lot of time is spent outdoors dining al fresco, attending festivals, biking, and hiking. In the wintertime, from November to March, residents enjoy skiing, playing hockey, and riding their snowmobiles.
Living in Anchorage is more expensive than in the lower 48. This is because supermarket supplies must be flown in, sent by barge, or shipped by truck from Canada, adding fuel costs to the prices.
Even dining in restaurants is more expensive than in other states, for the same reason. Oddly enough, gas is also more costly in Anchorage, even though oil is harvested in Alaska. On the plus side, salaries are higher, and there is no sales tax in the city.
2. Fairbanks
Residents: 32 ,711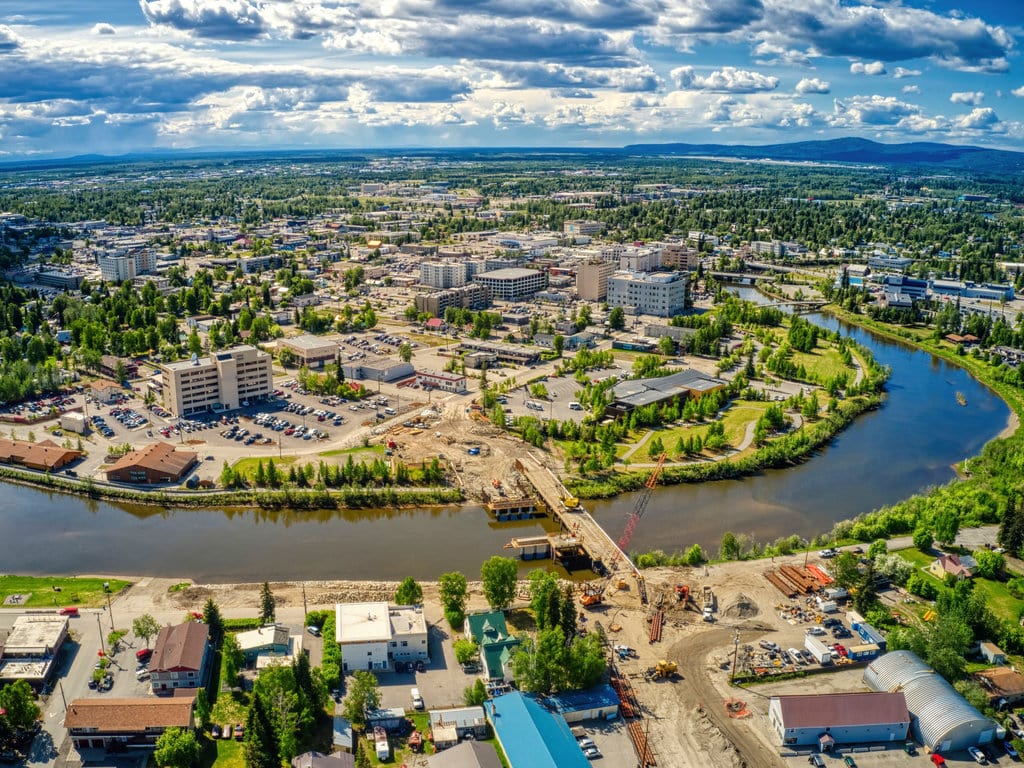 Fairbanks, also known as the "Golden Heart City" because of the gold rush in the 20th century, is the second largest city in the state and is the healthcare and regional economic center for Northern and Interior Alaska.
In Fairbanks, you can find all of the conveniences of a small town, such as various restaurants, air, rail, and road access, local and national retailers, wireless and fiber-optic connectivity. The University of Alaska is also found in this city skewing the population a little younger.
Since Fairbanks is located at the "top of the world," winters are considerably longer, darker, and colder than other U.S. cities. Average January temperatures in Fairbanks are around -16°F. During the shortest day of the year, the Winter Solstice, there are only around 3 hours and 45 minutes of daylight.
3. Juneau
Residents: 32,451
Juneau is the capital city of Alaska and is the third most populous city. It has a small-town vibe, and practically everyone knows everybody else.
Like Anchorage, it is a haven for those who love the outdoors, with its mountains, trails, islands, oceans, and fantastic wildlife. You can bike, hike, or fish to your heart's desire. Juneau also has a tram that gives you an excellent view from up above. There are indoor activities you can go to such as pubs and movie theaters as well.
When the cruise ship industry is at its peak during the summertime, you will see many seasonal workers in Juneau. However, it is the government that employs the most residents. Tourism only comes second.
Winters are a little quieter with fewer tourists and fewer workers. During this time, residents participate in various winter sports such as skiing and dog sledding.
Because of its proximity to a rainforest, the city is usually wet and cloudy the entire year long, with rainfall 220 days each year. Residents usually experience snow between October until April which can be as much as 100 inches.
4. Knik-Fairview
Residents: 20,174
You can find Knik-Fairview in the Matanuska-Susitna Borough, northeast of Anchorage. The cost of living here is higher than the rest of the United States, but at around the same level as the other Alaskan cities.
Like in other cities in Alaska, homes are more expensive than the national average, and most residents here own their homes rather than rent. More than 3/4 of residents drive to work, especially those who work outside of Knik-Fairview. As mentioned earlier, gas is expensive in Alaska. Therefore the cost of transportation is also more costly compared to the rest of the country.
Healthcare in Knik-Fairview costs far above the rest of the country and is also more expensive compared to the rest of Alaska.
5. Badger
Residents: 18,941
Badger is part of Fairbanks North Star Borough and is the fifth largest city in Alaska. It is where you can find the National Guard and Army installation, Fort Wainright.
There are primarily professionals and families living in Badger, with children under 5 making up a higher percentage of the population here than the rest of the country. Most of those who reside in this city own their homes, as opposed to renting. Renting a home in Badger is more expensive compared to other cities in Alaska!
Walking or public transportation isn't a common way to get around. Driving a vehicle is the more popular mode of getting to work or around the city.
A large percentage of Badger's population work in construction, public administration, education, healthcare, or retail. Those who work in Badger tend to make slightly more than those who work in other Alaskan cities.
6. College
Residents: 11,006
College is located in Fairbanks North Star Borough along Route 3. While there are plenty of parks in College, there aren't as many outdoor activities here compared to the previous cities we have listed. There aren't too many options in the way of nightlife activities or entertainment either.
The unemployment rate in College is lower than the national average, but the job market has also been decreasing in recent years. On the upside, the average salary is higher compared to the overall U.S. average. You will find that most residents here work in neighboring Fairbanks. Many work in the construction and retail industries, and there are more who work in the mining, quarrying, and oil extraction industry here than in the rest of the United States.
Most residents own their homes instead of renting. The average cost of a home and rent here is higher compared to the national average. There are many young professionals living in the city along with families.
7. North Lakes
Residents: 9,821
North Lakes is a community located in Matanuska-Susitna Borough near Palmer and Wasilla, north of Anchorage. North Lakes was first listed as a CDP in 2020, after the split of the former CDP of Lakes. The community is home to a chain of lakes (thus the name).
North Lakes is a fast-growing city and it recently became the 7th most populated city in Alaska.
8. Meadow Lakes
Residents: 9,522
Lakes is the 8th largest city in Alaska, with a population increasing compared to the previous year. Most of the households here are families with children.
Most residents work in the retail trade and construction industries. Many work in the mining, quarrying, and oil and gas extraction industries. However, the job market has decreased compared to the previous year, and the unemployment rate is higher than the rest of the U.S.
Healthcare is costlier in Lakes than in the rest of the United States as fewer doctors are available in the area.
9. Wasilla
Residents: 9,299
Wasilla, located in the Matanuska Susitna Borough, is the 9th largest city in Alaska. A majority of those who live there are families with children under the age of 18.
The winter weather in Wasilla usually doesn't go below 15°F and doesn't get hotter than 65°F in the summer. There is a lot of rain in Wasilla, though, especially in the summer, and most summer days are cloudy and overcast.
There aren't any large corporations located in Wasilla. Most businesses in the city consist of construction, small mom-and-pop-type businesses, and smaller chain stores. While the job market is booming in the town and there are jobs available, most residents brave the hour to hour and a half-long commute to work in Anchorage, where the pay is higher.
The average price of a home in Wasilla in 2019 was $280,000, but the further west you go towards Willow, Big Lake, and Meadow Lakes, the prices get lower.
There are many chain and local restaurants in Wasilla for residents to enjoy, and the nightlife is laid back compared to Anchorage. Residents here normally spend the summers boating, camping, and fishing, and lifestyles are geared more towards family-friendly type activities.
There are numerous outdoor activities in Wasilla for you to enjoy, such as hiking and riding snowmobiles in Hikers Pass, biking along the paved bike trails, fishing for salmon, trout, and other fish in the numerous large and small lakes and rivers in the city, and camping in Finger Lake State Recreation Site or Lucille Lake. You can also enjoy the breathtaking views of the Chugach Mountains, Talkeetna, and the Alaska Range if you want to kick back and relax.
10. Tanaina
Residents: 9,049
You can find the small town of Tanaina in the Matanuska-Susitna Borough, and it is the 10th most populous city in Alaska.
Similar to other cities in Alaska, rent is usually higher here than in other cities in the U.S. Most residents here own their homes, as buying a house in Tanaina is pretty reasonable in terms of pricing.
Like other places in Alaska, most people drive to get around instead of walking or taking public transportation. There is an average of three cars per household.
Most residents of Tanaina work in the construction, retail trade, and healthcare and social assistance industries. The average salaries of those living here are higher than most across the entire United States.
Frequently Asked Question
Living in Alaska
There are many challenges residents encounter while living in Alaska, the biggest ones being the weather and the high cost of living, especially when it comes to utilities. On the plus side, there are plenty of employment opportunities, and the average salary is higher than the rest of the United States. Typical employment opportunities available are natural gas and oil, transportation and security, and healthcare industries.
There are also no state, city, or income taxes charged in Alaska. The state also pays people to live in Alaska, with dividends coming from their oil fund. Many of the boroughs don't even charge a sales tax.
The residents enjoy the breathtaking beauty of Alaska, varied wildlife, humungous wilderness, towering mountains, and vast open spaces. There are a lot of spots to fish along the long Alaskan shoreline as well. Plus, there are plenty of winter sports to partake!
If you're looking for a laidback, slower pace of living with plenty of small-town charm and the natural beauty of the wilderness, Alaska is the best place to be. I personally enjoyed my time living in Anchorage as you get all of the ruggedness Alaska is known for while still having access to all of the modern shopping and dining conveniences!