8 Incredible Day Trips from Juneau That You'll Love
Juneau is unsurprisingly a popular tourist destination given its location and natural beauty. The city itself is the only American capital city that can't be reached by car! Nestled between mountains and the ocean, Juneau provides ample opportunity for outdoor activities like hiking, biking, and boating.
While there are plenty of things to do in Juneau, there are also many fantastic day trips that can be taken from the city.
From Mendenhall glacier to the tiny town of Tenakee Springs, whether you're looking for an adventurous hike or a relaxing soak in a hot spring, there's something for everyone.
Here are the 8 best day trips from Juneau:
1. Mendenhall Glacier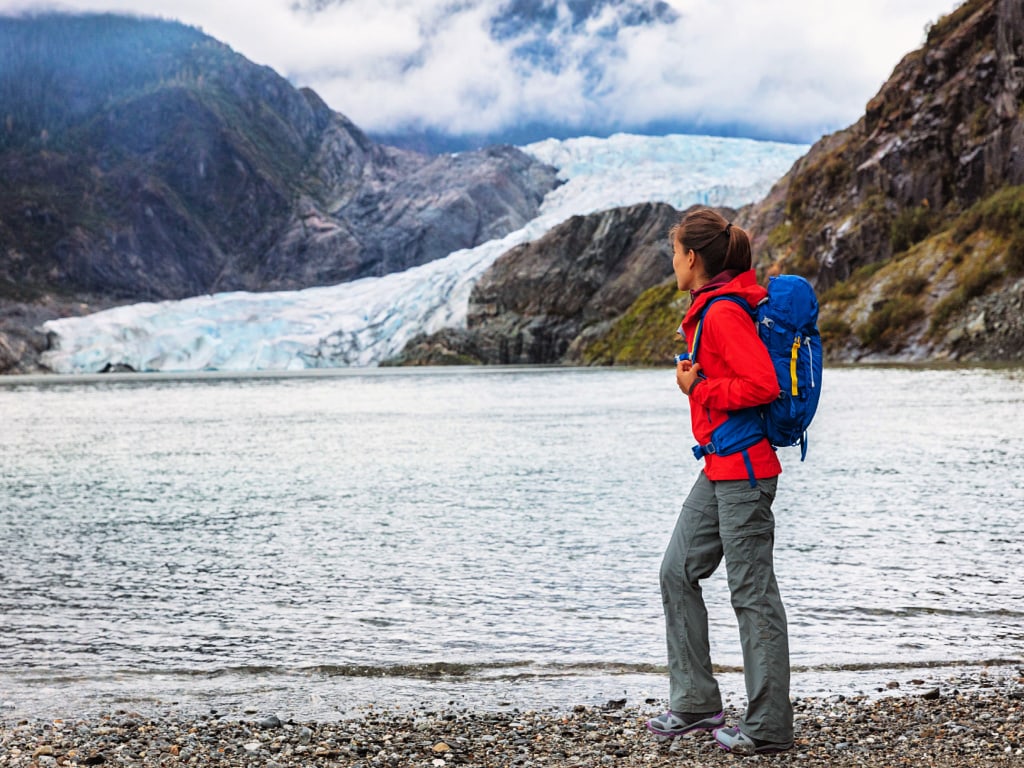 Billed as the top attraction for Juneau tourists, the Mendenhall Glacier is a must-see when you visit Alaska's capital.
Mendenhall is one of the easiest to get to glaciers in Alaska and can be reached in less than a half-hour's drive from the downtown area.
If you want to get up close and personal with the base of the glacier, your best bet is to head to Nugget Falls Trail, but the glacier is visible from the visitor's center. Nugget Falls Trail is mostly flat and is well-maintained, making it a relatively easy hike, but it will get quite busy when cruise ships are docked.
The visitor's center and photo access point require an admission fee.
Distance: 11 miles
How to get there: Car, bus, or taxi
Time to get there: 20 minutes
Time to spend there: At least 2 hours
2. Pack Creek Bear Sanctuary
The Pack Creek bear sanctuary can be found on Admiralty Island, roughly 30 miles to the south of the city.
The Stan Price State Wildlife Sanctuary is managed by the Alaska Department of Fish & Game and the U.S. Forest Service. It provides visitors with an opportunity to view bears while maintaining a minimal impact on the Alaskan animals.
The sanctuary is named after Stan Price, the "bear man of Pack Creek" who lived there for 40 years.
During the summer months of July and August, you can catch a glimpse of the brown bears feeding on salmon, snapping a fantastic photo or two. Visitors need a permit which has to be obtained in advance as there are limited viewing opportunities. If you are planning to visit during peak — July 5 to August 25 — you will want to snag your permit well in advance.
Note: There are no facilities or restaurants at the sanctuary. Rubber boots are recommended.
Distance: 30 miles
How to get there: Boat, floatplane
Time to get there: 30 minutes by plane
Time to spend there: As much as possible
3. Gold Panning
The Historic Gold Mining & Panning Adventure is a great family day trip at Gold Creek. Your "prospector" tour guide will show you how to pan for gold while regaling you with stories about Juneau's mining heritage history.
The gold panning is combined with a historical tour hitting up sites like the Governor's Mansion and Last Chance Basin.
Panning for gold is chilly work, and the water will be frigid! Make sure to dress in layers so you can enjoy the history, the panning, and the stunning mountain vistas.
Also, "finding" gold is guaranteed. Tours don't stop for a bit of rain, so bring your gear.
All ages are welcome to join the panning adventure, but kids under 12 must be accompanied by an adult.
Distance: 2 miles
How to get there: Tour provides transportation
Time to get there: 15 minutes
Time to spend there: 1.5 hours
4. Tracy Arm
Named after Benjamin Franklin Tracy, a Secretary of the Navy, Tracy Arm Fjord is another of Juneau's big attractions.
Most people choose to visit Tracy Arm by boat, so they can cruise through the fantastic scenery taking in waterfalls and calving ice. In fact, some of the more intimate cruise lines visit the Arm as part of their itinerary.
The sapphire blue of the water is breathtakingly beautiful with the crystalline ice floating by. If you come across calving ice, be prepared for a loud boom as the ice slams into the water below!
However, the scenery isn't the only thing people come to Tracy Arm for.
The wildlife viewing is also spectacular. Whales are commonly spotted here, including Orcas and Humpbacks. Seals, porpoises, and eagles are also easy to spot from the decks of your ship.
Distance: 45 miles
How to get there: Boat, floatplane
Time to get there: 15 minutes by plane
Time to spend there: 5-6 hours
5. Taku Glacier Lodge
Dr. Harry C. DeVighne built the original Taku Lodge in 1923, becoming one of the first hunting and fishing lodges open for overnight guests in Alaska. It made the perfect base camp for those traversing the valleys and streams near the Taku River.
Now, you can take a glacier flightseeing trip and stop off at this remote and historic property.
Spend some time hiking the trails and snapping pics of the wildlife before enjoying a delicious Alaskan dinner — fresh grilled salmon! While you are enjoying your scrumptious feast, the hosts will tell you tales of historic lodgers like Mary Joyce and her 1000-mile dog sled trek. The lodge itself is decked out in Alaskan memorabilia like dog sleds, trapping gear, and furs.
Keep your eyes out for bears while visiting this remote lodge — especially while the salmon is grilling!
Distance: 30 miles east of Juneau
How to get there: floatplane, riverboat
Time to get there: 15 minutes by plane
Time to spend there: 3 hours
6. National Shrine of Saint Therese
With a 30 minutes drive north of downtown, you can step into the National Shrine of St. Thérèse — the state's patron saint. This lovely little shrine has been open for guests for 80 years, and those of all faiths are welcome.
St. Thérèse of Lisieux was known for her writings and quotes: "Without love, deeds, even the most brilliant, count as nothing."
The shrine includes a quaint stone chapel, lovely gardens, a crypt, and a labyrinth spread across its 46 acres. Visitors love the spiritual experience as well as the tranquility the shrine provides.
And like almost every spot in Alaska, the views are stunning.
The shrine overlooks Lynn Canal, and it should be added to your itinerary if you have an extra day in Juneau to explore.
Distance: 22 miles
How to get there: Drive, taxi, tour
Time to get there: 32 minutes
Time to spend there: 1 hour
7. Eaglecrest Ski Area
Community-owned Eaglecrest Ski Area is located on Douglas Island and can be reached with only a short 15-minute drive from downtown. Opened in 1975, the ski area includes 640+ acres of some serious mountain terrain with a 1620′ vertical drop and nearly nonexistent lift lines.
The season starts in December and carries on until April.
While the mountain can keep you entertained for several days with its abundance of trails, it is suitable for a day trip due to its proximity to the city.
Nordic skis, snowboards, alpine skis, and boots can all be rented on-site, and the facility provides day lockers for your convenience. Skiers can nosh in the Eaglecrest Grill, browse the retail shop, and take lessons from the professionals in the Snowsports School.
Distance: 12 miles
How to get there: Drive, Eaglecrest's bus
Time to get there: 15 minutes
Time to spend there: As long as possible
8. Tenakee Springs
If you have the time, Tenakee Springs is an excellent addition to your Juneau itinerary — and you may want to carve out time for more than a day trip!
Tenakee is a teeny town with less than 100 full-time residents.
You can spend your time mountain biking, picking salmonberries, hiking in the vicinity, or spend a more chill day in town.
There is a library, museum, and general store that are sure to pique the imagination. You can also head to the local cafe to chat with area artists.
The biggest draw to Tenakee, however, is the hot springs. The springs and its bathhouse are famous throughout the Southeast area of the state.
The 106F mineral waters flow at a rate of seven gallons per minute, bubbling into the five-foot-deep stone tub of the bathhouse. Even if you make your way to the springs in the dead of winter, the tub room will be warm and toasty!
Distance: 45 miles
How to get there: floatplane, ferry
Time to get there: 30 minutes by plane
Time to spend there: 3 to 6 hours, or one night for more time there
Conclusion: Juneau's Got a Lot!
A visit to the state's capital is an excellent choice when planning your Alaskan holiday; just be sure to save some time for one or more of these day trips.
It will likely be hard to narrow down which adventure to your itinerary, but it should definitely be the Mendenhall Glacier if you only have time for one. It's one of the best things to do in Juneau.
The glacier has been actively receding in recent years, so it is best to see it now while it is still so easily accessible.
If you have time to spare, Tenakee Springs should not be missed too!
If you look for a place to stay in the city head over to my selection of the best hotels in Juneau.