18 Exciting Things to Do in Alaska in the Winter
The majority of tourists come to Alaska in the summer to take advantage of the convenience of the cruise packages. Understandably, traveling to Alaska without the luxury of a cruise ship might be a little nerve-wracking, especially when dealing with snow and ice.
Visiting Alaska in the winter, however, can be one of the most gratifying journeys you will ever have.
Alaska offers Northern Lights tours, snowy scenery, world-class skiing, and all of your favorite winter sports and is easily comparable to Finland or Norway.
There are even some fantastic local tour companies that can assist you in planning and coordinating your vacation so you can sit back and relax while experiencing Alaska as a true winter wonderland. Visiting Alaska in the winter is a fantastic sustainable trip that boosts the local economy! And here are my (handpicked) best things to do in Alaska in the winter:
1. See the Northern Lights
Alaska's Northern Lights season runs from the middle of September to late April and peaks in March. You can see them in Alaska between 65 and 70 degrees north latitude.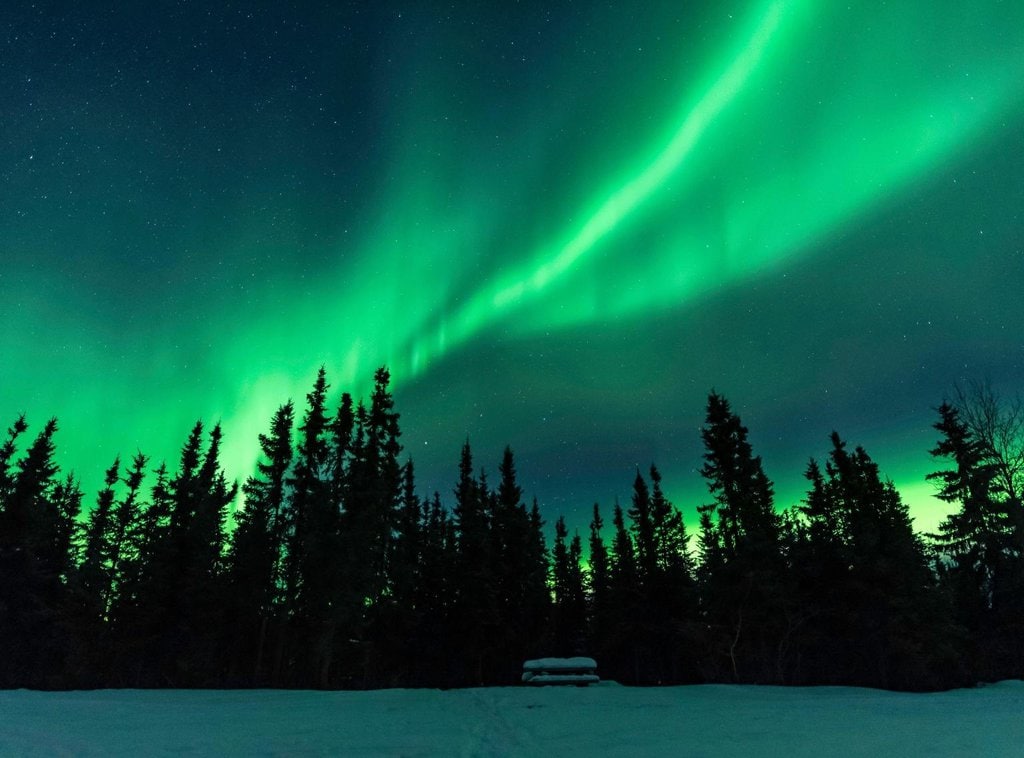 Fairbanks is a popular spot as it lies around 180 miles south of the Arctic Circle and has periodic northern lights. While you can also see the phenomenon in the more southern cities, places like Anchorage and Juneau have fewer displays.
Those looking to boost their chances of a magical experience should travel to the more distant northern villages of Coldfoot in Yukon Territory, as well as Prudhoe Bay and Utqiavik in the far north.
Book my recommended tour from Fairbanks, and if you want a cheaper (and shorter) option book this one instead. If you don't want to book a tour, you can ask your hotel to give you a lights wake-up call, but with a hassle-free tour you'll enjoy the trip and live the moments way more.
2. Dog Mushing
The world-famous Iditarod is held in Alaska, and dog mushing has a long history in the state. Fortunately, there are various outfitters to help you enjoy dog mushing — as long as there is snow, that is.
Usually, you can book a tour from mid-October until around mid-April, depending on which part of the state you are visiting.
On a dog team trip, mush through a winter wonderland and feel the exhilaration of Alaska's official sport. Even guests unfamiliar with dog sledding can lead their own five-dog team through the spruce woods, along frozen rivers, and across the freezing tundra!
Most trips include a photo opportunity and a pause for snacks and warm drinks. It's a lot of fun for people of all ages. Here are the best packages in some Alaskan cities, click the links to check their prices.
3. Hot Springs
Chena Hot Springs, located outside of Fairbanks, Alaska, is the perfect destination if you're searching for a spectacular winter adventure. The springs are hot and steamy all year long, making them ideal for a winter soak. You can also book a dog sled tour of the surrounding region, eat a delicious lunch, or visit their famed Ice Bar.
Even when 40 degrees below zero, the water is enticing and energizing. Some even say the springs have healing effects due to the natural minerals. In the winter, you can watch the Northern Lights while soaking in the warm waters, which is impossible to accomplish in the summer because the location has twenty-four hours of daylight!
If you want to stay for a few days, the cabins are warm, secluded, and large enough to accommodate larger groups.
Address: Mile 56.5 Chena Hot Springs Road, Fairbanks, Alaska, 99711
When to Visit: Open all year
4. Go Flightseeing
Not everyone is prepared to drive around the state in the snow and icy conditions during a winter visit to Alaska, but that doesn't mean you have to forego a sightseeing adventure. Flightseeing guides will show you the best of Alaska's winter sights while also keeping you warm!
Lifting off in a heli­copter and soar­ing above Alaska's glac­i­er-filled ter­rain or out into its shim­mer­ing waters is one of the most spectacular things you can do no matter your age.
You can take a trip to the Hard­ing Ice­field and Mt. Redoubt Vol­cano, two of Alaska's most beautiful sites. Bear-viewing cruises with a beach landing are also available, allowing you to photograph bears in their natural habitat. You can find flightseeing trips in nearly every city and major town in the state, but here are my recommended ones:
5. World Ice Art Championships
Ice Alaska, a non-profit business founded in 1989, hosts the World Ice Art Championships, an ice sculpting competition in Fairbanks, Alaska, annually. More than 100 sculptors from 30 countries compete every year, making it the world's largest sculpting competition. Tens of thousands of people head to Fairbanks to attend the competition in any given year.
Ice Alaska hosted its first ice art competition back in 1991, which featured 16 sculpting teams and lasted only a week. The event now starts in mid-February and runs through the end of March, weather permitting. It showcases the art and expertise of up to 75 teams worldwide. The championship consists of three professional tournaments, a youth event, and an amateur exhibition. The categories include both abstract and realistic.
Address: 1800 College Rd, Fairbanks, AK 99709
Cost: $8 to $17
When to visit: February to March
6. Enjoy Snowshoeing
If you can walk around, then you can snowshoe. Consider it your opportunity to leave your footprints on Alaska's snowy mountainsides. Snowshoeing is a terrific way to get out and enjoy the winter months in the Last Frontier, whether it's a short stroll around the park for a newbie or an overnight excursion for a seasoned trekker.
Hundreds of miles of authorized multi-use paths and large parks are available in Anchorage, making it ideal for snowshoeing and other winter sports. Within a few minutes from downtown, places like Kincaid Park, the Hillside trail system, Far North Bicentennial Park, and Powerline Pass in Glen Alps offer incredible wilderness snowshoeing opportunities.
There are also numerous options for a long day trip or weekend vacation around Southcentral Alaska.
Here are my recommended snowshoeing adventures:
7. Kayaking Adventures
Here's an exciting activity for your winter Alaska trip: Kayaking.
There is nothing quite like kayaking in Alaska. The scenery is unlike anything you will see anywhere else in the world, and the experience of paddling through icebergs and glaciers is truly unique. Kayaking is also a great way to get exercise while enjoying the great outdoors.
It's not unusual to see wildlife while kayaking in Alaska. Seals, otters, porpoises, eagles, bears, and whales are all common sights. So keep your camera handy and be prepared to capture some amazing memories.
If you are planning a trip to Alaska, definitively consider renting a kayak. Kayaks can be rented by the day or by the week, and many companies offer package deals that include kayaks, paddles, and life jackets.
But joining a tour will be the best option as they will provide you with a guide and all the safety gear you need. It is also a great way to meet other people who share your interest in kayaking.
Most kayaking tours in Alaska depart from Juneau, which is accessible by plane or ferry. And while most tours visit glaciers and icebergs in the Tracy Arm Fjord, other popular destinations include Resurrection Bay, Prince William Sound, and Kachemak Bay. So no matter where you go in Alaska, you are sure to find a kayaking tour that is perfect for you.
Reserving your spot ahead of time is a must as they fill up very quickly. Here are the best ones you can book online:
8. Practice Yoga in Geodesic Igloo
Arctic Hive is North America's northernmost yoga dome school, entirely off the grid and nestled in the stunning Brooks Range wilderness located about 275 miles from the nearest city.
Mollie and Sean Busby, husband and wife, developed Arctic Hive as a wilderness retreat center. Yoga is practiced under a 20-foot yoga dome that is heated by two wood stoves. It takes 2 hours to heat it from -10 degrees F to 70 degrees F before class, which is warm enough to do yoga with a tank top!
In addition to yoga, the Busby's teach guests about how people live in the Arctic region as part of their service. The northern lights are also visible on an Arctic Hive excursion and are among the best in the world.
Address: Wiseman Rd, Fairbanks, AK 99701
Cost: $2,999+
9. Try Ice Fishing
Most people have only seen ice fishing in movies, but people who enjoy fishing in Alaska brave the winter by venturing out onto the thick, solid ice. They pitch a tent, drill a hole in the ice, and wait for the fish to nibble on the bait in the dark, frigid water beneath the ice.
This time-honored Alaska pastime is a means for friends to socialize while waiting for fish, but it's more of a lavish party than a chilly chore with modern tents and heaters.
Ice fishing is possible on the lakes and rivers throughout Mainland Alaska from December to March, depending on the weather.
You can book an ice fishing excursion in many of the major cities and larger towns, but even if you can't find an official day trip, a local may be willing to let you tag along.
Here are some ice fishing excursions you book online:
10. See the Iditarod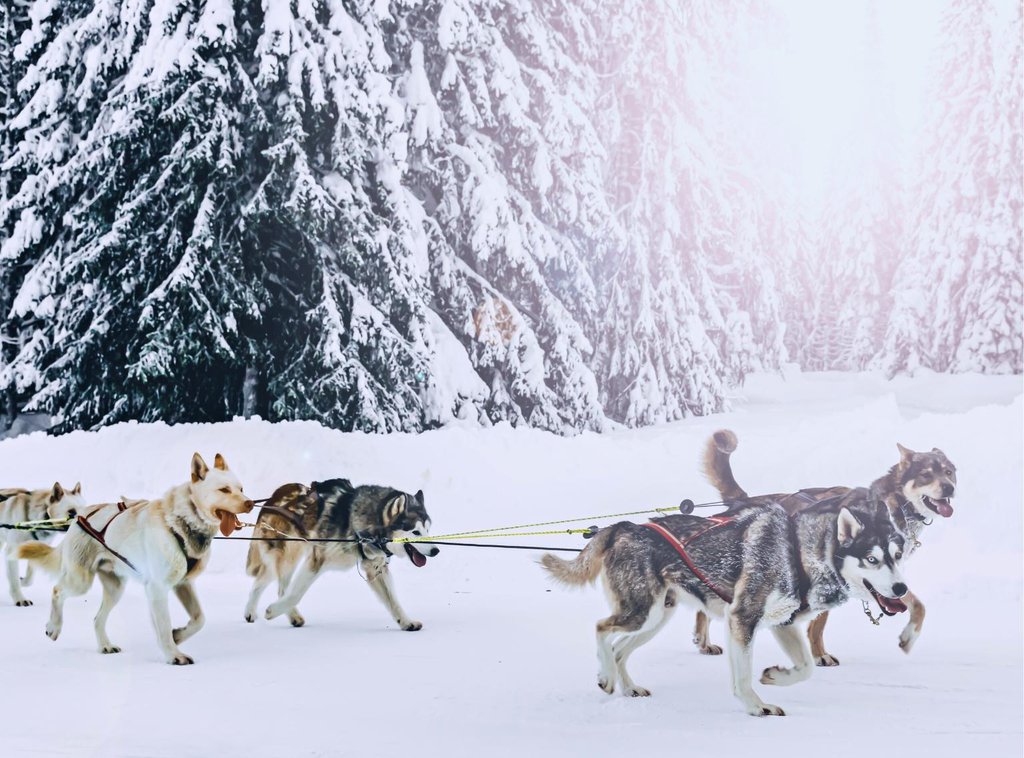 The Iditarod as we know it now began in 1973 and is often referred to as "The Last Great Race.". Every March, mushers race a team of 16 dogs from Anchorage to Nome, roughly 1,000 miles through brutal weather conditions.
You can catch the opening festivities in Anchorage or book a tour out to one of the outlying checkpoints. Super Iditarod fans who want to see the more remote places should book a charter early because these small planes tend to fill up quickly.
Those who want to see the end of the race should head to Nome, where the mushers will cross the finish line. The race participants start arriving in Nome roughly eight days from the start of the race.
11. Experience Fat Biking
The wheels on fat bikes may look like they have been stolen from a motocross setup and grafted onto a bicycle. However strange they look, the sport is about making a favorite sport viable regardless of Mother Nature's plans. Fat biking allows you to enjoy the bike trails even on a freezing Alaska January day.
Anchorage's trail network expands during the winter, making it the best site for winter fat biking. Join one of the winter fat riding outings to discover how these 4″ to 5″ tires perform in wintery conditions.
Outside of the city trails, you can also find a fatbike tour to take a ride on a glacier — a great way to spend a day. With more daylight returning and temperatures rising, late winter into spring is the perfect time for glacier riding.
Check out this excellent Winter fat biking tour in Anchorage and book asap as the slots fill up fairly quickly.
12. Go Ice Skating
If you enjoy venturing out into the snow for thrilling ice skating sessions, Alaska is the place to be. While it is possible to grab your skates and head out to the nearest pond, you can also find excellent ice at the Treadwell Ice Arena in Douglas — an indoor spot with inexpensive admission and skate rentals.
Those staying in Anchorage can enjoy a day of ice skating at Portage Lake, where you can have fun in view of the glacier. Those with adventure in their blood can even skate on the glacier, but be wary of the conditions as the ice isn't always ideal for skating.
13. Enjoy Skiing or Snowboarding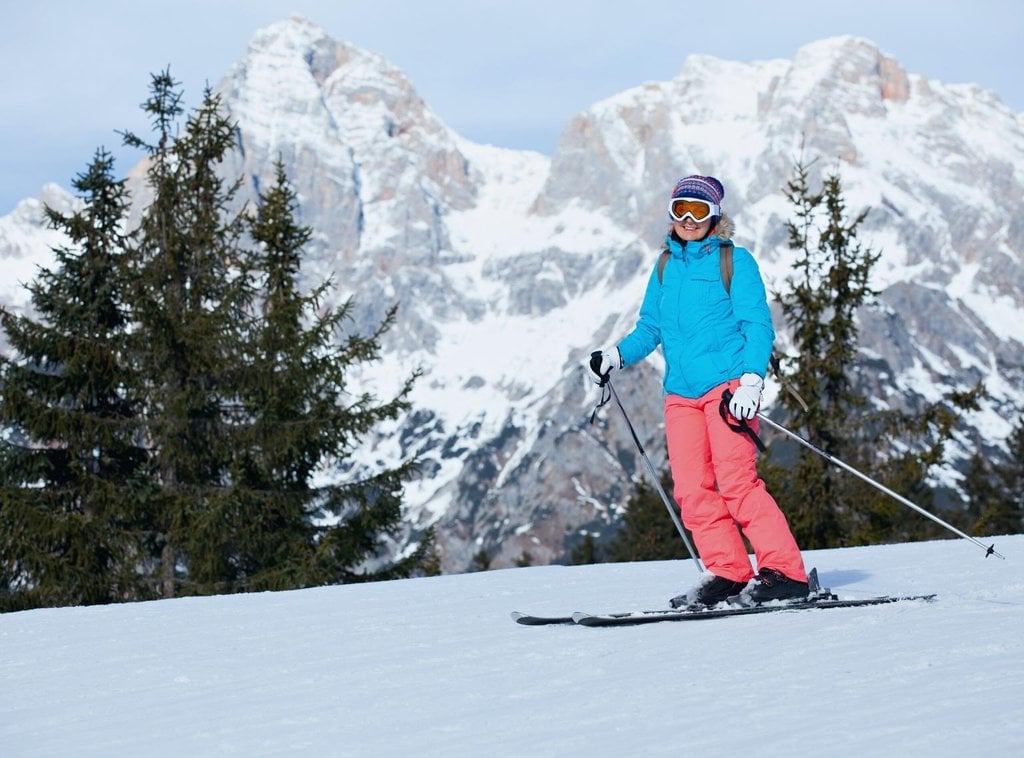 When skiing in Alaska, one thing is certain: there will be plenty of snow. Each year, resorts can receive more than 40 feet of snow. These ski resorts are typically midsize and cater primarily to the Anchorage and Fairbanks skiing communities. The ski season is open from late November through the end of April.
Resorts to consider if you are heading to Alaska for a snowboarding or ski vacation include:
14. Visit the Fur Rendezvous
The Anchorage Fur Rendezvous is Alaska's largest and oldest winter festival, and it takes place each year in late winter. Participants can enjoy the 25 official events or the 50 Rondy Around Town community events.
The celebration, dubbed Fur Rondy by locals, has been going on since before Alaska was even a state. It began in 1936 as a three-day athletic event planned to coincide with the return home of miners and trappers with the fruits of their labors over the winter.
The festival now brings together up to 45 different charity organizations, making it a community-wide event.
15. Visit a Glacier
While witnessing glaciers at any time of year is a delight, they are much more spectacular in the winter. Glaciers are known to melt in the summer and are frequently covered in mud and boulders. They are typically a perfect white in the winter, with fractures that seem to emit that magnificent glacial blue.
It is important to note that some glaciers, such as Exit Glacier, are challenging to reach in the winter due to snow-covered pedestrian routes. As a result, I usually advise hiring a local professional guide so that you can be prepared with the proper safety equipment.
You'll find plenty of options here to choose from. Click on this link and select the tour in or near your city.
16. See Winter Wildlife
A winter visit to the Last Frontier opens up some unique wildlife viewing opportunities. It's not uncommon to see white hares and ptarmigans — the state bird – on a snowy trail. The animals don't have their white coats in the summer, meaning they blend in almost entirely with the scenery making them difficult to spot.
Also common to see in the winter are eagles, moose, and Dall sheep. You'll see plenty of animals if you visit the Alaska Wildlife Conservation Center or go on this excellent wildlife excursion.
The best tours for wildlife viewing in Alaska I know of are the following ones:
17. Go Ice Climbing
The process of ascending sloped ice formations is known as ice climbing. Ice climbing usually refers to roped and sheltered ascents of icefalls, frozen waterfalls, and cliffs and rock slabs covered with ice refrozen from water flows.
You don't need any ice climbing experience to book a tour on your winter trip to Alaska. You'll find partial day, full day, and multiple days options to explore. Many are full-service tours including all the gear you need and transportation to base camp. Choose a tour that matches your skill level and has a duration you are comfortable with. You can ask your hotel and they will contact the best options for you.
18. Experience 24 Hours of Night
A common question people ask when I tell them I grew up in Alaska is, "Was it really dark all the time in winter?" While the area I grew up in (Kodiak) does not have 24 hours of darkness — winter daylight hours hover around 6 or 7 — there are places in the Last Frontier that experience continuous darkness.
In Utqiaġvik, the northernmost city, the sun sets in November and doesn't come up again until January. If the idea of an extended night appeals to you, head to the top of Alaska for a few days. Just remember to pack your warmest clothes, as the winter temperatures stay below zero.
Enjoy Alaska As a Winter Wonderland
Although most spots in the state are worth visiting in the winter, many sections in Alaska, such as roads and train tracks, will close for the season. If you are worried about traveling during the winter season, basing your trip in Anchorage will be the best bet. As a major urban area, most things are open all year round. Many of the smaller areas or cruise ship destinations will close up during the colder months, but this may not be a bad thing as the places frequented by locals should still be open for business.