16 Most Beautiful Waterfall Hikes in Arizona
There are few things more beautiful and mesmerizing than water plunging over a cliff or cascading down rocks and boulders. Waterfall hikes are immensely popular throughout the country, and especially popular in Arizona. Water may be more scarce here, but we have no shortage of incredible waterfalls and trails that will take you right to them.
Arizona is a rugged state, and not every trek to a waterfall is going to be easy. Some of these hikes require a multi-day trip, while others are more accessible to all levels and ages.
Many waterfalls are seasonal, meaning they may not be flowing year-round but you're lucky to see them when the conditions are right. After a few days of heavy rain or towards the end of the rainy monsoon season, all the waterfalls in Arizona are at their best.
This list consists of waterfalls in Arizona that require a hike to get there, meaning you need to put in some work to reap the rewards! Few great things in life happen without some effort, and hiking to Arizona's beautiful waterfalls is no different.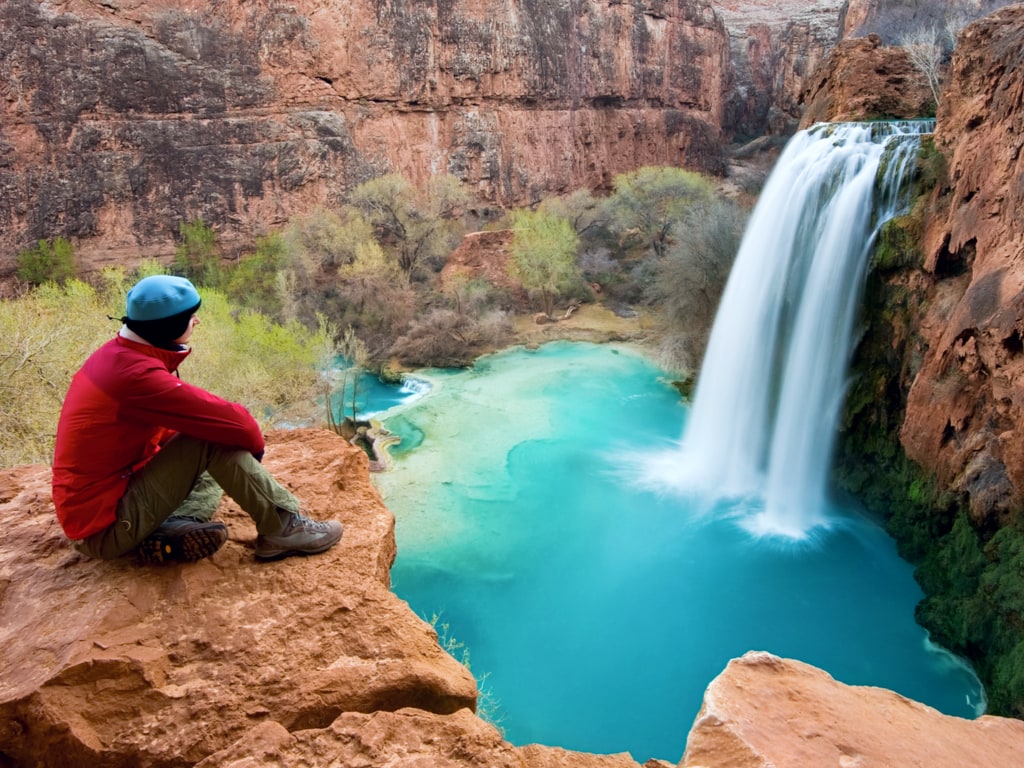 1. Cibecue Falls
Located on the Apache Reservation, you can get a permit to hike to these beautiful falls that are usually flowing year-round.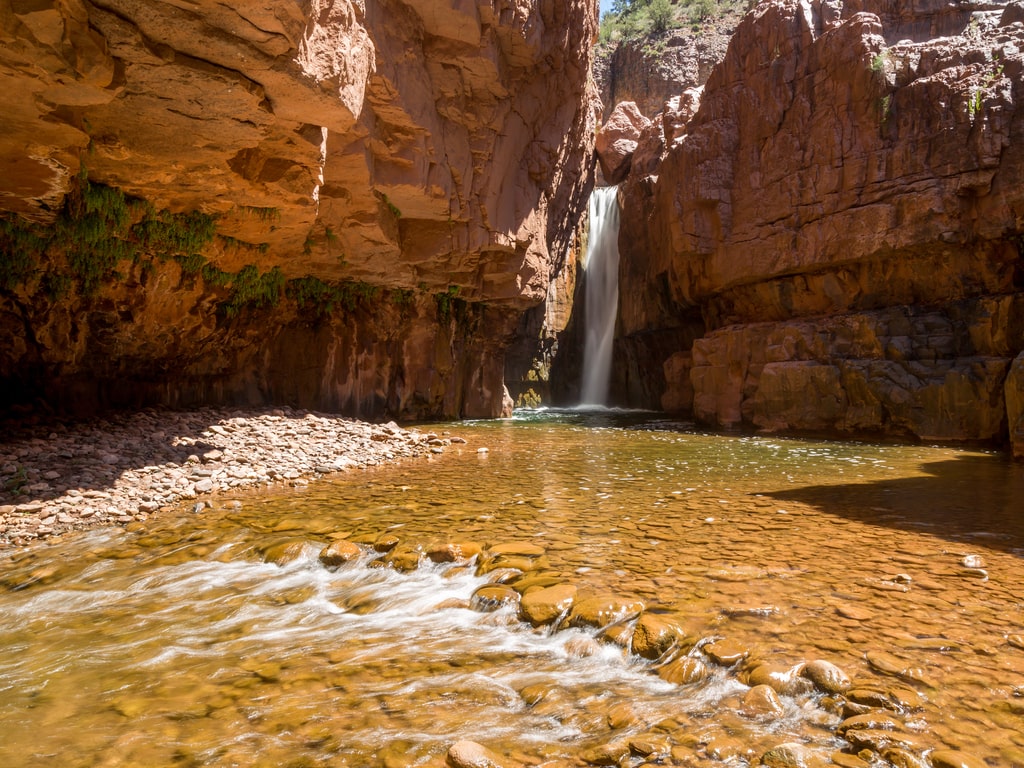 The trail follows the Cibecu Creek, which eventually flows into the nearby Salt River, and you'll find yourself crossing the creek several times during the two-mile trek to the falls. You'll have to do some fun bouldering and rock hopping, so wear shoes that stay grippy when wet.
Dogs are allowed on this trail, and your water-loving pups will have the time of their lives playing in Cibecue Creek along the way. At the actual falls, no swimming is allowed (to protect the delicate ecosystem) and that includes your four-legged friends.
Cibecue Falls is especially beautiful, as the 30-foot tall cascade falls between narrow rock walls into a natural alcove. Due to the narrowness of the slot canyon, this area is prone to flash flooding, so always check the weather beforehand!
Overall, this hike is 4 miles round trip and usually takes hikers about 3 hours to finish. The dirt road to the trailhead can get rough, so a high-clearance vehicle is recommended.
Be sure to buy a permit in advance. If you plan to camp, there are primitive campsites available near the trailhead.
Respect the local cultures and enjoy this oasis in the Arizona desert!
2. Fossil Creek Falls
Fossil Creek has long been a favorite summer destination for hikers. The regulations surrounding access to the trail have changed in recent years, and now it is a bit of a longer drive (you must go through Camp Verde) to get to the trailhead but it is more than worth it.
Fossil Creek Recreation Area is only open from April to October, and a permit is required to park in the lots. Again, a little more work than most hikes in Arizona but very much worth the effort.
Fossil Creek is crystal clear and refreshingly cold year-round, and water gushes from the ground in various spots from natural springs. The waterfalls and swimming holes nearby are gorgeous and provide plenty of room for swimming and playing.
Dogs are not allowed here due to the fragile nature of riparian areas.
The Waterfall Trail is 2 miles round trip, making it fairly accessible to hikers of all levels. However, the parking lots vary in distance from the trailhead, so you may end up hiking up to 6 miles round trip depending on what lot you reserve.
Always bring plenty of water and food; even in the more mild temperatures here, it is still desert and can get hot quickly. Luckily, there's a cold creek nearby to stave off heat-related illnesses! Swimming in the cold pools of Fossil Creek is an excellent way to spend a long summer day.
➡ Read my detailed guide about Arizona Fossil Creek.
3. Tanque Verde Falls
This adventurous hike near Tucson is especially fun for those who love boulder climbing and rock hopping.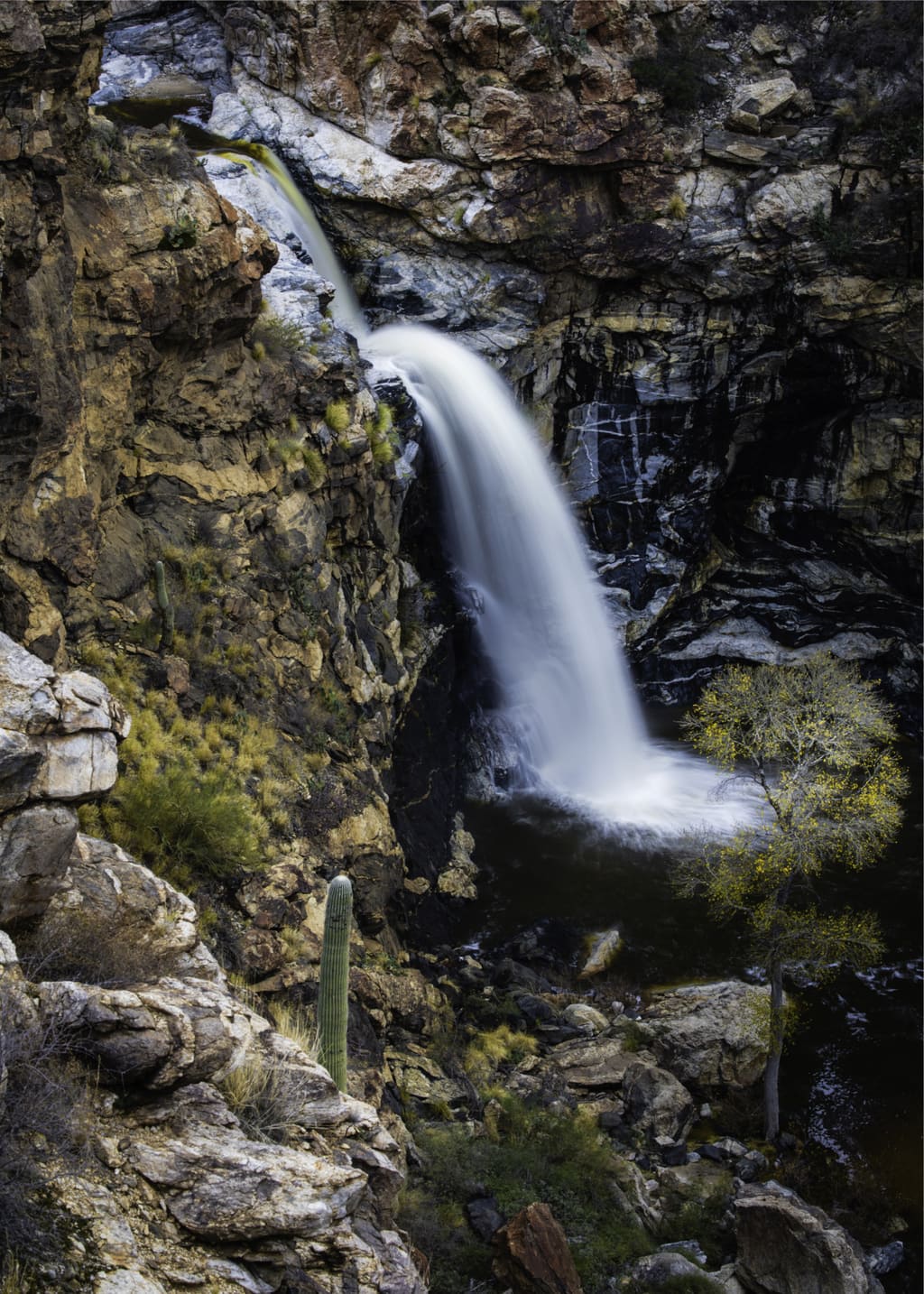 The trail takes you up a small canyon to a large pool, and during high water season, the small waterfall cascades over a series of rock formations to the pool below.
I would recommend doing this hike after a period of lots of rain for the best conditions.
The pool below Tanque Verde Falls even has a small beach area, making this the perfect place to ditch your shoes, lay out, and soak up some vitamin D. It truly is a little oasis in the hot desert.
The trail can be hard to follow at times but keep on the lookout for rock stacks and other markers to guide your way.
This can be a busy hike on weekends, but go on a weekday and you may have the place to yourself! The total distance varies from 1.9 to 2.5 miles round trip, depending on how far you go up the canyon. Expect to spend about 2 hours here, between hiking and enjoying the cool water.
4. Havasu Falls
Havasu Creek is one of the most beautiful and most photographed areas in the entire state of Arizona. People travel from around the world just to view Havasu Creek and its waterfalls in person.
Getting here requires a permit, 11+ miles of hiking, and 2-3 nights of camping.
Located on the Havasupai Reservation, the only way to get to the falls is by hiking two miles past the small village. There are no cars in the village of Supai, and it is only accessible by foot, mule, or helicopter!
Havasu Falls is towering and thunderous; the noise, as it bounces off the tall red rock cliff faces, has been likened to that of a freight train. The pool below is shockingly blue (from minerals in the water) and is cold year-round. The waterfall itself is 100-feet tall and surrounded on all sides by dark red rock formations. This oasis reminds one of the Grand Canyon, which is fitting since the Canyon itself is only 8 miles downriver.
Havasu Falls is the most famous of the waterfalls here in Havasupai and is just a short walk from the Havasu Campgrounds. However, you have to hike a total of 11+ miles just to get to the campgrounds, and reservations require a minimum of 3 nights' stay. The difficulty of getting here and the exotic nature of the canyon make this a once-in-a-lifetime hike.
The trail starts at Hualapai Hilltop, and switchbacks down to the canyon floor, after which you'll spend the next 8 miles in a narrow slot canyon (watch for flash floods!) before reaching the village of Supai. Be respectful of the People who live here, and be sure to grab some delicious Navajo Tacos at the restaurant before heading the last 2 miles to the campgrounds.
5. Mooney Falls
Another mile farther downstream from Havasu Falls, you'll come across Mooney Falls. Named for a mining prospector who died from trying to rappel to the bottom of the falls many years ago (a little morbid! I know.), Mooney Falls cascades an astonishing 200 feet from the top to the pool below. Getting to this pool requires a hair-raising climb down through old mining tunnels.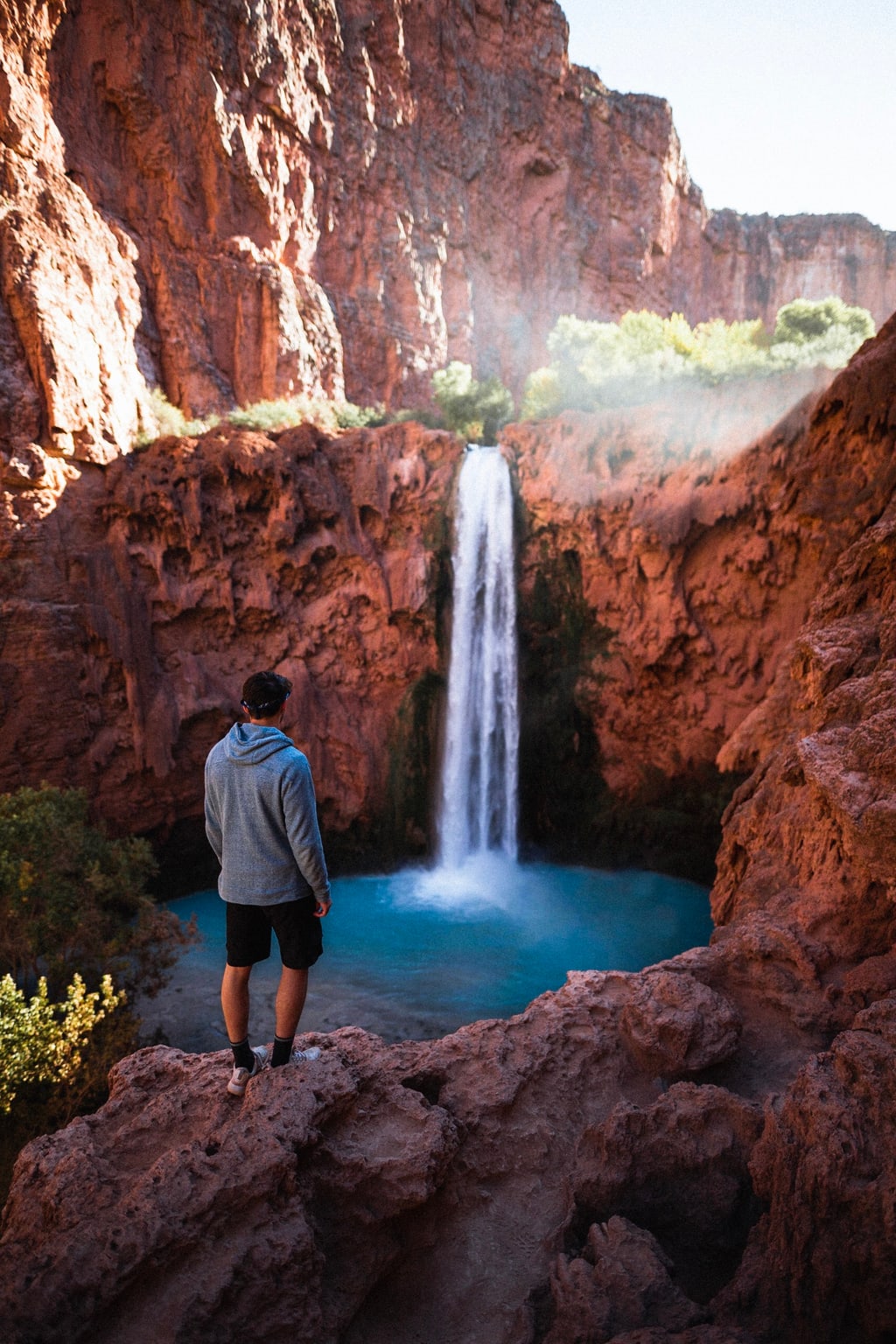 Standing at the top of the waterfall, one can certainly appreciate its splendor. To enjoy it at its fullest, descend (at your own risk!) down the series of tunnels, chain-assisted rock climbing, and ladders that can be slippery from the mist of the waterfall nearby.
Once you're at the bottom though, you'll find yourself just standing there and taking in the insane beauty of Mooney Falls; it makes the slightly-harrowing journey worth it!
Getting here requires the same hike as getting to Havasu Falls, plus all the same reservation and camping requirements. Depending on where you camp, it is ¾ of a mile to a couple of hundred yards to the top of Mooney Falls from the campgrounds. Out of all the waterfalls along Havasu Creek, Mooney Falls is my ultimate favorite just for sheer size and beauty.
6. Beaver Falls
Most visitors to Havasu Creek don't make the extra 8-mile round trip trek to Beaver Falls from the campgrounds, and instead spend their days at the other, more well-known waterfalls closer to camp.
However, if you are ever lucky enough to make it to Havasupai, make room in your itinerary for a hike to Beaver Falls.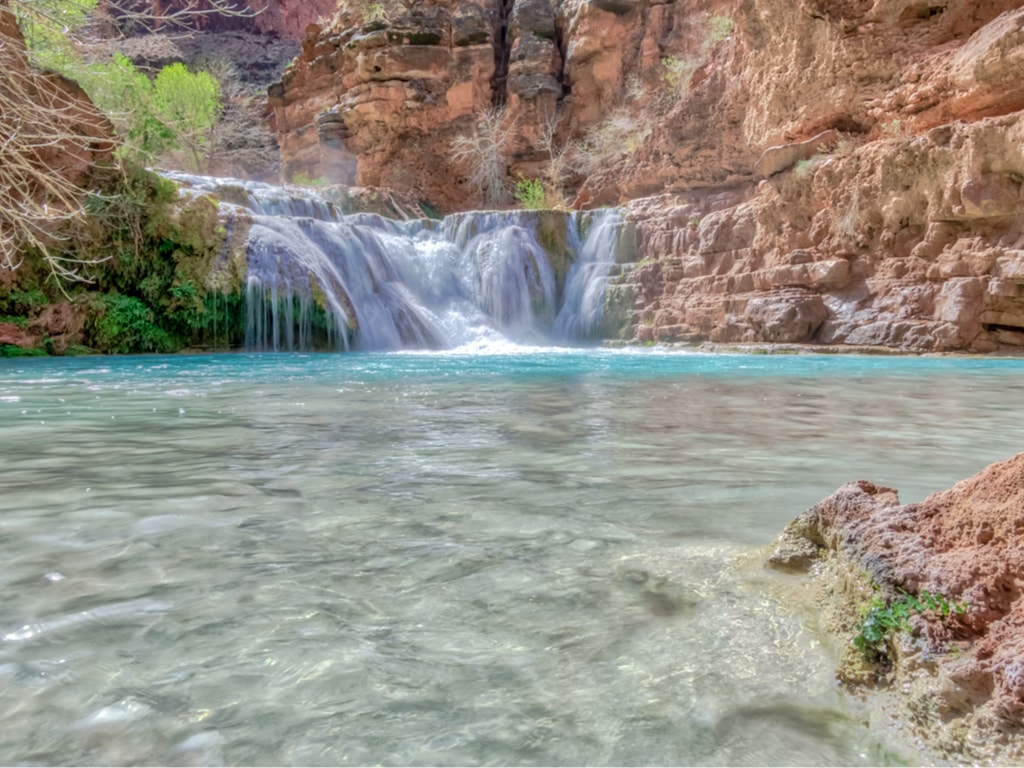 A series of cascading limestone terraces and waterfalls, Beaver Falls is an adventurer's dream; cliff jumping and swimming in the turquoise water can provide hours of entertainment for those that make the trip.
The trail crosses the creek several times, and there is both a "dry route" that hugs the canyon walls and a "wet route" that follows the creek more closely. Each route is great, and most people choose one on the way out and the other on the way back.
Try to make sure you make it back to the campgrounds before dark; even though you're in a slot canyon, you still want to be able to keep track of the trail at all times!
Along the way, you might see some local Arizonan wildlife (like the elusive coatimundi, which looks like a long-tailed raccoon), some interesting fauna, and fascinating rock formations formed by eons of flowing water.
7. Blue Wash Trail
Blue Wash Trail is a fun family-friendly hike to a pool and small waterfalls. The proximity to the Phoenix Valley can make this trail pretty crowded on the weekends, but it is well worth the trip. Come first thing in the morning for fewer crowds and ideal weather.
The hike starts at the Blue Wash trailhead and descends about 400 feet overall. Since the trail starts downhill, this means you'll be going uphill towards the end of your trip, so plan accordingly with plenty of water and food. There is no shade on this hike, so be prepared for that Arizona sun!
The trail is easy to follow and takes you along a mostly dry wash with intermittent pools. During more rainy seasons, watch for flash flooding and deep water- always check the weather beforehand, especially during Arizona's monsoon months. You may have to cross water a couple of times, but both kids and dogs will have a blast! At 2.8 miles round trip, this is a great half-day hike for families.
8. Hieroglyphic Trail
Another family-friendly hike for kids of all ages, the Hieroglyphic Trail climbs gently through the Superstition Mountains until you come to a series of rock formations, cliffs, and small waterfalls.
The trail is a bit of a misnomer- it actually gets its name from the ancient petroglyphs carved by hand into the rocks, depicting scenes from hundreds to thousands of years ago.
This is a seasonal waterfall and creek area, meaning you'll want to visit during wetter months to see it at its best. Hieroglyphic Trail is still fun, however, even if the water isn't flowing. Kids will love the wide, easy trail that only gets rocky towards the top, and even then it is fun to jump from rock to rock until you get to the end.
You'll be treated with gorgeous views of the eastern part of Mesa, Queen Creek, and Gold Canyon as you hike back. This trail is also dog-friendly, and if you love wildflowers, make the trip from March to May for beautiful colors spreading across the desert. This hike is doable for most ages and abilities.
9. Massacre Falls
Massacre Falls is a seasonal waterfall in the Superstition Mountains. After a few days of heavy rain, you'll see lines of hikers trekking up to the base of these falls to take in the beautiful water cascading over a large rock face. It may only be running a couple times a year, but it is stunning when it does!
If you can catch Massacre Falls after a spring storm, you'll also get to enjoy incredible expanses of wildflowers as far as the eye can see, spreading out in the foothills of the Superstition Mountains. The trail itself is rocky and rough in parts, and climbs steadily through the foothills right up to mountain, where you'll find the waterfall dumping into a small pool below.
Massacre Falls trail climbs over 1,000 feet from start to finish and is in full sun for the entire hike, so plan accordingly with plenty of water. I personally wouldn't attempt this hike in the summer months, but if you do, go as early in the morning as possible. Hikers will enjoy weaving through the rocks, cacti, and other desert fauna on your way to the falls. The waterfall itself is usually a trickle, but even a little flowing water in the desert is a big deal!
10. Bear Canyon to Seven Falls Trail
By far one of the most popular trails in the Tucson area, these seven seasonal falls are truly spectacular at their peak flows.
The trail can vary in length depending on where you start: a $6 shuttle runs from the Sabino Canyon visitors center every hour that will take you the first two miles to the trailhead, or you can hike a little longer from the visitor center.
The trail crosses a stream several times, and when the water is higher you'll have a harder time keeping your feet dry. Water crossings are half the fun of this hike! Bring sticks if you feel like you need extra balance. The trail slowly climbs up the canyon until you get to the Seven Falls, a series of cascades that pour over small cliffs and boulders into a large pool below. This is an incredible spot for a picnic and makes for a great reward for making the trek. You come back the same way you came in and go slow to enjoy the many cactus and shrub varieties that line the trail.
11. White Tank Waterfall Trail
This is one of the more popular trails in the west Phoenix valley, and it's especially unique since the first half of it is paved and wheelchair accessible. The remainder of the trail is flat and packed dirt, so if your wheelchair is more sturdy with mountain tires, you could potentially go all the way to the falls!
Along the way, keep your eye out for petroglyphs carved into the rocks, relics from ancient populations that used to inhabit this area. They likely carved these pictures as a signal for water nearby! The 1.8 mile round trip trail is perfect for smaller kiddos, older grandparents, and those who may not be used to hiking. The very little elevation gain makes for a lovely stroll.
The waterfall at the end of the trail is seasonal, like most in Arizona, so you'll want to hike this trail after heavy rain. Even when there isn't water flowing, the wildflowers and towering saguaro more than makes up for it! Springtime is an excellent time of year to come catch the incredible flowers in abundance.
12. The Jug
Looking for an adventure? Hiking The Jug should be on your list! This trail is a combination out and back and loop (creating a "lollipop" shape) and you'll spend the loop section entirely in a creek. This is definitely considered a water hike, similar to what you'd find in slot canyons in Utah. The out and back section is in full sun and can be pretty exhausting on the way out, so be prepared with plenty of water and sunscreen!
The most exciting part of this hike is the waterfall towards the end of the creek section. Be advised, you'll either need to jump (only if the water at the base is deep enough!) or bring rappelling gear if the water is low. If you don't have the required gear or the conditions aren't right for jumping, you can simply turn around when you reach this point and hike back the way you came.
This is definitely a hike for reasonably fit and adventurous people, and definitely shouldn't be attempted by those unfamiliar with the area. The waterfall and pool underneath are beautiful when viewed from below, so getting to the bottom, however you need to, is worth it! In low water, the rocks can be more slick with algae so you'll want to do this adventure when conditions are just right!
13. Water Wheel Falls
First things first- this is a major flash flood area, and storms can pop up very quickly in this part of Arizona, so always check the weather beforehand! Even storms from miles away can cause a flood to rush through Water Wheel. Now that the safety lecture is out of the way, you can confidently have fun in this little mountain oasis near Payson, Arizona.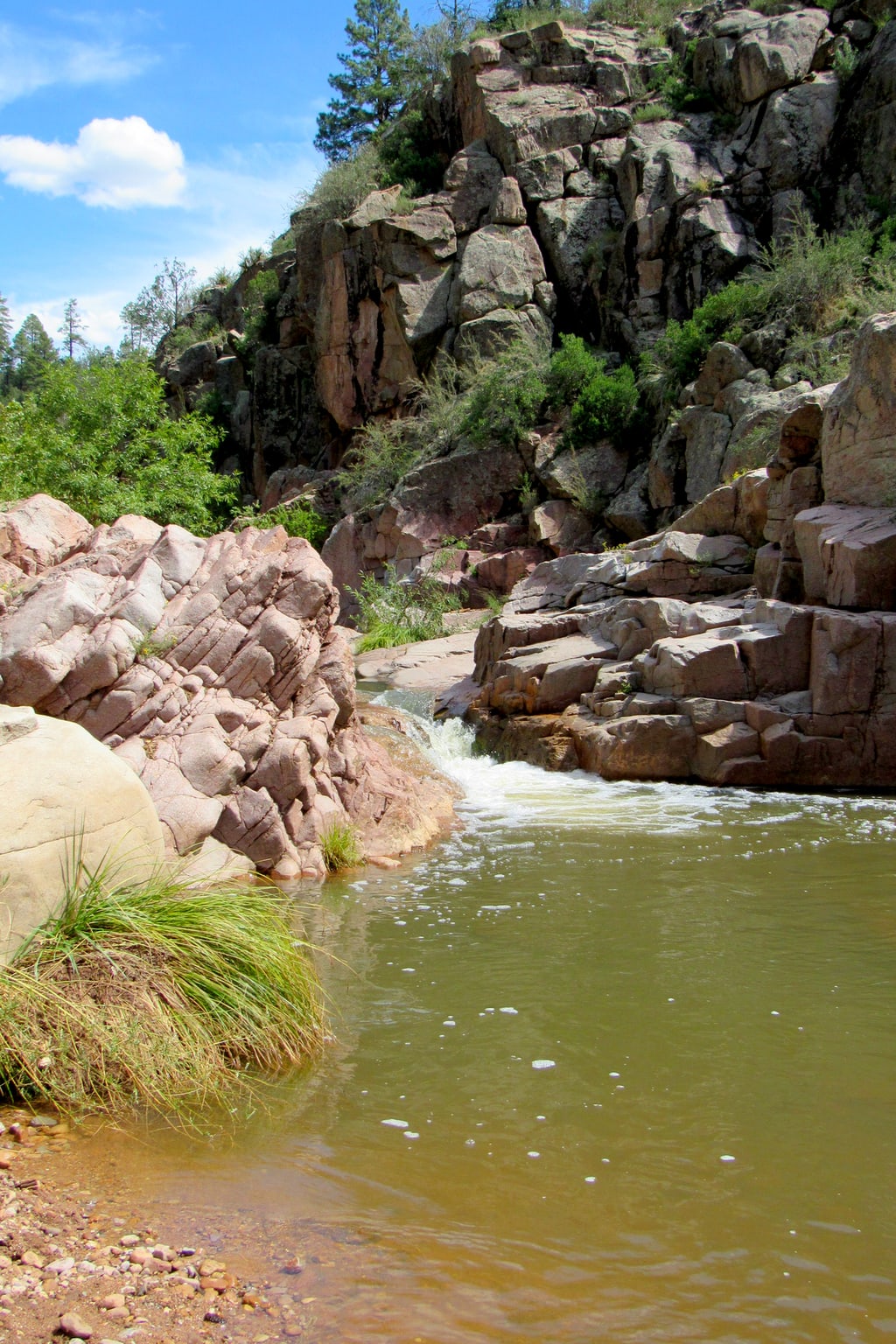 Water Wheel Falls trail is less of a trail and more of a wandering creek bed; as long as you stay in or close to the wash, you won't get lost! Ellison Creek winds through the pines and there is quite a bit of rock scrambling and creek crossing to get to your destination, Water Wheel Falls. On weekends in the summer, this is an especially busy area, but you'll still have plenty of fun!
Dogs will love this hike, as they can pick their own way through the creek and boulders. Your family will also enjoy dipping into the creek now and then to cool off. Even in the mountains, it can still get pretty warm in the summer, which is why this is such a top destination for hikers at that time of year.
➡ I wrote a complete guide about this trail with pictures, maps, and pro tips. Check it out here: Water Wheel Falls Guide.
14. Reavis Falls Trail
One of the longer hikes on our list, the trek to Reavis Falls takes you through some of the finest desert terrains that Arizona has to offer. The Superstition Wilderness is home to many hidden treasures such as old ranches, waterfalls, canyons, and fascinating rock formations. The hike to Reavis Falls shows you all the best the Superstitions has to offer.
The 13-mile out-and-back trail to Reavis Falls takes you through smooth singletrack, rock ridgelines, and boulder hopping through creek beds. This hike is better suited for stronger hikers due to its long length and 3,300 feet of elevation gain. The reward in the middle of your hike is Reavis Falls, which flows over a tall rugged cliff wall and almost resembles a wedding veil.
Some choose to do this hike as an overnight backpacking trip, and there are a few great camping spots near some juniper and ironwood trees near the highpoint of the trail. The scramble down into the canyon where Reavis Falls is and back out can get pretty rough and rocky, so be sure to bring plenty of food and water. This is a great hike for those looking for a challenge.
15. Ribbon Falls Via North Kaibab Trail
For those hiking from the North Rim to the South Rim in the Grand Canyon, many choose to take this detour to Ribbon Falls.
You don't have to do the full rim-to-rim hike, however, to enjoy this oasis in the desert.
The falls themselves are otherworldly, cascading down on eons of mineral deposits that have created a cone shape under the falls.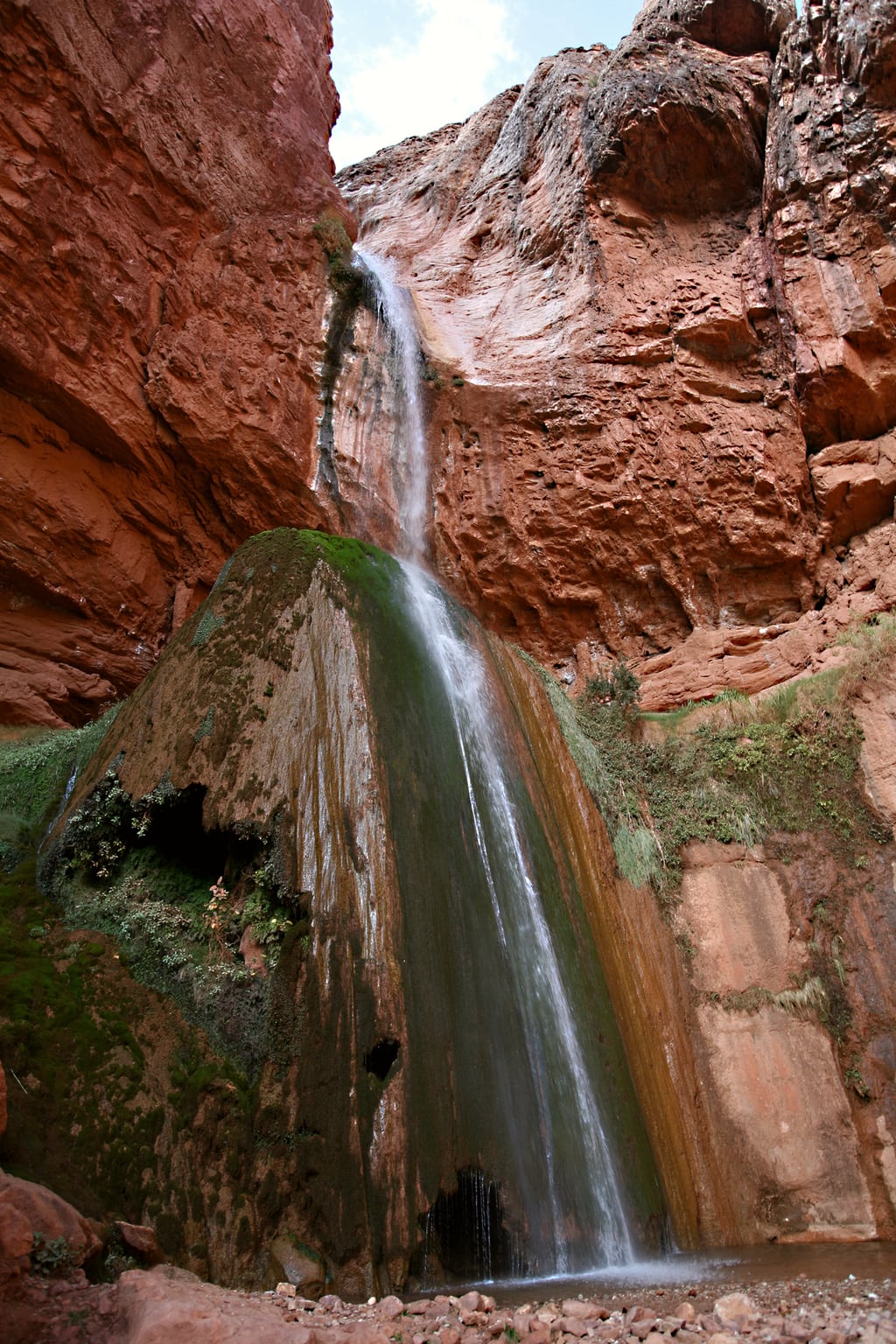 North Kaibab trail starts near the North Rim visitors center, and you can only access this trailhead by car from May to October. Be advised that while the rim of the Grand Canyon can be cold, as soon as you drop down into the canyon, the temperature can soar much higher. You also cannot always count on the water sources being available, so check ahead and plan accordingly!
Hiking in the Grand Canyon is no joke! Many people are deceived by how seemingly easy the descent into the Canyon is, but remember, you'll have to climb back out! As you hike down North Kaibab trail, you'll see the turnoff to Ribbon Falls about 7.5 miles in, and it's another mile to the base of the falls. Take in the gorgeous falls before turning around and climbing back out. Take breaks on the climb to enjoy the unmatched beauty and views of the most incredible canyon in the world.
16. Grand Falls
Featuring one of the most incredible waterfalls in all of Arizona, the Grand Falls View Trail is a short jaunt to a viewpoint that allows you to take in Arizona's largest waterfall. While Grand Falls is seasonal, when it is flowing, it is truly magnificent! The best time to view this series of cascades is during monsoon season when the chocolate-colored water pours over limestone cliffs to a small canyon below.
As Grand Falls is located on Navajo Nation land, always be respectful of the landscape and people that live here! A common complaint of getting this hike and waterfall is the dirt road- 8 miles of bumpy washboards can make it a little harder for smaller vehicles, but most cars can make it with slow speeds!
The hike itself to the base of the falls is short, just over a half-mile, but you are rewarded with views of the Little Colorado River dumping over cliffs that are 181 feet tall. Sometimes the water is no more than a trickle, but at its best conditions the brown, silty water practically roars into the canyon below. While it is a bit out of the way, hiking to Grand Falls is more than worth the journey.
Before You Go
While Arizona is a desert state with fewer natural water sources than most other states, there still are plenty of beautiful waterfalls to be found throughout the state! Most of these waterfalls require some extra work to enjoy them, including hiking trails ranging from 1 mile to over 15 miles or more!
Hiking can be more enjoyable and worthwhile if there's a reward at the end, and the best reward on a hot Arizona day is some cool water at the end! Most of these hikes allow you to take advantage of the refreshing creeks and pools near the waterfalls by taking a dip.
Just like any hike in Arizona, know your route and be prepared for all kinds of weather and conditions! That's why I wrote this list of essential tips for hiking in Arizona, make sure to read and follow all of them!
Also, if you search for water hikes in general (not only waterfalls), then head over to my helpful guide about the best Arizona Hikes with Water.
Explore Arizona
Still wanting to learn more? Dive in our Arizona Travel Guides and discover the best places to visit, interesting things to do, budgeting tips, comfortable accommodation, and everything you need to plan your perfect trip in the state.