Top 14 Best Waterfalls in Arizona
Deserts are bone dry, blazing hot, and can seem completely desolate at times. More than half the state of Arizona is considered desert, and you wouldn't expect there to be much water, especially waterfalls, to be found here.
However, the diversity in the geography of the Grand Canyon State allows for some beautiful and truly unique waterfalls, and people have been known to travel from all over the world to see them in person.
I've lived in Arizona for most of my life and have been privileged enough to visit several of our iconic waterfalls.
Some of them require some extra leg work, some require permits, and some are only active at certain times of the year. All are worth the time and effort. Read on for some inspiration for your next adventure!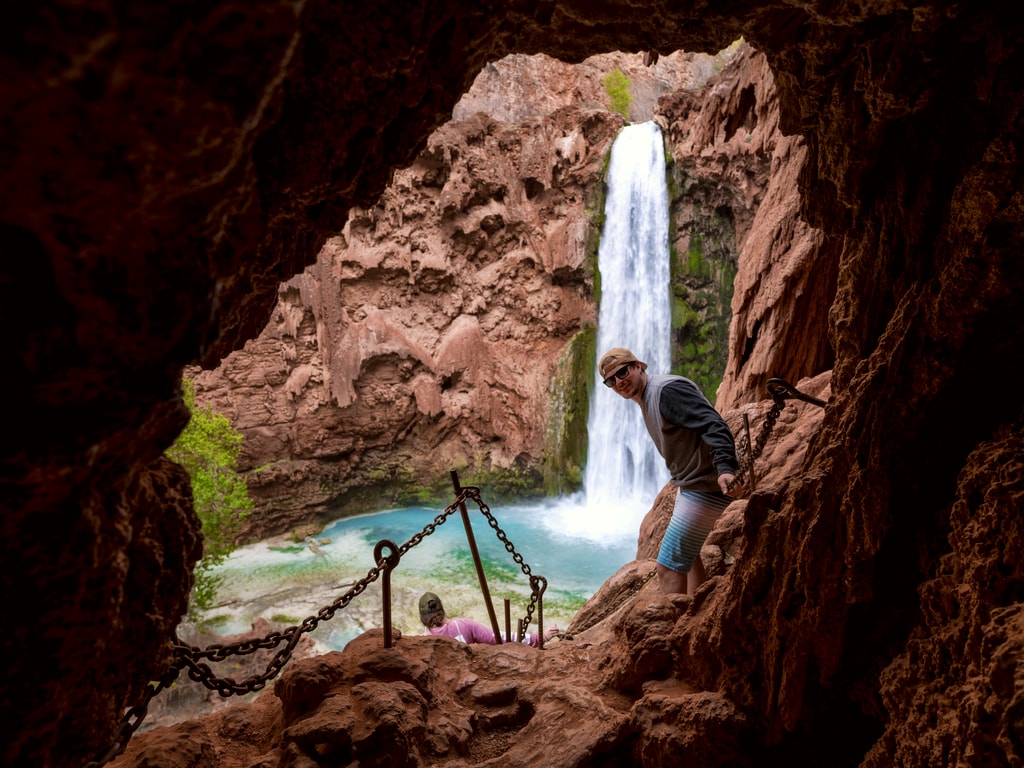 1. Fiftyfoot Falls (Havasupai Indian Reservation)
The most famous waterfalls in all of Arizona are located on Havasu Creek, inside the Havasupai Indian Reservation. They have become incredibly popular in recent years due to the rise of social media. The creek is a tributary to the Colorado River, and eventually empties into the Grand Canyon.
Getting to these falls is no small task – permits are required, and are notoriously hard to obtain. A difficult hike is also required to get to these waterfalls. The indegenous village of Supai, Arizona is only accessible by foot (a 9-mile hike), mule, or helicopter, and the waterfalls are another 2-3 mile hike past the small town.
There are four main waterfalls, all on Havasu Creek, and each one has a distinct light blue sheen due to the minerals found in the water.
The first one on our list being Fiftyfoot Falls: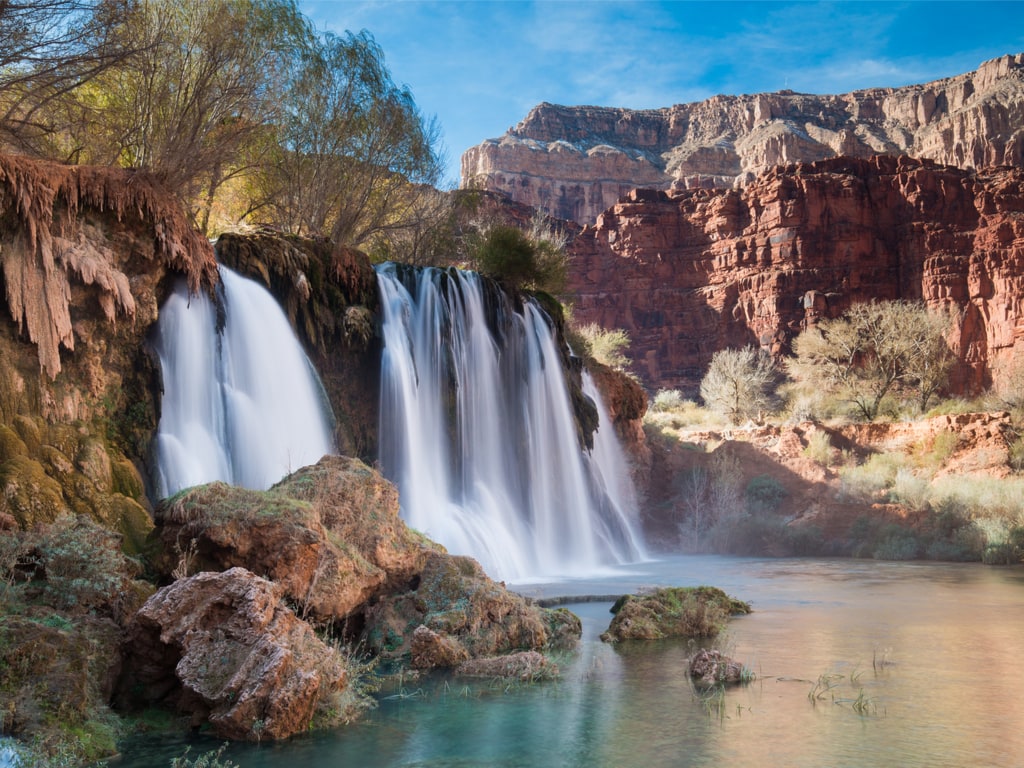 Also known as Upper Navajo Falls, Fiftyfoot Falls has a rocky edifice and can change year to year, depending on flood waters and subsequent erosion.
It was made bigger during the flood of August 2008, and is now over 50 feet tall, hence the name.
There are several small "islands" and rocky areas in the creek below the falls that create perfect picnic spots.
Location: Havasupai Indian Reservation, 64 miles northeast of Peach Springs, Arizona
Fees & Permit: Campsite permits open February 1st and sell out within minutes; $100-125 a night, depending on the dates
2. Lower Navajo Falls (Havasupai Indian Reservation)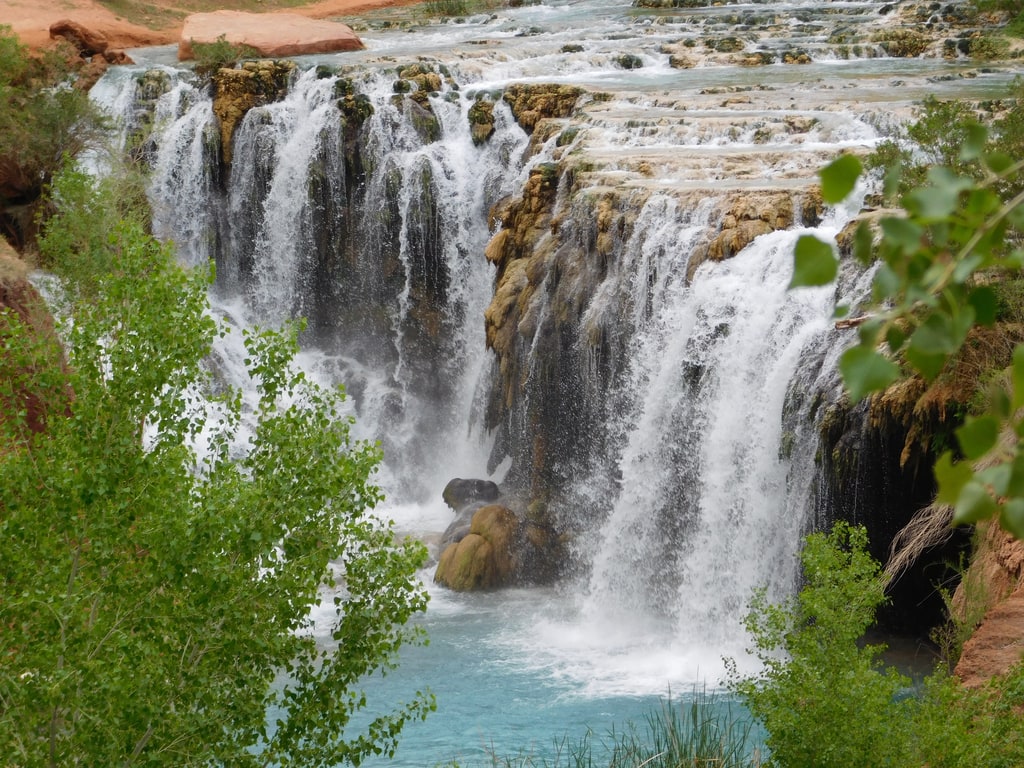 Also called Rock Falls, this is a popular cliff jumping spot!
It is easily accessed from the main trail and has a 30-foot height, perfect for adrenaline junkies who love to cliff jump into the swimming hole below.
Location: Havasupai Indian Reservation, 64 miles northeast of Peach Springs, Arizona
Fees & Permit: Campsite permits open February 1st and sell out within minutes; $100-125 a night, depending on the dates
3. Havasu Falls (Havasupai Indian Reservation)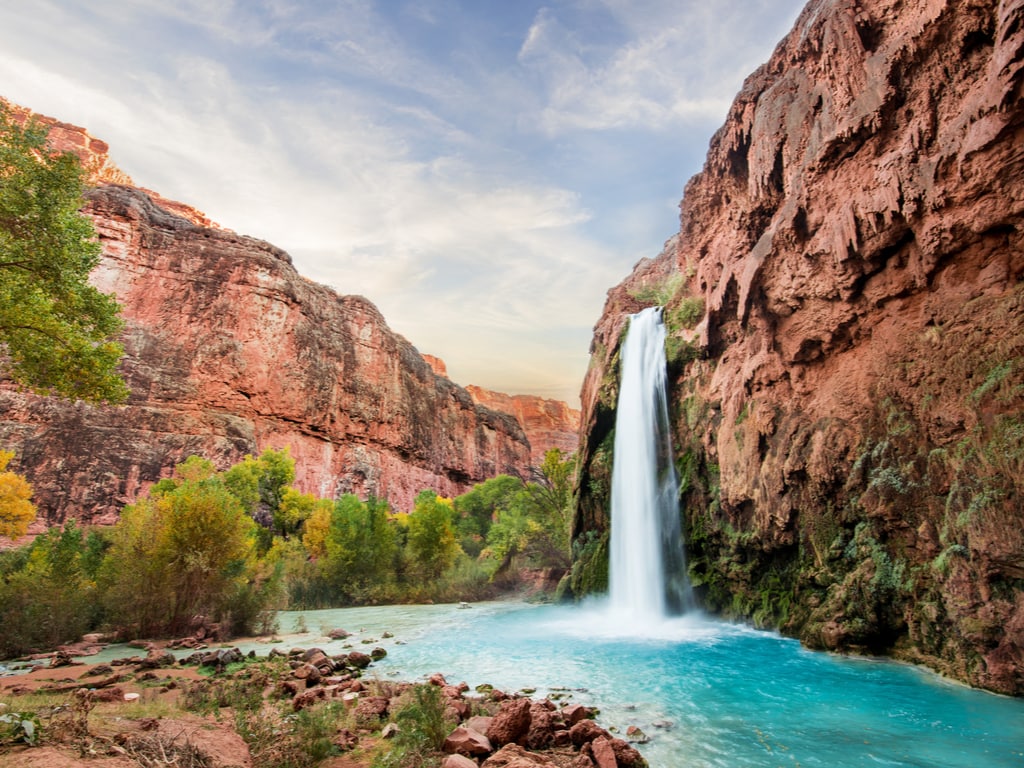 Located 1.5 miles downstream from Supai Village, this is a mammoth waterfall of 90-100 feet, and it drops into a stunning blue-green pool below.
It is the largest of the waterfalls in Havasupai, and arguably the most picturesque. The trail hugs the cliffside as it passes the waterfall, giving you the perfect vantage point for photos.
There are picnic tables below, and even a few large trees that are perfect for hanging hammocks and napping to the dull roar of the falling water.
Location: Havasupai Indian Reservation, 64 miles northeast of Peach Springs, Arizona
Fees & Permit: Campsite permits open February 1st and sell out within minutes; $100-125 a night, depending on the dates
4. Mooney Falls (Havasupai Indian Reservation)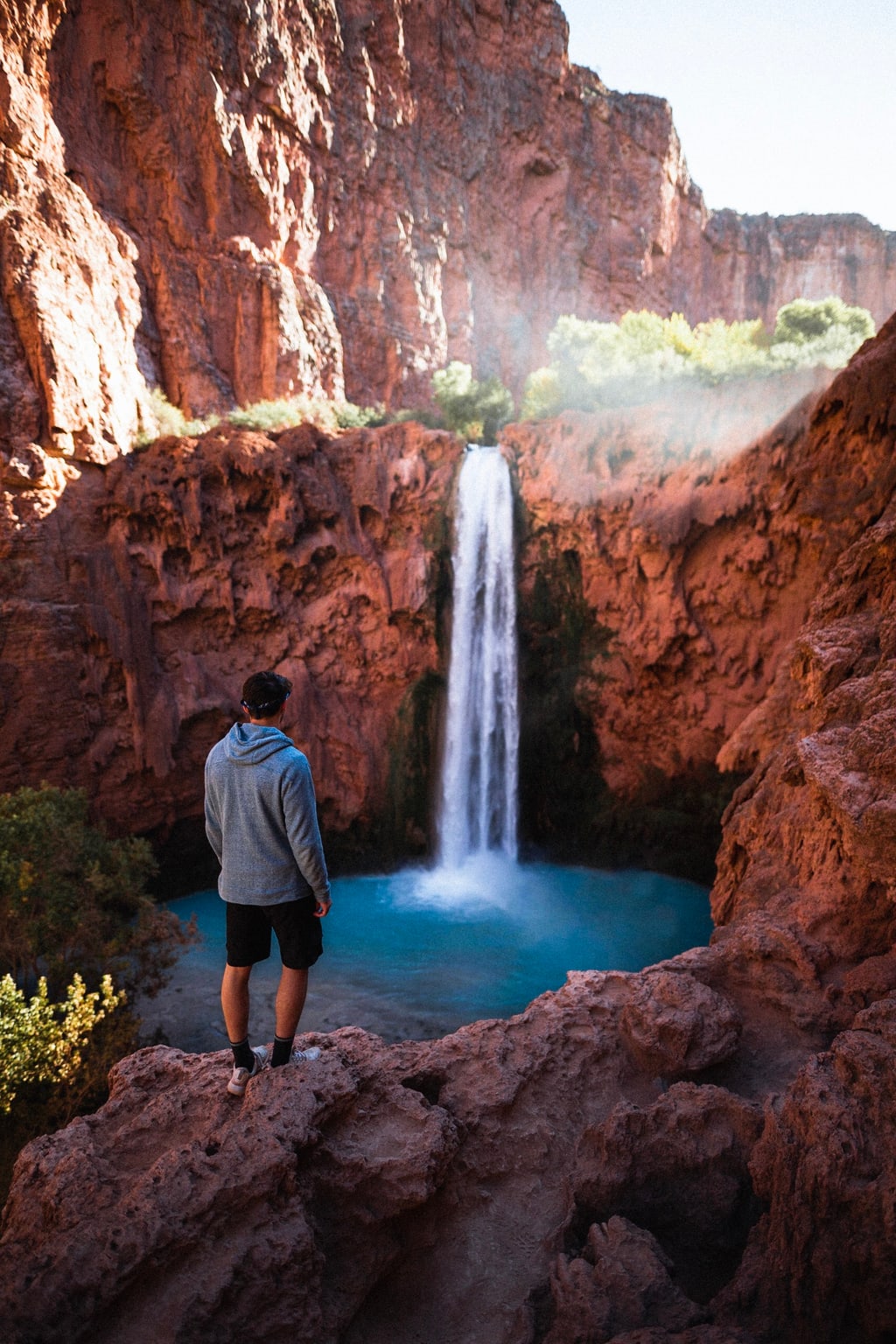 Named after a late 1800's miner who died from trying to climb these falls, Mooney Falls is the tallest of all the waterfalls on Havasu Creek with a 190 foot drop.
Descending to the foot of the waterfall is tricky, and can be dangerous during foul weather and when there are too many people. Involving a tunnel blasted into the cliffside, ladders, stair steps etched into the stone, and chains to cling to, this is not a route for the faint-hearted. Once you have made the excursion to the bottom, however, the view of the fall from below and the cool mist from the waterfall makes it completely worth it.
Seeing these waterfalls in person is a bucket list item for many people, so if you are able to snag a permit, make the most of it and soak in the beauty that can only be found here.
Location: Havasupai Indian Reservation, 64 miles northeast of Peach Springs, Arizona
Fees & Permit: Campsite permits open February 1st and sell out within minutes; $100-125 a night, depending on the dates
5. Grand Falls
These falls certainly live up to their name – grand in size and scale, it is taller than the famous Niagara Falls! This waterfall is only active at certain times of year: during the spring runoff in April and May, and after exceptionally large monsoon storms in late summer.
Grand Falls earned the nickname "Chocolate Falls" due to its brown color, reminiscent of Willy Wonka's chocolate river. The falls themselves are several tiers of cliffs, and you can even take the half mile trail to the bottom. Be aware of slippery mud near the base of the falls, and especially cautious during monsoon season as a sudden downpour can cause an abrupt flood.
There are picnic tables and gazebos at the lookout area, making this the perfect day trip from Flagstaff 30 miles away. Be respectful of the land here, as you are on sacred Navajo land.
If you can manage to catch Grand Falls in ideal conditions, it will be a sight that you will never forget!
Directions: Google maps will take you to the top of the falls instead of the more scenic overlook from the front. Follow these directions instead:

From Flagstaff take I40 east to exit 211 Winona
At the end of the exit ramp turn left and head north 0.2 miles
Turn left onto Townsend Winona Rd
Continue 2.1 mi and turn right onto Leupp Rd Navajo Route 15.
Continue 19.9 mi on NR15 and turn left onto Navajo Route 6910
Continue on Navajo Route 6910 7.9 mi
Merge onto Navajo Route 70
Continue on Navajo Route 70 1.1 miles, and turn left
Walk or drive the muddy roads following the map below till you reach the overlook

Entrance/Parking Fee: Going anywhere on Navajo land requires a permit. Obtain one here
6. Cibecue Falls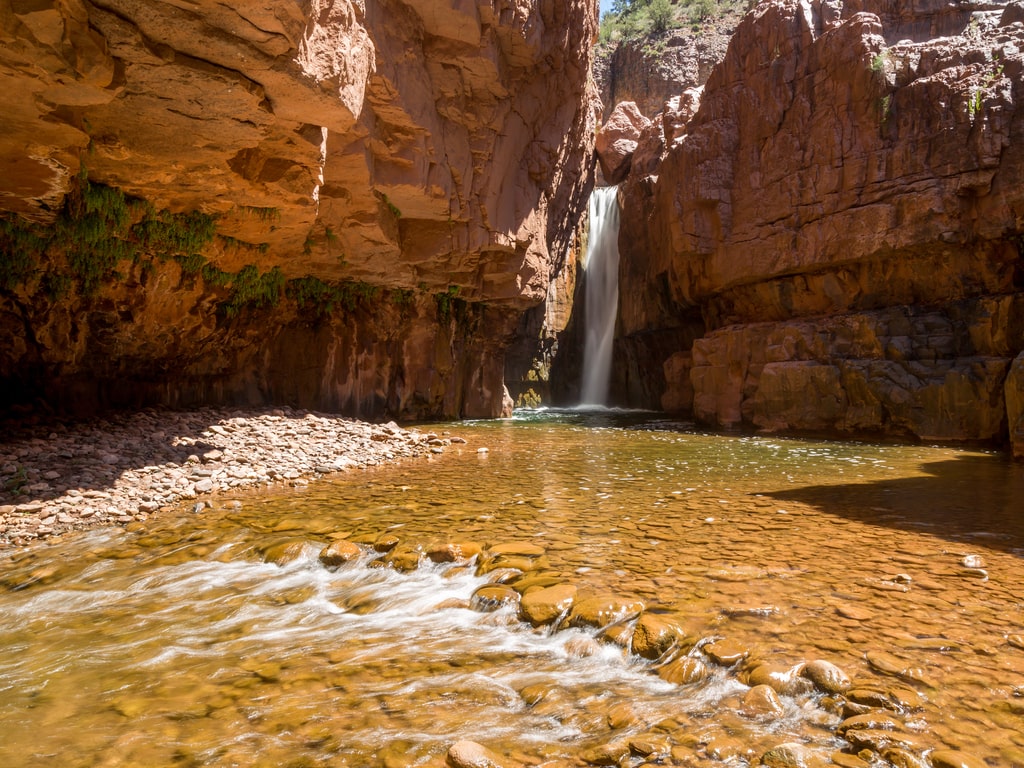 This is a secluded waterfall at the end of a primitive hiking trail. Since this water feature is located on White Mountain Apache tribal land, always be respectful of the landscape and make sure to obtain the correct permits.
Getting to this waterfall requires a difficult hike of 1.5 miles one way, with a climb of over 600 feet. The trail itself can be overgrown with prickly bushes, so be sure to wear longer pants and sturdy shoes, but make sure the shoes can get wet, as you'll be crossing the creek several times.
The hike is more than worth it! You'll reach the falls after the canyon narrows a bit, and be sure to stay for a while and enjoy all your hard work. The White Mountain Apache tribe requests that you not swim in the pool at the bottom of the falls, so please be respectful!
Cibecue Falls is about 30 feet high, and is flanked by sheer cliffs on either side. Please check the weather before you go, as a strong rainstorm could potentially create a flash flood.
Directions:

Take US-60 East to Globe
Drive through Globe, then turn left to continue on US-60,
then when you get to the bottom of Salt River Canyon, turn left onto a gravel road after you cross the bridge.
From here it is a bumpy ride down a dirt road, 4×4 or high-clearance vehicle is recommended. After about 4 miles, the road crosses the creek, and the trailhead is on the right next to a small clearing for parking.

Fees: Permits are required, $30 per person. Buy them here
7. Massacre Falls
For a shorter day trip and much closer to Phoenix, Massacre Falls is easily accessible to hikers of all levels. Located in the Superstition Mountains, these falls are lesser known and quite beautiful when running.
Massacre Falls only flows after significant rainfall or snow storms. Both can be rare in the Superstition Mountains, however the falls do flow at least once or twice a year.
The falls' path down the cliff is stained black from algae that grows on the rock, and even when it is dry, the vegetation around the base of the falls is green and lush.
The hike itself to get here consists of a moderate climb- 1,092 feet elevation gain and about 5.4 miles round trip. The trail is well marked and winds through saguaro and cholla cactus. It is exposed to the sun the whole hike, so bring plenty of water and avoid the hottest times of day.
This waterfall is popular given its proximity to the Phoenix Valley and the rarity of its flow. When you can catch it at its peak, Massacre Falls is truly spectacular.
Directions: Take US-60 East to Idaho Rd, turn left (north). After 3.5 miles, turn right onto Apache Trail (AZ-88). Then drive until you pass Lost Dutchman State Park, and take the next right (1st Water Rd). The parking lot is on the right a short distance up this road.
Fees: None
8. Water Wheel Falls
These falls are a popular summer destination; just a 1.5 hour drive from Mesa, and close to Payson, these waterfalls are the perfect day trip. This hike involves many creek crossings and there isn't a marked trail, you simply follow the creek upstream to enjoy the series of waterfalls.
This is a flash flood area, so always check the weather before you go. If there is any chance of rain, plan your trip for another day.
You can hike as far as 1.5 miles up, and this hike is fairly moderate. There is some bouldering required, and even a notched log to climb up one of the larger boulders. Take your time and enjoy some of the swimming holes that the East Verde River has to offer.
Directions: Highway 87 North to Payson, and go straight through the main intersection into Highway 270 North. Then turn onto Houston Mesa Rd, and you'll soon reach the Water Wheel trailhead.
Fees: $10 per day, cash and exact change only
9. Fossil Creek Falls
Another Payson area hike and waterfall, Fossil Creek has gotten immensely popular in the last several years. So much so, that the forest service implemented a daily limit and permit system.
The only way to get to these falls is from the Camp Verde side. If you are able to snag a permit, this hike is absolutely worth the drive. The creek itself literally appears out of nowhere- it is fed by a series of springs that release 20,000 gallons of water a minute! This also makes the water the same temperature (70 degrees) year round.
The 25-foot falls are absolutely gorgeous, with lush vegetation on both sides of the creek and the crystal clear water flows heavily over the cliff year round. Jumping off the waterfall is not recommended, as people have been injured or drowned in the past. However, feel free to swim in the many beautiful pools along the creek.
Getting here is a bit tricky, involving a 14 mile dirt road, and a high clearance vehicle is ideal to make the trip go more smoothly. When you park at the Waterfall Trail trailhead, it is only a mile hike to the falls, making the trip completely worth it. Dip into the cool waters and enjoy one of the pristine creeks and waterfalls in all of Arizona.
Directions:

From Interstate 17, exit 287, turn east onto state Route 260 towards Payson and travel 10 miles
Between mile 228 & 229, Forest Road 708 (Fossil Creek Road) intersects SR 260 on the right, signed as Fossil Creek/Verde River
Travel 14 miles down this rough dirt road to Forest Road 502 (Childs Road)
Trailhead is on the left side of the road (there are several parking lots, keep driving until you see the waterfall trailhead)

Permits: Printed permits and reservations for specific parking lots are required between Apr 1-Oct 1. No permits required between Oct 2-Mar 31.
10. Seven Falls
Located outside Tuscon, this hike features (you guessed it!) seven waterfalls. During monsoon season and the spring runoff these falls cascade down a series of rocky cliffs and pools, making a picturesque scene that you wouldn't expect to find in the dry Sonoran Desert.
The hike to get here is fairly moderate. In the first mile of the hike, you cross the stream several times, so in times of high water expect to get your feet wet. After a few more miles and a seventh crossing of the creek, you'll come to a fork. Head to the left to enjoy the falls.
The hike to Seven Falls is in full sunlight for much of the way, so plan accordingly and bring plenty of water. As always, when hiking in Arizona, avoid the hottest times of the day whenever possible.
The whole trail from the visitors center at Sabino Canyon Recreation Area is about 8.3 miles round trip, but there is a tram you can take that cuts off about half the distance. Sabino Canyon and the trail leading to Seven Falls is by far the most popular destination in the Tucson area, so be prepared for crowds on weekends.
The crowds are worth it, as these falls are truly a one of a kind locale in the Arizona desert.
Address: Sabino Canyon Visitor Center, 5700 N Sabino Canyon Road, Tucson, AZ 85750
Fees: $8 day pass, $10 week pass
11. Sycamore Falls
If you want to escape the busier trails and find some seclusion in northern Arizona, Sycamore Falls is the perfect hike for you. The falls themselves were created by an ancient volcano, and the basalt towers on either side of the falls are reminiscent of the famous rocky formations in Iceland.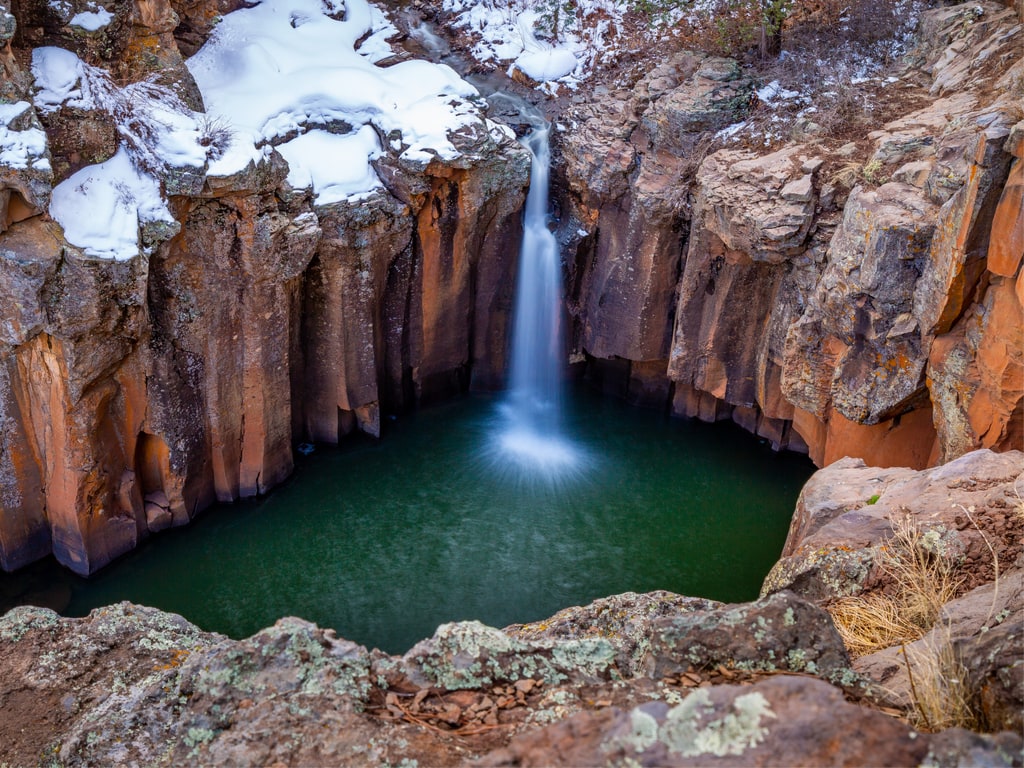 These falls are at a trickle most of the year, however after heavy snow or rain they can turn into a substantial cascade, plummeting down 70+ feet into the pool below. During the dry season, you might also see rock climbers and slack liners testing their skills on the rocky towers and cliffs.
The hike to and around Sycamore Falls can either be a full day loop on the Sycamore Rim Trail, or a shorter hike from the nearest parking lot.
The geography of these falls makes it one of the most unique water features in all of Arizona. The surrounding terrain is wooded and more quiet than the busier areas of nearby Flagstaff and Sedona, making this the perfect day trip for those looking for the route less traveled.
Directions: Take I-40 east out of Flagstaff. Take exit 178 just before you reach Williams. Head south on Garland Prairie Rd, and continue on this road after it turns to a dirt forest service road. After 9 miles you'll see White Horse Lake Rd/Forest Service Rd 109, take that for 3 miles and you'll be at the trailhead/parking lot.
No Fees
12. Tanque Verde Falls
Another waterfall system best seen during the wetter seasons, Tanque Verde Falls is only a few miles east of Tucson. The hike is more of a rock scramble up the riverbed, and you'll have to use your best judgment to find the best route through the boulders.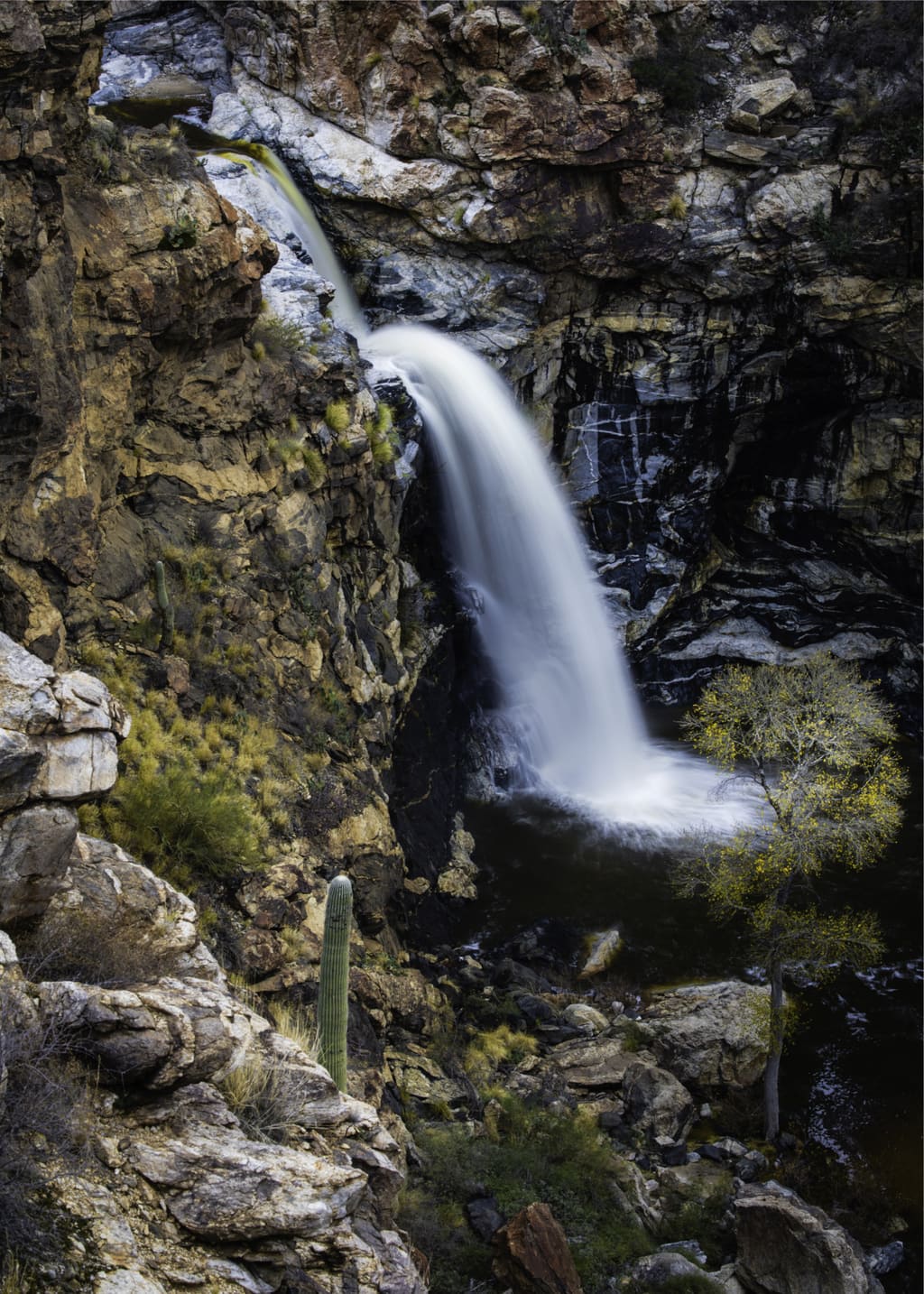 You'll know once you reach the falls, as it is a 70-foot cliff face. At high water, the waterfall flows down over this cliff in a series of cascades. There is a pool at the bottom perfect for swimming on a hot day.
The hike is about 2 miles round trip and climbs about 460 feet. It may be more difficult for kids and older hikers, as there is a lot of climbing up and over boulders involved. Wear shoes that can get wet and are grippy on slippery rocks. For best conditions of the waterfall, try to see it after several days of heavy rain or during the spring runoff.
Directions: I-10 East to Tucson, and get off at exit 256 to Grant Rd. Turn east and continue until you come to Tanque Verde Rd, turn left on there and follow this road until you reach the trailhead
No fees
13. Ribbon Falls
These beautiful falls lie inside Grand Canyon National Park, down inside the lower gorge. Getting to these falls takes significant planning and preparation, since hiking down into the Canyon itself is not for the inexperienced hiker.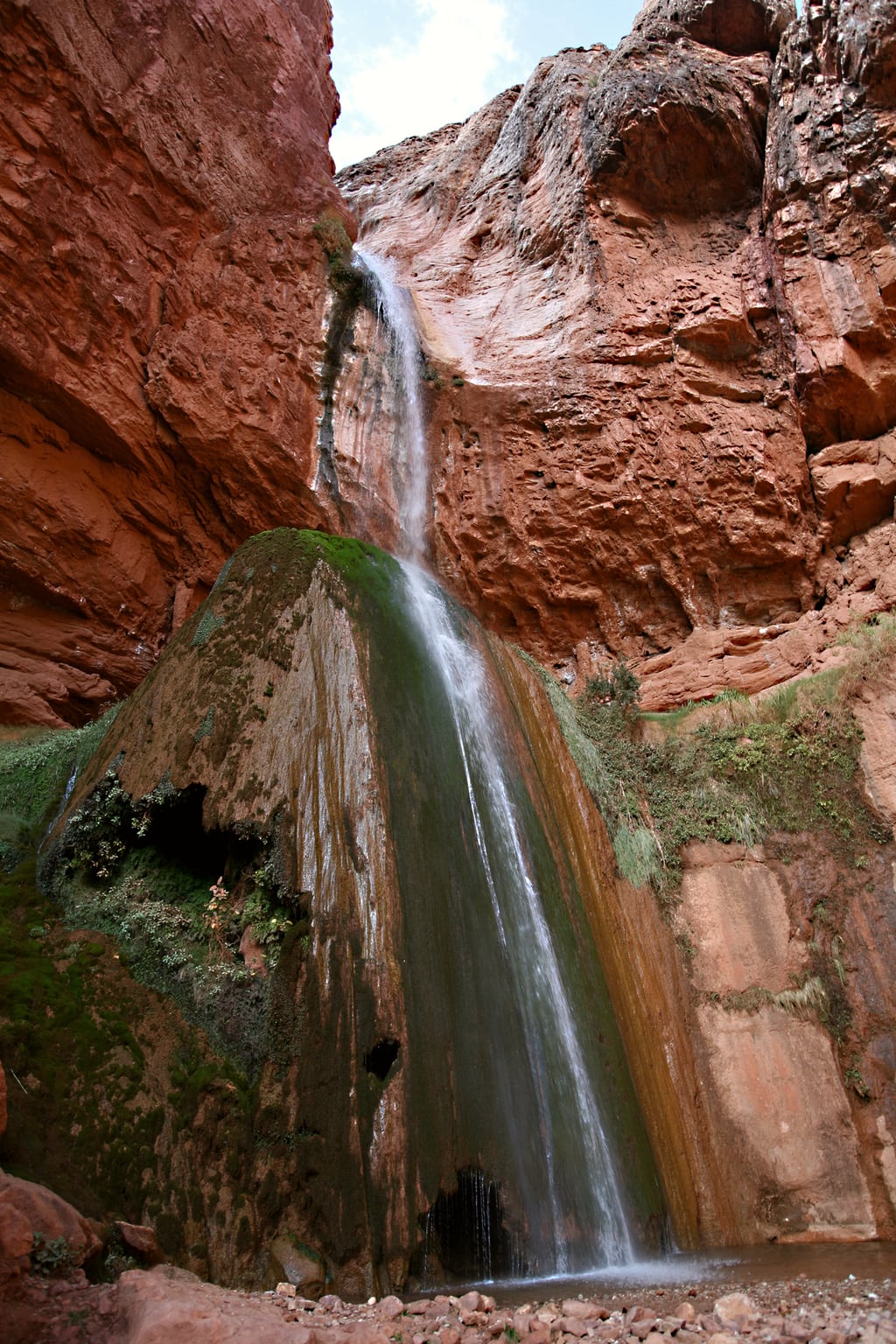 The falls cascade over a cliff, free-falling for 40-50 feet before hitting the travertine spire created by the flow of this mineral rich water over hundreds of years. The water at Ribbon Falls is very cold year round due to its origin at a natural spring.
This waterfall is accessible by the popular Rim to Rim hike, or even an overnight backpacking trip to Phantom Ranch. I visited these falls during a short side hike during my own Rim to Rim adventure, after starting at the North Rim. Either way you access it, it takes miles of hiking but it is so worth it.
Make visiting Ribbon Falls part of your overall Grand Canyon experience and you will not regret it!
Directions: Start at either North Kaibab, South Kaibab, or Bright Angel trailheads. Each one will require different distances and may require an overnight stay at the bottom at Phantom Ranch.
Fees: $30 per vehicle for a 7-day pass to enter the park. Staying at Phantom Ranch cabins can be an additional $170-300, depending on type. Camping is also available at campsites interspersed along the Rim to Rim route.
14. Workman Creek Falls
One of the lesser-known waterfalls in Arizona, Workman Creek Falls is a stunning 200-foot waterfall with a swimming hole at the bottom. Due to its more remote nature, you could potentially have this waterfall all to yourself!
Like most waterfalls in Arizona, visit this one after heavy rain for the best conditions. This waterfall is especially good for photographers, as the viewpoints are plentiful and easy to access from your car.
It is possible to hike down to the base of the falls, however always use caution, especially during wet weather as this makes the rocks slick.
Directions: Taking US-60 East towards Globe. Turn left onto Highway 88 and continue 14.4 miles to Highway 288. Continue on this road for approximately 24 miles, then watch for a brown sign indicating Workman Creek Recreation Area, then turn right according to the sign and drive 3.2 more miles until you reach camping sites and parking.
Fees: None
FAQ
What is the best time of year to see waterfalls in Arizona?
During the spring run-off (April and May) and during late summer monsoon storms. Be cautious with the monsoon storms, as they can cause flash floods even if the storm is miles upstream.
What is the tallest waterfall in Arizona?
Mooney Falls has the highest top to bottom continuous drop of any waterfall in Arizona, at 190 feet. Grand Falls may be taller, but it is tiered whereas Mooney Falls is one single waterfall.
What are the best waterfalls for swimming in Arizona?
Fossil Creek, Havasu Falls, Mooney Falls, Lower Navajo Falls, Seven Falls, and Water Wheel Falls are all excellent swimming holes. Swimming is prohibited at Cibecue Falls due to its sacred nature to the Indigenous People. Checkout our guide on the best swimming holes in Arizona for more options and details.
What is the easiest waterfall to get to?
Tanque Verde, Water Wheel, and Massacre Falls all require shorter hikes and drives than other waterfalls on this list.
Conclusion
Arizona has a hot and arid climate for most of the year, and it seems impossible that there could be dozens of beautiful waterfalls scattered throughout the state. However, at certain times of the year, chasing waterfalls in the Grand Canyon State can turn into an adventure.
Most of the waterfalls require driving to remote locations and hiking several miles, however all of these waterfalls are well worth the trek. Make a plan to visit any of these waterfalls for a quintessential Arizona adventure.
For more wet adventures in the state, check out our guide on the best waterfall hikes in Arizona, the best beaches in Arizona, as well as the best swimming holes in the region.
Explore Arizona
Still wanting to learn more? Dive in our Arizona Travel Guides and discover the best places to visit, interesting things to do, budgeting tips, comfortable accommodation, and everything you need to plan your perfect trip in the state.