West Highland Way Hiking Guide (Route & Accommodation)
I love long-distance hiking trails, I love Scotland, and I love writing top-quality blog posts that people just can't get enough of.
So in this guide, I've crammed my three passions together by bringing you everything you need to know about the West Highland Way, one of Scotland's best, most scenic, and most popular long-distance walking trails.
A varied wander through lochs, mountains, moors, villages & towns, farms & fields, it's massively beautiful and diverse—and it takes you past some of Scotland's most famous sights.
Let's get started!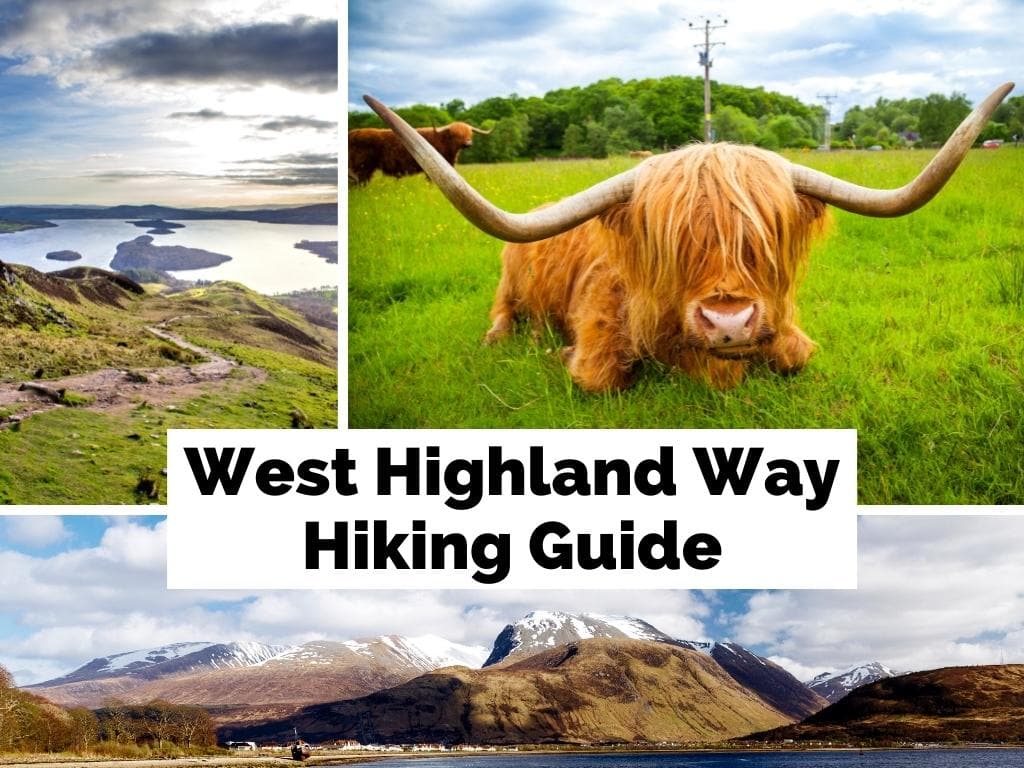 What is the West Highland Way?
The West Highland Way is the most famous long-distance walking trail in Scotland. Measuring in at 96 miles (154km), it runs through the western part of central Scotland, starting (or ending, depending on which way you choose to walk) close to Glasgow.
In Scotland, there are a huge number of so-called 'Great Trails,' a massive network of long-distance walking and cycling routes throughout the entire nation. Of them all, the West Highland Way is the most popular and well-known.
The nation's first official long-distance hiking route, it was officially established in 1980, and around 35,000 people walk the route in its entirety every year. It was thought up by local man Tom Hunter, who was eager to promote long-distance hiking in Scotland. What a good guy.
The route takes in some of Scotland's most beautiful, iconic and well-known places, including Fort William, Loch Lomond & The Trossachs National Park, Glencoe, Ben Nevis, and lengthy stretches of Loch Lomond itself. And that's just the start.
The highest point of the whole hike is the summit of the Devil's Staircase, 548 meters (1,800 feet) above sea level.
How Long Does It Take to Complete the West Highland Way?
Most people complete the entire route in anything from 5 to 8 days. If you tackle it over 5 days, that's around 19 miles (30.5km) per day. If you do it over 8 days, that's around 12 miles (19km) per day.
If you're accustomed to long-distance walking, I think you'll be able to handle it in 5-6 days.
If you're not accustomed to long-distance walking, it's better to play it safe and have a nice time instead of turning the walk into a big, painful, horrible slog.
Fun fact: Some pain-loving maniacs complete the entire West Highland Way in less than 24 hours as part of the West Highland Way Race. The world record holder, Rob Sinclair, ran the whole route in less than 14 hours in 2017. That's almost 7 miles per hour (11km an hour) for the entire duration, the absolute madman.
Is the West Highland Way Difficult?
Not really. It's not easy, but it's definitely achievable for most abilities, so long as you plan sensibly.
The most important thing is this: if you're honest about your own limitations, and you therefore plan accordingly, you'll be able to finish the walk. If the only walking you ever do is to the Burger King counter and back, you're not gonna finish the route in 5 days (but you might be able to finish it in 8 or more).
The West Highland Way is absolutely doable for most people: the elevation isn't too challenging, the path is well-trodden and accessible, the terrain is pretty good, and the whole route is excellently waymarked. It's a little harder than Hadrian's Wall Walk, but not as hard as the English Coast to Coast.
Highlights Along the West Highland Way
There are loads of highlights. Some of them include:
Conic Hill: When people ask me to recommend an easy but beautiful hike in Scotland, I often recommend Conic Hill. It's the first major highlight along your trail. The summit of Conic Hill measures in at around 360 meters (1,180 feet), so it's a pretty easy ascent. But from the top, you get great views of Loch Lomond.
Loch Lomond: One of the most famous lochs in Scotland, Loch Lomond is massive. For lots of the West Highland Way, you walk along its shores, seeing canoers, kayakers, swimmers, birds of prey, and plenty more. You'll want to stop for photographs every 5 minutes.
Balmaha: For lots of people, this is the prettiest village along the West Highland Way. With a tiny population of only around 60 people (yep, 60!), it's a cute little place, so make sure you stop off and appreciate its charm.
Tyndrum: A really popular tourist village, Tyndrum is a bustling little place on the northern tip of Loch Lomond & The Trossachs National Park. If you plan on taking a rest day during the West Highland Way, Tyndrum is the place to do it—it's right in the middle of the hike, it's really cozy, and there are lots of places to eat and drink.
The Devil's Staircase: Measuring in at 548 meters (1,800 feet), the Devil's Staircase is the highest point along the West Highland Way. A rocky summit with a steep ascent, you get great Glencoe views from the top, taking in lochs, ridges, and lots of nearby peaks. Some think this is the best part of the whole walk.
Ben Nevis: You don't actually walk up Ben Nevis, but while you're in and around Glencoe, you get great views of the peak, Scotland's biggest (and most famous) mountain. You also see lots of other beefy behemoths in the nearby area, including Ben Lomond, Buachaille Etive Mor, and Bidean Nam Bian.
Fort William: One of the most tourist-heavy towns in Scotland, Fort William is massively popular. It's not as charming or pretty as loads of the other places you've already passed through, but it's a good place to finish. Make sure you say hello to the Weary Walker, a famous statue sitting on a bench. Right in the center of Fort William, paying him a visit is the traditional way to end the walk
Recommended Itinerary for the West Highland Way
Here, I've outlined a laid-back itinerary, because most people are casual walkers. And if you're doing it as a vacation, you want to eat, and drink, and have a nice time, not spend every day crying and bandaging your feet and Googling 'should my toes be blue?'.
On average, as I said before, you'll walk around 12 miles per day if you walk for 8 days. That's pretty easy and manageable, even for a beginner, so that's what I've outlined.
Here's the West Highland Way route map below, you can use this map to follow along as you go through the itinerary.
Day 1: Milngavie to Drymen: 12 Miles (19km)
Your first day is a good way to get started—it's flat, it's easy, and you eat up miles pretty quickly.
For most of the day, you walk through vast, open countryside—it's pretty, but the much better stuff is still to come. You pass Mugdock Castle, Mugdock Country Park, and some small rivers and lochs.
Once you get to Drymen, you're in Loch Lomond & The Trossachs National Park, where all the action really starts.
The official route actually skirts around the outside of Drymen, but the vast majority of hikers take the tiny detour into the village. You get lots of places to eat, drink and sleep, so it's a convenient place to stop.
Top tip: Before you set off on day 1, use Milngavie to stock up on supplies. You won't need loads of stuff, because you pass through some decent-sized towns and villages along the whole route. But it's always nice to have some tasty little hiking snacks.
Day 2: Drymen to Rowardennan: 15 Miles (24km)
Today, you spend your entire day inside Loch Lomond & The Trossachs National Park (lucky you).
You start the best part of your day by clambering up Conic Hill, the first top-notch viewpoint along the route—and the first time you get a proper glimpse of Loch Lomond. As you descend from Conic Hill, you make your way towards Balmaha, which (as mentioned) is really charming and cute.
From Balmaha onwards, you hug the eastern shores of Loch Lomond all the way to Rowardennan. En-route, you walk through woodland, past campsites, and beyond endless views of the loch to your left. The terrain can be a little tricky, but the views are great, especially in good weather.
Day 3: Rowardennan to Inverarnan: 14 Miles (22.5km)
Today, you pick up where you left off yesterday, continuing to follow the eastern shores of Loch Lomond for basically the entire day.
On day 3, you get really remote and rural for the first time. Yeah, Loch Lomond is a massively popular attraction, and a massively popular place to visit. But most people visit the southern shores, making the northern stretch much more quiet and calm.
I reckon the landscapes at the northern end of Loch Lomond are better. The mountains are bigger, the landscapes are more barren, and you see more wildlife. Go slow, and keep your eyes open, and (in the right seasons), you'll catch sneaky peeks of rabbits, birds of prey, and even wild goats.
Stop for lunch at Inversdain Waterfall, one of the most popular spots along the entirety of the West Highland Way. I'm not really bothered about waterfalls, but lots of people seem to love this place.
Underfoot, the terrain is slightly tricker today, but at least you don't have much elevation change. In terms of ascents and descents, this is absolutely the easiest day.
Day 4: Inverarnan to Tyndrum: 12 Miles (19.5km)
Today, you walk towards Tyndrum, one of the most popular places along the route. Again, if you're going to take a rest day, sandwich it between days 4 and 5—Tyndrum is the best place for a little break.
For the first half of today, it's a steady but relatively easy ascent followed by some downhill, then more ascent. As you ascend, the landscapes change, you leave the shores of Loch Lomond behind you, and you spend your day walking through valleys.
For most of the day, you're surrounded by hills and mountains as you follow the River Falloch and the River Fillan. You'll pass parts of the Falls of Falloch (another waterfall I don't care about), Ben More in the distance, and St. Fillans Priory.
Once you reach Tyndrum, there are loads of places to eat, drink and rest.
Day 5: Tyndrum to Inveroran: 9 Miles (14.5km)
A short little day for your tired little legs.
Before you set off, here's a pro-tip: after Tyndrum, there are no more shops until you reach Kinlochleven, on day 7. So while you're in Tyndrum, buy enough snacks, supplies and food for two full days. You're gonna need them kid!
Today, you leave Loch Lomond & The Trossachs National Park behind, so wave bye-bye. Then wave hello to all the adventures still to come.
From Tyndrum, you continue heading north. The first half of the day is mountainous and dramatic, with close-by peaks and passes. In the second half of the day, the landscape opens up and you're greeted by moorland, flatter strolls, and gentler slopes.
Today, you pass Loch Tulla (one of my favorite lochs in Scotland), several other small lochs, and endless views of the River Orchy. It's a pretty short day, but it's packed with great stuff.
Day 6: Inveroran to Kingshouse: 10 Miles (16km)
On day 6, you get the most remote stretch of the whole hike.
You head over Rannoch Moor, renowned for being cold, misty and inhospitable in bad weather. That said, in good weather, this is all pretty flat, easy walking, and it's desolate and barren in a really beautiful way. As you wander through Rannoch Moor, you'll pass tiny lochs, mini rivers, lots of wildlife, and few other people.
You don't pass any significant settlements on your way from Inveroran to Kingshouse, so crack out those snacks and choose yourself a good picnic spot.
As you finish your day, on your way into Kingshouse, you're right in the heart of Glencoe, with mountains towering above and around you. One of the best and most beautiful is Buachaille Etive Mor, one of my favorite mountains in Scotland.
There's not much in Kingshouse, except for a few houses and a couple of accommodation options, but that's part of its charm. If you're looking for food, head to one of the hotels.
Day 7: Kingshouse to Kinlochleven: 9 Miles (14.5km)
Another short day before the last leg tomorrow.
Rivaled only by yesterday, it's maybe the most beautiful day of the whole hike.
You get closer to Buachaille Etive Mor, and deeper into Glencoe valley. Once you hit the foot of Buachaille Etive Mor, you start ascending the Devil's Staircase, the highest point on the walk. On your way up, the views in all directions are fantastic.
After the Devil's Staircase, it's all downhill to Kinlochleven. As you wander down, you catch little glimpses of Loch Leven (the loch that gives the town its name), and lots more mountains.
This part of Scotland is famous for the area around the A82 road, which is massively popular among photographers and road-trippers for its ridiculously good views of Glencoe. You get all the same views, but you also get to brag that you hiked it, instead of driving.
Compared to the other small settlements you've walked through the past couple of days, Kinlochleven feels like a giant metropolis. So it's a nice place to eat, drink, and feel like you're in civilization again.
Day 8: Kinlochleven to Fort William: 15 Miles (24km)
A big day, you make your way toward Fort William and your finish line.
You know how the second half of yesterday was all downhill? Now, you pay for it, as you start your day with a steep ascent out of Kinlochleven.
Today, the views aren't quite as good as yesterday, but they're still great. Again, you keep walking through dramatic valley clefts, surrounded by some of Scotand's most famous peaks, including views of Ben Nevis (the highest mountain in the UK) to your right.
You also hit woodland, rivers, and little pockets of civilization, as you make your way to the biggest settlement you've seen for a while. When you hit Fort William, you can eat, drink, and relax. You've made it, and you've finished one of the greatest adventures of your life.
What is the Best Time to Do the West Highland Way?
Obviously, if you want good weather, it's best to do the West Highland Way in the warmer months. I'd recommend spring over summer, because the weather won't be as hot, there'll be less midges, and you'll see fewer people. April and May are best.
If you're doing the hike because you want to be all alone and isolated, instead consider tackling it in autumn (fall). The West Highland Way is Scotland's busiest long-distance trail, so you'll see lots of people in summer and spring.
All of that said, some people tackle the challenge in winter. I wouldn't bother, but if you don't mind carrying more clothes and equipment, and you're not deterred by the (very good) chance of being absolutely freezing for a week, give it a go.
How to Get to the Start of the West Highland Way
To get to the start of the West Highland Way, it's pretty much always best to first make your way to Glasgow, and then get from Glasgow to Milngavie.
Because Milngavie is only a small place, it's not well-connected to other parts of the UK, and any journeys you take to Milngavie from elsewhere will likely take you through Glasgow anyway.
From Glasgow, your options for getting to Milngavie are:
By car: A short drive north of only 7 miles (11km), it's an easy drive along suburban roads.
By train: There are direct trains running in both directions every 30 minutes. The journey takes around 23 minutes.
By bus: There are many regular direct buses running in both directions. During peak times, you won't need to wait more than 15 minutes for a bus. The easiest options are the X10, X10A, 60A and 15, and the journey time usually clocks in at around an hour.
Where to Stay Along the West Highland Way
You're gonna want some good places to stay along the West Highland Way. So here are my top recommendations for each day of my suggested itinerary:
Night 1: Drymen
For your first night, I recommend staying in either the Buchanan Arms Hotel or the Drymen Inn. They're both really central, and they both serve great food and drink. In most small UK towns, it's always best to stay in pubs, where you get the best food, the best company and the best atmosphere.
Night 2: Rowardennan
Rowardennan is pretty small, and there aren't many places to stay, so make sure you book in advance. If you want to stay right in the center, your best option is Rowardennan Youth Hostel.
Just south of the center, you also have the Rowardennan Hotel.
Night 3: Inverarnan
There are even fewer places to stay here. One of the most popular options is Ardlui Hotel, which is actually south of Inverarnan, but it's not much of a detour. Slightly closer to the center of Inverarnan, you have cute and cozy Ardlui Church.
Night 4: Tyndrum
Because Tyndrum is so popular with tourists, there are loads of places to stay. If you prefer self-catering, go for Clifton Cottage, which has a great reputation. If you prefer hotels, Muthu Ben Doran Hotel is your best option.
Night 5: Inveroran
Inveroran is absolutely tiny. Your only accommodation option here is Inveroran Hotel, which is absolutely brilliant. If you don't want to stay here, you can instead head to Bridge of Orchy Hotel, south of Inveroran.
Night 6: Kingshouse
You really don't have many options here, so make sure you book in advance. The only choice in the center of Kingshouse is Kingshouse Hotel, which has standard rooms along with a cheaper bunkhouse.
Night 7: Kinlochleven
A steep little place set right on a river, there are a decent number of accommodation options in Kinlochleven. If you're into hostels, head to Blackwater Hostel. Even more central is the imaginatively-titled West Highland Way Holidays, a massively popular self-catering cottage.
Night 8: Fort William
In Fort William, you have endless places to stay. Two of my top picks are the Garrison Hotel (a great budget-friendly hotel), and Alexandra Hotel (if you want a little more luxury).
Top tip: of course, if you don't want to stay in Fort WIlliam on night 8, you can instead move on to Glasgow, or another city, or back home or whatever. But you've earned a rest, and Fort William has lots of places to eat and drink, so I recommend sticking around.
Can I Camp on the West Highland Way?
Yeah, you can easily camp along the entire route.
You'll need to wild camp around Inveroran and Kingshouse, but there are proper campsites in every other overnight option I've listed. Some of the best and most famous campsites along the way include Beinglas Farm Campsite, Pine Trees Campsite, and Glen Nevis Campsite.
For those who like wild camping: the vast majority of the time, you can wild camp whenever you want and wherever you want in Scotland (thanks to the brilliant Right to Roam Act).
But things are a little different along the West Highland Way, because Loch Lomond & The Trossachs National Park has some special rules. If you're hiking between March and September, you can't just camp anywhere you like in the park. Instead, you can only camp in certain places, and only if you have a permit.
Where and What Should I Eat Along the West Highland Way?
Most of the time, you'll be eating in pubs, where you'll find lots of carb-heavy meals, perfect for days of endless walking. In these pubs, you'll find traditional British pub food, along with some great Scottish specialties (like haggis, stews, and pies). Some of the pubs and eateries along Loch Lomond have great fish, thanks to all the creatures that live in the loch.
Other than that, you'll probably have a lot of sandwiches, pies, pastries and fish and chips. Scottish food isn't very healthy (especially when you're limited to small towns and villages, and eating on the go), but that's alright, cos you're on a big long hike.
Recommended Maps and Guidebooks for the West Highland Way
The West Highland Way is very well waymarked and signposted, so there's basically no chance you'll get lost.
That said, it's always good to have a map, in case you're confused, or it gets really misty (which isn't unlikely in Scotland). I recommend the West Highland Way Footprints Map, which is waterproof, and really detailed. If you prefer a booklet-style map rather than a fold-out one, you should go for the Cicerone Map instead.
It's always nice to have a guidebook too, so you can put your hike into context, and learn about the local area, and all that stuff. The Cicerone West Highland Way book is the most trusted, and everyone in the UK loves Cicerone guides. The Trailblazer West Highland Way guide is an alternative if you want more information on places to sleep and eat.
Pro Tips to Walk the West Highland Way
Nearby and Connecting Routes
There are lots of multi-day hikes in and around Scotland, and loads of them connect up to the West Highland Way. Some of the routes with direct connections to the West Highland Way include:
Great Glen Way: Clocking in at 78 miles (125km), this one starts in Fort William and runs all the way to Inverness, following Loch Ness for its second half. So if you're looking for a massive challenge, you could combine the two into one hefty trail.
John Muir Way: A coast to coast route from west-coast Helensburgh to east-coast Dunbar, the John Muir Way intersects the West Highland Way close to Loch Lomond & The Trossachs National Park. The whole thing measures in at 134 miles (215km).
Rob Roy Way: Probably the most famous Scottish long-distance hiking route after the West Highland Way, the Rob Roy Way starts in Drymen before heading east to Pitlochry. It's 79 miles (127km) in total, though there's an optional detour to make it longer.
Three Lochs Way: A lesser-known option, this one runs along the western side of Loch Lomond, but it connects directly to the West Highland Way by ferry at Inveruglas, Inverbeg and Tarbet. It's a smaller route, measuring in at only 34 miles (55km).
Final Words and Further Reading
That's everything you need to know about the West Highland Way. Thanks for reading!
If you're looking for more multi-day adventures in the UK, check out our guides to Hadrian's Wall Walk, the Rob Roy Way, and the Coast and Castles cycling route. And if you want to know anything else about exploring Scotland, hike on over to our guides on the nation's 13 best coastal walks, the best hikes in Scotland and the 23 reasons you should visit Scotland at least once in your life.
See you next time!
Being a Digital Nomad: Tips, Tricks and Places
Do you want to be a digital nomad?
If you do, maybe you don't know where you might want to live. Or how to live there. Or whether you need a visa. Or how to make friends in the scary sprawl of a brand-new city. Or how to stay productive while you travel. Or how to find an apartment. Or whether this lifestyle really is for you. Or… I'm sure you get the idea.
But with some insight and experience, it's not as difficult as you think. So in this book, I've gathered my 6 years of digital-nomadding experience… and I've used it to answer all your questions, soothe all your fears, and get you on your way. After reading this, you'll realise being a digital nomad is much easier (and much more possible!) than you think.