10 Must-Eat Arizona Food You Have to Try
Arizona has so much to offer- beautiful desert vistas, unique cultures, shopping, dining, national parks, majestic mountains, and more! Eating out at restaurants is honestly one of my favorite pastimes and Arizona food has no shortage of iconic and downright delicious fares.
Since we are so close to the Mexico border, Mexican food reigns supreme, but you can also find other varieties of cuisine that are unique to Arizona or at least to the Southwest.
Just like New York is famous for pizza and bagels, New Orleans is known for their cajun food, and Texas is a mecca for BBQ, Arizona has a few different foods and treats that we are known for across the country.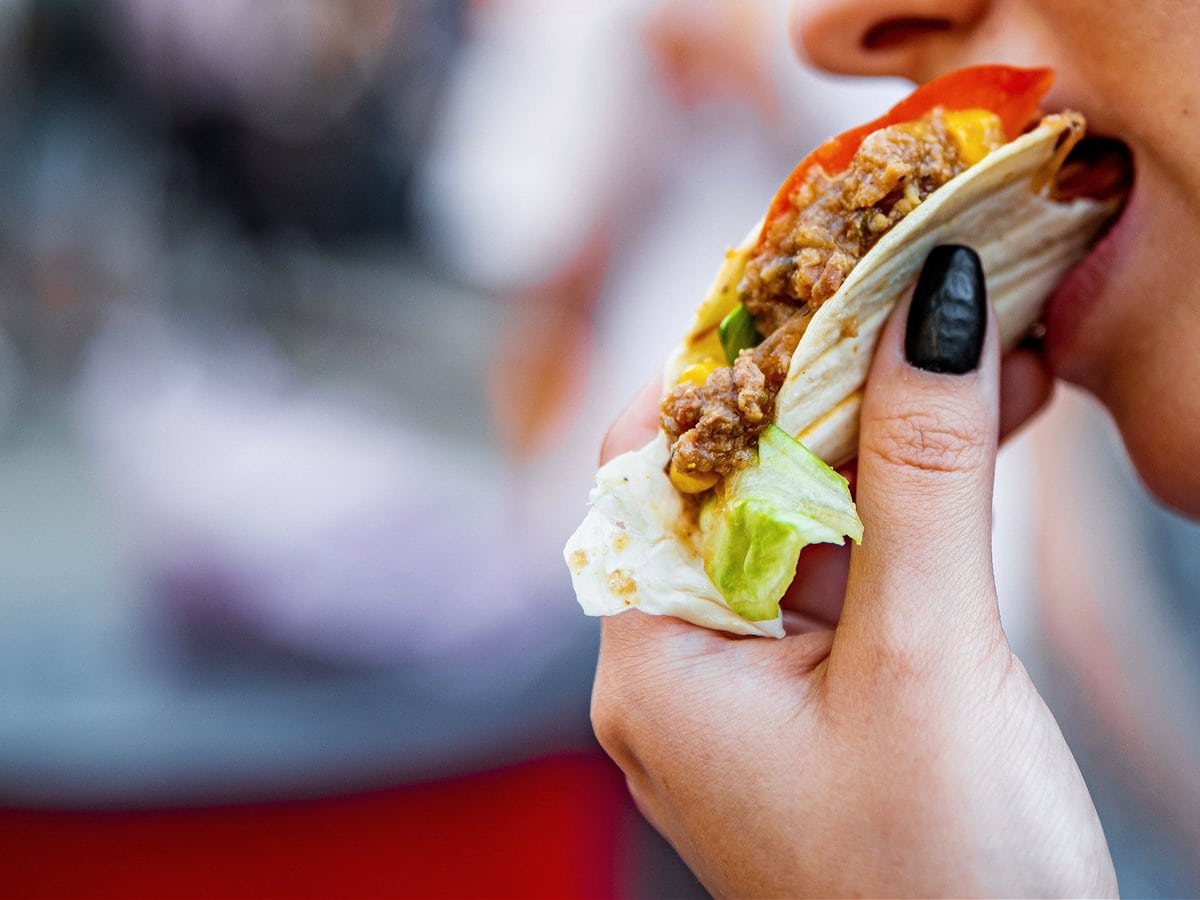 1. Sonoran Hot Dog
Named after the Sonoran Desert that covers most of southern Arizona, the Sonoran Dog is our answer to Chicago or New York City's famous hot dog variations. What sets the Sonoran Dog apart is it is first wrapped in bacon, cooked on a grill, then put in a thick bun/hoagie with pinto beans, onions, and tomatoes.
Different restaurants have their own toppings that they sometimes add to the Sonoran Dog, such as jalapeno salsa, mustard, BBQ sauce, and green chilis. However you decide to top your Sonoran Dog, you can be sure you're eating one of Arizona's most famous cuisines.
This hot dog variation first appeared in Hermosillo in the Mexican state of Sonora, and then gained in popularity in Tucson and eventually other parts of Arizona. Today, there's probably close to 200 restaurants or food trucks that offer this beloved Arizonan food.
2. Street Tacos
Street tacos are a favorite of mine- small corn or flour tortilla, carne asada cooked over an open flame grill, topped with shredded cabbage, lime juice, pico de gallo, and blended avocado. In Mexico, you can find street tacos being sold on almost every corner. In Arizona, our rules are a little different but you can still find quality street tacos at several restaurants throughout the state.
My personal favorite is Backyard Tacos in the East Valley; this family owned restaurant originated as food cart style fare that would hold frequent events in people's backyards, hence the name. They grew in popularity enough that they were able to open their own brick-and-mortar restaurant, and today Backyard Taco has 5 locations in Mesa, Gilbert, and Chandler.
If you search for "best street tacos in Arizona" you literally get hundreds of options throughout the Phoenix Valley and beyond! Locals always have their favorites, and the best part of street tacos is the price is just right, and you can easily eat several of these small but delicious tacos in one sitting! Taco Tuesday might as well be a state holiday, and most restaurants will hold specials on Tuesdays to celebrate.
3. Navajo Taco – Fry Bread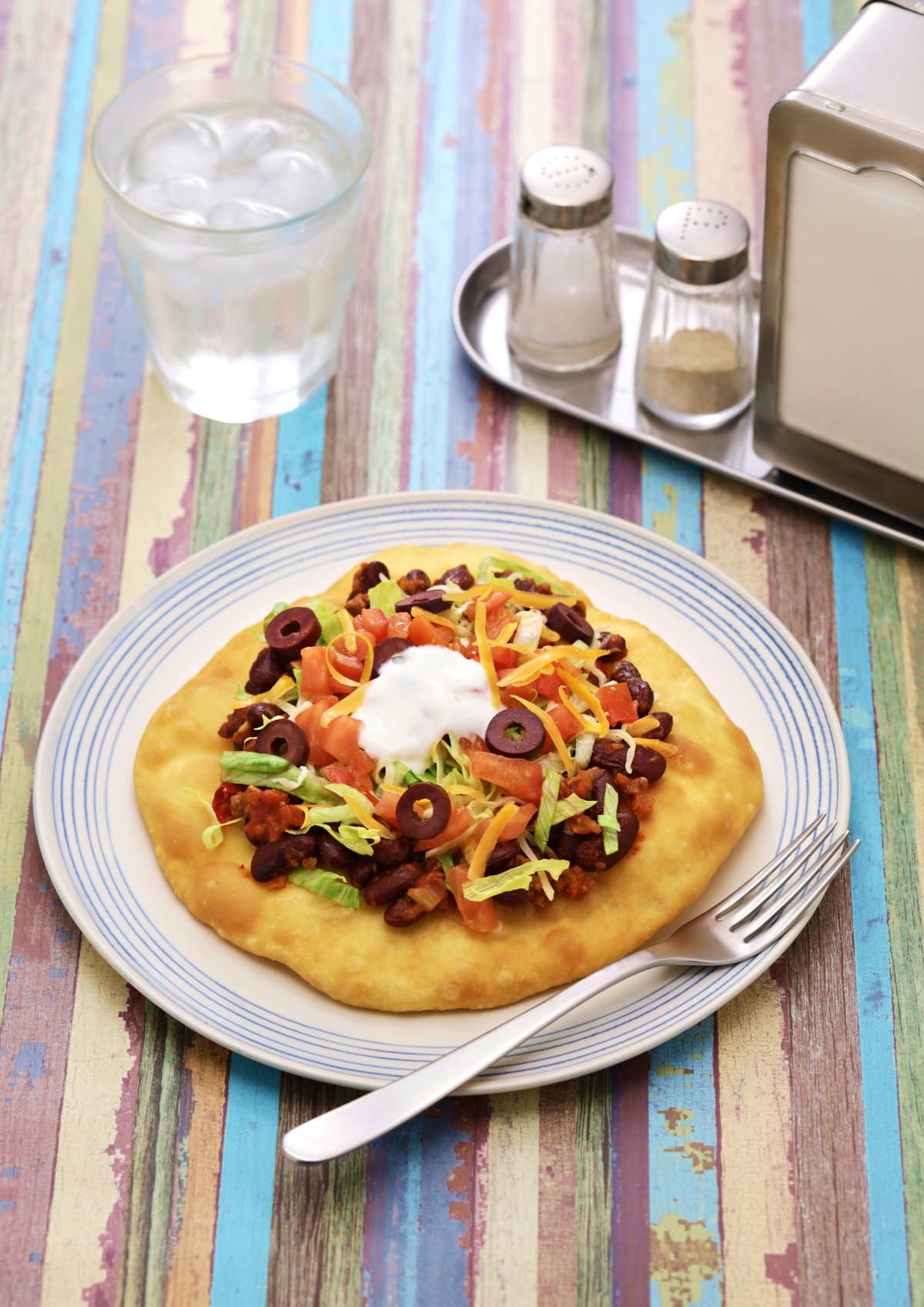 Depending on where you grew up or how long you have been in Arizona, these flat pieces of fried dough are either called Navajo Tacos (and aren't really taco shaped at all, more like an open faced tostada) or simply fry bread.
I personally call them Navajo Tacos, and the best one I've ever had is fairly inaccessible- the lone restaurant in Supai Village down in the bottom of Havasupai Canyon is home to the best fry bread I've ever had. This gorgeous canyon and village near the Grand Canyon is only reachable by foot or helicopter!
The dough is similar to a sweet bread, which is then flattened and fried in oil on both sides until the outside is crispy and the inside is still soft but cooked. You'll find different kinds of toppings depending on who is making it and where you're having it, but the most common is pinto beans, carne asada or ground beef, onions, tomatoes, guacamole, sour cream, and really anything else you might have on a taco.
Fry bread is also delicious as a dessert! Topped with powdered sugar and honey, this sweet bread turns into a sugar rush similar to funnel cake, just in a flattened shape. You can find Navajo Tacos or fry bread on many Native American Reservations, occasionally some Mexican restaurants, food trucks, and especially state and county fairs.
4. Chimichangas
Most food items are made 100% better when they are deep fried, and burritos are no exception. A deep-fried burrito is called a Chimichanga, and where it originated is up to debate. A chef in Tucson is rumored to have accidentally invented the "chimi" in 1922 when she dropped a burrito into a deep fryer at the El Charro restaurant, and to her surprise it turned out to be delicious! Another popular origin theory is that this deep-fried deliciousness was invented in the kitchens of local restaurant Macayo's in 1946.
Whenever and however the chimichanga was invented, one thing we can all agree on is that chimi's are delicious. Any kind of burrito can be turned into a chimichanga, and my personal favorite is a simple bean and cheese chimi. Another classic is a green chili pork chimichanga, and they get even better when turned into mini chimis!
Pretty much all Mexican restaurants throughout Arizona will serve some variation of a chimichanga, and I find it hard not to order one everytime I eat out! If you like burritos, you will not be disappointed by its deep-fried friend, often topped with sour cream and guacamole and meant to be eaten with a fork.
5. Cheese Crisp
Mexican food tends to be different variations of the same ingredients- tortilla, cheese, meat, and beans. The most simple of these is the cheese crisp, not to be confused with a quesadilla (although I absolutely love both!). Quesadillas are folded over tortillas filled with cheese, meat, and sometimes beans or even mango salsa.
However, the cheese crisp is a single tortilla, open faced, and covered with copious amounts of cheese (usually cheddar). The tortilla is cooked to a crisp and the cheese is fully melted to a gooey goodness. Sometimes there is also some pico de gallo, green chilis, or other light toppings on top of the cheese but most often, it'll just be a simple tortilla and cheese.
Growing up in Arizona, every time my parents would take us to a Mexican restaurant I always ordered a cheese crisp with a side of refried beans to dip it into. To this day, a quesadilla or cheese crisp is still my go-to meal or snack at home!
6. Prickly Pear
The prickly pear cactus grows abundantly throughout the Sonoran Desert and other parts of Arizona; these cacti plants grow in paddle shapes that are attached to each other in a stacking pattern, and several animals rely on prickly pear for food. The cactus is named due to the fruit that blooms and grows in the spring time from the top of the paddle-shaped plant.
The fruit is bright red, has some spines on the outside, and has a juicy soft center. Javelina, a type of desert dwelling wild pig, rely on these fruits and also the cactus itself as a food source. They especially love the fruit, and for good reason! The fruit is delicious and is used throughout Arizona as a unique flavoring for drinks, ice cream, jellies, and more.
My personal favorite is the prickly pear chicken salad at local food joint Flancer's; the chicken is marinated in the pink juice of the prickly pear fruit and gives it a pink color and sweet flavor. Another go-to is the prickly pear soft serve ice cream cone from Topo, an ice cream and burrito shack in downtown Gilbert. Many restaurants will also serve prickly pear margaritas or lemonades, and the flavor is delightfully sweet and tangy.
7. Mesquite Flour
Mesquite trees are one of the most populous trees in Arizona, and they thrive in desert areas due to their long and deep root systems which can find water more easily than other trees and shrubs. In the springtime, mesquite trees grow seed pods that can then be dried and ground into a powder called mesquite flour. I also love honey made from bees that feed on mesquite blooms!
Mesquite flour is high in protein, low on the glycemic index (great for those with diabetes), and has a sweet and nutty flavor. Mesquite flour can be used to make gluten free breads and treats, especially helpful for those who are sensitive to gluten but still want a delicious slice of bread.
Grab a bag of mesquite flour cookie mix from AZ Baking Company in Tucson or Super Chunk Sweets and Treats in Scottsdale. Several bakeries throughout the state also offer mesquite bread, tortillas, and sweet treats.
8. Scorpion Sucker
A scorpion is not generally something you would think of eating, but visit any souvenir shop or tourist trap and you'll usually see a sucker (the candy) with a (thankfully deceased) scorpion in the middle.
This isn't so much of a delicacy or a popular go-to treat for Arizonans, it is more like a unique souvenir from Arizona or a joke gift you can give to your friend after your trip to Arizona.
I actually don't know of a single person who has actually eaten the scorpion in the middle of these suckers (and I've lived here my whole life) but I do know people who buy them as a gag gift or a simple souvenir to remember the desert creatures that you might encounter in the Grand Canyon State.
9. Eegee's
"Take it easy, have an Eegee!" Tucson-based restaurant Eegee's offers their namesake treat, a drink that is almost like a smoothie, but with a smoother silky texture and filled with delicious chunks of fruit or other toppings. With 33 locations in Tucson, Phoenix, and Casa Grande, it is easier than ever to try an "Eegee".
They don't just serve cold deliciousness at Eegee's; you'll also find a decent sized menu with sub sandwiches, grinders (smaller sandwiches), chicken tenders, and french fries with a variety of toppings like ranch and buffalo sauce. The whole family will definitely find their new favorite food at Eegee's.
10. Hatch Green Chilis
Okay so technically, Hatch green chilis come from Hatch, New Mexico, but Arizona is a huge importer of these delicious and spicy chilis! If I see something on a menu that is made with Hatch green chilis, you can bet I'm going to try it! This variety of green chili goes great on quesadillas, enchiladas, hamburgers, chicken dishes, in spreads and dips, and so much more.
Hatch green chilis are special in that they originally were only grown in the Hatch Valley of New Mexico, and most of the farms that produce this spicy pepper have been lovingly growing them for generations. Today there are farms throughout the southwest that continue to keep the tradition of Hatch green chilis alive!
Before You Go
Eating out and trying new restaurants is a favorite pastime of mine, but there are some foods I always come back to. Mexican food is one of those, in all its varieties, and I grew up eating all levels of spicy.
In fact, you can usually tell who grew up in Arizona and who is a more recent transplant based on how much spice they can handle!
Although Mexican food is arguably the most dominant of cultural foods that you'll find in the Grand Canyon State, Arizona food also has a huge variety of barbecue, burger joints, upscale dining, steak houses, and pretty much any other kind of food you can imagine.
For the ultimate Arizona experience, you can't go wrong with some of our iconic foods from this list!
For more food exploration in Arizona, head over to my guide for the Best Farmers Markets in Arizona, the Best Apple Picking Orchards in the State, as well as the best Pumpkin Patches in Arizona.