Top 14 Authentic Gifts and Souvenirs from Arizona
Arizona is not only one of the fastest-growing state populations in the country, but it is also one of the most visited by people out of state. Seeing the Grand Canyon is a bucket list item for many travelers, as well as some of the other beautiful areas that Arizona has to offer.
Most travelers like to bring home unique gifts and to grab a souvenir from their places of travel. I am definitely one of those people! My personal tradition is to find a cute Christmas ornament that represents where I traveled, so every year when I put up the Christmas tree, I get a rush of nostalgia. Other common souvenirs include keychains, postcards, pictures, toys, or a treat that is unique to the area.
When you visit Arizona, you'll want to grab a unique souvenir that you can't find anywhere else, and that will truly represent the Grand Canyon State at its finest!
In this guide I listed the best gifts and souvenirs from Arizona you should bring home. I'm a local myself, I live in Mesa near Phoenix, so I know a thing or two about local, authentic, and unique goods you can buy.
Read on to plan your souvenir purchase for your next Arizona adventure.
1. Scorpion Lollipop
You read that right! A real (no longer living) freeze-dried scorpion that is encased in a delicious candy square.
The perfect Arizona souvenir!
Scorpions are a delicacy in many countries, but I wouldn't say that is the case here; scorpions are dreadfully common, and frankly terrifying, so there's something funny about putting them into a candy sucker that makes them less scary.
You can find different flavors and variations of this souvenir at any gift shop! Once you reach the scorpion in the center of the lollipop, it's up to you whether you want to be brave enough to eat the arachnid or throw it away. Personally, I don't want those stinging little guys near me, dead or alive!
If you find yourself in Scottsdale, visit Old Town Candy and Toys to pick out the flavor of an edible scorpion!
2. Red Rocks from Sedona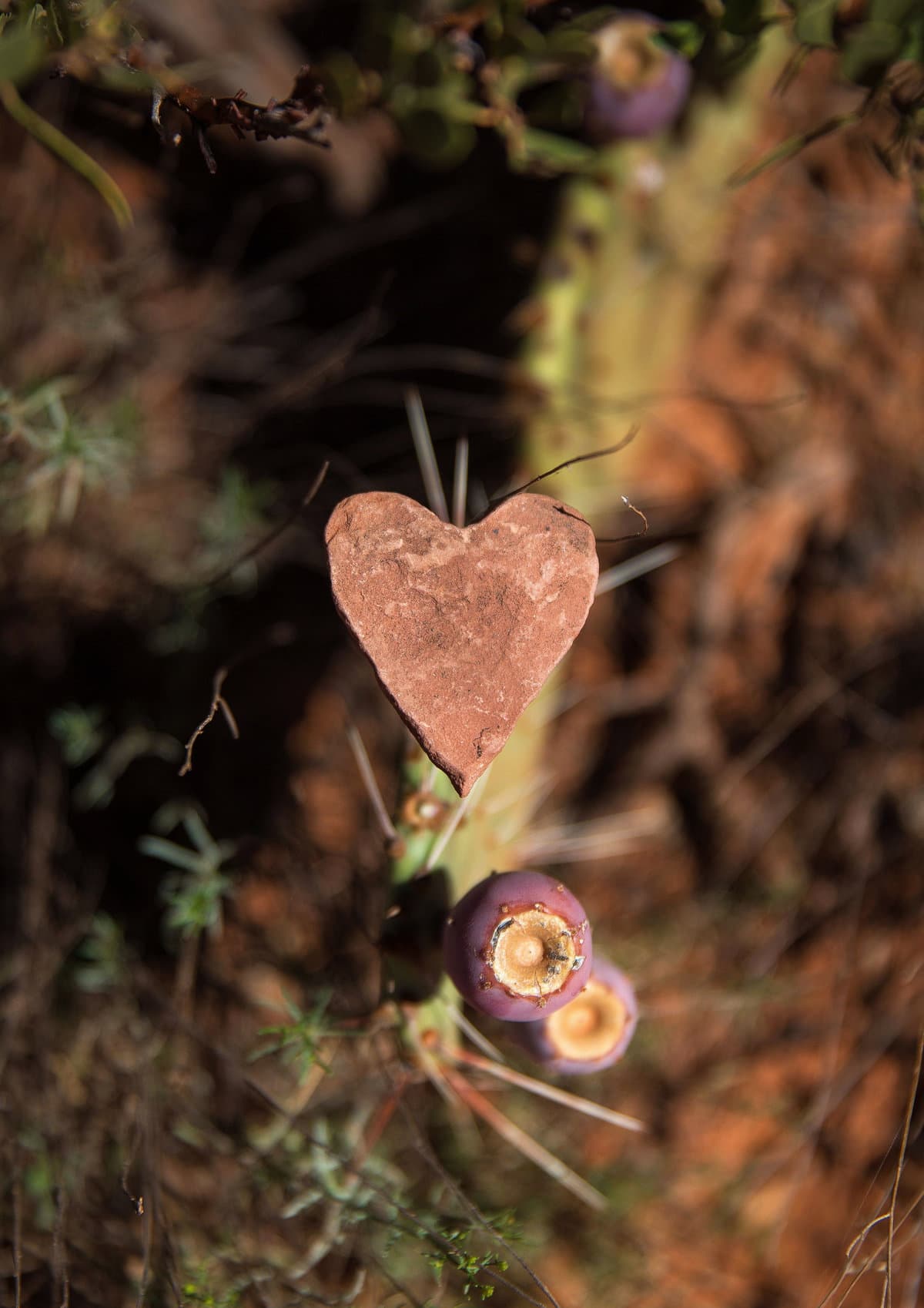 Now, don't go picking up your red rocks from the high desert around Sedona (that violates the rules of Leave No Trace) but there are rock and mineral shops in and around Sedona that have curated their selections of gorgeous rocks, minerals, gemstones, crystals, and more!
Sedona is a common place for people to visit who are looking to connect spiritually to the landscape or themselves, and bringing home a little piece of Sedona with you is the perfect way to remind yourself of your experience!
Always buy from a reputable and sustainable source, such as Natural Wonders or Treasures of Earth, both locally-sourced small businesses that offer a wide variety of souvenirs.
3. Route 66 Memorabilia
If you find yourself visiting the mountain town of Flagstaff, it helps to be aware the historic route 66 passes through town! The locals love this part of their history and several of the gift shops in town are devoted to selling Route 66 commemorative items like t-shirts, hats, magnets, stickers, and more.
"Addicted to Route 66" and "Cruisin' on Route 66" are two popular shops in Flagstaff or nearby Williams that have all of your Route 66 needs. Grab a good-quality shirt, a sticker to put on your water bottle or computer, a snappy hat with the historic Route 66 sign on it, or even a mug to add to your collection! Now everywhere you go, you'll have a conversation starter for other history buffs.
4. Grow Your Own Cactus – Cactus Souvenir from Arizona
If you visit a souvenir shop in Old Town Scottsdale called Kactus Jock, you'll be able to take home your own little relic of the desert – the cactus.
The little pot and seed packet contain up to 10 different varieties of cactus that are all found in Arizona, such as the famous saguaro, cholla, or prickly pear.
All cacti take many years to grow to full height, so don't worry about your little cactus outgrowing its pot anytime soon! Perfect for those who live in apartments or move often, the Grow Your Own Cactus kit will be a wonderful souvenir for any visitor who wants to take a part of the desert home with them.
5. Olive Oil from Queen Creek Olive Mill
The Queen Creek Olive Mill has been producing some of the finest olive oil in Arizona for decades, and all of the olives used in their oils are grown on a 56-acre farm near the San Tan Mountains.
The olive mill is a popular Agrotourism destination, where you can learn how olive oil is made from bloom to table.
The olive oil you'll find here isn't just your run-of-the-mill (pun intended) plain oil – exotic flavors like garlic, lemon, bacon, basil, rosemary, and more can be found in their store. Take your cooking to the next level with some home-grown Arizona olive oil from Queen Creek Olive Mill, and your friends and family will be wowed by your chef skills!
6. Crockett's Desert Honey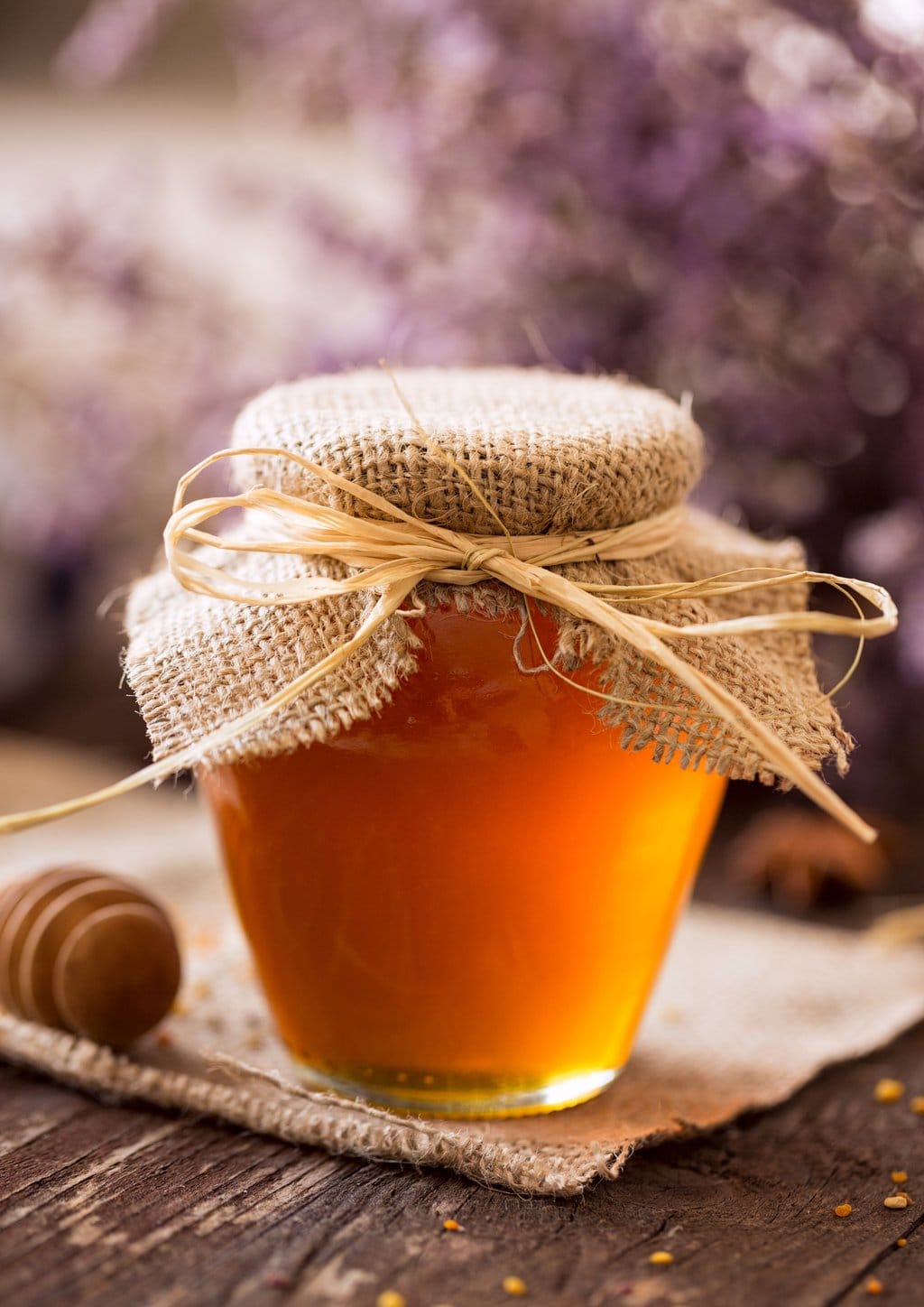 Agriculture is a big part of Arizona's history and economy, and honey bees are a crucial part of the success of these crops.
Crockett's Desert Honey is harvested from bees that feed on mesquite trees and Sonoran wildflowers, giving the honey a uniquely Arizona flavor that you can't find anywhere else.
The Crockett Honey Store is located in Tempe, but you can also find this delicious honey at local grocery stores like Sprouts or Natural Grocer.
Additional bee products like beeswax chapstick, honey candy, and bee pollen can be found at the Crockett Honey Store. Your taste buds will thank you for bringing home this sweet treat!
7. Native American Jewelry and Handmade Products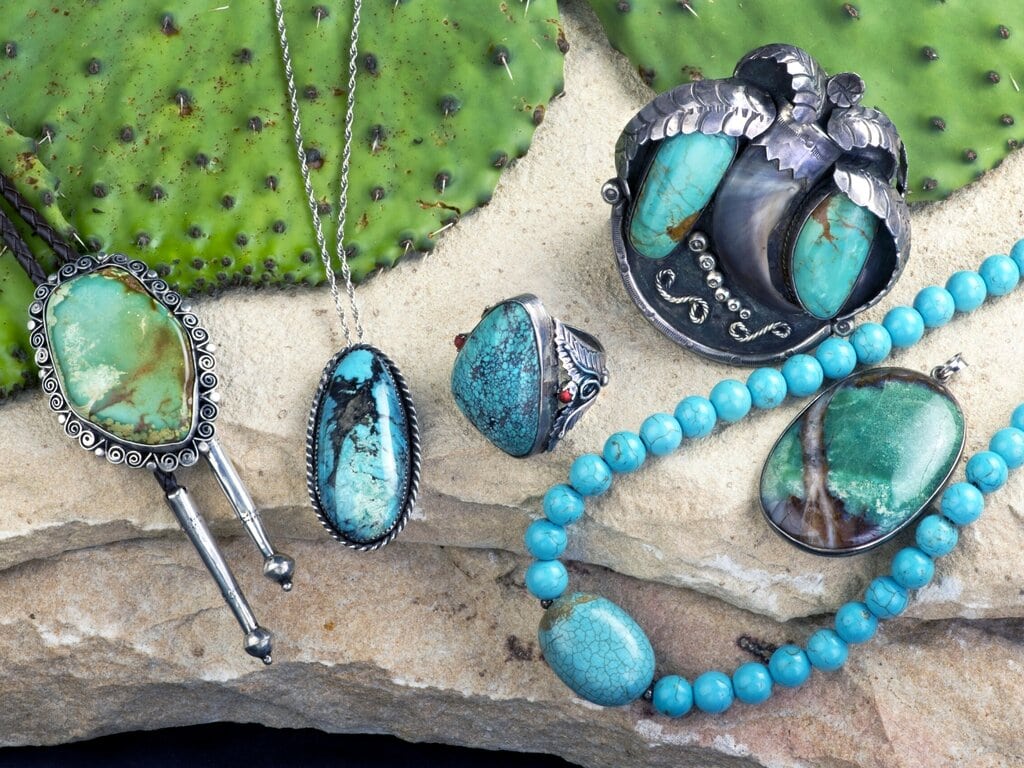 The Native American tribes have been residents of Arizona for centuries, the most populous being the Navajo People. Throughout areas of northern Arizona, you'll see trading posts and gift shops along the highways. These are always worth a stop to stretch your legs and shop around a bit for some authentic Native American handmade gifts.
The Navajo are known for their beautiful jewelry made out of turquoise and other fine gems or metals found throughout Arizona.
Invest in a quality piece of jewelry or clothing handmade by a Navajo native and you'll get compliments everywhere you go.
Always be sure to buy direct from the artisan, and there are small shops like Marble Canyon Trading Post near the Grand Canyon or Native American-owned gift shops in Old Town Scottsdale.
8. Arizona National Parks Poster Collection
Arizona Highways is the Grand Canyon State's best magazine that features the best parts of the state and has an online store devoted to Arizona-themed gifts.
On their website, you can purchase a commemorative Arizona National Parks Poster Collection, a series of gorgeous 16"x20" posters made by local artist Daniel Shewmaker.
Each colorful, vintage-inspired poster features a national park or monument in Arizona, with 11 posters in total available. This artwork was made to celebrate the centennial anniversary of Grand Canyon National Park (Arizona's number one tourist destination) in 2019, and make a unique display on any wall to celebrate the beauty of Arizona's landscapes.
Many other options and beautiful artwork are available in gift shops and online, so you'll have plenty of choice.
9. Authentic Cowboy Hat
This is definitely an investment as far as souvenirs go, but for Western enthusiasts and real cowboys, there's no better place to shop for a new cowboy hat than Watson's Hat Shop in Cave Creek.
Utilizing antique tools and machinery to make these authentic hats, owner Eric Watson, his wife, and other talented employees painstakingly craft each hat to perfection.
Each hat can be customized to your own head shape and size, and the incredible 64-step process ensures a one-of-a-kind piece for your collection.
These cowboy hats are made to stand the test of time, and customers leave happy and satisfied every time!
Celebrities and famous ranchers have bought Watson's hats, so you know they're good.
10. Bottled Summer Rain
If you've ever visited Arizona in the summer, then you're familiar with the intoxicating smell of summer rain. Visitors often say they wish they could bottle up that smell and take it with them everywhere!
What you're actually smelling is a native plant called creosote, which emits that incredible scent when wet. Some areas of the state even have dirt that smells similar when they get wet from the mighty monsoon storms.
At Bisbee Soap & Sundry, you can get about as close as possible to bottling up that familiar smell of rain.
Their creosote-scented soaps and candles are some of their best-selling products and for good reason! They've managed to capture the scent of summer rain almost perfectly!
Grabbing a few of these products is a good way to bring you right back to Arizona's deserts after you return home.
Also, Bisbee is a small but robust tourist town located in southern Arizona, and well worth the visit!
11. Phoenix Cooks: Locally Curated Cookbook
Phoenix may not be well-known for its restaurant industry, but visit here often enough and you'll soon hear about our legendary chefs and restaurants that create some of the most unique and palatable dishes around.
Culinary artisans concoct some of the most delicious fares you have ever tasted at restaurants such as Barrio Cafe, Cotton & Copper, and my personal favorite, Virtu Honest Craft.
The new cookbook Phoenix Cooks features recipes from the owners/chefs at these restaurants, and more!
You can currently buy autographed copies at many of the 55+ restaurants featured in this carefully curated cookbook, and try your hand at some of the sometimes-complicated but always incredible dishes found in this book.
Throughout Phoenix Cooks, learn the stories of our favorite local chefs and their journeys to building their careers in the Phoenix Valley.
12. State Forty Eight
This clothing store is all about Arizona, and its designs are modern, sharp, and fashionable.
Their logo is easily recognizable and wearers are always proud to represent our state!
So-named because Arizona was the 48th state in the United States (only behind Alaska and Hawaii!), State Forty Eight has a huge catalog of shirts, hats, stickers, flags, baby clothes, jackets, and so much more.
State 48 also has its State Forty Eight Foundation, which aims to promote small businesses, create a sense of community, and support non-profit organizations throughout Arizona.
A portion of their sales goes to support the foundation and its mission, so when you buy from State 48, you know you're doing some good while looking good!
13. Practical Art
If you want the most unique and one-of-a-kind gifts from Arizona to give to your special someone, visit the artisan store Practical Art in Phoenix. Featuring art, accessories, kitchen wares, home decor, and much MUCH more, all of the items featured at Practical Art are created by local artists!
Sometimes there is only one of a certain piece of art or gift available, so take your time browsing this eclectic store to find the perfect souvenir to remember your Arizona trip.
So many of these artistic items are sure to be conversation starters, and any of them will look gorgeous in your home. Bring a bit of Arizona artisans home with you from your trip and beautify your home all at the same time!
14. Everything Form "Arizona Gifts"
As the name would suggest, Arizona Gifts is one of the best and largest gift shops in all of Arizona!
If you are having a hard time finding that perfect souvenir to take home to friends and family, you'll be sure to find it at Arizona Gifts. Their online catalog is enormous, and so is the in-store inventory.
You could easily spend hours browsing for the perfect gift, but each item is more delightful than the last!
Arizona is famous for its towering saguaro cactus, desert landscapes, local insects and animals, prickly pear fruit, and countless other things unique to this southwestern state. At Arizona gifts, you'll find handmade pottery, gift baskets with an assortment of local food items, home decor, and drink coasters with famous Arizona landmarks… honestly, I could go on forever!
Visit their website or store to find that perfect souvenir to take home with you, something that is quintessentially Arizona.
Before You Go
Souvenirs are a common way to enjoy memories from your favorite trips, and to give as unique gifts to your friends and family. Arizona has no shortage of excellent choices for you to take home.
Whether you want to spend some good money or keep things more affordable, you'll be sure to find something that you love. Clothing is always a good choice, as you'll generally get more practical use out of a t-shirt or hat than say, a bowl or piece of art (not that those things are bad choices!).
I personally love buying gifts from State Forty Eight, as an Arizona native, I love to represent my love for this state everywhere I go! Cooking with locally-produced olive oil, honey, or spices is another way I love to celebrate my home state. I am even tempted to add a creosote candle to my online shopping cart; now that monsoon season is over, I miss that delicious summer rain smell!
Buying local is always a good choice; supporting small businesses and local artisans is a great way to show your appreciation to the native Arizonans who welcome millions of tourists every year to our gorgeous state!
For more tips and ideas check out my guides about the Best Antique Stores in Arizona, Must-Eat Arizona Food You Should Try, and the Best Hot Springs in Arizona.