Top 7 Best Campsites on Arran
Probably my favorite Scottish island, Arran is brimming with loads of outdoor adventures. Across the entirety of the place, you get hiking, cycling, multi-day trails, and lots of lovely nature.
And on top of all that fun stuff, the island is also home to some excellent places to pitch up a tent. So in this quick guide, we've brought you the 7 best campsites on Arran.
Go grab that sleeping bag and come join the fun!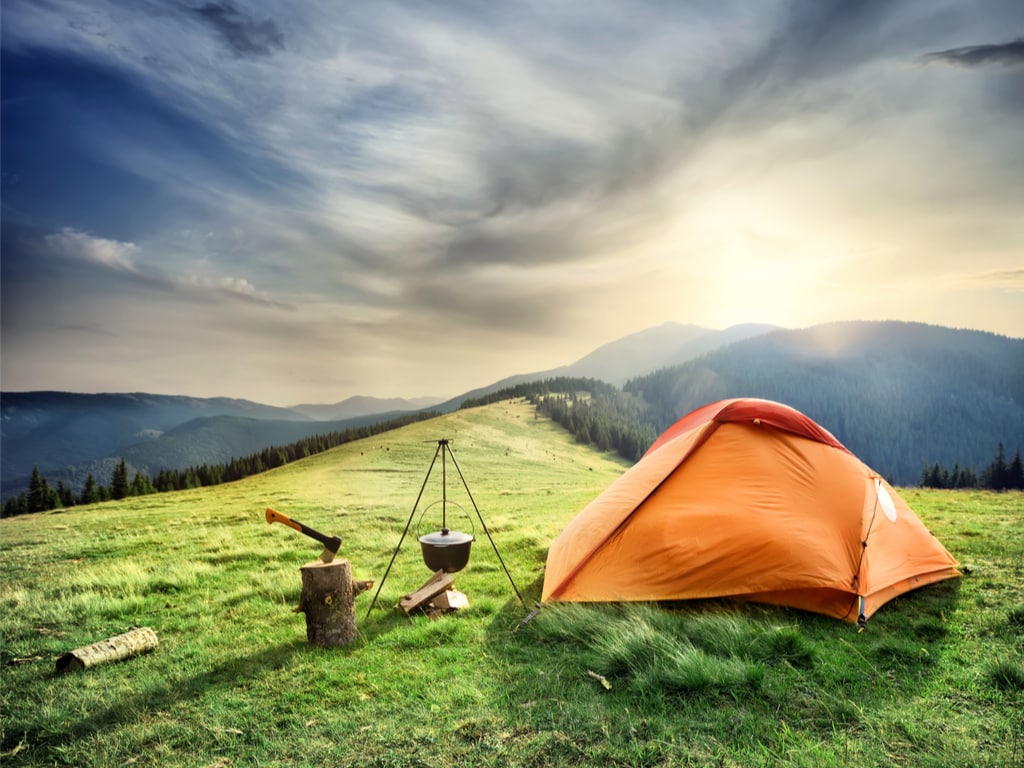 1. Lochranza Campsite and Golf
My favorite campsite on the Isle of Arran by a long stretch, this place is great.
Set in the far north of the island, right beside some pretty hills, it's beautiful, cozy, and welcoming, and it's one of the biggest campsites on the island—they have plenty of space for campervans and tents, along with some great glamping pods.
The people who own the place are ridiculously friendly. It's impossible not to make friends with them and fall in love with their hospitality.
The campsite is probably most famous as the home of a basic but great 11-hole golf course.
But here's the best thing about it: at the northern tip of the campsite, close to the sea, there's a herd of free-roaming red deer.
If you only do one thing on Arran, go and make friends with them. Oh, and make sure you try to spot some golden eagles in the area.
2. Glen Rosa Campsite
If you're visiting Arran in the pursuit of some lovely hikes, you'll probably want to stay at Glen Rosa Campsite.
Snuggled somewhere between Brodick and Goatfell, Glen Rosa is a beautiful valley with a huge number of excellent strolls. I think it's definitely the best base on the island for walking and wandering (and for climbing up Goatfell!).
The campsite is as basic as you can get. Here, you don't get much beyond cold running water and some rudimentary toilets, but when it looks this good, you don't need much else. And as a lovely bonus, it's a very affordable place, with really low rates.
It's a really charming and low-key place—because staff aren't always at the site, you pay by putting your money in an honesty box. Cute!
Top tip: this part of Arran is hugely liable to heavy flooding. So if it's been raining, or if rain is forecast, you really don't want to stay here. You and your tent will end up wading around in a big pool of water.
3. Seal Shore Campsite
You can't get much closer to the sea than this; you pitch up on grass, but you're never more than a 2-minute walk from the water. One of the prettiest campsites I've ever seen, it's impossible not to fall in love with this place—if you want quaint and cute, you've found it. And they even have glamping pods!
The big draw here is all the wildlife. As you've probably worked out for yourself, it's a great place for spotting seals… but there's also a good chance of seeing otters, and lots of lovely birds.
It routinely gets nominated as an excellent site, and was the proud 2019 winner of The Guardian's '20 of the best campsites in UK and Europe by public transport' category.
If you're traveling during midge season, this is a great place to pitch up. Because it's right on the sea, the pesky little critters are deterred by the site's breeze. So no biting, no head nets, and no ruined vacation.
And because the site is right on the southern tip of the island, it's in a great location for avoiding lots of Arran's crowds.
4. Bridgend Campsite
If you want to get all remote and rural, stay here.
Sitting on the western side of the island, not many tourists come here—and even fewer overnight in the area (especially in a tent). So if you're looking to avoid crowds, this is a brilliant option.
It's a quiet place and attracts a quiet crowd, so it's a welcome hangout for anyone on the hunt for lots of silence and serenity.
But despite the laid-back location, the facilities here are excellent, including fridges, freezers, electricity, a dishwashing area, and toilets. They have space for motorhomes, caravans, and tents, and even offer WiFi.
There's a small play area for kids, and the staff are really welcoming and friendly. But if you're traveling here in summer, be prepared for huge swarms of midges.
5. Balmichael Glamping
Right beside Bridgend Campsite, Balmichael Glamping isn't a place where you pitch up your own tent.
Instead, you hire one of their barrel pods or safari tents, for a welcome slice of luxury. It's a little more expensive than slipping into your own canvas shack, but it's also much more enjoyable. If you're looking for a camping experience, but without all the pitfalls, you've found a perfect place.
They have a hot tub, a wood-fired pizza oven, a kids' play area, an on-site farm, and a well-stocked honesty shop. The shop offers hyper-local produce, including cheese, ice cream, and plenty more.
But the place is most famous for being the home of a cute herd of alpacas. You can hike with them, feed them, and learn all about their life on the farm.
And on top of all that, the site also hosts lots of excellent kid-friendly activities.
6. Runach Arainn
Next up on our list, Runach Arainn is another glamping site, and it's even more luxurious (and pricey!) than our last entry.
The place is home to three comfortable, cozy, and surprisingly-spacious yurts. Each one is fully-equipped with towels, bedding, cooking utensils, sofas, firepits, and wood burning stoves.
Close to Lagg, on the southern side of the island, it's a really peaceful site in a really peaceful location. Set in a small orchard, you'll feel like the master of your own little farm.
If you're looking for a luxury camping-style experience, this is undoubtedly the best campsite on Arran. You get warmth, comfort, and privacy, but you also get all the camping perks. So long as you're not traveling on a budget, I totally recommend the place!
7. Middletons Camping
In Lamlash, just south of Brodick, Middletons Camping is perched in one of Arran's prettiest spots. Just a tiny walk from the site, you get some great beaches, the charming village of Lamlash, and some lovely views of the Holy Isle, which sits just off Arran's east coast.
The site itself has all the basic facilities you need, it's one of the most sociable sites I've ever been to, and the prices are super low.
If you want to tackle some coastal walks around Arran, it's one of the best-located campsites on the island. The wander from Lamlash to Brodick is excellent, as is the wander south out of Lamlash.
Best of all, Lamlash makes for a great alternative base if you don't want the busy bustle of Brodick. In the village, you get just as many conveniences (it's actually the administrative center of the island) without all of Brodick's crowds.
Final Thoughts and Further Reading
So, that's them all—the 7 best campsites on the Isle of Arran. Thanks for reading!
Want to know anything else about the place? Check out our articles on the best hikes on the Isle of Arran, the best hotels on Arran, and the top 14 reasons you need to visit the island. And if you're interested in wild camping, pitch up in our guide to Scotland's incredible Right to Roam!
See you next time!
Being a Digital Nomad: Tips, Tricks and Places
Do you want to be a digital nomad?
If you do, maybe you don't know where you might want to live. Or how to live there. Or whether you need a visa. Or how to make friends in the scary sprawl of a brand-new city. Or how to stay productive while you travel. Or how to find an apartment. Or whether this lifestyle really is for you. Or… I'm sure you get the idea.
But with some insight and experience, it's not as difficult as you think. So in this book, I've gathered my 6 years of digital-nomadding experience… and I've used it to answer all your questions, soothe all your fears, and get you on your way. After reading this, you'll realise being a digital nomad is much easier (and much more possible!) than you think.