Top 13 Most Beautiful Coastal Walks in Scotland
Scotland is one of the world's best hiking destinations.
It's also one of the world's best beach destinations.
Add those two things together and you get a handy little package of a nation that offers a ridiculous number of incredible shoreline strolls.
In this list, we've assembled the 13 best coastal walks in Scotland. We've featured short hops, multi-day hikes, island escapes, clifftop wanders and beautiful beaches. Whatever type of coastal walk you're seeking in Scotland, it's on this list.
Grab your hiking poles, pack your rucksack and join us – today, we're strolling, roving and clambering along the most beautiful coastal walks in Scotland.
1. Arran Coastal Way – Best Long-Distance Island Walk
Arran's my favorite island in Scotland. It's lots of people's favorite island in Scotland.
Known as 'Scotland in miniature', Arran features everything that people love about the nation, including mountains, beaches, brilliant wildlife and excellent hikes.
Arran is home to many wonderful hikes, and the best one of them is the Arran Coastal Way, a diverse trek which runs (almost) around the entire circumference of the island. Measuring in at 65 miles (105 kilometers), it's absolutely the best way to get acquainted with the entirety of the island, offering small peaks, craggy cliffs, charming towns, tiny villages and loads more.
If you want to feel like you've "done" all of Arran, walk the Arran Coastal Way.
If you only want to do one short stretch of the whole hike, consider walking from Lochranza to Sannox. This section features deer, abandoned houses, small settlements, boats, cliffs and (if you're lucky) dolphins. This section is around 16km (10 miles).
Oh, and while you're on Arran, walk up Goatfell too. The highest point on the island and Arran's most popular hike, it's an excellent but accessible trek, reaching a lofty summit of 874 meters.
2. Moray Coastal Trail – Best Underrated Long-Distance Walk
North of Elgin and northeast of Inverness is the Moray Firth, a triangular inlet in this hugely underrated pocket of Scotland.
The Moray Coastal Trail takes hikers along a stretch of the southern section of the Moray Firth, clocking in a total of around 72km (44 miles), making it a great option if you're looking for a long-distance walk which isn't really long-distance at all.
The walk features fishing villages, clifftop drops, beautiful beaches, coves, old railways and loads of chances to spot dolphins, whales, porpoises and more. If you want a relatively easy insight into all the variety that the Scottish coast can offer, the Moray Coastal Trail is excellent.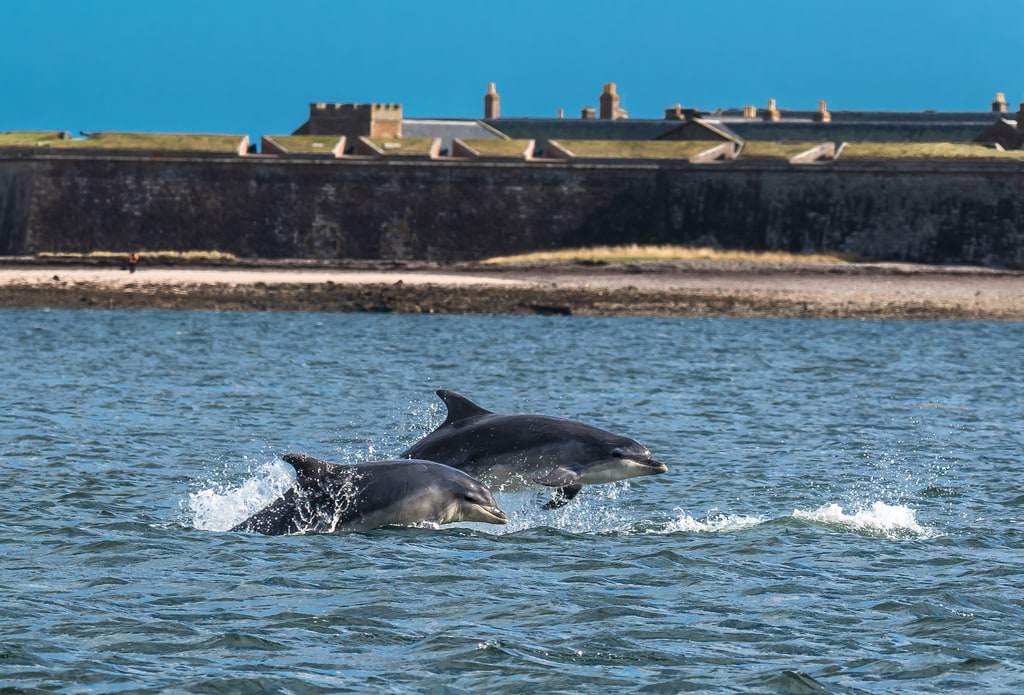 If you only want to walk one stretch of this walk, make sure it takes in Lossiemouth. Scotland is packed with loads of tiny villages, but Lossiemouth is one of the best. It's charming and diminutive, the locals are friendly, and there are loads of great day trips nearby.
3. Fife Coastal Path – Best Long-Distance Mainland Walk
This is a popular long-distance route for hikers visiting Edinburgh – the first stretch begins in Kincardine, which is pretty close to the nation's capital. If you like a good mixture between rural and urban, this is an excellent choice – in addition to cliffs, forests and castles, the route also passes through busy towns, lovely villages and important industrial hubs.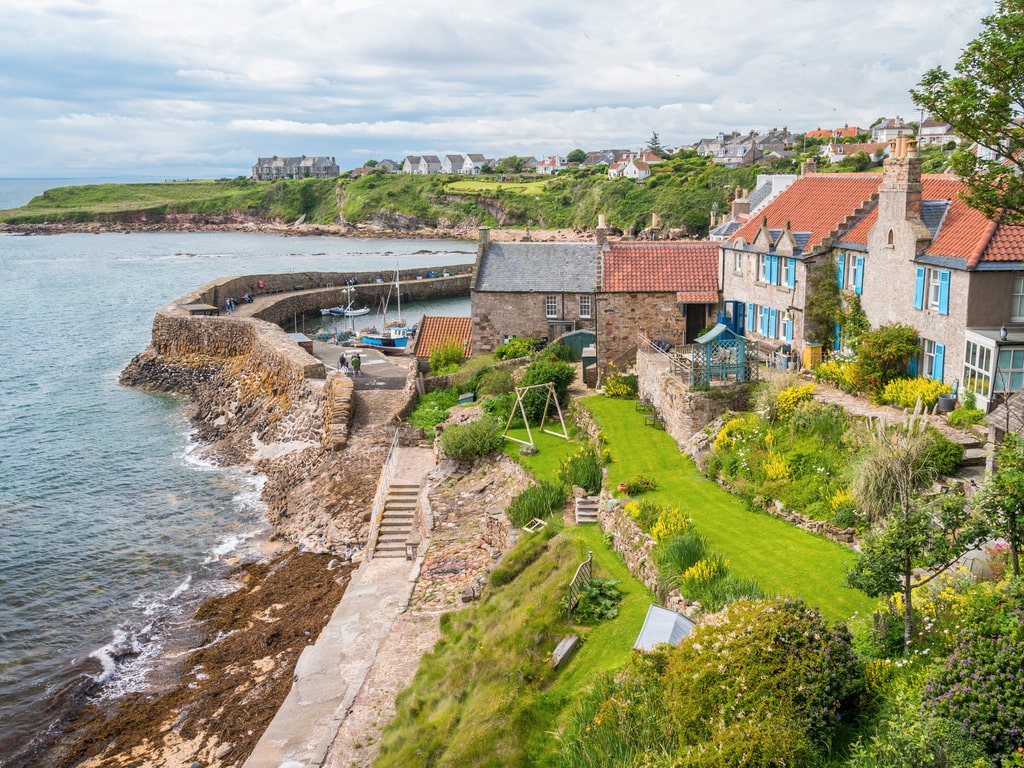 Another highlight of the Fife Coastal Path is St. Andrews, 'the home of golf,' with its massive university and ruined castle and cathedral.
If you only want to walk one stretch of the Fife Coastal Path, consider Elie to Crail. This section is 10 miles (16km), it's the most well-known part of the walk, it's suitable for everyone and it includes ruins, villages and excellent seaside vistas.
4. Berwickshire Coastal Path – Best Long-Distance Southern Walk
Most tourists head to two parts of Scotland: Edinburgh and The Highlands.
Very few of them visit the southern stretches of the country, but they should. It's a massively underrated part of the nation, which means fewer tourists, less bustle and lots more opportunities for solitary exploration.
The Berwickshire Coastal Path actually starts in England, in the border town of Berwick.
I used to live there.
Berwick itself is a cosy little place to start. It's a small town, it's packed with good conveniences for the journey ahead, and it offers a weird combination of Scottish and English cultures, with one of the strangest accents in England.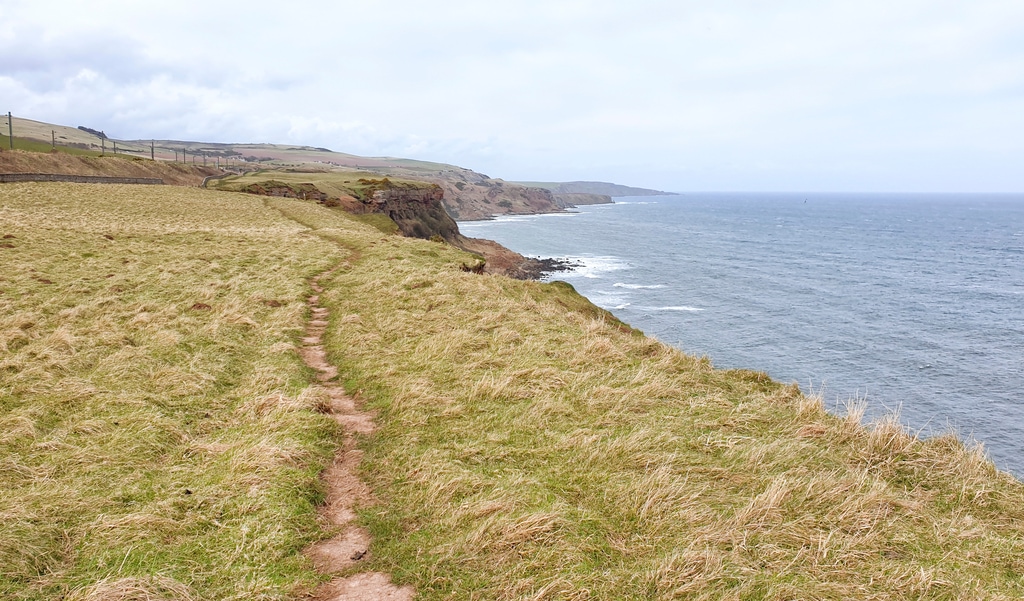 The path then stretches 30 miles (48km) to Cockburnspath, a tiny village somewhere between Berwick and Edinburgh. The entire walk is quiet and peaceful, and allows you to experience the famous Scottish remoteness without having to venture very far north.
If you only want to walk one stretch of the Berwickshire Coastal Path, consider sauntering from St. Abb's to Eyemouth, which brings us to…
5. St. Abb's to Eyemouth – Best Southern Short Walk
The hike from St Abb's to Eyemouth is only around 4 miles (6km), and it's easy to walk and navigate, but the views and sights completely outweigh the effort needed to tackle the trip.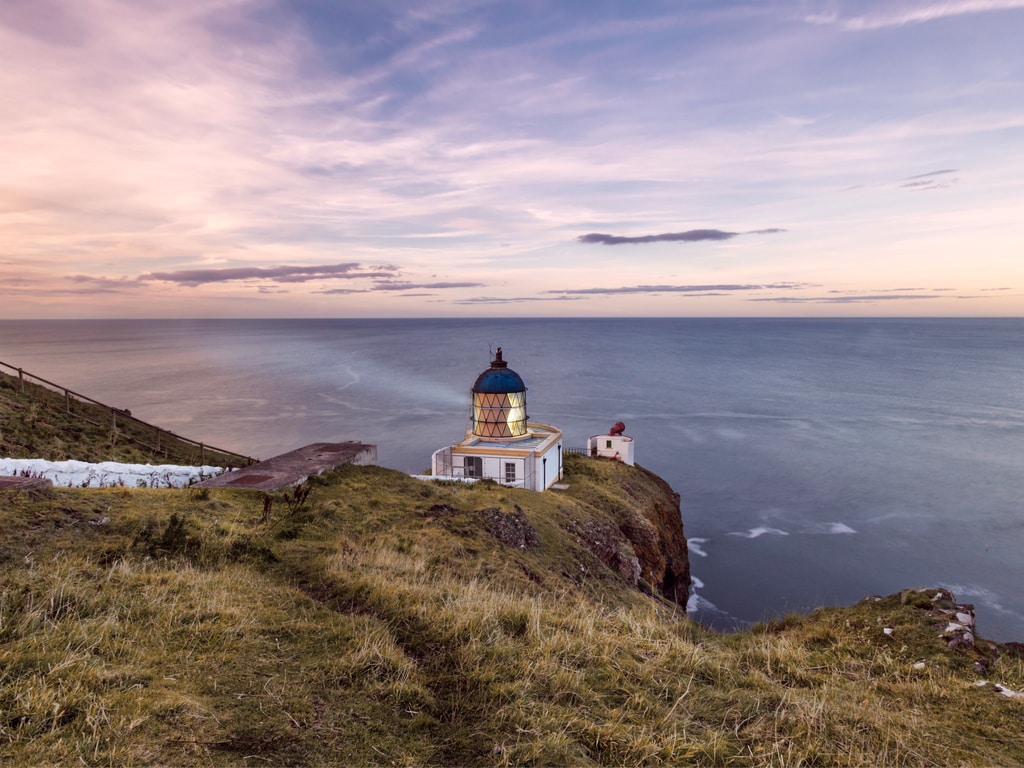 And although this is a short walk, there's a surprising amount of variety – you get the busy but diminutive coastal town of Eyemouth, secluded sands at and around Coldingham Bay, farmland, tiny valleys, distant views of a famous lighthouse, and much more.
If you want the best of coastal Scotland packed into a short and undemanding walk, this is as good as it gets.
6. Achmelvich Bay – Best Gentle Jaunt
This ones a little different to all the other walks we've featured so far, in that it's not a real hike – it's just a gentle stroll along a beach. But if you love simple shoreline walks, this is one of the best in the world – lots of people reckon Achmelvich Bay is the best beach in Scotland, and it's popular with fishers, kayakers and windsurfers.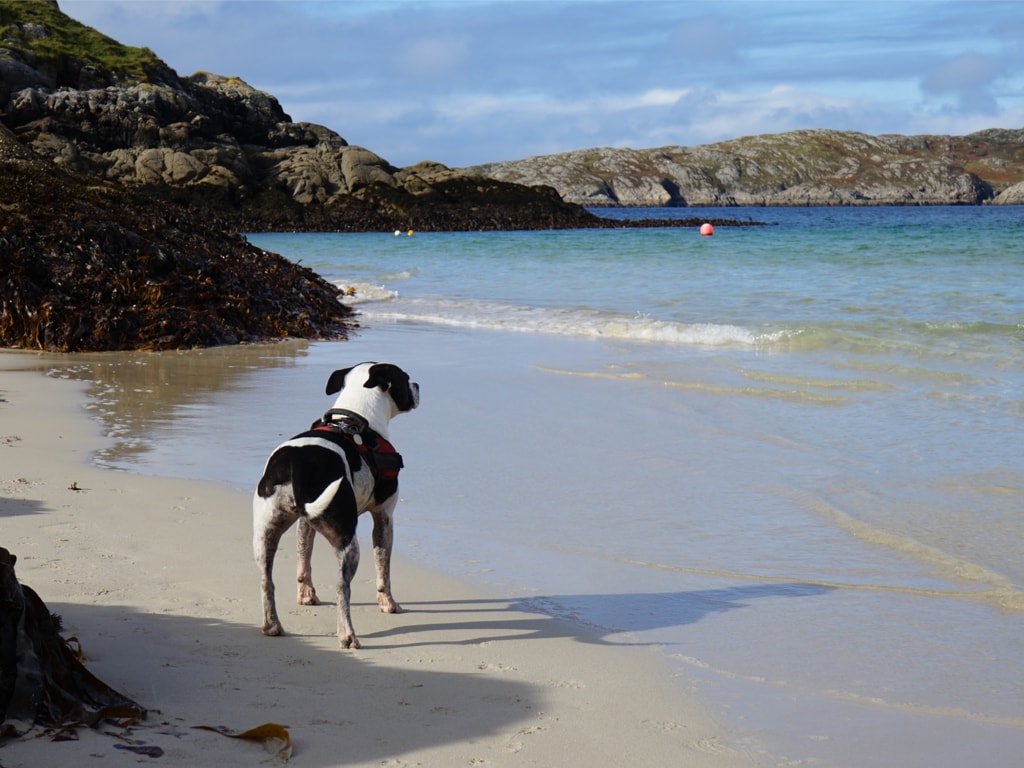 If you want a nice walk on Achmelvich Bay, you can just take a gentle wander along the sands. Or if you're looking for a longer walk, consider walking to Alltan'abradhan, which is around 2 miles (3km) away.
If you like these types of strolls and sands, also consider Melvich Beach, on the northern coast of the nation. Melvich Beach and Achmelvich Bay have similar names and similar sands to one another, but you should visit them both. For many travelers, these two beaches are two of the biggest highlights along the North Coast 500, one of the world's best and most varied road trips.
Plockton is one of my favorite places in Scotland. It's tiny, there's not much to do, and there's not much to say about it, but it's just ridiculously charming.
It's a perfect little Scottish village, sandwiched between beaches and mountains, and everyone loves it.
The circular walk from Plockton to Duncraig clocks in at around 4 miles (6km).
It skirts around a small portion of Loch Carron, one of the best lochs in the country, taking in views of forests, shores, and Plockton's charming boats and houses. The main highlight of this short stroll is Duncraig Castle, which looks like it was plucked from the set of a Harry potter film.
If you want remote but short, the Plockton to Duncraig walk is brilliant.
8. Eshaness Circular – Most Remote Walk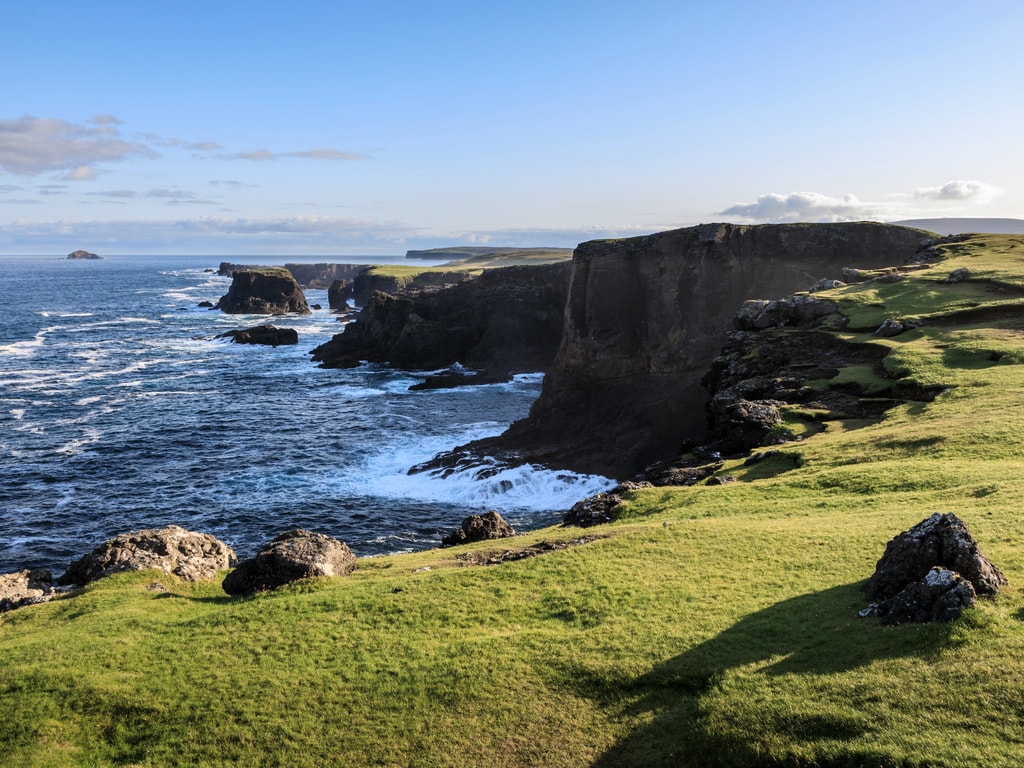 The Shetland Islands sit between Scotland and Norway. An incredible archipelago made up of around 100 different islands, it's one of the most remote, rugged and rural areas of Scotland, lying 130 miles (210km) off the nation's mainland.
If you want a real adventure in Scotland, consider hiking on the Shetland Islands. One of the archipelago's best coastal walks is the Eshaness Circular, which features volcanic cliffs, ancient water mills, several lochs, hole-filled cliff walls, tiny islands and the geometric oddity of Eshaness Lighthouse.
The whole circular measures in at 4 miles (6km) and takes around 3 hours.
9. The Old Man of Hoy – Most Famous Cliff Top Walk
Another island adventure, The Old Man of Hoy is a giant sea stack that towers off the coast of Hoy, an island that forms part of the Orkney Islands. Another archipelago, the Orkney Islands sit halfway between the Shetland Islands and the mainland.
The whole of the Orkney Islands is brimming with cliff top walks, but its most famous stroll is close to The Old Man of Hoy, one of the tallest sea stacks in the UK, measuring in at 137 meters.
The classic walk is via Rackwick. This route measures in at around 6 miles (9km), taking in shores, sands, moors and some of the tallest cliffs in the UK.
If you're seeking out other sea stacks, check out Yesnaby, also in Orkney, and Duncansby Stacks, close to John O'Groats.
10. Dunnet Head – Best Lighthouse Walk
Scotland is crammed with lighthouses. And since lighthouses belong on the coast (how else would they warn ships?), shoreline walks in the nation offer one of the best ways to see them.
Dunnet Head sits at the most northerly point of mainland Scotland, and it's popular with day trippers, cliff walkers and people who like posting pictures of lighthouses on Instagram.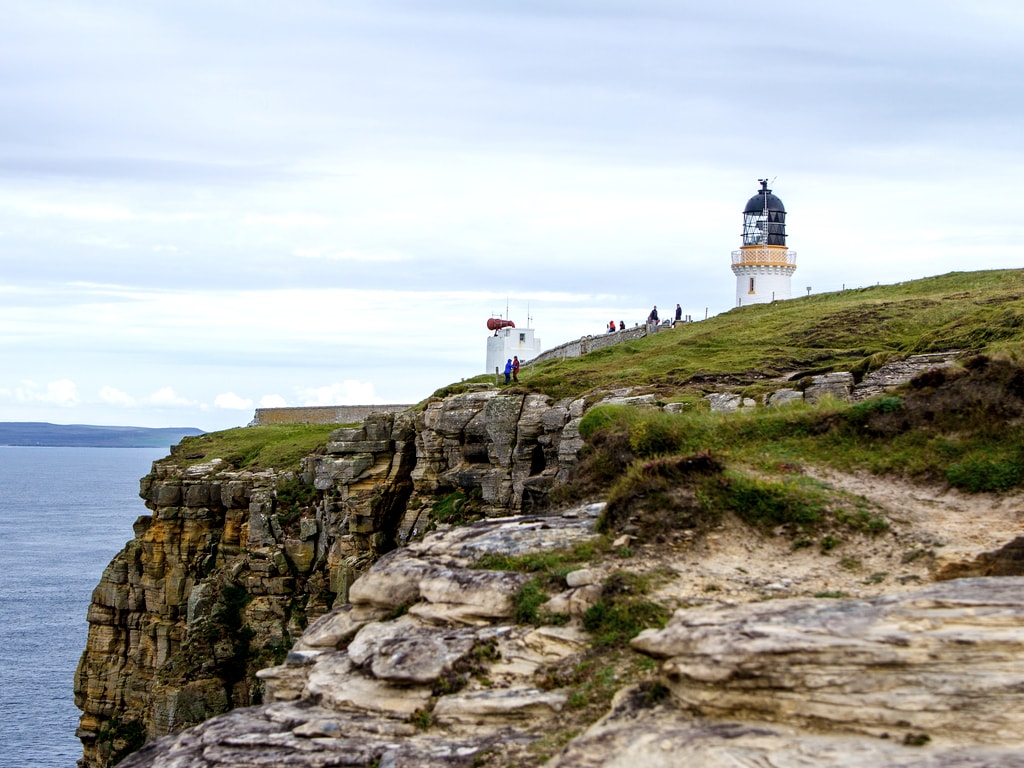 If you just want a short stroll, you can park up in the car park right beside the lighthouse before going for an aimless wander. If you're looking for something more intense, complete the loop from Dunnet village to Dunnet Head, which takes you around almost the entire perimeter of the whole headland. This walk measures in at around 17km (10.5 miles), and takes in cliffs, crags and endless flocks of rare birds.
For other Scottish lighthouses with excellent nearby walks, check out Duncansby Head and Cape Wrath Lighthouse.
11. Bullers of Buchan – Best Aberdeenshire Walk
Aberdeenshire is ridiculously underrated, and lots of people ignore it in pursuit of more famous Scottish destinations (usually in the Highlands). But north of Aberdeen, you'll find some of Scotland's best cliffs, including the excellent Bullers of Buchan.
The Bullers of Buchan is a clifftop hiking area with rocky arches, craggy outcrops, a collapsed sea cave, great wildflowers and countless nesting birds.
There are loads of options for walks on and around the Bullers of Buchan.
You can either park close to the area itself and enjoy a short stroll, or enjoy exploring the cliffs, crags and caves on a walk from the nearby villages of Cruden Bay or Boddam.
For the best (but longest) walk, hike between Cruden Bay and Boddam. This whole walk (one-way) measures in at 8 miles (13km).
12. Sandwood Bay – Best Remote Beach Walk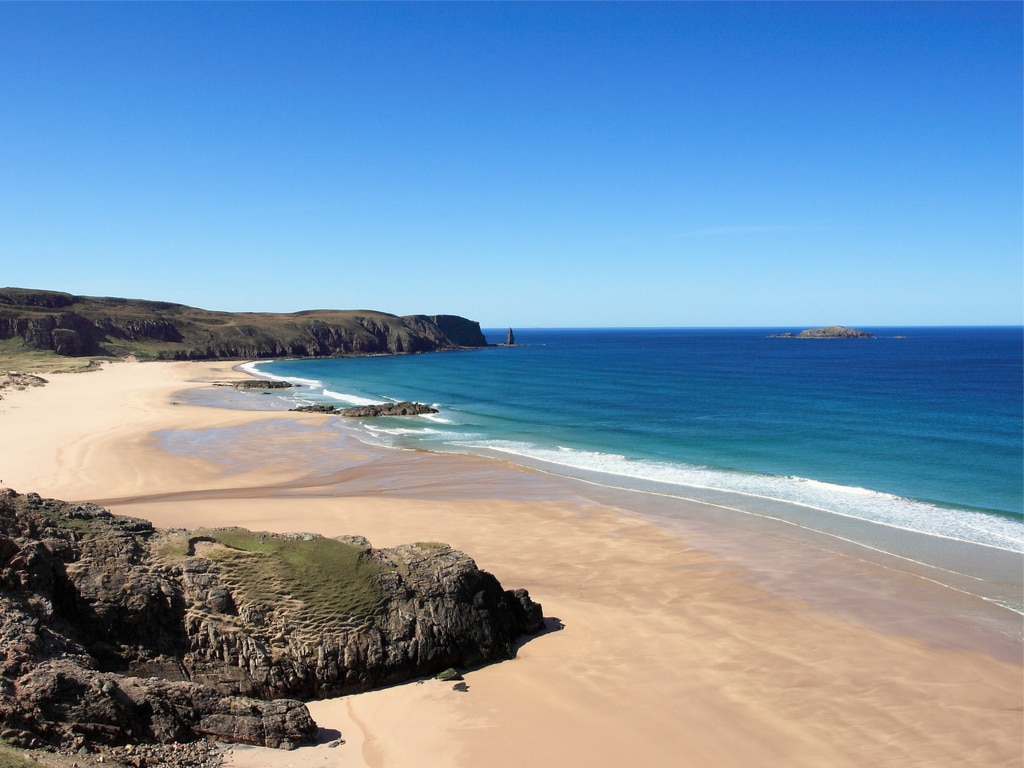 For many people, Sandwood Bay is one of the best beaches in Scotland.
In a country of remote beaches, this is one of the most remote beaches in the entire nation.
It's so secluded that, from the nearest road, the round-trip is around 10 miles (16km). The walk to the bay takes you through barren moorland, several lochs, distant hills and views of the iconic Cape Wrath Lighthouse, while the beach itself is backed by red sand dunes and the shores of Sandwood Loch.
13. Loch Ryan Coastal Path – Best Southwestern Walk
Largely ignored and overlooked, the two southwestern counties of Ayrshire and Dumfries and Galloway have loads of great walks.
Of them all, the Loch Ryan Coastal Path is the best shoreline hike. A one-way jaunt that measures in at around 12 miles (19km), it takes hikers from the town of Stranraer to the tiny settlement of Glenapp, which is most famous for its castle (although you don't reach the castle on this walk). It's possible to return to the starting point by bus.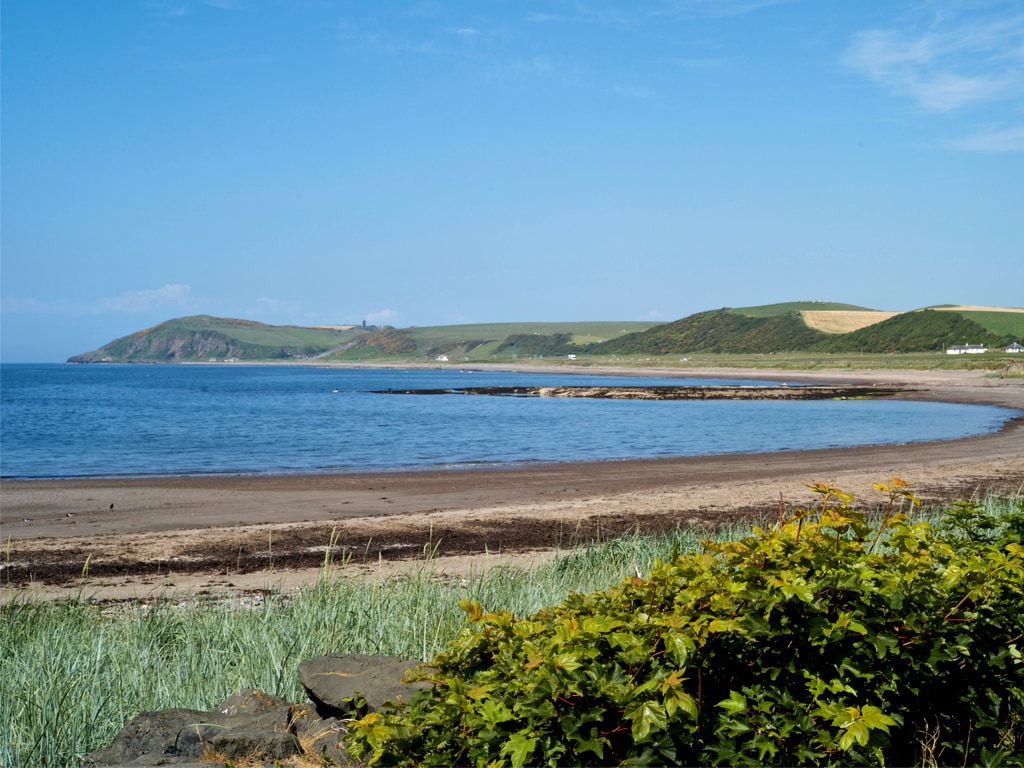 The Loch Ryan Coastal Path is a great introduction to all the area has to offer, with towns, coastal villages, moors, marshes, sands, shores and much more.
Final Words
There they are – the best 13 coastal walks in Scotland! Whatever type of beaches you like, whatever views you want, whatever type of hike you're looking for, this list includes lots of stuff you'll love.
Want to know anything else about Scotland? We have guides on things you shouldn't do, things you shouldn't say, where you can find the best hikes, where you can find the best cliffs, the top reasons to visit Scotland and loads more.
We also have city guides on Glasgow and Edinburgh along with an ultimate guide to the iconic North Coast 500 and a list of the prettiest villages in Scotland. Whatever you want to know about Scotland, we have it on our site!
Being a Digital Nomad: Tips, Tricks and Places
Do you want to be a digital nomad?
If you do, maybe you don't know where you might want to live. Or how to live there. Or whether you need a visa. Or how to make friends in the scary sprawl of a brand-new city. Or how to stay productive while you travel. Or how to find an apartment. Or whether this lifestyle really is for you. Or… I'm sure you get the idea.
But with some insight and experience, it's not as difficult as you think. So in this book, I've gathered my 6 years of digital-nomadding experience… and I've used it to answer all your questions, soothe all your fears, and get you on your way. After reading this, you'll realise being a digital nomad is much easier (and much more possible!) than you think.