11 Best Beaches on the Isle of Arran
One of my favorite places in Scotland, there are lots of reasons to visit the Isle of Arran.
Those varied reasons include charming villages, incredible hikes, multi-day outdoor adventures, great food, traditional live music, and plenty more.
But on top of all that, you also get lots of great beaches, dotted around the entirety of the island.
So in this sand-packed guide, we've brought you the 11 best beaches on the Isle of Arran.
Looking for shores? Walks? Beautiful views? Lucky for you, we've covered it all!
1. Brodick Bay
Because it's close to the island's main village, Brodick Bay is Arran's most easy-to-access beach. It's not the most impressive, but it's surprisingly pretty, and it's the island's best option if you're short on time.
Sandy and sprawling, it's massively popular with families and tourists.
At the southern end of the bay, where the village is, there are lots of places to eat, drink, shop for a picnic, and slurp on some ice cream.
But as you head further north (and further away from the town), the nicer the beach gets. From this northern stretch, you get great views of both Brodick Castle and Goatfell (the latter of which is the highest peak on the island)… and some lovely pockets of peace and quiet.
2. Lamlash Beach
I love this place. At the southern end of Lamlash, it's another good choice for a populated but beautiful spot. Right beside some houses and stores, it's perfect if you don't want to venture very far in your pursuit of a beach.
It's quite an unusual place—because it's only a few steps away from houses and a major (but relatively quiet) road, it feels less like a typical beach, and more like a village park that happens to have a thin stretch of beach running along it.
Aside from the sands, the beach is home to some park benches, perfect if you want to sit down with a little picnic. You'll often find Lamlash's residents perched on these benches, especially in nice weather.
The shoreline has one of the nicest beachside views that Arran has to offer—from the sands, you can see the lumpy mass of the uninhabited Holy Isle.
Because Lamlash is just south of Brodick (and because it's the administrative center of the island), it's easy to reach from most other places on Arran.
3. Whiting Bay Beach
We're heading south again, from Lamlash to Whiting Bay. Whiting Bay is actually the name of a village—but a little north of that village, you have Whiting Bay Beach, which some people think is the best beach on the entire island.
Both sandy and rocky, it measures in at around 1 mile (1.6km) in total, and it's a good compromise between accessible and remote. Because it's close to some small villages, you're never far from action and convenience… but it's also relatively quiet, and it rarely gets busy.
It's a great spot for kids—the water is pretty shallow and gentle, so little ones can splash around safely.
If you follow the beach all the way along to its northern end, you'll find yourself in boulder-spotted Kingscross Point. This famous (and absolutely beautiful!) viewpoint is as close as you can possibly get to Holy Isle (well, without actually visiting the place).
4. Blackwaterfoot Beach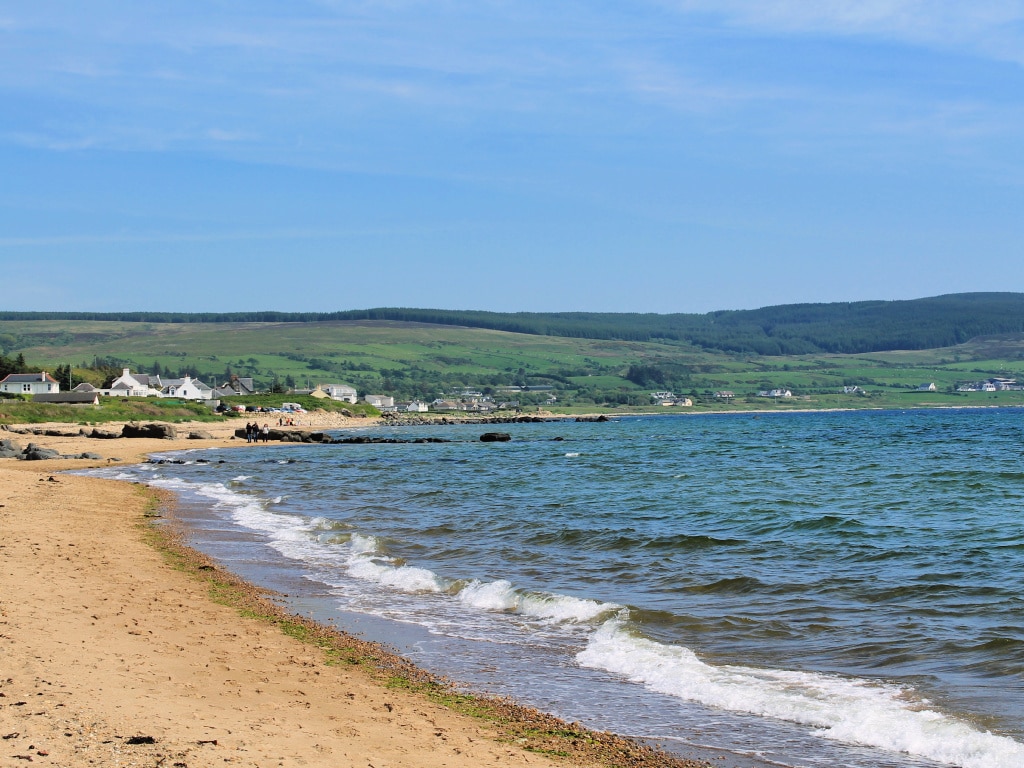 If you're looking for quiet and remote, this is one of the best beaches on the Isle of Arran.
Sitting on the west coast of the island (where not enough visitors go), it's sandy and serene. But although it's tucked away, there's a surprising amount of stuff to do here.
To get the best out of Blackwaterfoot Beach, go for a wander around Drumadoon Point, a cliff-covered viewpoint sitting beside the remains of an Iron Age fort.
Or for an even longer stroll, follow the coast all the way along to King's Caves, some carving-packed caverns with great views of the sea. It's a great spot for grabbing some unique photographs.
Blackwaterfoot Beach is one of the top places on the island to watch the sunset, and I totally recommend it. Even better, it's pretty normal to see dolphins and whales swimming just off its shores.
5. Catacol Beach
Also on the western side of the island, Catacol Beach is one of the most underrated spots on our list.
Pebbly instead of sandy, it's always quiet, and it's a nice spot for a peaceful picnic or a romantic walk.
Because there's very little sand on the narrow bay, it's not a good spot for lying in the sun. But if you want a quiet wander, it's definitely one of the best beaches on the Isle of Arran—and it has some of the clearest water the island has to offer.
Close to Lochranza, Catacol is one of the smallest settlements on Arran. Made up of little more than a row of 12 white-fronted houses, these charming homes look directly over the beach. Don't be surprised if you start telling yourself you want to buy one of them.
6. Pirnmill Beach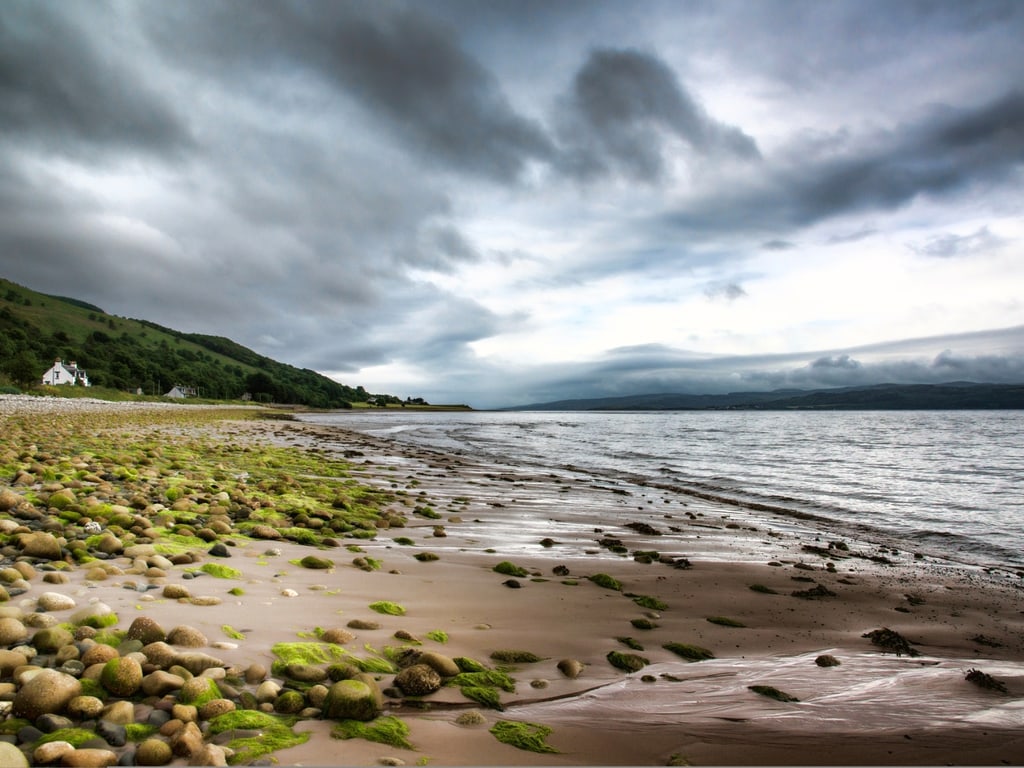 Another local favorite, Pirnmill Beach is a really popular option—lots of people, when they're asked to name their favorite beach on the island, they'll nominate this place.
South of Catacol, it's definitely one of the prettiest places on the island.
That said, it sits right beside the major road running through the village… so although it's beautiful, it's not ideal for anyone traveling with kids or dogs. But for a pebbly stroll, a romantic picnic, or nice views, it's a great option. Overall, it's pretty similar to Catacol Beach.
When you're done at the beach, I recommend eating at The Lighthouse, one of the best eateries on the western side of the island.
7. Cleat's Shore
The only officially-designated nudist beach in the entirety of Scotland, this place probably isn't to everybody's taste.
It's a remote place, and it never gets too busy. It was described in the book 'Bare Britain' as "probably the least-visited nudist beach in the known universe".
Right in the south of the island, it's down a small road close to Lagg Distillery. It's most famous for its naked visitors, but it's also a pretty place in its own right—it's mainly sandy, and you get great views stretching all the way to Kintyre.
8. Sannox Bay
If you're looking for accessible, popular, and close to lots of conveniences, Sannox Bay is another of the best beaches on the Isle of Arran.
North of Brodick, it's not too far from the island's main village, so it's pretty easy to reach.
The beach is made up of a strip of sandy shore, and it's perfect for wandering, sunbathing, having a swim, or whatever else you might fancy.
When you're done at the beach, wander over to Fran's Tea Room, a basic but welcoming eatery serving up no-frills portions of classic Scottish comfort food.
Because Arran is an island, there are (of course!) lots of great coastal walks around its perimeter. My favorite is the wander from Sannox Bay to Lochranza. Clocking in at around 10 miles (16km), I definitely recommend tackling it.
And that (both literally and metaphorically) brings us to…
9. Lochranza Rocks
Okay, this isn't a very well-known place, and I don't even know if it has a name.
But if you head north out of Lochranza, you'll eventually reach a rocky shoreline with beautiful views and some small stretches of sand. It's along the western part of the coastal walk I've just outlined above.
If you're in the north of the island or want a near-guarantee of seeing absolutely nobody else (apart from maybe some seals and some swans), this is a great option.
Close to this part of the coast, you also have Lochranza Castle, the shores of the village's loch, and some of the resident free-roaming red deer that hang around this part of the island.
10. Kildonan Beach
Also known as Silver Sands, loads of people reckon this is the prettiest beach on the entirety of Arran. And to be honest, it's pretty hard to argue.
Right in the south of the island, it's beside the small village of Kildonan, and it has great views of both Pladda Island and Ailsa Craig.
It's wide, spacious, and sandy, so it's a great option for sunbathing and lazing around. And because the water is really clear, it's a good place for a swim. For sheer beauty, this probably is the best beach on the Isle of Arran.
There's another beach in Kildonan, right beside the village hall. This one is more popular with locals instead of tourists, and lots of Kildonan villagers moor their boats there. If you're looking for an under-the-radar spot, it's an excellent option.
11. Dougarie Beach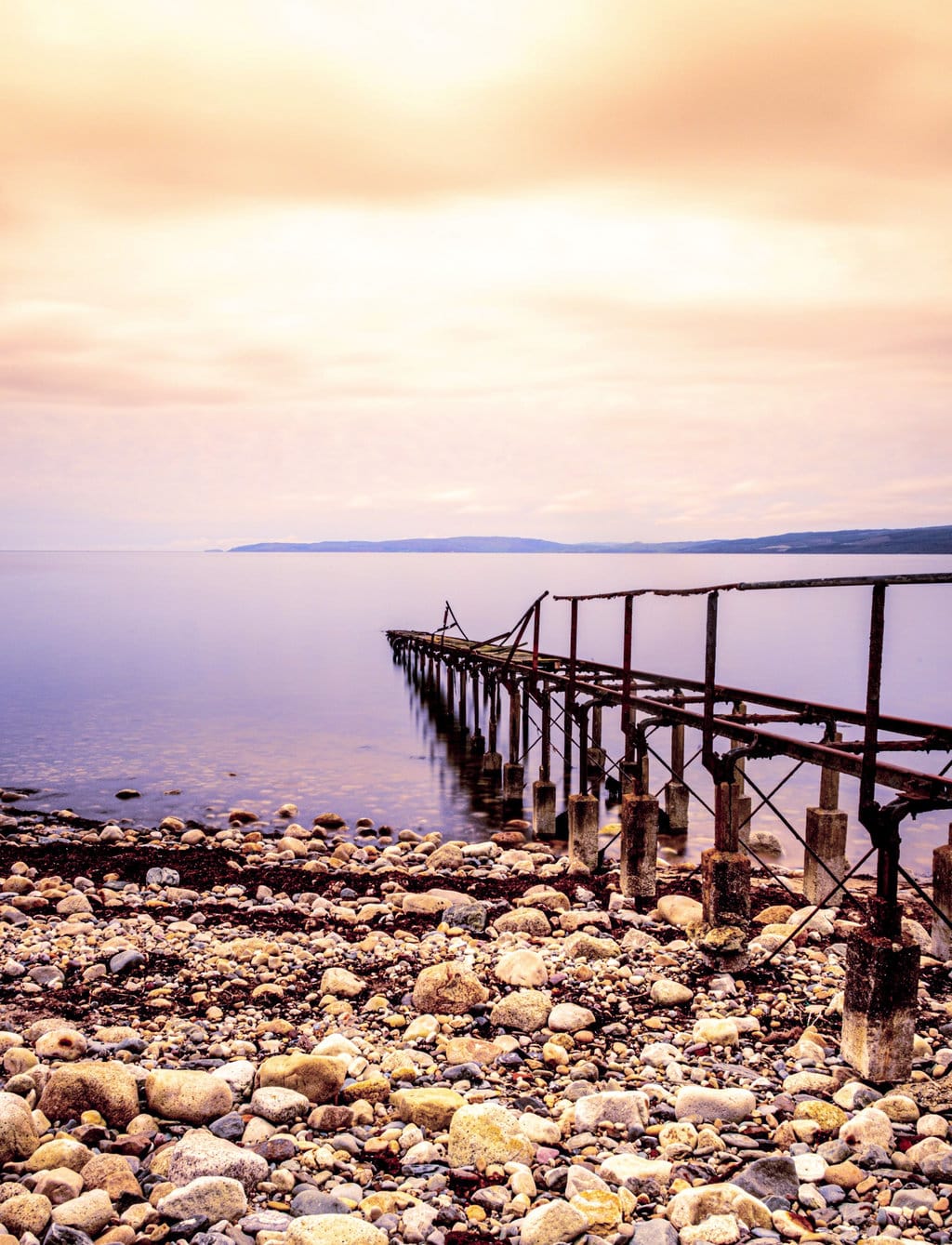 One of my favorite beaches on the Isle of Arran, Dougarie Beach is a narrow (but very long) strip of sand on the central part of Arran's western shore.
Most famous for the isolated and unusual white shed that lives here, it's a lovely place for a romantic stroll, or for walking a dog. It's one of the quietest, most underrated, and most unknown options on our list.
You often find lots of seals around here, and it's another great option for sunset.
Close to Dougarie Beach, you also have Machrie Moor Standing Stones, a weird neolithic site with a collection of strange stone circles. It's sort of like Arran's answer to Stonehenge.
Before You Go
And that brings us to the end of our guide! They're the 11 best beaches on the Isle of Arran, and we recommend visiting as many as you can.
Before we go, here's my top tip for visiting Arran's beaches: if you want to explore as many of Arran's shores and sands as you possibly can, tackle Arran's Coastal Way, a multi-day walk running around the entire perimeter of the island. It covers all the beaches we've listed, along with lots of unnamed under-the-radar places we haven't.
If you want to know anything else about the Isle of Arran, check out our guides to the island's best hikes, the island's best places to stay, and all the top reasons to visit the place!
And for more Scottish beaches, head over to the best beaches on the east coast of Scotland, and the best beaches on the west coast of Scotland.
Thanks for reading, thanks for stopping by, and we'll see you next time!
Being a Digital Nomad: Tips, Tricks and Places
Do you want to be a digital nomad?
If you do, maybe you don't know where you might want to live. Or how to live there. Or whether you need a visa. Or how to make friends in the scary sprawl of a brand-new city. Or how to stay productive while you travel. Or how to find an apartment. Or whether this lifestyle really is for you. Or… I'm sure you get the idea.
But with some insight and experience, it's not as difficult as you think. So in this book, I've gathered my 6 years of digital-nomadding experience… and I've used it to answer all your questions, soothe all your fears, and get you on your way. After reading this, you'll realise being a digital nomad is much easier (and much more possible!) than you think.