15 Best Things to do on the Isle of Arran
Famously known as 'Scotland in miniature,' the nation's Isle of Arran is full of great stuff, with a massive number of activities crammed into its relatively small proportions.
So in this guide, I've brought you the 15 best things to do on the Isle of Arran. I've featured walks, beaches, deer, food, multi-day challenges, Neolithic stones, unusual museums, and a small group of Buddhist monks.
And for each entry, I've added a couple of bullet points with top tips and good-to-know information.
Hop on the ferry and come join the fun!
Best Things to Do on the Isle of Arran
1. Explore the Entirety of the Coastal Way
Probably the most famous attraction on Arran (or the most famous attraction on Arran if you like hiking), the Arran Coastal Way is a 65-mile (105km) walking route around the whole perimeter of the island.
I haven't walked the entire thing in one big long jaunt, but I've walked many sections of it, and I honestly think it's the best way to explore the place. You see the vast majority of the island, you stumble upon lots of great stuff, and you get to enjoy a big exciting physical adventure.
And because it's all very-well waymarked, it's easy and accessible… even if you're not usually into all this multi-day hiking stuff.
Along the route, you see towns, villages, boats, animals, beaches, bays, cliffs, caves, historical stuff, friendly faces, and all the things that people love about Arran.
If you don't want to do the full thing, but you want a flavor of the walk, I recommend hiking from Lochranza to Sannox. It's around 16 km (10 miles).
Distance: 65 miles (105km)
Time to complete the walk: 4-7 days
Best time to do it: Between April and October
2. Cycle Around the Entirety of the Island Instead
If you prefer cycling to hiking, you can tackle the perimeter of the island on the back of a bike instead.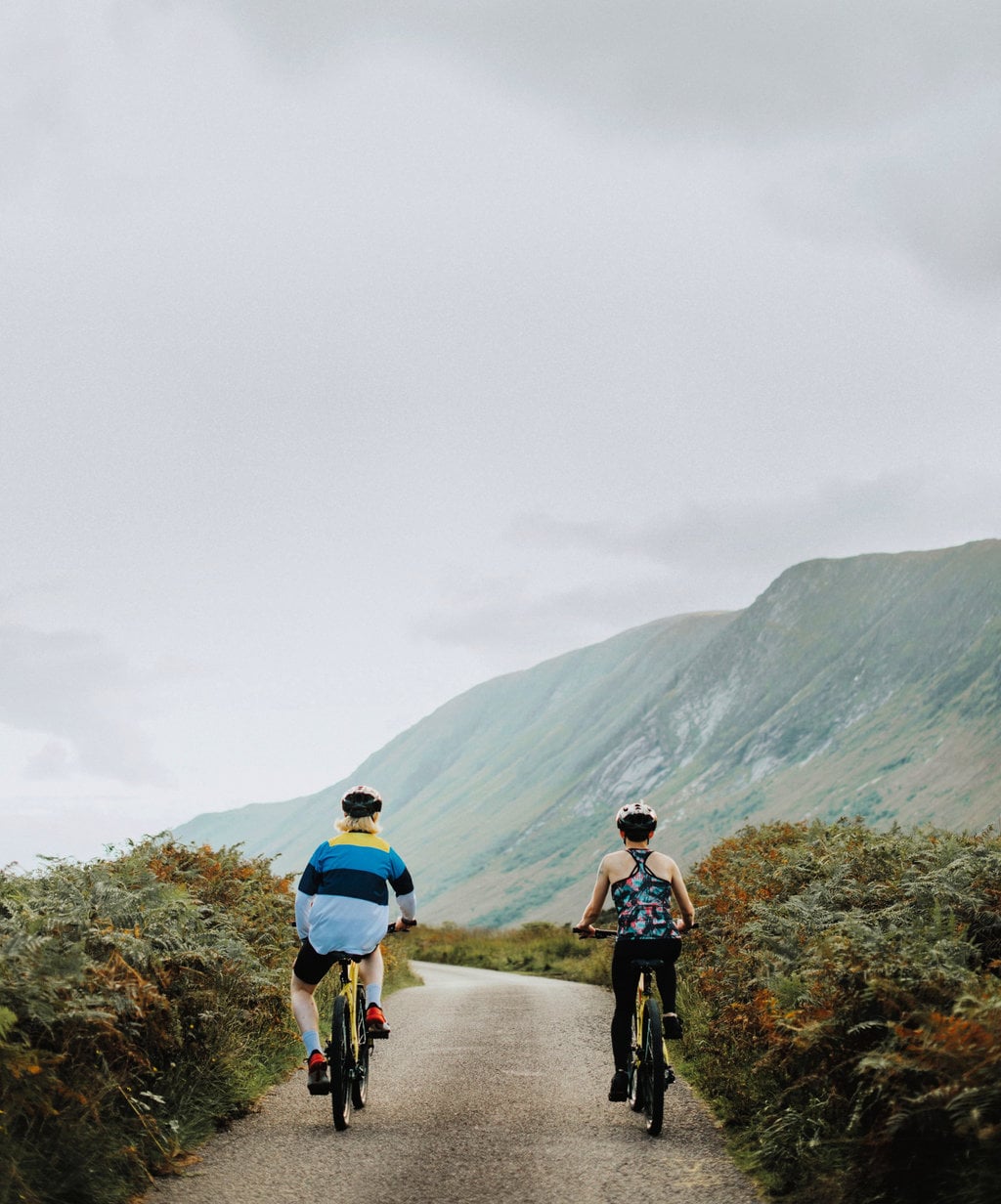 Because this route (of course) sticks to roads instead of footpaths, it's slightly shorter than the walk, measuring in at a total of 55 miles (88.5km).
It's also a good option if you're short on time—if you're used to multi-day cycling, you can easily get this done in one day. You'll see lots of the highlights we've already mentioned in the previous entry, and you'll have more time to stop en route for eating, drinking, and sightseeing.
The southern side of the island offers more challenging riding than the north side, so you should do the southern stretches first. Start in Brodick, head south, and keep following the circular road all the way back to where you started!
Distance: 55 miles (88.5km)
Time to complete the ride: 5-10 hours
Best time to do the ride: Between April and October
3. Lots More Walking and Wandering
I won't go into too much detail here, because we've already covered the 13 best hikes on the Isle of Arran in a separate guide.
But for such a seemingly-small place, Arran is home to so many good trails and treks.
The most famous is the wander up Goatfell, the loftiest peak on the island. Measuring 874 meters (2,870 feet), it's a good compromise between challenging and doable, and I really like it (it's especially good if you're lucky enough to get a clear day).
But aside from Goatfell and the perimeter walk we've already covered, you also get coasts, castles, country parks, little lochs, historic sites, valleys, villages, and some surprisingly tough (and remote) summits.
#1 walk to do on Arran: Goatfell
Best resource for walking on Arran (apart from our site, obviously): This
4. Visit Lots of Beaches
Again, I'll keep this one pretty brief, because we've already brought you a hefty guide to the best beaches on the Isle of Arran.
But, unsurprisingly, because Arran is an island, it's home to a load of lovely beaches.
Among them all, you get family-friendly beaches, grass-backed sands, fish and chip shops, tiny settlements, cliffy crags, watersports, picnic spots, and everything else you could ever want from a shoreline. The island is even home to a nudist beach!
My favorites are the coastlines at Pirnmill, Dougarie, Lochranza, and Blackwaterfoot, but they're all pretty good.
When to visit Arran's beaches: Between April and October
Most accessible beach on Arran: Brodick Bay
Best remote beach on Arran: Blackwaterfoot Beach
5. Say Hello to Some Animals
We've already covered Arran's animals in a great deal of detail (yep, as you've worked out by now, we love the Isle of Arran here at Travelness).
But for seeing a diverse range of animals in a small space, Arran is genuinely one of the best destinations in Scotland.
You get red deer (who like hanging around right beside Lohcranza's campsite), red squirrels, badgers, otters, and seals lurking around different parts of the island.
Arran is also home to buzzards, golden eagles, and other big birds.
But for most people, the real highlight is all the marine life—depending on where and when you visit, you might see dolphins, porpoises, basking sharks, and minke whales.
#1 must-see animal on Arran: Minke whales (or basking sharks)
Best time to visit Arran for the biggest variety of wildlife: Typically July and August, but different animals are present and most active during different times of the year
6. Eat a Huge Amount of Underrated Food 
Scottish food is massively underrated.
And one of the best places to get Scottish food is on the Isle of Arran—it has lots of local businesses, lots of local suppliers, and absolutely zero big-name chain eateries.
And because it has a big coastline, it's (of course) a great place to chow down on varied (and tasty) seafood of various descriptions.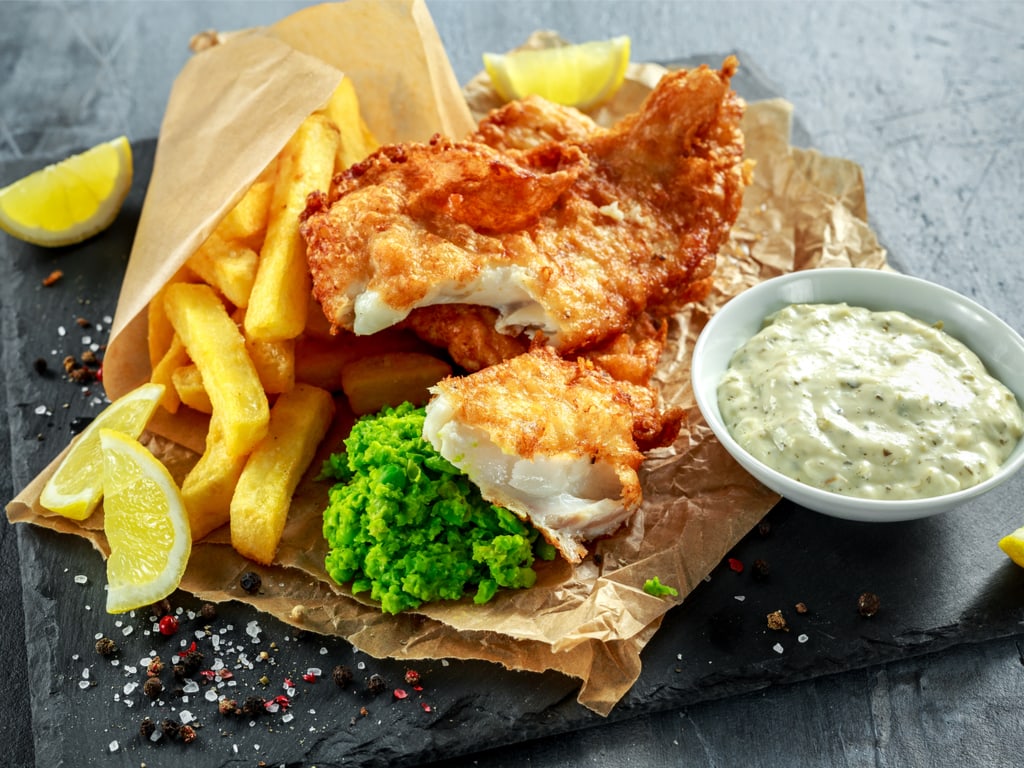 On the Isle of Arran, you get classic fayre like haggis, fish and chips, kippers, and curry… but there's also a lot more interesting and exciting stuff if you want to get all adventurous. Some alternative options include Scottish tapas, fish koftas, and salmon & king prawn thermidor.
Best of all, lots of Arran's eateries are unpretentious local joints, where you can chat with locals, listen to traditional music, and eat with no frills and no fuss.
For some specific recommendations on exactly where and what you should eat, check out our guide to the top 10 best restaurants on Arran.
Best place for a laid-back meal on Arran: Crofters
Best place for a fancy meal on Arran: Eighteen69
Typical price for a main meal on Arran: Between £10 and £18, in a mid-range place
7. See a Couple of Castles 
Compared to other parts of Scotland, there aren't many castles on the Isle of Arran—to some people's surprise, the island only has three of them.
The best and most famous by far is Brodick Castle, which looms over the nearby town, and has lots to do in and around its grounds.
At Brodick Castle, you get games, gardens, waymarked trails, costume actors, and loads of fun adventures and activities for kids. Because it's easy to access, it's a popular day out, and it's one of the island's most famous attractions.
The island's other two castles are Lochranza Castle and Kildonan Castle, which are both ruinous relics. The former is in a beautiful position right over the shores of a loch, while the latter is little more than a moss-covered lump of bricks on a tiny cliff.
For information on all three, check out our guide to Arran's castles.
#1 castle to visit on the Isle of Arran: Brodick Castle
8. Stay in Excellent Accommodations
Arran is home to lots of excellent, varied, and unusual places to stay—and they're dotted around various parts of the island.
You get elegant hotels, spa-style resorts, beachside beds, family houses, homemade breakfasts, hostels, camping pods, caravans, yurts, tents, and everything in between.
I genuinely can't think of many other places in Scotland where you get this much accommodation variety crammed into such a small space.
No matter your budget, your style, or the sort of place you like staying, you'll find somewhere perfect on Arran.
For much more information, here are our guides to the best hotels and hostels on the Isle of Arran, and the best campsites on the Isle of Arran.
9. Visit All the Great Villages 
For visiting cute and cozy villages, I genuinely think Scotland is one of the best places in the world. And while most of my favorite Scottish villages are on the mainland, there are still some great places on Arran.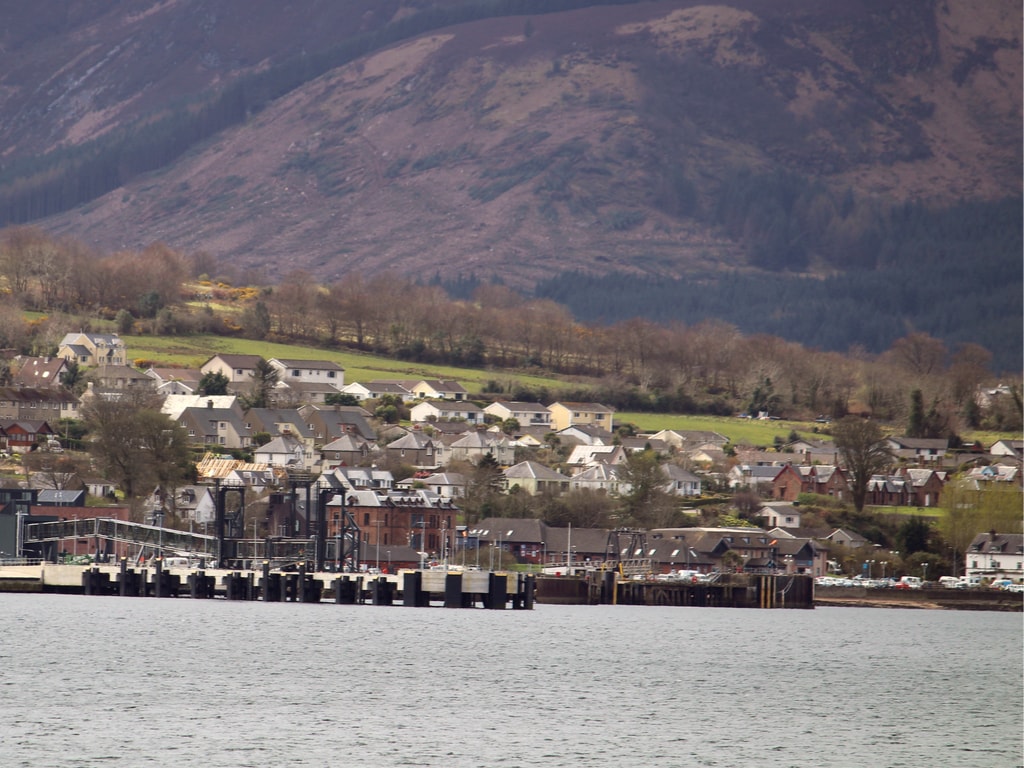 The most well-known is Brodick, which is the island's biggest settlement, and where you'll find the ferry port. My personal favorite is Lochranza because I love the deer, the campsite, and the loch.
You also get Lamlash, the administrative capital of the island, and Blackwaterfoot, the most significant settlement on the western side of Arran.
Underrated options include Pirnmill and Lagg, while Whiting Bay is ridiculously scenic.
Most famous village on Arran: Brodick
Best under-the-radar village on Arran: Blackwaterfoot
10. See the Machrie Moor Standing Stones
Scotland is home to lots of neolithic sites, ancient monuments, stone circles, standing stones, and bizarre burial grounds.
Of all the nation's ancient sites, the Machrie Moor Standing Stones is one of the most famous. Sitting on the western side of the island, it's home to standing stones, stone circles, and burial cairns. The oldest parts of the site date all the way back to 3500 BC.
They were once used for cremations, burials, celebrations, rituals, and probably loads more stuff. These days, they're instead popular for hiking, snapping photographs, and exploring the barren moors they live on.
Because it's just a bunch of stones, you can visit the site anytime you like… and there are no entry fees or official opening times.
Price of entry: Free
Opening times: 24 hours a day, 365 days a year
11. Go to the Southern Side of the Island
This is an unusual things to do in arran as not enough people go south when visiting Arran.
Most of Arran's most famous spots (and most of the places we've covered in this guide) are in the central and northern parts of the island.
But if you want to visit some remote, underrated, and relatively unexplored places, the southern side of Arran is where you want to be.
On this part of the island, you get more peace, more alone time, fewer tourists, and more opportunities for accidentally stumbling across cool stuff.
I recommend taking a few aimless wanders (whether by foot, car or bike)… but specific places to visit include Eas a' Chrannaig waterfall, Whiting Bay, the Giants' Graves, the hand-written-note-covered 'The Library', Drumadoon Point, and the Kings' Caves.
#1 place to explore on the southern side of Arran: It's a hard choice, but you can't beat the bizarre 'Library' for hands-down weirdness and charm
12. Visit Some Museums 
For museums, Arran is pretty underrated, and it has some great places to visit.
The most famous is the Isle of Arran Heritage Museum, which features exhibits on village life, old farming equipment, Bronze Age stuff, the history of the island, and the ordinary people who helped to make the island what it is today. The museum also features some great interactive exhibitions for kids.
Coast Discovery Center features creatures, critters, diving, snorkeling, and information on all the marine life you can find on and around the island.
In addition to those two famous museums, you also have Kildonan Museum, Arran Art Gallery, and the exhibitions inside Brodick Castle.
During less-popular times of the year, some of Arran's museums close down (even Brodick Castle closes down during certain periods of the year). So before you visit any museum, make sure you check in advance whether or not it's actually going to be open.
#1 museum to visit on the Isle of Arran: The Coast Discovery Center
Price range for Arran's museums: Typically between free and £5 per person
13. Eat Local
As I said before, Arran's food and drink scene are very independent, so it's home to lots of local suppliers. If you like eating local, buying local, and supporting local businesses, you'll absolutely love the place.
Some popular favorites include the Isle of Arran Coffee Company, the Arran Chocolate Factory, the Arran Butcher, and the Arran Cheese Shop. But even in basic (both chain and non-chain) food stores, you'll usually find various eats and treats from local suppliers.
Scottish people are proud of their own heritage and produce—and that's especially the case on Arran. You'll find lots of local people who are passionate about local food, and they're usually happy to give you lots of recommendations.
#1 local food supplier to try on Arran: The Arran Cheese Shop is my favorite 
The expected cost of local goods: Anything between £1 and £100, depending on what you buy
14. Go Watersporting
There are loads of watersports adventures on offer around various parts of Arran's shores.
Kayaking and paddleboarding are both really popular, while I've also seen people canoeing, sailing, and swimming.
I haven't actually done any of that stuff myself (well, apart from swimming), so I can't recommend any particular providers… but I know that Kayak Arran, Otter's Tail, and SUP Arran are all really popular (and therefore probably really good).
If you like to be a little less active, you can also explore the island's shores on boat trips—there are lots of operators offering whale-spotting, dolphin-spotting, and shark-spotting tours.
The boat-trip companies are usually seasonal, so it's best to see what's available when you arrive on the island, rather than booking something in advance. For that reason, I'm not gonna recommend any specific provider.
#1 water-based activity to enjoy on Arran: Take a boat trip to see some whales and sharks
When to enjoy water activities on Arran: You'll struggle to find any water-based activities outside of the popular March-October period. So anytime during warmer months is good!
15. Hit the Mainland
Lots of mainland Scotland is massively popular with tourists. But the southern stretches of its western shores are hugely underrated.
If you have lots of time, and you want to do some exploring beyond Arran, I totally recommend these stretches of Scotland. Okay, they're not quite as interesting or impressive as some of Scotland's more famous zones, but there are still lots of brilliant spots.
Once you hop off the ferry from Brodick to the mainland (or before you hop on the ferry from the mainland to Brodick), I recommend checking out Ayr, Stranraer, Portpatrick, Drummore, Galloway Forest Park, Glentrool, and basically any of the beaches or seaside villages.
For an enigmatic compromise, head to the Holy Isle, a strange little island sandwiched between Arran and the Scottish mainland. With a population of around 30 people, it's home to goats, Buddhist monks, wild ponies, and a so-called 'Center for World Peace and Health'.
Best mainland spots near Arran: Portpatrick, Galloway Forest Park, Glentrool, and any of the tiny seaside villages
Best Things to Do on the Isle of Arran: Final Thoughts and Further Reading
So there you have it—the 15 best things to do on the Isle of Arran. Thanks for reading!
If you only have time to do a couple of the things we've recommended in this guide, they should be animal-spotting, the hike up Goatfell, and some of the island's remote beaches. But try to do as many as you can!
For much more information on one of Scotland's best and most famous islands, check out all of our other guides to the place here. And for even more inspiration, here are our favorite reasons why you should visit the Isle of Arran.
Make sure you visit Arran, make sure you explore it as widely as you can, and make sure you keep coming back to Travelness for much more!
Being a Digital Nomad: Tips, Tricks and Places
Do you want to be a digital nomad?
If you do, maybe you don't know where you might want to live. Or how to live there. Or whether you need a visa. Or how to make friends in the scary sprawl of a brand-new city. Or how to stay productive while you travel. Or how to find an apartment. Or whether this lifestyle really is for you. Or… I'm sure you get the idea.
But with some insight and experience, it's not as difficult as you think. So in this book, I've gathered my 6 years of digital-nomadding experience… and I've used it to answer all your questions, soothe all your fears, and get you on your way. After reading this, you'll realise being a digital nomad is much easier (and much more possible!) than you think.